Big bike, muddy lanes, it can only end one way. Or can it?
Learning to properly ride a motorcycle is something many of us overlook. We buy the bike, we buy the fancy kit and we ride it in the environments we feel most comfortable in, but do we actually push ourselves and learn how to get the most from the bikes that we've bought?
Part of the problem is that we're too afraid of dropping them. We've paid too much for them, spent too long cleaning them in the garage and fitting all sorts of accessories (see PJ on page 110) that have cost us an arm and a leg. But what about riding them as their makers intended; taking them off the beaten track and into unfamiliar territory?
Some would say that bikes such as the BMW GS were never suitable for off-road use anyway, that it's all about the image and their perceived ability to take people around the world. 'Too big, too heavy, too difficult to pick up on your own,' or so rumours go, spread so rapidly that by the time we're done, the average BMW rider is so terrified of dropping their pride and joy they daren't even ride the thing in the rain for fear of falling off, or worse still, getting it dirty.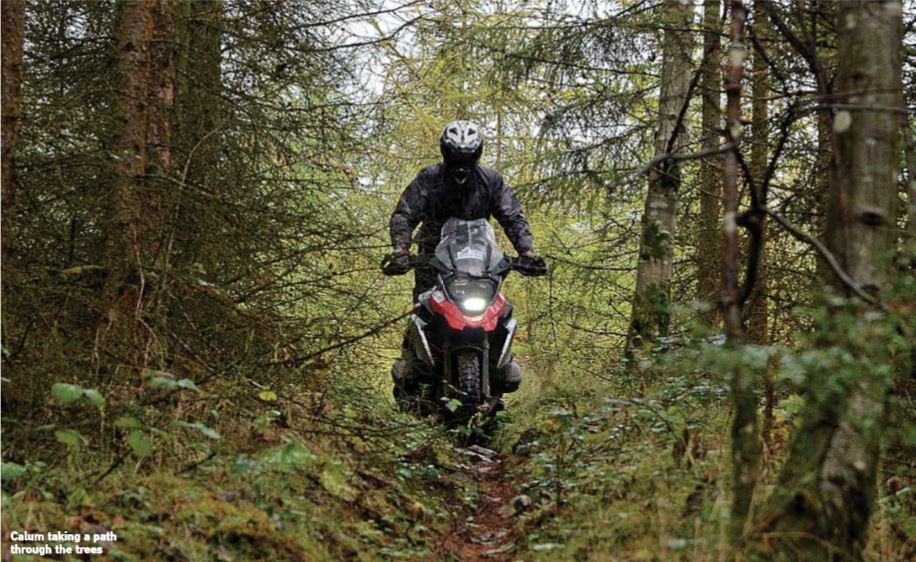 The answer, possibly, is training. That's why in this issue we have come to the BMW Off-Road Skills in Wales to take part in Level One, a two-day course costing £479 and including bike hire, insurance, two lunches and an evening meal. Not bad value at all, especially given the bikes we'd be riding.
They were all this year's water-cooled GS 1200s that had been employed all summer as training bikes, meaning each had been dropped repeatedly and for the last six months plastered with mud.
Walking around them, it's impressive to see their lack of damage and ability to withstand the abuse that's undoubtedly been directed at them. Most had scuffed cylinder heads, cracked exhaust tips and other bits and bobs bodged together with tie-wraps or missing completely. But on the whole, mechanically at least, all looked in pretty good shape.
I was assigned bike number 42, the colour Bluefire with just over 1,500 miles on the clock, slight scuffing to the engine casing, a broken switchgear on the left-hand side (main ABS and TCS control switches broken, but the buttons underneath still accessible), a cracked exhaust cowl and a broken fin to the right of the main screen. It was running a Metzeler Karoo 3 at the rear, and a Continental TKC 80 on the front. There are also 650s and 800s available on the fleet, should you prefer them.
| | |
| --- | --- |
| Engine casings took a battering… | …but were easily patched up |
| | |
| --- | --- |
| Plastic exhaust cowls were often broken but the cans never seem to be damaged | Number 42 made a bit of an impression on its rider |
By chance, we would also be joined by Joe, the proprietor of Motorrad Scotland, the dealership in Edinburgh that last issue loaned us the 800 GSA for the tour of Scotland. From Edinburgh, he'd driven down in a minibus with shop staff (Russ, Calum) and a handful of his regular customers (Norman, Simon and Mark).
Together we formed a group of seven, all of us novices in one way or another, not least of all 62-year old Norman, a farmer new to biking and currently riding a Triumph Rocket and considering a GS 1200 as a second bike. This was a taste tester for him. He was nervous, as we all were, being given the keys to a fourteen-thousand-pound bike, weighing a quarter of a ton and being told you're going to drop it, and so let's teach you first how to pick it up (turn the bars away from you, bend and cup the lower bar end, lift with the knees and walk into the bike until upright).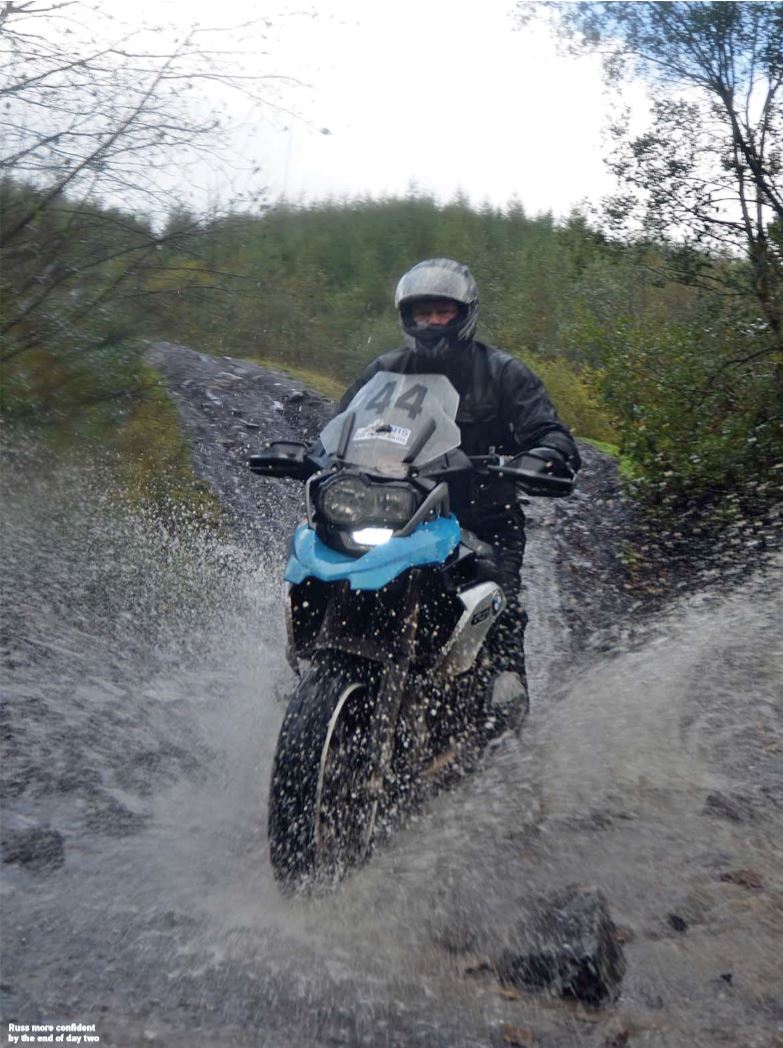 Seeing a nice bike laying on the floor is hard to stomach at first. It just didn't feel right, but soon you get used to it and start to see the bike simply as a tool designed and built to survive and excel in these sorts of conditions. I'll admit to being one of those dubious about the use of a big bike off-road, but as the morning progressed and the confidence increased, it was hard not to admire the talents of a bike that some people don't like, sometimes for no other reason than because of the marketing behind it, the image the bike projects, or even the people that ride them.
One of the first lessons of the morning was how to manhandle the bike when stationary, how to get off it, how to walk around it and feel comfortable with the static mass of the motorcycle. Our instructor was the affable, patient JB, who soon has us doing big loops of the practice ground – beneath a sea of wind turbines – learning how to steer with our feet, just getting used to being up on the pegs and the power delivery of the 125bhp engine, which were all set in Enduro mode, a setting that moderates throttle input and allows the rear wheel to break traction for a couple of degrees of slide, before reigning it back in again.
Throughout the day we all had a few drops, especially attempting the tight turn inside the square of cones, something not as hard as you would imagine given the low down mass of the GS and the way it feels inherently balanced and stable at slow speeds. It's only when it starts to topple that you are reminded about the 238kg deadweight between your legs.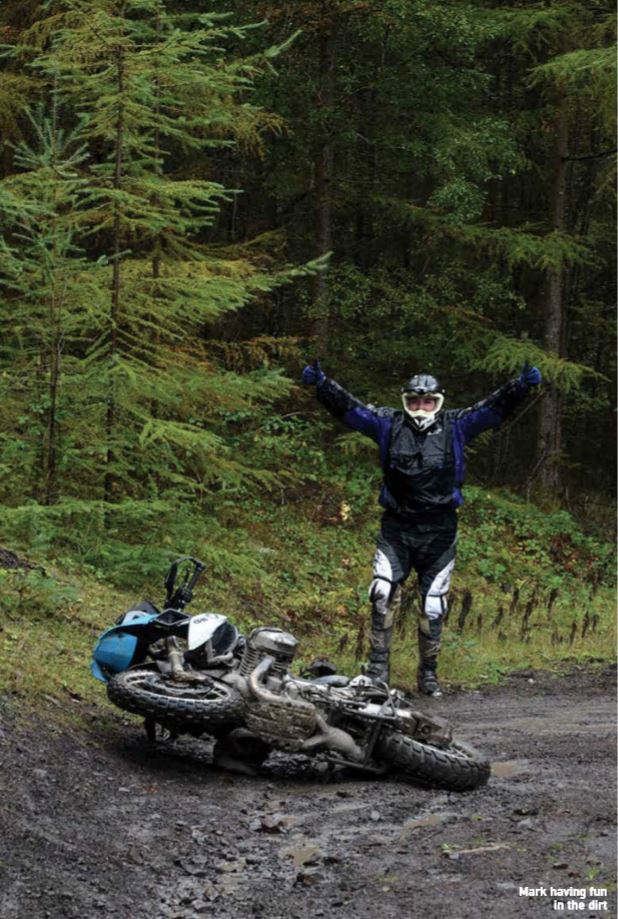 After lunch, we headed out to explore some of the trails around the 5,000-acre site. It was damp this first day and rained on and off at times. The ground was slippy, a few took early tumbles, but nothing drastic. It was interesting to see how the bikes crashed, and hearing that the decision not to fit engine guards was down to the gradual damage that repeated drops can do to the bars, and then to the mounting points. It was then in their words easier/cheaper/more practical, to let the cylinder heads take the knocks, and when they scuffed right through – with engine oil seeping out – the best fix was plastic metal, which comes in a tube and after massaging until pliable – like Blue-Tac – you simply mould into place and within seconds its hardened and you're good to go again, oil level notwithstanding.
As day one progressed and day two arrived, there were a few in the group beginning to turn off traction control, starting to enjoy and provoke the back wheel more and more. It was amazing the amount of fun you could have doing this. Confidence would grow, the slides would get longer, and trails that would have seemed daunting on the first morning had now become a doddle after a day and a half in the saddle. It's surprising how quickly you can get a hang of it all, though obviously, it would take many more sessions of practice in order to perfect. But the point remains; from complete novice a day before, you're now sliding the rear on that 238kg, fourteen-thousand-pound bike, in muddy conditions, with trees off to the side, and for the time being, at least, you feel quite in control.
At the end of the final day, we had the freedom to have a quick go on the other bikes of the riding school – the 650 and the 800. After two days on the 1200, the 650 felt small and crude. You missed the torque and composure of the bigger bike. It felt like going back a generation of technology. The 800 was a better compromise and apparently is the bike of choice for Mr Pavey and some of the other instructors of the school. Last issue, riding a brand-new 800 GSA with a thousand-pound excess, I was nervous, now I was riding that same bike – albeit the standard model – with much more confidence and most of all, enjoyment.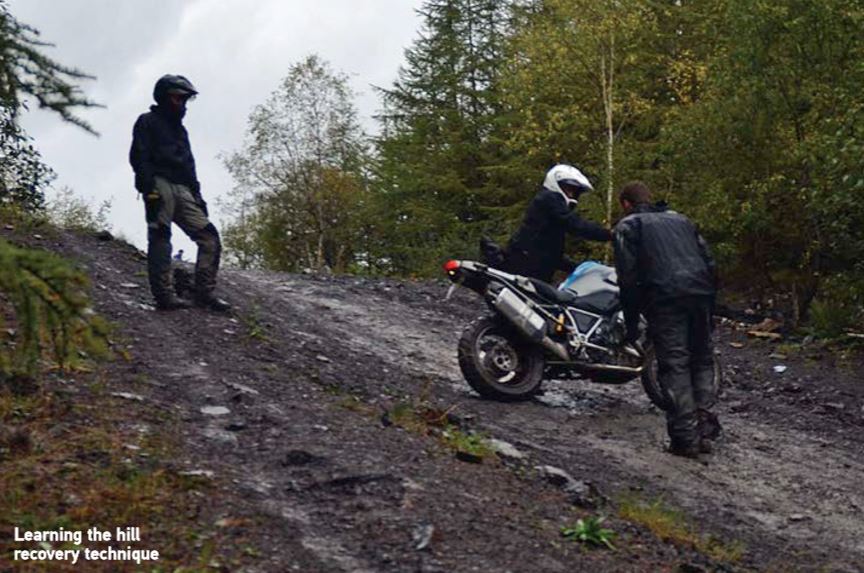 Context obviously plays a large part in this. These weren't our bikes, they'd already been dropped and scuffed, we weren't on our own in the middle of nowhere and if we dropped them no one really cared. In a way, a riding school like this is a completely artificial environment, far removed from the realities of solo off-road travel on your own bike. These bikes were also fitted with tyres that you'd struggle to go around the world on as they just wouldn't last long enough on the tarmac. You'd be forever changing them.
Having said that, by doing an off-road riding school you at least got a better understanding of what a big adventure bike is capable of, and will no help next time it comes to pushing your own bike around the garage or doing a tight u-turn in the road, even if you never plan, or never do, take your own bike off-road. As a means of improving your confidence and getting more out of the bike you already own, a riding skills course such as this is then invaluable (and good fun). All manufacturers offer them.
For more information on this one, see www.offroadskills.com
Photos: Nathan Millward