UK traveller Henry Nottage rode his Métisse (the bike of Steve McQueen) overland from Sheffield to Nepal and then on to Malaysia. We catch up with him as his bike arrives back in the UK…
I wanted a classic bike, for reasons that are vague and complicated even for me. I had a ride on a Norton Commando, which was my first choice, but I quickly realised that if I tried riding it on gravel I'd probably kill myself. I decided instead on the Métisse as it uses a Motorcross frame from the sixties so I thought it more suitable. It's a Métisse frame with a Triumph Trophy engine (casings from 1971 with new piston and barrel), the back wheel from a BSA Victor Special and the front wheel off some sort of Triumph. It took two weeks to build it. I was going to build it in my dad's shed but Métisse said, 'no just build it in their factory.' It meant that I had people around to point me in the right direction, as I'd never built a bike before and needed some help using the lathe and other bits of machinery.
We took some parts off another old bike, instruments off another, and just found bits on shelves and in cupboards and put it all together. Métisse was keen to help because they wanted to see their frame get used. A lot of people who buy the Steve McQueen replicas still in production do so just for display, and so for the factory to have someone who wants to ride one across the world was something a bit different. As for the troubles with it, they kind of expected it with a bike of this age. Though in fairness, I haven't broken the frame and they didn't supply the engine. We had to make some mounts for it, but it was a very common option in the sixties to fit the Métisse with the Triumph twin as they were the best engine at the time.
The frame originally came from a racing bike and so had never been registered on the road before. It's also registered without an engine number, which didn't cause any problems with the Carnet. The only problem I did have was the number plate, which I didn't realise was wrong until a guard at the Thai border pointed out that it read 293, not 239, as it reads on my documentation. I'd ordered the plate days before leaving, bolted it straight on and never noticed the numbers were wrong!
When I left, I didn't have any silencers on either, just straight-through pipes, but in India the authorities made me fit some as they thought it sounded a little too fruity for the roads there.
The tank is a custom made aluminium tank, made with a week's notice by a man named Pete down in Bournemouth. He liked the sound of the trip, stopped what he was doing, I went down there and he made me a hand-crafted tank much bigger than the tanks you usually find on Métisse.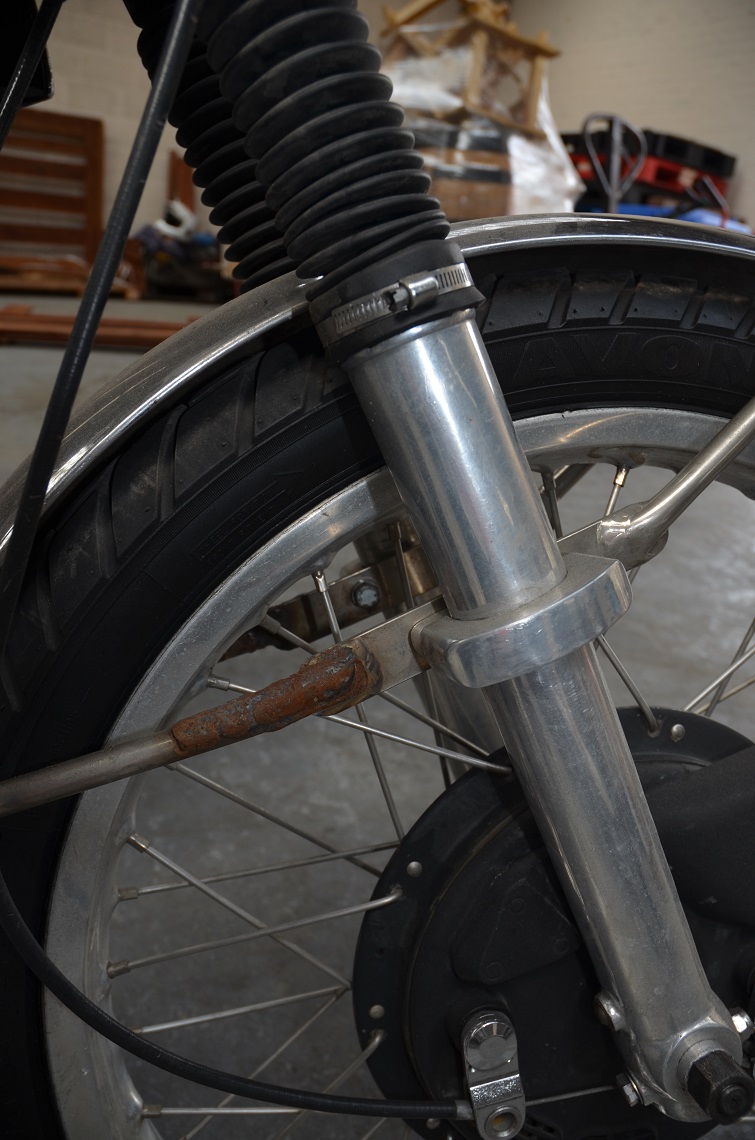 This one holds around 13-litres, which is twice what they usually hold. From that, I get around 150 miles. The tank was actually one of the first problems I had with the bike on the trip, as to get it to fit, I'd had to 'flare' it out around the frame. This weakened the seams and eventually as I rode through Europe it started to split. I finally got it fixed properly by a guy in Thailand who blew all the fuel out and welded it up properly.
The fork seals also kept blowing in Nepal where I did a lot of off-road riding. To fix them I eventually found some seals for a car that I found by the roadside. The front mudguard mounts also kept snapping, many, many times, just through vibrations. Trying to explain to someone in India, in one of the little villages where one guy in the village is the welder, that you have to clean metal before you weld it was just impossible. I had the same problem on the other side of the guard, but in Nepal, I managed to find an American guy who let me use his workshop to weld a big strap on pig iron to fix it. It's just one of the fixes you need to make on the road.
The clutch plates also needed to be replaced in Nepal, and in Iran, the piston and rings went, and with me not able to get the parts into the country because of the sanctions in place the only option was to freight the bike to India and fix it there. It was bizarre, I was short of money at the time and the random Iranian family that took me in whilst I tried to fix the bike in had a whip around and helped pay my onward airfare to India. The random kindness of strangers.
It didn't bother me that the bike was so unreliable. It meant that I met people whenever I broke down and actually added to the 'adventure'. My advice to people who are worried about breaking down is don't panic. If you smoke have a cigarette, if you drink tea, make a cup of tea, then try and figure it out. Because if you can't get it fixed with the resources you have, then you're going to need help. Help moving it somewhere, and finding someone, and it doesn't matter if you don't speak a word of the language people will help you.
The front brake's not very good.  I adjusted it every which way but it didn't make much difference. The vibration's also pretty bad but you do get used to it. I'd only notice when I rode past a road sign and I'd try and read it and realise my eyes are still wobbling about.
The longest distance I did in a day was a thousand miles, from Greece to Turkey. I set off in the morning at 6 am, had to stop for three hours to fix a hole in the petrol tank and got into Istanbul at two the next morning. The speedo has broken so I'm not sure what it will cruise at, but I reckon at around 60mph. It's amazing off-road though. It's heavy, the suspension's not brilliant, but the engine's got so much low down torque. In Nepal, I was climbing up these huge inclines with a drop into a river on one side, and a cliff on the other, and it just wouldn't stop going forward.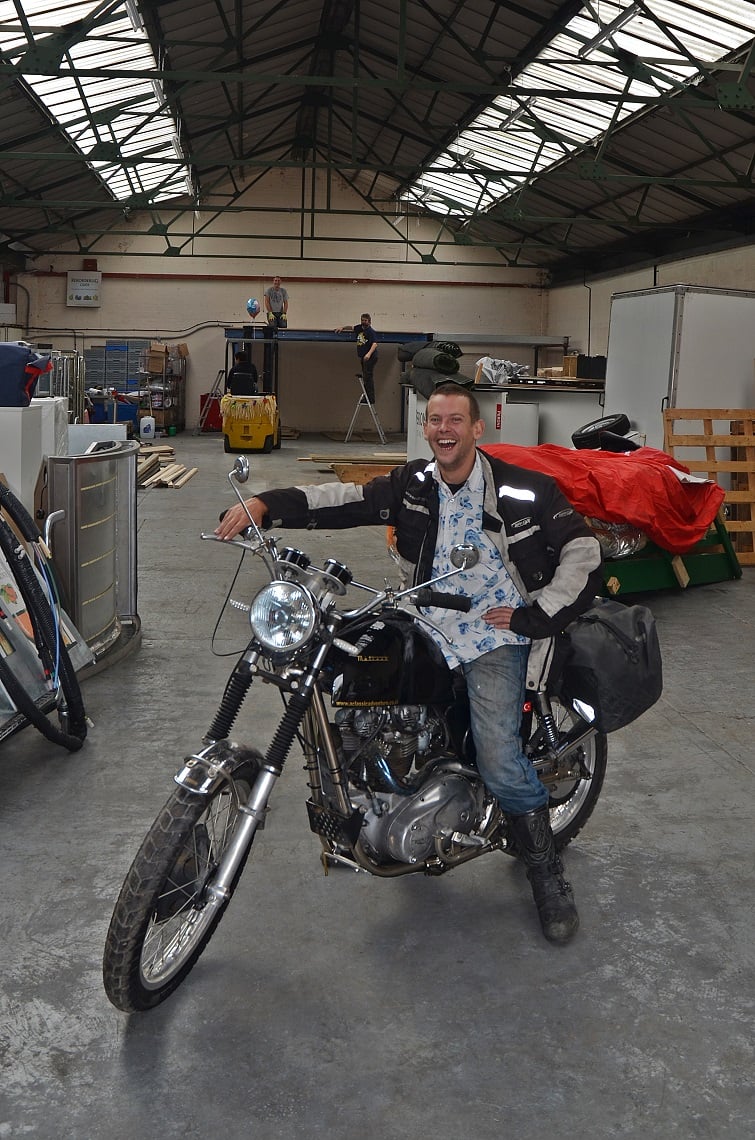 The original plan was to spend five years on the road and go all the way around the world, but in Malaysia, I was visited by a girl I'd known for almost ten years and I ended up getting down on one knee and proposing. Nine years before she'd said she didn't want to be with me anymore and that's what spurned the first bike trip I went on. I just didn't want to be in England anymore, so I rode to Mongolia on a 750 and got hit by a truck. It was nine years of patience really, and now we're getting married, rather than carrying on riding solo to Australia and on around the world. Instead, we plan on doing a trip together around South America.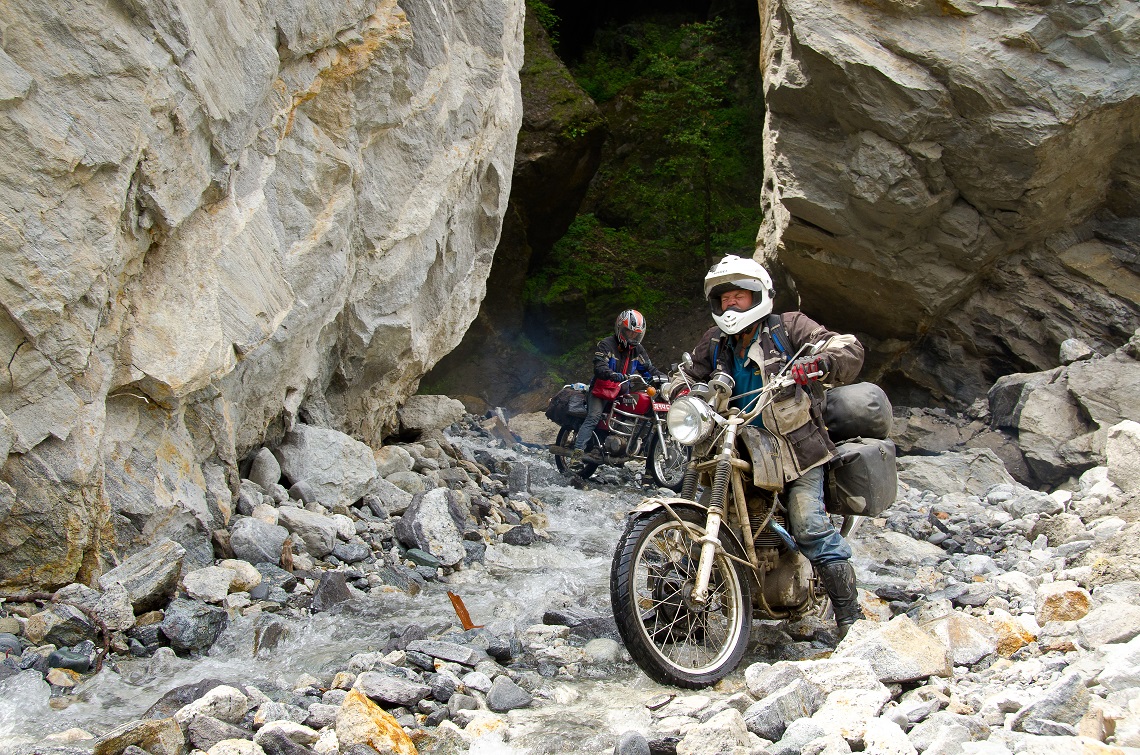 Riding in the mountains of Nepal
Maybe buy a bike in Venezuela or somewhere, and ride all the way up to Alaska. And if the situation changes, maybe build a sidecar.
As for the bike, now that it's back in England I'm going to rebuild parts of it. First of all I'm going to replace the mufflers I fitted in India with shorter ones. I'm also going to ditch the airbox and replace it with a circular or conical filter that goes straight on to the carb, or even just a belmount. I'm going to give it another rebore and fit new pistons. I might even put a smaller front wheel on it, perhaps a seventeen-inch wheel to make it a proper speed scrambler. I'll probably also change the rear shocks. When all that's done I'm going to go to bike shows on it. One day I might even have to sell it…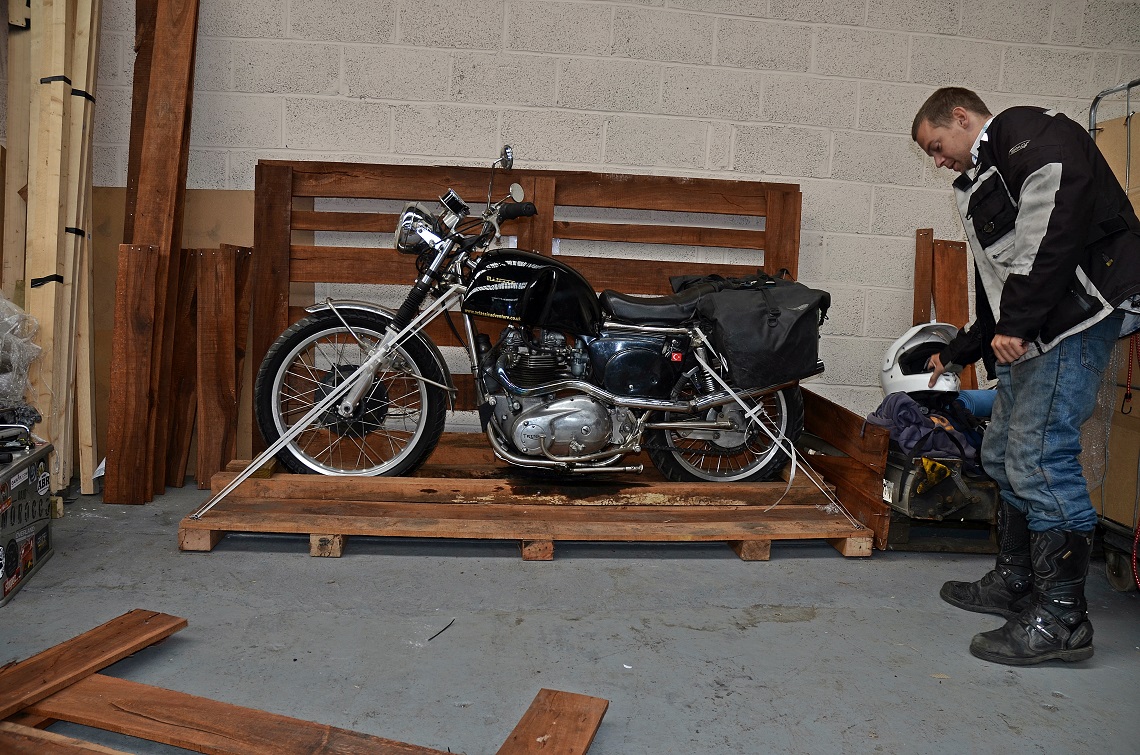 About Metisse
Métisse is based in Carswell near Faringdon in Oxfordshire. It was founded by Don and Derek Rickman, Motorcross riders who began designing and building their own bikes back in 1958. Métisse is currently manufacturing a limited edition of 300 complete motorcycles, to be called the Steve McQueen Métisse Desert Racer, which are replicas of a motorcycle raced by actor Steve McQueen in 1966 and 1967. McQueen's bike, which used a Métisse frame, was built by the actor and his friend, stuntman Bud Ekins.
Photos: Henry Nottage