Product tester Paul's bagged a bargain in the Autumn sales
Paul's new KTM
What is it?
KTM 990 Adventure R.
When did you get it?
Early September, although it's the discontinued 2012 model I thought I'd wait and get the latest 2013 registration plate as I'm told they're faster (In joke-eh Steve).
Where from?
Fowlers Motorcycles in Bristol, they are the biggest motorcycle dealer in the city these days and have a multi-franchise which includes KTM.
What did you pay?
This is one of the main reasons I bought the bike; they were reduced to £8,495, which is one hell of a saving off the original retail price of over ten grand.
Why did you buy it?
Apart from the price, I have always liked the look of the KTM 950/990s and the black and white colour scheme looks cool. It's the Paris/Dakar rally raid thing, it looks like its ready to race which of course is KTM's sales mantra. I can see this bike becoming as iconic as the old Honda Africa Twin.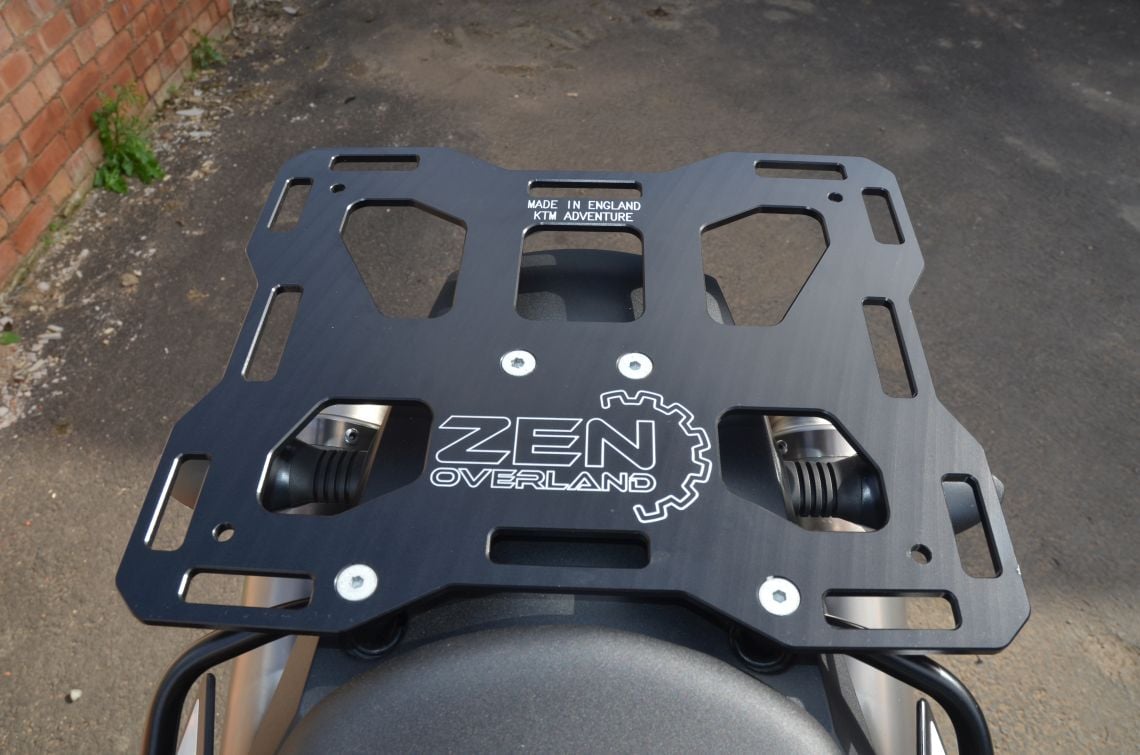 How does it compare to the Triumph 1200 Explorer you run as a long-termer?
They don't compare really. Don't get me wrong, the Triumph is a great bike for long-distance tarmac touring but the KTM will do the distance thing but with the added attraction of being more than capable of taking to the dirt when the mood takes you.
What modifications have you done to it?
Hope the missus doesn't read this….So far, frame protectors (£16), engine bars (£160), kickstand extension plate (£16), bigger luggage rack from Zen Overland (£62), front fender extender (£16) and the most expensive so far (£800)….a pair of Akrapovic end cans which look and sound awesome.
Why have you fitted them?
To enhance the looks and adding to the protection of the frame and plastics. The standard luggage plate is only good for carrying my sandwiches so I had to get something sturdier for strapping a roll bag too. The standard exhaust cans contain the catalytic converter and are weighty items. The titanium Akrapovic's are half the weight, but the main reason is the sound. I will eventually get around to re-mapping the fueling for more performance.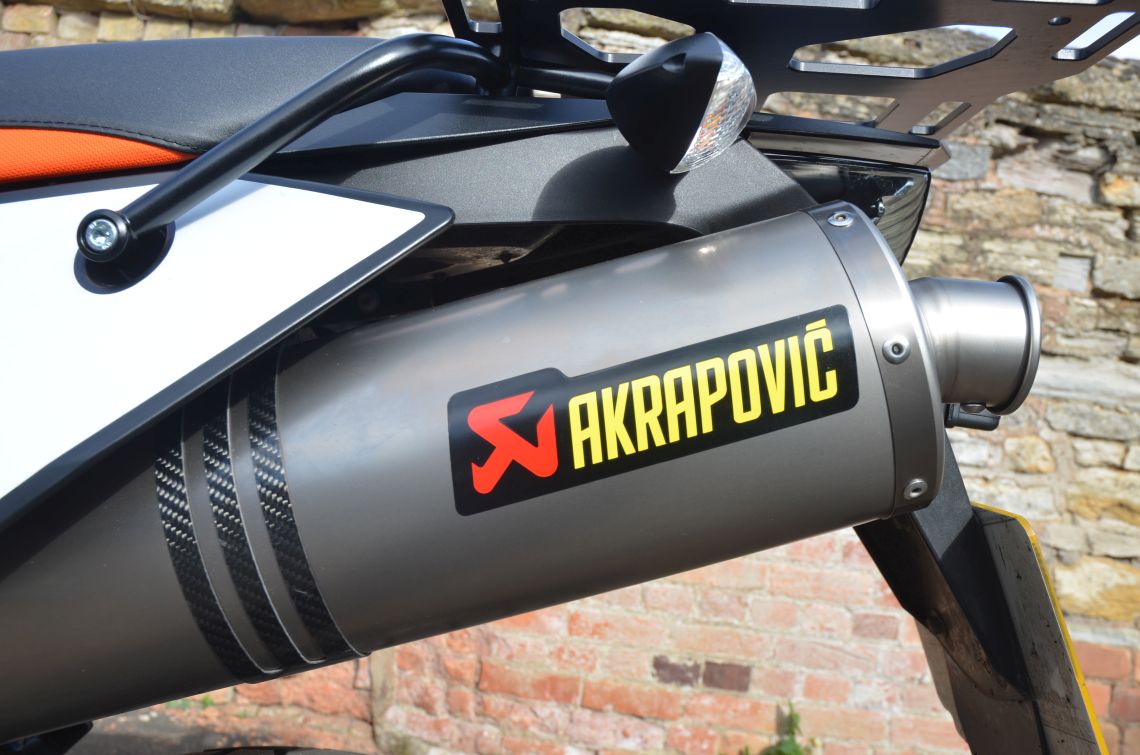 What's it like on the 140-mile daily commute?
The seat is a pain in the butt, but I knew it was going to be from what I had heard. It's ok for my daily ride and I have got an Airhawk or a sheepskin for bigger trips. I also knew that the tank range wasn't fantastic especially compared to my BMW 1200GSA, but I am getting between 150-160 miles before it hits reserve. As for the ride, it copes well on the motorway cruising at 70ish, but once I get onto the back roads to the office the real fun starts. The handling and brakes are really good and although I might start out with good intentions it's not long before the orange mist descends. I just like the way it rolls back the years to pre-gadgetry bikes because there is no ABS or traction control to think about.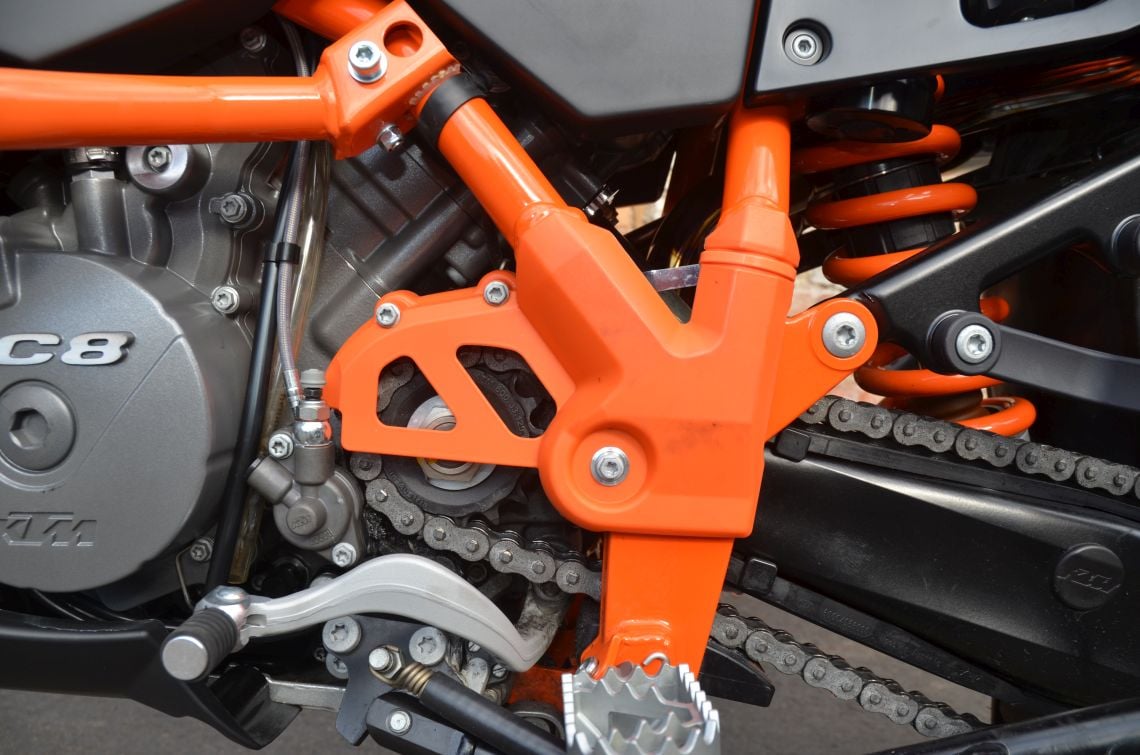 What do you intend to do with it?
Keep it and enjoy it. Plans are already in motion for three of us (who all have the same bikes – hence the in-joke about the 2013 being faster) to ride the Spanish Pyrenees next year and spend three or four days at least on the trails.
What do you like about it?
So far everything. The looks, the power, the noise the whole package just makes me smile.
What don't you like about it?
As I said earlier the seat is a bit of a plank and I would like a bit more fuel range but I'm learning to live with that.
…Alun's long-termer
Choosing and buying a bike is generally a more selfish act than, say, buying a car. However, if you're looking to keep your relationship on track, a BMW R 1200 GS could be the bike for both of you
BMW R1200GS
Rider: Alun Davies
Time on test: 6 Months
Miles covered so far: 4,200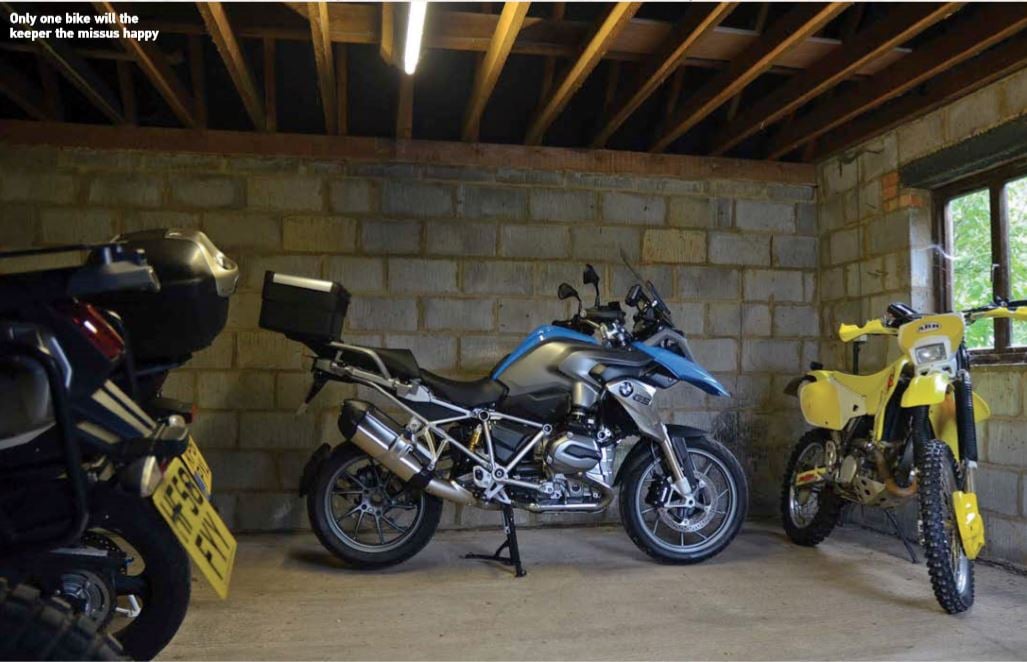 Even the most doey eyed loving relationship would decline into a long drawn out brutal vendetta peppered with hysteria, emotional torture and hand to hand combat should you and your partner set off on a round the world tour on a competition trials bike.
I discovered the correlation between experiencing a volcanic relationship and my choice of motorcycle many a year ago. As a teenager, I thought that taking my beloved on a tour of West Wales on a CZ175 trials was the kind of chivalrous act that would cement a passionate bond to outlive life itself.
As it happened, she caught the train back home on the morning of day three and left instructions with her mother to tell any dick with a Welsh accent who phoned that she's run off to Kathmandu with a guy from Pontypridd. At which point I kind of guessed that my status was taking a perilous dip into singledom, she was well aware of my dislike of Ponty boys.
These days I'm older and wiser and would not contemplate taking the other 'arf to the balmy coastline of West Wales on a trials bike. My leisure time is far too valuable to be subjected to the emotional trauma of the Touratech lipstick dispenser packing up, and besides, the Ponty boys don't have the pulling power they had back then so she'd probably want to hang around and give me a lesson in how to ride.
Anyway, what's been on my mind of late is how much of my bike buying decision-making process has been influenced by my social status. On reflection, it may not have been pure coincidence that during my middle-aged years as a single male I had a badass chopped-up Harley in the garage. And whilst I had no doubt it catapulted me into becoming a leather-clad Brandoesque sex god, the slightly disturbing female viewpoint was that my appearance was more akin to Marlon's Godfather era.
Following the same track, just what is the point of a sportbike beyond being an aphrodisiac for a young single man to administer to the ladies under the euphemism of 'jump on the back for the ride of your life'? And how better than to enter the twilight motorcycle years than with a Goldwing, 'No problem love, just pack the Stannah in the pannier'.
These, and few other disturbing mixed-up thoughts, were on my mind as I stood outside a chintzy tea and scones cafe in Mid Wales during a particularly pleasant blue sky day this past summer. We were about 200 miles into a fantastic tour of God's Country and the other 'arf was stood smiling aside the new water-cooled BMW R1200 GS.
There's little doubt that when it comes to choosing an adventure bike these days I consider how much my partner is going to enjoy life on the pillion perch. Not that she's a permanent fixture on the back, it's just that we enjoy our time together touring on a motorcycle and I'd want her to feel as safe and be as comfortable as possible.
The current Davies stable consists of; a Suzuki DRZ 400 E; a Yamaha Tenere 660Z; Suzuki V-Strom 650 and a BMW R 1200 GS, and here's how they rank in the long weekend away relationship-building stakes.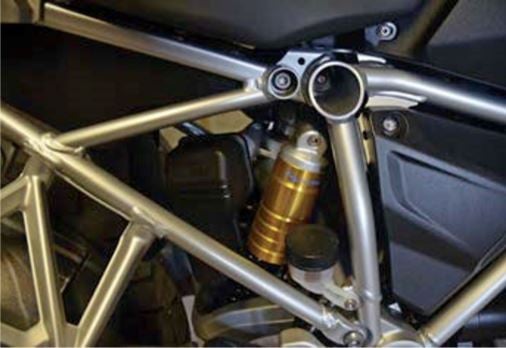 The DRZ is a weapon best used when divorce is the desired effect. I'd be worried about having a drink thrown over me if she sat on the DRZ in a warm, dry, garage for longer than 30 seconds.
The Yamaha Tenere 660 Z holds a lot more promise for relationship longevity than the DRZ, though it's not going to be a lovey-dovey affair, more a put up, shut up, and a series of unexplained headaches and burnt dinners in the oven.
Now, the Suzuki V-Strom 650 has promise, a little underpowered two-up maybe, and I know she's on the back when I turn up the gas for some A road fun, but the seat is seriously comfy and it has the comforting presence of a bike with twice the cc's. One to get a budding relationship off on the right track.
However, if you're looking to layer an element of burning red passion into a relationship, whilst maintaining that loving, stable element, the new GS has been faultless. A simple, no-fuss press of the electronic suspension button sets the bike up perfectly for two-up fully loaded touring, and it handles so well to the point that I would not even know she was aboard.
Fix a couple of panniers and a top box for that additional psychological feeling of safety and the comfy, roomy seat, perfect (for her) footpeg location and superb suspension takes care of the rest.
If you're looking for an adventure bike, and there's even the slightest chance your other 'arf could be hopping aboard, then buy a DRZ if you want see the world on your own, or check out the new BM and, er….at least you'll have the choice.
…The Aussie post bike
Having completed its journey to Alaska, the old Australian Post bike finally makes it home to England
Honda CT110
Rider: Nathan Millward
Time On Test: Five Years
Miles covered so far: 58,000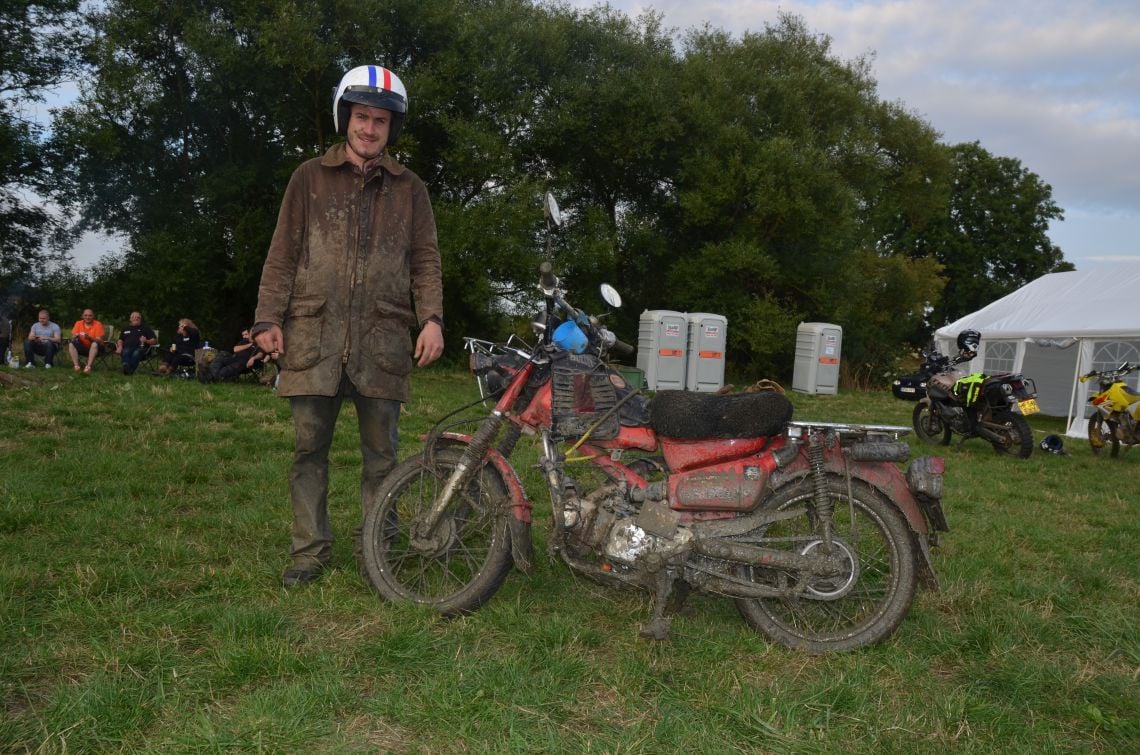 Handing your motorcycle over to a shipping agent takes a lot of trust, with it always quite amazing that two months later it ends up on the other side of the world, ready for collection, and the bit in between feels a little bit like witchcraft.
My bike had come back from the States, travelling down from Los Angeles by boat, passing through the Panama Canal and arriving at the docks in Kent sometime in the last few months.
The bike had served me well, doing a big distance and not once letting me down. I'm not a small bike advocate, but if that's all you happen to have, then it'll do the job just like any other.
It's been interesting to compare my bike – a Honda CT110 originally designed back in the sixties – with the more modern small bike from Honda, the MSX 125. This is not my comparison by the way; Honda America has been actively telling everyone that the new 'Grom' – as it is called over there – is the spiritual successor to the CT. And to be quite honest, it's not, not even close.
The CT was designed as a practical small bike of the sixties, featuring a lot of intelligence and forethought in the design. The American version for example had a lever on the side of the engine to switch between high and low gearbox for when climbing steep terrain.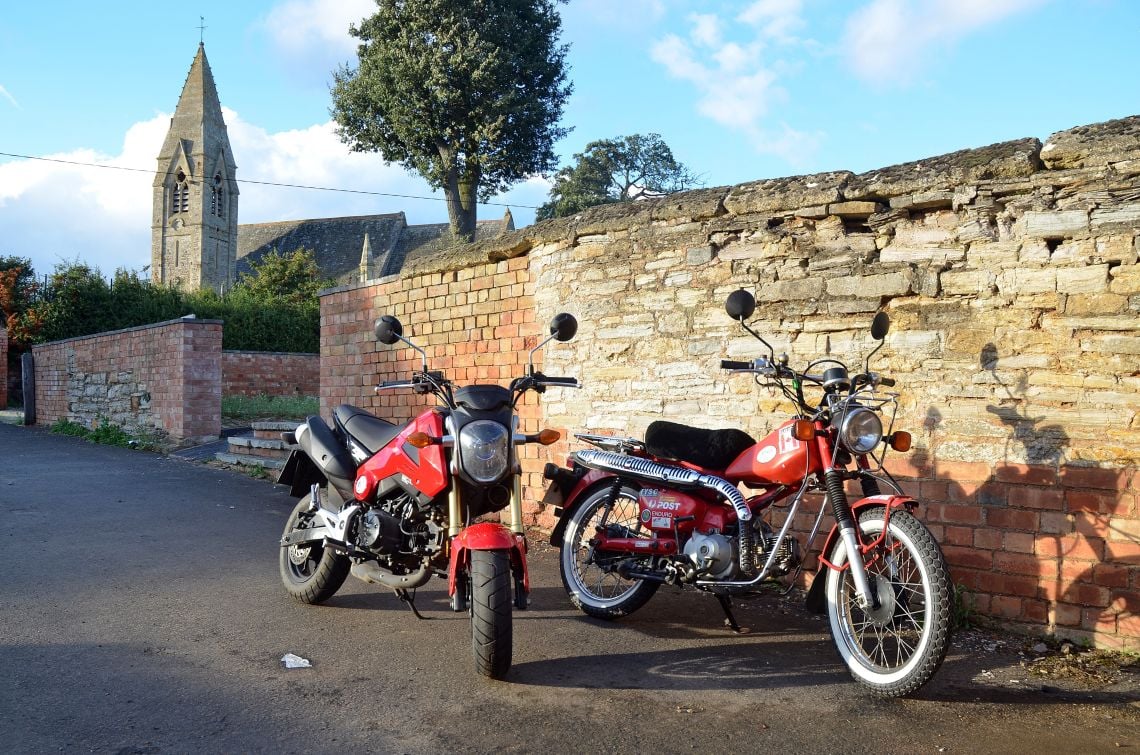 It had another dial on the carburetter to switch between five different altitude settings, depending on how high you were. Best of all, it had a handle on the headstock that when lifted would release the bars, allowing you to twist them ninety degrees so that the bike could be mounted flush on the back of a motorhome. My Australian version has two side stands, one either side, depending on which way the camber's running, a feature that wouldn't go amiss on the big bikes we ride today. It would save a lot of pushing and pulling. The CT was then just an intelligent design, built to last as well. Sadly, I just don't see any of those same traits shining through on the MSX. Sure, it's cool, it's funky (it'll go green-laning), but it's just not the same. Maybe the world's changed and we don't value such things as quality and intelligent design anymore. Fashion and fads instead. Or maybe it's just me, and a personal desire to cling on to the ways of the past. Either way, it's just good to have the old bike back. She's scrubbed up well, and the white walls don't look too bad. Where next on her? Nowhere, not yet.