The latest and greatest biking kit
AGV AX-9 
£399.99 |  www.agv.co.uk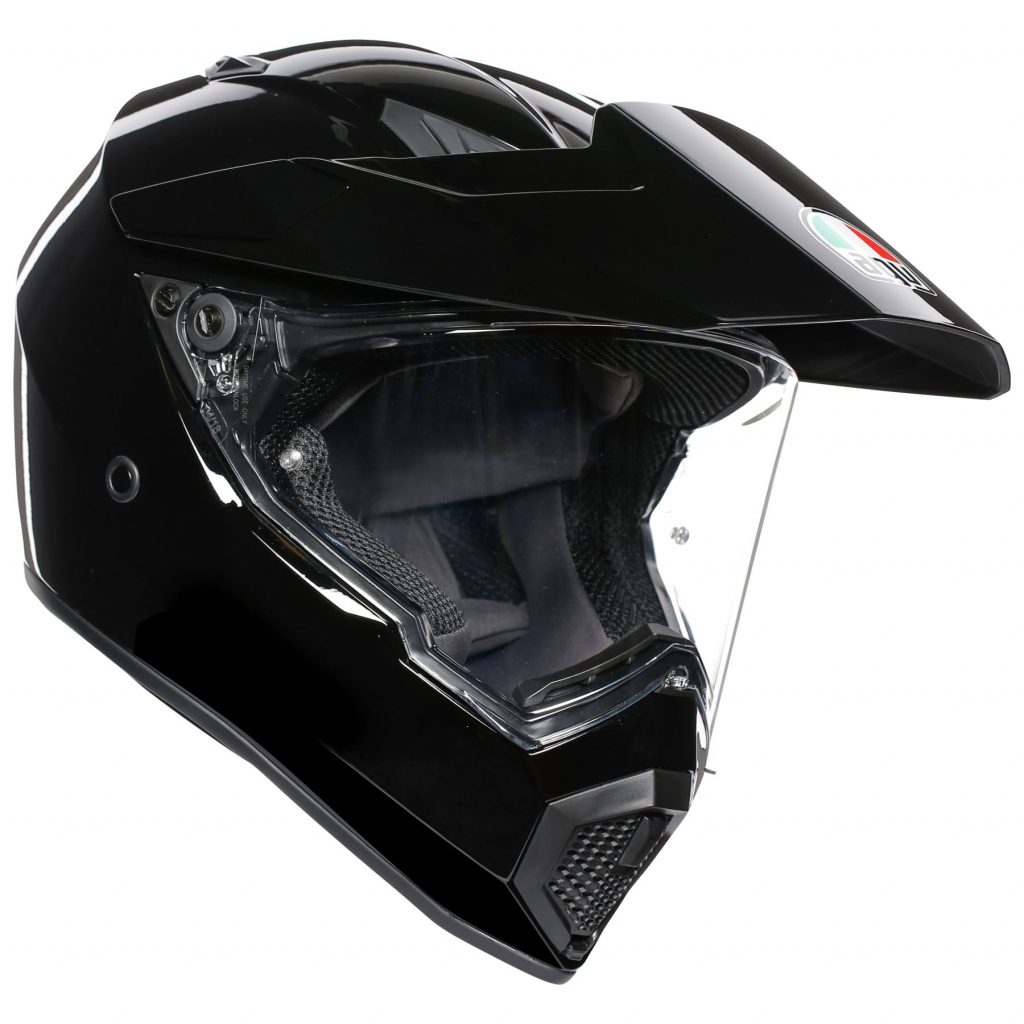 What is it? An adventure helmet designed to perform to a high standard both on and off-road. 
AGV has chosen to update its popular off-road-focused AX-8 adventure helmet with the AX-9, a version that offers more comfort and touring capability on the road. 
The first thing I noticed about the AX-9 was its prominent peak. Sitting high and proud, it's certainly one of the larger peaks I've seen on an adventure helmet. AGV says it was aerodynamically designed to limit sail effect and the Italian firm has done a good job. 
When riding at motorway speeds, I had to crane my neck back further than I ever really would before the wind lifted it and wrenched my head backwards. Quick glances over my shoulder to change lanes at speed also resulted in minimal wind turbulence. The AX-9 proves relatively quiet for an adventure helmet, offers a wide field of vision, and is extremely comfortable to wear. 
But why is high-speed performance important in an adventure helmet? Mainly because many of us take them on tour where a lid needs to perform just as well on a French toll road, as it does on mountain twisties, or the military roads of the Alps. AGV was well aware of this and has produced a helmet that performs strongly on and off-road. 
As well as using the AX-9 for commuting up and down the M5, I've worn it in the oppressive heat of the Thai jungle, where the superb venting kept my head cool, its removable chin guard air vent proving particularly useful. I've also built up a sweat riding the AX-9 off-road in Italy where it felt lightweight on my head, kept me cool, and was overall a joy to wear. 
The AX-9 is my first choice of helmet when riding these days and I can't wait to put many more miles on it. JO
REV'IT! Trench GT X Jacket 
£449.99 | www.revitsport.com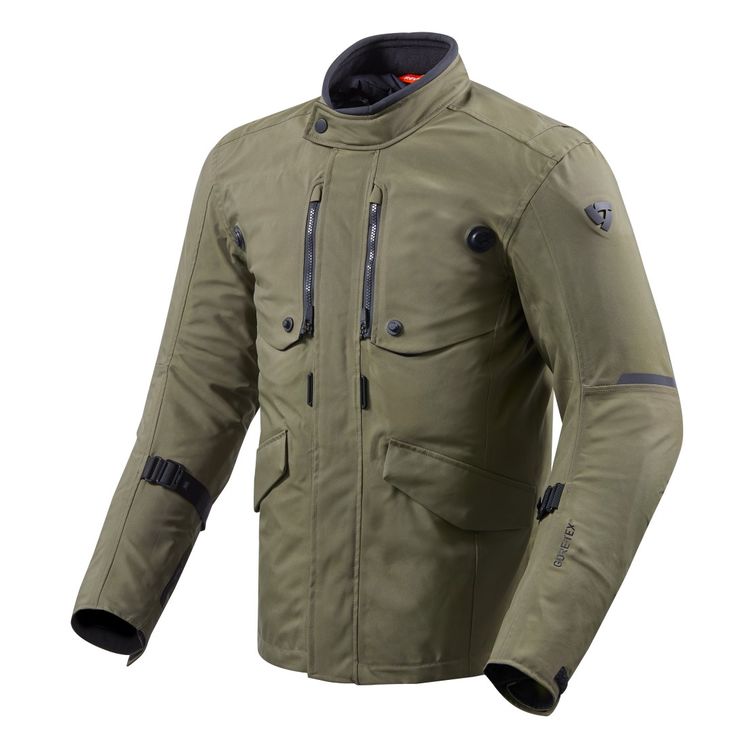 What is it? A lightweight, laminated urban adventure jacket. 
Right now, REV'IT! is making some cracking motorcycling kit and the company's adventure ranges are impressive. I've had thousands of trouble-free miles from my Dominator GTX jacket, while ABR's James Oxley lives and dies by his Sand 3, but for this summer I've been slipping into the Trench GTX. The jacket has most of the functionality of the company's bulkier and heavier adventure gear, but it tones it down slightly to provide a more casual-looking, lighter-weight garment that's trendy and functional. 
The Trench GTX is laminated with 2-layer Gore-Tex and it does a great job of keeping you dry. It's not going to be the best jacket to stand up to a day-long deluge (being fairly short and lightweight), but it's perfect for spring and summer days when the weather can't be guaranteed. 
In terms of ventilation, the jacket excels. The garment is light and airy as it is, but open up the two huge chest vents and couple them with equally large exhaust vents on the rear, and warm weather performance is exceptional. Two large, zipped external pockets are complemented by two inner pouches and a zipped chest pocket to add needed storage for shorter rides on a Sunday, while CE-approved Seesmart armour on the shoulders and elbows provide reassurance from a safety perspective.
 At £449.99, it's fairly expensive, but for casual riding and even summer touring, it's well suited to the job and you'll be comfortable and look stylish. BD
GSI Outdoors Microlite 720 Flip 
£36 | www.gsioutdoors.com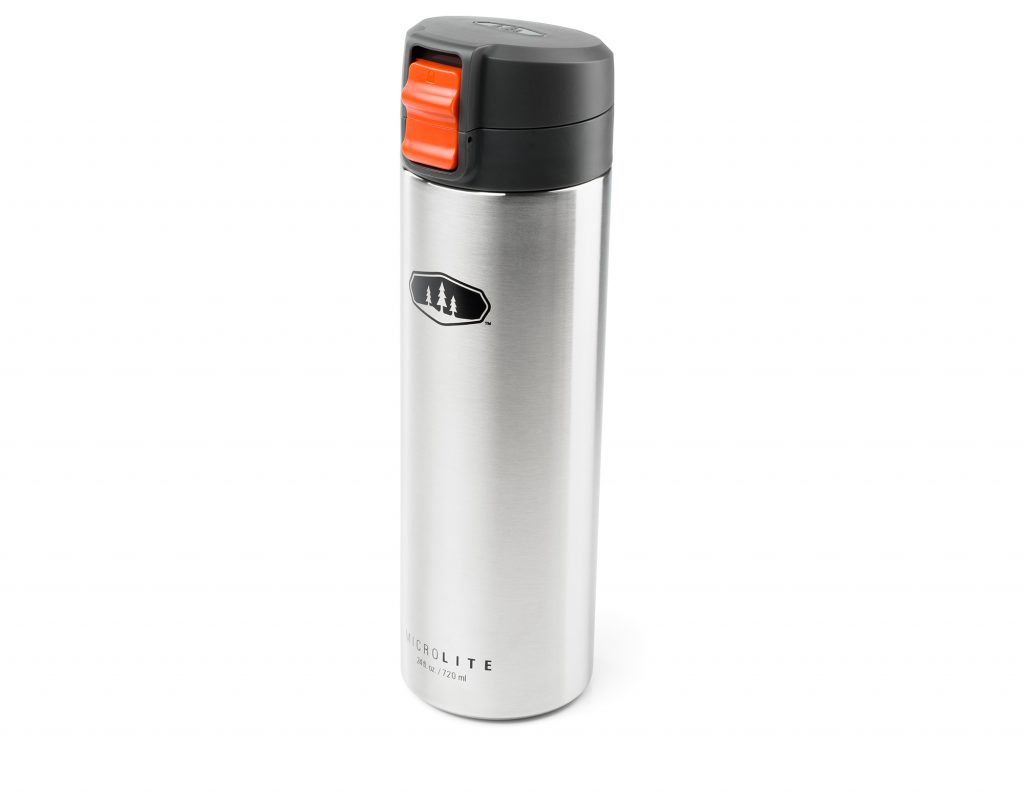 What is it? A thermal flask that's great for keeping your tea warm and your water cool.
Picture this. It's a Sunday afternoon and you're out on the bike exploring, finding new roads and admiring the sights. You take a turn down a lane you've never ridden before and it excites you with its curves. It's rising and the views around you get better and better with each mile that passes, and then you stumble upon a picturesque viewpoint. You park up. Sitting there, admiring the view and contemplating life, there's only one thing that could make it better: a lovely cup of tea. 
It was scenes like this that made me excited to try out the GSI Outdoors Microlite 720 Flip, a 0.7-litre Glacier Stainless Vacuum Bottle that's designed to keep liquids either hot or cold for long periods of time. In fact, it'll keep your tea hot for 12 hours or your water cold for 24 hours. Perfect for sticking in your top box, or even your tank bag, the lid locks into place to prevent leaking and the wide mouth makes filling it up an easy affair. Being made from stainless steel it's also durable and deals with bumps and knocks well. 
It may cost £36 but consider the amount of money you spend on tea and coffee while out riding, and you'll soon be able to justify the price. BD
Robens Outpost 
£124.99 | www.robens.de
What is it? A camp bed that's lightweight and packable. 
Getting a comfortable night's sleep on the road is, for me, one of the most important aspects to consider when riding. If you're not well rested then you'll be grouchy and miserable but, even worse, you also won't be at full attention, which is never a good thing when you're on a motorcycle. If you're sleeping in hotels, it's easy to make sure you're checking into a 'nice' room, but if you're camping and having to rely on sleeping mats, things can be trickier. 
The Robens Outpost is a great solution to uncomfortable nights under canvas. This lightweight and packable camp bed will lift you off the ground, making sure you've got a cosy and even sleeping area. At a little over 2kg in weight and roughly the same size as a 2-litre bottle of pop, the impact it will have on your panniers is minimal compared to the comfort it offers. 
Setting up the bed is easy once you get the hang of it and it'll support up to 120kg of weight (that's 18.8 stone). The sleeping area is 192cm long and, if it's particularly cold while you're camping, corner straps will allow you to use it in conjunction with an insulated sleeping mat. BD
Rocky Creek Designs Motopressor Puncture repair tool 
£46.09 | www.rockycreekdesigns.co.uk
What is it? A puncture repair multitool. 
Getting a puncture close to home is an inconvenience. Getting one abroad can throw your plans into disarray, particularly if you're travelling in remote areas and you don't have the tools for the job. Thankfully, Rocky Creek Designs has produced a compact device that provides you with all the tools you need to repair a puncture in a tubeless tyre. 
The MotoPressor Puncture Repair Tool resembles a pocket knife and conveniently folds down small enough to fit into your pocket, a tool wrap, or under your bike seat. It features pliers, a reaming tool, an insertion tool and a removable sharp knife. It also comes with a handy pouch to keep it in. Inside the pouch you'll find five repair strings to plug a hole in your tyre. These come pre-vulcanised so there's no need to mess around with glue. 
The tool feels reassuringly sturdy in your hand and it's clear plenty of thought has gone into its design. Everything fits together neatly and each tool is substantial enough to provide you with the dexterity you need to fix a puncture – there's certainly no fiddling around with undersized tools for the job. 
While there are plenty of motorcycle puncture repair kits on the market, the MotoPressor stands out from the crowd because it provides everything you need in such a compact package. As long as you carry an air pump, you'll be able to repair the vast majority of tubeless tyre punctures by the side of the road. It's certainly a welcome addition to my motorcycle tool wrap. JO
T.UR Jacket J-Two
£299.99 | www.t-ur.com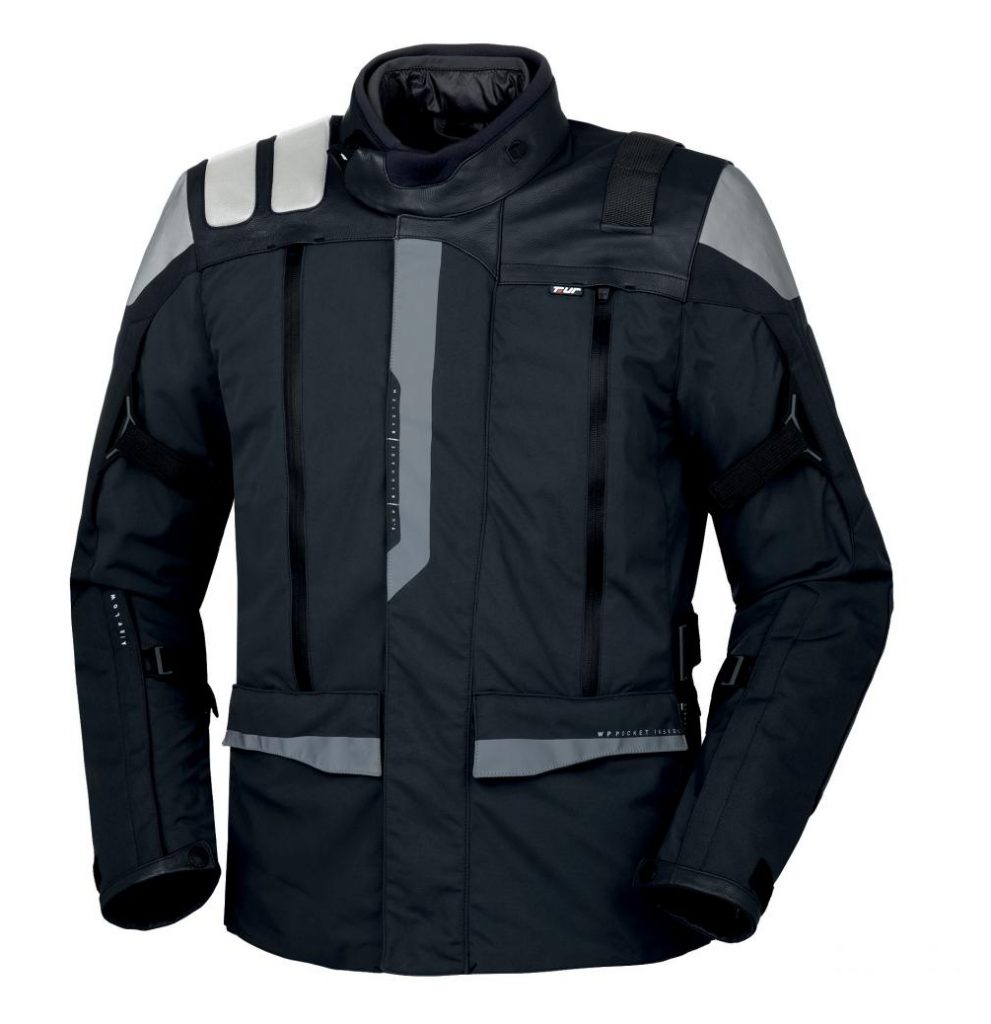 What is it? New touring gear from Tucano Urbano. 
Turcano Urbano is a company that's well known for its scooter gear, but recently it has branched out into the touring market, creating a whole new brand, T.Ur. There are two textile jackets in the T.Ur range; the J-One, which retails at £439.99, and the J-Two, which we have on test here.
While the J-Two may be the cheaper of the two, it is highly specced for the price, and I was surprised by how much thought has gone into the design; it's clear to see that whoever was involved in this piece of kit tours themselves! 
The J-Two has features you'd expect to see in a touring jacket, including large pockets, CE level 2 D30 armour on the elbows and shoulders, leather reinforcements in areas that are likely to see abrasion, and a comfortable mesh lining. But what's most interesting about the J-Two, is the way it approaches weather protection. 
To provide waterproofing, a textile jacket will either be laminated or feature a waterproof drop liner that sits inside the outer jacket. T.Ur's system takes a three-layer approach, but rather than putting the waterproof lining inside (which allows the outer to wet out completely and also compromises the effectiveness of any vents), the J-Two's waterproof lining comes in the form of a dedicated, specifically designed waterproof outer layer, which can also be worn off the bike and is stored discreetly in a purpose-built pocket. Similarly, the thermal layer is genuinely useful and also looks good enough to use off the bike.
By removing the waterproof lining, the jacket is then able to be turned into a great summer garment, with huge vents on the front and rear providing some of the most effective ventilation I've used. 
Having worn the jacket on a recent trip to Ireland, where we encountered all types of weather, including heavy downpours, I can report that the system is effective and the jacket performs well. WS