When his girlfriend passed her test and couldn't find an adventure bike suitable for her short stature, Kev Thomas decided to build one
My adventure biking started in 1988 when I turned my back on screaming modified two-stroke sports bikes and built my first adventure special. It was a 1982 Honda XL185 upgraded to XR200 spec and fitted with uprated suspension and a Suzuki DR600 fuel tank. It took me around Mediterranean Europe and North Africa from Morocco to Tunisia via a long ride south on the old overland route through Algeria.
The next year I bought the first of my Yamaha XTs, a blue, 3AJ twin headlight. 119,000 miles over the next eighteen months and thoughts returned to the desert, and an invite from a friend to take part in a rally in Morocco sealed my fate. A new rally prepared XTZ660 was built and ready to go and I have been modifying and prepping bikes for trips to the desert ever since. This included building my own bike for the 1998 Atlas and 2000 Dakar rallies.
Recent trips to the Horizons UK Hubb confirmed my findings from when my petite girlfriend passed her bike test and wanted a similar bike to my XT/XTZ660 special. Aside from the new CCM, nobody sells an adventure capable bike with a low seat height, sensible weight, good off-road ability and the durability and tank range for long-distance miles.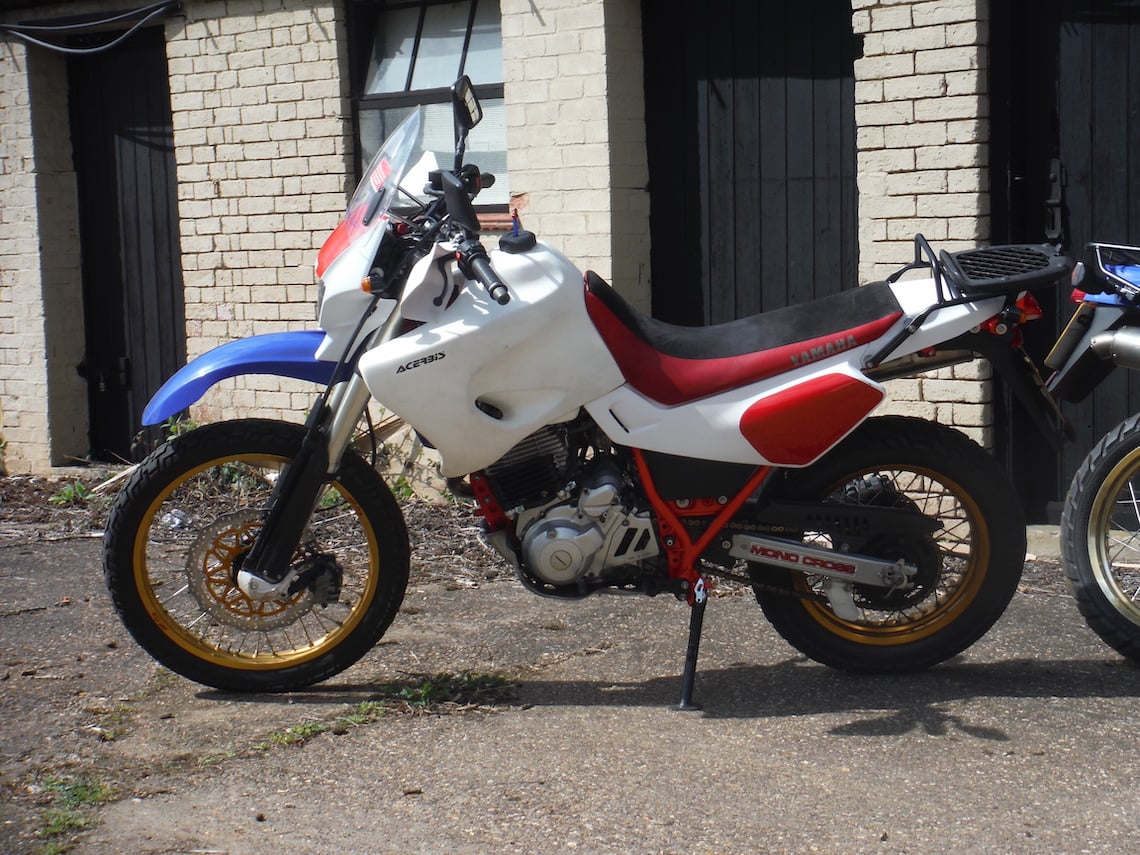 The bike manufacturers are missing a trick – you see Mr. Adventure turning up on his fully kitted GS whilst Mrs. Adventure has to make do with a Honda CB500 or Suzuki GS500 or similar. Great bikes, but would you want to take them off-road? We set about building a bike that those shorter in the leg/stature or confidence could use for the daily commute, weekends away or the journey of a lifetime.
We started with a good honest low mileage 1998 XT600E, modified the linkage, reduced the spring preload and dropped the yokes down the forks to get the seat down by 25mm. The seat was rebuilt with better quality foam and a suede cover, reducing the height by a further 25mm.
Removing surplus parts like passenger footrests and replacing the heavy silencer with an Arrow can save a few pounds and an Acerbis tank rated at 23-litres but capable of taking 25 gave long distance mileage. Heated grips and an MRA screen gave cold-weather comfort and subtle modifications to the levers reduced the reach for shorter fingers.
Anna, my partner, had tried a variety of bikes culminating in a long and ongoing relationship with a lowered MT03 Yamaha, but jumping on the XT boosted her confidence immediately. Regular commutes to work cemented the relationship, a trip to the Picos in 2013, a trip to the Spa classic and a wet holiday through Europe to Croatia in 2014 proved the bike's ability to rack up the miles and convinced Anna that this was a keeper.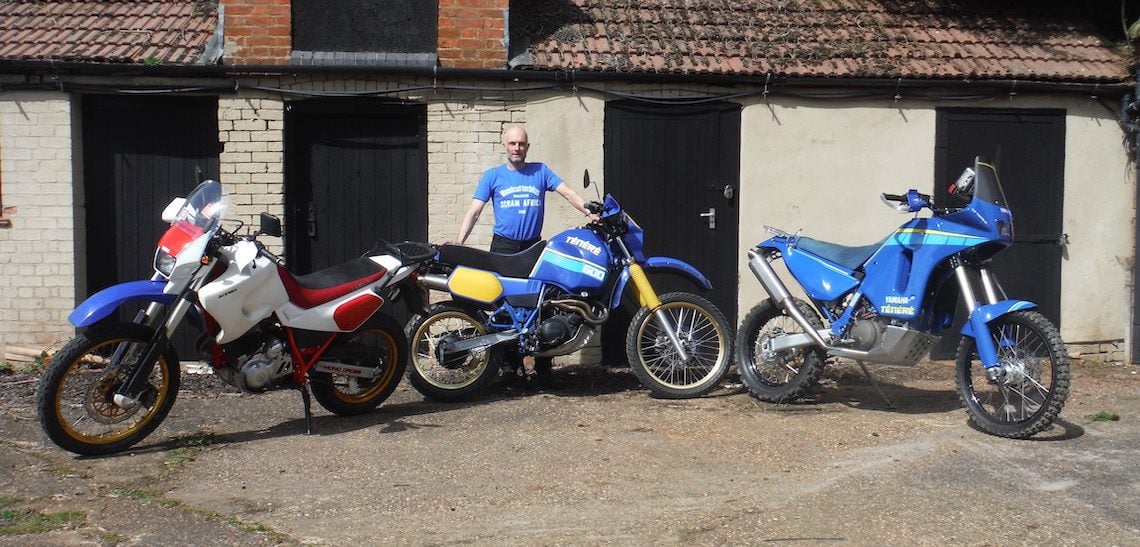 We decided over the winter to sort the bike's low budget finish whilst adding a little more power, less weight and upgraded suspension and brakes which would give Anna the ultimate all-rounder to continue working towards her goal of riding to Armenia in 2018. A planned trip to Morocco this year is the next target to aim for.
The project started with stripping the bike, the frame had surplus bracketry removed and some of the low-stress brackets were drilled to save a few grams before having a coat of bright red powder coating. The luggage rack was modified to move the top box forward 50mm to aid stability. The side stand was shortened and a bigger foot welded on. Oversized footrests were made for added comfort and machine control.
The forks were set aside and a set of Billet yokes originally meant for a WR400 enduro were modified to fit and to accept rubber handlebar mounts and the original clocks and ignition barrel. WR400 45mm KYB forks were stripped, re shimmed and sprung and reassembled with new seals and bushes set with 50mm less extension.
The standard rear-wheel hub was fitted with new sealed bearings and new lightweight aluminium hard anodised spacers. Hagon built this onto a 3.00 x 17 gold anodised rim with stainless spokes. A WR400 hub was treated the same way and fitted with a 1.60 x 21 gold anodised rim. Avon gripster tyres were chosen for confidence-inspiring grip in all road conditions. The original rear calliper and disc were serviced and fitted with new pads. The front brake is a serviced WR calliper gripping a 320mm disc with new pads. Hel hoses replace the original rubber items.
The engine was cleaned and the top end was treated to a 640 big bore, gas flowed head and an enduro spec camshaft giving increased mid-range and top-end power with good economy, oversize stainless header pipes, the Arrow can and a K&N filter allow the engine to breathe whilst an oil cooler keeps the temperature down.
A lighter Ténéré rear spindle along with various other bolts and brackets went off for replating but most of the chassis bolts were replaced with beautiful high-grade titanium flange headed bolts. Careful reassembly has resulted in a trouble-free running-in period and Anna's first ride resulted in big smiles despite a six-month winter layoff from riding.
I have now started a small bike business under the Woodcutterbikes title building and preparing bespoke travel and rally bikes tailored to the individual's specific needs.
If you just want your bike lowered properly or you want a bike sourced and built just for you, be it a full-on classic, or modern Dakar racer, or a bike to take you around the world we can do it for you.
---
Do you have your head in the shed?
If you've got a DIY bike project to share, email details to [email protected] with a few pics of your handiwork, and if it's featured we'll send you some stickers for your pimped up steed.