Another issue, another few hundred miles on our long term Triumph Tiger 800 XCx. Words: Bryn Davies
Earlier on in this issue of Adventure Bike Rider you may have read about my trip to the Lakes to ride the Cumbria Way – while a majority of the riding was done on road, including two long motorway stints which proved the XCx to be comfortable over long distances (with the exception of some knee cramps towards the end of a 16-hour day in the saddle), I managed to test the bike's prowess on some pretty gnarly trails.
Granted I wasn't running particularly off-road suited tyres, the Tiger coped pretty well, though running next to the a Yamaha XT660 complete with trail tyres, it was clear to see which bike was better suited to the rough and tumble of green landing.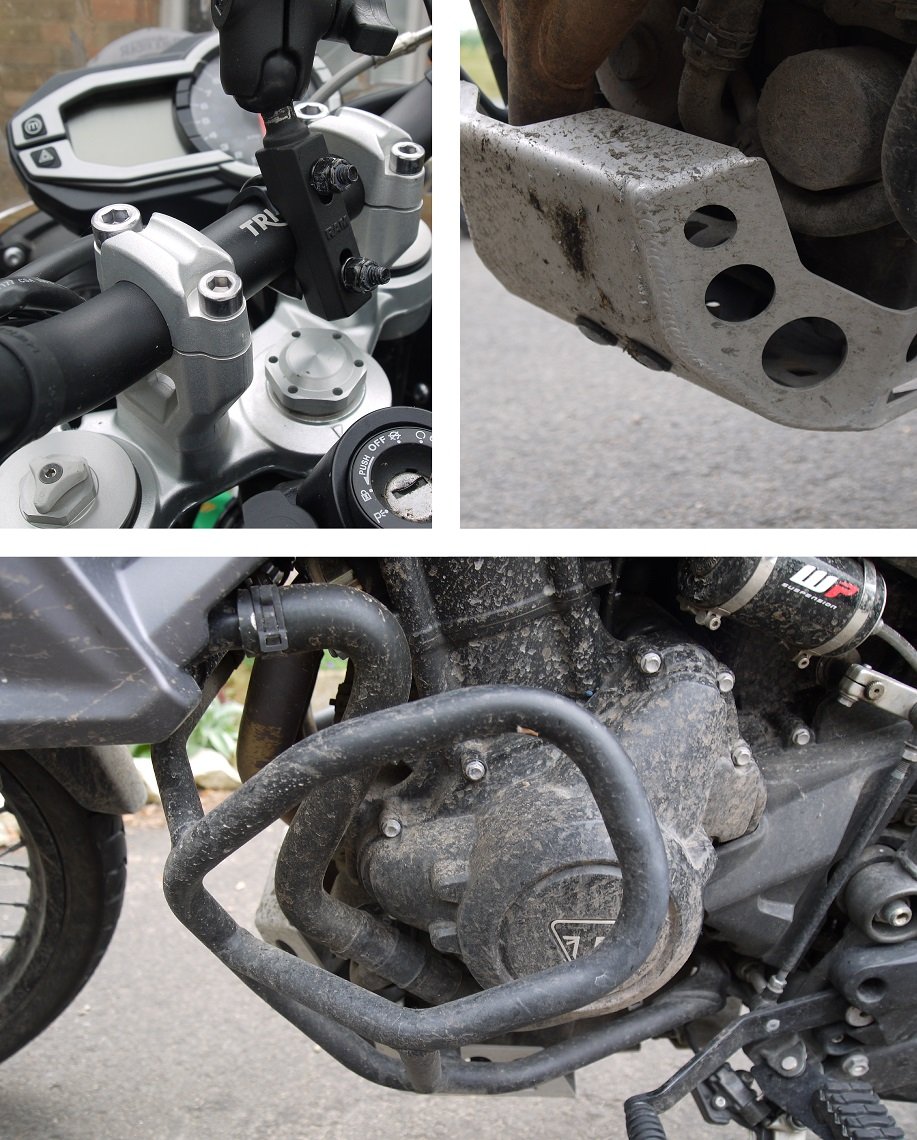 With the off-road mode of the XCx engaged, big rock steps, muddy ruts and even a deep(ish) river crossing were tackled, and if there's one thing we learnt it was that the XCx can do it all, but it's not pretty and it could do with a bit more ground clearance to make serious off-roading an option.
While the XT flew over rock steps the Tiger was bottoming out – the sump guard (which comes as standard on both the XC and XCx models) got a good battering, but I think it's fair to say that when it's called upon it does its job admirably.
At 6ft 2in the sporty positioning of the handlebars and pegs isn't particularly suited for off-roading either, with standing up putting you in an awkward place almost over the screen of the bike.
Not only does it feel awkward, but if you were to hit a big bump I can see the screen whacking you right in the chops.
While there's no doubting that if you're looking to do some serious green laning there are better machines out there, if you prefer to ride mostly on road, but you like having the option to go and ride some gentler green lanes if the mood takes you, then the XCx is a very good all-round machine.
The 95bhp triple engine is superb, with power coming all through the rev range and the ride is both comfortable and engaging.
With the biking season upon us we're looking forward to getting out on the XCx a bit more over the coming months, and we're particularly interested in seeing how the machine copes as a two-up tourer.
More on that in the next issue of ABR.