Emily-Jane Cave rounds up the 'who's doing what where' of the motorcycle touring world
Morocco on-road
You'd be forgiven for thinking that 'Dakar Land' Morocco is best avoided if you're not an off -roader. The popularity of its dusty trails and sand dunes see Morocco more often hailed as dirt-bike heaven, which of course it is. But far from being exclusively knobbly country, Morocco also offers some spectacular on-road riding, from top-quality tarmacked mountain twisties to challenging back streets in the country's capital, careering round camels, dodging donkeys – there's never a dull moment!
Moto Adventour's 14-day Morocco on-road tour offers riders a taste of everything this exciting North African country has to off er, both by bike and on foot. If you're looking to get a feel for Morocco's culture and heritage, as well as its roads and scenic riding, then this is the tour for you.
The two-week trip kicks off in Malaga, southern Spain, where ABRs take the ferry from Tarifa to North Africa before riding to Oued-Laou on the Mediterranean coast via Tetouan and then onto Jebel-Tisouka, and the village of Chefchaouen.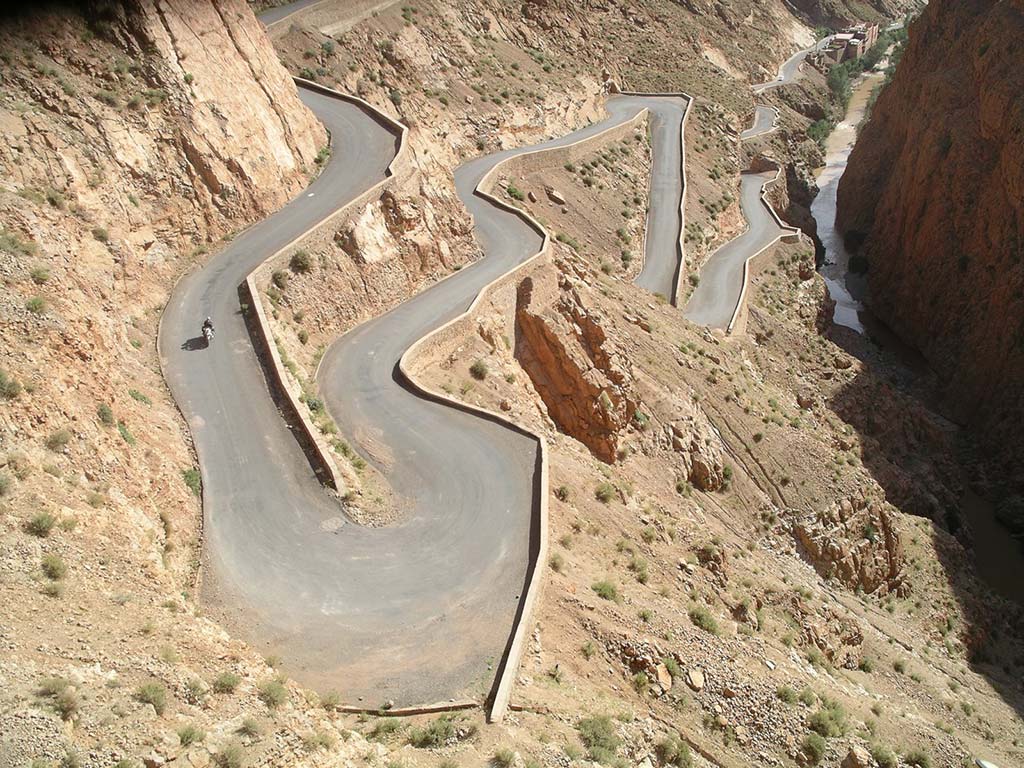 Day three sees a tour of Morocco's lake region en route to Fez, where participants will spend the following day exploring the likes of the king's residence and medina. Next up are the High Atlas as riders head south over the mountains and the Ziz Gorge on their way to Er Rachidia.
Another day off the bikes follows and a chance to see the Sahara on a 4WD tour, before getting on the bikes again and riding to Ouarzazate: Gateway to the Sahara.
Day eight gives ABRs a choice of either riding out to Zagora and back, or discovering the ancient secrets of Taurit Kasbah, an 18th century UNESCO site.
No bike trip to Morocco would be complete without taking in the famous Tizi-n-Tichka Pass, snaking 10,000ft over the High Atlas and into Marakech. Riders can spend the following day exploring Morocco's capital – the Medina is a must – before heading off on the Tizzi-n-Test en route to Chichaoua, one of the most beautiful and dramatic valleys in the High Atlas, and the ski resort of Essaouira. A run down to Rabat via the traditional fishing village of Oualidia and El-Jidada along the Atlantic Coast rounds off day 12 on the bikes.
A quick blast up to Tangier the following day will see ABRs board the ferry and arrive on Mediterranean soil in time for a farewell dinner before parting ways.
The tour is open to ABRs wanting to take their own bike, although rentals are available, and includes 13 nights' bed and breakfast, 12 lunches and 11 dinners.
Prices start from €2,350 (£1,962). The next available tour departs 9 September 2012. For more, see www.motoadventours.com
Three ways to ride…
USA west coast
1. Go-off road
What could be more fun than the heady combination of high-octane dirt bike action and the bright lights of Las Vegas? Not much, we reckon. Spending all day stirring up desert dust and a few nights living it up on the strip – what a ride! And with celebrity clientele including Juan Pablo Montoya, Kid Rock and Lance Armstrong, you're in good company.
Chris Haines Motorcycle Adventure Company is run by none other than, you guessed it, Chris Haines, who counts 13 Baja 1000 and three Baja 500 wins among his off-road accolades. The company's based in Southern California, and has launched its Southern Nevada Off-Road Experience last year; although Chris Haines Motorcycle Adventure has over 25 years' experience running tours. Haines' Honda CRF 450X motorcycles are more than equipped to take on the desert's badlands, though riders are welcome to bring their own bike, so long as it's street legal.
The four-day ride-out from Las Vegas takes in a round trip to Laughlin on the Colorado River and covers all kinds of terrain including trails, dirt roads and single tracks, under the guidance of the company's experienced desert riders. For prices, 2012 trip schedule and more information, see www.chrishaines.com.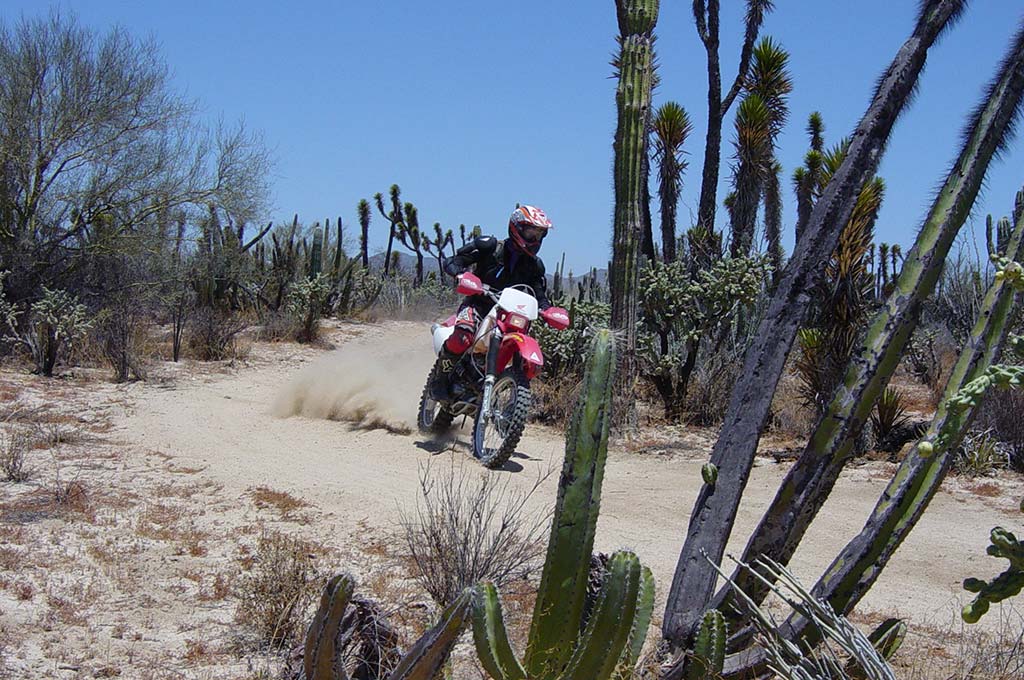 2. Go badass
If there's one motorcycle dream that's shared by many, it's got to be Route 66 ala Easy Rider. Picture the scene: just you, your Harley, and a seemingly endless horizon stretching out into Monument Valley… freedom doesn't come more resolute than this.
Adventures in Arizona is a UK-based company (extra convenient for Brits when it comes to arranging bookings) offering two iconic Harley tours in Arizona, the most popular of which is the Northern Tour. ABRs will have the chance to take a chopper over the Grand Canyon, a biplane over Sedona and watch the sunset over Monument Valley as well as taking in some of the best riding this state has to offer.
The eight-day tour kicks off in Phoenix where ABRs are supplied with one of the company's steeds before setting off the following morning for a 225-mile rideout to the Route 66 town of Flagstaff, via Winslow and the famous Meteor Crater. The following day it's a trip to the Grand Canyon where riders will be able to take their Harleys along the canyon ridge before hopping in a helicopter and seeing it from above. At 16 miles wide and one mile deep this is the only way to view the Grand Canyon!
Up next is Monument Valley and a ride through its iconic red mesas. This is real Easy Rider country and photo ops abound here. After an overnight stop in Flagstaff, ABRs will ride out to Williams, one of the last remaining outposts of Route 66, before heading down to Sedona the following day for a bi-plane flight over Oak Creek Canyon.
The trip concludes with a blast through Oak Creek to the old copper 'ghost town' of Jerome, 5,200ft up Mount Mingus, before the twisty junkies get their kicks on the 12-mile 167-bend stretch back to Phoenix. Ever fired a machine gun? A trip to the Phoenix gun range on day eight will soon see to that. Prices are £1,993 for a solo rider; £2,663 for rider and pillion and include all accommodation, bike rental and excursion fees. For dates and availability, see www.adventuresinarizona.com.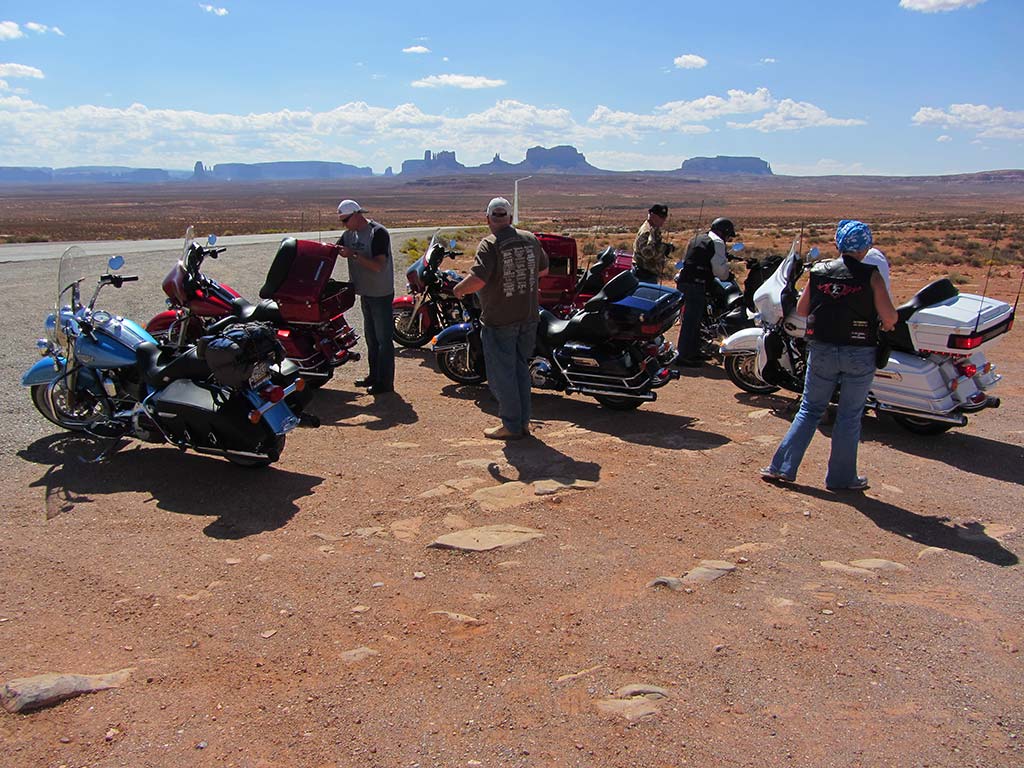 3. Go your own way
Want to ride the land of the free at your own pace? If a structured, guided tour isn't for you, how about hiring a bike and making your own way down the west coast? Ride Adventures specialises in all kinds of travel by bike across the Americas and the Caribbean, and the rentals section of the company has hire bikes located in every west coast state.
ABRs have the option to start their US adventure in either Alaska, Washington, Oregon, California or Arizona, so anything from a three-day blast around Yosemite to a full-on west coast tour is possible, taking in all the best ABR-ing hotspots en route.
The flexible pick-up/drop-off facility means riders can cover some serious ground between any of these states and at a reasonable rate, too. The company offers a choice of three BMWs; the F 650 GS, 800 GS, and R 1200 GS from $100 (£63) per day, based on a two-week or more hire period and a Kawasaki KLR 650 at just $75 (£47) per day (shorter hire periods are available on all bikes, but the daily rate is more expensive).
Rentals typically include the bike, third party liability insurance, panniers, tank bag, aluminium skidplate, centre-stand and crashbar protection. Riders will have to take care of state taxes, riding gear, fuel, bike damage insurance and a security deposit for hire. As an added bonus, the company also offers a free email tutorial PDF on how to pack your bike for the trip and save money while doing it – what a nice bunch! See www.rideadv.com.