The sea change is in progress. Adventure bikes are taking over the motorcycle industry, and it's not just in the UK, either…
Welcome to this new section of ABR where we'll be bringing you tests, reviews and updates on all the shiny new adventure bikes currently in the showrooms.
With a rake of new adventure bikes entering the market in 2012, and more in the pipeline, the question: 'What is an adventure bike?' is now of diminishing relevance, having been overtaken by the more meaningful: 'What type of adventure bike do you want?' If you're after something that's fast and more road-orientated, then check-out the Ducati Multistrada and the Honda Crosstourer; want a lightweight bike with good off-road ability? Try the BMW G 650 GS Sertao or Yamaha XT 660 Z Tenere.
In an attempt to better differentiate between various models within the adventure sector, we've decided to classify each bike under the following headings:
Adventure tourer – Where the emphasis is primarily road based. The Honda Crosstourer is a good example of an adventure touring bike. 
Adventure sports – Where the overall appeal is directed more towards speed, power and handling. The Ducati Multistrada best emphasises the adventure sports moniker.
Adventure – Where the bike is a genuine go-anywhere do (almost) anything machine, both on-road and off it. The BMW R 1200 GS is the classic bike in this mould.
In this issue we take a first look at the Honda Crosstourer, Triumph Tiger Explorer, and the BMW Sertao. You'll also be able to find more in-depth reviews and regular updates on the ABR website at www.adventurebikerider.com.
And, speaking of new bikes, (and the way the UK motorcycle industry is now embracing all things adventure with a passion) I thought I'd try to fi nd out if this seismic shift towards the more practical, versatile and comfortable adventure brotherhood was just a British thing or if other European countries were experiencing a similar move. The answer is an unequivocal, 'Yes'. From Portugal to Scandinavia, motorcycle journalists are at one in telling me that the adventure sector is flying and is most definitely the future.
---

BMW G 650 GS Sertao
New for 2012, the Sertao is the German company's off-road version of the G 650 GS. Alun Davies spent two days down in South Wales getting to grips with the new BMW and still doesn't know how to pronounce 'Sertao'
In a line: Single-cylinder adventure bike with heaps of off-road ability, decent on-road performance, and great fuel economy
Quick Spec
Model: BMW G 650 GS Sertao
Price: £6,735
Capacity: 652cc
MPG: 89mpg at 56mph (unverified figs from BMW brochure, which we reckon are unlikely in the real world)
Tank Capacity: 14 litres
Range: up to 272 miles (again, unverified figs from BMW brochure)
Max Speed: 106mph
Power: 48bhp at 6,500rpm
Torque: 60Nm at 5,000
Transmission: 5 gears, chain drive
Seat Height: 860mm to 900mm
Weight: dry weight 177kg; fully fuelled and ready to go 193kg
Wheels: 21-inch front/17-inch rear wire spokes
Suspension Travel: 210mm front/ 210mm rear
Colours: Aura white/Arroyo blue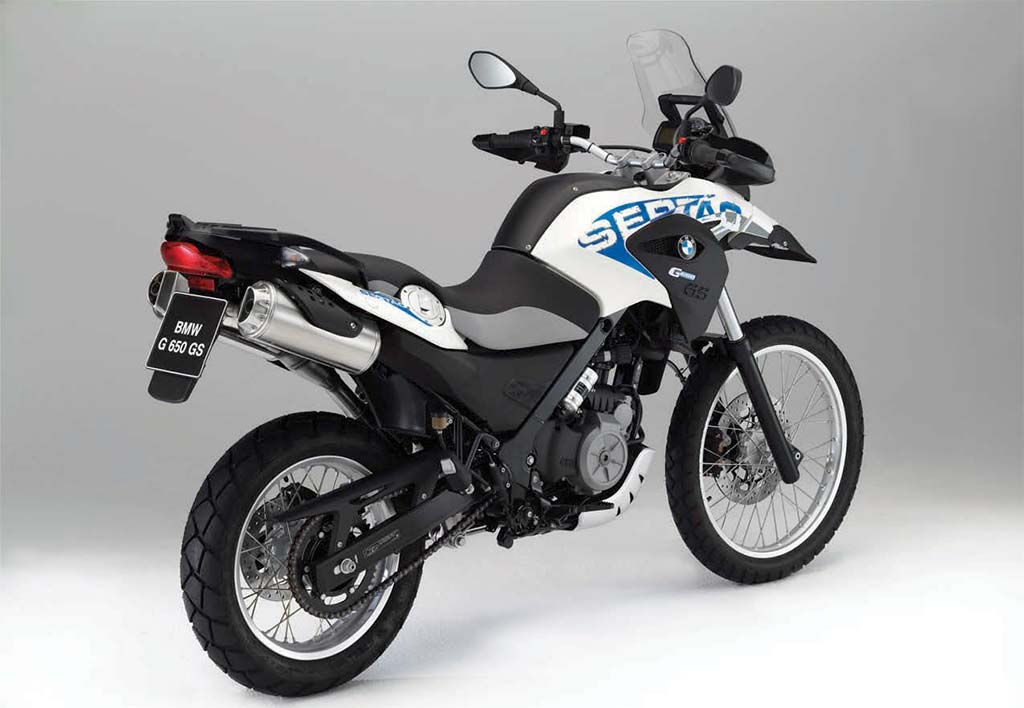 What flavour of adventure bike is the Sertao? Adventure
The Review
There comes a time when Morocco features in the plans of most adventure bike riders, and for good reason. The exotic culture, people, scenery, climate and the fact that you can knock it off within a couple of weeks' holiday all add up to make the North African country the most adventurous destination within reach of UK riders with home and work commitments.
Morocco also offers enough off-road opportunities to fill a lifetime, and for most riders, the knobbly-shod highlight of any trip would be the opportunity to blast up the monster sand mountain known as Cathedral Dune in the Erg Chebbi near the town of Merzouga. And therein lies the adventure rub; which bike would be comfortable enough to ride the 4,200 road miles from the UK to the Sahara and back in quick measure, and be capable of getting you to the top of Cathedral Dune?
If you ride to a standard where entering the Dakar Rally would be below you, then take a Goldwing and enjoy the challenge. If you're a competent off-roader and have biceps the size of water melons, then just about any adventure bike would do the job. And, if you're Joe Average setting out on a great adventure with dreams of having a go at that huge pile of sand, then a bike that you could lift when standing on steep, unstable and unsupportive underfoot conditions is preferable.
I can tell you from a past Moroccan experience that lifting a 111kg (dry weight) KTM 450 on steep, shifting sand under a blazing hot sun works up a mighty sweat. Just the thought of lifting a 209kg (dry weight) BMW 1200 GS in similar conditions induces alarming cardiac palpitations, as does the vision of riding the KTM on 4,200 miles of tarmac.
With the above 'perfect' bike for Morocco conundrum in mind, I came to the conclusion about a year ago that the Yamaha 660 Tenere would be the bike of choice. In my experience, the Tenere offers adequate all-day on-road comfort at decent cruising speeds, plus it's a mighty capable off-road machine. At 183kg it's not what you'd call lightweight, but it's just about acceptable (and lift-able) when all the benefits and downsides are measured and considered.
Over the past 12 months, I'd not ridden a bike that came close to changing my mind about which bike would be the ultimate Moroccan dream machine, but as I sat atop a hill in South Wales a couple of weeks back with a huge grin on my mud-splattered face, I looked down at the new BMW G 650 GS Sertao between my legs and thought, 'Morocco, here I come'.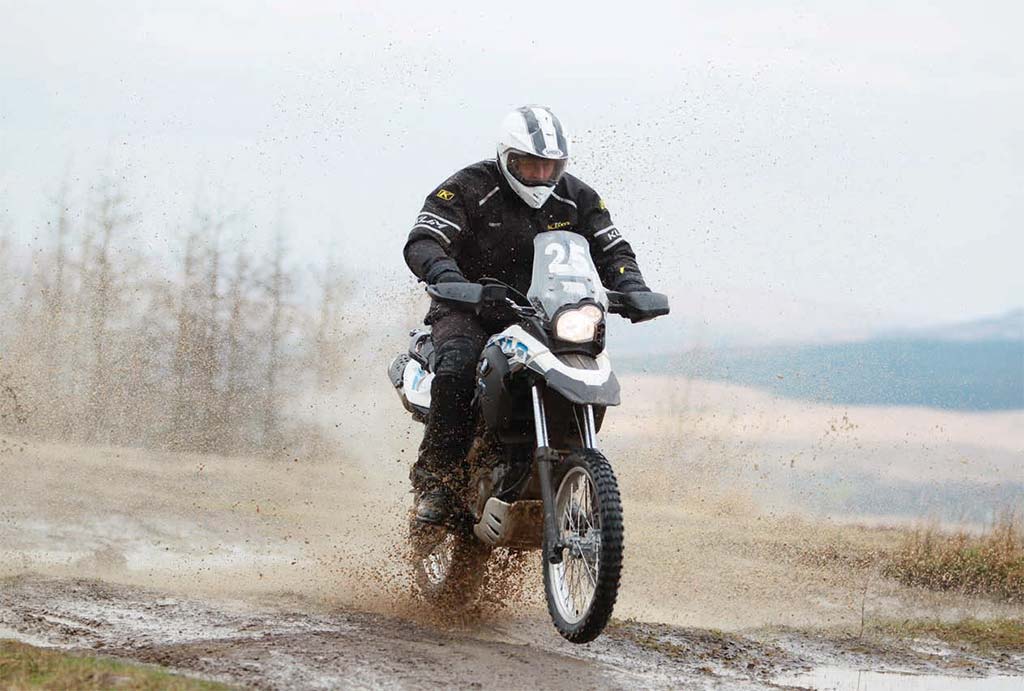 On-Road
Both Honda and Triumph chose the sunny Spanish Costas to launch their new adventure bikes, and the attending jounrnos were treated to blue skies, magnificent mountain switchbacks and huge quantities of food and wine to gain their verdicts on the Crosstourer and Explorer. To launch the Sertao, BMW decided to go more upmarket while still chasing the winter sun, so it was slightly disappointing to be riding past Poundland in downtown Swansea en route to the meet under grey skies.
At the hotel, the carpark was full of Beemers from the GS range. The 1200s and 800s were all sporting new colour schemes for 2012, but it was the lanky blue and white Sertao that we were all here to check out. The plan on day one was to split into two groups and ride up to and around my old stamping ground of the Brecon Beacons, changing bikes as we went along. Today was to be a road ride, followed up on day two with an off-road trial at the Nirvana of South Walian mud known as Walters Arena.
By the time we'd reached the fast, open mountain roads of the Beacons I'd already spent time on the 1200 and 800 before moving onto the single-cylinder 650 Sertao. On reflection that's probably not the best way to evaluate a smaller, less powerful, more off-road orientated machine. While my brain was telling me 'relax, it's going to be a lot slower', my overriding emotion was disappointment having come off the bigger, faster machines just at the time we were hitting some of the best tarmac roads in Wales. Keep the momentum and revs up and the Sertao will hustle with the big boys, but you'll not have the same wide grin on your face and if you're into checking out power and handling at the performance end of the scale, you'll have probably bitten through your lip within the hour.
Having said that, the longer I was in the saddle the more I settled into the flow of the Sertao, and in fairness, it performed well and did all that I asked of it, which on a press launch means it was ridden at a pace that most buyers are highly unlikely to explore.
Having no experience of the more recent GS 650s I could only compare the performance of the Sertao to current bikes of a similar capacity that I do know well; the Yamaha XT 660 Z, the Honda Transalp 700 and the Suzuki 650 V-Strom (both of the latter are twins rather than singles). I found the Sertao a lot smoother to ride than the XT, with a softer, less jerky power delivery and not so much of a bouncy castle effect, but I did miss the sixth gear of the Yam, which is handy for high-speed cruising. Plus, even though the XT and Sertao are boasting similar power stats, the XT feels friskier and quicker off the mark.
I can categorically say that if your adventure aspirations do not include any off-road riding then you'd be far better off looking at the 650 V-Strom, and while I enjoyed my time in the saddle of the Transalp, it's not as good on-road as the Suzuki, nor as competent off-road as the BMW or the Yamaha.
On-road, I reckon there's little to choose between the Yamaha and BMW; they are both of similar stature and performance, though for my 6ft 2in frame, the Yamaha has better ergonomics and is the more comfy and relaxing to ride – though I'm fairly sure that with a set of bar risers and a few mods there'd be no difference worth fighting over.
What has to be said is that the Sertao appears to be the more economical bike to run.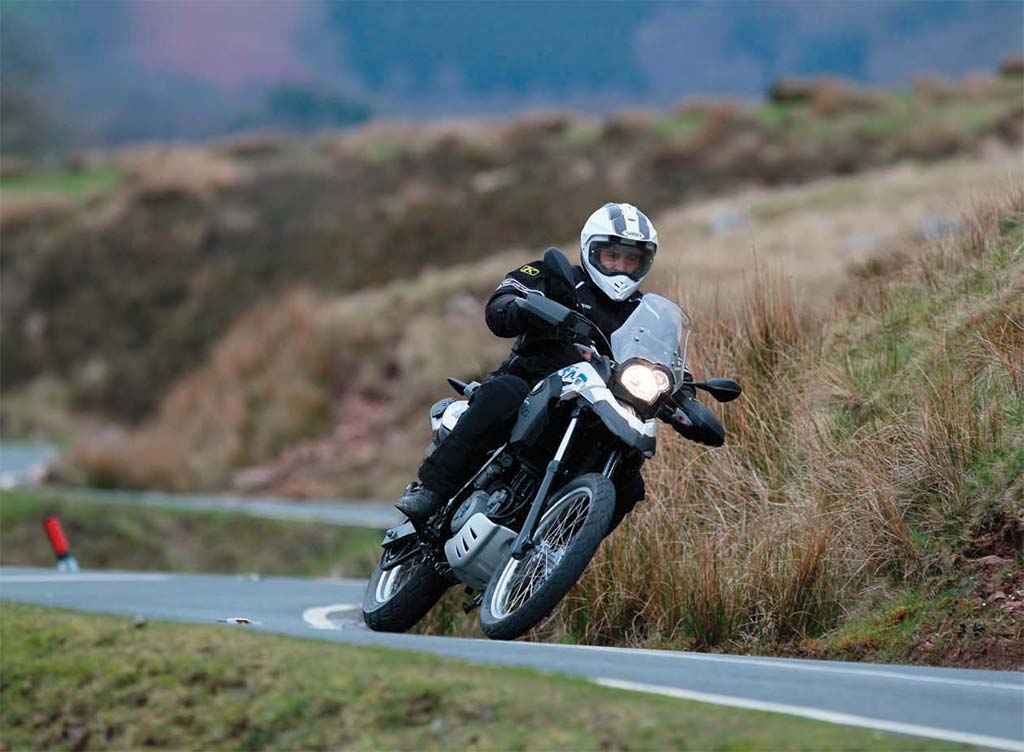 Off-Road
First off, if you like your off-road riding and haven't been to Walters Arena in South Wales, stop whatever you're doing now and go. Well, maybe not right now – you need permission to ride there – but I'm sure you get my drift.
The arena is owned by the Walters Group, a construction and mining company based just down the road at Hirwaun, near Aberdare. Basically, the arena is 4,000 acres of forest, woodland, hills, mud, gravel, water, and an overgrown reminder of the past industrial prowess of the South Wales valleys.
These days, you'll find little evidence of the industrial revolution, but you will find wind farms and probably a fair few groups from the BMW Off-Road School, which is based in nearby Ystalyfera and headed up by Dakar veteran Simon Pavey. This is where Charley and Ewan got to grips with off-road riding.
Anyway, maybe I should stop right here and just say that I loved the off-road performance of the Sertao. With a good set of knobblies, this bike will take you pretty much wherever you want to go, and at a fairly rapid pace, too. It ain't no out-and-out Enduro bike, but the balance and off-road handling felt as good as I've experienced from a big, single-cylinder dual-purpose machine.
When ridden at pace across bumps and ruts, it holds a line exceptionally well, and although I did manage to bottom-out the suspension (I'm a hefty 17st) on big jumps and the larger bumps when taken at speed, not once did the bike start bending out of shape and cause a sweat on the top lip.
Add the above handling characteristics to the smooth power delivery and you get a bike that doesn't frighten the rider while inspiring a level of confidence to take their off-road skills to the next level. All in all, this is a bike that, given the time and money, I could happily spend a couple of years touring the world the Hard Way Round, rather than following the tarmac.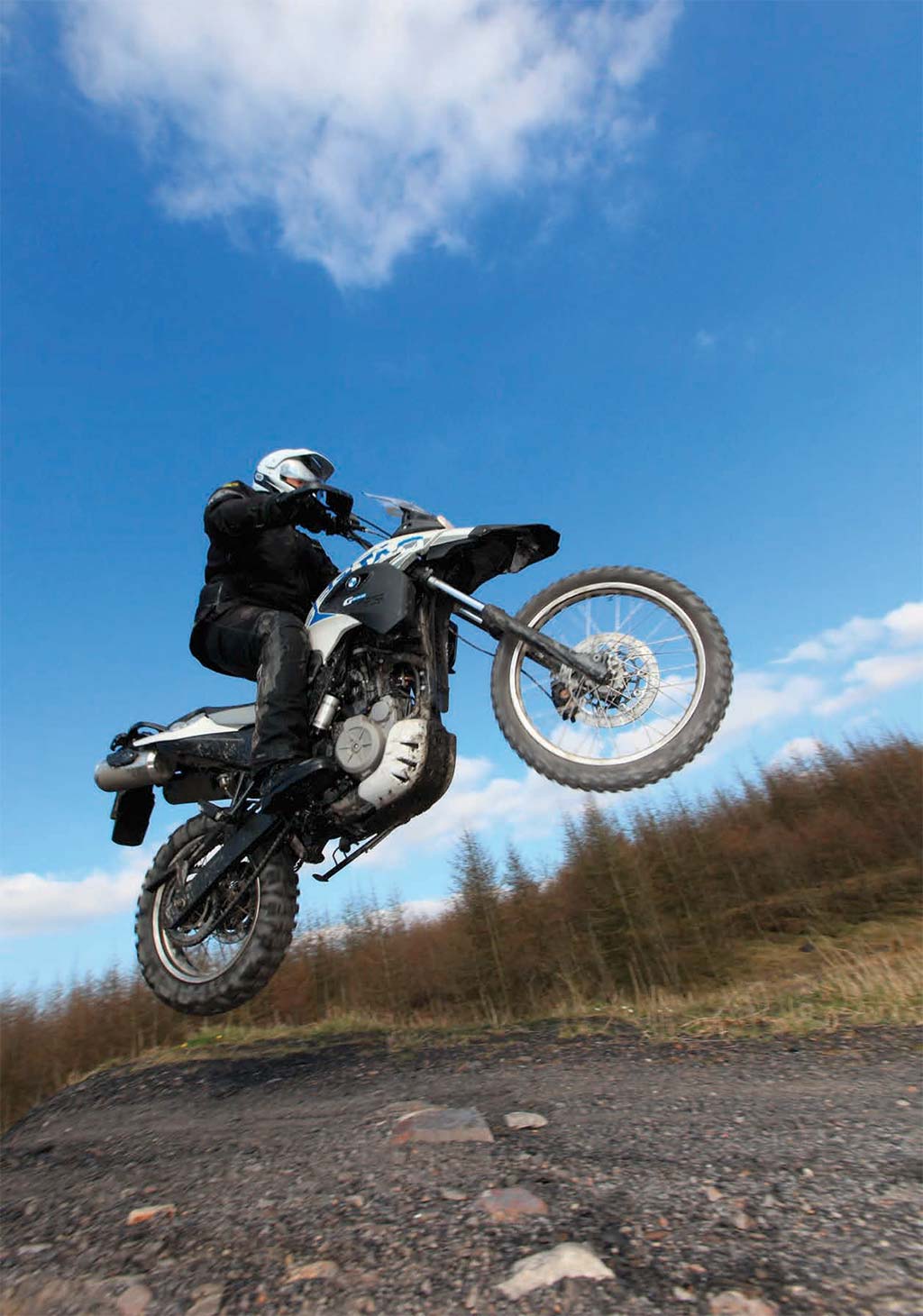 Accessories
The Sertao comes equipped for the great outdoors with an aluminium bash plate, hand protectors, spoked wheels, ABS brakes (switchable) and heated grips, all fitted as standard.
Conclusion
At £6,735 the Sertao is £1,440 more expensive than the G 650 GS. Both bikes share many parts, including the engine, but the Sertao comes with higher suspension, spoked wheels, and a whole rake of other useful options as standard, which are not included in the price of the G 650 GS.
I came away from a couple of days on the Sertao hugely impressed with its off-road ability, and if it stands the test of time, then I'd rate it at least on a par with (and maybe slightly more capable and forgiving than) the tried-and-tested Yamaha XT 660 Z Tenere, which is more expensive still at £6,999. The high seat will be a problem for some and the lack of on-road ooomph will dissuade others. However, if you're looking for a great all-rounder that'll take you to Morocco in reasonable comfort at legal cruising speeds and then stand proud on the summit of Cathedral Dune, this could be the bike for you…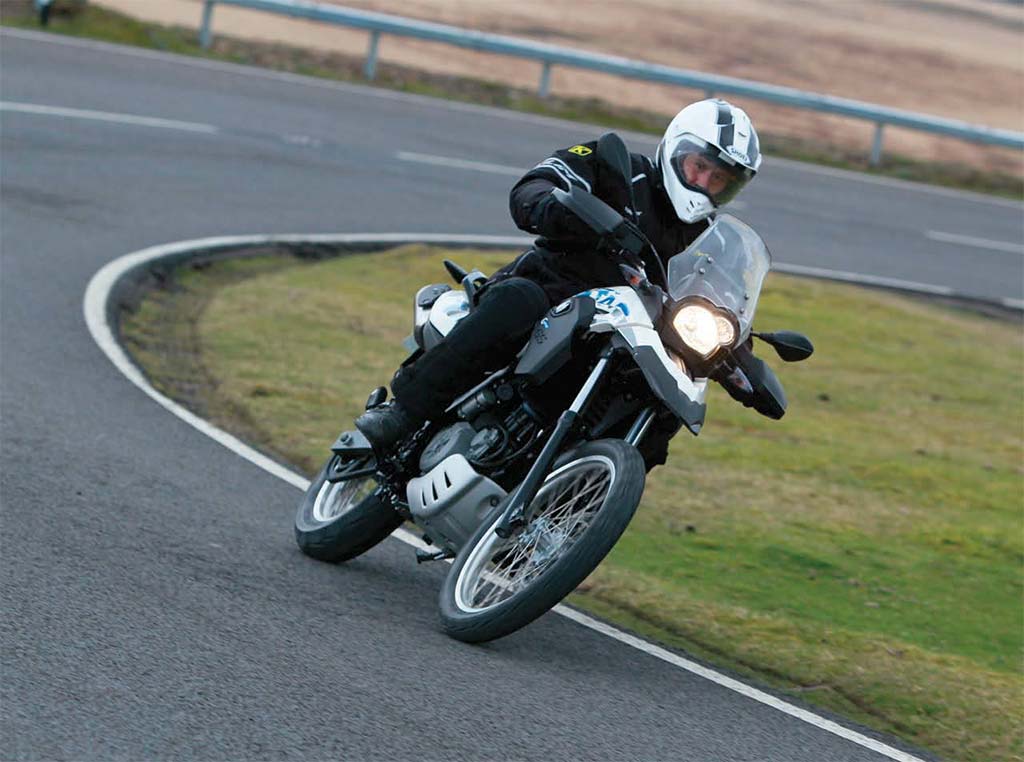 ABR VERDICT
How Versatile is the Sertao…
AS A COMMUTER?
Spot on as a city slicker. Tall enough for good all-round visibility and slim enough to nip through gaps with ease, plus it comes with great fuel economy
AS A WEEKEND TOURER?
It's never going to be an ultra-comfy big-mile-muncher on the tarmac, but then it wasn't designed to be. Take your time, check out the views, engage bimbler mode and it'll not disappoint
AS AN OFF-ROADER?
Bimbler mode off; body armour on. This bike is capable of providing some serious off-road green lane fun
AS A CONTINENTAL ROAD TOURER?
Fantastic fuel economy and that's about it. If long-distance road touring is your bag, look elsewhere for better comfort and less stress
AS A DUEL-PURPOSE RTW OVERLANDER?
Road of Bones; Phaw! Give me something tougher. The Sertao could become a classic dual-purpose overlander for those who like to spice up their RTW with hardcore off-road action
AS A PILLION CARRIER
We've yet to check out the Sertao two-up but we suspect you'll not want to tour too far with your partner on the back. Maybe the corner shop would be okay, any further could be the catalyst for divorce
---

Honda Crosstourer
ABR was invited to the recent launch of the Honda Crosstourer in Spain, and what follows is the digest version of our initial impressions. A more comprehensive review has been posted on the ABR website www.adventurebikerider.com and there'll be more news, views and analysis to come as we test the Crosstourer over the coming months
Words: Alun Davies Pics: Fransesco Montero; Ula Serra; Zep Gori; Felix Romero
Quick Spec
MODEL: Honda Crosstourer
PRICE: £11,475
CAPACITY: 1237cc, V4
MPG: Honda quotes 46mpg on economy cycle; 35-40mpg would appear to be more realistic
TANK CAPACITY: 4.7g (21.39litre)
RANGE: up to 216miles (based on Honda's figs)
MAX SPEED: 130mph (electronically controlled)
POWER: 127bhp at 7,750rpm
TORQUE: 92.9lb-ft at 6500rpm
TRANSMISSION: 6 gears, shaft drive
SEAT HEIGHT: 850mm fi xed
WEIGHT: 275kg; dual-clutch version 285kg
WHEELS: 19-inch front/17-inch rear wire spokes for tubeless tyres
SUSPENSION FRONT: 43mm inverted telescopic forks with hydraulic damping, preload and rebound damping adjustment
SUSPENSION BACK: Pro-Link with gas-charged damper, preload and stepless rebound damping adjustment
BRAKES: dual front discs and single back disk linked with ABS
COLOURS: Black, white, silver, red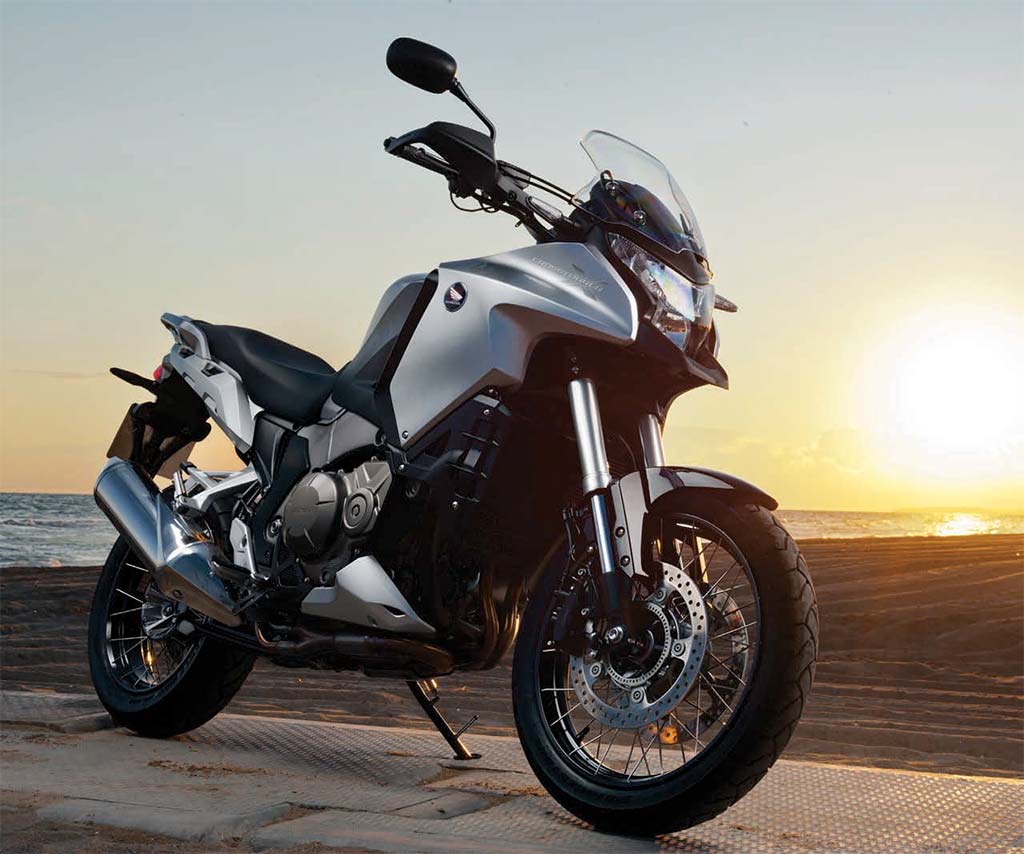 What flavour of adventure bike is the Crosstourer? Adventure tourer
How was the first date?
The Crosstourer is a first-class road tourer with adventure styling and comes with enough power to rip arms from shoulders; a physiotherapist should be on the Honda accessory list.
What's New?
The Crosstourer comes in two versions – a standard manual gear-change version and a fully automatic dual-clutch transmission (DCT) version. For DCT, think twist-and-go scooter and you've got it
Sound Bites
Initial scepticism aside, we loved the twist-and-go automatic-clutch version (DCT). You get Drive (economy) and Sports (very fast) modes, plus a paddle-style selector to override automatic and engage gears manually. We've seen the future, and we like it.
The overall on-road performance and handling raises the bar in the adventure touring sector. Very few riders will be left wanting for more power.
There's no rev chasing with the Crosstourer. The massive torque just keeps coming full on from low down to up on high. The ABR Crosstourer torque appreciation society is up and running.
The Harleyesque burble and growl of the Crosstourer would be Top of the ABR Pops if such a thing existed.
Honda was at pains to point out that the Crosstourer is no off-roader, but a quick unscheduled play on rocky Spanish trails had us thinking it's a lot more capable on the rough stuff than the company will ever admit to.
At 275kg, the Crosstourer is more Nigella Lawson than Kate Moss, but the Honda carries the weight lower than most adventure bikes and is surprisingly agile and well balanced at low speeds.
The standard screen performs as if it's been designed by an underfunded kindergarten, making the optional higher touring screen a must for any semblance of peace in the saddle.
The fuel economy and tank range were a main point of discussion, with Honda officially claiming 46mpg on economy cycle and the test ride returning approximately 35mpg. That said, it's unlikely that anyone who buys a Crosstourer will ride it with the speed and agression that these bikes were subjected to on the test ride. We reckon 40mpg (190 miles tank range) is more realistic; more to come on fuel consumption in a future issue.
Who's going to buy it?
Honda fans aside, if you're an ageing sports bike rider fed up with the contortions associated with riding machines such as the Fireblade or R1, then the speed and power of the Crosstourer will make converting to the ABR fold feel less like you've been put out to graze. The auto-clutch version is likely to appeal to a lot of riders who'll write it o. until they've had a test ride – and that included me.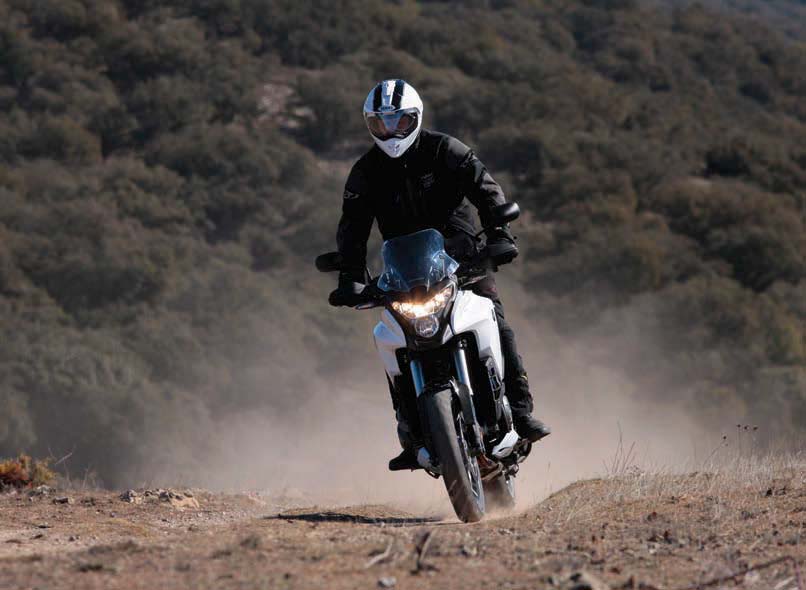 Conclusion
Overall I very much enjoyed the Crosstourer experience and with some aftermarket battle-proo. ng I'd certainly ride it anywhere I'm prepared to take my BMW GSA, though I'd probably take things a little slower. With a few mods, most notably the screen, it's going to be a first-class big-mile road-touring adventure bike with more than enough power and speed on tap.
ABR VERDICT
How Versatile is the Crosstourer…
AS A COMMUTER?
The twist-and-go DCT version will be a hit in town. No more gear changing, holding the clutch or fear of stalling. The monster weight disappears on the move and for such a hefty machine, its low speed manners and agility are exceptional. Good enough to make you want to move further from the office
AS A WEEKEND TOURER?
For a quick blast from the ABR office up to the West coast of Scotland, the Crosstourer will be in high demand. The standard screen needs upgrading and the fuel economy and tank range closer inspection, but for power and handling on motorways and the grin factor on the Scottish twisties, the Crosstourer is an adventure-styled bike that's going to be hard to beat
AS AN OFF-ROADER?
ABR disclaimer: bikes the size and weight of the Crosstourer are always going to be a handful off-road and the performance is more to do with the experience and competence of the rider.
The official line from Honda is that only 10% of the planning and development went into making the Crosstourer capable of off-road use. In standard trim, there's far too much stuff to damage, but we're equally sure that the likes of Touratech will soon have that covered. Even so, this bike is never going to be a sure-footed GS or Super Tenere, but from our limited experience, it's exceptionally well balanced, and in the right hands, it'll tackle the sort of off-road routes no Crosstourer owner is ever going to consider. For most buyers with off-tarmac aspirations, it would be best to think in terms of soft o. -roader than rough off-roader.
AS A CONTINENTAL ROAD TOURER?
Tank range and concerns about mpg economy aside (we'll provide more informed petrol/mileage figs after further tests), the Crosstourer would make a first-class fast-paced mile-muncher for long European trips. Motorway miles would be a breeze and with the amount of power on tap, along with the dependable handling means, if you've a mind to, you'll be capable of giving the majority of sportsbike riders a lesson on the Alpine twisties.
AS AN RTW OVERLANDER?
These days, it's just about possible to ride round the world without leaving tarmac, and in the sections where the road becomes 'off-road' we're not talking heavy duty horrors but well-used, graded trails. This means the Crosstourer would be a grand bike for taking the Easy Way Round
AS A PILLION CARRIER
We've yet to check out the pillion-carrying capacity of the Crosstourer, but we'll be getting our hands on one soon to test out the welfare of the bod at the back. We've no reason to doubt that it'll be anything other than a comfy and life-affirming experience, but keep watching this space
We'll be updating and building on this review as we get to know the bike better over time. All the above comments are based on limited use of the bike.
---

Triumph Tiger Explorer 1200
ABR was invited to the recent launch of the Triumph Tiger Explorer in Spain, and what follows is the digest version of our initial impressions. A more comprehensive review has been posted on the ABR website www.adventurebikerider.com and there'll be more news, views and analysis to come as we test the Explorer over the coming months
Words: Alun Davies Pics: Alessio Barbanti; Patrick Gosling; Paul Barshon
Quick Spec
Model: Triumph Tiger Explorer 1200
Price £11,149
Capacity: 1215cc triple
MPG: estimated 45mpg
Range: estimated 200 miles-ish
Power: 135bhp at 9,500rpm
Torque: 89lb,ft/10.6kgm/121Nm at 6,400
Transmission: 6 gears, shaft drive
Seat height: 810mm to 880mm
Weight: 259kg fully fueled
Wheels: 19-inch front/17-inch rear cast wheels
Suspension front: Kayaba 46mm upside down forks, 190mm travel susPension back: Rear Kayaba monoshock with remote oil reservoir, hydraulically adjustable preload, rebound damping adjustment, 194mm rear wheel travel
Brakes front: twin 305mm floating discs, Nissin 4-piston calipers, Switchable ABS brake back: single 282mm disc, Nissin 2-piston sliding caliper, Switchable ABS
Colours: Phantom black, Graphite or Sapphire blue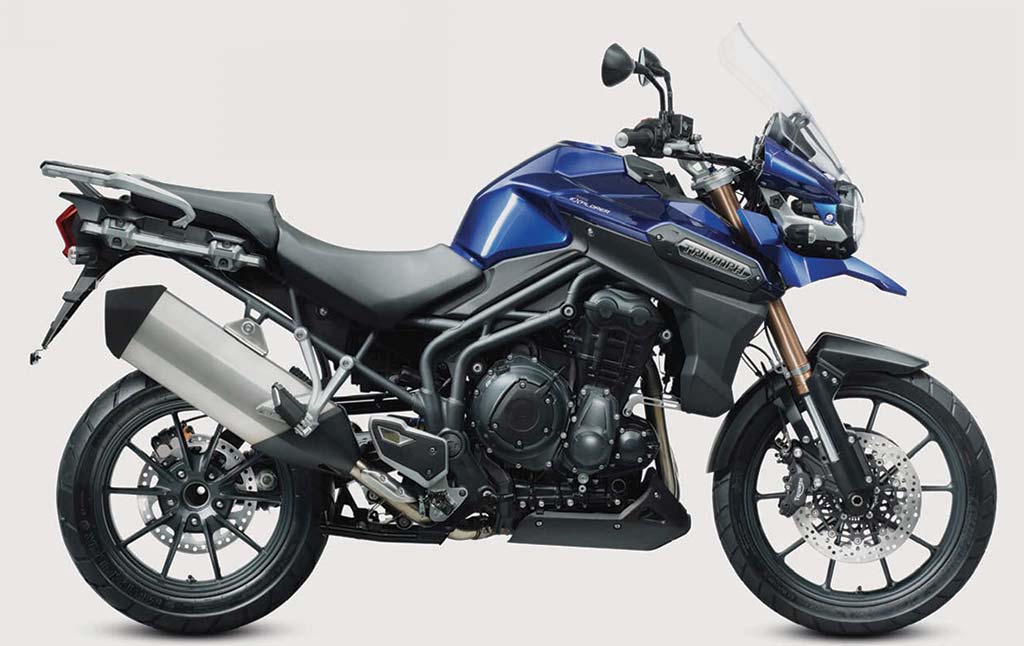 What flavour of adventure bike is the Explorer? Adventure sports
How was the first date?
Sizzling. The Explorer is an adventure bike for ABRs who are not yet ready to give up the speed, power and handling more associated with conventional road-going bikes
What's New?
What's not new? The Explorer was built from the ground up; new chassis, engine, shaft drive, electrics, etc
Sound Bites
Triumph has done its homework when it comes to researching the adventure market. The base concept and challenge was to make the Explorer a bike that was comfortable and capable of extended use and would carry a pillion with ease. That challenge has been met. Period.
The 10k routine service intervals are class-leading and a feature every rider will appreciate. Main (big) service intervals are every 20k. Here's hoping this sets a benchmark for all bikes in the future.
Cruise control, traction control, switchable ABS, 135bhp and a class-leading 950 watts generator mean that not only could you tow a caravan (should you have the inclination), you could also hook it up to the bike for power at the campsite. Big generators mean plenty of power for accessories, which we like.
The new ride-by-wire throttle system is controlled by an an ECU. This helps with traction, cruise and emissions control but has also led to the throttle being the lightest to the touch that I've ever experienced – I could almost blow it around. On-road, it's just a case of getting used to it, but it's definitely a potential off-road hazard when you hit an unexpected bump.
As a long-standing fan of the triumph triple engine the Explorer did not disappoint. Power, performance and engine note all hit the sweet Hinckleymade spot. However, the downside associated with the triple is the high centre of gravity, which means the Explorer will not deliver the off -road poise and balance of a GS 1200.
Pulling from low down and delivering right through the rev range, the 135bhp and torque are immense. If you're used to riding a GS, take a test ride on an Explorer if only to experience warp-speed on an adventure bike.
Who's going to buy it?
Committed fans of the triple cylinder are unlikely to look elsewhere. Plus, we've a sneaking suspicion that riders considering joining the growing ranks of ABRs who have had a test ride on a BMW GS and thought 'not yet' will find the Explorer offers a route to ABR Nirvana without sacrificing too much speed and power.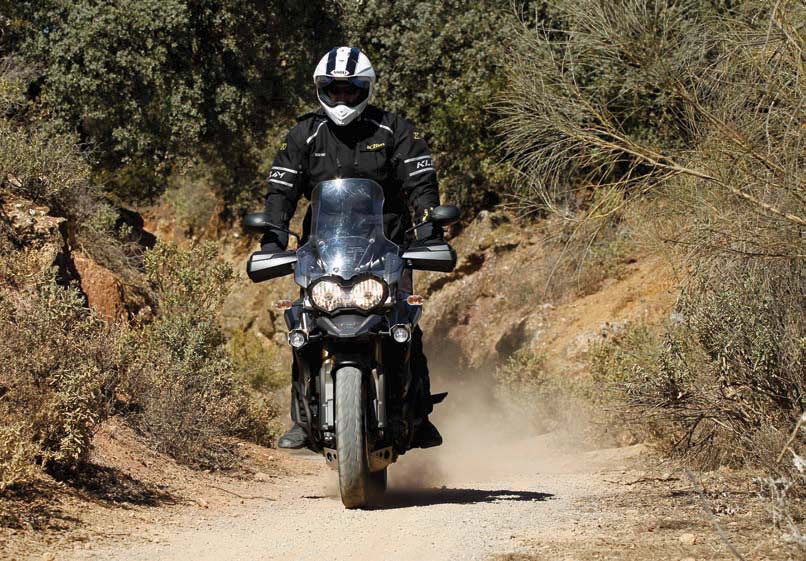 Conclusion
Triumph has stated that it's after the GS market and there's little doubt that this bike has the quality and technical ability to dent the sales account of the German manufacturer. How much it does so will depend on the strength of the immeasurable 'GS Factor'. The big BM has an aura that can't be measured in a lab nor copied on a CAD system, and in that respect, Triumph has a Long Way To Go. However, from my short experience in the Explorer saddle, I think the company is well placed for picking up the ageing Blade or R1 rider who's had enough of experiencing motorcycling and lumbago in equal measure and is looking for more comfort and versatility. I've no doubt that this bike will sell – Triumph is looking at 6,000 in the first year – what's going to be interesting is finding out who buys them. I have a hunch that the Explorer (and the Crosstourer) are going to expand the adventure bike market and bring more riders in from other sectors of the industry, just as much as they could compete with, and take ground off, BMW. I know one thing for sure: if I were stepping o. a sports bike and were to judge the Explorer and the GS purely on a test ride, the first letter on the cheque would be a T.
ABR VERDICT
How Versatile is the Tiger Explorer…
AS A COMMUTER?
The Explorer is another of the growing band of adventure bikes that'll have you seeking out a job in a remote region of Mid Wales, to take advantage of the daily commute. There'll be better bikes on paper for bopping around town, but that'll not concern the Explorer owner for one second
AS A WEEKEND TOURER?
The danger is you'll want to turn every weekend into a very long weekend. The 222kg load capacity means you'll not notice the pillion and kitchen sink strapped on the back, and the comfort and mile-munching prowess might just mean that weekend tour destinations are a lot further away than they used to be out of choice
AS AN OFF-ROADER?
ABR disclaimer: bikes the size and weight of the Explorer are always going to be a handful off-road and the performance is more to do with the experience and competence of the rider. The Explorer probably looks more capable as an o. -roader than it actually is. The high centre of gravity does not help and the thought of picking the big Triumph up off the deck is not a pleasant one – and I've had enough practice on the equally top-heavy 955i Tiger to back this view up. In fairness, Triumph states that it comes with a 'whiff' of off-road prowess, though it's more promise than reality
AS A CONTINENTAL ROAD TOURER?
As a fast-paced trans-continental road tourer, the Explorer is top draw, but it's on those Alpine roads and twisties where you'll be wanting to spend time. The Explorer is a more engaging ride than the equally fast and competent Crosstourer; whereas I found myself riding policeman-style on the Honda, I went back to being a teenager on the Triumph
AS AN RTW OVERLANDER?
The Explorer is capable of and comfortable enough to contemplate big-mile days without putting the rider out of action for an equal amount of time. As with the Honda, stick to the tarmac and graded road, take the Easy Way Round, and you'll do so in comfort
AS A PILLION CARRIER
We've yet to have a verdict on the long-distance prowess of the Explorer as a pillion-pleaser, but we will do shortly. Right now, we've no reason to believe that the back seat experience will be anything short of relationship-enhancing
We'll be updating and building on this review as we get to know the bike better over time. All the above comments are based on limited use of the bike.