Paul Jennison rounds up some cool gear that's good to go riding with
PowerMonkey-eXtreme
£120
What is it? A solar-powered charger for your gadgets and iThings
Hitting the road for an adventure where you know there'll be little or no electricity, chances are you'll need to charge at least one of the gadgets you have stashed among your smalls – even if it's just a weekend rally you're going to. Batteries are a pain in the arse – and an expensive one at that. Finding somewhere that sells the exact type and size you're looking for at 4am in a foreign land can be like looking for a horticulturalist's sewing kit. What better way to be self-sufficient on the road then than harnessing the sun's rays, to make that phone call home or   re up your laptop and update your travel blog?
If electronic doobries and fancy iThings are your bag, before you depart, you'd be wise to check out the Power- Monkey-eXtreme. This solar-powered portable charging system is ideal for juicing up any number of gizmos which use USB connections or a DC output including iPads, iPods, smartphones and GPS units.
The basic kit consists of:
1 Powermonkey-eXtreme battery unit
1 folding solar panel
1 universal mains charger with four interchangeable heads
9 mobile device tips
1 travel pouch
In essence, the PowerMonkey is a battery pack, which can be charged either by plugging it into the mains, a USB port, or by connecting the 'clam-style' solar panel it comes with. The unit's supplied with a universal mains charger too, with interchangeable heads for use in the UK, Europe, USA and Australia. The pack holds enough power to charge a mobile phone up to 12 times or a smartphone up to six, before needing to be replenished itself.
The charger and panels are shockproof, and waterproof for up to 30 minutes at 1m, making it one tough cookie; when it comes to a bit of rough riding, this monkey's the nuts!
The unit measures 145×59.5x28mm and the panels 171x96x18mm with a total weight of 466g. The panels also come with a Velcro strap, which means they can be attached to the bike and left to charge your gadget while you're on the move. The unit's short-circuit, overload and low voltage protection are reassuring safety features, and it also turns itself o. once your device is charged.
Although the unit is self-contained in its own zipped, hard case, it's rather bulky and the connecting leads are stowed separately, which only adds to the overall pannier space it takes up. Ultimately it's a nifty device, but a bit pricey, and the cost/ space issue is going to be down to individual choice. If you're an ABR who can't live without a phone, then this certainly solves the problem of powering it from the middle of nowhere.
In a Line: Useful bit of kit for the ABR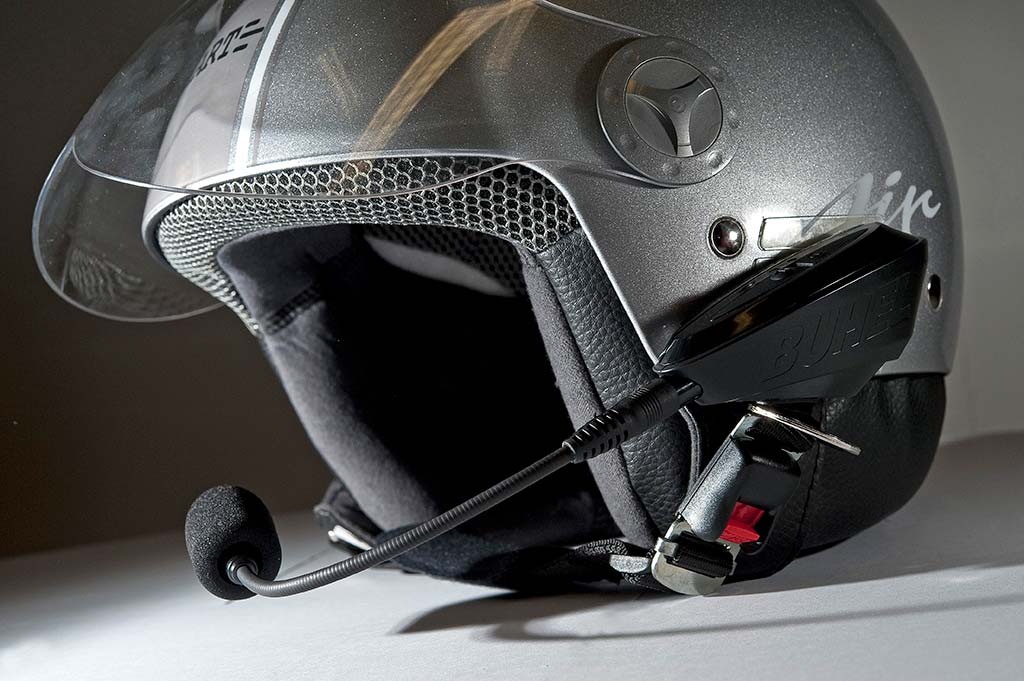 BUHEL D01 Helmet Communication System
£99.99
What is it? Totally wireless Bluetooth communication device
We all like to have the option of whether we want helmet comms or not, so for those who do, here's the latest Bluetooth communication device from a company called Buhel.
This little gem is different from most others on the market in that it has no wiring whatsoever, a great timesaver that would otherwise see us stripping out lid linings and fiddling with fittings.
Instead of the traditional microphone-speaker arrangement, the D01 uses a magnetised base-plate, which attaches to the helmet via a stick y pad, and a Bluetooth device, which sticks to the base-plate's magnet. As the Bluetooth device receives sound information, it turns it into vibrations which are transmitted directly through the helmet shell and in turn to the rider's ears, effectively making the helmet one giant speaker.
The basic kit consists of:
2 magnetic base-plates (more are available to buy separately)
1 Bluetooth unit
1 microphone for open-face
1 microphone for full-face
1 USB cable for charging
Assembly couldn't be simpler. Take one helmet; attach one-base plate to the side of the helmet using the sticky pad on the magnet. Charge up the unit and fasten it to the base-plate using its corresponding magnet. The mic plugs into the unit and then you move it into the best position. The open-face mic has a flexi-boom and the full-face mic is held place by Velcro.
All that is left to do is to pair it with your device whether it is a satnav, mobile phone or Mp3 player, and you are done.
Pairing the device is simple enough, and if your smartphone rings while you're listening to Led Zep on the iPod, the music will automatically cut out to allow you to take the call.
The battery life is relatively short at five hours but the charge time is only three hours and is done via a USB connection, which means you can give it more juice while on the move if you have that facility. The best part about this device is that the magnetised Bluetooth receiver can be detached and reattached to the helmet in seconds and easily stored in a pocket when you go walkabout.
The sound reproduction is fair – it's almost like having surround-sound – spooky! It's also claimed to be audible at speeds of up to three figures, but I've found that at 70mph the music is audible but I need to slow down to 40mph to converse on the phone.
A new unit is due for release in May 2012 – the D02, which will have all the features of the D01 but also the ability to be paired with up to two other units for rider-rider or rider-pillion comms. The D02 will retail at £169.99.
In a Line: Quality wireless comms at a sound price