Packing the bike for that summer tour? Don't forget a chair! Paul Jennison is on a quest to find the perfect campsite perch
A couple of years ago, I loaded my bike with camping gear and took o. on a tour of France. As well as strapping my tent on the back of the bike, I also chucked on a folding camping chair of the garage forecourt variety, which set me back a princely £4.99. My logic was that I could use it to sit outside my tent in the evenings instead of having to sit on the cold, damp ground; if my bargain bum-saver fell apart, I could simply ditch it (in an eco-friendly way, of course) and buy another, cheap one.
That £4.99 chair lasted the entire trip, and has survived many others since. Although it's now starting to show signs of fatigue, it's still in the garage, waiting for the next outing. I haven't the heart to throw it away or tell it I've bought a flashier, more expensive one.
Before that fateful jaunt to France I was always load conscious when packing; I didn't want too much stuff strapped on the back of the bike. But as the prospect of sitting on the floor and, more importantly, having to get up from there, has grown less appealing, so the folding camping chair has become a must-have item.
If you've never entertained the notion of taking your own furniture on tour then you should. As the winter skies give way to spring and summer ones, thoughts and plans are for trips and rallies. What better way to relax after a day's ride than to sit around a campfire with your favourite tipple in hand, planning tomorrow's adventure?
Even if you're o. on an RTW or similar, why not include a chair from which you can admire the wilderness of the Mongolian Steppe?
We've reviewed 11 camping seats ranging in price from under a tenner to just under £40, so whatever your plans there should be one here to suit your needs.
Features we like:
Pack size
There's never going to be enough room inside your panniers for everything. As long as your chair folds down to a reasonable size and can be strapped on the back of the bike alongside your tent, that's fine
Light weight
Hauling something akin to your granny's recliner while pulling a wheelie to your destination is far from ideal, so we like something that's nice and light
Durability
No point buying something to sit on and dragging it 200 miles across the country only to have it collapse beneath you at the crucial point of relaxation. We want a chair that will support the average-sized adventurer
Ground clearance
Ideally we want to be off the ground so if it's cold and wet, our backside won't feel the same. Full-on director's chairs may be a bit inconvenient if you want to sit inside your one-man tent, so we've included some lower 'lounger' type seats, too
Easy assembly
We like a two-stage assembly process: remove from bag; open and sit. If it requires a tool kit and resembles something from Ikea then we're not interested, thanks

Vango Balmoral Chair
£7.50
0.5kg
Vango is a well-known name in the outdoor equipment market so it's no surprise that it has some good camping chairs on off er. This first model is the Balmoral Chair – we know, it's a stool! Its tripod arrangement means it can be folded up on itself for easy storage while its strap and carrying handle make it easy to transport, even when your hands are full.
It will fit inside a pannier a t a push, but at an awkward angle, so you'd have to pack around it. At £7.50, I'd be inclined to leave it strapped to the outside luggage for an easy life.
There's no assembly required and the whole thing weighs in at just 0.5kg. The seat fabric is 600D polyester, so it's strong and durable.
Its lightweight structure belies the fact that it can support quite a load, but it could prove uncomfortable for prolonged sitting and the plastic feet may well break on rocky ground.
In a line: Sturdy little stool for the load-conscious ABR
 ABR RATING 6 out of 10

Vango Bothwell Chair
£9
0.55kg
Super lightweight at just 0.55kg the Vango Bothwell Chair (read: stool) is ideal if you're on a long tour when space and weight are at a premium. I doubt it will fit in a pannier as its dimensions are 28x41x- 34cm, but it would be easy to load on the back of the bike underneath the rest of your luggage.
It has a good load capacity, and the compact aluminium frame took my 15 stone without a creek! The seat area is made from 600D polyester, which is nice and strong and will also dry quickly if it gets wet. No assembly required for this one as it just folds down flat. The seat area is big enough for it to be comfortable for a reasonable amount of time.
In a line: It's not a chair, it's a stool, but for £9, who cares? 
ABR RATING 6 out of 10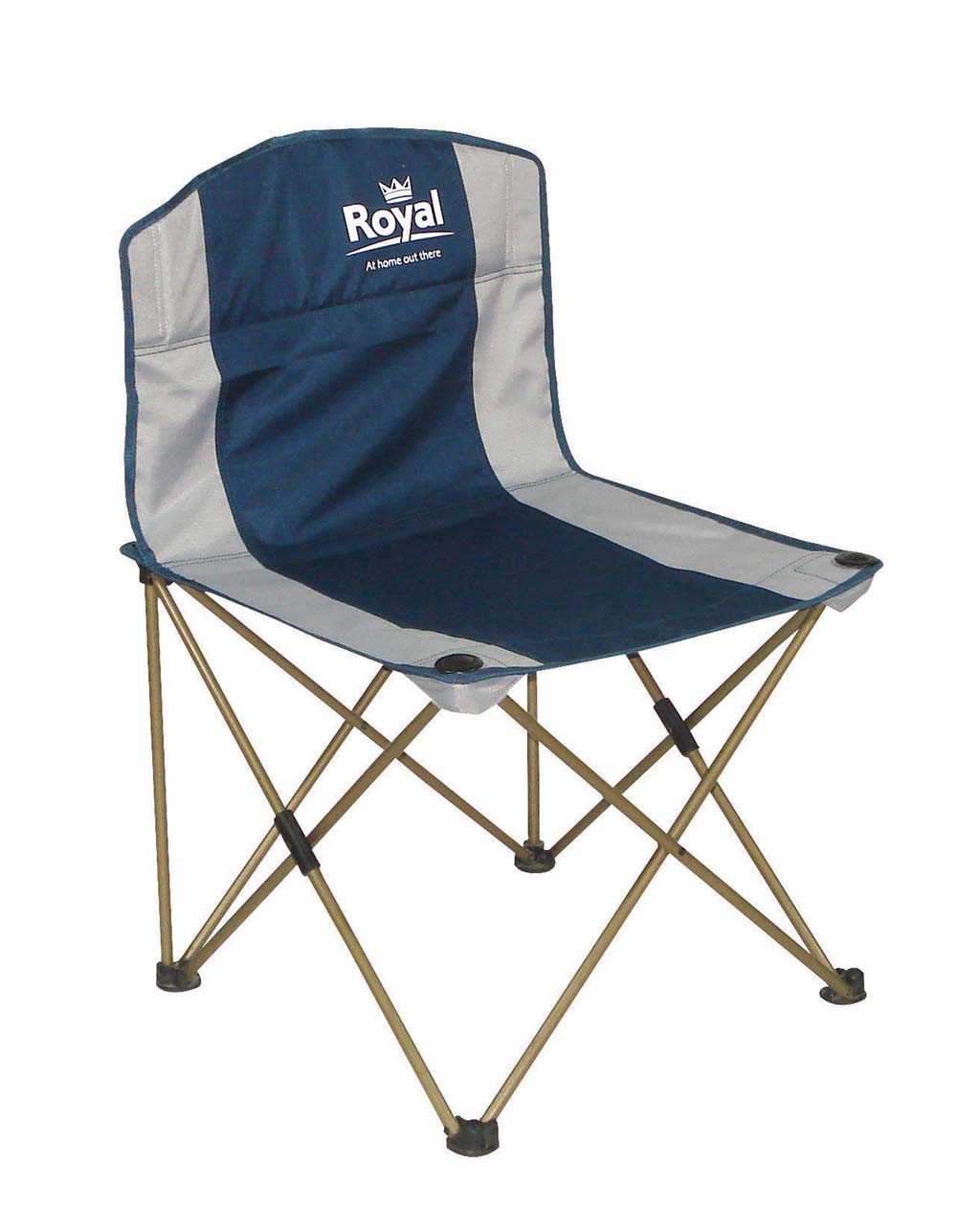 Royal Compact Chair
£21.50
2.7kg
The Royal Compact Chair is just that: compact. Its neat folded dimensions and light weight make it idea for strapping on the bike for your camping trip.
The fabric is hardwearing 600D polyester which has reinforced oval grommets to prevent wear and tear where it meets the frame. The powder-coated frame is sturdy and features a patented cross member support which gives it its strength. It's capable of taking up to 225llbs or 16 stone of biker bum, so should cater for the average ABR, no problems. When folded away into its own carry bag the package measures 77x12x12cm. The whole thing comes in at 2.7kgs. A little weight has been shaved off by excluding armrests, which means no cup holder, but hey, there's always the floor. Overall a good strong compact chair which will give you a comfortable perch for evenings at the campsite.
In a line: A strong, compact and light chair
ABR RATING 7 out of 10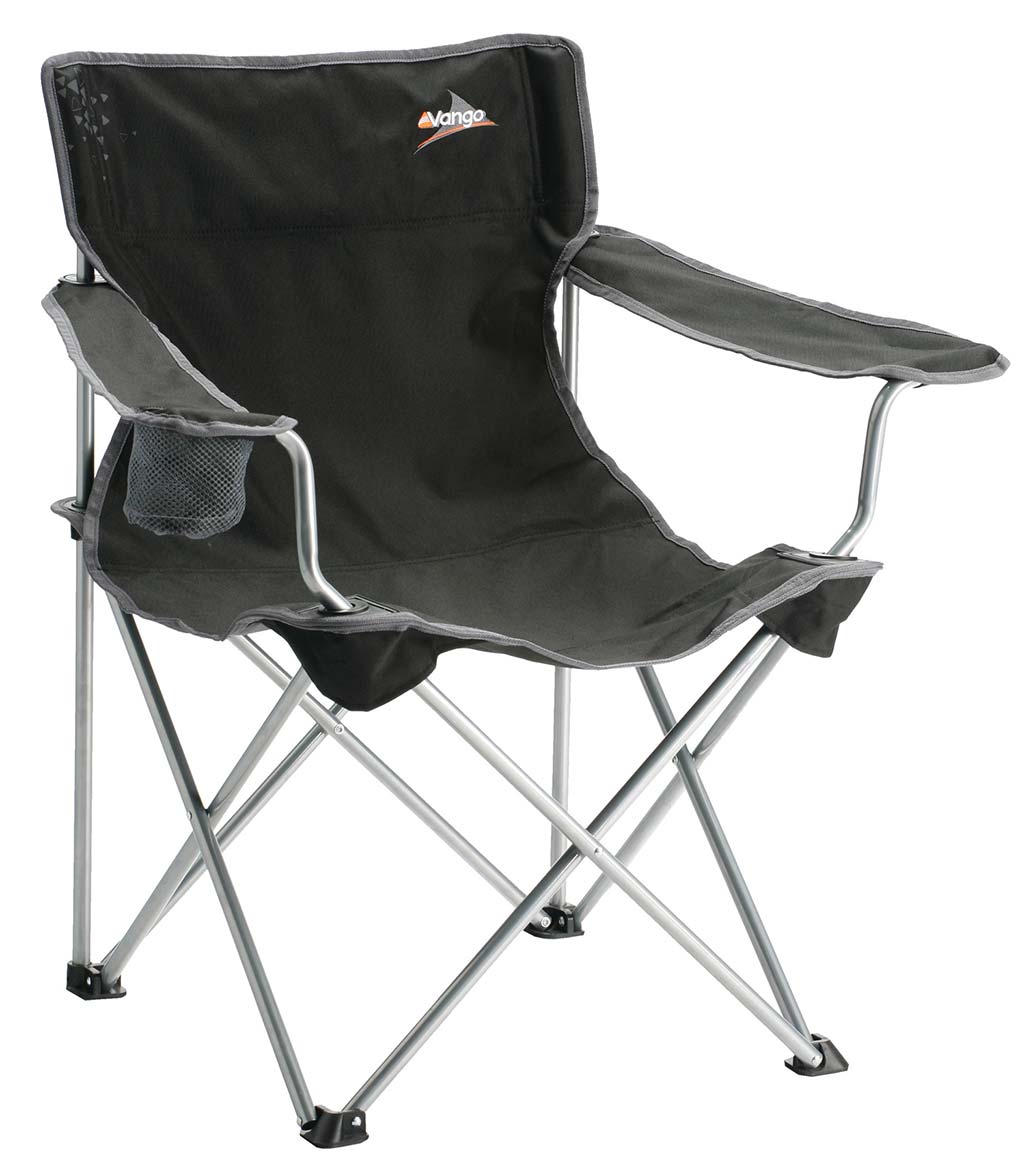 Vango Venice Chair
£22
3.1kg
The Vango Venice is a proper camping chair, complete with full back support and armrests – one of which sports the most important of all features, a cup holder!
This seat is definitely one for strapping on the back of the bike, measuring a hefty 55x55x43/80cm and weighing in at 3.1kgs. No assembly is required; it opens and folds quickly, and comes with its own carry bag. The Venice's strong steel frame is sturdy if weighty and you can feel its robustness as soon as you sit in it.
The 600D polyester is strong and durable. All the attachment points where the fabric meets the frame are reinforced, which should help to aid its longevity. It's also comfortable; I for one could sit in this chair all nigh t. The armrests are height adjustable and that cup holder will take a can! What more do you need?
In a line: The rally-going ABR's fireside chair of choice, without a doubt
ABR RATING 8 out of 10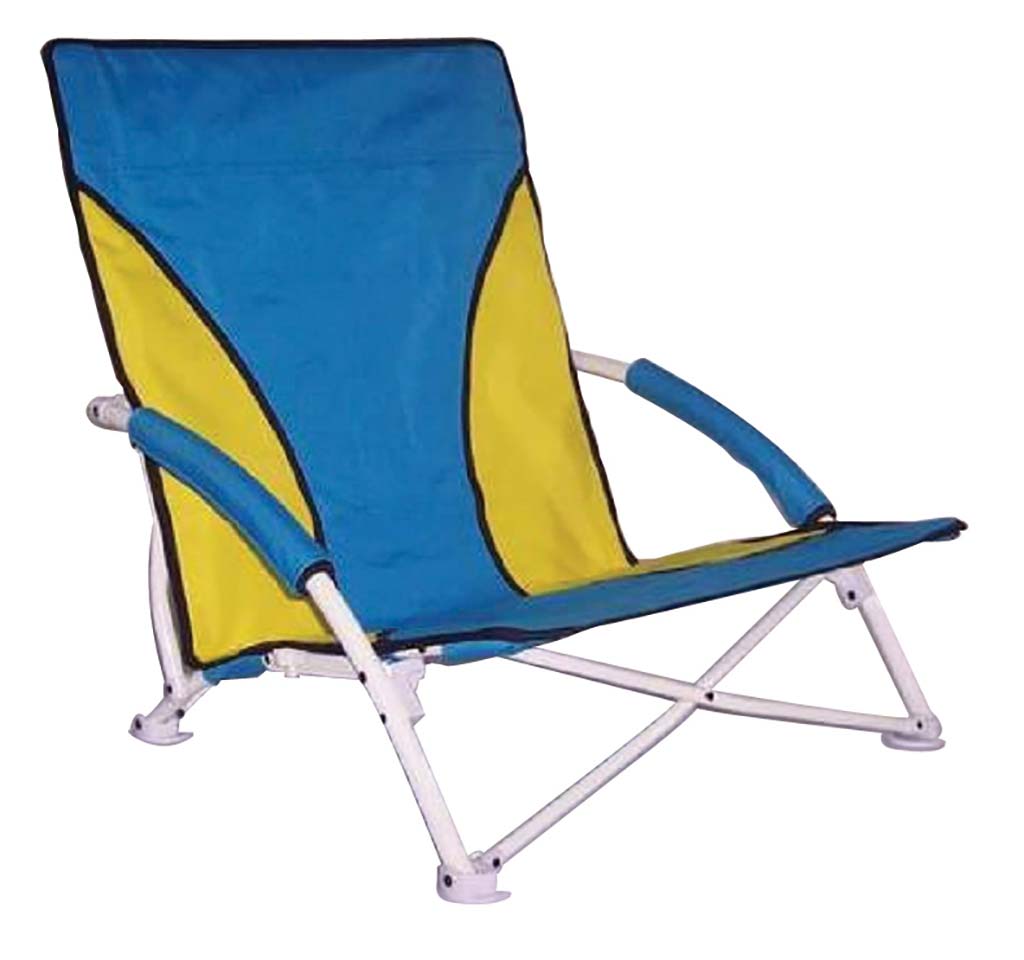 Royal Beach Chair
£24.50
2.9kg
If you can get past the Brighton-Pier inspired colour scheme, the Royal Beach Chair is a comfortable, sturdy, low chair in which you can get dangerously well ensconced thanks to its semi-reclined design.
The frame features Royal's patented cross member support system, as used on the previously mentioned Compact Chair. The weight limit is recommended at 225llbs (around 16 stone). The frame also incorporates armrests, which are more useful as a lowering/raising aid, because the seat is only a few inches off the ground.
The 600D polyester seat is robust and quick drying, which is just as w ell as we reckon you will have to clean it regularly to maintain its vibrant colours. The beach chair weighs in at 2.9kgs and when folded away into its own carry bag its dimensions are 80x12x12cm, but will stash away well on the bike.
In a line: A comfortable low chair you'll find hard to miss in the dark
ABR RATING 7 out of 10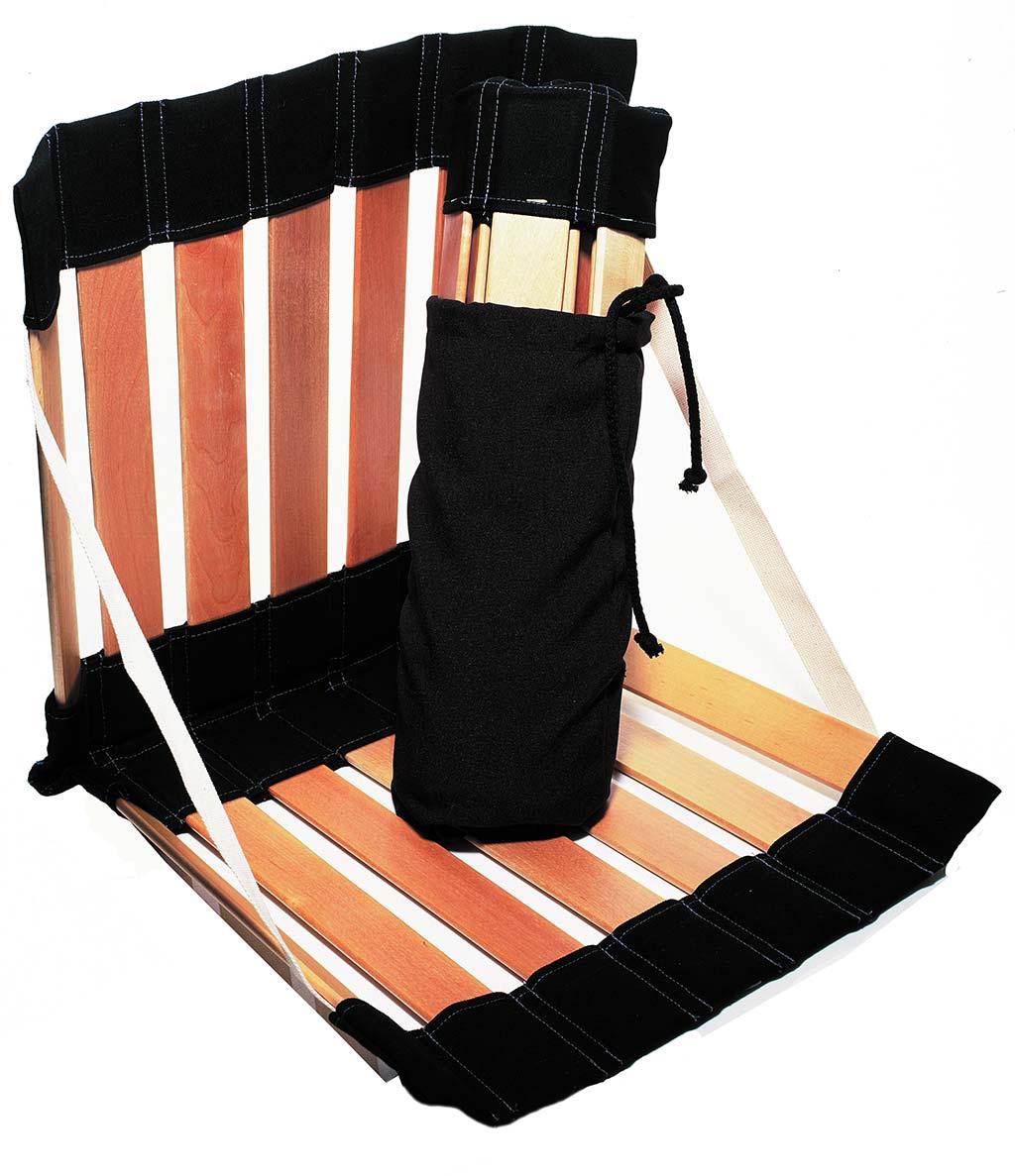 Ergolife Stol
£24.99
0.95kg
Ikea fans will love this one. The 'Stol' (Swedish for chair) is a ground-level chair in essence, and can be used on an y surface, soft or hard.
Its ultra-smooth slats are made from natural birch wood and are positioned to give lower and upper back support. The slats are fixed to a canvas fabric, so there are no assembly issues, just roll it out from its carry bag and sit in it.
Manufacturer Ergolife states that there are no weight restrictions with this chair and give it a one -year 'no quibble' guarantee. It's pretty compact too, rolling up into its 40x10cm bag which allows it to fit inside a decent-sized pannier. Weight worriers will be relieved to hear it's just 0.95kgs, too. In use, the Stol is surprisingly comfortable as long as you're able to get up and down again without too much difficulty. And in an emergency, you could always set fire to it to summon help!
In a line: Portable and solid, if a little quirky
ABR RATING 6 out of 10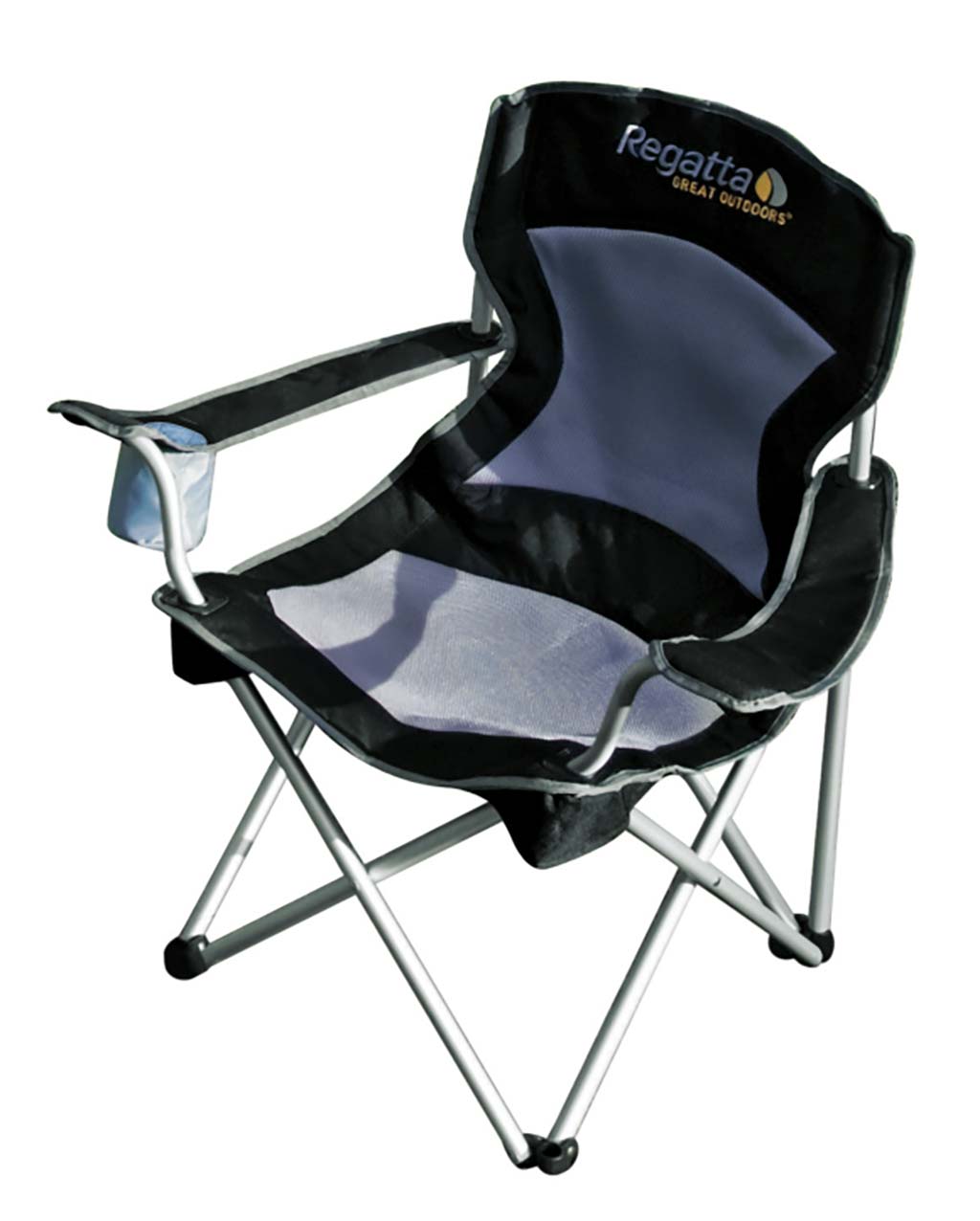 Regetta Delux Folding Camping Chair
£29.99
2.5kg
Regatta is another well-known name in the outdoor industry and the Delux doesn't disappoint. The 100% polyester material has an air mesh padded seat and backrest inlay for added comfort. It's sturdy too, with its aluminium frame rated up to just over 15 stone, so should accommodate the majority of ABRs as long as they're careful.
This easy-to-fold chair packs down to 90x30x21cm and comes with its own carry bag; there are no assembly issues. The chair weighs in at 2.5kgs because of its aluminium frame, so although it's a bit on the bulky side you will still have to go some way to be overladen. Again its one for the back of the bike, but we reckon it's worth the effort for the comfort you'll enjoy at your destination. Combined back support and beer holder = bliss .
In a line: On the big side but you'll enjoy the comfort
ABR RATING 8 out of 10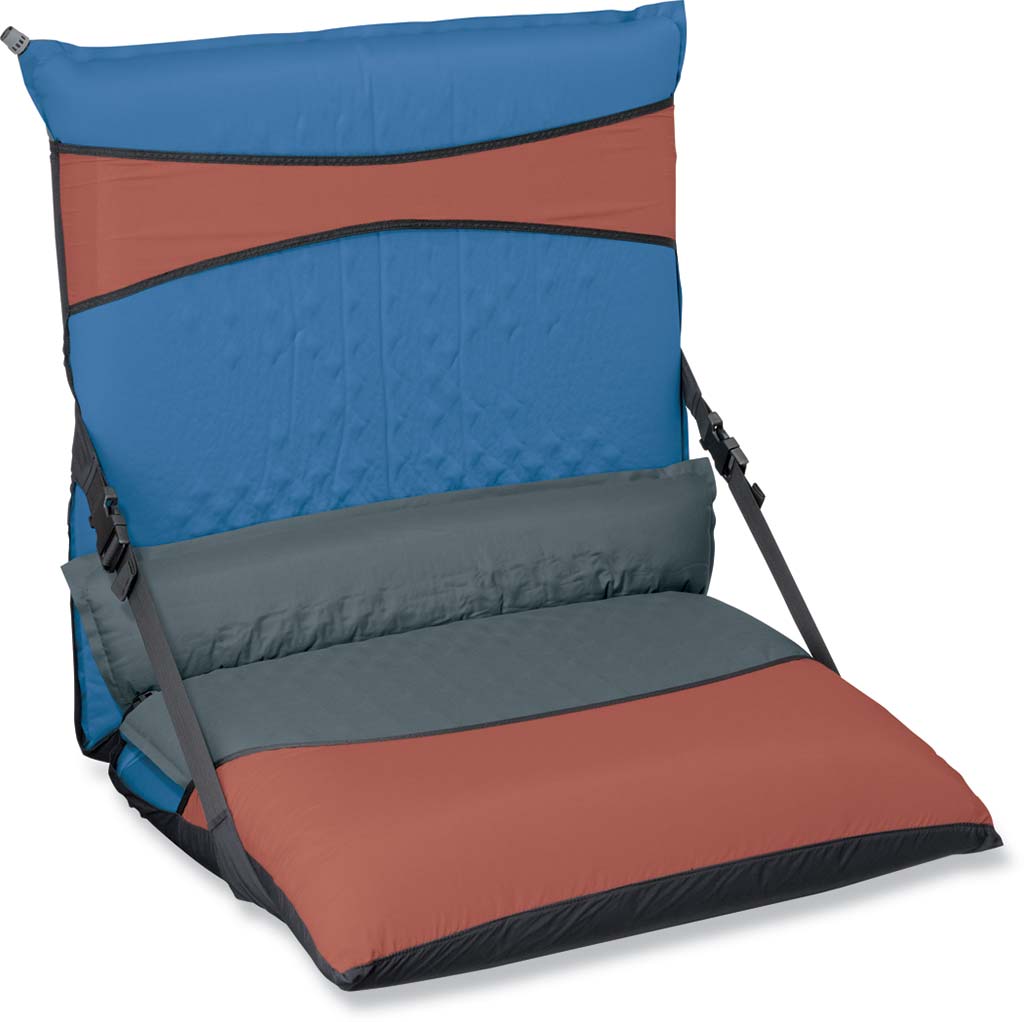 Therm-a-Rest Trekker Chair
£29.99
0.3kg
The Therm-a-Rest Trekker Chair is the ideal answer for those travelling light, weighing in at just 0.3kgs. The drawback is you'll need a Therma- Rest mattress to complete the arrangement. So, yes, there are some assembly issues, but it's quick and easy to do and no tools are required. Its 100% nylon construction incorporates small poles at the sides and by simply inserting your Thermarest mattress into the pockets at the top and bottom (you will need to fold the mattress over at the bottom) and clipping the side straps together, you have yourself a very handy and comfortable chair.
The Trekker comes in different sizes to suit the size of your mattress, but will fit all Therm-a-Rest's range of beds including the new Neoair.
Pack size will differ depending on which one you buy but the Trekker 25 (XL) is 45cm in length and will squeeze into a reasonable-sized pannier.
In a line: Great for the long-distance, size-conscious traveller 
ABR RATING 8 out of 10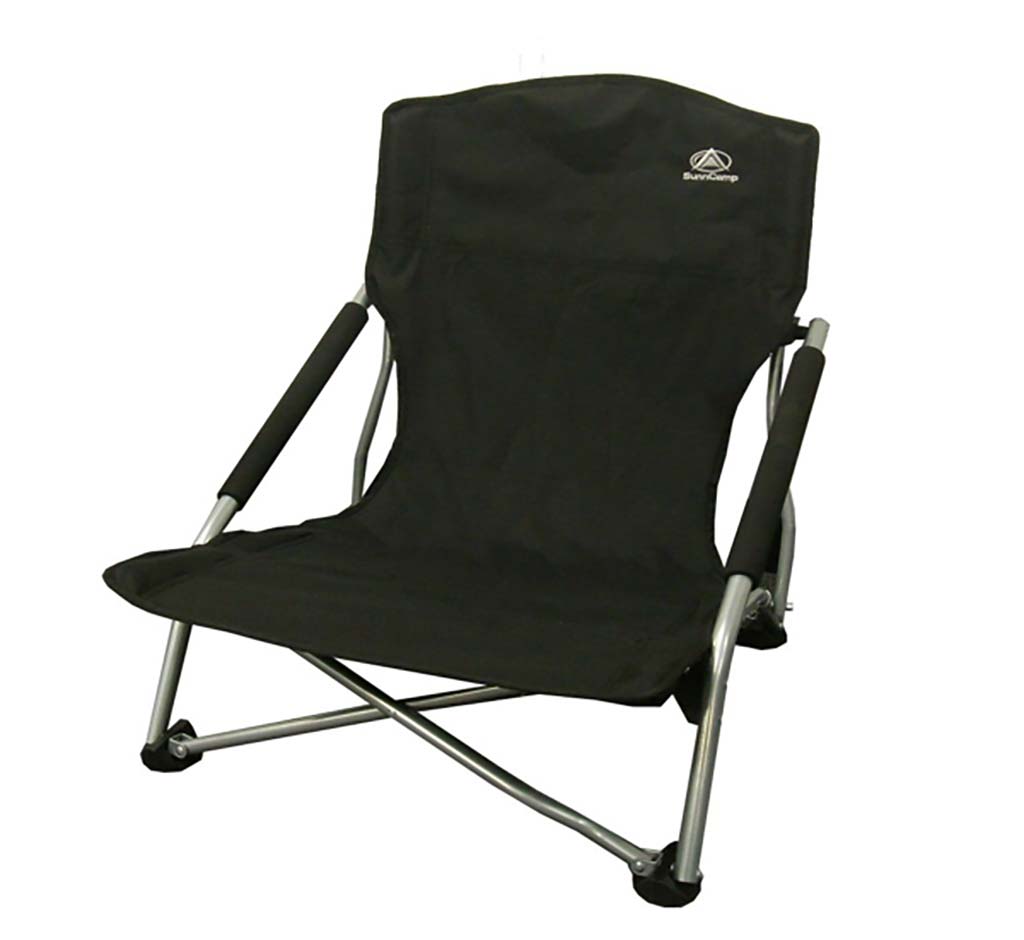 Sunncamp Super Deluxe Comfy Low Chair
£32.99
2.5kg
The Sunncamp Super Deluxe Comfy Low Chair, is both deluxe and comfy and comes with a recommended weight limit of 270llbs (19st one) so should hold the bigger adventurers with ease.
The design is a bit on the low side, which means you're only a few inches from the ground when seated, but at least you're off it! The very sturdy powder-coated steel frame incorporates cross sections front and rear to enhance its strength and has integral armrests which are covered in neoprene for comfort but will offer good grip points when using them to raise and lower yourself into the seat.
The seating fabric is of high-quality 600D polyester, which is hard-wearing and quick-drying. It features double layers of fabric at the mounting points, too, for added strength.
Folded away into its own carry bag it measures 70x21x16cm and weighs in at 2.5kgs forming a reasonably sized package to strap on the back of the bike.
In a line: Comfortable chair for the larger biker
ABR RATING 9 out of 10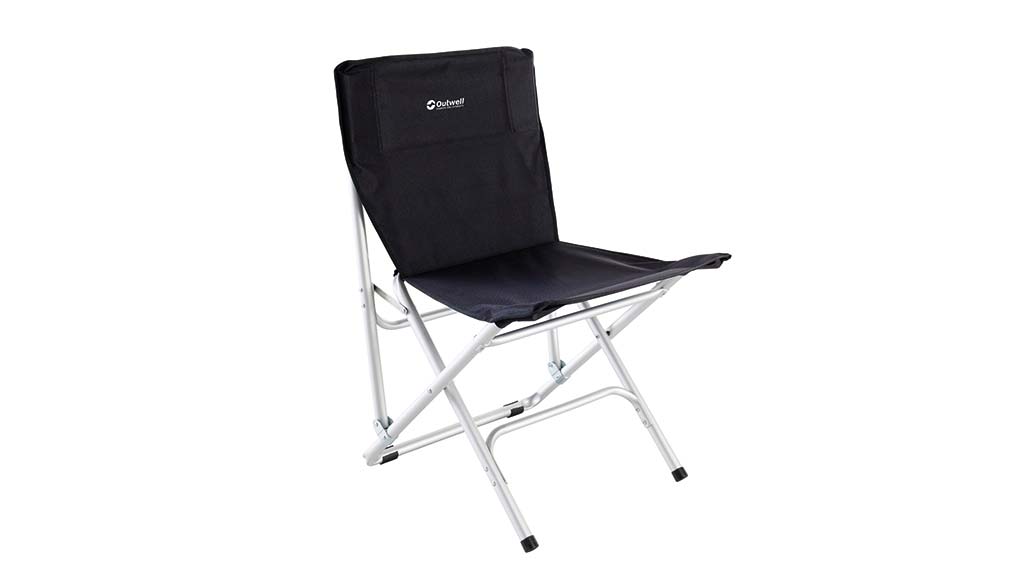 Outwell Mendoza Chair
£34.99
2kg
When the Mendoza arrived at the ABR offices for review my first thought was, 'Oops!'. From its dimensions, it didn't appear to be the compact camping chair I'd hoped, folding down flat into a not-so-tidy 88x53x-9cm. It is nice and light, however, weighing in at just over 2kgs.
After a bit of experimentation on the bike, I hit on a new idea: if you 're not using a top box, the Mendoza will lie flat across the back of the bike creating a very stable and convenient platform on which to strap the rest of your luggage – genius!
Its lightweight aluminium frame comes with an impressive payload maximum of 125kgs (around 19 stone) and the frame itself has strengthening spars across its width so it won't buckle and bow. The polyester fabric for the seat area is also reinforced at its major stress points giving it an overall rigidity.
In a line: Strong, lightweight, and doubles up as a load carrier
ABR RATING 7 out of 10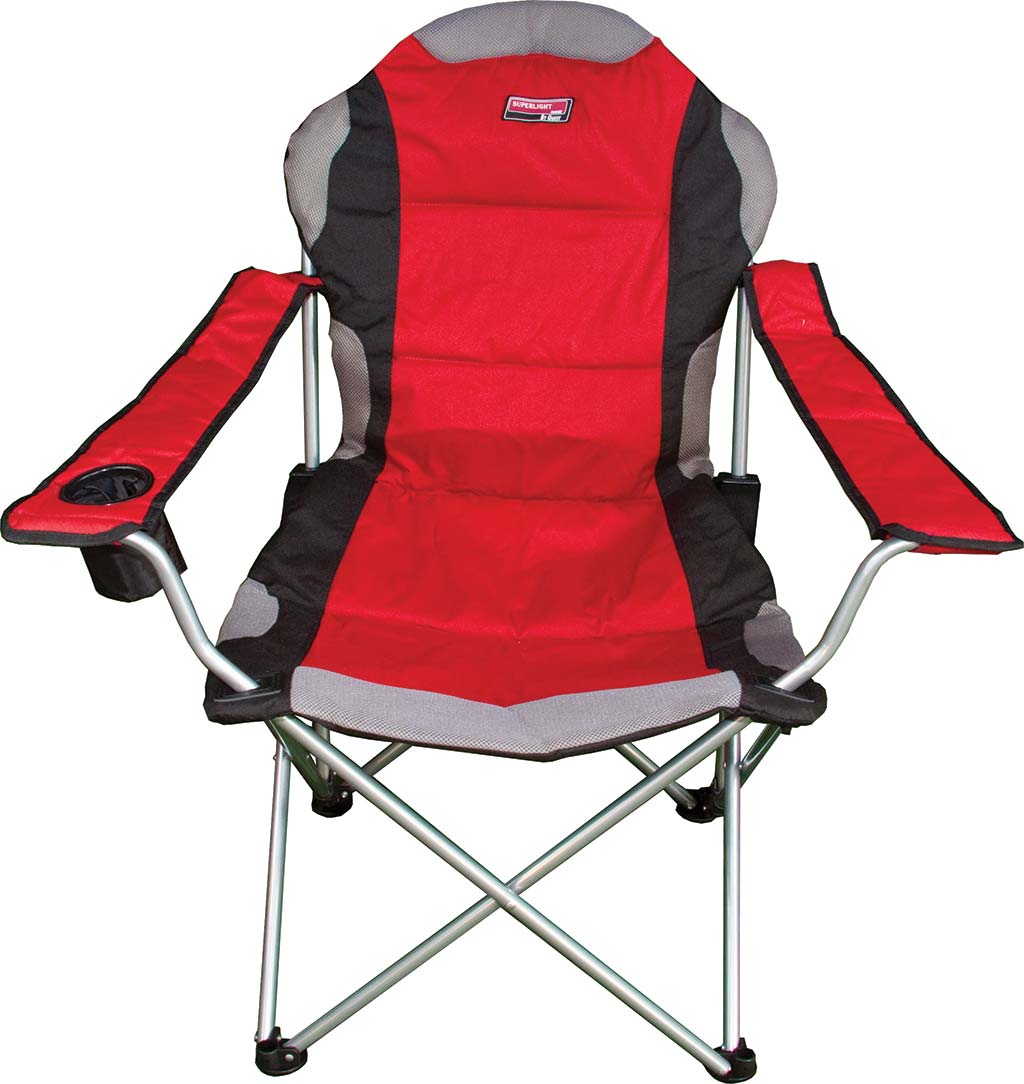 Quest Superlite Admiral Folding Chair
£37.58
4.54kg
The Quest Superlite Admiral Folding Chair is for the really adventurous, weighing in at 4.54kgs and with folded dimensions of 98x18x16cm. This is a big chair, but if you can manage to haul it to a weekend rally you'll be the envy of the masses.
It has a strong, light steel frame covered in a high-quality 600D polyester fabric which has a maximum load weight of 120kgs (just over 18 stone). It features a high padded back rest with adjustable rear legs which give a reclining option. Couple this with the integral adjustable armrests – which incorporate a cup holder – and you're in campfire heaven!
The Admiral needs no assembly and folds away into its own carry bag, but be warned, at 98cms in length it's as wide as any bike with panniers! Although, that said, its bulky size is not echoed by its weight. You get a lot of chair with comfort aplenty.
In a line: Maybe one for the support truck! 
ABR RATING 7 out of 10