The love affair continues Words: Alun Davies
I rode 50 miles the other Sunday morning to buy some bacon. A round trip of over 100 miles (I took the long way home) might seem a little obsessively single-minded for a slice of pork, but then the farm shop butcher I buy off is what you'd call old school, who knows the difference between well-cured bacon and a prepacked, frozen lasagne.
I've been buying from him for years, because he knows all his meat suppliers personally and adds value on his own farm through careful preparation and traditional smoked curing. Also, because he wears a white hat and stripy butchers apron and remembers without fail that I ride a motorcycle with the same sort of obsession that he reserves for strips of smoked pig. Mind you, the textiles, boots and helmet are a bit of a giveaway.

Anyway, as part of these Sunday morning ride-outs through the leafy lanes of middle England, I make a point of discovering something along the route that I've never seen before. I'm sure this all sounds frightfully idyllic and quite frankly, it is. It's my wind-down time, an indulgent collection of seconds, minutes and hours when the only thing on my mind is 'I haven't noticed that before'.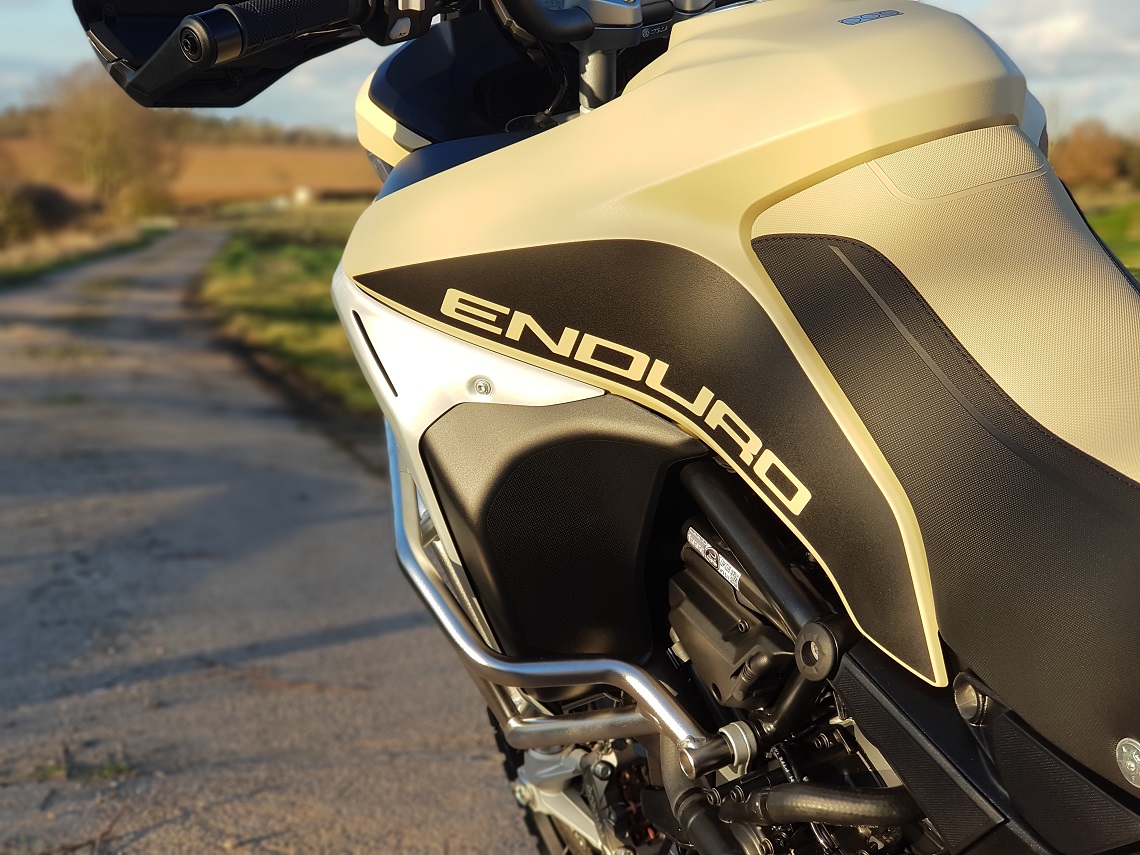 Over the past few months, this trip has been dominated by the lousy weather and, of late, by the extraordinary speed by which spring has sprung. Within what seems like a single week the trees and hedges have gone from the bare bones of bark to full green spender. The transformation has been dramatic.
It may have taken a few years, rather than a week, but that's the kind of transformation I've witnessed in the Ducati Multistrada. The Italian machine started life as a road going adventure sports bike, where even the thought of going off-road was but a wishful whim. But the transformation is complete; what started with the Enduro has been perfected in the Enduro Pro and Ducati have a serious player in the large capacity dual-sport market.
My ride to the butchers is peppered with green lane alternatives and as time has progressed, I've been taking the Enduro Pro down lanes that a huge 1200cc motorcycle complete with a 30-litre tank, 160bhp and 232kg of heft has no right being on.
Make no mistake here, the Ducati has the ability to take on the sort of terrain that a layman would claim to be the exclusive preserve of smaller, lightweight enduro machines.
All the bike needs is a rider with experience, confidence, ability and – this is the critical one – the mindset where he or she is not afraid to drop £18,995 worth of motorcycle. The only limit to where you can take this bike is the limit set in the thing between your ears when it comes to the cost of repairs