Dave Reynolds takes the Strom on a run through the Cotswolds to test out its new rubber
As I write this, the sun (remember that?) has come out and temperatures are going up to summer levels. It was time to unzip those thermal layers in the riding gear and get out on the Strom for a ride. As it sat there in the sun with the light reflecting off its yellow colour scheme, it looked welcoming and gave a feeling that it too was ready for summer.
The Strom has been active over the winter period, for commuting occasionally and used by our editor, Bryn, for his 'Bridges of Britain' feature (see page 63). This meant fitting the new Bridgestone A41 dual sport tyres to the very nice gold wheels, and it also gave me the opportunity to give them a thorough clean.
Bridgestone is a premium tyre and this new A41 is a top product, giving good feedback on the wet and cold roads we've had to endure recently. Now the temperature is on the up, let's explore the dry grip.
Am I the only one that spends ages trying to find my summer gloves that haven't been needed for some months? Suitably attired, summer gloves found, sunglasses on, I hit the road, heading to the Cotswolds for an easy bimble.
First up was a stop at the garage to fuel up. The smooth torquey engine of the Strom is still averaging mid-fifties to the gallon, even with the commuter use; quite impressive.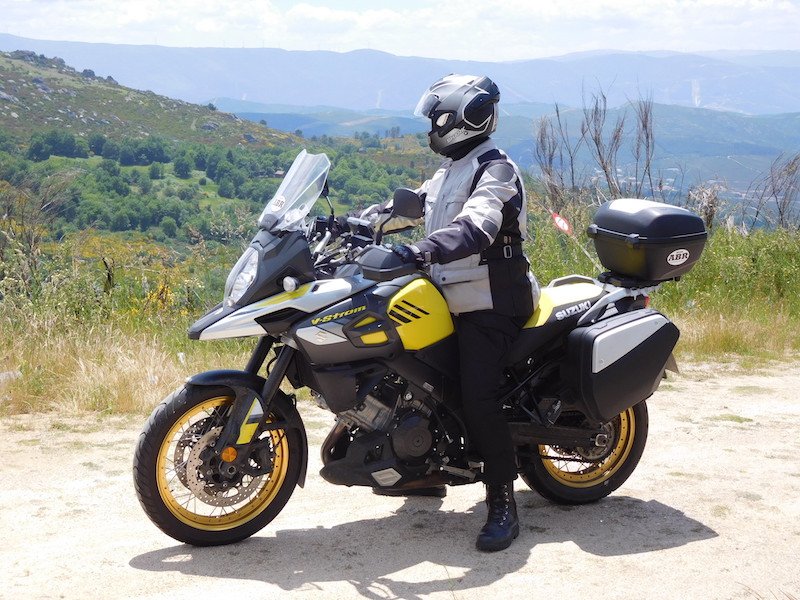 My route to the Cotswolds started on the Fosse Way, just up the road from home.
It was a quick blast to Stow-on-the-Wold before branching off onto the quieter lanes and villages that make the Cotswold area what it is.
A smaller, lighter bike might be easier to use for this, but the Strom feels and rides much lighter than the figures suggest, and it really is a well-balanced bike for these lanes.
The roads and lanes were fairly quiet during the afternoon, but this changed as time went on.
As I sat outside a Cotswold pub for a while, many bikes came past enjoying the warmth and dry roads.
I then enjoyed the steady ride back to my village, nodding to the many other bikes that were out, stopped at the local chippy and only then realised it was close to 9 pm – time flies when you're enjoying yourself.
In the morning, I dropped the Strom off to ABR headquarters for Alun to press it into service for this issue's 'Bridges of Britain' run. The perfect bike for the job…