We speak with Ishsal Ishak, the man behind the project, to find out more…
Specs
Engine: 750cc single cylinder, liquid-cooled DOHC, 4-valves
Bore and stroke: 106 x 85mm
Power: 45bhp
Transmission: Continuous Variable Transmission (CVT)
Final drive: chain
Weight: 235 kilos
Wheelbase: 1460mm LxWxH: 2150 x 800 x 1130mm
Tyres: 26 x 9 R14 (f) 26 x 10 R14 (r)
Fuel capacity: 10-litres
Cost: estimated £8,500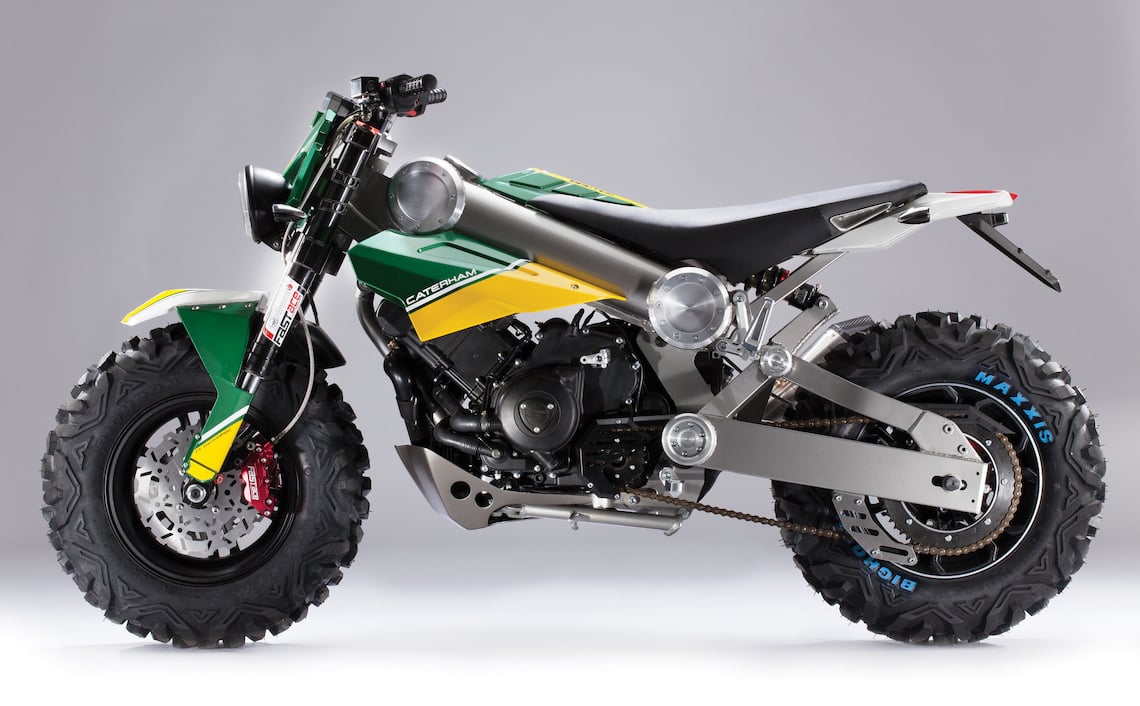 The man behind the project, Ishsal Ishak, was born on December 19th, 1968 in the town of Kangar in Malaysia.
For four years, Ishsal attended the University of Science, Malaysia where, thanks to a scholarship with Japan Airlines, he spent a season at Sophia University in Japan. He finished his university career in 1992 as a Bachelor of Management passing with honours.
In the 16 years that followed, Ishsal's entrepreneurial character grew as he founded a variety of media and technology start-ups; growing profits, leading teams and planning strategies. His business experience led him to take a number of advisory positions within the global telecoms and technology sectors.
In 2010, Ishsal, along with three other telecom industry pioneers, founded Enabling Asia – the first Mobile Virtual Network Aggregator of the Asian region. Ishsal later sold his equity in the business to move into the aviation industry.
Ishsal's first step into the airline business was with Malaysian Airlines, where he joined as Senior Vice-President of Marketing and Products in 2012. During this time, he met Tony Fernandes and Dato' Kamarudin Meranun, who were both board members and shareholders at the company. Inspired by the passion and entrepreneurial spirit of Fernandes and Kamarudin, he grasped the opportunity to work for AirAsia with both hands and, in late 2012, Ishsal was appointed as Group Head of Ancillary Income. The position saw him responsible for driving all non-ticketed income for the business, whilst keeping the AirAsia principles of keeping costs low and delivering a high value product.
A self confessed petrol-head since childhood, Ishsal has always been a fan of the iconic Caterham Seven sportscar and British cars in general. And, as well as a love for cars, he also has a deep-rooted passion for two-wheeled vehicles. With bikes such as a track-tuned Kawasaki 150cc two-stroke and a Ducati 748 taking pride of place in his garage, Ishsal also had some thrills and spills racing a Yamaha R6 in an amateur race series at Malaysia's Sepang Circuit.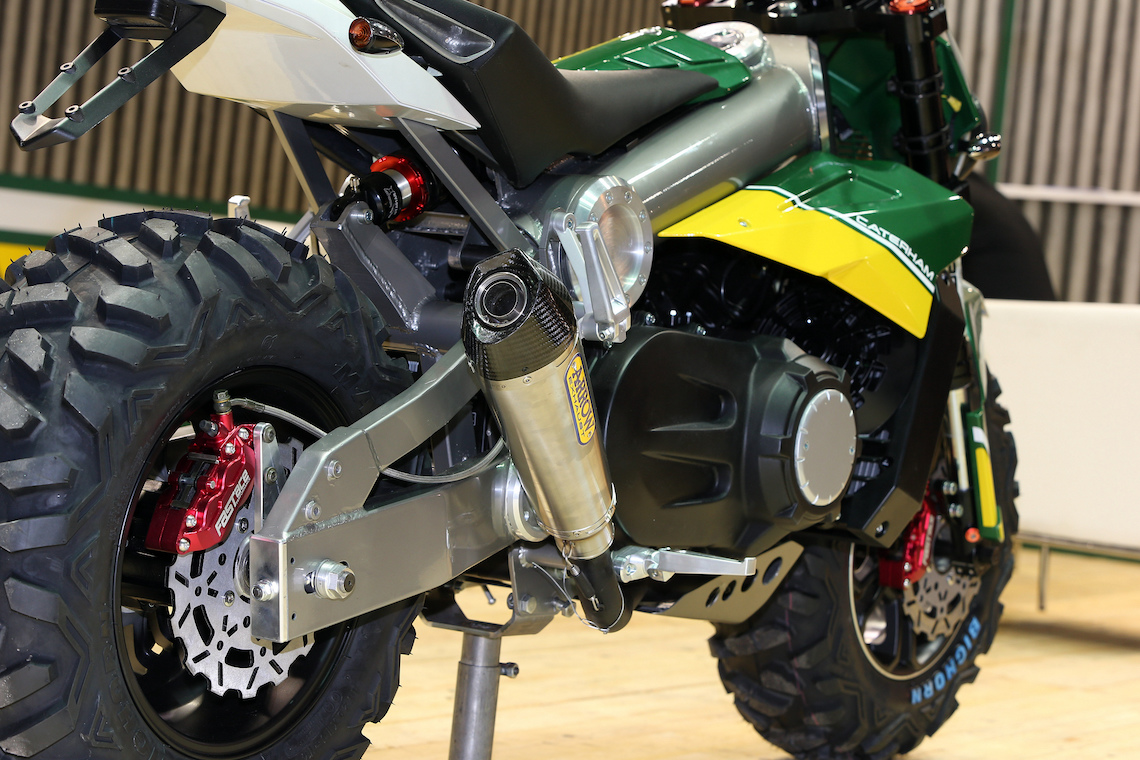 Ishsal's new role as CEO for Caterham Bikes is the culmination his tenacious business flair and passion for performance. He says: "Tony and Kamarudin have shaped AirAsia into the world's most profitable airline and not by using textbook principles and partnerships alone, but with blood, sweat and tears. My time working with them was a training ground which has prepared me to catapult Caterham Bikes into a territory that is unknown to the Group. Working quickly, efficiently and with the utmost determination is what I do best."
Q&A WITH ISHSAL ISHAK
Where will you be able to buy one from/ will there be a dealership network?
A dealership network for sales and support is under consideration to be setup across key markets in Europe, Asia, North & South America (including Canada), Middle East, Russia, Africa and Australasia. These are based on interest and enquiries we have had pre and post EICMA 2013.
Who do you think will buy one?
Someone looking for a unique motorcycle with bespoke design that can be ridden over a multitude of terrain and for different purposes. Since announcing at EICMA, we've received all kinds of interest from end-users, distributors, organisations and government bodies alike.
And what will they buy one for?
Each have their own usage in mind. There's the cross country adventure rider, the street rider seeking a fashionable bike that's easy to ride in the urban jungle, those living in tough terrain and weather conditions, organisations that needs specially retrofitted vehicles for rescue and support purposes.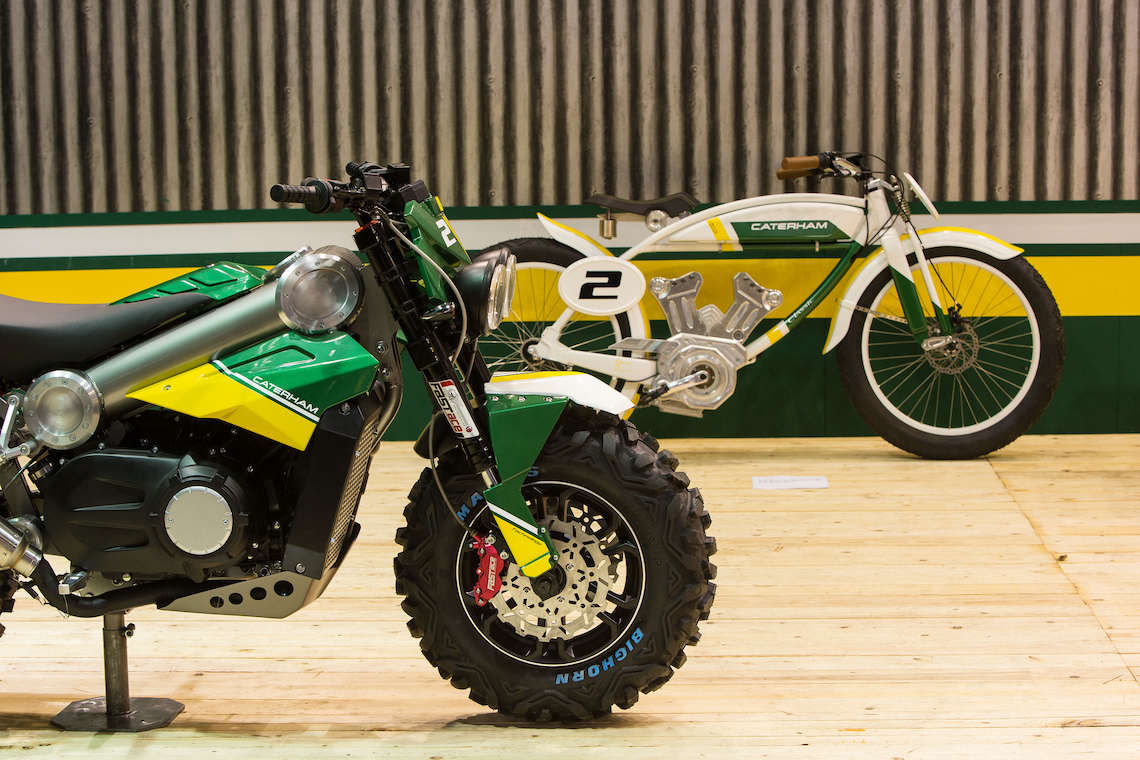 Do you see it selling to a new market of bikers, or to an existing one? Sales from the BMW GS 1200s, or from KTM/trail bikes for example?
It will be a mix. Knowing bikers, existing ones will gravitate to get one for a specific purpose, or simply to be part of their stable of rides. Despite its macho looks, once tried and ridden, new bikers will be attracted to the fun and accessibility aspects of the Brutus.
Will the low ratio box and reverse gear make it through to production?
Absolutely.
How closely will the production version resemble this concept bike?
Very close as the concept bike is near to finalised design.
What input has Caterham had/will have in to the project? (I'm assuming Caterham has bought the rights to the Alessandro Tartarini concept seen last year)
The Caterham team has worked closely with Alex's team of creative and talented engineers to co-develop the final product into one that is practical, easy to ride, fun, reliable and affordable. There are more products coming from this collaboration for different market segments in the years to come.
Where will the bike be built; in house?
In order to bring the best of engineering and economics together, we have adopted a unique blend of partnerships as well as contract manufacturing. Parts and components are sourced from all over the world, with assembly in countries and regions that allow us to leverage on investment incentives in order to make the bike affordable.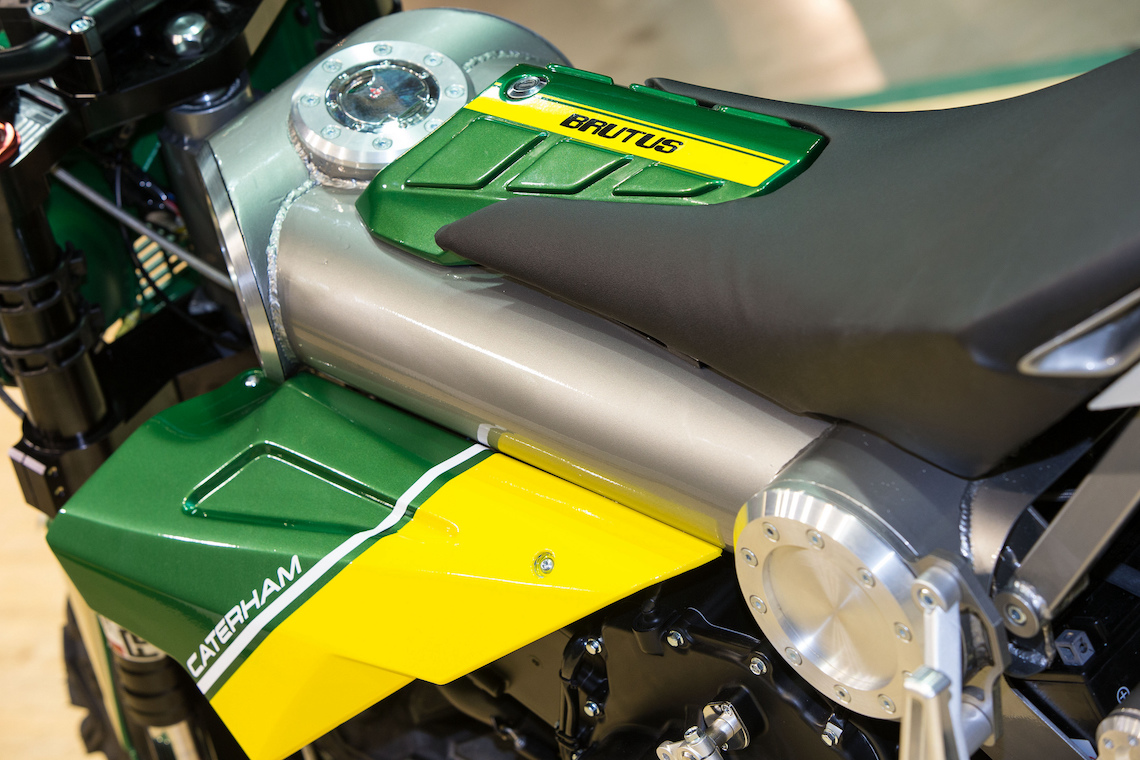 Will the engine be taken from an existing bike, or is one being designed/built specifically for the Brutus?
Existing engine, refined and tuned specifically for the Brutus.
Why an auto gearbox?
It fits the multipurpose vehicle we have set out the Brutus to be, whether on two wheels or with a snowmobile track in the rear. It also lowers the barrier for new bikers, keeping to the Caterham ethos of 'accessible fun'.
Will the conversion to snowmobile make it in to production?
Totally. It will be sold as an optional kit for those who need it.
A ten-litre tank size; will that remain, and if so, do you think that will be big enough? That will remain, with an option for an extended tank for those requiring it. This balances design and function for the various target segments.
Could you explain what the circular plates are in the frame; for design or for function?
More an element of design initially, but like everything else we do, there will be a function to it in the end.
When is the expected on sale date?
Circa July 2014.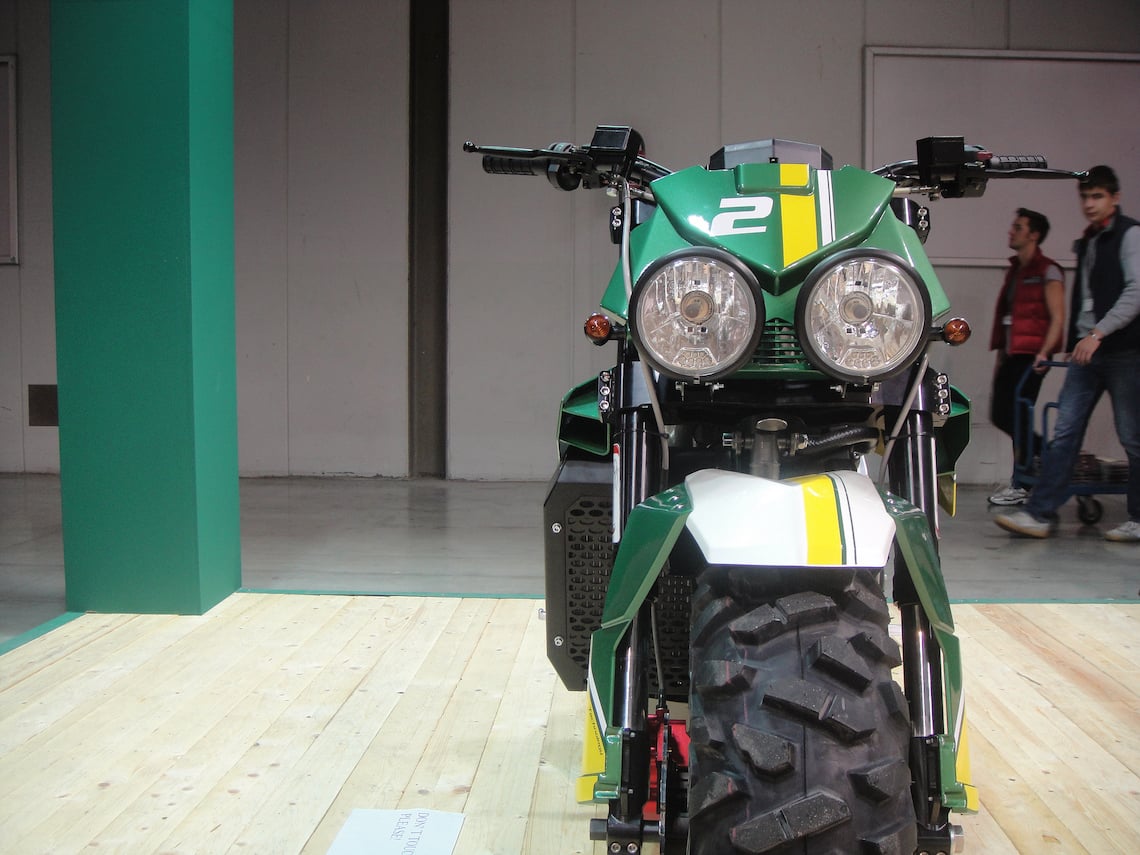 Any idea on likely cost of the bike?
Below €10k is the target retail price, with the base bike probably hovering around €9k +, if we have our way over the next few months. Any thoughts on production numbers? Being a special product, with its unique character, we hope to sell a few hundred units per year. However, due to its versatility, accessibility and reliability, we look forward to being pleasantly surprised.
How difficult is it to turn a concept bike in to a production ready model?
Not really difficult, if a concept is based on pragmatic and functional benefits. And designed with engineering parameters in mind from the start.
Equally, how exciting is that?
Out of this world exciting! As a new brand in the two wheeled arena, we at Caterham had to dig deep by asking ourselves, if a new bike is to be born, where is its place in the world of bikes that we know of today? It clearly cannot be just another bike to sit at a dealer's store screaming for attention, or feeling posh for that matter. It will have to command that attention by delivering value, purpose and fun to prospective buyers. Our first three bike models between the Brutus, the Classic and Carbon eBikes are a step toward achieving that goal. There's more to come.
What investment does it take to bring a motorcycle to market?
A lot, millions of pounds. However, we believe when one delivers value and eye-catching functionality, one's faith will be rewarded.
How many people will be working on it?
A team of about thirty passionate individuals have put their hearts and souls into bringing the Brutus to life. Many more as we get into distribution and support network build-up.
Will there be any crossover to your car or specialist engineering divisions? (I guess that comes back to the question of whether or not it will be constructed in house)
Caterham's DNA and engineering prowess are tightly integrated into products that bear our name. Like all great companies and products of the 21st Century, the execution of concept, design, engineering, manufacturing and distribution leverages on best of breed approaches. Companies that can meet a market need with a product that delivers function and flair, at an affordable price point, will earn the right to keep growing at the end of the day. We intend to do just that.