When Alan Ayers couldn't fit all of his camping gear on his bike, he decided to build his own single wheel motorcycle trailer that would allow him to sleep comfortably at night.
After riding and racing motorcycles for over 45 years, my body doesn't like to sleep on the ground anymore, but as an adventure rider, camping off the bike is a must. A few years ago I bought a wonderful REI cot that I carried in my sidecar that I built, but it is too big to carry on a bike. I had seen a single wheel motorcycle trailer before, but they tended to be too small and really expensive, so I decided to build one myself.
I'm a hoarder of motorcycle parts, so off to the garage I went and started to gather up parts for the build. The first thing I found was a XT350 rear wheel that had been laying around for several years but was in great condition. I decided to use square tubing because I don't have a tube bender and I like the industrial look. I put all my gear on the ground and measured around it and that was how I decided on the dimensions.
I was going to build my own swing arm but a look on eBay yielded an XT350 swing arm for £20 with free shipping so there was no need to build one. I'm very lucky that I live only a few miles from a steel supplier that has great prices and is open on weekends and loves to hear about my projects. One rainy weekend later, the frame was done and I was just waiting for the swing arm to arrive. Once it arrived it was back to garage to finish it up, all the while I was brain storming on how to attach the trailer to the bike.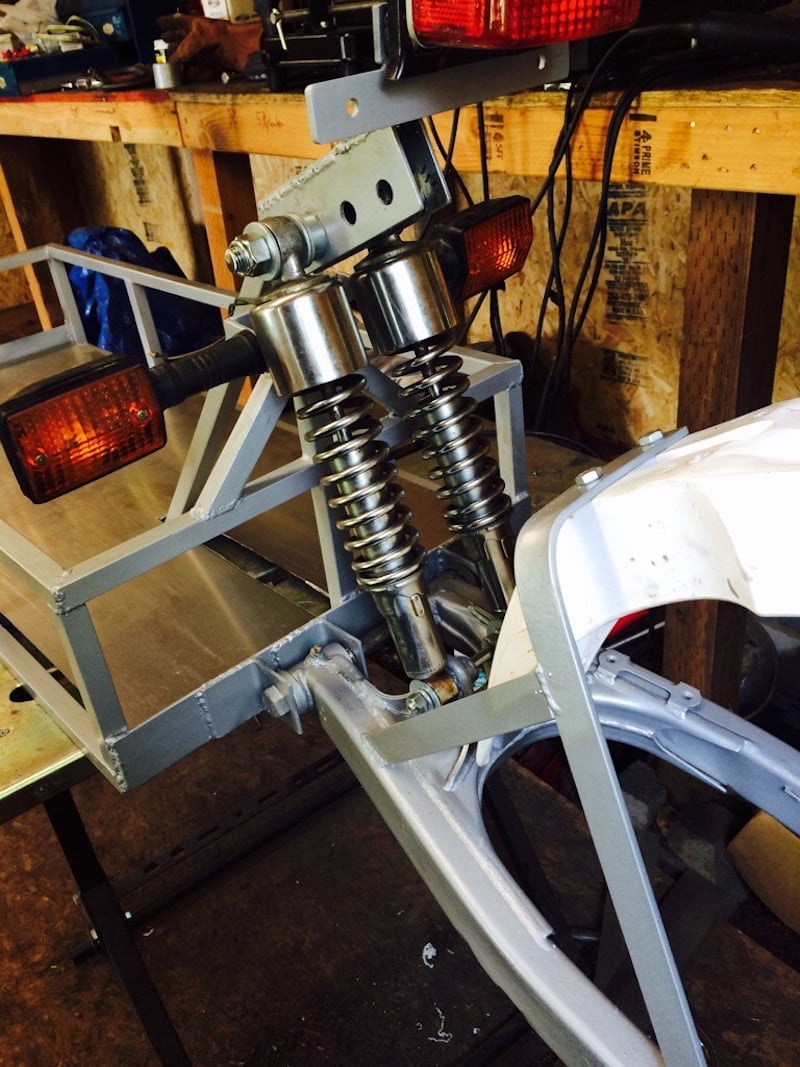 I had seen several setups that used a hitch mounted to the bike frame but that meant that the bike suspension would carry the load and I had just spent a lot time and some money on setting up the suspension for my kind of riding. So my solution was to mount another swing arm of sorts to the end of the bike's swing arm that would allow upward movement and side to side movement, but not allow the trailer to fall over and let it lean with the bike.
With the swing arm mounted on the motorcycle trailer, it was time for a shock, I had an XT350 shock and a NC700X shock and I thought one of the two would work, but I soon found out that both were way too stiff for the light trailer and fairly light load. So off to eBay once again for a pair of KZ400 shocks for £6 shipped. I thought that I would start by mounting one and if need be I could mount both.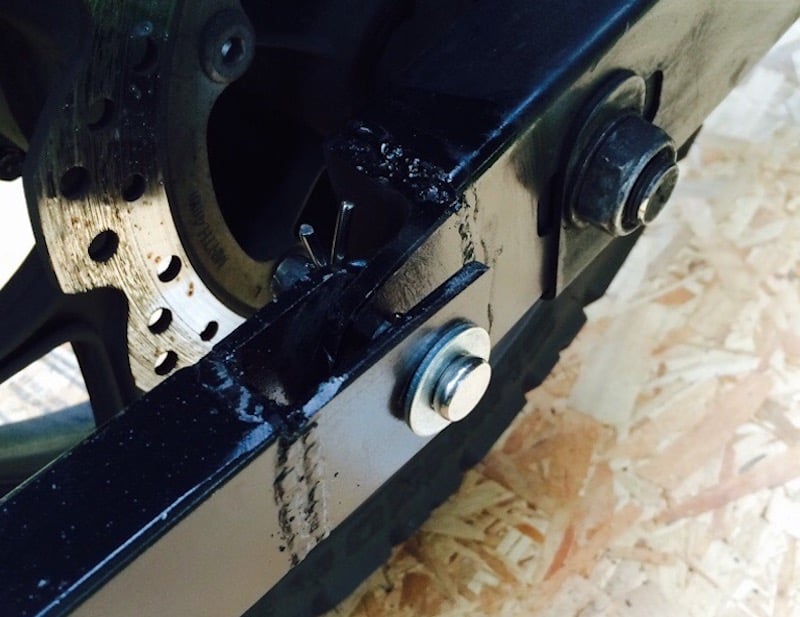 Everything came together nicely and it was on to building the hitch/swing arm for the bike. I built two tabs that mounted to the end of the bike's swing arm that were held in place by the axle adjustment bolt and welded to the swing arm. Next was the swing arm hitch that needed to clear the rear wheel but not stick out to far so I could keep the rig as short as possible. When it was all done it was time to hook it all together and see if my plan worked.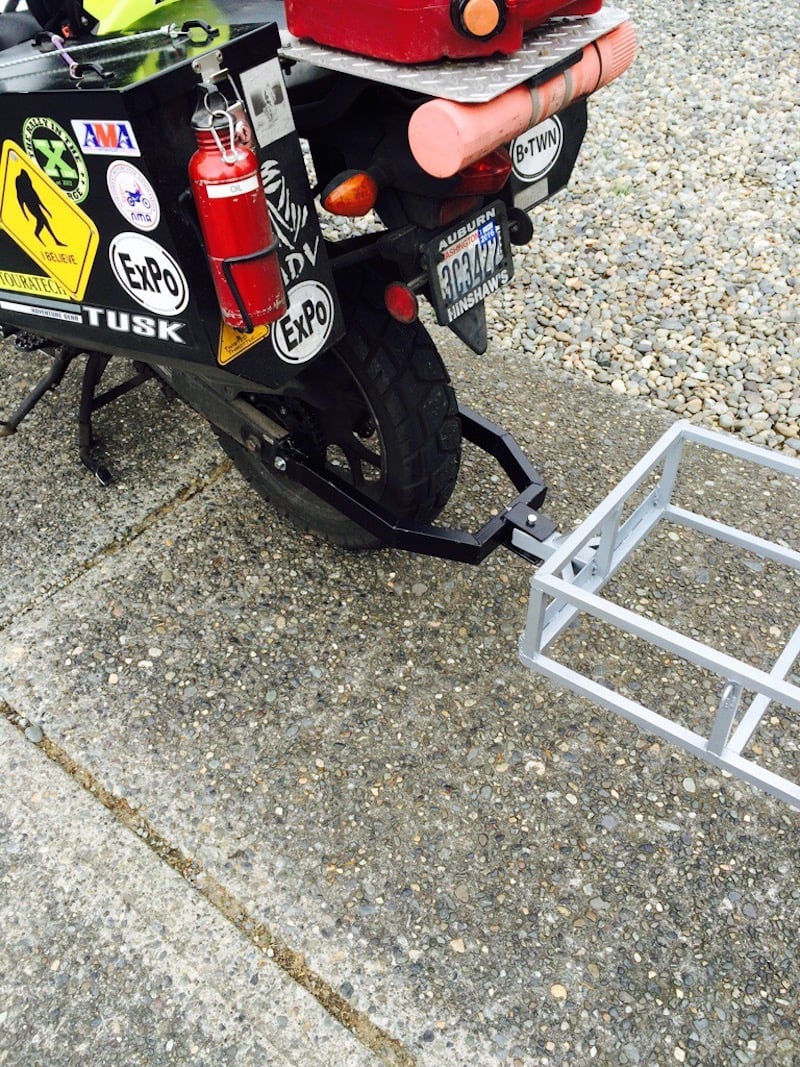 The first thing I found out was that with just one shock it bottomed out too easy so a second one was mounted and it was perfect. All that was left to do was mount up a tail light and turn signals, I had a set of XT350 signals that I used and, you guessed, it an XT350 tail light. I eventually decided to buy a set of smaller LED signals, but they only cost £6 so it didn't break the bank. Wiring it to the bike was pretty easy using a four-wire trailer plug and I was off for a test ride.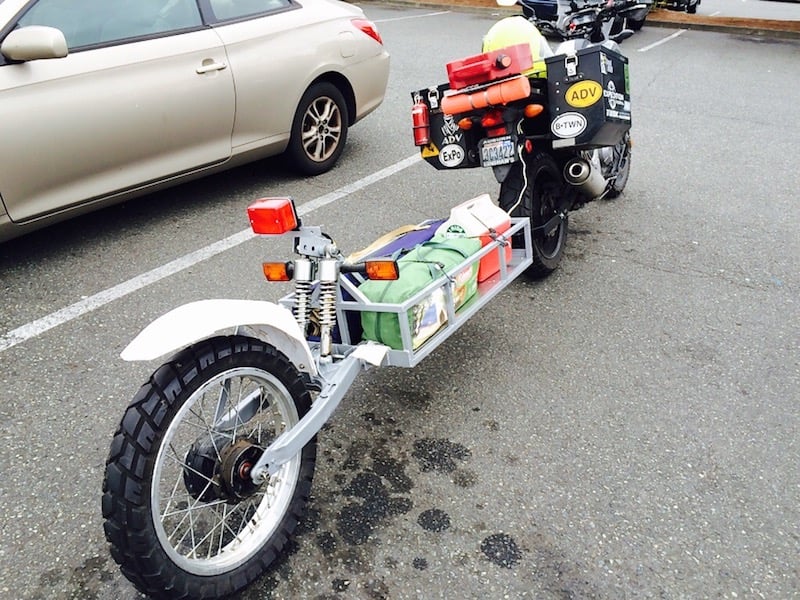 The test went perfectly and all I needed to do was to add a flag so cars could see the trailer since it was so low. So, I loaded it up and headed off to the Touratech rally to see how it worked, I had several people approach me with offers to build a motorcycle trailer for them. It pulled straight and didn't wander and the only time I notice it is under 10mph while turning but even then, it's not bad. So now this old man can get out in the wilds, ride hard and be comfortable at night. Sounds like the perfect adventure to me…