After a year of owning the Tiger 800XCx, Bryn Davies reflects on life with Triumph's mid-range tourer.
With the launch of the Tiger 800's big brother, the Explorer, it is with a heavy heart that we part ways with our much-loved and much-ridden Tiger 800XCx. I've had some fantastic memories with the bike over the past 12 months, and I can say that if I had the cash I would buy one tomorrow. The bike is brilliant on the tarmac, and while I wouldn't say it's at home on the green lanes, it gets by and makes the ride interesting. 
Having ridden through London at the heart of rush hour I also learnt that the bike would be a brilliant commuter, being nimble and agile enough to zip in and out of traffic while also having enough power to get you out of trouble if need be. Just make sure you take the panniers off as fitting the plump, pannier-adorned rear end through lines of traffic is a nerve-racking experience. 
The Tiger 800XCx also showed me how motorcycles bring people from all walks of life together. On our recent ride of the Shakespeare Way (read about it on page 54), the presence of the Tiger piqued the interest of Roger, the drayman at Hook Norton Brewery.
We began to talk about bikes and he revealed that he worked on the printing press when some of the UK's most popular bike magazines first came into existence, and he still has copies of the first-ever editions on his wall.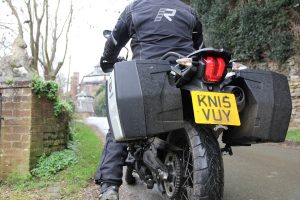 Roger was an interesting gentleman, though it was sad to hear how he should have been retired some years ago, but found himself still working in the stables, though he loved what he did and his bond with the brewery's magnificent shire horses was magical.
No less than two hours later and I was riding the Tiger through the grounds of Blenheim Palace when I was pulled over by a chap in a souped-up Range Rover. He showed an interest in the bike and after a long conversation about his KTM 690 and the enjoyment he takes from riding around the palace grounds, I discovered that I was enjoying a conversation with none other than the Duke of Marlborough.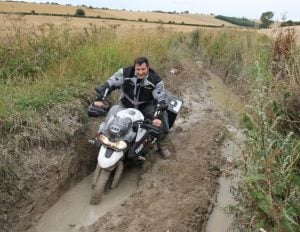 I couldn't help but think that evening that if it wasn't for the motorcycle I was riding, I would never have gotten to meet these fascinating characters from completely different walks of life. Had we all been in a pub together, I've no doubt that social, political, or racial barriers would all be smashed down by the shared love for motorcycles. 
I could have had this realisation on any bike, but I will always share these memories with the Tiger 800XCx, and they'll last a lifetime, and to me that's what biking is about.