With the motorcycle season fast approaching, Dave Reynolds has been farkling to get the ABR V-Strom 650XT ready for summer.
Over the past few months the weather has been nothing short of diabolical, with storms blowing in from the Atlantic on what seems like a weekly basis. So, after fitting the Fuel Exhausts F1R Road Exhaust to the V-Strom last issue, this time I've added a few more bits and bobs in preparation for what I'm hoping is going to be a glorious spring/ summer season! With this in mind, I got my hands on a radiator guard and kickstand shoe from R&G Racing to improve two crucial areas of the machine. 
First to fit was the radiator guard. After unpacking the components I spread it out on the bench to make sure everything was there (it's surprising how often a screw or nut will go missing) and thankfully I had the full set. 
A radiator guard is a worthwhile accessory to fit to any water-cooled bike. Any road surface can kick up stones, rocks or other debris into your radiator, and once damaged it's not an easy roadside fix by any means. A decent radiator guard adds a layer of protection and acts as a shield. 
Fag lit and the clear and concise instructions read all seemed straightforward. So out came the spanners. First thing I did was compare it up to the radiator to work out where the sticky backed foam pads needed to be placed, these are to keep the two apart and prevent scuffing or rubbing.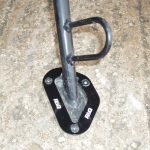 Foam cut and stuck, I removed the OE bolt at the bottom of the radiator, held the guard in position and fitted the stainless bolt that's supplied with the new kit.  e two top mounts are secured with the zip ties (which are supplied) to the OE radiator mounts, job done? Hang on, that took no time at all. It shows that something well designed is really an easy fit. 
Next up was the sidestand shoe. Hands up anyone that's pulled into a rally, camping field or just slightly off the tarmac and realised the sides and is going to sink in? Not just me then. 
Riding around looking for hard standing or a piece of wood, rock or even a twig to place underneath the stand can be very frustrating. An aftermarket side stand foot with a larger surface area has to be money well spent, better than the piece of wood on a length of cord buried under everything else I carry in my tank bag!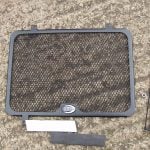 Unpacking the R&G foot is a pleasant experience. I love well-engineered parts like this and the fitting is as simple as the radiator guard, all that's needed is a 3mm allen key, three screws and it's on. Now it's time to get suited and booted to ride a rough track before stop in a field for a smoke.