Is the new Husky the most desirable motorcycle on the market? Alun Davies swoons in the saddle.
Right then, if you're not decked out in slippers with a nice cup of tea and a biscuit to hand, now is the time to do so. No, it's not traditional enduro attire or the required all-action mode, granted, but the 'Husky' story is one that needs to be told. 
So, I thought I'd take you on a trip down memory lane before mounting the saddle, at which point I'll be expecting you to leap into enduro boots, air-pump thumbs and pinkys and swig Jack Daniels by the neck. 
I remember my first contact with a Husqvarna motorcycle on a huge volcano of South Wales coal slag back in the mid 1970s. At the time I was learning the ropes on an Ossa and imprudently dreaming I was only a dab away from being Mick Andrews – non-trials riders should Google the mighty man now. 
However, each time I'd crack a new problem, a seriously talented guy on a Husky would wheelie through the section leaving me in a state of sedation whilst plastered by a roost of mud and coal scum. And here's the killer, he wasn't even riding a trials bike but a 500cc scrambler, plus (this is the real killer, killer) the bastard was my next door neighbour. 
Anyway, the Husky story starts way before the 1970s. In fact, my mud and coal splattered jacket was simply the culmination of over 280 years of development from a company that opened its doors in 1689, in Huskvarna, southern Sweden, manufacturing rifles and shotguns. In case you didn't know, the Husky logo is a rifle barrel with sights attached.
Over the years Husqvarna set about manufacturing sewing machines, kitchen equipment, bicycles, lawnmowers, chainsaws, power cutters and more latterly, robotics. The company was taken over by Electrolux back in 1978, off-loaded in 2006 and has since gone on to acquire other brands such as Gardena, McCulloch, and Flymo. 
The first motorcycles were ridden out of the Husky factory gates in 1903 and pre WWII they were competing in the Isle of Man TT with a 550cc V-Twin four-stroke. From the '60s through to the '70s Husqvarna was the dominant force in motocross, enduro, and South Wales coal deposits before the motorcycle division was eventually sold by Electrolux to Cagiva in 1987.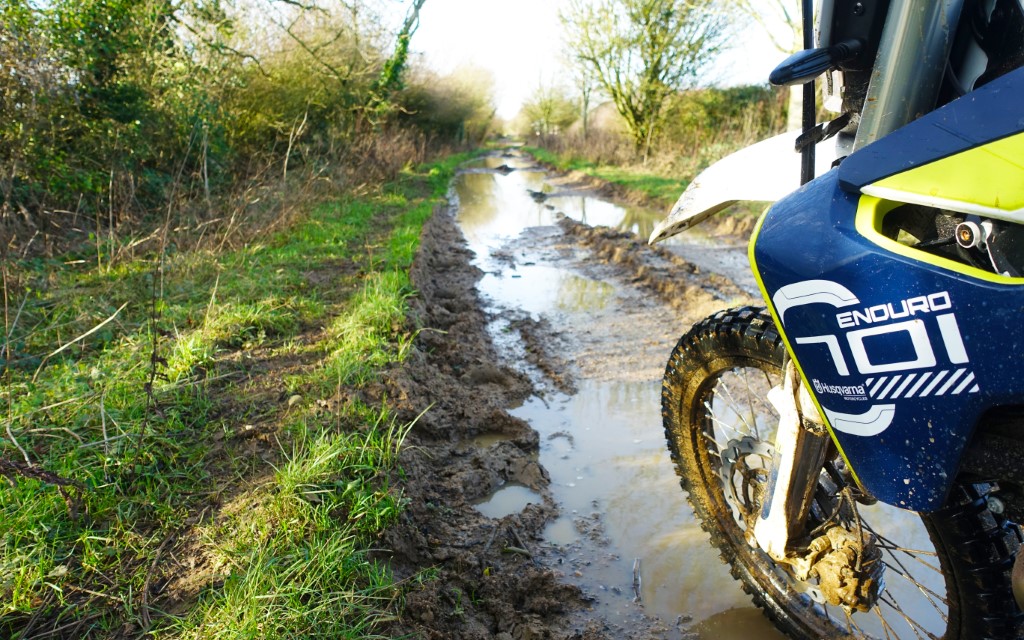 In more recent times the motorcycle brand has been owned by BMW who reportedly paid €93 million in 2007 for the yellow and blue marker before off-loading the brand to Pierer Industrie AG in 2013. Pierer Industrie is headed up by Stefan Pierer, the CEO of KTM, which brings us nicely to the 701, which is essentially a re-branded KTM 690 Enduro R with extras. Boots on, air-pump and gulp. 
There's something about the Husqvarna 701 Enduro that has me thinking there's a bit of voodoo going on. The instant my eye caught sight of the yellow, blue and white machine the chemical pathways in my cerebral cortex started firing at a rate of knots I'd not experienced since I first saw Ursula Andress emerge out of the sea in that Bond movie. There was simply no logical thought process, just a primal, primitive urge that translated into 'I want'. 
It's a strange one, indeed, because the more I thought about actually buying, as opposed to emotionally craving, the more it occurred to me that maybe it was out of my league. I mean, what's a 56-year-old overweight man going to do with a 701cc enduro bike other than maybe bottom out the suspension on the oversized curb outside Starbucks? So with that in mind I threw a leg over the bike where upon all rational thought quickly vaporized once again and I found myself pulling a monster wheelie en-route to the last known address of an ageing Swiss actress who'd once played the role of Honey Ryder. How apt.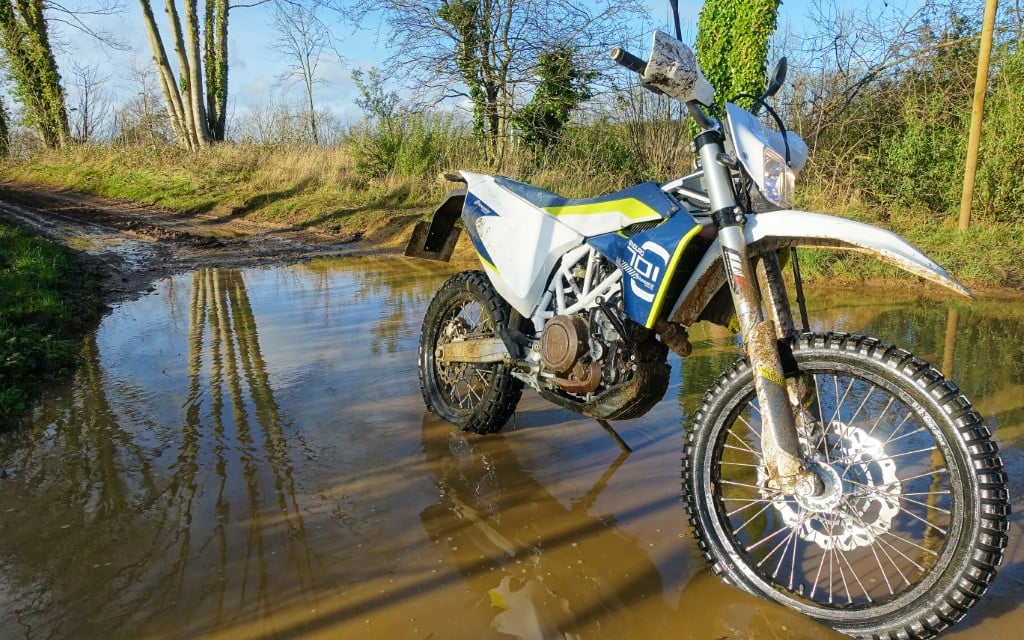 What I'm getting at here is that the 701 is an intoxicating bike. It's the sort of motorcycle you could end up owning without considering why you need it and what the hell you're going to do with it after the cash is long gone. Let's be straight here, if you ride with a pillion, spend most weekends clocking up miles on tarmac with your mates or just want a bike that's got all day comfort for touring then the 701 is certainly not going to be the bike of first choice. 
If, on the other hand you want a motorcycle that's going to make you go weak at the knees every time you set eye on it, stir your emotions the moment you fire it up and offer you probably the best compromise between excellent off-road ability and acceptable on-road manners then this could just well be your holy grail. My only advice is, don't look at it before you've worked out if you want to buy it. Resistance is futile. 
To my eye, the Husqvarna colours transform what was already a good looking machine in its KTM drape into a world-class stunner. For ABR readers with a classical bent, it's a mythical 'Siren' of the motorcycle world. And then there's the raw 690cc power, free of the lardy extras that come with, er, comfort. Weighing in at 145kg the Husky is just under 40kg lighter than the Yamaha Tenere 660 which is way more comfortable on-road but far more of a sluggish, ungainly handful when the going gets wet, muddy and gnarly. 
Anyway, back to slinging a leg over the machine which in itself is going to be a problem for some. This bike comes with a seat height of 910mm and I doubt if anyone under 5ft 10in is going to have a hope of planting two tiptoes on the ground. For its intended off-road purpose it's also likely to unnerve the shorter frame novice, where slow speed sure-footed paddling on difficult ground will be an unlikely outcome. 
Sitting on the bike there's not a lot to take the eye upfront. For a start the fuel tank is at the rear and checking out the display is not going to distract the most anal cockpit groupie for longer than a nanosecond. There's no rev counter or fuel gauge but there is a low fuel warning light, which you're likely to see quite often with a tank range of just over 150 miles. 
Setting off on 'advanced' rider mode the instant and potent power delivery is addictive with an element of restraint required to ride anywhere without the front wheel hovering above the tarmac. There are three power maps – soft/standard/advanced – which you can alter by removing the seat and dialling in via a small selector. Not exactly the height of user-friendliness, but then this is an enduro bike at heart. 
On the softer settings, the Husky is far less frisky and, in my view, the novice or average rider would be well-advised to engage anything other than advanced when heading down a wet and muddy green lane. 
With the tank weight at the rear, the handling is noticeably light though not to the point of concern. One of the ways Husqvarna has differentiated the 701 from the KTM 690 is in the seat department with the all-new 'ribbed' offering said to be more comfortable and therefore suitable for longer days in the saddle. In use it's certainly no cushioned divan, though you will grow into it in the same way you would with a pushbike seat – it's going to take some time. 
The hydrolic slipper clutch is nice and light and with six gears the 701, with the 'enduro' qualification, is an OK road bike as long as you're not expecting adventure bike levels of comfort. It pays to remember this is a big single-cylinder machine running on trail tyres so vibration is part of the package, however, I have to say it's nowhere near as buzzy as I thought it would be. Overall though, it's going to be difficult to describe long day comfort as anything other than 'you'll get used to it'.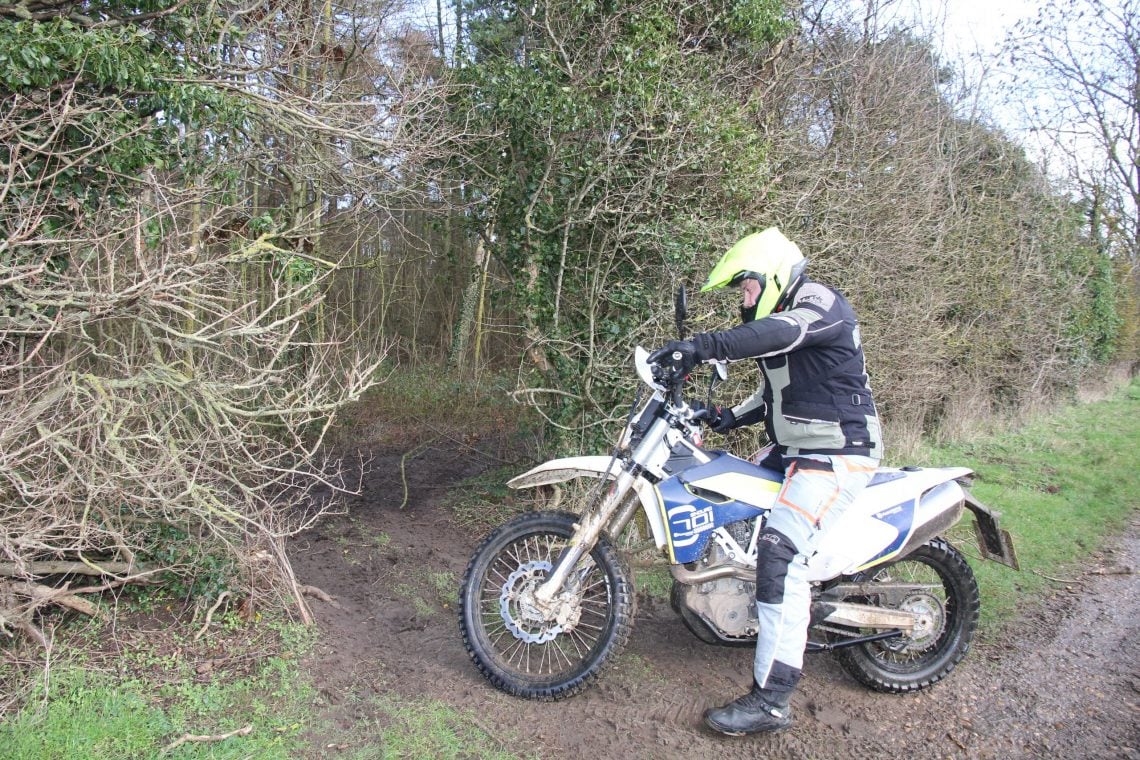 Head off-road and this is where you'll gain maximum benefit from the 701. The 21in front wheel, the excellent suspension, the slim frame and form, the near-perfect weight balance and the superb low down torque of the big single are going to extend your adventures to places you'd previously thought the reserve of Sir Ranulph Fiennes. Throw in the additional 'dongle' which lets you switch off the ABS just at the rear and the Husky gets even better. 
I've thought long and hard about the Husqvarna 701 and keep coming back to the same view. This is a motorcycle of narrow practical appeal. If you're blessed with enough time and money to take on a long term RTW adventure and you intend to take the off-road option every time then this is your bike. Similarly, if your idea of motorcycle fun is long days in the saddle discovering the green lanes of the UK, then the 701 will cope with all you're going to throw at it. 
If, on the other hand, your wish list demands comfort, touring ability, high-speed cruising, hauling a pillion and luggage then this is not your first choice bike. However, and this is where it comes into my purchasing cross-hairs, I can't think of a second bike I'd rather have in the garage for a beautifully indulgent 'me day'. 
---
ABR Verdict
As a commuter 
If the word 'fun' is to be mentioned in the same line as 'city commuting' then it's with the 701. A high commanding seat for visibility, nippy and slimlined for bopping through the traffic. If you can get those feet down, just the job. You'll need to think about luggage options though. 
As a weekend tourer 
The long motorway miles are not going to be comfy but when you arrive at your weekend bolt hole there's going to be huge fun to be had on the minor roads and trails. Don't even think about taking a pillion, this is Johnny no mates weekend territory or a gathering of like-minded friends. 
As an off-roader 
The 701 is capable enough for a novice to believe he'll be entering the Dakar within a few weeks. On full power, it's a bit of a handful, but dial in a softer power delivery mode and just ride that torque – a wonderful experience. The DNA of this bike is KTM off-road expertise, which says it all. 
As a continental road tourer 
It's like this, if you're looking to do big miles with your mates and/ or a pillion, buy something more suitable. If, on the other hand, you're time rich and big mileage days are a low priority, the 701 is the sort of bike you could ride to the Alps or Pyrenees and have some serious fun exploring the trails. 
As an RTW overlander 
If you've the time for taking the 'Long and Wild Way Round' then the 701 is looking like a good buy. Husqvarna is working on a luggage system and you're going to need to sort out additional fuel capacity but this bike is probably at the top of the tree if you're intent on seeking out the grimmest RTW off-road routes. 
As a pillion carrier 
'Ha, ha' sums it up.