We spend a day with an 'adventure' bike that's been around longer than most; the Royal Enfield Bullet
This issue we were supposed to be testing the Zero DS, an adventure-style electric bike that claimed to have a range of 126 miles in the city and 76 miles on the open road, perhaps signalling the direction that motorcycles might take in future years. Or rather not as the case may be, because on the eve of getting the bike for testing we received an email informing us that Zero had in fact pulled out of the UK market, citing 'our' collective lack of interest and claiming that the 'UK market lags behind other European markets in terms of market readiness.'
Perhaps the technology just didn't appeal to us, or the thought of only being able to do that many miles before having to conduct a lengthy recharge process just didn't sit well with the very essence of motorcycling; that of escape and getting away from the world. How can you do that if you can only go a maximum of 76 miles on the open road before running out of juice? Your spouse will have caught up with you long before you've had time to escape the county, let alone the country. With an electric motor – at least for the time being – the sense of freedom that a motorcycle affords just isn't there.

Zero says that it will continue to assess the situation and if our demand for such things improves, then their range of bikes – still available in other parts of the world – shall return.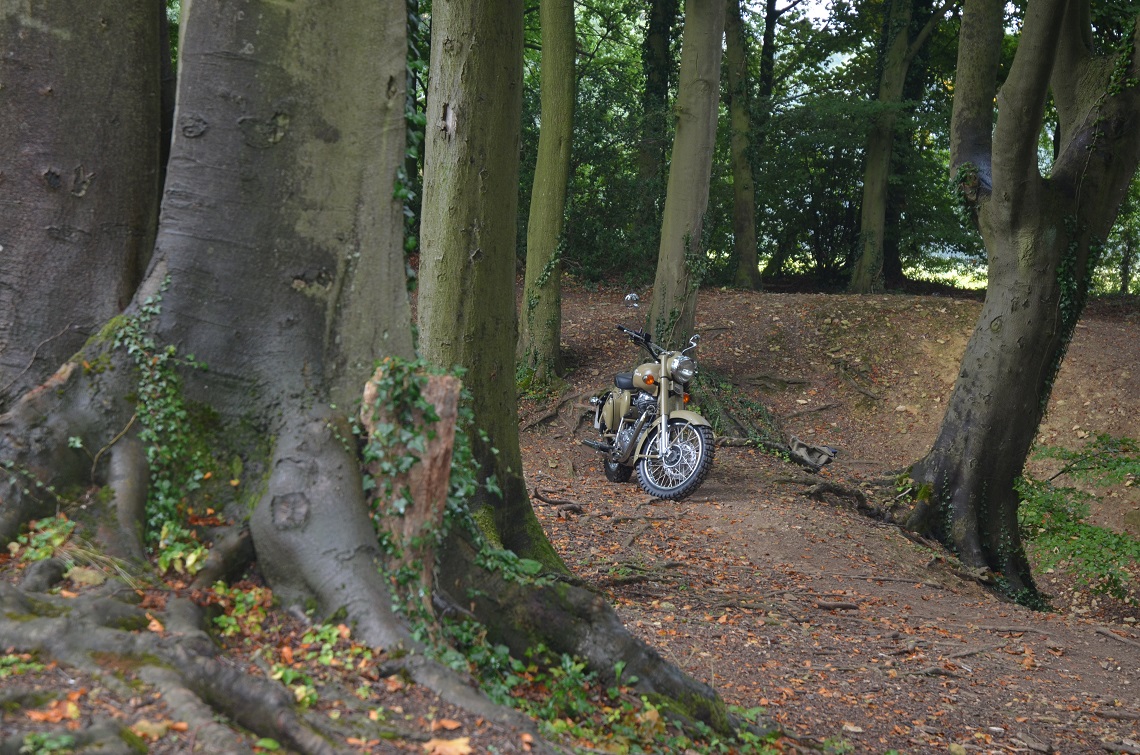 In the meantime, rather than look forward to the possible bikes of the future, we will instead look back to a bike from the past, still being sold in the present; the Royal Enfield Bullet Classic.
The story of Royal Enfield is a lengthy one, but one worth telling. In 1893, the Enfield Manufacturing Company Ltd was registered to manufacture bicycles. By 1899, Enfield was producing quadricycles, in 1912 it produced a sidecar, using a 770 cc V-twin JAP engine and raced successfully in the Isle of Man TT and at Brooklands. In 1911 Enfield added the word 'Royal' to its name. They supplied large numbers of motorcycles to the British War Department and to the Russian Government. Enfield used its own 225 cc two-stroke single and 425 cc V-twin engines. They also produced an 8 hp motorcycle sidecar model fitted with a Vickers machine gun. In 1921, Enfield developed a new 976 cc twin, and in 1924 launched the first Enfield four-stroke 350 cc single using a JAP engine. During World War II, the Enfield Cycle Company was asked by the British authorities to develop and manufacture military motorcycles, one of the most well-known models of this era being the Flying Flea; a lightweight 125 cc motorcycle designed to be dropped by parachute with airborne troops. Postwar, Royal Enfield resumed production of the single cylinder ohv 350cc model G and 500cc Model J, with rigid rear frame and telescopic front forks. In relation to the bike, we're riding here, the first bike to bear the Bullet name arrived in 1931. It grew over the years, from 350cc to 500cc.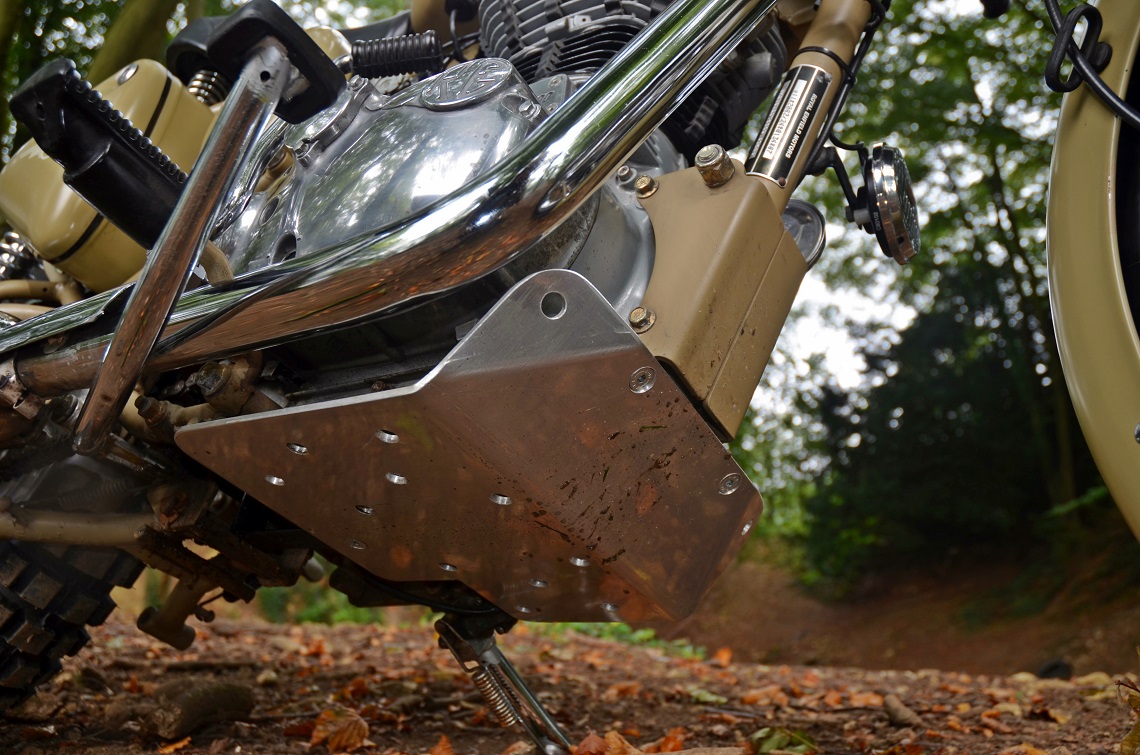 In 1955, the Indian government ordered 800,000 of the bikes to be used on patrol. The Indians fell in love with the bike, and in that same year, Enfield joined forces with Madras Motors in India in forming 'Enfield India' to assemble, under licence, the 350cc Royal Enfield Bullet in Madras (now called Chennai). In 1970, the UK arm of the company closed down, and ever since, the Bullet has been built in India. An odd end to a great British legacy, but one that at least keeps the name, the history, and the bike alive.
This bike tested is the Classic Bullet, with the latest 500cc fuel-injected engine introduced in 2009 to help it pass Euro 3 emissions, a five-speed box, a front disc brake, 28bhp and a claimed 80mpg (we averaged 75mph on the test).
The colour is Desert Storm, with a darker army green also available called Battle Green. They're both special editions, intended to pay homage to Royal Enfield's military past.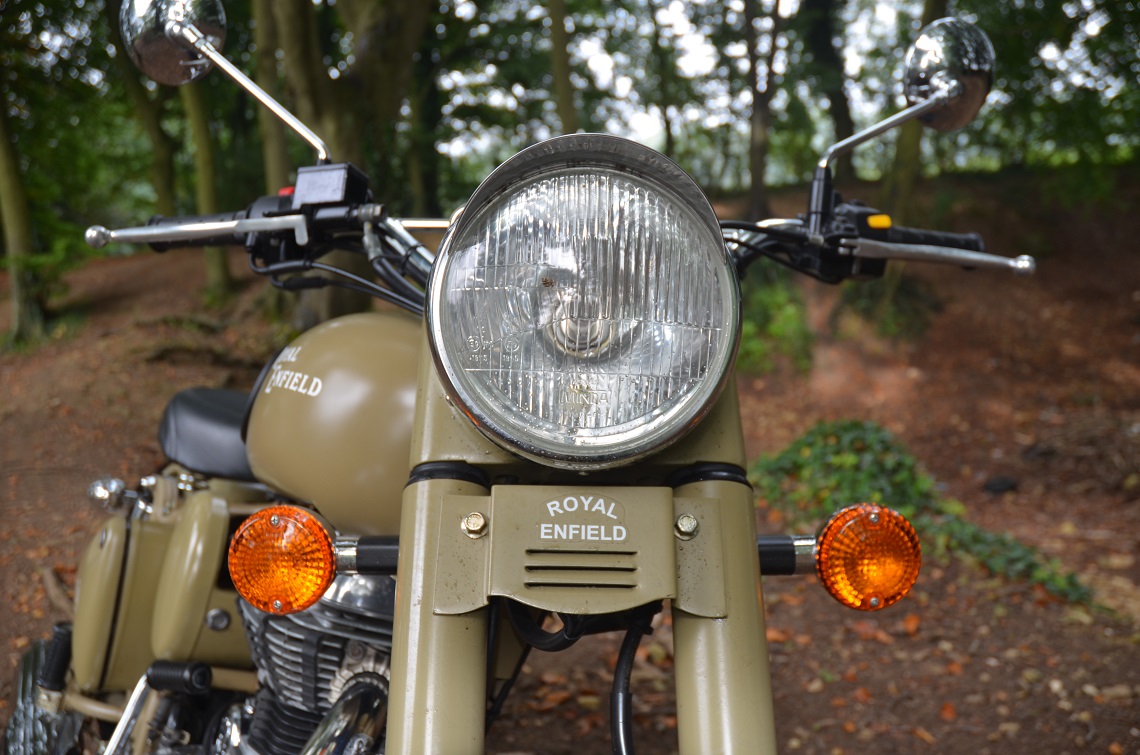 In addition to this, the test bike we rode also had fitted the T5 kit, a Watsonian Squire special (see breakout) comprising of Continental Twinduro tyres, braced bars and a bash plate. It can be bought and retrofitted to any Enfield Classic for £274.95, or purchased as a package with the Desert Storm or Battle Green for £4,995.
On paper, that seems a lot of money for a bike that's been around for over eighty years, but in the flesh, the Bullet still carries a lot of presence. It's an exciting bike (for me at least). It's a bike you want to look at and ride, the counter opposite to the Honda Crossrunner on the previous page, which takes a more lengthy ride to fully realise its charms. And with those knobbly tyres, bars and bash plate, the bike's really lent a new purpose; it important to remember that this type of bike, not so long ago, was considered an off-road/adventure/ enduro bike by previous generations. And sure as certain the terrain hasn't altered, even if the bikes we ride have.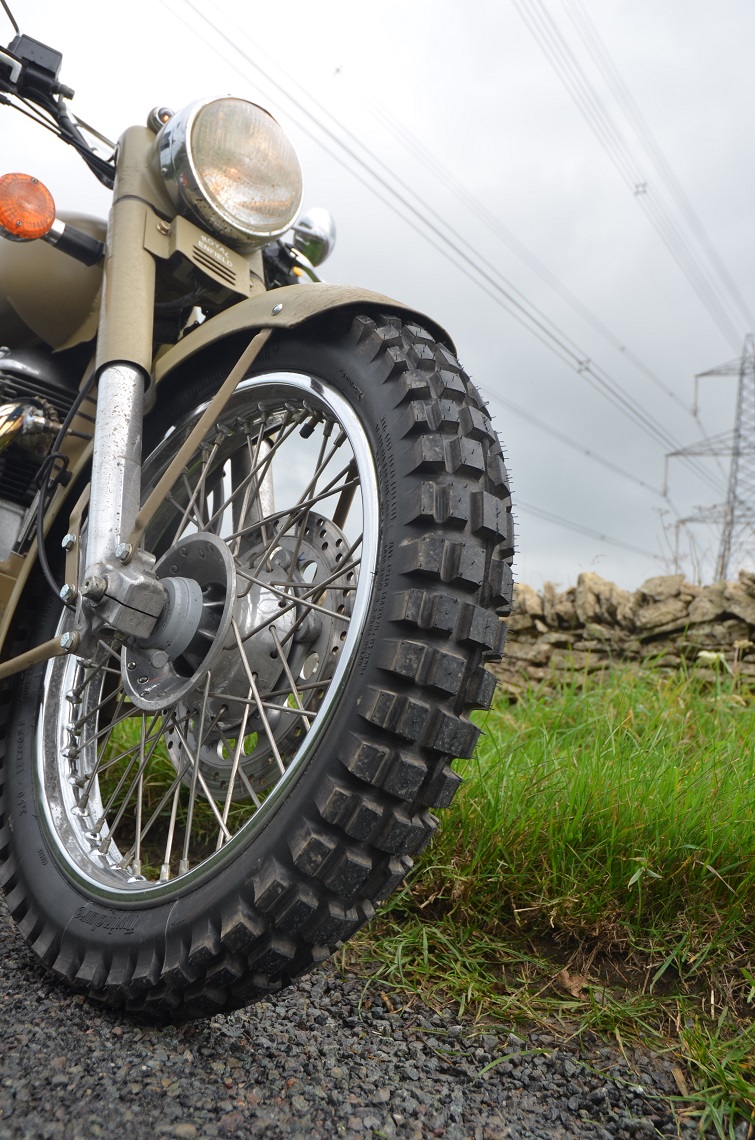 An electric start (there's a kick start as well) fires the engine into life. It sounds good; meaty and old fashioned with a real burble to what could be a slightly too long exhaust pipe. Rather than the versions of the Enfield ridden in India – where the gear selector is on the right and the back brake is on the left – here the foot controls are conventional and the five-speed gearbox slick.
The saddle is wide and cosseting. Exiting the old military compound (now a low key industrial estate) on which Watsonian Squire is based (just outside Moreton-in-Marsh on the edge of the Cotswolds) you get the immediate impression of suspension and seat springs working in perfect harmony to absorb the speed bumps that would have other bikes skipping and bouncing.
Ahead of you, the view is of nothing but the wide-open world. No screen or big fairing surround to give a sense of separation or psychological protection, just the instruments and your hands at the base of your vision, the rest of it is filled with road and sky. A perfect configuration for full immersion when passing through a foreign land.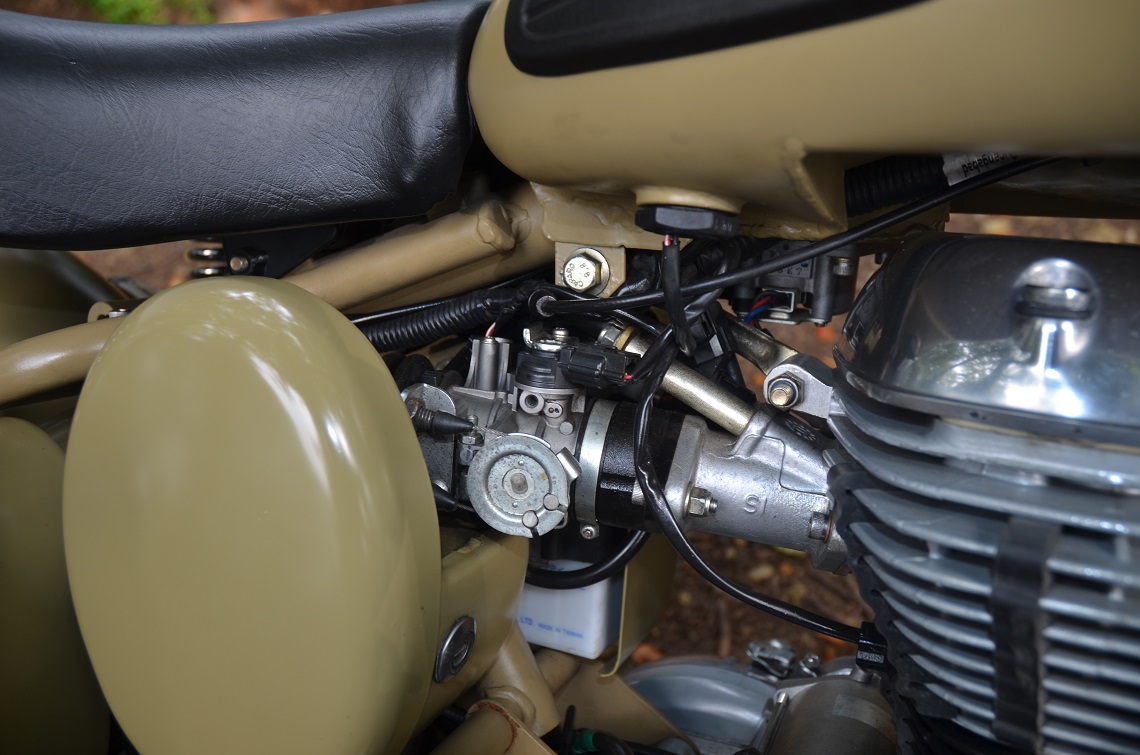 Not far from base, I found a motorcycle playground in the woods off to the side of the road; a series of bowls and craters in the earth, a track running through the trees. With the bike low enough to comfortably get both feet on the ground, excellent grip from those tyres, and an engine that enjoys these kinds of low speeds, the bike really felt suited and manageable in an environment like this.
Certainly, it's not half as refined or as polished as the 1200 GS ridden on the previous feature, perhaps not as competent either, but this is a totally different beast, raw and mechanical, with it up to you, the rider – not a computer – to keep things on the straight and narrow. It would be a perfect bike for riding the Fosse Way, the bike would cope just fine.
Surprisingly, the single disc brake at the front works well too, much better than anticipated, and back on the road, there's a strange distortion of speed, as though suddenly 55mph is racing pace and any faster is just insane. It feels fast, even though it far from is.
Back on the open highway, there's a strong sense of an engine working beneath you, the vibration through the bars, your knees gripped perfectly around the teardrop tank, your elbows out in a Motorcross gait, in my case an old wax jacket and open-face helmet, believing for a moment that I was cool again.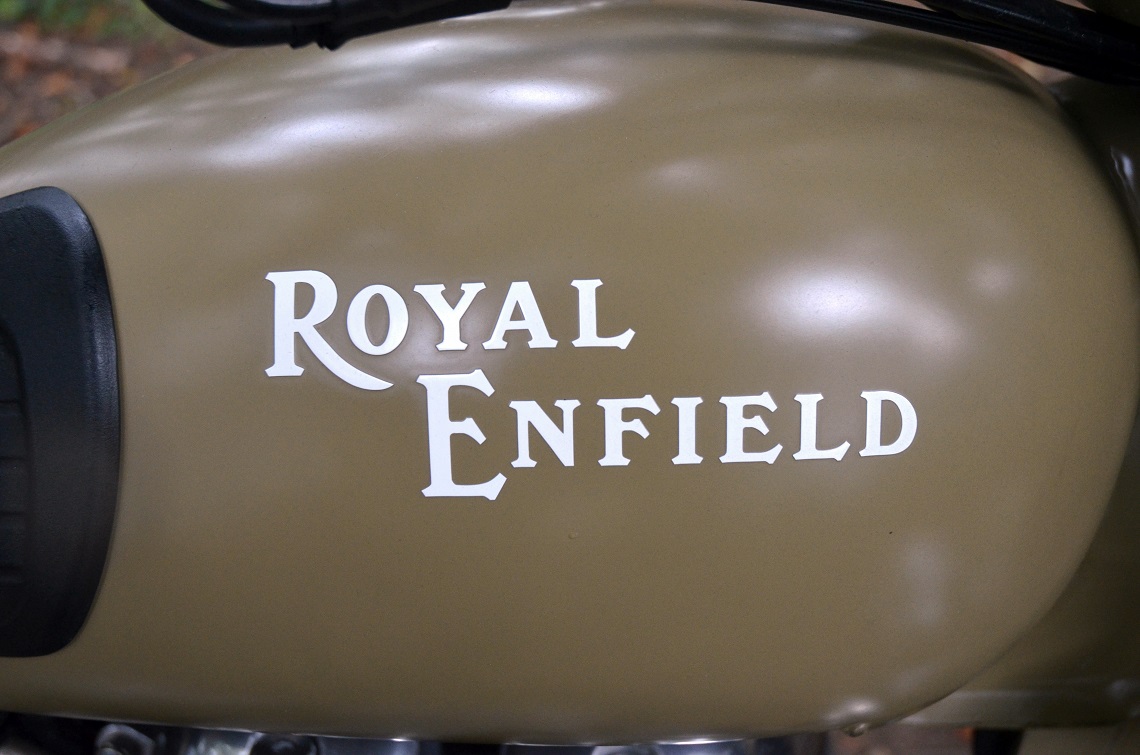 The wind's in my face, I can taste the rain, though in truth I think after a while, on a long straight road, you'd begin to tire of it and actively seek out roads a little more calm and winding.
Turning off the main road to Cirencester, I rode through the quaint Cotswold villages of Bourton-on-the water and Lower Slaughter. I've never known a bike get so much positive attention as this. A young overseas tourist leaned into the road and mouthed, 'ROYAL ENFIELD!' whilst elderly gentleman sat on benches or leaning on walking sticks would catch the beat of that 500cc single and look up from their dog-tired slumber, laying eyes on the bike and tracing it as we went up the road, almost as though they were watching an image of their youth riding past. You could see in their eyes that they'd just gone for a ride with you.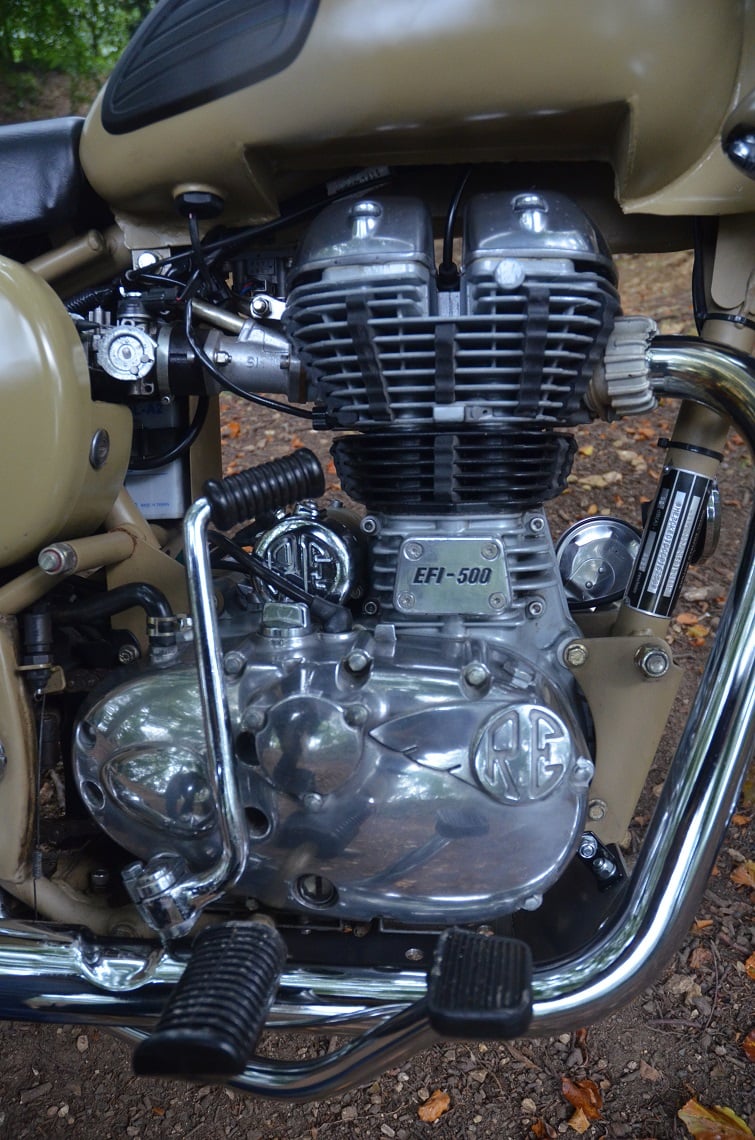 I didn't venture too much further. The weather was terrible and just pottering around the old villages was enough. This is a feel-good bike. In truth, I find it a romantic bike. It takes you back, to a time that probably never existed, when people said 'hello' to one another in the street and bikes were used for courting and other such things. Though you'd have a job with no pillion seat.
Whether that sensation is worth five thousand pounds is up to you. I suppose you'd have to ask yourself if you'd ride it enough, and where you'd ride it to.
For that four day blast through Europe you'd stick with the Crossrunner, for a two-day riding off-road the GS would be more competent, and on the ride down to South Africa, Claire's DRZ would be far more reliable.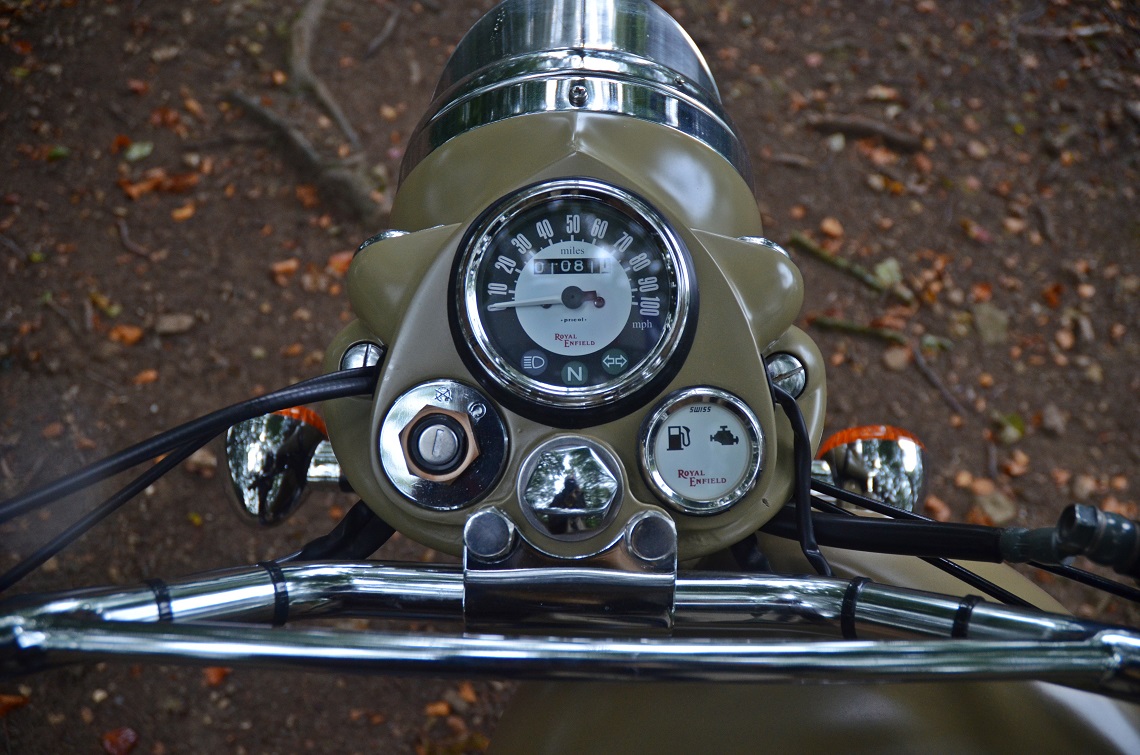 But on a day like this, when all you want to do is go for a relaxed ride around a nice part of the country – even in the rain – I don't think there's a much better bike for it.
There will always be those that look at something like this and say, 'what a piece of old junk,' but I think in a way that those who find joy in a bike like this are those with nothing left to prove. They don't need to ride quick, they don't need to look cool or have the latest gimmick. They just like what they like. It is then a shame that Zero has pulled out of the UK, but in a way, it was a blessing in disguise, because in truth, I'd much rather be riding this.
QUICK SPEC
| | |
| --- | --- |
| Model: | Royal Enfield Bullet Classic T5 |
| Price: | £4,995 |
| MPG: | 75mph |
| Range: | 240 miles |
| Power: | 27hp @ 5,250rpm |
| Torque: | 41.3Nm @ 4,000rpm |
| Transmission: | Five-speed, chain-driven |
| Seat height: | 790mm |
| Weight: | 187kg with fuel |
| Wheels: | 19-inch front/rear |
| Colours: | Battle Green and Desert Storm |
ABR Verdict
How versatile is the Enfield T5?
Climb the Himalayas or commute on.
As a commuter?
75mpg will keep it cheap.
As a weekend tourer?
Fitted with soft-panniers a weekend in the UK would be good fun.
As an off-roader?
Good with those knobbly tyres and bash plate. Easy to ride off-road too.
As a Continental road cruiser?
If you had the time to take it steady and make use of the backroads.
As an RTW overlander?
Many have been ridden back from India, so why not.
As a pillion carrier?
No pillion seat or pegs.
The Shop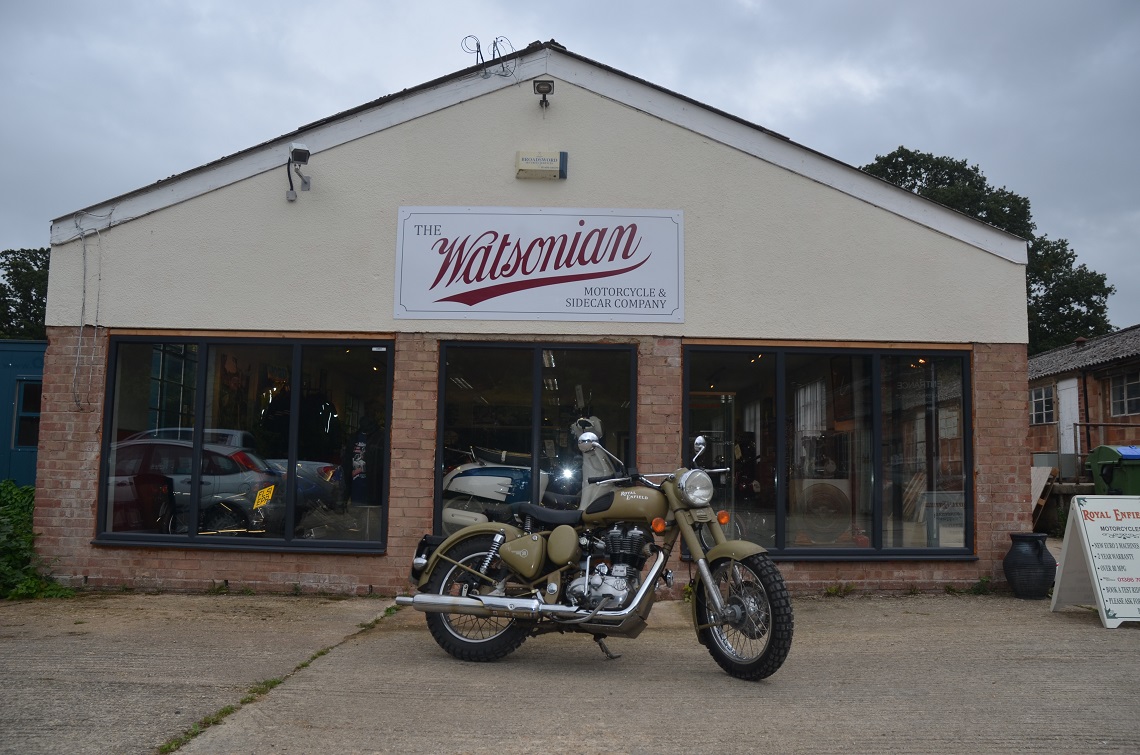 The T5 kit for the Enfield Classic is the work of Watsonian Squire, the official importer of Royal Enfields until earlier 2013, when Moto GB – importers of the Benelli and Sym – took over. During its tenure, Watsonian Squire operated as more than just an importer of the brand, making and modifying their own Enfield models, such as the Fury, the first Royal Enfield for forty years to sport twin-silencers. On collecting the bike for the test ride, it was fascinating to wander around the old fashioned workshop, where a small team of passionate engineers were busy crafting and perfecting the product they focus on today – sidecars. There were sidecars attached to Enfields, to Japanese touring bikes, to scooters, even to a BMW GS. Sales of sidecars are said to be soaring, showing an increase of 25 percent during the period from 1993 to 2003 (from 5,288 – 7,044). The sidecars are made from glass fibre and mounted to a tubular frame. They take some getting used to by all accounts, pulling to one side when you accelerate and brake. It's worth a visit to Watsonian Squire just for a look around; see www.royal-enfield.com for more details.
Photos: Nathan Millward