Three wheels on my Yamaha Niken. Alun Davies reports back from Austria at the world press launch of the all-new bike…
Back in the pre-ABR days when I edited our sister title Adventure Travel magazine I had just the one chin, little in the way of hair protruding out of my nose and ears and was faintly attractive to members of the opposite sex. Heady days, eh? At my fittest I was swanning up Himalayan giants, climbing big multi-day rock walls, would not break a sweat hiking across countries like Iceland from coast to coast and had a waistband that was permanently in view. I could also ski to what was deemed to be a reasonably high standard.
On one occasion, during a winter trip to Colorado, I accepted an invitation to go skiing with one of the top extreme athletes in the USA (think Red Bull type stuff). We packed ice axes, crampons and skis, and were dropped off by a helicopter on a mind-bogglingly exposed knife-edge ridge high up in the Rockies. Then we climbed a further 50m to the top of a mountain where the summit was no more expansive than the seat of a canteen chair.
I recall taking in the full 360-degree view and thinking how the hell do you ski down a near-vertical cliff face? But I did, and took a fair few big falls in the process, one of which I was lucky to survive. I was out of my comfort and talent zone, but arrived back down at base camp just a little bruised and OD'ing on adrenaline.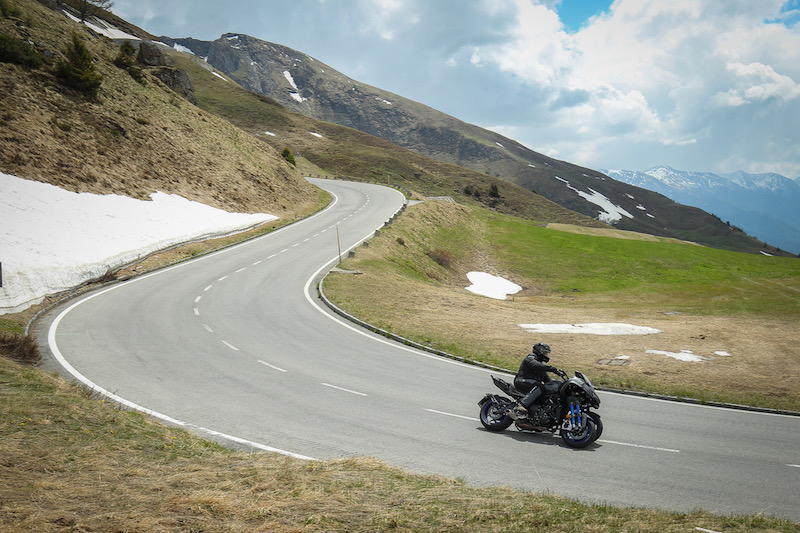 But that was over 15 years ago, and I hadn't skied at all over the past decade. I was also older, unfit, a lot heavier and if my back wasn't aching then my shoulder, hips or knees were. Nevertheless, I looked down the slope of the Kitzsteinhorn and, feeling confident, donned my skis and set off.
Just two metres later I knew I'd made a mistake. I was out of my comfort zone. A further 10m later, I'd taken a first fall and, 10 minutes, later I was being whisked off the Kitzsteinhorn Glacier nursery slopes on a skidoo with a torn calf muscle and a serious pain in my shoulder. Such is life on a Yamaha press launch these days.
Yamaha had chosen Kitzbühel as the venue to stage the launch of the all-new and innovative three-wheeled Yamaha Niken. We were to 'Ride the Revolution', said the company, and they had chosen a route and region with non-perfect road surfaces, changeable weather conditions and glacier skiing.
The Yamaha press launch kicked off with a presentation by French company Salomon, a business better known for it's outdoor gear and, more critically, for inventing the carving ski. If you're struggling to find a connection here between internal combustion engines and the purveyors of sports equipment, then so were most of the journalists in attendance. So, let me explain.
Before the elegantly contoured carving ski entered the fray, if you wanted to throw yourself down a piste you'd do so on a long, straight chunk of plastic or wood. These 'old style' skis were far more difficult to master and control and turning was a major effort with not much room for technical error.
Enter the curved and contoured carving ski and the sport was transformed overnight, where downhill control and turns were just plain easier. Essentially, whatever level of skier you were you became better just by changing to a carving ski. You didn't need more experience, expertise, knowledge or training, you just changed skis and were instantly more in control and a lot better at taking corners and turns.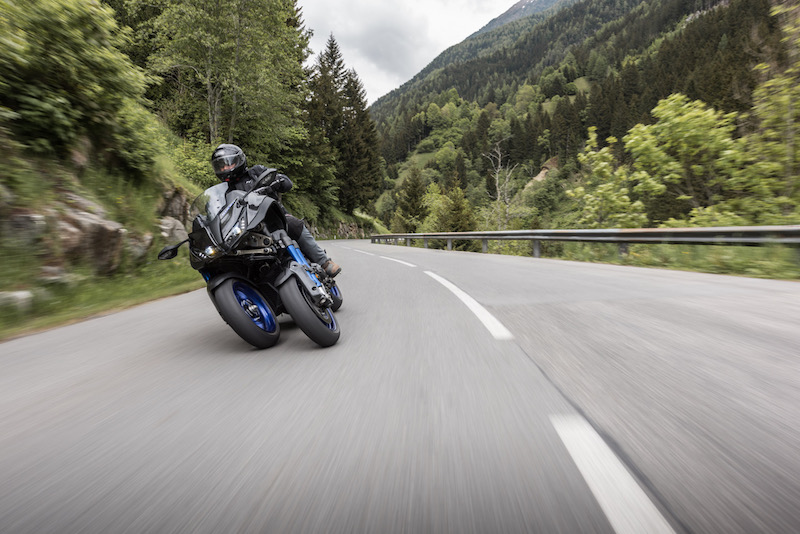 Just one word of warning before moving on to the Yamaha Niken. The benefits of a carving ski do not appear to apply to fat, old guys who haven't skied for over a decade. You've been warned.
Anyway, having packed a box of 800mg ibuprofen tablets and blagged a few serious pain killers, my own personal race was on to be fit enough to swing a leg over the Niken next morning. The fact that I'm writing this review and was riding the bike in the pics is a big endorsement of the pharmaceutical industry and the poise and performance of the Niken.
The Yamaha Niken has been 12 years in development and, in my opinion, Yamaha deserves a huge pat on the back for pursuing innovation in an area which has been focused on providing one central benefit; better front-end grip. Better grip offers better handling and safety, which in turn induces more confidence in the rider.
So, what's it like to ride? In short, it's a revelation. In my nine years of attending launches and reviewing motorcycles for ABR, it's all been about incremental engineering improvements and leaps and bounds in hi-tech wizardry. Not so with the Niken. From the very first bend, I was gobsmacked with the increased level of grip, control and poise. This was no incremental improvement, this was a revolution in performance.
Riding the three-wheeled Niken feels no different from riding a two-wheeler but when it comes to the art of the turn this bike has re-defined the old saying, 'it feels like it's on rails'. I cannot express in any clearer terms, when it comes to taking corners on the Niken, you benefit in exactly the same way as when you don carver skis: you immediately become a better rider, more capable, comfortable and in control when cornering.
And I'm not just talking marginally here, I'm talking a major leap, the sort of improvement that can only come from gaining 80% more grip at the front end. We were privileged to be able to ride a couple of Alpine roads that had been closed off for our test ride, including the magnificent Grossglockner High Alpine Road. With the roads closed, the hairpins were nothing more than a footpeg scraping festival, where you could lean the Niken to tarmac scaring angles in total confidence and at speeds I'd not think of on two wheels.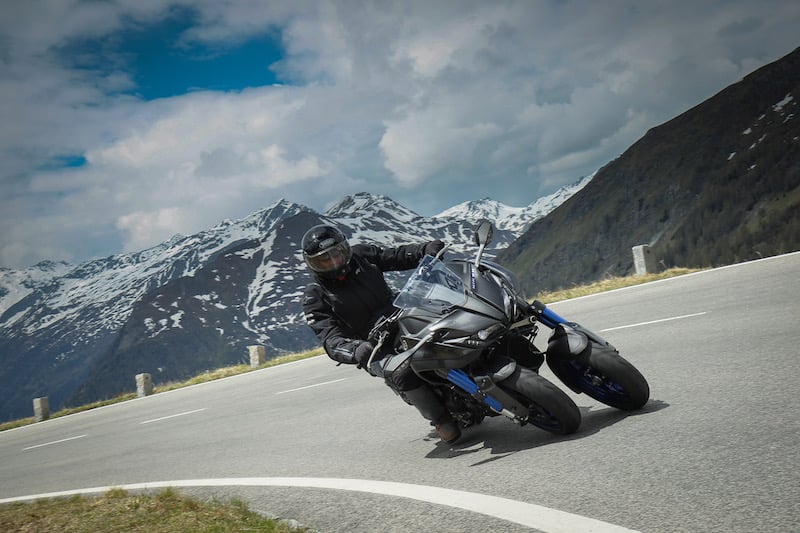 You don't throw the Niken into corners, you don't even attack them, you enter in shock and awe mode and the Niken blitzes them. I kid you not when I say that I was riding the Niken in, around and out of bends at the sort of speed and with the poise and control that I'd always dreamt off.
And then came the first unplanned back end powerslide out of a bend where the front end just kept its line and I felt like a hero. Then came the second, third and forth which were planned, poised and controlled. Then I tried braking mid-corner; no problem and minimal dive. Altering line mid-corner; as you do. Deliberately riding over a rock mid-corner; couldn't feel it. Aiming for wet patches of snowmelt mid-corner; rock steady. Cornering at speed on damp, cobbled roads; full traction.
Riding up to our lunch stop in the rain on a tricky single track, I changed the riding mode into full power and pushed on trying to get some slip out of the front end; no slip just grip. Are you getting the picture? Yamaha states it will make you a better rider and I've no arguments with that claim.
Those at the pinnacle of two-wheeled riding ability may not appreciate the full benefit of the extra grip, confidence and handling, but the clear majority of riders, the other 99%, will profit hugely. During the afternoon, we tackled a broken, single-track mountain road at nutcase speeds and it was an amazing, thrilling experience. By contrast, I'd ridden similar roads on other two-wheel press launches where I've been so gripped my toes had turned into claws.
The Yamaha Niken is a serious motorcycle and most definitely no gimmick. The engine is the same sweet, excellent unit as found in the Tracer (see the review in ABR 46) while the brakes are powerful and offer great feel and control. The seat is comfy, the ergonomics good for all-day comfort, and high-speed stability is excellent. Take your hands off the bars at speed and there's not even a minor flicker. Slow speed stability is in a different class to the point that it's easy to forget you're on a motorcycle that will fall over without a foot or stand down.
But it's not without some niggles. In this day and age the screen should and could be better. The mirrors are not great, and the pillion section needs a rethink, there's not much room out back, which is a shame as I could see the Niken making a superb two-up tourer. Yamaha doesn't expect the Niken to be everyone's cup of tea and I must confess, my initial interest in the machine was limited to being intrigued by the extra wheel and wanting to 'have a go'. Having now ridden the Yamaha Niken, I can tell you I was blown away. It is an amazing machine and the only way you'll ever appreciate the difference is to take one on a test ride, preferably on a closed-off Grossglockner High Alpine Road.
Yamaha Niken conclusion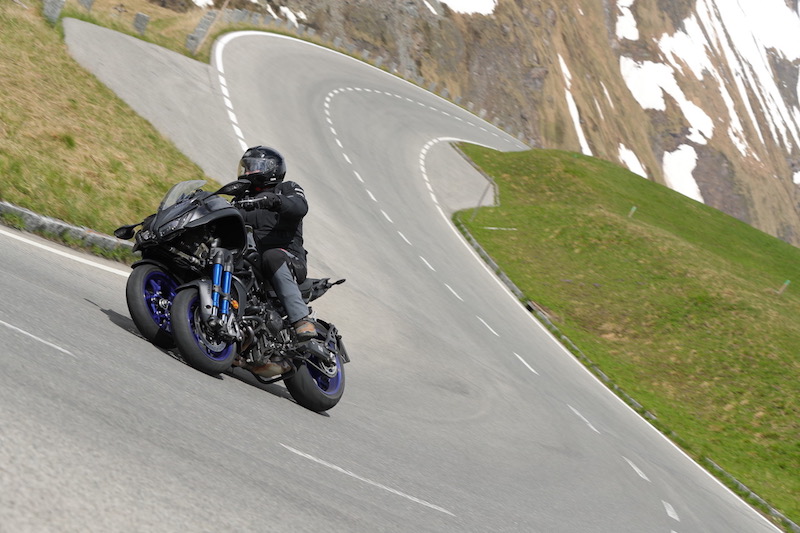 First off, I'm going to give Yamaha full marks for bravery and innovation. It's great to see a company pushing the boundaries and launching a machine which, when all is said and done, just might not appeal to the biker market.
But having ridden the bike, I think it will, and I'm equally sure this first version is just the building block upon which future models will be built, such as, a full-on tourer.
As it stands, it's a revolution in front end grip and the associated benefits I've gushed about above. There will be no grippier machine in wet conditions, nor safer machine on pot holed roads, and whilst some will always see the Niken as an ugly duckling, they will only be the finger pointers who've yet to take a test ride and witness the birth of a swan.
And with that in mind, Yamaha has planned a 34 location European test ride tour starting in June and finishing in October. Check out the ABR website and social media for UK dates and be prepared to be amazed… and a better rider. I'll be posting up more on the Yamaha Niken over on the ABR website.
Yamaha Niken specs at a glance
Price: £13,499
Engine: 3-cylinder, 4-stroke, liquid-cooled, DOHC, 4-valves
Displacement: 847cc
Maximum power: 113.4bhp
Brakes font: Hydraulic Double Disc, Ø 298 mm.
Brakes rear: Hydraulic single disc, Ø 282 mm
Tyres front: 120/70 R 15.
Tyres rear: 190/55 R17
Weight: 263kg (wet)
Tank capacity: 18L
Seat height: 820mm
Minimum ground clearance: 150mm
Yamaha Niken verdict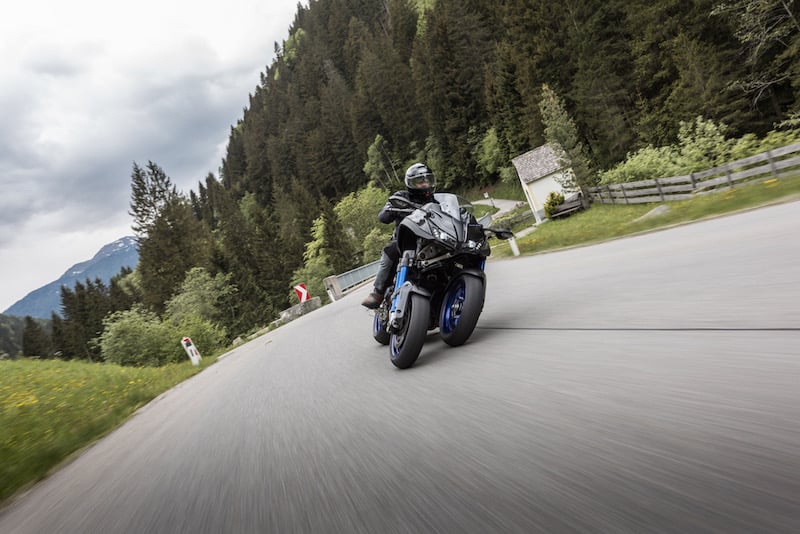 As a commuter: Slow-speed stability in traffic is a class above anything else on two wheels and you'll still be able to squeeze through narrow openings. Why not?
As a weekend tourer: All the time I was aboard the Yamaha Niken I was thinking just how good this bike would be as a tourer. I can imagine a quick motorway blast over to Wales or up to Scotland on a Friday afternoon followed by amazing fun on the twisty A and B roads over the weekend.
As an off-roader: No, no and, er, no. Not yet, anyway.
As a continental road tourer: High-speed performance and stability in all weathers is spot on for knocking off high mileage motorway days. And then there's the added bonus when you arrive in the Alps and experience the phenomenal handling of the Yamaha Niken.
As a RTW overlander: Any bike is capable of travelling RTW, it just depends on which route you choose. If you're staying on tarmac then the Yamaha Niken is sure to make a comfy perch. If you're plans include off-road then look elsewhere.
As a pillion carrier: I've not ridden the Yamaha Niken with a passenger on board, but as it stands the pillion space does appear to look a little cramped and not a place to be for all-day comfort.