Alex Hilditch (aka Heff) recounts the exploits of 2018's ABR Ireland rally.
After hosting the ABR Ireland Rally for the past six years, Flintlock, another member of the ABR forum, and I thought it was about time to get it into print and let others see what they have been missing out on. This year, the rally was held on the weekend of 18-20 May and it promised to be a great weekend of adventure motorcycling fun.
While the first two rallies were held in the scenic Mourne Mountains, for the past four years we have returned to the Shepherd's Rest in Draperstown. Situated in the middle of the Sperrin Mountains (an area of outstanding natural beauty), this family-run pub and campsite is perfectly placed for riders to access a great selection of roads.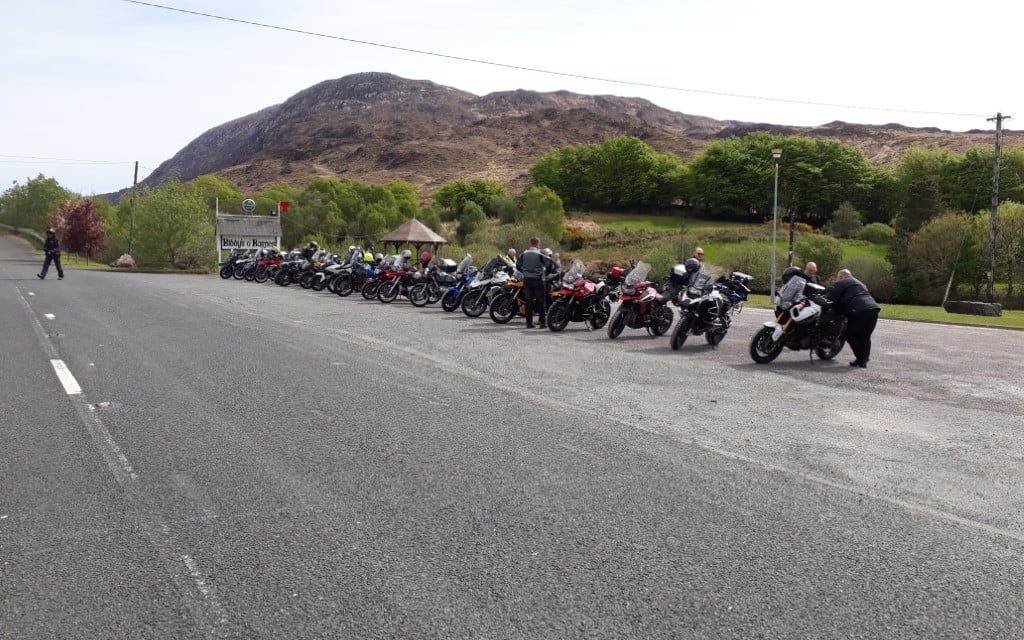 Throw in the modern washroom and toilet block facilities and the place is already a winner, but most importantly there's a bar on site. 
With this in mind, and with the help of overwhelmingly positive feedback from those who had attended in previous years, we had absolutely no hesitation in returning to the Shepherd's Rest for 2018. Colin, the owner, is a fantastic host, and nothing is too much trouble for him and his staff, who are very welcoming to bikers. 
This year, the selected dates coincided with the North West 200, so numbers were slightly down. Folks posted their apologies on the ABR forum, though a few did turn up just for 'the craic' on Friday night and headed to the North West 200 races the following morning. 
There was still a good turnout and riders had travelled from all over the UK, from places such as Bolton, Warwickshire, Pontypridd, Manchester, and Bedford, to sample the roads of Ireland. Everyone who attended got some freebies in a small pack which contained neck scarves, pens, key rings, and a few other small items.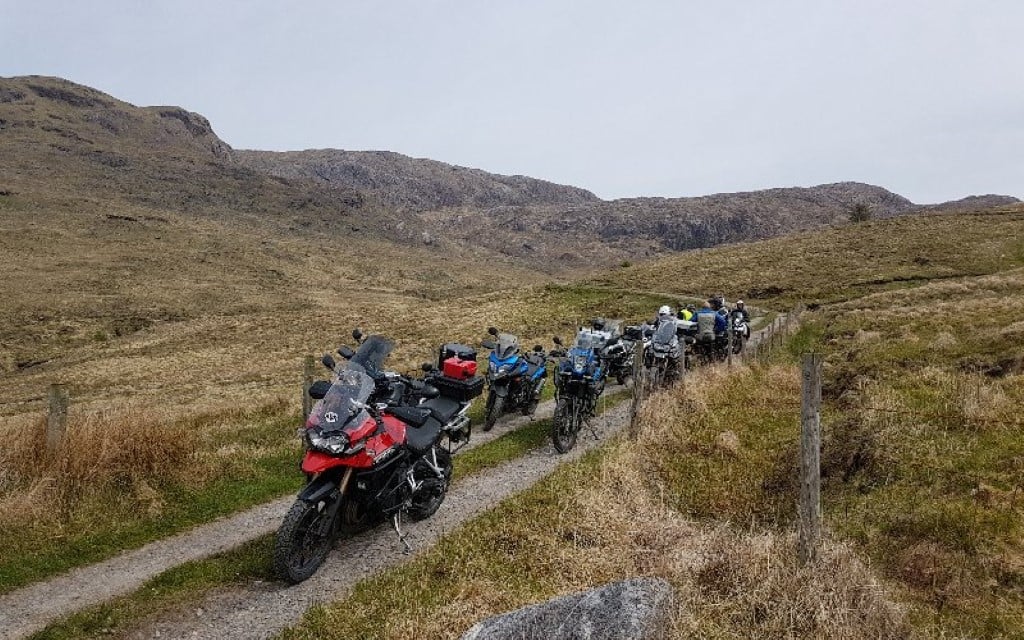 On my arrival on the Friday I recognised some familiar faces and, as always, some new faces. With just enough time to park up, I headed across to the bar for a pint or two of the excellent Guinness that Colin somehow manages to pour perfectly every time. 
As with each year, I produced an info sheet which contained the rally information and details for the ride out, so everyone was aware of the form-up and leaving times for the Saturday's ride. These were passed around for everyone to read and it was a good chance to get chatting with those who were attending for the first time. As usual, most of the conversation revolved around bikes and there was no shortage of friendly banter. 
Saturday morning saw the riders start to gather at the front of the Shepherd's Rest from around 8:15 am with a departure time 15 minutes later. Flintlock, as usual, was the group leader while I took up the rear as last man. We couldn't have had better weather for it, with blue skies stretching all around us.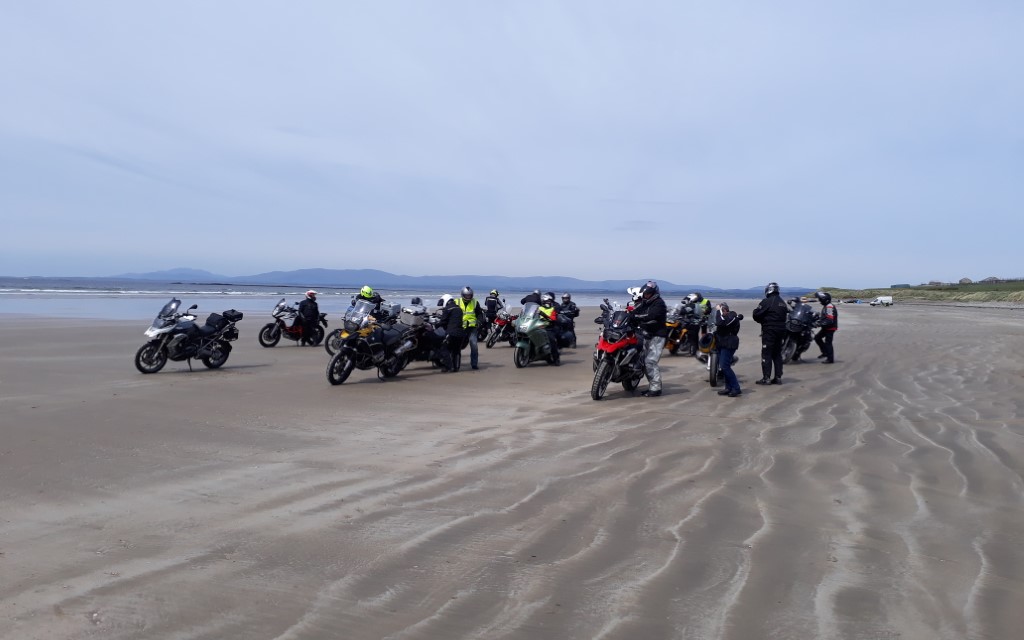 This year, for the first time at an ABR Ireland Rally, we had managed to find a short off-road section for inclusion in the ride out to satisfy those with a thirst for dirt. 
The group left the campsite heading across the Sperrin Mountains through the Glenelly Valley via Plumbridge, then on to Newtownstewart and a cross country dash to our first planned stop at Dolly's Café, where a warm welcome and a great 'Ulster Fry' cooked breakfast was waiting for us. This set the troops up for the day and there wasn't a single complaint. 
We rode onwards to Biddy O'Barnes, crossing the border into Donegal and the Republic of Ireland, where we split into two groups. Flintlock continued with the road only group and I took the lead, heading for the short off-road section in the Blue Stack Mountains.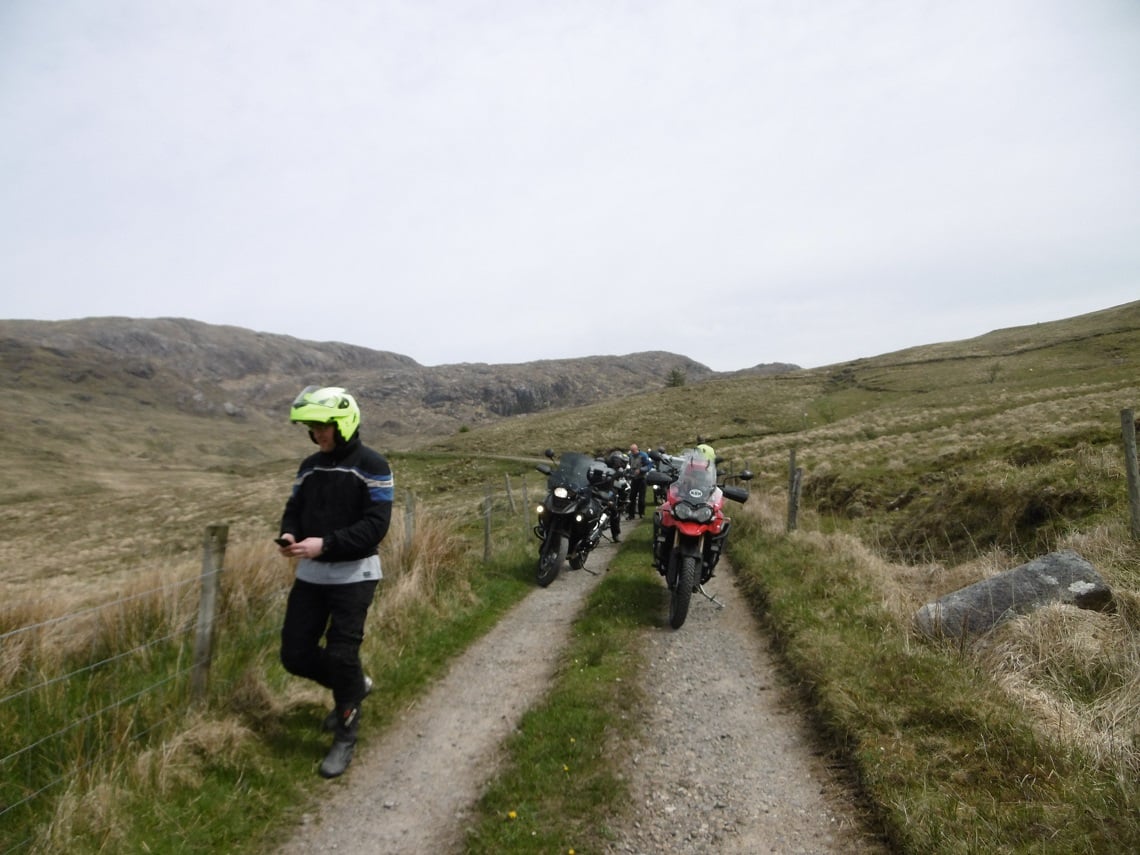 It was about three miles long and was a combination of gravel and rough ground, which everyone managed to ride without issue (Rederic even did it two up). At the end of the trail, we regrouped with Flintlock's gang. 
After a blast around the Blue Stack Mountains via numerous single-track roads, we headed to Rossnowlagh and onto the beach for a short ride. It was an eye opener for some, as most didn't know we would be heading onto the sand.
Shortly before we returned to our base, we stopped in Plumbridge so that anyone who wanted to break off and explore the surrounding area and scenic routes could do so. Our total mileage for the day was around 200 miles.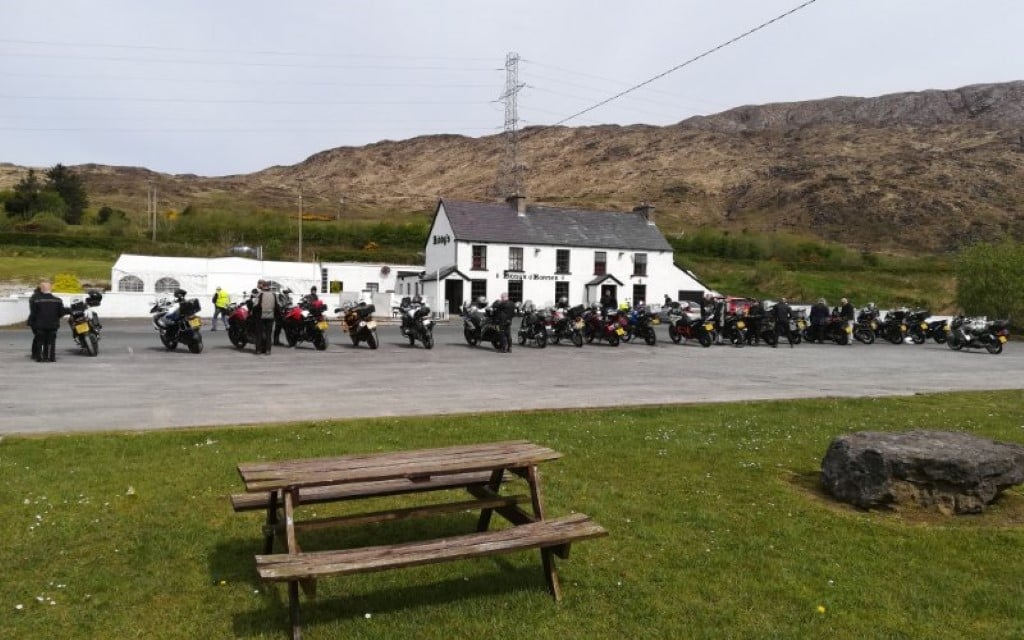 On our arrival back at the Shepherd's Rest, there was just enough time to shower and get freshened up for the night that lay head. Colin, as flexible and accommodating as ever, brought our dinner reservation forward by 30 minutes to 7:30 pm.
We had arranged a proper three-course meal in the private function room of the pub, and there was a choice of chicken curry or peppered beef with rice or chips (or both) complete with crusty bread and a plate of side salad.
Numerous dessert options and tea or coffee completed the dinner, and we got all of this for £12 each – outstanding value in my book. The staff even came to the table offering seconds to anyone who wanted it, going down very well with everyone present.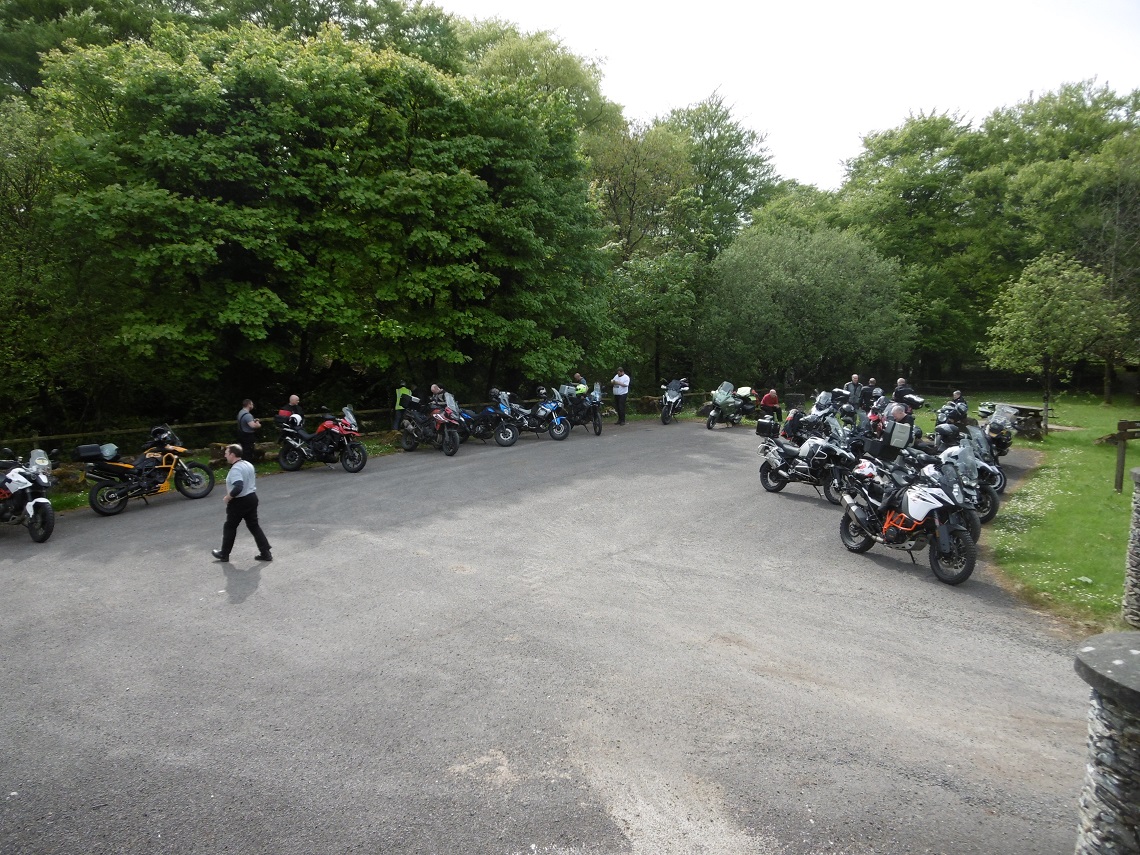 Returning to the bar area, Colin had provided some entertainment in the form of a local singer/guitarist who played for a few hours as the bar staff worked frantically to supply our needs.
The banter and good times flowed into the early hours of the morning, though some had to knock the festivities on the head in order to be up in time to catch their morning ferries. One of the team had booked on to be leaving Dublin at 8 am so had to leave the campsite before 5 am! I'll mention no names. Others had more civilised ferry times. 
The departure from the rally site is a very relaxed affair. There's absolutely no pressure to leave and, although it had been raining since the early morning on the Sunday, it wasn't enough to dampen anyone's spirits. 
After saying goodbyes to old and new friends, it was back to the real world for everyone, with thoughts turning towards 2019's Ireland Rally. We'd love it if you came and joined us, so keep an eye on the Adventure Bike Rider forum where more information, including next year's dates, will be posted closer to the time! 
---
What they said
COZI70 
"Just back from the Ireland ABR annual run. Another great route this year lads. Enjoyed the additional off-road section and the beach excursion. Thanks, Flintlock and Heff for the great weather and craic and the great lads I met from all over the place. Can watch the North West 200 highlights later!" 
GARY NO.6 
"Just back from the weekend at the North West 200 managed to get up to the Shepherd's Rest ABR meet Friday night for a pint or two of very nice Guinness and meet up with a great bunch of lads and a good night was had.
Flintlock gave us a good route back to the North West which was enjoyable indeed so a big thank you Keith for that, and hopefully, we get to do this next year and get to take in the whole weekend at what is a great venue with very friendly staff making everyone feel very welcome" 
ANTHONY29404
"Another fantastic rally. Enjoyed the new twist to the ride out on Saturday, great weather and great roads and a warm welcome from the lads. See you next year. A big thanks from Tony". 
GEMILY 
"Thank you for organising the weekend. The food, campsite, ride out and entertainment were all great. I enjoyed all of it and am very much looking forward to doing another. One of the best ride outs I have been on."
---
Get involved
The ABR Ireland Rally was arranged by members of the ABR forum.
Head on over to www.adventurebikerider.com/forum to get involved and check out all sorts of events and meets which are being organised.
There's something for everyone and we're a welcoming bunch of riders, so pop by and say hi!