It's time for Dave Reynolds to part with his long term Suzuki V-Strom 1000 XT, but he's getting quite attached to it…
With it being almost time to return our V-Strom 1000 back to Suzuki, I had a good excuse to give it one last big trip. Spain and Portugal here we come! Getting the bike ready for an eight-day tour is easy enough, I've been riding it for twelve months now so I know it inside out. 
The first hiccup came after upgrading my Garmin maps. My SatNav's screen no longer reacted. Garmin's suggestion was to reset the device, something that can only be done if the screen works! Luckily, I managed to find a quick replacement from an ABR forum member, thanks mate. A swap of power lead and eureka, a working SatNag. 
Loading all that I need for eight days in the Suzuki panniers is a tight squeeze. I've mentioned before they are not the most spacious of boxes, but I managed to squash everything in without busting the hinges. 
Tyre pressures checked, oil level still spot-on, grease on the chain and off we went to Plymouth to catch the Brittany Ferries route to Santander. 
Now, this is what the Strom does well. A few miles of country lanes and A roads then down the M5 to Exeter. A leisurely stop at the café for a good Full English breakfast then on to the ferry. If you've done a ferry trip, you'll know what it's like to hang around at the dock for a while chatting with the many other bikers.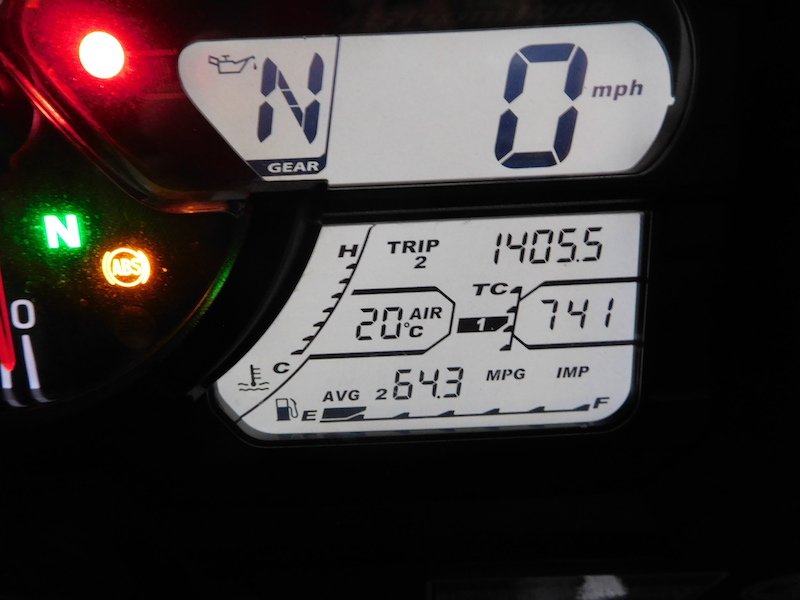 The yellow colour scheme on the Strom always gets a comment, mostly complimentary, and it's easy to find amongst all the other ones on the bike deck. 
There's very little that's better than rolling off a ferry knowing that the next few days only involve riding a bike over great roads with fantastic views. This is where the Strom really does excel. An all-day comfortable seat with the upright style of an adventure bike translates to very few aches and pains from longer days in the saddle. 
A responsive engine that has no foibles just goes where it's pointed with the ability to stop when needed by smooth but powerful brakes adds to the all-round positive experience. 
Some of the riding in the Spanish mountain ranges, the Picos de Europa etc., is best done at a slow and steady pace so that you can enjoy the magnificent views. The Strom rides like a lightweight bike when needed, so it's easy to control at low revs and low speed. 
But, when the road opens up, that 1000cc V twin lump will quickly, and I mean quickly, get you up to legal speeds and slightly above so smoothly. There are no twin tingles on this bike. 
All too soon it was time to return to Blighty, 1,500 or so miles later. Apart from the many flies spattered on the screen, it came back as good as it went. Bryn came and picked it up for this issue's Bridgestone Bridges of Britain tour… Sorry I had no time to wash it!