Quaint, idyllic and packed with green lanes, Mike Beddows shares his favourite route around The Cotswolds
Green lane 12: The Cotswolds
Beginners' Loop –  17 miles
This issue's trails are all located in the Cotswolds, close to ABR headquarters in Stratford Upon-Avon. The route forms a 17-mile circular trip starting and ending in the small village of Kineton. I'd suggest giving yourself a minimum of two hours to complete the loop, but this part of the country shouldn't be rushed.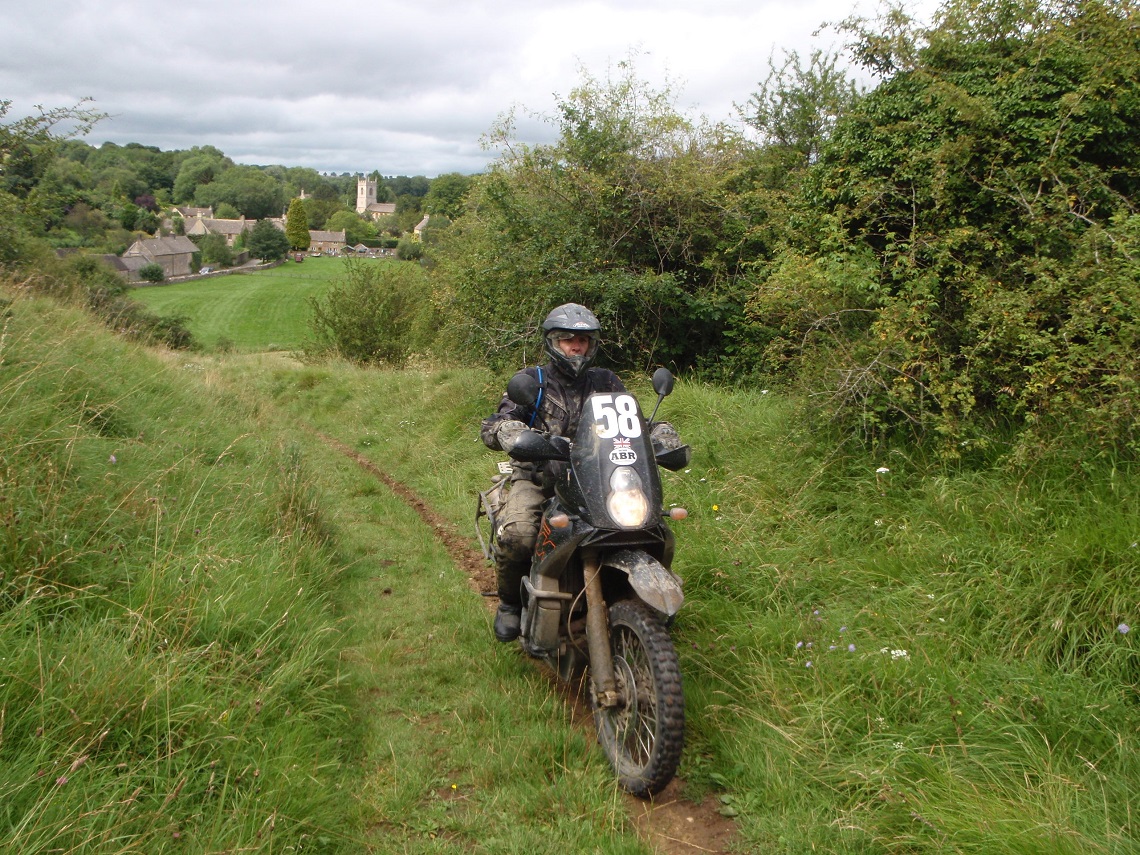 These green lanes are fantastic for beginners and the road sections connecting them pass through some of the most picturesque of the Cotswold villages; the scenery is simply amazing. There are approximately eight miles of trails on this route, all with an ABR difficulty rating of 1-2 for beginners.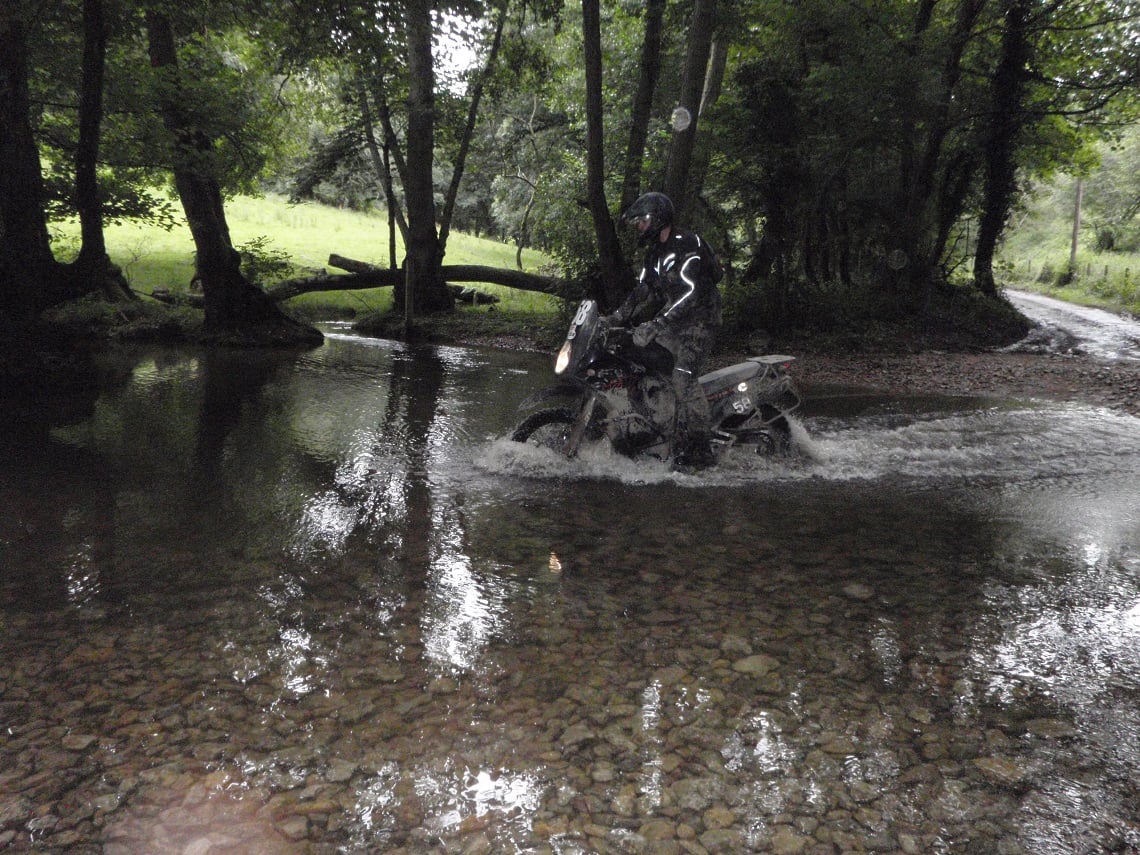 For the more adventurous, there is an optional extra loop in the Bonus Section Below, which takes in a further three lanes all with a difficulty rating of 3. All the trails in this feature can be found in the Ordnance Survey Map The Cotswolds, OL45.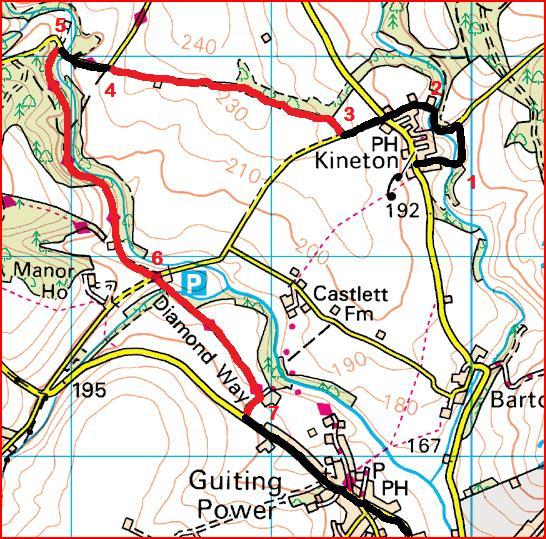 1-2
Starting in Kineton, there are two fords for the more adventurous. Take care when riding through these. The first ford (SP099265) is the easier of the two; the bottom is uneven but the water should be clear enough to see obstacles. The second ford (SP098267) has a tricky entry with a slight drop, which could catch you unaware. If in doubt, stop the bike first and have a look at the crossing before proceeding. If you're still in doubt, walk the crossing to work out the best point of entry and route across.
3-4
0.8 miles (SP094266/SP082269) This trail is slightly overgrown. It has a single bike track that zigzags from left to right. It has a compact base and should be no problem for all riders. Halfway along, the trail passes Sheephouse Barn on the left and becomes a wider farm access trail. Difficulty rating 1-2.
4-5
Road section
5-6
0.9 miles (SP079271/SP084259) This is marked on the OS map as a B road, but it appears the local council has stopped maintaining it. The tarmac surface is breaking up and the road is covered in forest debris. Take care. Difficulty rating 1.
6-7
0.9 miles (SP084259/SP089252) At the crossroads, continue straight on and follow the Diamond Way. This trail has a wide compacted surface. After half a mile, turn left and take the middle track heading downhill. At the bottom, there is a small ford to play in. Crossing the ford, the trail leads to Castlett Farm. The ford can become very swollen after significant rainfall. A short graded section continues uphill. This soon ends and gives way to a muddy, slippery slope, which is more like a forest footpath. Difficulty rating 2.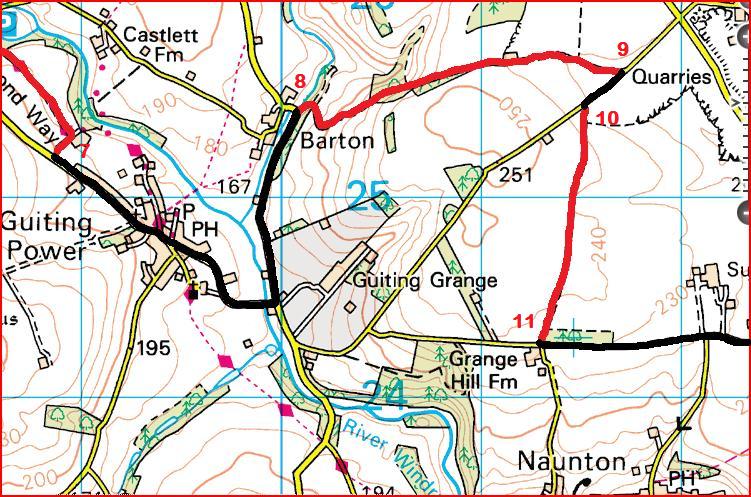 7-8
road section
8-9
1.2 miles (SP101254/SP117256) After a few meters, take the right fork up the hill. After 100m, stay left and stick to the main trail. At Tinkess Barn continue heading straight on. The trail has a hard compact surface with muddy sections. Difficulty rating 2.
9-10
Road section
10-11
0.8 miles (SP115255/SP113243) This is an easy lane with a hard-packed base. It starts off wide and gradually gets narrower. There's some grass growing on the trail. Beginners, take it easy. Difficulty rating 1.
11
Beginners should continue and head to point 12. Competent trail riders now have the option to head to b1, (see Bonus Section, Below).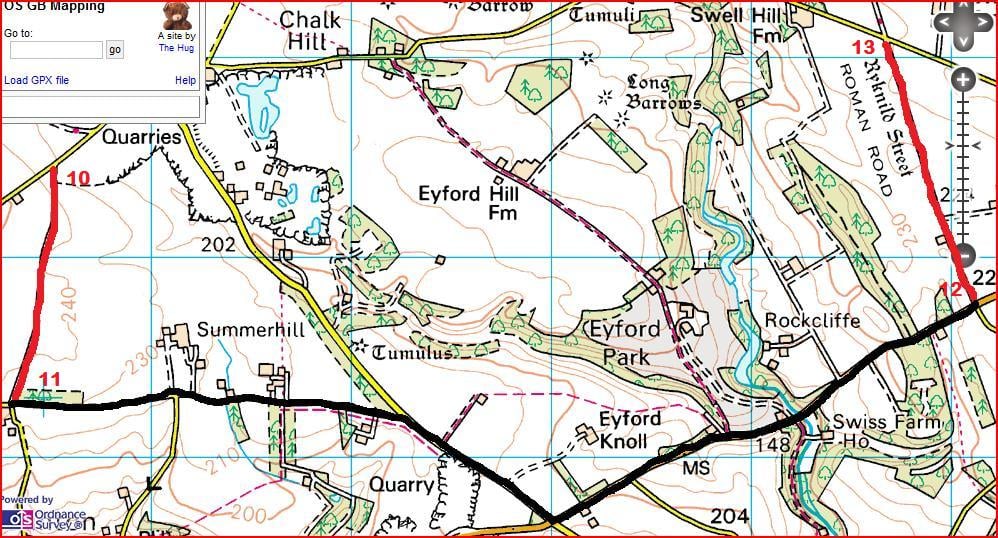 11-12
Road section
12-13
1 mile (SP161248/SP157261) This trail follows an old Roman road called Icknield Street. It has a hard-packed solid base and is just one vehicle wide. The trail is very easy going. As you progress, grass starts to appear in the middle of the track. There are no ruts. Difficulty rating 1.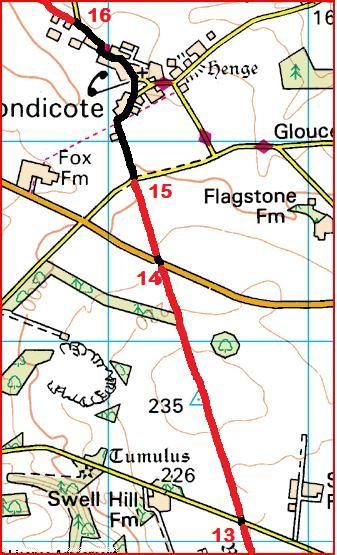 13-14
0.9 miles (SP157261/SP153274) This lane continues on from the previous one. It's recorded on Trailwise (www.trailwise.org.uk), the national catalogue of Rights of Way, as Condicote Lane. This trail is a narrow track that zigzags from one side to the other and is slightly more difficult than the first one; it's quite overgrown. There's no option but to follow the well-worn riding track. There are some muddy bits, but nothing that should trouble riders. After 0.6 miles the trail proceeds slightly downhill, the terrain is muddy and will be harder if approached from the opposite direction. Difficulty rating 2.
14-15
0.3 miles (SP153274/SP151278) This trail continues on from the previous one. Cross the road and proceed onto the narrow bike track, which zigzags from one side to the other. Watch out for overgrown areas and scratchy bushes. This lane shouldn't trouble novice riders if enough care's taken. Difficulty rating 2.
Based on Ordnance Survey Mapping © Crown copyright. AM001/12
15-16
Road section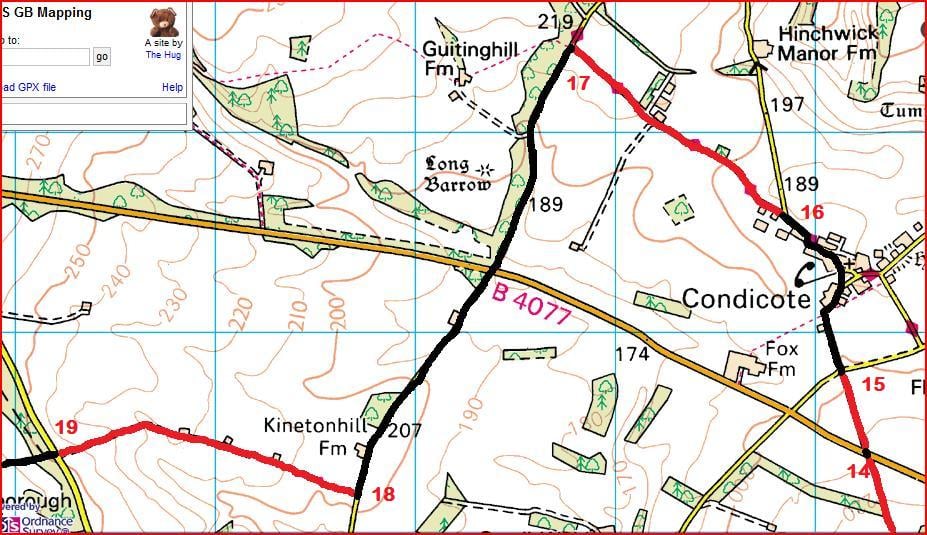 16-17
0.9 miles (SP148286/SP138294 The start of this trail follows a farm access road. There are a few muddy, shallow puddles. The base is a mix of mud and hard-packed gravel. At 0.5 miles continue straight on past the farm. Difficulty rating 2.
17-18
Road section
18-19
1 mile (SP127272/SP112274) This trail goes through several fields over a grassy surface; I'd expect this to be very slippery in the wet and there's no clearly defined trail. Stay close to the edge of the field. There are gates at 0; 0.1; 0.2; 0.4 (three gates here); 0.6 and 0.7 miles. When I last rode this trail I was confronted by three large bulls blocking the last gate, so had to retrace my tracks and ride the road around. After the final gate, the last 0.3 miles are on a farm access track with a hard base. Difficulty rating 2.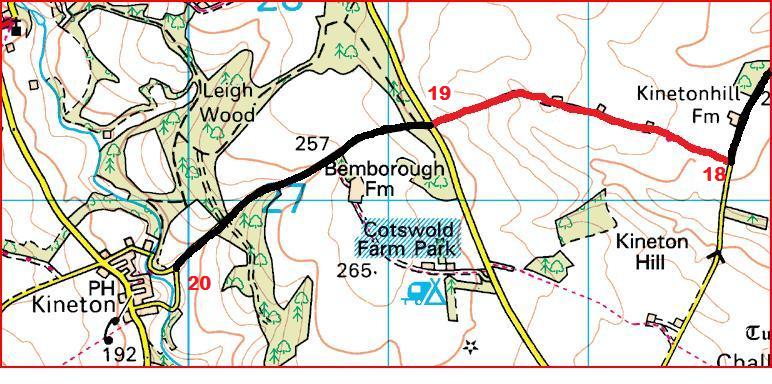 19-20
Road section Back to the start.
Did you know?
Warwickshire's central location meant that the Romans marched through the area many times en route to other destinations. At one time, the county even served as the frontier to Roman-occupied southern England. The Romans left Warwickshire with a number of important Roman roads that cut across the county.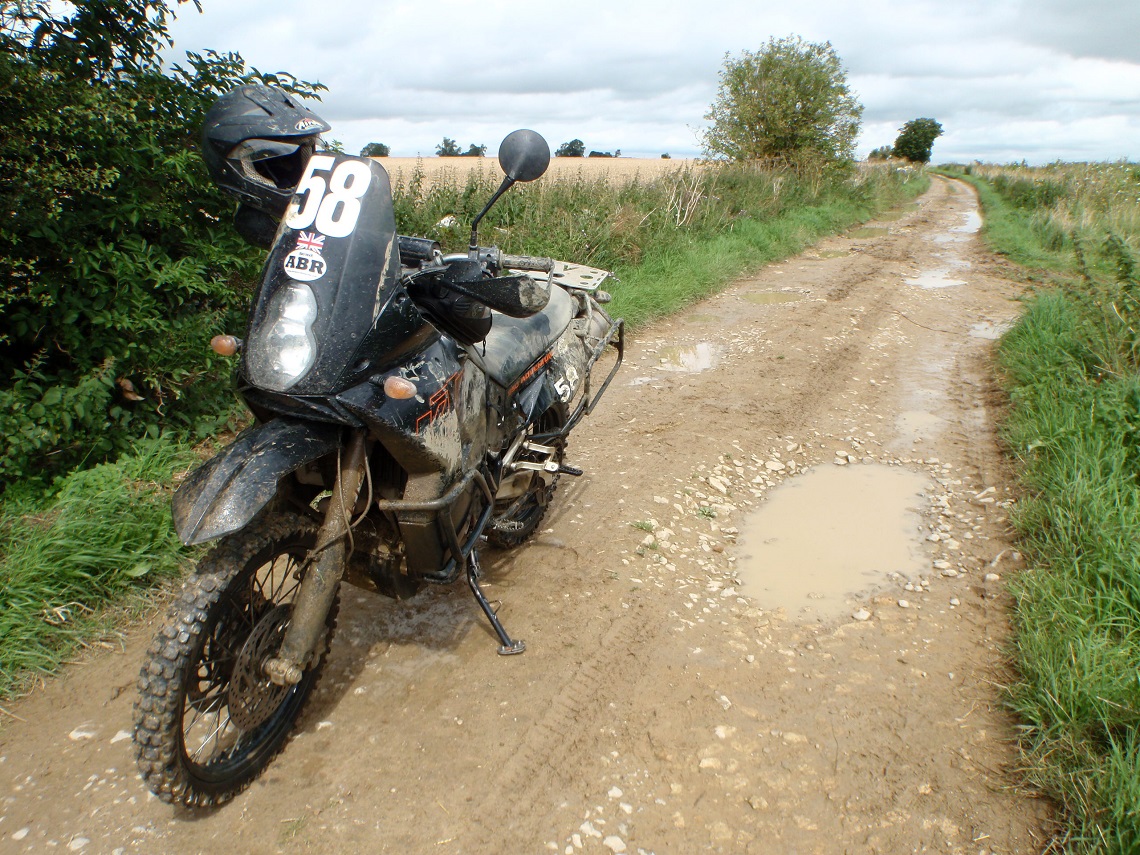 One of these is Ryknild Street. It runs from Bourton on the Water in Gloucestershire, where it's connected to the Fosse Way, to Templeborough in South Yorkshire. Much of the old Icknield Street route is still used by modern roads, most notably the A38 from Lichfield to Derby. A preserved section of the original Roman road can be seen at Sutton Park in Sutton Coldfield, Birmingham.