A FLASH IN THE PAN
Roy Webber and mates are on a dusty dual-sport tour of Botswana
Our group comprised a pair of KTM 640 Adventures, a BMW 1200 GS, a BMW 1200 GS Adventure, and me on my KTM 990. The trip was scheduled to take place between the warm autumn days and the coming of the great floods at the beginning of May. Our route was designed to take in as much adventure as we could between Pretoria South Africa and Maun Botswana via the Makgadikgadi pans and back.
As seasoned off-roaders, we knew a trip like this was going to be a tough ride on the heavily laden adventure bikes, but our group was a mixed bunch with various different skills, from mechanical, medical and navigational knowhow to outdoor and survival enthusiasts – we even had a jester thrown in for good measure, to keep us going when the going got tough.
Into Africa
Departure day finally arrived as we set out on our iron horses from our respective bases in Pretoria to meet up at the Sun City fuel stop some 80 miles away in the beautiful ancient volcanic crater. From there, our route took us north-west on dirt roads to the Sikwane border post. It was quiet and customs was a breeze. On the Botswana side, the officials were friendly, and although the paperwork took a while to complete, it didn't really matter, because our adventure had begun.
Between the dirt roads were asphalt stretches, which gave us time to relax and listen to music while cruising down the A1main route to Dibete. Now it was time to fill up the rehydration packs and top up the fuel before entering the real African bush where we'd lose all contact with modern society.
We planned to exit town and follow unpaved, seldom-travelled roads along vet fences and cutlines which crisscross the countryside. Thirty miles later we turned onto a twin-track of thick sand which would take us to our overnight stop.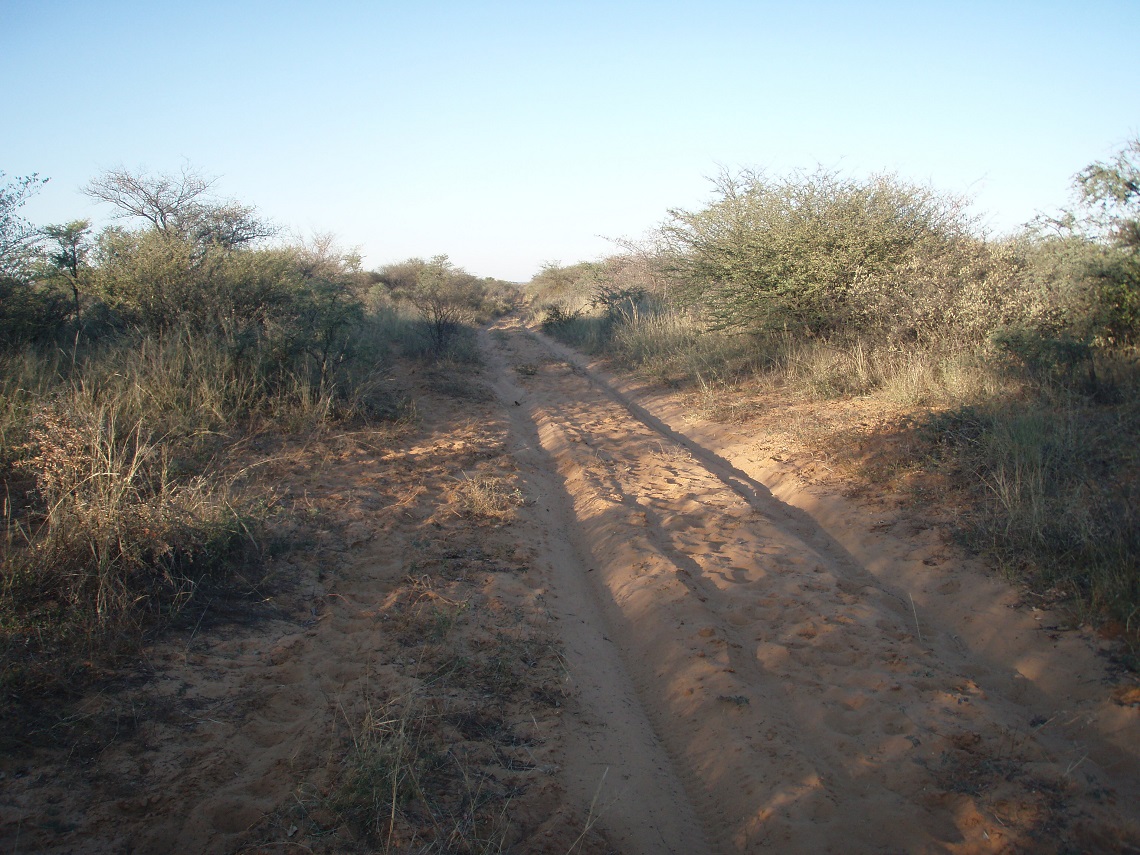 After 8 miles of energy-sapping sand-work, we stopped to regroup. The 640s were happily coping with the thick dusty stuff while the heavier 990 was becoming a handful and the BMWs were really struggling with the extra weight and smaller front wheels.
It was decided that we would set up camp and make a route adjustment in the morning.
That night, a real feast was laid on as the BMW boys tried desperately to rid their bikes of excess weight. I never knew so much food and drink could be squeezed into a pannier! The semi-desert air cooled rapidly, and by midnight, it was freezing. Between the snoring and icy night time temperatures, sleep was brief.
A change of plan
The next morning, we enjoyed a stunning sunrise with coffee and biscuits as we discussed our change of tack. After locating a supply route on our GPS units we found ourselves traversing the Acacia-lined landscape with suitable dust gaps to the nearest village for a stop at the local shabeen (tavern) and a well-earned cold beer.
By now we'd rejoined our original route and were enjoying the scenery from small grass-and mud-constructed villages to dry pans and the mighty African bush. There was just time for a brief stop to rehydrate and have a light meal in Otse then it was back on the route to Kodibeleng and then on to Shoshong.
From there, we travelled on asphalt to Serowe and Letlhakane where we filled up with fuel and water and continued off-road through some demanding twin sand tracks.
These dusty trails saw us battling the heavy bikes and fighting off thorn bushes, which were scrabbling at our jackets and gear. With the light fading fast, a suitable site was found; our camp was quickly set up and a fire lit.
Supper was a concoction of tinned food and rice in foil bags that filled our hungry stomachs and was washed down with powdered soft-drink mix. The campfire banter was accompanied by Old Brown sherry, to keep the chill at bay, and stories of the day's thrills and spills. This is what we live for, the openness and freedom that adventure riding brings.
This night, we came prepared and went to bed with jacket liners, beanies, pants and socks. The sounds of snoring soon emanated from every tent and we enjoyed a good night's sleep.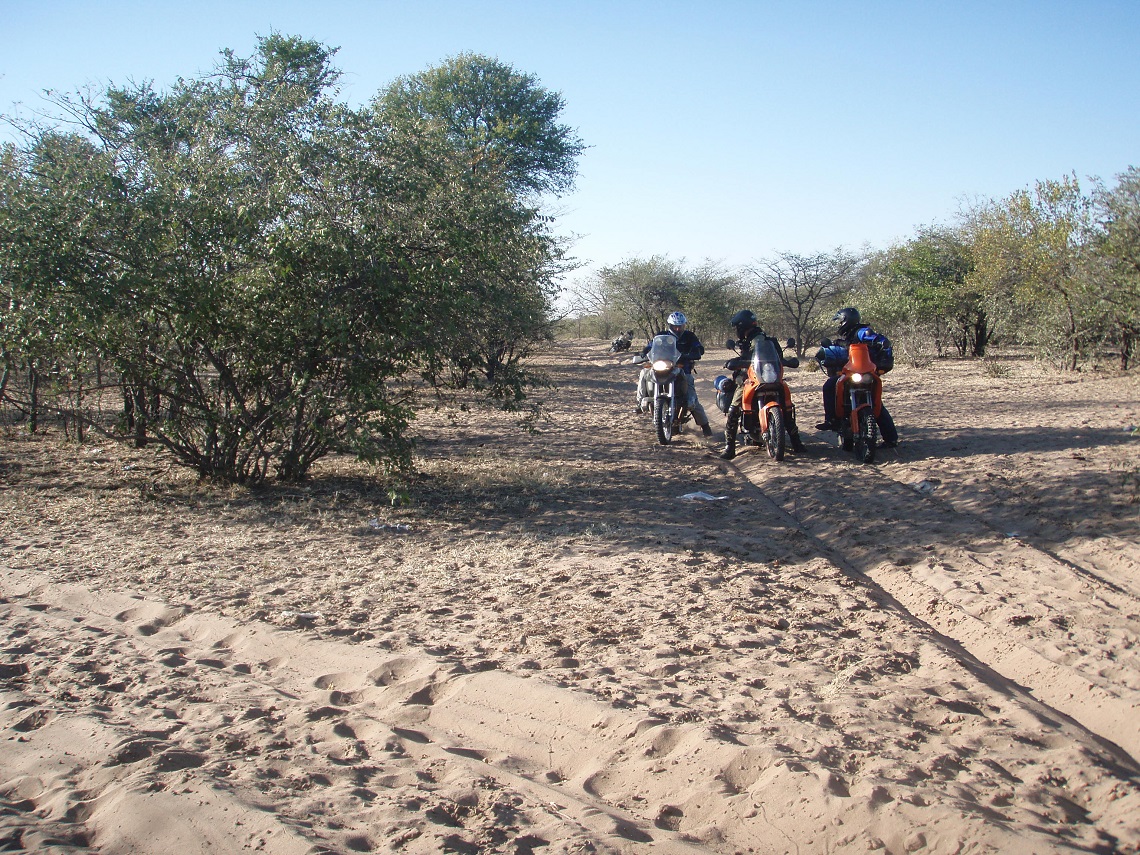 Blazin' saddles
Today's mission was to reach the capital city of Maun. After coffee and biscuits, we departed from our overnight stop outside Letlhakane on some sandy tracks and hard-packed dirt roads to a breakfast stop called the Karmasutra Liquor Rest. It serves beer as well as breakfast, you may have guessed.
A few more miles of deep sand and we'd made our way to one of the cut lines, a 20m-wide dead straight dirt road designed to control bush fires in the dry season, which enabled us to reach speeds of 80mph; a very welcome and pleasant change after the deep, sandy tracks.
Quickly reaching our asphalt link to Mopipi, the countryside started changing to a barren landscape with sparse vegetation before opening up to our first sight of a huge pan around the town. We filled up, took on water, and then stopped at the local tavern for a well-deserved beer.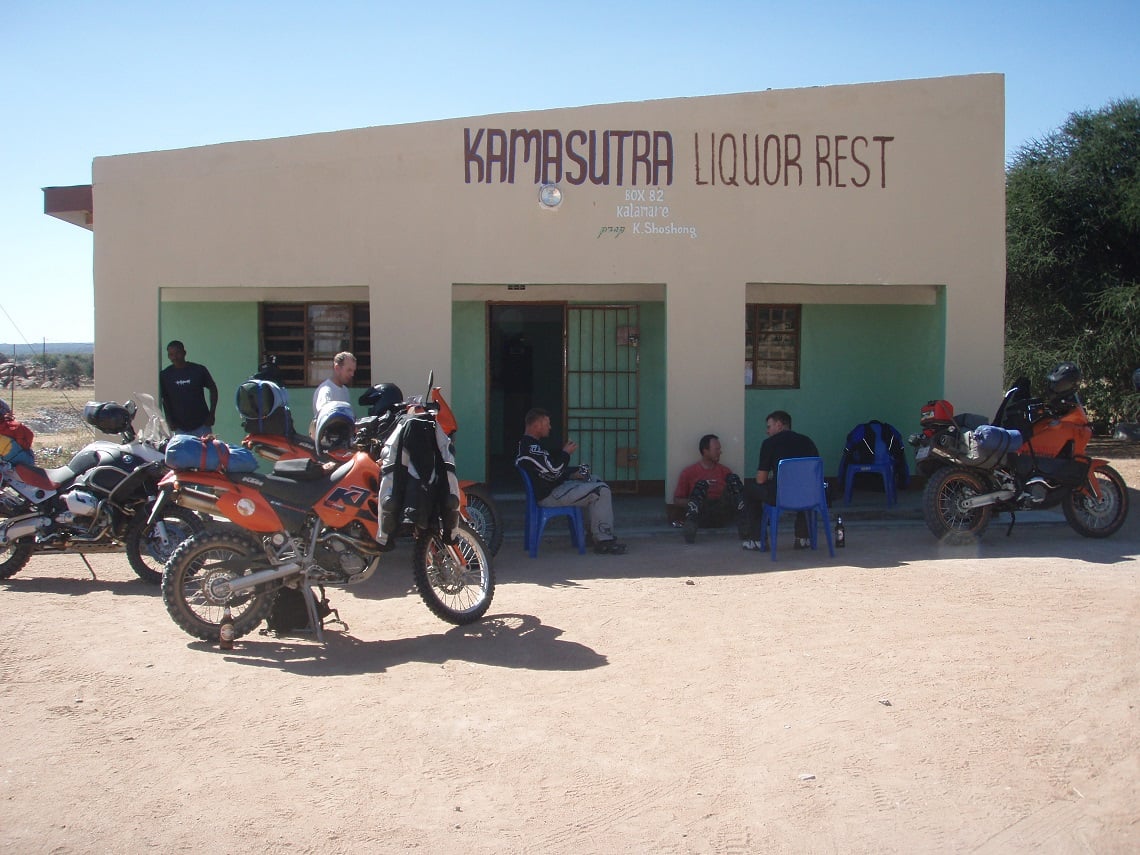 Later that day we stopped in the town of Rakops for some lunch and were immediately surrounded by the local children eager to get a glimpse of these strange travellers. Tinned Spam and fresh bread were a welcome snack after hours fighting the elements from our saddles. This is where we introduced the local children to some western culture by dishing out drops of Tobasco to those who were willing to try.
The crowd erupted with laughter after seeing their friends' faces and soon backed off to a safe distance from the Tobasco wielding Mlungus (white man). Our original plan called for us to do another energy-sapping sand section, which would take us from Mananga Gate to Segoro, but because the bigger bikes would struggle and there was plenty of dirt fun still ahead, we decided to continue on asphalt. Three hours later we arrived in Maun and our stop for the night.
R&R
We had friends in Maun who offered to put us up for the night and a chance to strip off and clean our riding gear. The evening was spent alongside the Boro River while catching up and enjoying a home-cooked meal with our hosts. Clean, warm beds awaited our heavy heads and the camp soon fell silent. The following day was planned as a rest day.
This gave us a chance to reflect on our journey, catch up with family members who were driving the backup vehicle, and do some much-needed laundry!
One of the 640s had developed a bit of an engine noise and further investigation revealed a noisy tappet was the culprit. This was quickly adjusted, but we were still a bit worried about the amount of play that was evident on the rocker arms.
A bit of fishing in the crystal waters and a boat trip up the Boro River was the highlight of the day. As we lazed around this beautiful setting, the orange ball in the sky slowly sank below the horizon and we barbequed fresh meat on an open fire.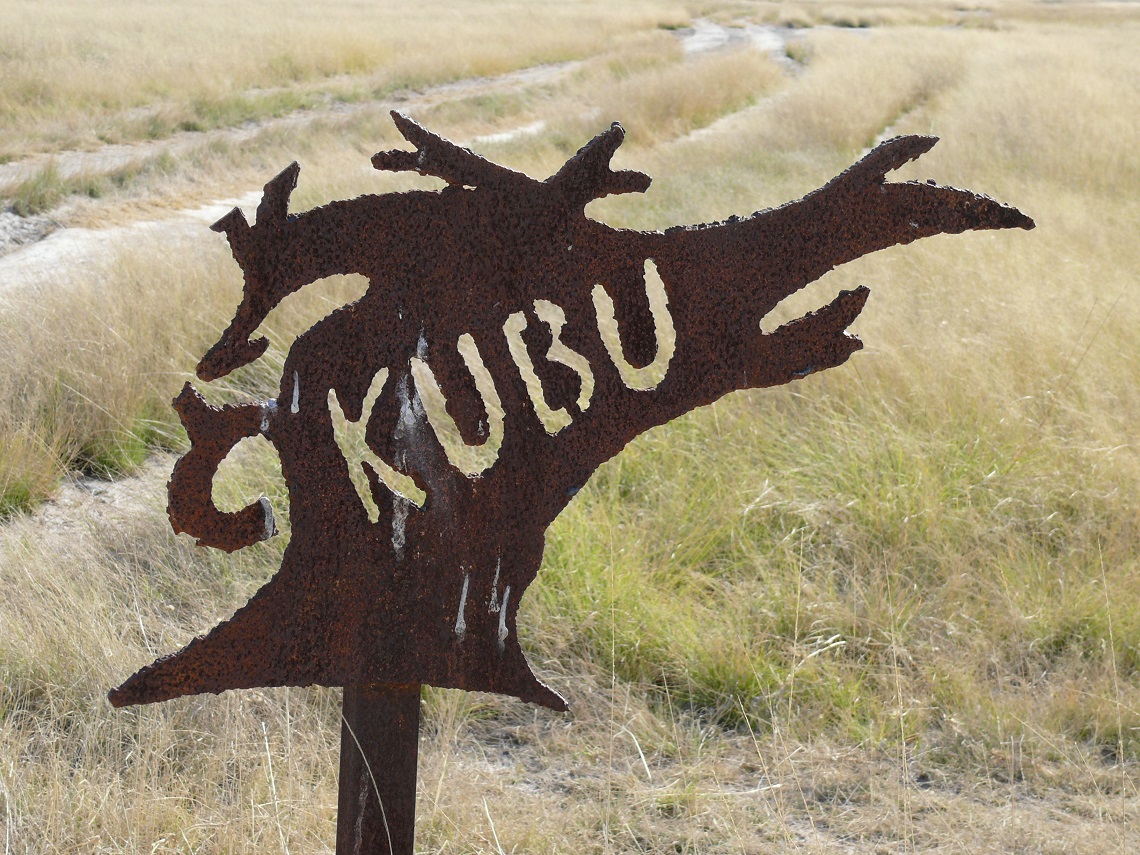 The next morning we fueled up and left Maun along the A3 asphalt road for the long trek to Gweta and Planet Baobab, a great pub and bush resort in the middle of nowhere. En route trouble struck as the 640 with the noisy tappets started to fade.
A satellite call to the back-up vehicle was made and a rendezvous point was established for pick up. The big GS 1200 towed the stricken little KTM the last 80 miles to Planet Baobab where we settled down to relax in the cool thatch building while we waited for the cavalry.
We expected the back-up vehicle to join us with enough time for us to reach our destination of Kubu Island, but they were delayed and only arrived an hour or so before sunset. This meant that the remaining 60 miles of scrub, thorn bushes, stony twin tracks and talcum powder dust to Kubu Island would have to be done after dark!
Night Manoeuvres
We set out riding information with the support vehicle close on our heels. When the dust got too bad, we split up into pairs. Even though riding off-road after dark is risky, we had little choice and cautiously pushed on. Fortunately, illumination wasn't a major problem, because the big bikes all have very good lights. Before long we were all revelling in the adventure.
With nightfall came the nocturnal animals and around every thorn bush the fields were full of wild hares, darting across the paths at the last possible moment and almost causing a few tumbles. We made occasional stops to regroup and before we knew it, the biggest pan we'd ever seen stretched out before us.
The moonlight was just enough to make out the horizon of this vast open space. We had reached the edge of one of the world's biggest pans, Makgadkigadi. We set up camp and settled down to a supper of tinned food. There was no campfire that night as there's no firewood to be had on the pan.
Instead, we absorbed our captivating surroundings, being completely exposed and without lights, so far from civilization with the bright night and billions of stars staring back at us. This is what adventure riding is all about and sights like this will remain with us forever.
After the mandatory photoshoot and a visit to the Island of Kubu, we set off through the pans en route to Mosu. Riding on the pans is a fun experience but you have to be constantly on the lookout for areas where the thin crust gives way to slippery patches and traction becomes erratic, rear wheels try and overtake the front and braking is not an option.
A firm handful of throttle usually keeps your heading, although there are moments when you have flashes of being airborne after being expelled from the saddle! More tight, winding thorn-covered bush paths greet us as we exited the pan and headed to hard pack dirt roads which turned to tar as we approached Letlhakane.
The home stretch
We refuelled and had lunch before leaving for a long uneventful asphalt stretch to Serowe, Palaype and then the border at Martins Drift. This was a good opportunity to turn up the music and enjoy the passing scenery.
Customs went smoothly and shortly after an enjoyable hot shower we were sitting on the banks of the Limpopo River on the stunning deck at the Kwonokeng lodge having a cold beer and taking in the beautiful sites and sounds.
An excellent dinner on the deck and drinks around a cosy indoor fire was a fine way to conclude another dusty day in Africa. Our last day's riding began with a hearty egg-and-bacon breakfast, after which we all geared up for the last homeward stretch.
The route was all asphalt and it's almost as if the bikes knew it. Good time was made and soon Nylstroom and Bela Bela were in our rear-view mirrors. We felt strangely alienated riding back into the political capital city of Pretoria.
At every traffic light and junction, people stared through the clean windows of shiny cars and wonder where these dusty travellers had been. Little did they know of the incredible adventure we'd just completed in the breathtaking Botswana landscape.
_______________________________
The Bikes
Before setting off, all the bikes were mechanically prepped and fitted with panniers, top boxes, tank bags, navigational aids, off-road tires and protective plastics. Fuel was one of our biggest challenges; I had to carry an extra 5l for my thirsty KTM 990.
The range is around the 180-mile mark, depending on the terrain. I figured the 640s would comfortably cover 220 miles and the big BMWs would be the petrol bowsers in case I ran short.
The 990 performed well, but was a bit of a handful in the soft stuff. While riding overgrown sand tracks, the best approach was to keep the throttle on and use the mighty KTM as a chainsaw, to cut through the undergrowth!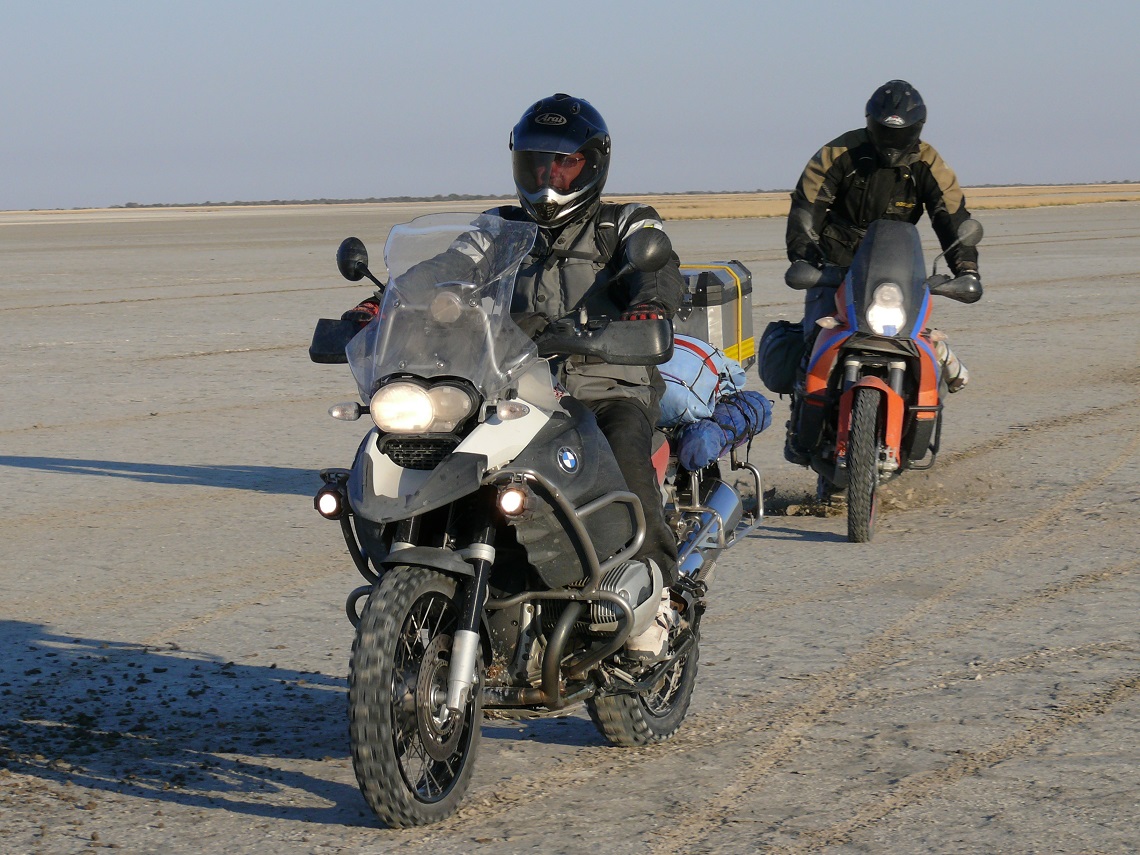 _______________________________
Six things you didn't know about Botswana
English is the official language in Botswana, but Setswana is very widely spoken. In Setswana, Batswana is the word used for many citizens and one citizen is a Motswana.
Botswana has a population of just over two million people. The country is about the same size as France, which has a population 30 times that of Botswana's.
The Kalahari Desert covers about two-thirds of Botswana. Drought and desertification (when fertile land wastes and become desert, in this case because of the climate) are the two main environmental problems facing the country.
Pula is the name of the currency in Botswana; it's also the Setswana word for rain – drops of rain are considered of parallel importance with money.
Diamonds are the main export of Botswana, most of which are mined by a company called Debswana. International diamond mining company DeBeers, teamed up with the Botswana government in a 50/50 shares scheme to create Debswana. The company has four mines in the country; one of them is the Jwaneng mine in the south of the Botswana, famed for being the richest diamond mine in the world.
The national dish is Seswaa, a meat dish usually made with beef that's been simmered in water with onions and then mashed and served with thick polenta, which is sort of like porridge.
_______________________________
Want to do this?
How long does it take?
Roy and his buddies completed the 1,750 miles from Pretoria, Gauteng to Maun, Botswana via the Makgadkigadi pans and back in just one week with one rest day.
When to go?
The best time to visit Botswana is in their autumn, between March and April when night-time temperatures won't drop quite so drastically as in winter and you'll arrive before the floods in May. Spring is September-October when daytime temperatures reach 25 degrees and you'll avoid the majority of rainfall; at night, however, the temperature can drop down to single figures, so be prepared.
Get there:
There are daily flights to Johannesburg International from most UK airports. Cheap last-minute deals are available online from around £460.
Fly or hire?
If you're riding for less than three weeks, it's probably best to hire your bike on arrival. Check with the rental company if it's possible to collect the bike from the airport. Guided tours are also available in this area. See www.edelweissbike.com and www.graveltravel.co.uk for more.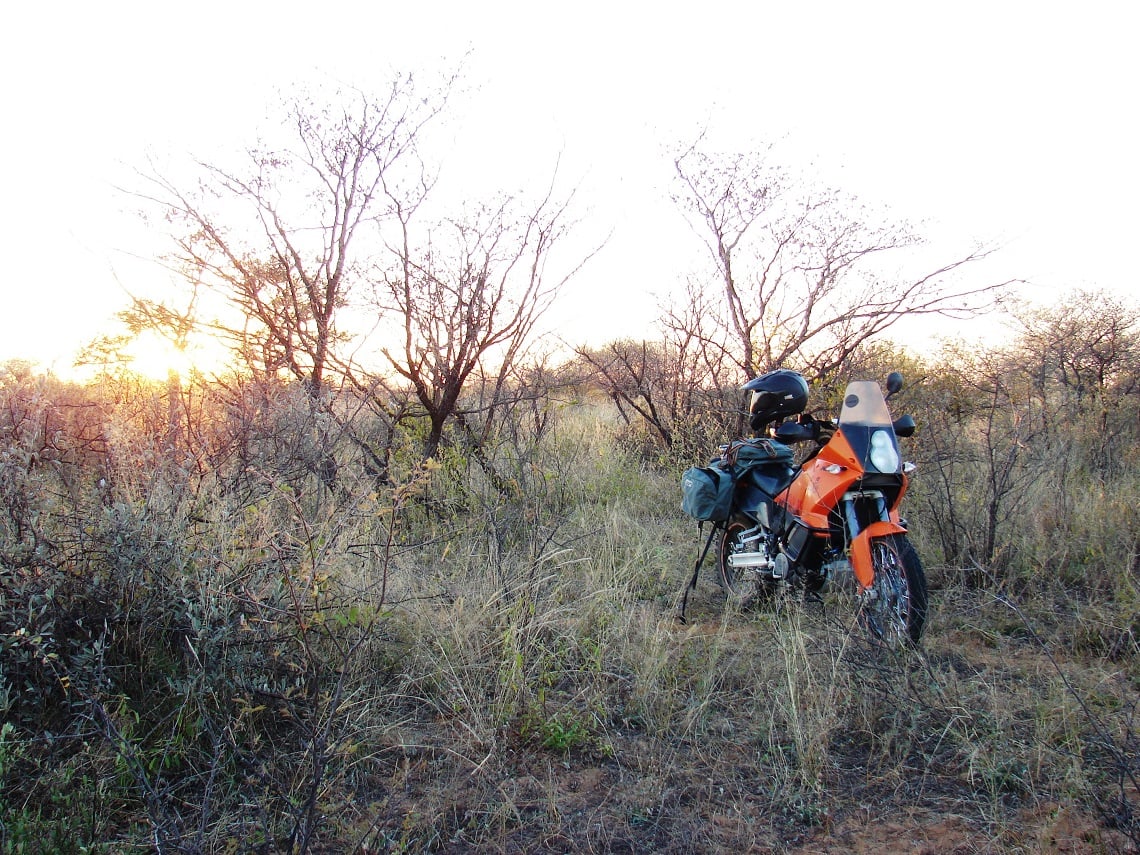 Accommodation:
Roy and the rest of the dual-sport crew chose to wild camp. Rural Botswana is home to various toothed beasts including lions, leopards, hyenas and venomous snakes, so bear this in mind if you plan to stay under canvas. South Africa is also home to a huge and very friendly off-road and adventure riding community.
There are a number of forums and websites such as www.wilddog.za.net where you can meet and chat with local riders and other ABRs who've done similar trips and this is a great way to ask advice about where to stay, where to ride and to buy and sell bike gear.
Paperwork for you:
Private medical insurance cover is a must-have while travelling anywhere in Africa as state hospitals aren't equipped to treat accidents. In addition to your passport, you'll also need your driving license, which is accepted in Southern Africa.
Paperwork for the bike:
You'll need the bike's V5C along with documentation from the rental company giving you permission to cross borders with their motorcycle. To avoid having to take out worthless insurance at the border crossing, ensure that you have documentation proving that the motorcycle is covered for accident, theft and recovery within the country you are travelling into.
Is it for you?
This particular trip was a combination of 50 percent asphalt; 35 percent hard-packed dirt roads and twin tracks, and 15 percent thick sand. If you're not a seasoned sand rider, avoid the sand sections, as they're not for the faint-hearted.
Rural Botswana can be a dangerous place and care needs to be taken whenever you leave the towns and villages. A good practice is to eat at one site and then camp some distance down the road so wild animals aren't attracted to your tents.
Night-time riding should be avoided as dark coloured animals are not visible until it is too late.
More details about tourism in the country can be found at www.southafrica.net and www.botswana.co.za.
Photos: Roy Webber