UP THE AMERICAS – PART TWO
We rejoin ABR Pat McCarthy for some high-altitude action in South America as he takes on the Andes and the Atacama Desert
It was the end of April and the onset of the southern winter had chased me north for weeks. I arrived in Mendoza, the heart of Argentina´s wine district, after a mad dash through freezing rain and the fallout from Chilean volcanoes. My next big hurdle still loomed ahead of me, though. I was about to cross the Andes.
I was behind schedule, way behind, and in order to make up time I decided to come off the Ruta 40 and skip over the Andes into Chile, to take a more direct route north up the Pan American. As I headed into the hills a little south of Mendoza I encountered some lovely valleys and gorges. The mountains here rise from the earth in the most spectacular way. It's amazing how a road can traverse such a wall of rock, but there are always passes, and a few of these are so narrow that the cold air funnels through them with aggression!
A snail's pace
Struggling upwards, the valleys open out again and around 60 miles outside of the city I was blessed with some spectacular scenes as the rocks changed colour and the high snow-capped mountains loomed closer. This road demands that you stop and look. The town of Upsalla is very pretty and would have been a great place to stay; likewise, the natural rock formation that's created the Puente del Inca (Inca's Bridge) also cries out for attention. Before long, I arrived at the four-mile tunnel that passes through the highest of the heights and on to the border control with Chile, and this was where I hit traffic.
The pass had been closed for three days before my arrival which had caused a backlog of travellers who were all patiently lined up on the road waiting to get to the border station. I did try the usual bike trick of rolling to the front of the queue, and despite some local support from a couple of car drivers at the front who were impressed with my travels, Idris and I were sent right back to the end of the line by an officious official.
An hour later I was processing papers, and two hours later I was on my way again. Talk about a confused border! Even the guys who worked there seemed to be struggling to understand who should be doing what, and many were taking guidance from more experienced travellers in the queues. Immediately on leaving the border post I could understand why the road had been blocked.
The remains of the landslide on the Chilean side was clear to see, with snow and some patches of ice still resting on the road despite the growing heat of the sun. This was also the start point for an infamous decent known as 'The Snail' which guides you down a wall of first-and second-gear hairpins as the high mountains rapidly give way to the surrounding hills below. I was bathed in sweat by the time I'd cleared this section, and the smell of burning truck brakes stayed with me for the next hour as I enjoyed some nice riding into the town of Los Andes for an overnight stop.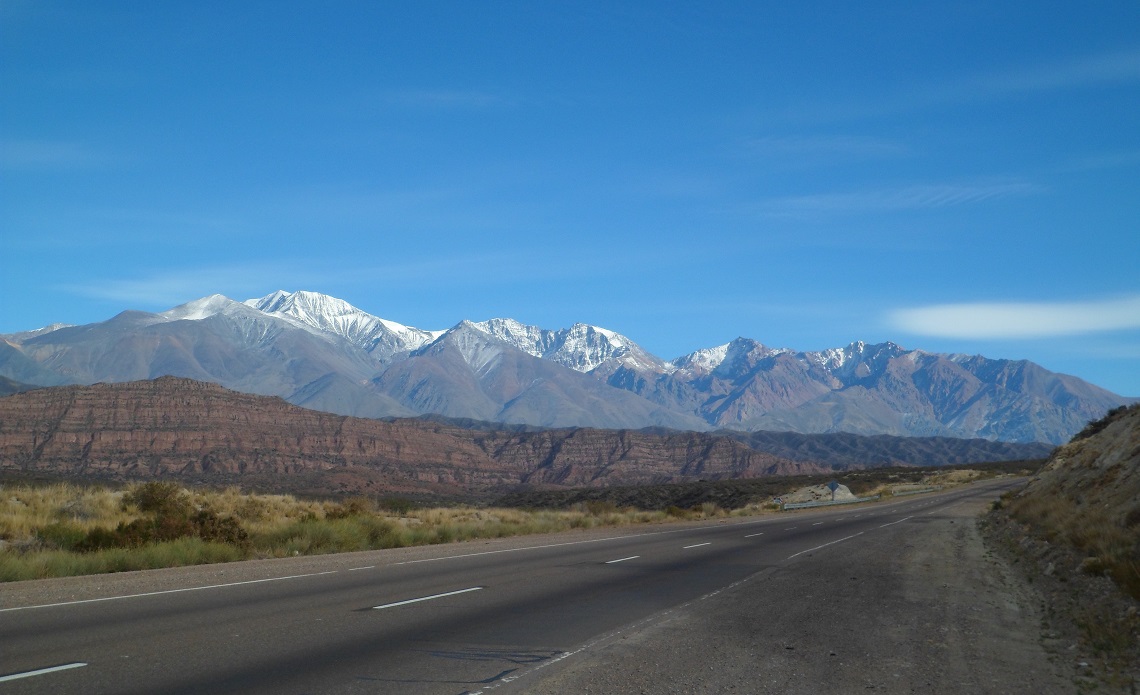 Friendly fires
The plan was to make up time in Chile, so the next day saw me embarking on an early, speedy run north on the Pan American Highway (Ruta 5), which is a fast and generally well-kept toll road. During the first part of the day, I found myself riding through rolling green hills surrounded by fields bearing all types of fruit, including the sacred grape.
As the hours passed by, the green was slowly replaced with a more arid landscape and the start of desert country. Later, as I passed the 'welcome to the Atacama' sign, I seemed to be getting flashed by a lot of oncoming traffic, so I decided to pull over and check Idris out.
The sun was starting to set and the headlight bulb had blown – a clear signal to stop for the day. I was lucky to find a rough but clean hospedaje (hostel) at the roadside with reasonably secure parking. After sorting Idris´ bulb out, I was reminded by the owner that today was 1 May, a local holiday in honour of the workers, and was invited to their modest barbeque.
A lovely evening followed, with friendly people, under a wonderful, cold and starry desert sky. I was mindful at this point of what an advantage speaking the local language can be. I would have missed out on so much and experienced so little of the country and its culture without the capacity to converse with the locals – and how lonely would that have been for a solo traveller?
Deserted
Heading north through the Atacama, the driest desert in the world, was an odd experience and one I'm still assimilating as I write. I had not anticipated the level of wind that would rise from time to time, or the scale of the countryside I was crossing. The wind was nothing like what I'd encountered in the south, but sufficient to lop a good 5-10 miles an hour off my cruising speed.
Riding with a line of sweat down my spine, my concentration was continually challenged less I get that hearty and unexpected slap on my back to send me wobbling down the road. I can't say that the riding in the Atacama was great, though it certainly wasn't bad.
But day after day of sand, which changed colour as I entered different areas of mineral deposits, left me feeling alone. This was eased somewhat by a long chat with the lovely Mrs Pat on reaching Antofagasta. I also got to see the Hand in the Desert sculpture some 40 miles south of the town – bonus! Idris was due a transfusion, so the Yamaha dealer in Antofagasta sorted that along with changing out the cush drive rubbers and a few other adjustments. In fact, the guys at the dealership gave the bike such a clean as to impress any showroom salesman at a total price you'd be lucky to buy oil for at home.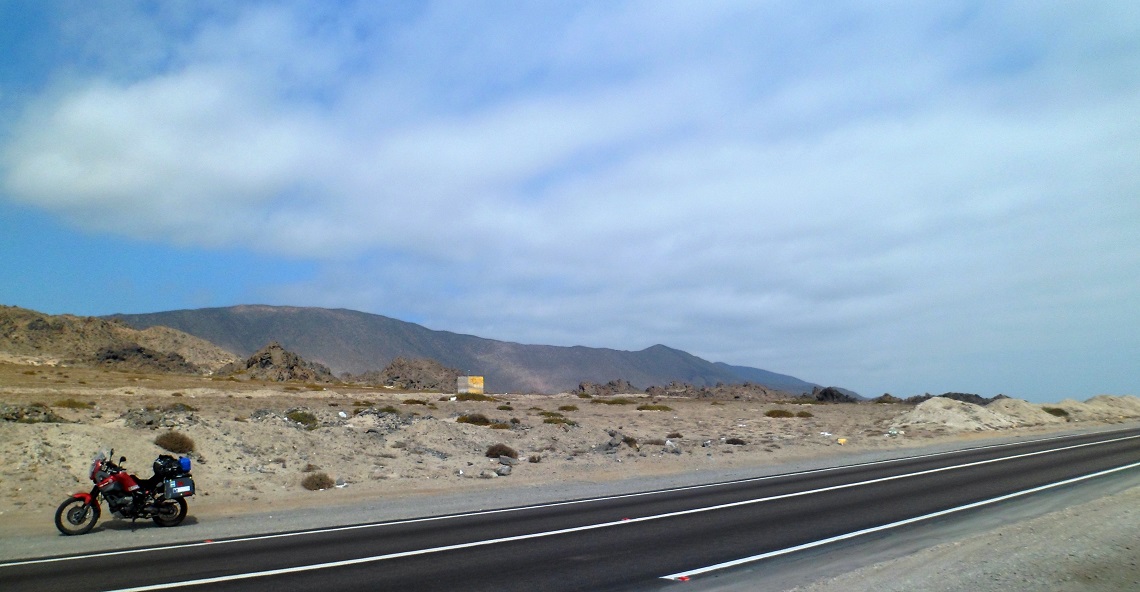 A welcome break
Feeling a little sand-weary, and after taking local advice, I headed north on the coast road to Iquique. Despite the first few hours being steeped in thick fog, I did get to see some wonderful Pacific surf, impressive rocky coastline, and wonderfully romantic coves. Iquique wasn't planned, but nevertheless, it turned out to be an ideal overnight stop. I would have been happy to spend longer there as the old town centre, where my hostel was located, has been designated a UNESCO World Heritage site.
Iquique is home to old trams, boardwalks and wonderful colonial buildings, and for everyone that was in ruins there was another undergoing renovation; some of these housed great eateries. Chilean-Peruvian fusion cooking is on the rise in world culinary circles, and my first tastes of the resulting dishes confirmed why – it's delicious. The long climb the following morning up the sheer wall that pins the town to the sea was interesting, as Idris and I rose above paragliders seeking out the thermals over Iquique.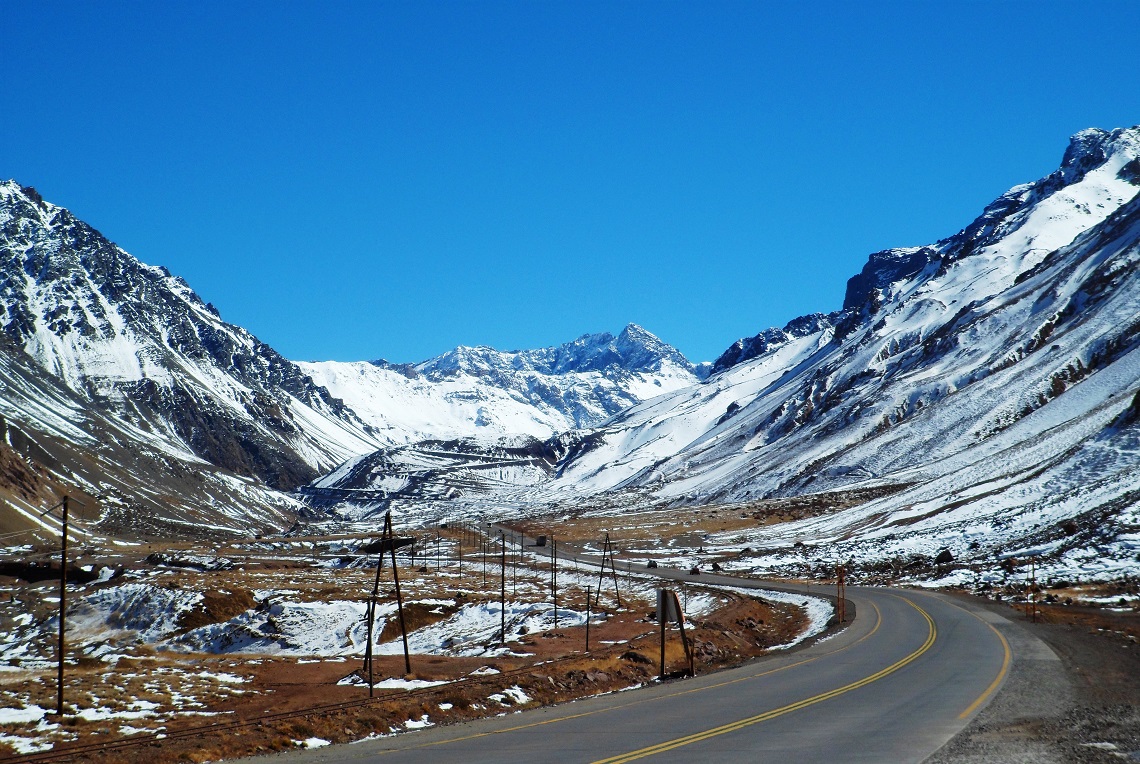 Almost every place I'd encountered on the journey so far had turned out to offer far more than I'd known or anticipated. With so much to do, see, and experience, I had to drag myself away almost every other day, leaving many things undone (I would have loved to jump off that escarpment above the town, for example). Online, I asked Sam Manicom about how he managed that feeling during his travels, to which he replied, "Why do you think it took me eight years to travel around the world?" Good point. At least I wasn't alone in feeling this way. We really do live in an incredible world!
Injury time
I continued heading north and got back on the PanAm, passing close to the driest recorded place on earth, and chasing the Chilean border with Peru. You see, I had to make another big decision: despite the hours I'd enjoyed trip planning, things never turn out quite as you imagine when you're on the road. A jolt to the back sustained in a fall in Patagonia had returned to haunt me alongside inflamed joints in my hands.
These respective maladies were conspiring for much shorter riding days than I would normally manage back home. The extended time on the road was starting to take its toll, and I had to adjust accordingly; I had to cut out Bolivia. I really struggled with this decision for many days, but once made, I felt a weight lift from my shoulders. I had one of my must-dos in Peru, and now I could head on towards that with the time necessary to fully enjoy the experience. But perhaps that's a story best left for next time…
________________________________
Pat's cause
Pat Around the Americas is a solo adventure bike ride project linked to raising money for UNICEF's work with disadvantaged children in each of the countries through which Pat travelled. He hopes to match his expenditure on the trip with the same figure in donations. The full story of pat's trip can be found at www.patonabike.blogspot.com. To make an online donation to Pat's cause, see http://www.justgiving.com/patrickmccarthy.
________________________________

________________________________
The Hand in the Desert
…or the Mano de Desierto is an 11m-high sculpture of a human hand situated in the middle of the Atacama Desert roughly 40 miles south of Antofagasta, Chile. The hand was erected in 1992 and is the work of Chilean artist Mario Irarrázabal. It's made from iron and cement and stands at over 1,000m above sea level.
The hand is crafted in such a way that it appears to be emerging from the surrounding sand, and because of its remote location, it's often the target of graffiti and has to be cleaned intermittently. A recurring motif in this artist's work, Irarrázabal's uses representations of the human figure to express injustice, loneliness, helplessness, sorrow and torture.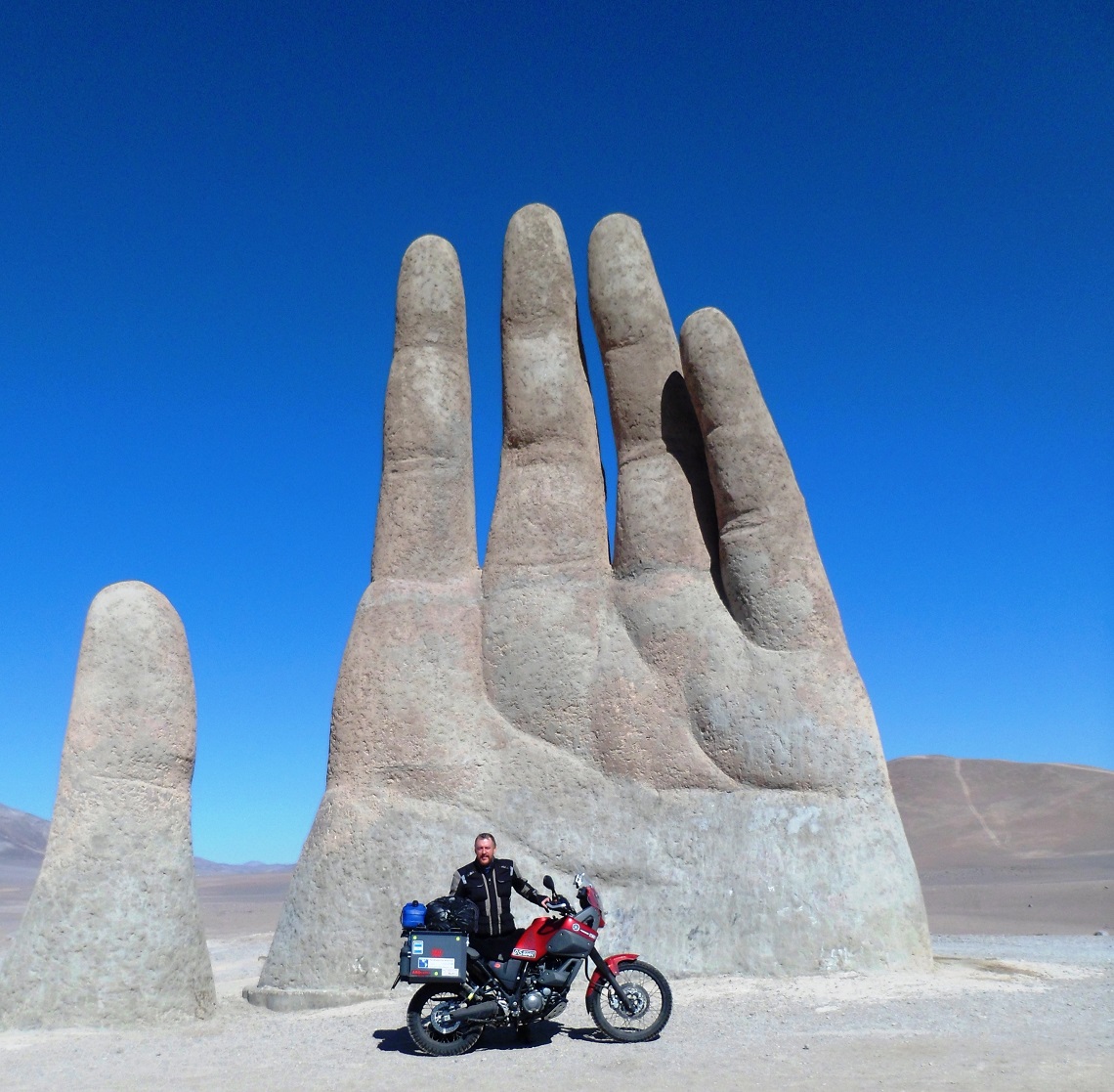 The Atacama Desert
Famously the driest place in the world, central parts of the Atacama Desert haven't seen rain since records began; these are known by climatologists as 'absolute desert'. The Atacama stretches 600 miles from Peru's southern border into northern Chile, rising from a thin coastal shelf to the pampas salt plains that feed into the foothills of the Andes.
The unique conditions here – no rainfall, crystal-clear skies, altitudes of 2,410-4,270m and zero light pollution – make the Atacama a major hub for astronomical research and a stargazer's paradise; its virtually lifeless landscape has even drawn comparisons to Mars.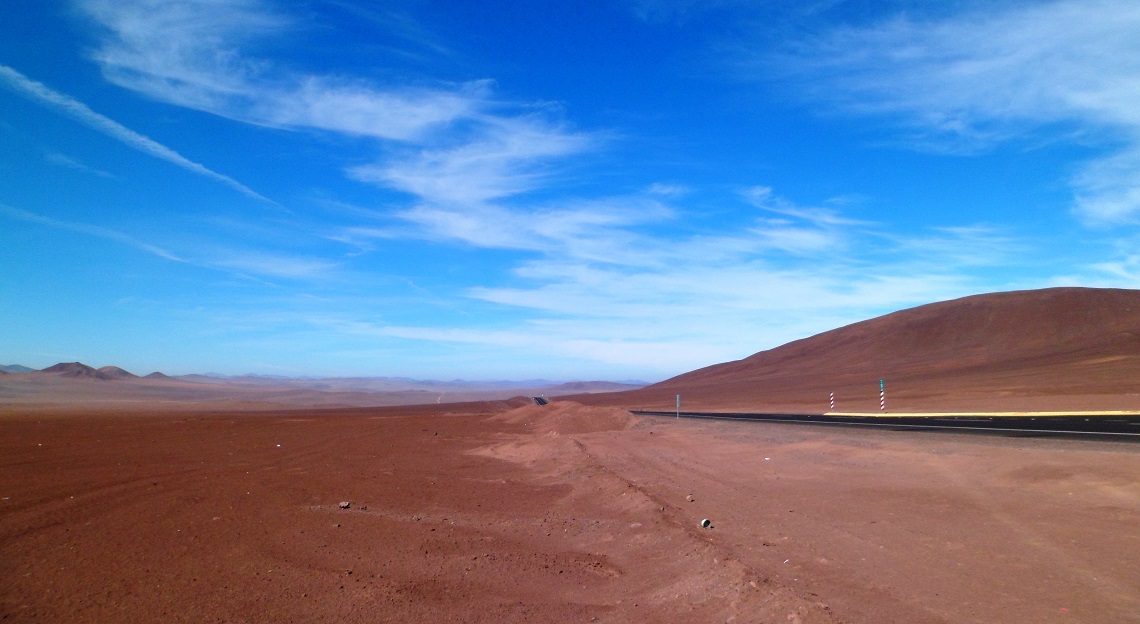 The Inca's Bridge
The Puente del Inca is a natural arch that forms a bridge over the Vacas River, a tributary of the Mendoza River. Scientists believe this formation occurred when, in ancient times, the river froze and allowed falling dust, rocks and avalanches to settle on it. Over time, these sedimentary materials were compacted together; when the river melted, the sedimentary rock 'bridge' remained.
_________________________________
The bike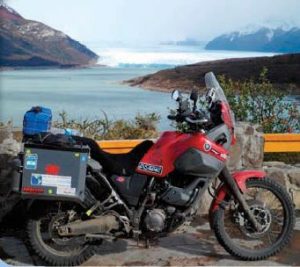 Idris – the 2009 XT 660 Z Tenere – has appeared in earlier editions of the magazine at various ABR rallies, and in various stages of farkling. A full list of Idris' bolt-on and homemade mods can be viewed here, www.patonabike.blogspot.com, and Pat will be providing independent reviews on each of them on the ABR website in the coming months.
Keep an eye on www.adventurebikerider.com for more.
________________________________
Want to do this?
How long does it take?
Pat's trip up the Americas was 20,097 miles over 131 days.
When to go?
Northern Argentina, northern Chile and a lot of Peru can be tackled at pretty much any time of the year, though many of the roads and high passes in the Andes are closed due to snow in the mid-winter months (UK summertime) and wetter in our early spring. The lowlands of southern Chile, Patagonia and Tierra del Fuego are also inhospitable during the winter.
Get there:
Two popular starting points for these countries are Buenos Aires in Argentina and Santiago in Chile. To ride your own motorcycle in this area, the majority of motorcycle travellers choose to ship/airfreight into Buenos Aires, Argentina, as the local procedures are currently said to be far easier and cheaper than in Chile. James Cargo Services Ltd, can transport a BMW R 1200 GS motorcycle to arrival into Buenos Aires for £795 by ocean or £1,695 by airfreight. For more, see www.jamescargo.com
Fly or hire?
Pat used his own bike to ride the length of the Americas, but there are a number of good-quality hire companies operating in these countries, such as Adventure Peru Motorcycling (www.perumotorcycling.com), which are a better option for short-stay rides.
Accommodation:
Sleeping out in the Patagonian winter is for extreme survival enthusiast only! But camping is a viable option spring-autumn and there's an abundance of campsites and safe places to wild camp. Built accommodation in South America can be pricier than you'd imagine, but there are still some places where ABRs tend to congregate. La Posta Hostel in Ushuaia, Tierra del Fuego (www.laposta-ush.com).
Run by ABR Hector at around £5 per night for a dorm bunk; it's a top-quality establishment. Sunny Days Hostel in Arica, Chile (www.sunny-days-arica.cl). Run by Kiwi Ross who is very ABR friendly. A fiver a night will get you a bed and his famed breaky Casa Grande in Cuzco, Peru (www.casagrandelodging.com.pe.) Set in the heart of the old city, this ABR safe and friendly base costs around £22 for a private room. Not cheap, but it is just around the corner from the Norton Rats Bar!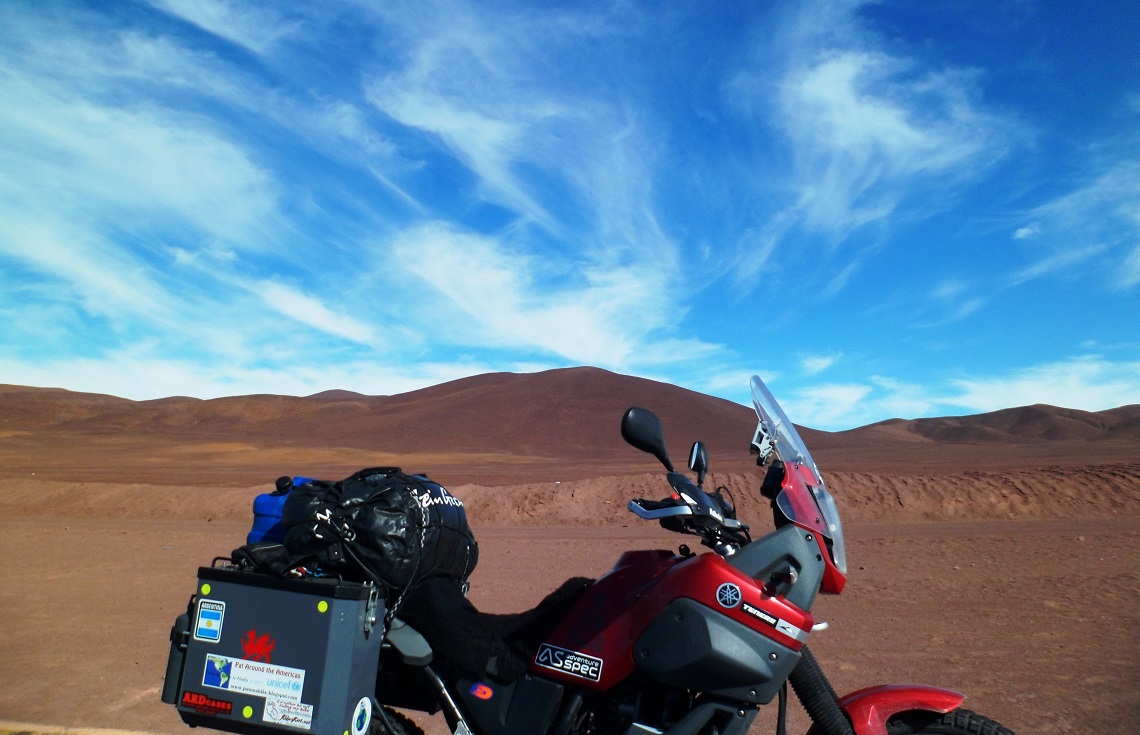 Paperwork for you:
A valid driving licence is a must, and an international one is also recommended. Visas are available at the point of entry for all the countries Pat travelled in South, Central and North America on presentation of a UK passport (with more than six months left to run). You'll also need to check out your immunisation requirements, as you may need a Yellow Fever certificate depending on which countries you plan to travel through.
Good travel insurance with heaps of medical cover, including air ambulance repatriation, is also advisable. Check the policy covers riding bikes over 50cc, a lot don't. Pat used Navigator Travel's Gold policy at a premium of £270 for 20 weeks (www.navigatortravel.co.uk)
Paperwork for your bike if taking your own:
Your UK bike insurance won't be valid for Argentina, Chile or Peru, so you'll need to source this locally. Buenos Aires-based insurance companies, such as ATM, offer a single policy that covers all Mercosur countries (Argentina, Chile, Peru, Paraguay, Bolivia, Uruguay, and Brazil), expect to pay around £10 per month.
You don't need a carnet in any country in South, Central or North America, but the presentation of your V5C at borders for temporary import of the vehicle is a must. Carry good photocopies of all your paperwork, and keep scanned versions on a pen drive and online in a Hotmail account, for example.
Is it for you?
Pat's an experienced, competent road rider, and an off-road novice. "If I can ride these lands, most riders will be able to take them on," he says. There will be a degree of challenge for all skill levels depending on the chosen route. Argentina, Chile and Peru are an ABR's veritable sweet shop, offering a vast selection of all types of riding.
It's possible to tour all three countries without leaving asphalt roads – some of which are among the top riding roads in the world, while others barely rank as 'sealed'. Equally, you can spend almost 100 percent of your time on gravel, dirt and sand. The choice is yours, just pick your route and go!
South America is on the other side of the world, so getting there even for a short break is costly, but once there living expenses are less than in Europe and North America, particularly if you camp.
Photos: Pat McCarthy