UNDER WHERE?
Paul Jennison checks out the best thermal undercrackers to keep you warm this winter
It's already standard practice in the outdoor clothing industry and word's starting to spread in the motorcycle clothing industry, too. Layers are the way to go! A decent waterproof outer, backed up by thinner undergarments is your best defence against the elements. No question.
So long as your waterproofs are up to the job, those layers will ensure you stay nice and warm, whatever the weather.
The ideal combination of layers starting from the bottom is: a thin wicking base layer, followed by a thicker mid-layer, then maybe a soft-shell type jacket or a heated jacket, then your waterproof outer over the top.
This should be all the insulation you'll need to ride on those cold trips or commutes. It's what I use and I find it's the best way to keep warm and dry.
What fabrics?
Cotton base layers, such as T-shirts, should be avoided. Although they absorb body moisture, they don't wick it away from the skin, they hold it, and when the fabric cools, it remains damp, lowering your body temperature and making you feel chilly and uncomfortable. Always look for a base layer with wicking properties. It's much the same story with the mid-layer.
Anything breathable that will insulate while wicking moisture away from the skin is going to be a winner. Man-made synthetics like polyester, polyamide or polypropylene will wick the sweat away from the base layer and dry quickly, so you don't get that clammy feeling.
Quite a lot of mid-layers offer excellent thermal qualities, too, making them ideal for year-round use under your suit. Wool, usually Merino, has exceptional thermal properties but it doesn't wick anything like as well as synthetics. The upside to Merino, however, is that even when damp, it retains some of its insulating properties. Another bonus is that Merino products don't smell after several days' use, which is more than can be said for man-made ones!
Some garments on test here even combine synthetic and Merino, giving you the best of both worlds. Although we're focussing on upper-body thermals here, some of the companies featured do produce accompanying leggings for even more warmth; we'll mention if they do.
Oxford Layers
SRP £24.99 – www.oxprod.com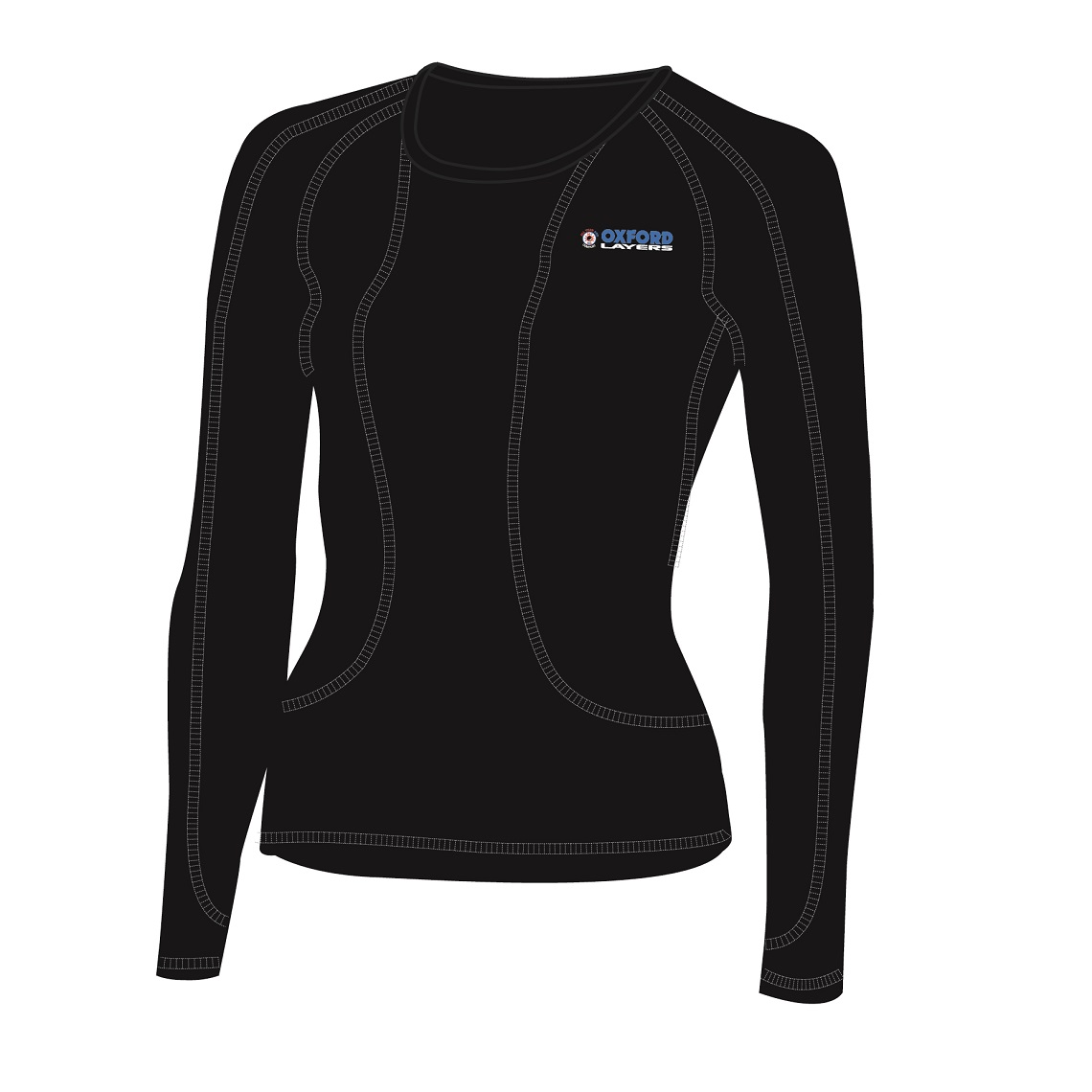 Oxford has nailed the layering theory. That's why the company has produced a complete range which is labelled as such. The Oxford Layers range can be used all year round as base layers, to help with body moisture management while providing that essential starting point for comfort and warmth in the winter. Made from 100 percent polyester, the top is a snug-fitting lightweight base layer with four-way stretch and flat-lock seams for improved comfort.
The body length is good, too, which prevents it from riding up and exposing your middle to the cold. The fabric is very breathable and wicks moisture efficiently from the skin. It also has a Silver Ion anti-bacterial treatment, which kills body odour. The range also includes a short-sleeved version of the top and matching leggings, with foot stirrups to hold them in place inside your boots.
ABR Rating – 6 / 10
In a Line: Good value; does the job
Spada Chill Factor 2
SRP £29.95 (pants £26.95) – www.spadaclothing.co.uk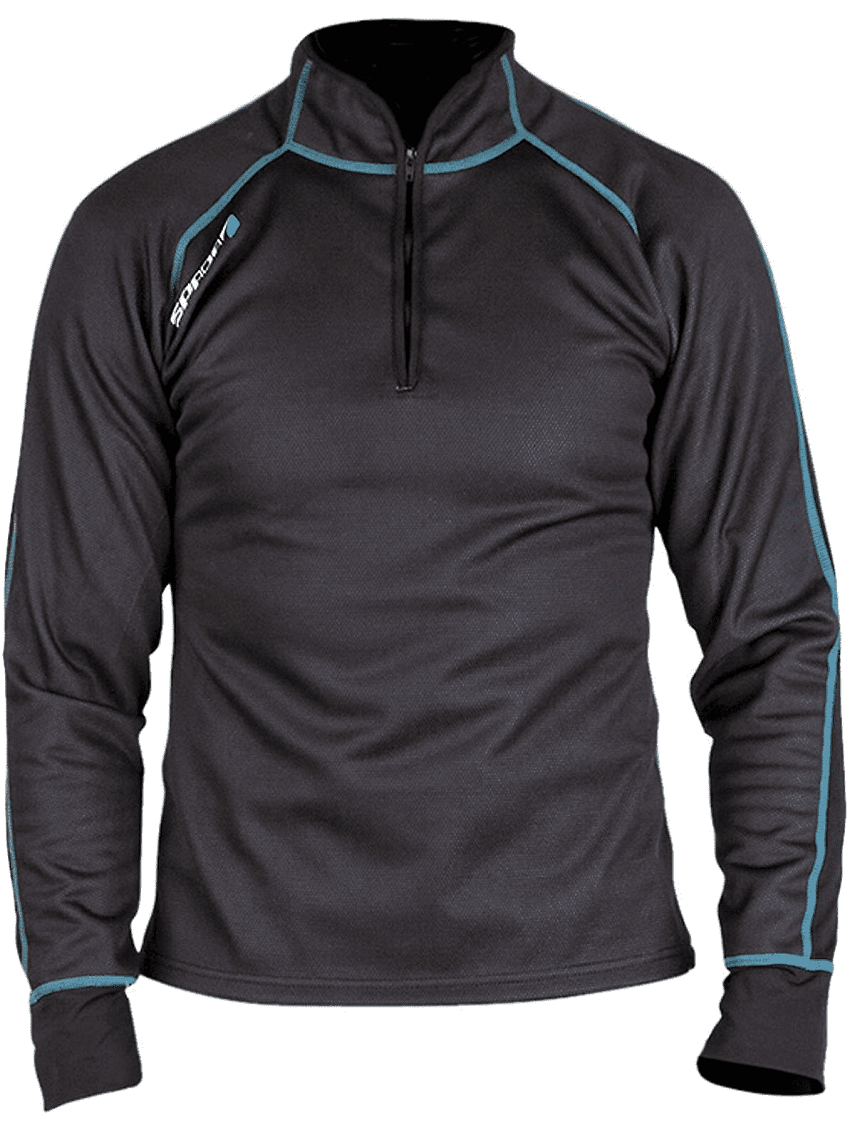 The Spada Chill Factor 2 is a Windstopper top that can be worn as a standalone base layer because it has a brushed, soft-touch fleece backing that can be worn directly next to the skin. This will trap warm air next to your body, making it a good insulator that will also wick moisture away from your skin, keeping you dry.
Made from polyester and nylon, the front of the top and sleeves has the Windstopper membrane, which keeps out the chill, while the back is a highly stretchable fabric, enhancing the fit and allowing for free movement. On the subject of fit, the Chill Factor 2 is quite snug but still allows for a thinner layer to be worn underneath, which is how I prefer to use it.
It's also very long in the body, which stops it from riding up and letting the cold in. The seams are flat-lock, which prevents them from digging in. There's a quarter-zip at the neck, which can be left open for ventilation. This is a good thermal layer that's enhanced by the Windstopper membrane; you can complete the outfit with Spada's Chill Factor 2 pants, too.
ABR Rating – 7 / 10
In a Line: Good feeling + good price = great value
Halvarssons Wintur
SRP £39 – www.jofama.se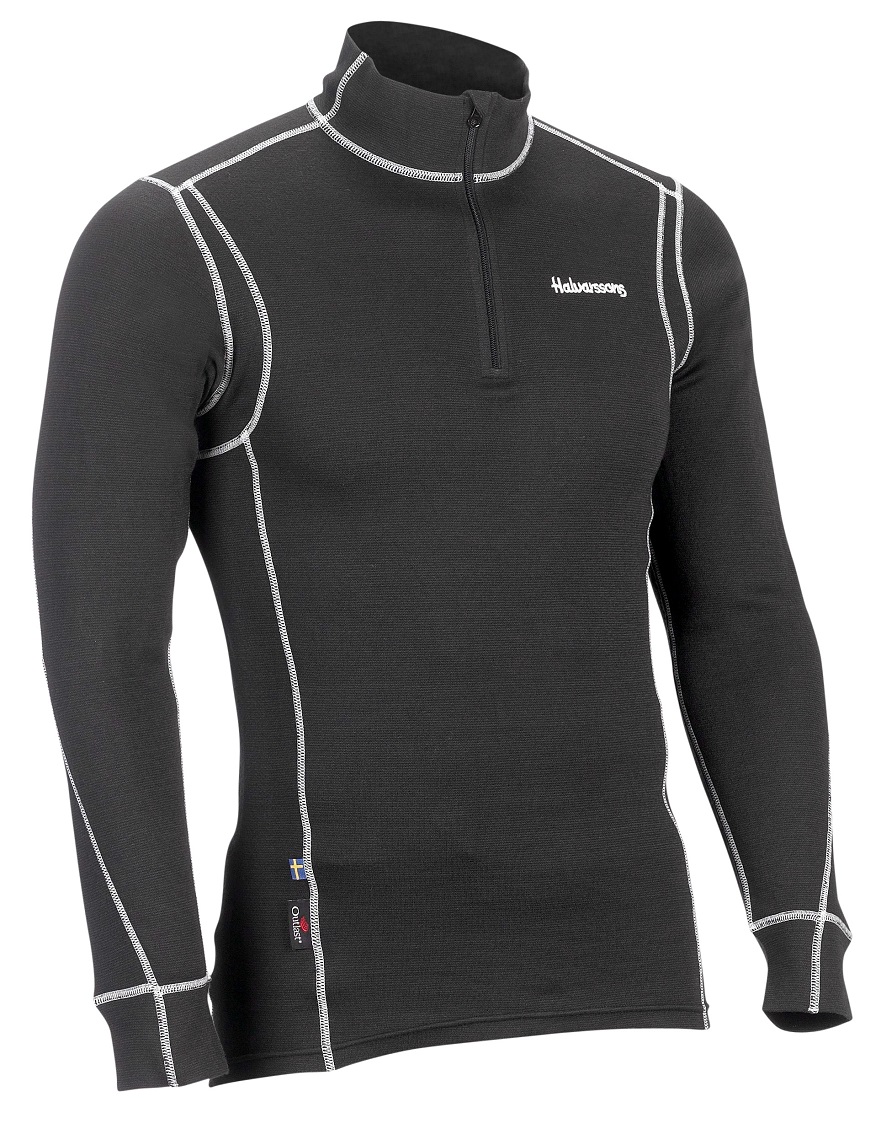 When it comes to thermal clothing, Swedish company Jofama, whose brands include Halvarssons and Lindstrands, should know a thing or two about what works and what doesn't in the cold. After all, the company also makes clothing for snow-bound activities as well as for motorcycling.
The Wintur top is a good thermal layer that'll work as a base layer as well as over a wicking top. It's made from 49 percent Merino wool and 51 percent acrylic Outlast fabric, the Outlast being a temperature-regulating material that keeps you either warm or cool depending on conditions outside; Merino wool has well-known thermal qualities, too.
The benefit of the wool is that it works well against body odour, meaning the garment can be worn for prolonged periods without a wash. The fit is long and snug and it has good all-round stretch to allow for an under layer. It has a quarter-zip, which can be opened for ventilation or closed up to keep out the chill. All the seams are flat stitched for increased comfort.
ABR Rating – 7 / 10
In a Line: A year-round biking staple, whatever the temperature
Rev'it Glacier LS
SRP £44.99 (pants £34.99) – www.revit.eu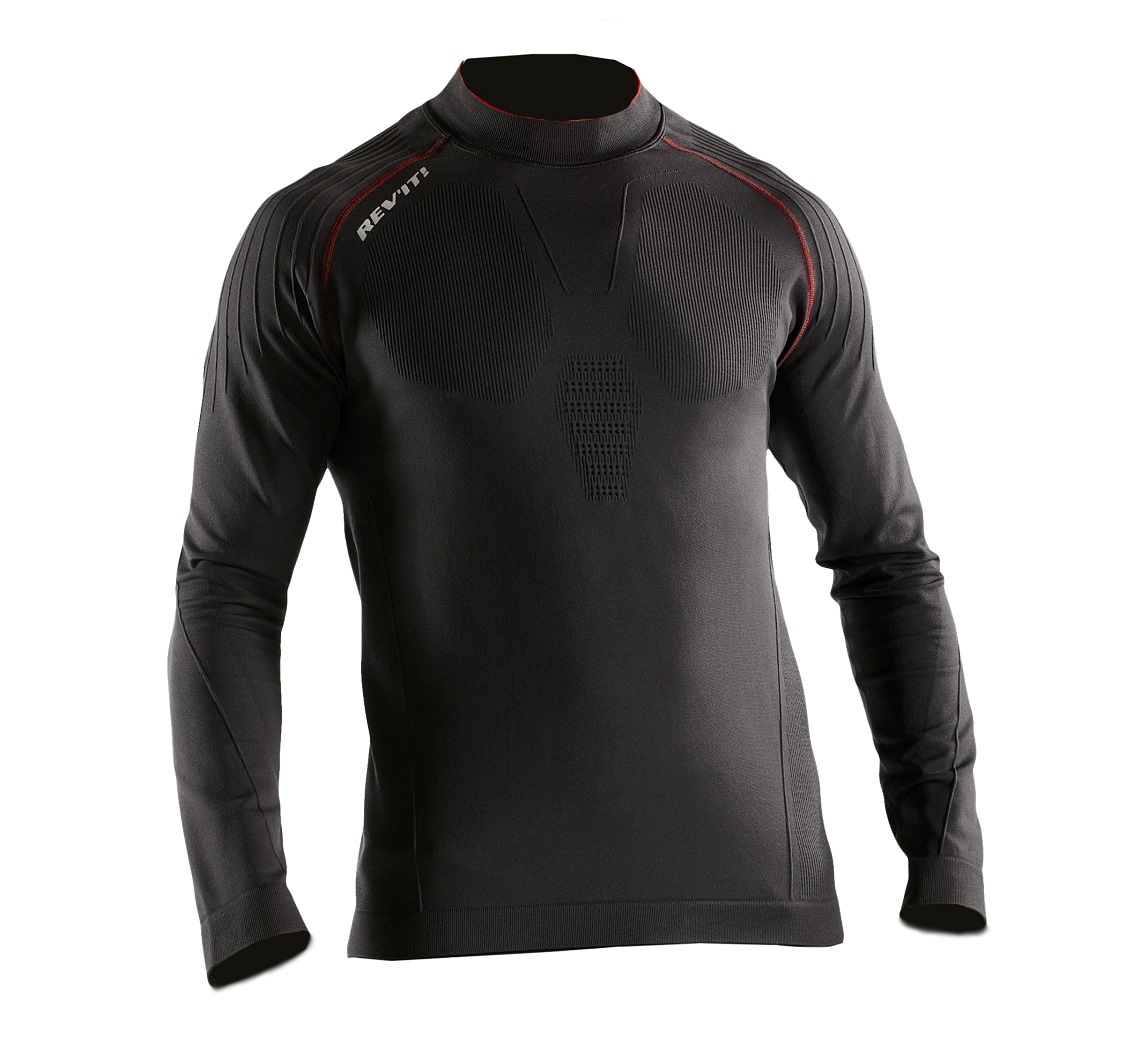 The Glacier long-sleeved top is a base layer that's been specifically developed for winter. It's a snug-fitting thermal that doesn't require anything underneath it; however, you may want to incorporate another layer over it. It's thicker than most traditional base layers but does have moisture-management technology, so you stay warm and dry.
The fabric is polyamide with elastane, giving it a stretchy, snug fit, but it's the construction that's really clever. The body has a seamless 3D knit for comfort and the arm seams are flat-lock, to prevent them from digging in. There's an air-vent zone in the chest and back, which wicks moisture away, keeping you dry.
Rev'it has also included a thicker knit at the elbows and shoulders, to retain warmth, as joints lose heat more quickly. The fabric has been treated with an anti-bacterial, to keep it odour free if worn for prolonged periods. This shirt is warm and comfortable, and matching pants are available with the same technology, which would make for a great package.
ABR Rating – 9 / 10
In a Line: Buy with confidence
Sub Zero Thermal Factor 1 Plus
SRP £49.99 – www.subzero.co.uk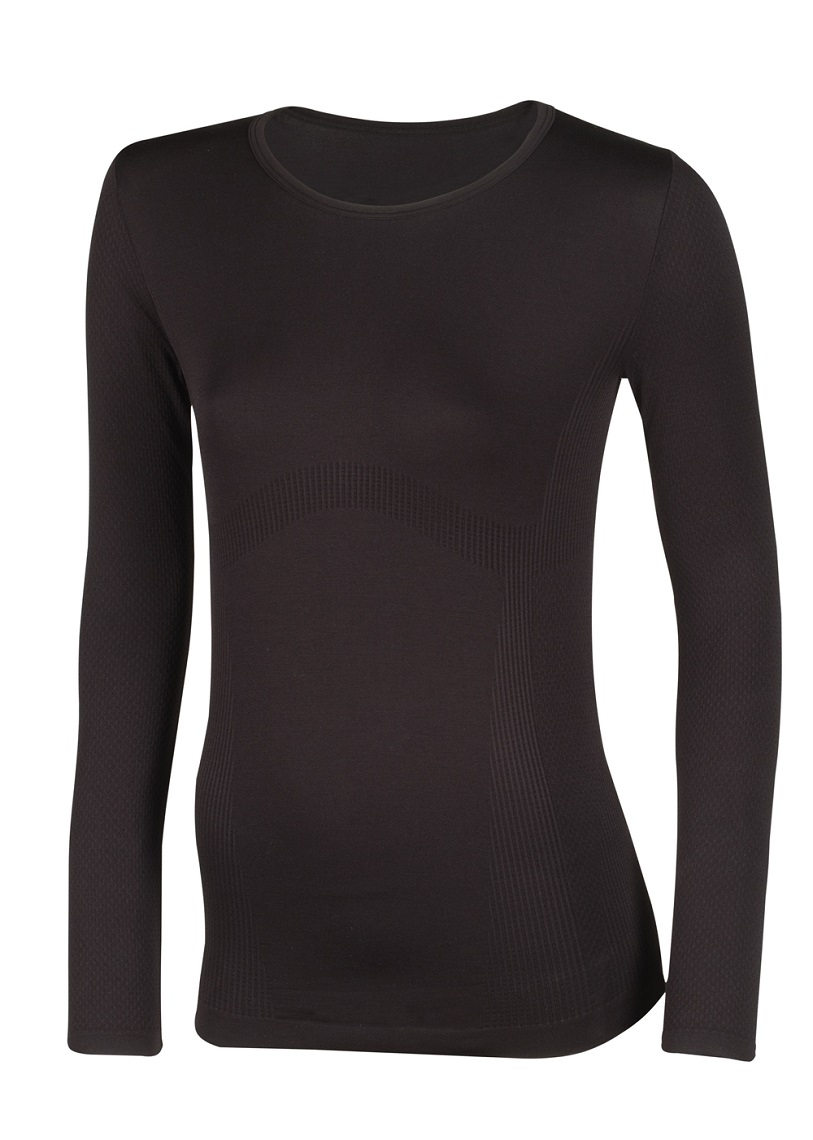 The Factor 1 Plus long-sleeved thermal layer is specifically designed for colder conditions. It's made from super-soft but hardwearing dual texture fabric, knitted from polyamide fibres. It has a seamless construction with flat-stitched seams around the sleeves for increased comfort and fit.
The body of the shirt has what the company calls 'Stretch Rib Zones' for support and 'Waffle Zones' for enhanced heat retention and wicking, which means that, although the shirt is a snug fit, the stretch material allows for free movement while the waffling traps air and forms a thermal layer that still wicks away sweat. The cut in the body is longer than some on test here, which will eliminate lower-back exposure to the cold.
This thermal layer will dry quickly if you get a sweat on and has an antibacterial treatment, which should help with the dreaded body odour. The Factor 1Plus is 20 percent lighter than like-for-like polyester fabrics but carries a toasty tog rating of 0.42, which makes it a very versatile layer.
ABR Rating – 7 / 10
In a Line: Put this on your shortlist if you enjoy winter riding
EDZ Merino Zip-Neck Layer
SRP £50 – www.edzlayering.com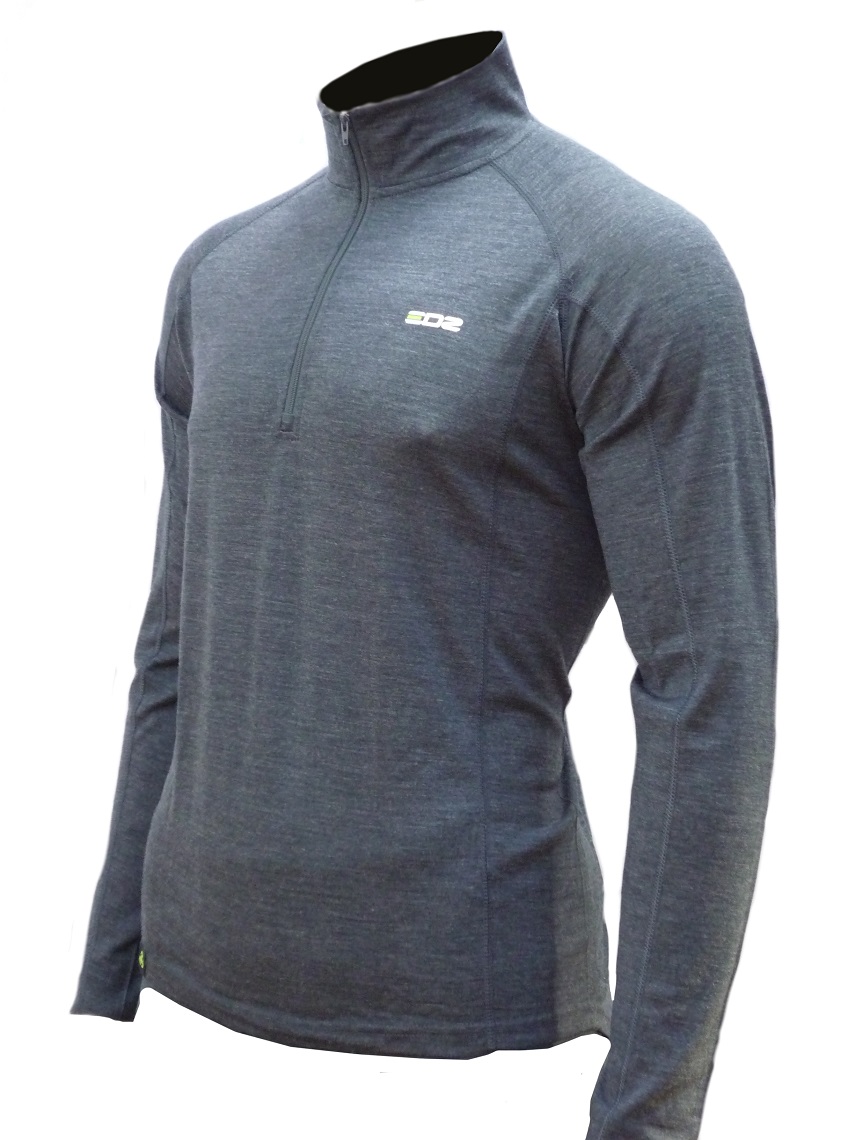 EDZ makes thermal layer clothing for both the outdoor enthusiast and the motorcyclist alike, and the company's well up on what's required in a layering system, from wicking base layers to fleeces, so you can get all you need to wear under your biking outer under one roof.
The 100 percent Merino Wool ZipNeck Layer can be worn as a thermal base or over a wicking top. The Merino wool will also help to wick the moisture away from the body, keeping you warm and dry. Because the wool is a natural fabric, it can be used for several days without it becoming smelly and offending your mates.
The bonus with this top is that, when it does come time to wash it, you can chuck it in the washing machine and it won't shrink. It's also quick drying so whether it's damp from sweat or you've washed it, it should dry overnight. Like the other Merino type tops on test here, the fit is long enough to keep it tucked in when riding, so no draughts up your back, and it has a good amount of stretch, which allows for good freedom of movement.
ABR Rating – 7 / 10
In a Line: Warm when wet, great next to skin at a price
Rab AL Pull-On
SRP £55 – www.rab.uk.com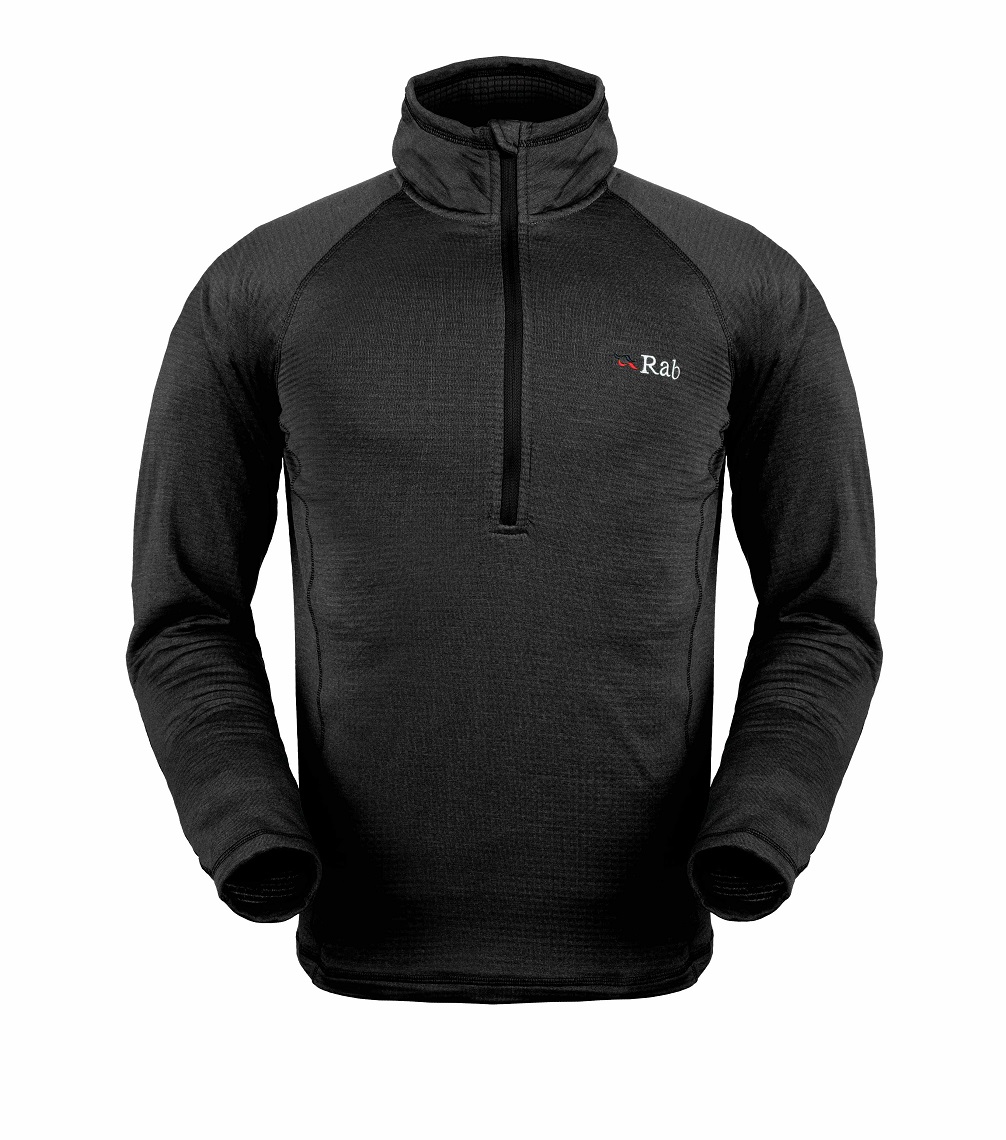 If it's thermal undergarments you're looking for, don't rule out the outdoor specialists. These guys know their stuff, and whether you're hiking or biking, a thermal base layer is going to do much the same job. So here we have the AL (Another Layer) Pull-On from outdoor specialist Rab. I like this top a lot. It's lightweight but the Polartec Powerdry fabric really makes it a warm one.
It's been designed as a base layer, but take it from me, it's an effective thermal mid-layer if you use a wicking base layer underneath. Although it's made from synthetic fabric, it's been treated with polygiene, an antimicrobial technology that fights the dreaded BO! Because of this, the AL can be worn for longer without becoming smelly, and if you're getting a sweat on, the Powerdry in the fabric makes it quick-drying, which adds to the comfort.
The deep front zip provides good ventilation if required and a high stand-up collar provides extra warmth and protection from the elements. The Rab thermal is a great layer to keep you warm on your travels and it looks good when you take your jacket off, too.
ABR Rating – 9 / 10
In a Line: Baselayer or mid-layer, it's spot on
Icebreaker Mondo Zip
SRP £64.95 – www.icebreaker.com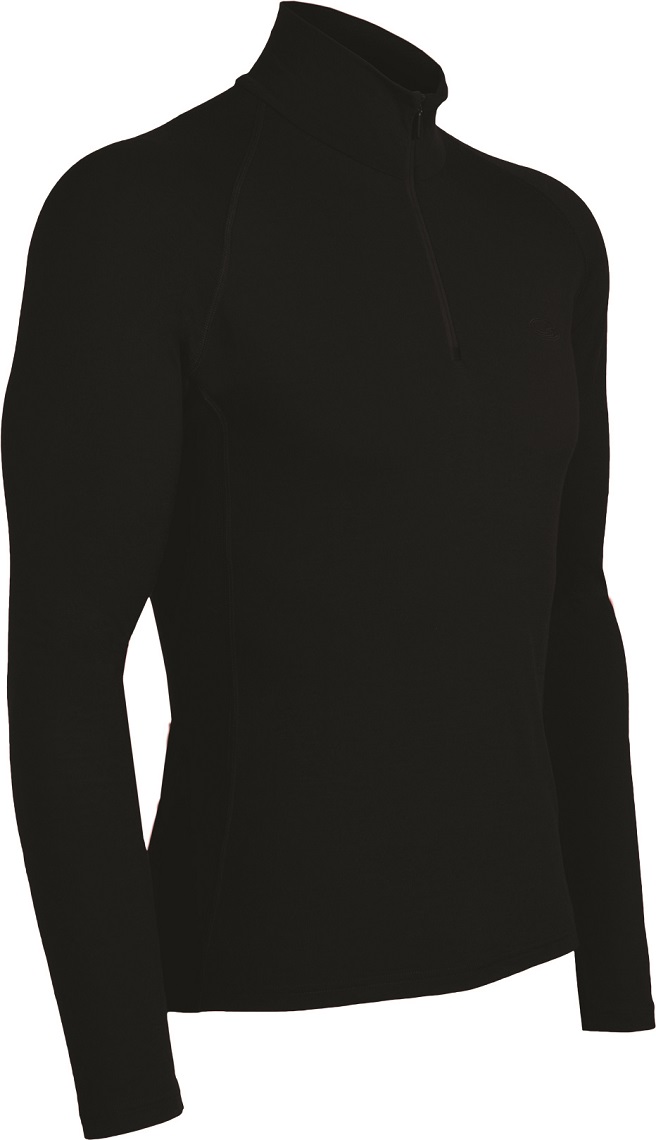 This is the Bodyfit 200 Mondo Zip from Icebreaker and is constructed from 100 percent Merino wool, which makes it very soft against the skin. This wonder fabric is super-fine wool from the Merino sheep found in the mountains of New Zealand. With its millions of fibres, Merino wool locks in body heat in the cold while remaining highly breathable, ensuring that you don't overheat.
A bonus of Merino garments is that they can be worn for days and won't stink, unlike synthetic fibres which will make you very noticeable. Your friends will thank you for it!
The Mondo zip has a high neck with a useful quarter-zip to allow for ventilation and its styling means it'll look just as good as outerwear when you take your jacket off down the pub. The fit is long and snug but with a good amount of stretch that will allow for a thin base layer underneath if desired.
The seams are all flat stitched for increased comfort and the sleeves have a bias cut so they don't dig in under the arms.
ABR Rating – 8 /10
In a Line: Expensive, but if you're after a Merino top, this is the one