I have a confession that needs to be told. Back in 2011, I bought a 650 V-Strom and it's still a part of the family. Over the past six years it's notched up more miles than any other bike we've had roll through the ABR mill and, other than burning out a clutch towing a Yamaha 660Z Ténéré with a snapped chain up a steep off-road trail in the Alps, it's been ultra-reliable.
Sure, it has weak points, for example, I could warm up my hands quicker by plunging them in a bucket of ice, waiting through the thaw and let the natural equilibrium re-establish, than I could by switching on the mournfully dreadful heated grips.
Also, the stock screen appears to have been knocked up by a designer whose brief was to place the rider in conditions reminiscent of the great storm of '86.  And then there's the width of the Strom when kitted out with stock Suzuki racks and panniers, at which point a wide load police escort would not look out of place.

These are details which should have been put right in the first place, well before one leaves the showroom for the rider to find themselves wedged in a narrow lane, losing fingers to frostbite as the Met Office issues hazardous weather warnings for the vortex developing behind the screen. On the other hand, these are all fixable issues; Oxford Products heated grips, a Givi screen and, er, don't even think about filtering. Sorted.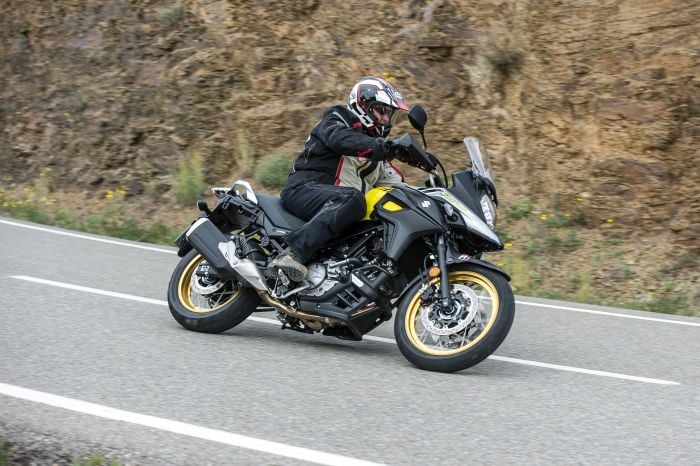 These fixable issues aside, the 650 V-Strom has been the unsung star of the past six years. It's the bike I just can't bear to sell for a number of reasons. It's never let us down, it's such a relaxing, comfortable bike to ride and it's worth far more to us as the versatile office mule than the price we'd get for it.
There's also the fact that we've grown to trust the bike, and I know that's a vague thing to say, but despite its hard life in the ABR stable I'd not think twice about packing the 650 right now and setting off on a 3,000-mile trip around Europe without adjusting, tinkering or replacing anything other than the obvious consumables.
Looking back at my first review of the V-Strom I'm going to say pretty much the same as I did then. Whilst there are a number of upgrades and changes on the 2017 bike – narrower pannier fitments being a notable feature –  the essence of the Suzuki has not changed whatsoever.
The Wee, as the smaller of the V-Stroms are affectionately known by their devoted following, is the sort of bike I'd like my son or my partner to ride. It's so easy to master and get on with and there is nothing in its performance that's going to scare the rider.
The seat is low enough for the average person to plant both feet on the floor, the handling is good (if you want better handling, you're probably the sort who wears knee sliders to bed) and the power delivery is smooth and non-threatening. And although the brakes are not going to stop you on a pixel, they are more than adequate for this mid-range machine.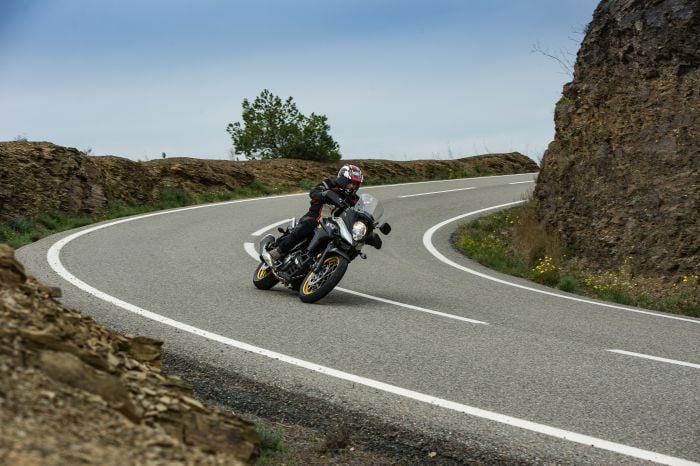 But don't get me wrong here the 650 V-Strom is more than capable of shifting you and all your gear at three-figure speeds and whilst the ride at this rate of progress isn't as relaxed as it would be on a 1000cc plus adventure bike you're not going to be gripped either. Plus, as I found on many a spirited group ride, whilst you'll be left in the dust by bigger machines when the riding is of a stop-start nature, when the Strom is up and gunning on sweeping A and B roads you'll be back on their tail soon enough.
But enough of performance figures and pushing the bike to its limits, that's not what owning this 650cc adventure bike's about. Whilst touring on the V-Strom I start to think less about overtaking opportunities and the sweeping bends ahead and more about the form of the mountain to my left, or the ripples on the lake to my right.
I guess what I'm saying here is, this is a bike on which you'll find yourself knowing far more about the surroundings your riding through and less about the strip of tarmac that's taking you through it. It's a machine that'll calm your riding style into touring mode rather than tempt the racer within. Which brings me nicely to the spectacular mountains of Tarragona and the new 2017 V-Strom 650 launch.
Just as I was beginning to think I'd experienced the best biking roads in Spain, along comes the serpentine tarmac of Tarragona, a mountainous coastal region just south of Barcelona. Having already reached the conclusion that, per head of population, Spain has more corners than any other country, Tarragona ups the ante.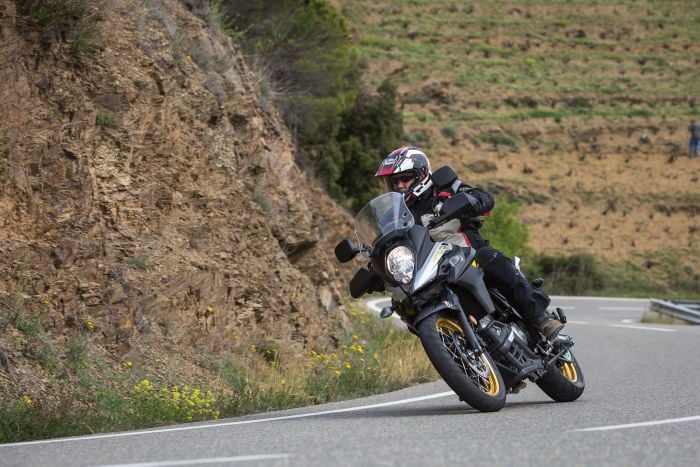 Planning regulations around these parts must contain commands such as 'where there is an opportunity to build a straight road include multiple chicanes'. I kid you not, this region is bend central, there are corners within corners. It is the world capital of wavy lines on a map, where I can imagine artisans in boutiques lovingly designing the perfect curve and camber. And the good news, our 150-mile route for the day was to take in the best of them.
Meeting up with the new 650, my first impressions were as follows; it's very yellow and looks like the V-Strom 1000. The new 'motocross yellow' colour scheme stands out alright, and at 20 paces the cosmetic changes make it difficult to tell the difference between the 650 and 1000 (more about the 1000 to come in the next issue of ABR).
Despite all the changes the new V-Strom is mistakenly a V-Strom, and sitting astride the bike I felt very much at home. And that's good news as the older model is comfortable, not too high, manoeuvrable and free of all the modern-day clutter that comes with the latest hi-tech machines.
If I felt a tinge of disappointment, then it's down to this; I like thick, sturdy looking handlebars and, considering it's a piece of equipment that's always in view, Suzuki are doing themselves and the V-Strom no favours by sticking with the thin and anaemic set taken from the older versions of the bike. It just cheapens the look and feel of the 650 and could be sorted whilst still offering a very competitive retail price.
Other than that, I can't think of anything to dislike about this bike. However, in true V-Strom fashion there's also nothing to get you going 'wow' either. It's more of a John Major than a Mick Jagger.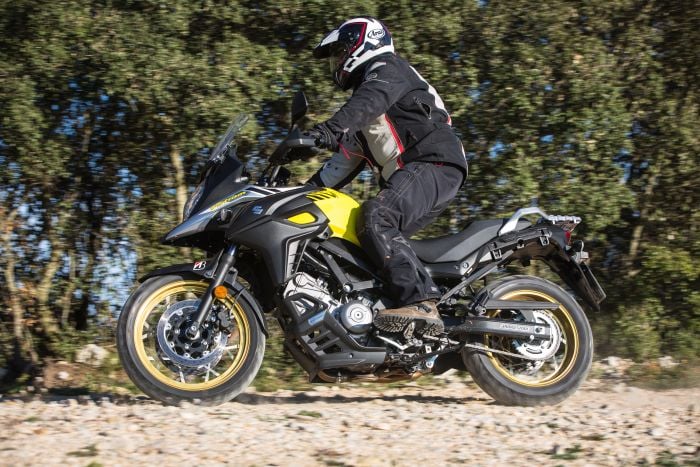 Most riders will be able to throw a leg over the relatively low 650 without booking a week off work to recuperate and then plant both feet on the floor for stability. It's a longer than average stretch to the bars but it's not uncomfortable in the slightest and the new seat is superb, but then so was the old one. In short, the V-Strom is a comfy place to hang out.
The new easy start system means firing up the Suzuki is like what you do in a modern car. Press the button once and the ignition system goes through a start-up sequence. Pulling away, I can't say I noticed the new low RPM assist feature but then again, I'm far too good a rider to stall a motorcycle, it's always the bikes fault.
Heading out into the Spanish hills, the pace was far faster than I'd normally ride the Wee back at home, but such is the way on press launches. What it did do, was give me the opportunity to test this bike at its limit, and what I'd say is this. When pushed, the Strom is a bike that is capable of fairly huming and hustling to the point of peg scraping and in the process, is far more stable and flickable than it should be.
It genuinely is a bike where the whole is greater than the sum of the parts. On paper, it really should not be as good as it is but past experience and my time spent on the launch in Spain only confirms this to be the case.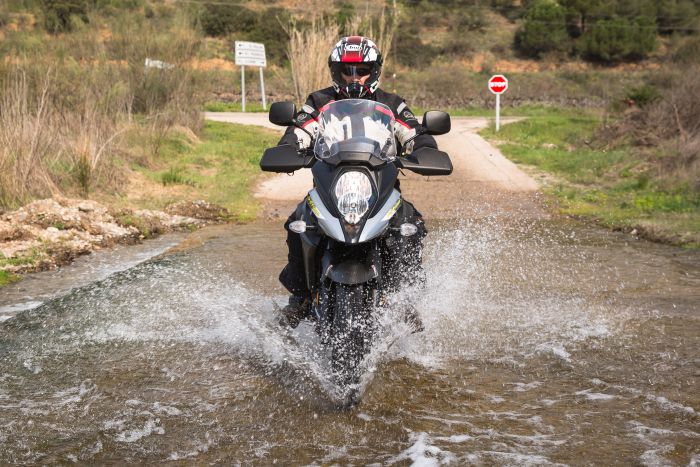 However, here's the real difference between the Suzuki V-Strom 650 and the seriously hi-tech adventure bikes I've been riding of late. The technology on this bike is far more basic than the superb rider aides found on those at the top end of the price scale, where the sophistication and performance of lean-sensitive traction control and ABS, plus intuitive rider modes, are nothing short of astonishing, and allow riders to push beyond their un-aided ability. The Strom is not such a bike, this is a machine where you need to ride within your limits and that's no bad thing.
At its (and my) limit, I found the ABS intervened where the conditions and situation did not demand, plus your style needs to be smooth, smooth, smooth or you could find yourself in trouble on fast, tight bends. But as I've said above, that's not how I ride the Strom in the real world, and neither will 99.9% of buyers. For its intended purpose, it does nothing other than delight.
The 650 is not a bike that springs to mind when talking about off-road ability, so top marks to Suzuki for letting a small group of us have use of the bikes after the press launch had finished, to explore (unescorted) the steep and rocky off-road trails in the hills around the hotel.
Once again, this only confirmed my past experience of the Suzuki and that is; it's capable of taking on terrain that the average rider would probably want to avoid. Though in reality, taking a Strom off-road is more about the competency of the rider than the ability of the bike, and it is hindered by low ground clearance. In short this is an 85% road and 15% off-road machine, gravel forest trails and graded pistes are where it's comfortable.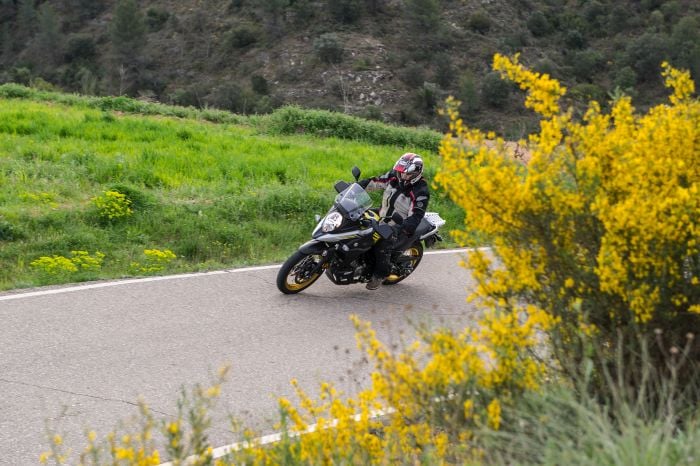 Conclusion
The new V-Strom 650 is just like the old V-Strom 650 only better, which means, in my view it's the best value road-focused mid-range adventure bike on the market.
It's pillion friendly, offers great value for money, is economical to run (over 60mpg is easily achievable), comfortable on long trips, comes with proven reliability and if you have a red mist moment is capable of running with the pack.
Best of all though, this is such a non-threatening, easy to ride bike that in my experience makes touring such a pleasant, relaxing and enjoyable time. Just make sure you buy aftermarket heated grips and a Givi screen and you're good to go; a very, very long and happy way.
ABR Verdict
As a commuter
It's economical, comfy and offers a commanding view. There are few better adventure style commuters on the market. The new Strom also comes with narrower pannier fitments, making filtering something you can now consider.
As a weekend tourer
A weekend away on the 650 V-Strom will be a gentler affair where you'll find yourself automatically travelling at a slower, more relaxed pace and enjoying the surroundings more, than on a bigger, more powerful machine. More chill less thrill will be perfect for some.
As an off-roader
In its standard form, there are far too many exposed parts to contemplate taking the Strom on anything more rugged than a well-manicured lawn. Beefed up with aftermarket protection, and forest trails and gentle off-roading would be fine, but this is not a machine for serious or semi-serious off-road play.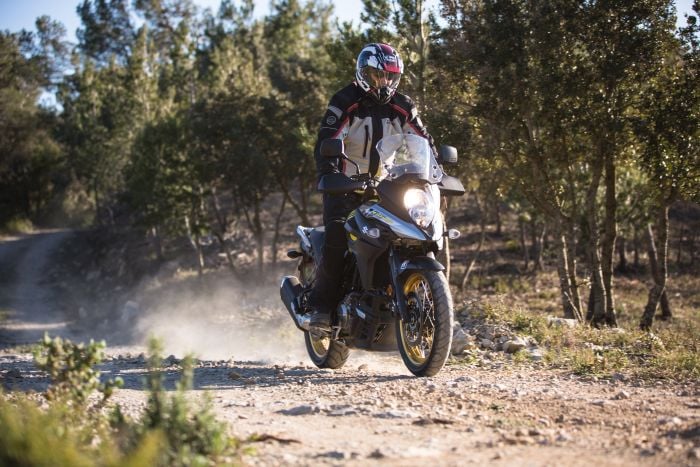 As a continental road tourer
Excellent fuel economy, great comfort and it'll cruise at a relaxed 90mph on the autobahns, even when fully loaded. Some will miss the extra punch of a more powerful adventure bike on the Alpine twisties, but then you don't buy a 650 V-Strom for hairpin heroics. The more relaxing nature of the Strom will mean you'll get to see more of your surroundings.
As a RTW overlander
I can't think of any reason why I'd not take a 650 V-Strom on a RTW trip with the proviso that I'd be sticking to tarmac or the gentler graded pistes. The excellent fuel economy would be a very welcome feature over such distances.
As a pillion carrier
We've been hugely impressed with the carrying capacity and pillion comfort of the 650 Strom. It's never going to be as impressive as the big, 1000cc plus beasts, but it does the job very well albeit at a slower pace.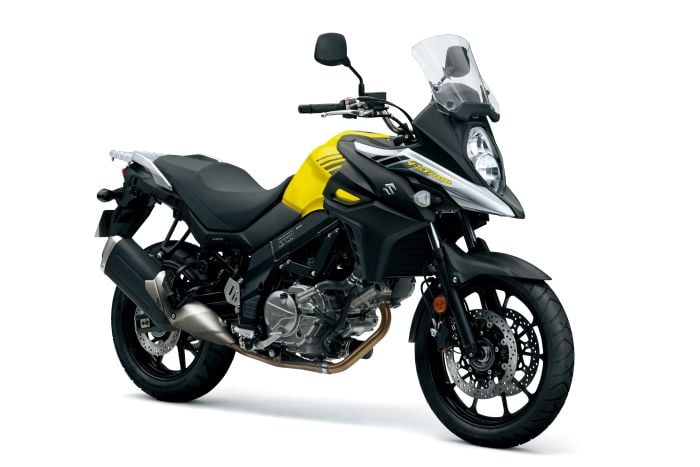 Specs at a glance
Suzuki V-Strom 650 (2017)
Price: Base model – £7,399: XT model – £7,899
Engine: 645cc V-Twin liquid cooled, 4-stroke, DOHC, 4 valves.
Power: [email protected]
Torque: [email protected]
Suspension: Front – 38mm nonadjustable forks; Rear – single shock preload adjustable
Brakes: Front – twin discs, 2 pistons: Rear – Single disk, single piston.
Tyres: Front – 110/80×19; Rear – 150/70×17
Seat Height: 830mm
Weight: 216kg (kerb weight)
Tank capacity: 20 litres
Range: 240 miles (approximately)
Models: V-Strom 650, £7,399; V-Strom 650 XT, £7,899 (includes wire wheels, hand guards, bash plate)