ABR readers get in touch to tell us all about their two-wheeled adventures…
Father and Son To The Pyrenees
As avid readers of ABR, I thought you may like to hear of the inspiration you gave my son and I to embark on a 16-day, 2,500- mile tour on our bikes last September. I'm Tony, 63 years young, and my son is Dan, who's 37 years old! We've both had bikes since our childhood.
I was riding my BMW R1200GSA, whilst Dan was riding the Yamaha XT1200Z Super Ténéré. We set off on a cold Wednesday morning at 4:30 am (neither of us could sleep with the eager anticipation) to catch the ferry to Cherbourg. We spent the first six nights travelling through France, heading towards Andorra.

Along the route we passed through the Loire Valley, continuing to the WWII memorial of Oradour-sur-Glane, a very humbling experience, and visited the ancient Lascaux Caves. We had spent many hours planning the routes on the computer at home some of them we took from different issues of ABR, for example route five, the D117 Gorges de Laude (p.48 Issue 37 Nov/Dec '16).
We crossed into Andorra and rode an eight-mile off-road track over the Pyrenees, which took in one river crossing into Spain. We were both pleased that we and the bikes came through unscathed. Not bad considering we were fully luggaged up, including panniers and tank bags! Lourdes was our next planned visit, after which we dropped back into Spain. We headed for Potes in the Picos mountains, had a day off the bikes and an extremely pleasant time walking the Cares Gorge.
For the last few days, we headed to the north coast to Ribadesella where we chilled out for a few days before catching the ferry from Santander back home. We did try, on two separate occasions, to go back into the Picos to visit the lakes of Covadonga, but each time the road was closed due to the large number of visitors on the pilgrimage to the Sanctuary of Covadonga.
Oh well, sounds like a real good excuse to go back again!
Keep up the good work.
Tony & Dan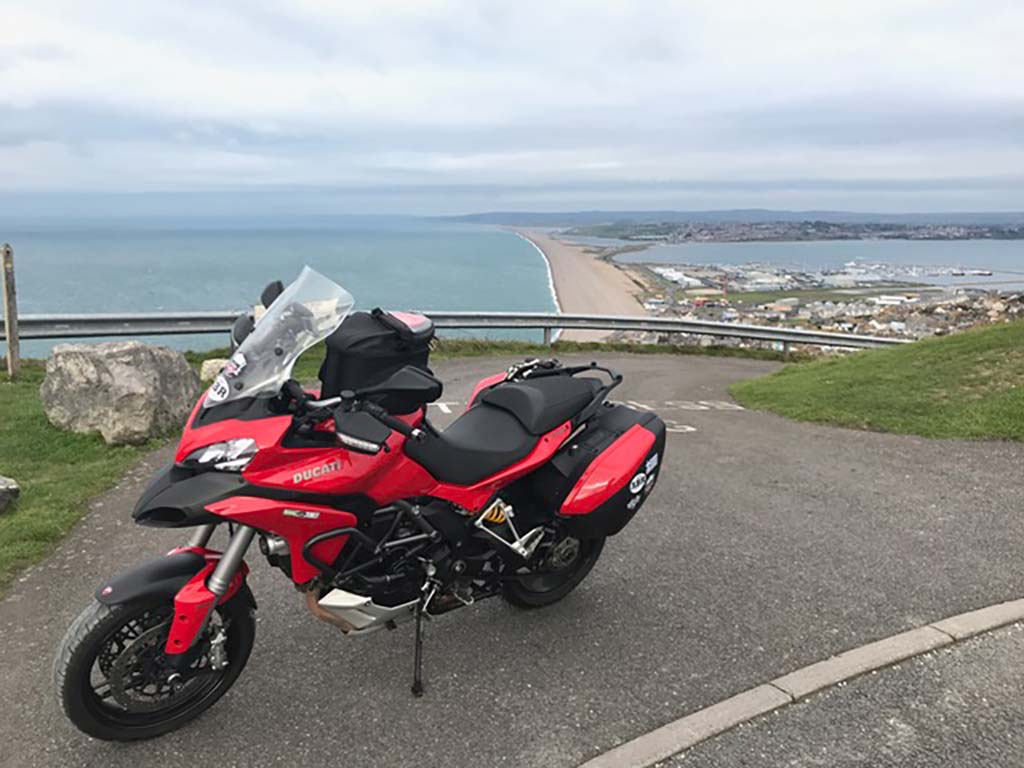 ---
460 Miles And Home In Time For Tea
The weather looked great for the weekend, so having left Stratford upon Avon on Friday for some sunny south coast seaside touring, I reached lovely Torquay and rode up the coast to Babbacombe Beach with its notorious 30% steep, narrow, twisty and tight, damp and leafy descent – going back up was a serious clutch-tweaking challenge!
I then had an ice-cream in Lyme Regis and rode along the wonderful curves to West Bay, pausing for a stroll on the beach for the 'Broadchurch' cliffs photo, and on to Weymouth for an overnight stop.
On Saturday, I took the sunny road by Chesil Beach to circuit the Isle of Portland (famous for providing the unique limestone for Buckingham Palace and St. Paul's). Then next on the list were Wool, Durdle Door, East and West Lulworth, Lulworth Cove, Corfe Castle and Swanage. So far, it was a real feast of sunshine,
quiet roads and lovely rich sea-air smells. There followed some smashing roads over the army tank firing ranges to Studland and the £1 Sandbanks Ferry to Poole Harbour, Bournemouth, and home in time for tea. I did 460 gloriously sunny miles, and had blue skies all the way.
Ace, my Multistrada, relished all the roads we came across, whether they were bone dry sweeping curves, leaf-mould wet, sandy or dual carriageway, but he comes into his own on motorways – where I always feel like the_'Rocketeer' (if you saw the movie 26 years ago).
Jonathan Targett
---
My New Adventure Bike
You wouldn't consider a Yamaha Tracer 900 an adventure bike, but every time I get on it, it gives me a great sense of adventure. It has limitations; I can't go green laning, across deserts or serious off-roading, but I do the occasional gravel/dirt road, fords and the odd mountain road. Hardknott and Wrynose were much more fun this year on the Tracer than my previous bike, a ZZR1400.
Why did I choose the Tracer? Well the ZZR was getting a bit of a handful, especially with my bad back, so I needed something lighter with a much more relaxed riding position, and the Tracer was within my budget and fitted the other requirements.
It made it much more enjoyable to ride the Lakes' roads and passes, and that's the nub of it, enjoyment. It has a cracking engine, and with over 200 miles per tank and the other features it was a no-brainer.
I've added one or two extras, as you do. Crash bars, fog lights, SatNav, cameras and top box. So, it has everything I need for a day's ride or a weekend or so away. Unfortunately, riding further than the UK at present is not possible due to financial constraints and a non-biking but tolerant wife, but I live in hope. And there are so many good parts of the UK which I still have yet to discover, I shouldn't complain.
I look forward to seeing your magazine drop through the letterbox and can't wait to read the articles which are so inspiring and make me wish I was 30 years younger. But, 30 years ago, I probably wouldn't have had the time to do what I am able to do now.
So, is the Tracer an adventure bike? Of course, it is, as is any other bike. It may not be able to go off-road or ride the Carretera Austral in Chile, but I would have a go given the chance.
Brian Martin
---