Dave Reynolds Takes Our Long Term V-Strom 1000XT On A Trip Around Spain To Check Out Its Touring Credentials
It was a sunny Sunday morning and I'd had custody of the V Strom 1000XT for all of 36 hours and 50-odd miles.
Now I was throwing a leg over to ride it the 200-or-so miles south to Plymouth to catch the Brittany Ferries Pont Aven to Santander ferry for a trip around Spain with some friends.
I'm sure you'll understand my trepidation when setting out on a trip that would see me cover an estimated 2,000 miles, on a bike of which I had little knowledge of. Would the seat be comfortable? Will there enough leg room? Will it vibrate my fillings out? Did I need to worry? Basically, no I didn't. The big Strom is a comfortable and very capable long-distance tourer.
I rocked up at Plymouth and joined the many other bikes queuing for the ferry. A few guys came over for a look and chat about the new Strom. The colour (bright yellow) was the first thing they noticed, but most were complimentary. It does look good in an 'in your face' way.
After a short ride into the depths of the ferry, I got it strapped down for the crossing and dumped my gear in the cabin. I then, of course, headed to the bar for a few beers and a nice dinner before getting a good sleep in the cabin. The next morning, I awoke to a blue sky and glorious sun near to the Spanish coast.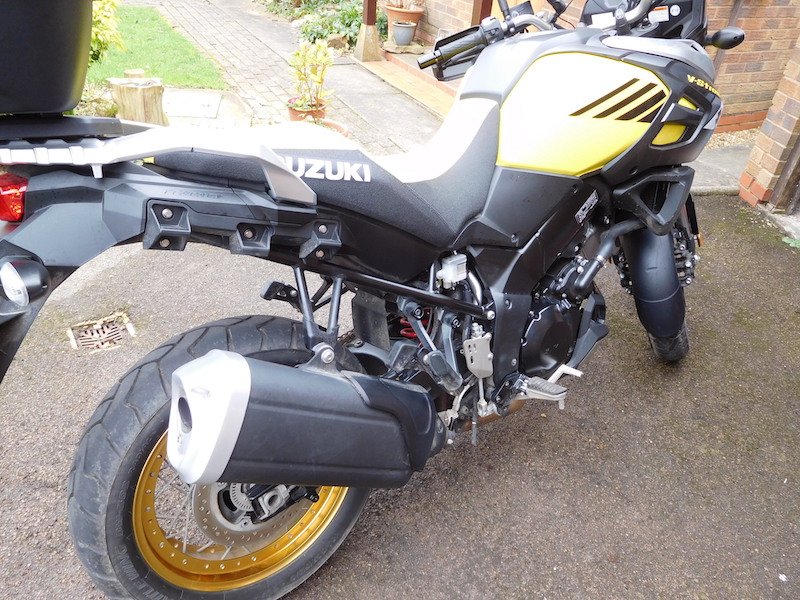 The call came over the tannoy for all drivers to make their way to the vehicle deck. Now, those of you that have made a ferry crossing will know how packed the bike deck can get. This day was no different, and I estimated at least 150 riders all trying to find and get to their steeds.
This is where having a bike that is bright yellow is a massive advantage, it's easily spotted amongst the many others, though it wasn't so easy to get to. They certainly pack 'em tight!
Off the ferry, I regrouped with my riding companions and then got out of a busy Santander, heading for our first hotel in a much quieter part of Spain.
During my eight-day trip, I averaged 250 miles a day and this would be hard work on a bike that doesn't offer the comfort of the Strom. From demanding mountain roads to flat, easy highways on the Spanish plains, this bike soaks up the miles so easily.
Riding dry, sunny roads is easier than commuting in the UK autumn rains, and I've done some of that since my return. The Strom's brakes, suspension and power delivery gave me, as a rider, total confidence to tackle any terrain that came up.
On the last day of riding, from Potes to Santander, it rained steadily the whole way, and after a dry period, it made for some greasy roads.
A slight wheel spin saw me turn up the traction control, and it certainly gives more confidence.
Every day of this trip, when arriving at the overnight stay, I could so easily have carried on for another 100 miles. Riding steady most days, the Strom returned 60mpg, and even on the more spirited days in the mountains, this didn't seem to change. From a 1000cc bike, this has to be commended.