Mike Beddows And Bryn Davies put 22 pairs of gloves to the test to find out which ones will be best for keeping your digits warm and dry this winter
In the perfect motorcyclist's world, there'd be no rain, the sun would shine all day long, temperatures would never dip below 20C, and roads would be lined with foam to cushion any impact when you fall, allowing you to wear the thinnest, lightest, and most comfortable gear all the time.
The reality is, especially for UK riders, that our summers are short (and generally pretty crap), and you're probably going to be riding in the cold and wet at some point in the year.
As such, if you want to enjoy your time in the saddle, you'll want to make sure that you've got gear that's up to the job and will keep your warm and comfortable when the temperatures drop, and the rain (or snow) starts to fall.
A lot of thought goes into buying jackets, trousers and boots that'll stand up to harsh weather, but in my experience, a lot of riders forget or completely overlook the benefit of a decent pair of winter motorcycle gloves, and end up with cold, numb hands that make it a struggle to pull the clutch in.
It's amazing how much of a difference a good pair of fully waterproofed, well-insulated gloves can make to your winter excursions on two wheels.
When coupled with heated grips, liner gloves and handguards they'll help keep your hands warm and comfortable on long, cold tours. Throw some bar muffs into the mix as well, and you'll be considering riding to Nordkapp in the winter.
In this issue of ABR, we're taking a look at winter riding gloves, putting 22 of them to the test to see which are worth your money. In our minds, a good pair only needs to do four things, but these four things are vitally important when riding in cold temperatures: They should keep your hands warm, dry, comfortable and protected.
How your gloves provide these things will vary from manufacturer to manufacturer, but it basically boils down to a quality insulating liner to provide warmth, a waterproof lining that's well implemented to keep the wet stuff out, a soft inner lining to look after you from a comfort perspective, and adequate armour in places that need protecting if you're unfortunate enough to take a fall.
If there's one thing we have learnt from this test, it's that you get what you pay for, and if you want a quality pair of winter riding gloves, you're going to have to dig deep into your pocket. Of course, there are outliers that offer adequate performance at the lower end of the price range, but they generally fall short of the premium products.
One final note before we dive into the reviews, it's worth noting that everyone's hands are different, and manufacturers don't make it easy with the variations in sizings, so I'd recommend you try any gloves on before buying them.
---
Liner Gloves
If you find that your hands are still getting cold after investing in a pair of winter riding gloves, then one of the best ways to add warmth and comfort to your gloves is by using a pair of liner gloves.
These thin gloves that essentially act as base layers for your hands come available in various materials, but we like to use merino wool in the winter as it helps to provide more warmth, and if it gets wet it still retains some of its insulating properties.
You can pick up a pair of merino wool liner gloves for as little as £10, and they make a world of difference when riding in low temperatures.
---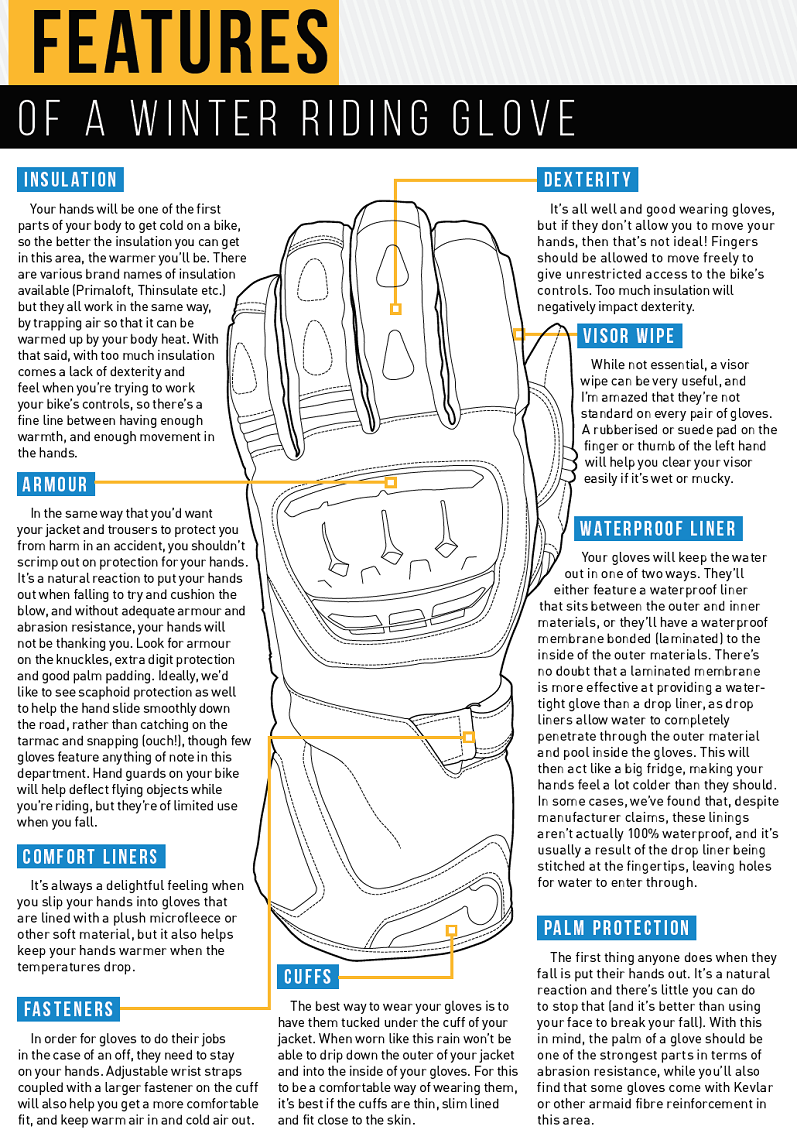 ---
Hevik Stoccolma Gloves
£49.99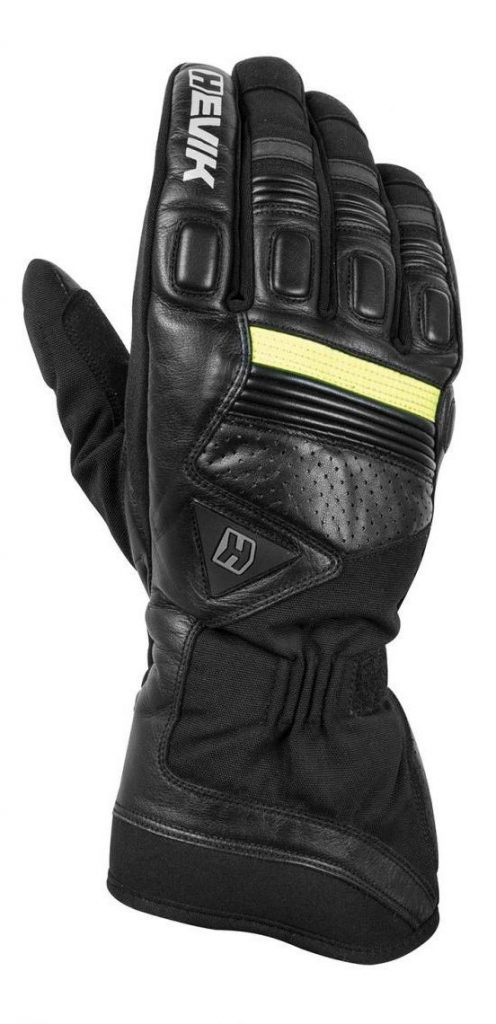 "You get what you pay for" is a saying that I often go by, and that is especially true with the Hevik Stoccolma gloves, which come in at £30 and are the cheapest gloves in this review.
They have a short cuff and comprise of a textile and leather mix with a waterproof membrane to keep the wet stuff out.
In honesty, they do not feel like winter gloves at all, and with the lack of any insulating fill, I'd say they are more of a bulky summer glove.
In terms of protection, the Stoccolma gloves are lacking. There is some padded leather on the knuckles and palms, but that's all you get.
The good points, other than the price, are a large yellow fluorescent strip on the knuckles to make you more noticeable, and a large visor wipe on the left index finger.
Unfortunately, these gloves failed a basic submergence test and water seeped into one of the fingers. I'm sure it wouldn't take much rain on a cold winter night for these gloves to quickly find their way to the back of the closet.
ABR Rating – 4/10
IN A LINE: An attractive price tag, but they're cheap for a reason.
---
Tucano Urbano Seppia Invernale
£59.99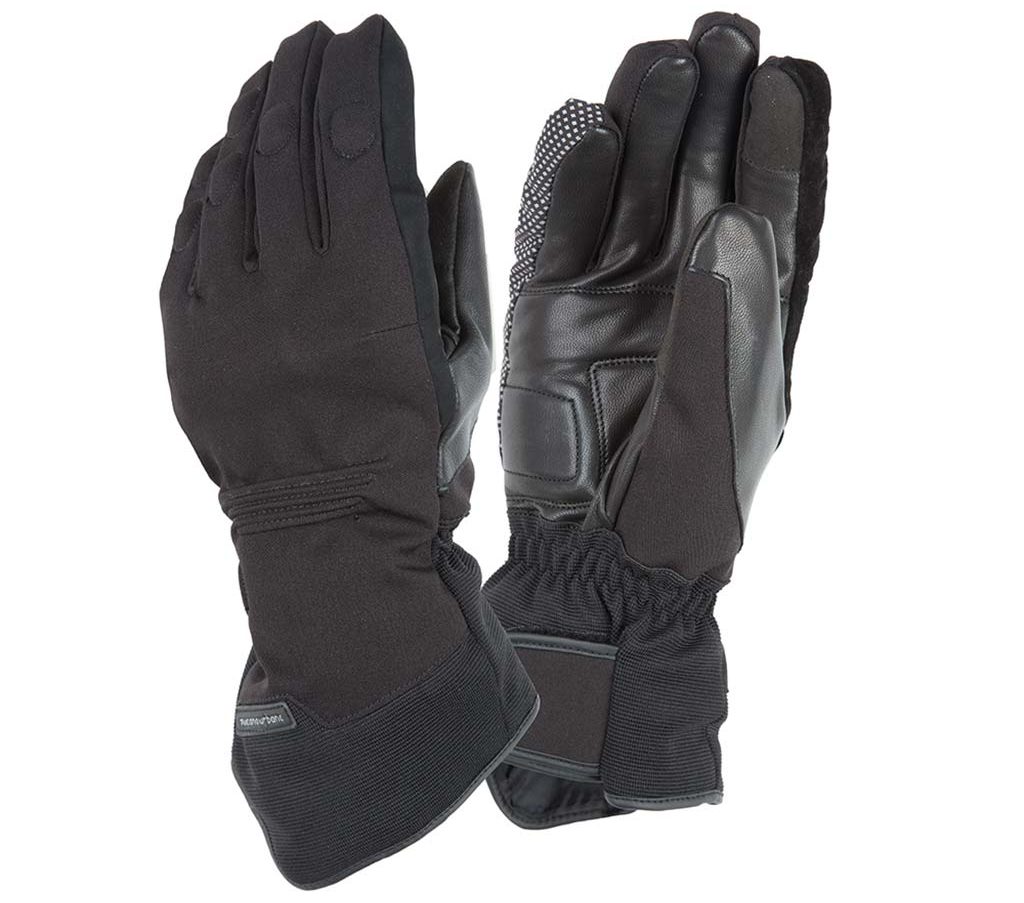 The Tucano Urbano gloves on review here are a great budget buy. For £59.99 they put themselves nicely at the budget end of the price range, so you shouldn't expect top-quality performance, but they tick most of the requirements for a good winter glove.
Constructed using a mix of textile (75%) and leather (25%), I'd class the New Seppia gloves as having a medium cuff, so those wanting gloves that rise far up with wrist will need to check the fit first.
Insulation and warmth are provided by a thick Thermalite lining, which kept my hands toasty warm whilst riding. Waterproofing is taken care of by a Hydroscud membrane that does the job well.
The left-hand thumb has a visor wipe that works well, and the gloves offer good protection in the way of solid knuckle armour and solid padding on the scaphoid.
All this will help protect the hands in either an off or if your hand gets hit by flying debris, and they are CE approved.
For those that require touchscreen capability, this budget glove complies, and it is possible to use the touchscreen with a gloved hand. If you're on a budget these gloves are really worth a punt.
ABR Rating – 8/10
IN A LINE: Great performance considering the price.
---
Oxford Voyager
£59.99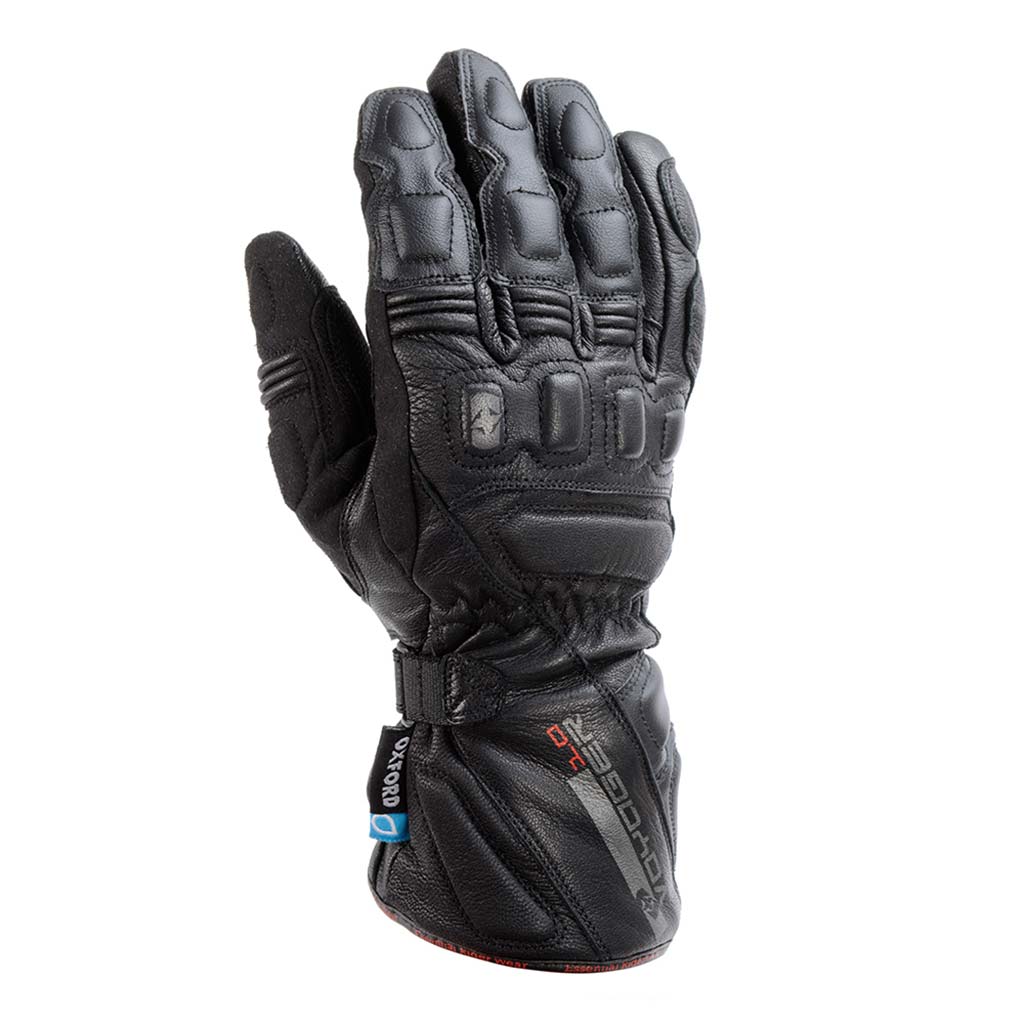 I'm a big fan of Oxford Products, but unfortunately, the Voyager gloves on test here are not what I'd consider to be good winter gloves.
For a start, they just look and feel cheap when compared to the others of comparable prices.
They only have a short cuff, and for a dedicated winter glove, I'd want something longer to help keep drafts and water out.
Despite featuring an AquaDERM 5k waterproof membrane, they suffered badly in the water test, and after being submerged for just a minute they started to let water in.
Firstly, at the fingertips but eventually along the seams on the sides as well. They certainly would not take a prolonged winter rain shower.
The Voyager gloves are constructed from an aniline leather with a goatskin leather palm and are secured with both a Velcro cuff fastener and also a Velcro wrist strap.
The thermal qualities are lacking, as the Voyager comes without any insulation, though this does mean that dexterity is good.
The gloves lack sufficient armour, coming with leather padding on the knuckles and fingers, but nothing substantial that I look for in a pair of gloves.
The suede visor wipe is a nice thought, but in use it wets out quickly, rendering it pretty useless.
ABR Rating – 4/10
IN A LINE: Comfortable gloves but lacking in many departments.
---
RST Paragon V WP Glove
£59.99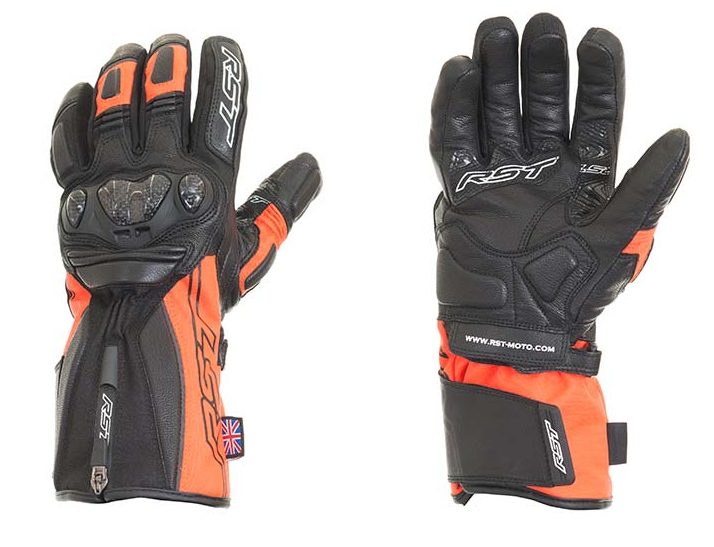 The RST Paragon V gloves certainly stand out, with our sample coming with bright red detailing throughout.
They are thinner than most winter riding gloves as they lack any form of insulation, though they do have a Hipora waterproof lining which will help keep your digits dry.
The lack of insulation may suit some riders, however, with the gloves offering a great amount of feel when using the bike's controls.
Not only this, but if they are used in conjunction with heated grips, then the heat can penetrate very quickly.
The Paragon V gloves come with a long cuff and are constructed using a combination of textile and cowhide leather, with areas that are likely to see abrasion being reinforced.
The knuckle is protected with solid carbon armour, and the fingers have an extra layer of padding.
The gloves are really comfortable to wear, but we would have liked to have seen the inclusion of a visor wipe and touch screen friendliness.
For the price, the Paragon Vs are a reasonable buy if you are after a mid-season glove or will only be out on warmer winter days.
If you find that your hands get cold easily, then you will want to look for something with more insulation.
ABR Rating – 7/10
IN A LINE: Good gloves but will be a bit cold for winter use.
---
Spada Enforcer WP Gloves
£69.99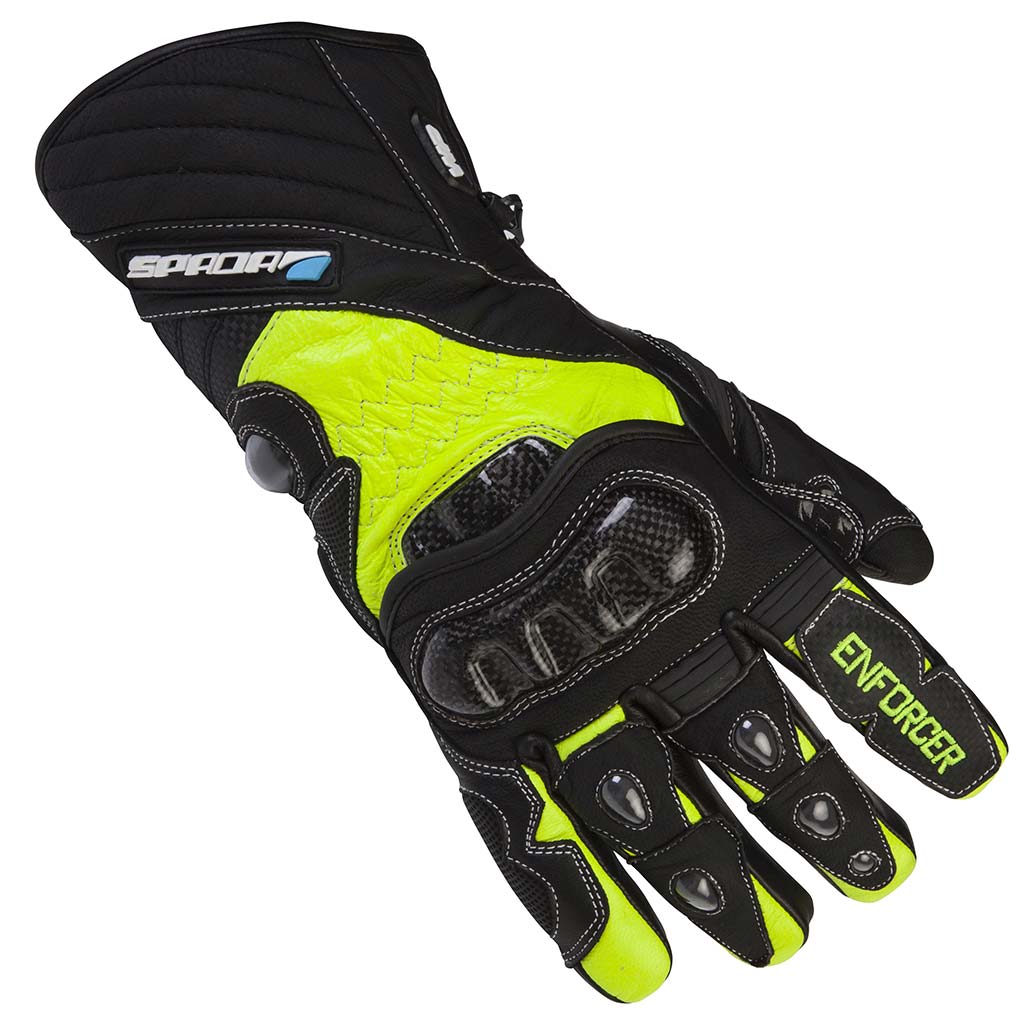 The first thing you will notice about the Spada Enforcer gloves is the significant armour stitched into the leather, including a large floating knuckle protector.
If you are after good protection, then these gloves come well equipped. The floating knuckles make the Enforcers nice to wear, with them providing a lot of feel and dexterity.
There's plenty of padding throughout the gloves, and the 3M Thinsulate insulation takes care of keeping your hands snug and warm on winter rides.
Unfortunately, the Hipora waterproof membrane did not keep water out during the submergence test.
These gloves were the worst on test for letting water in, presumably because the Hipora lining has been stitched through to attach it to the fingers, compromising the waterproof nature of the membrane.
On the left thumb, there's a large visor wipe, but it's a bit flimsy and doesn't look like it will last too long when being used regularly.
The gloves aren't touch screen friendly, either.
ABR Rating – 5/10
IN A LINE: Fantastic armour in these gloves, but poor during the water test.
---
Weise Montana 120 WP Gloves
£79.99

The Weise Montana gloves are a good buy at the cheaper end of the price range. They are mainly a leather glove with some polyester material incorporated in the construction.
A Hipora waterproof lining helps keep the wet stuff out, and a 120 gram Thinsulate inner liner helps to provide insulating warmth.
The lining does feel a bit thin for dedicated winter use, but if used in tandem with heated grips they will offer a good balance on movement and flexibility to warmth.
The Montana gloves have a long cuff, which is great for the colder months, and they have a drawstring toggle storm cuff to secure the inner waterproof layer to your wrist and make it harder for water to enter, a nice touch.
It's a shame that all winter gloves don't come with this fantastic feature.
The gloves lack a visor wipe, which is disappointing, and the fingers aren't touchscreen friendly.
There is 3M Scotchlite piping to the back of the hand to help increase visibility in darker conditions, and protection is provided by solid, fixed knuckle armour.
For the price, they're an excellent cheaper option and well worth considering, but if you are after a big, thick, bulky, and super warm pair of winter gloves then these probably are not for you.
ABR Rating – 7/10
IN A LINE: Fantastic buy for the money, but maybe a tad thin for a true winter glove.
---
Roadskin Sports Glove
£89.00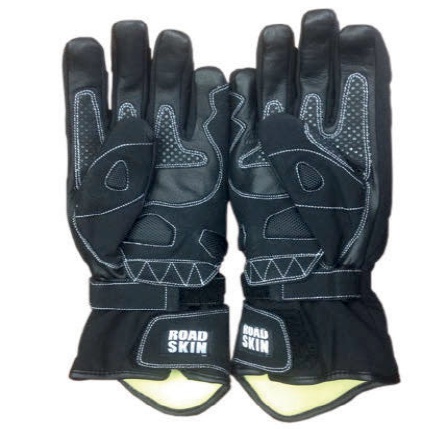 Although the RRP of the Roadskin Sports Gloves is £89, the company is currently offering them for a discounted £59 via their website.
At this price, they are a fantastic buy if you like the styling. The Sports Gloves are seriously armoured and come with a floating knuckle protector.
Three of the fingers have extra floating armour on them, and while I can see the benefit of this (Roadskin has added protection without sacrificing dexterity), dirt and grime tends to accumulate between the armour and the knuckles.
There's lots of padding in all the high impact areas, and one of the main selling points is the inclusion of DuPont Kevlar on the palms to provide significant levels of abrasion resistance.
The gloves have sufficient thermal properties in the way of a 3M Thinsulate inner liner, and a Hypora membrane helps to keep your digits dry – a great combination for cold, wet winter riding.
The white stitching all over the glove is perfect for making your hands stand out to oncoming traffic, which can only be good.
While there's sufficient warmth on offer, there's still a decent amount of dexterity and feel when using your bike's controls, though they're not touchscreen compatible.
ABR Rating – 8/10
IN A LINE: Kevlar-reinforced gloves with decent thermal properties.
---
Richa Ice Polar GTX Glove
£89.99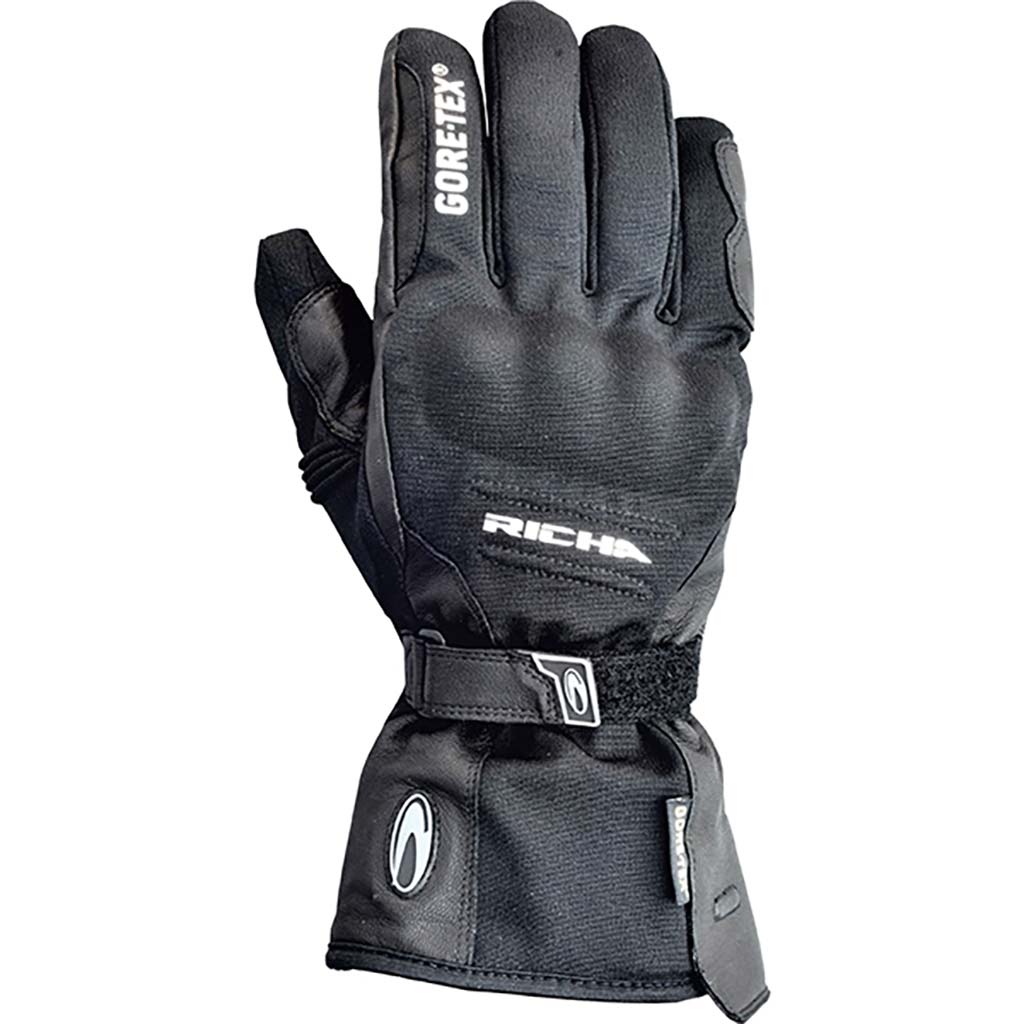 The Richa Ice Polar GTX are one of the cheapest pairs of gloves in this review to make use of a Gore-Tex waterproof lining, and as Gore-Tex as a company demands strict quality control from any products that use their membranes, the Ice Polar GTX gloves are very well made considering their price.
When compared against similarly priced products, these Richa gloves more than hold their own.
They are mainly a textile glove, with leather on the palms and all high impact areas to help resist abrasion. Adequate warmth is provided by a Thermolite lining, and this is complemented by a luxuriously soft tri-fleece lining.
The gloves have a long cuff, which is good, and it is secured with both a Velcro wrist strap and a Velcro cuff.
There is no finger armour, which is a shame, but there is good knuckle protection.
On the left -hand index finger, there is a large visor wipe to keep your visor clear as and when required. Unfortunately, the gloves are not touchscreen friendly.
Apart from the Gore-Tex and Richa names, there are no other markings to make you stand out at night or in poor visibility, though this isn't a deal-breaker, especially if your bike already has hand guards which will block the gloves from sight anyway.
ABR Rating – 8/10
IN A LINE: A good lightweight pair of gloves.
---
Racer Victory GTX Glove
£89.99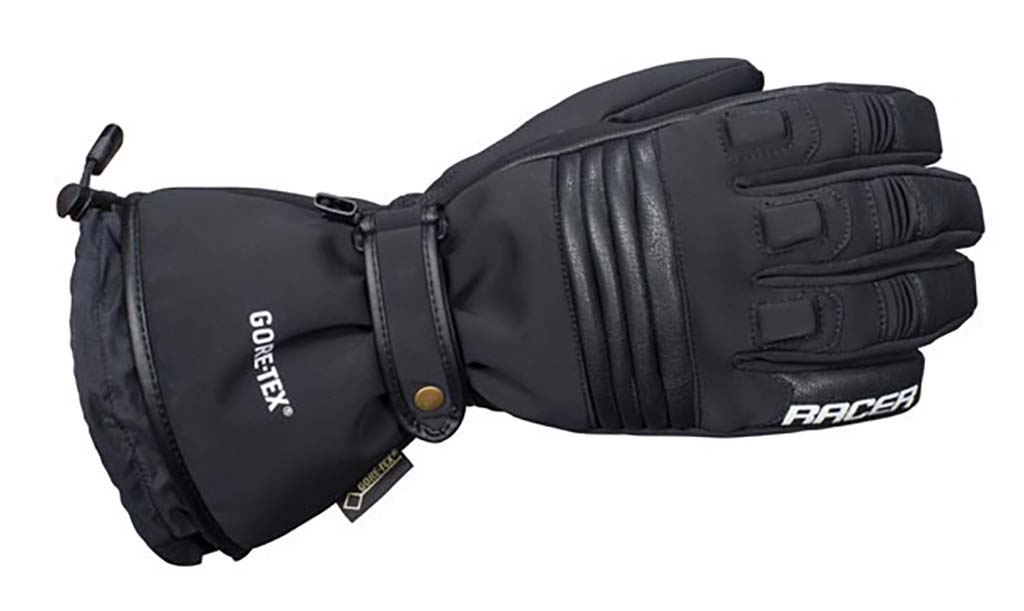 The Racer Victory GTX are a great high cuff glove well suited for the winter weather and you can get it for a reasonable price if you shop around.
Like the Richa Ice Polar GTX, the gloves make use of a Gore-Tex membrane to provide quality protection from the elements.
The outer consists of a soft-shell type material, and the fabric offers high levels of comfort.
One of the biggest selling points, for me, is the drawstring on the cuff, which allows it to be secured tightly against your arm to reduce the chance of rain seeping inside the gloves.
The Victory gloves are extremely comfortable and warm to wear, but my first impressions were that I could use them as ski gloves.
In my opinion, winter biking gloves need more protection than what is on offer here, if you're concerned about staying safe (though they are still CE approved).
But if you are not in favour of hard armour on your gloves then these are a fantastic buy.
Unfortunately, you can't use touchscreen devices whilst wearing these gloves.
ABR Rating – 7/10
IN A LINE: Extremely comfortable, reasonably priced wither gloves.
---
Lindstrands Ajax Glove
£94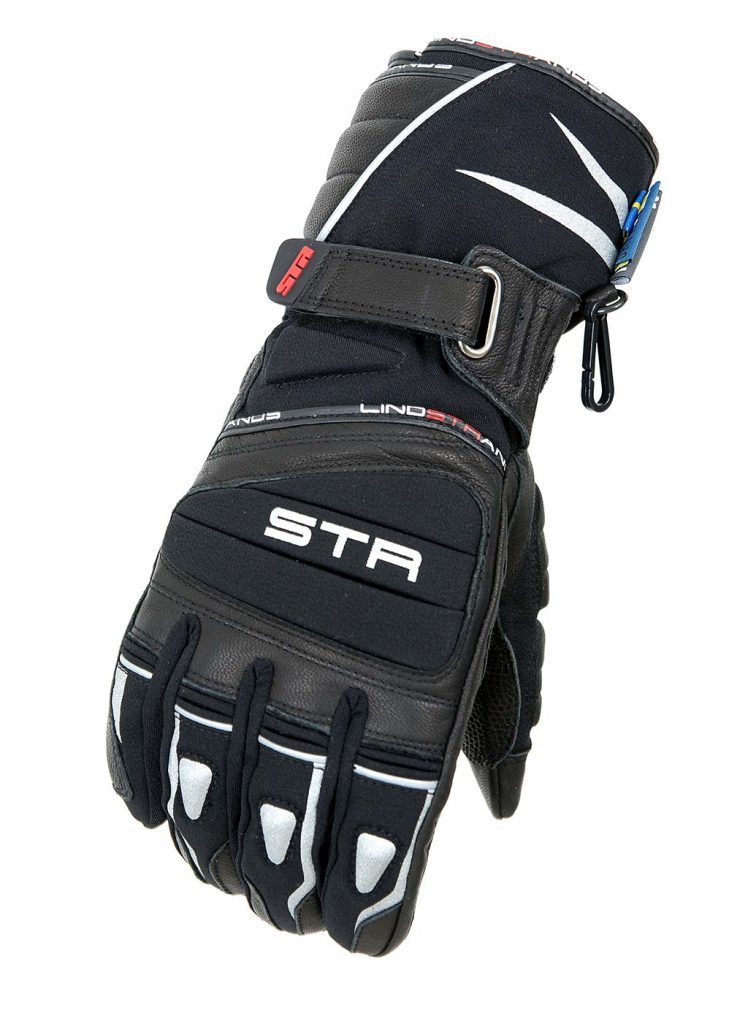 I'm a huge fan of Lindstrands gloves and have owned the brand's summer model, the Comet, for about a year (ABR best in test issue 34), and they are fantastic gloves.
The Ajax, which we have on review here, don't disappoint either.
They are constructed from goatskin leather (palm) and textile (back of hand), and protection comes in the way of soft padding on the knuckles.
Abrasion resistance is provided by Hi-Art reinforcements on the palms and other high impact areas.
Usually, I prefer hard armour on gloves, but the extra leather padding on the Ajax seems adequate, and they are CE-approved.
The gloves have a fantastic fit, and they're low profile enough to enable you to have a nice amount of feel on the controls of the bike.
This comes at a cost if you're planning on extended cold weather riding as, although they come with a Thinsulate lining, they're not as warm as the bulkier gloves in this test.
That said, my heated grips were able to penetrate efficiently and warm my palms up.
The waterproofing is taken care of by a Dryway Plus membrane, which is waterproof (passed our submergence test with flying colours) and windproof.
Touchscreen devices can also be used with this glove, which is great…
ABR Rating – 7/10
IN A LINE: Fantastic glove, though it may be a little chilly in serious winter conditions.
---
Furygan Escape Sympatex Glove
£99.99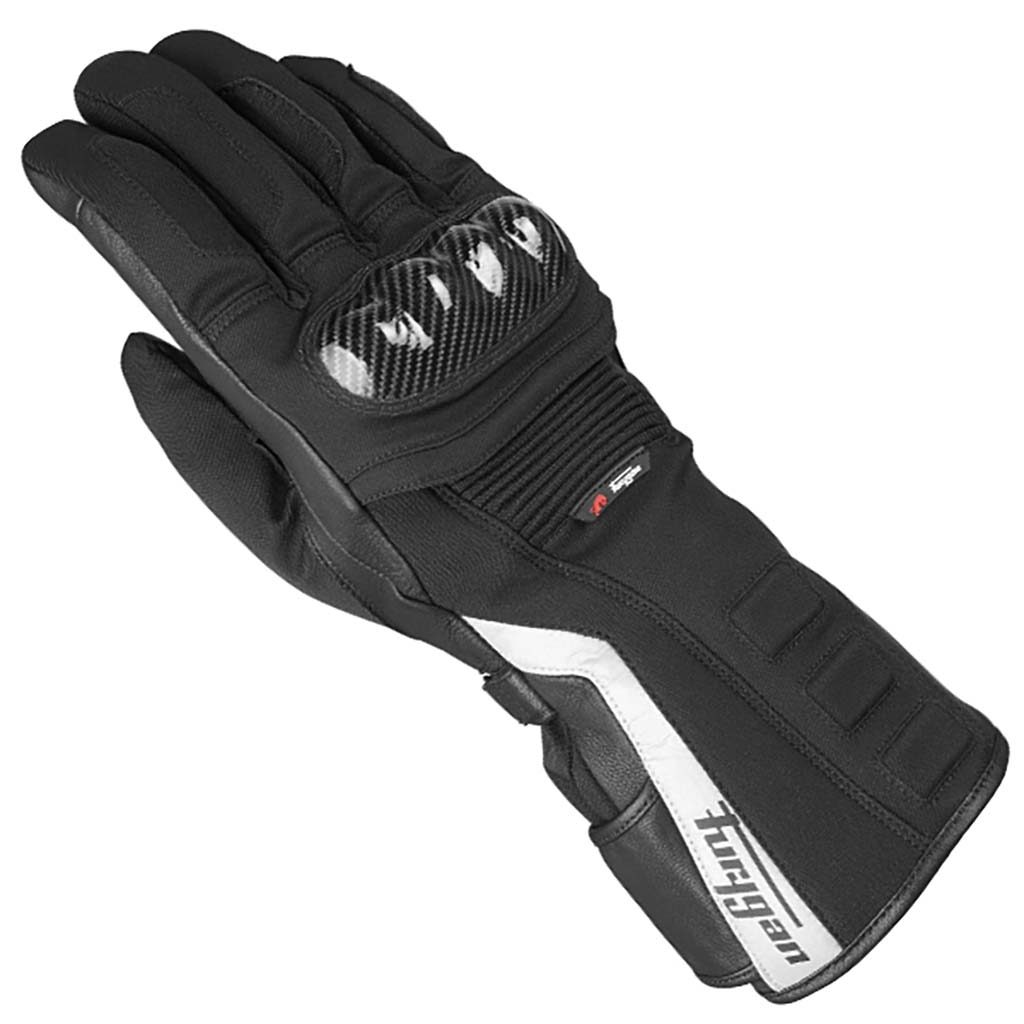 The Furygan Escape Sympatex is an excellent mid-priced winter glove.
It has all the features that I was looking for in a good winter glove; it's comfortable to wear, protective and has decent thermal and waterproof properties whilst still allowing feeling through the fingers.
The forefingers and thumbs have a specific material to allow the use of touchscreen devices, which is great, while the rest of the gloves are constructed from a variety of materials, including polyamide, goat leather and neoprene, and come with a long cuff which is good for winter use.
Protection is achieved through a floating solid knuckle protector and although I generally don't like floating knuckles (very easy to accumulate dirt and rainwater underneath), I can see the benefit as it allows better movement and less restriction over fixed knuckle protectors.
All high impact areas are reinforced, and reflective stripes on the cuffs will help you stand out on the road. The gloves are CE-approved.
Waterproofing is provided by a Sympatex membrane, and this does the job well, while a small thumb visor wipe can be found on the left hand.
I was generally impressed with this glove and if you are after a sub-£100 winter glove then these are a good buy.
ABR Rating – 9/10
IN A LINE: Great winter gloves at a reasonable price.
---
Halvarssons Advance Glove
£109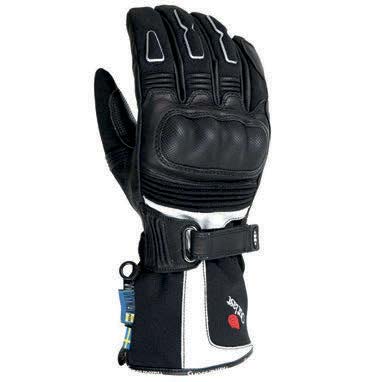 Halvarssons entry into this review is the Advance Glove, a very nice, close-fitting glove that's fully waterproof (passed submergence test with flying colours) , well insulated, and offers a great amount of dexterity.
Warmth is provided by a Thinsulate liner coupled with Outlast technology, a really neat material that works by absorbing heat from your body and storing it, releasing it when temperatures drop, and the best bit about it is that it's not bulky so you still retain a good feel for the bike's controls.
A Dryway Plus membrane keeps the rain out, and protection from impacts and abrasion is provided by a hard knuckle protector and Hi-Art, which has fantastic abrasion resistance scores (the gloves are CE approved).
The palm of the glove also features a leather reinforced slider and extra protection where your hands will be in contact with the bars.
For such a thin and supple glove, the Advance is surprisingly warm, though not as warm as some of the thicker gloves in this test.
They're supple enough to wear when trail riding, and if they're paired with some merino wool liners and heated grips, they should keep you warm enough during the British winter.
ABR Rating – 8/10
IN A LINE: A great pair of winter gloves that's got a lot going for them.
---
Dane Thule Gore-Tex Glove
£109.99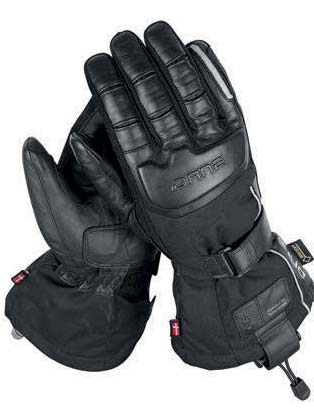 For this issue's review, Dane submitted its brand-new Thule Gore-Tex gloves, which have been specifically designed for winter use.
They're made with a textile and leather mix and, considering they're well insulated, they're fairly tactile and provide a lot of feel when grasping your bike's controls.
The cuff rises high and features a great drawstring closure at the top to keep warm air in and cold air out.
Waterproofing is provided by a Gore-Tex lining that does the job of keeping water out very well, passing our submergence with no issues at all.
Warmth comes from the Thinsulate lining, which is thicker on the back of the hands to allow your heated grips to penetrate to the palms.
It's a great way of doing things, and the Thule's were suitably warm in temperatures around 5C plus, though with liner gloves you could go colder.
A visor wipe on the left-hand index finger is welcome, though the gloves aren't touchscreen friendly.
In terms of protection, you'll find the Thule lacking when compared to, say, the Bering Yucca, with the system comprising of a fairly small, soft knuckle protector and a leather reinforced palm.
This does, however, mean that the Thule gloves are incredibly comfortable to wear as they're so soft and malleable, and the inner lining, which has a high-brush fleece on the back of the hand, is an absolute delight.
ABR Rating – 7/10
IN A LINE: Warmth and comfort is the name of the game here.
---
Macna Fugitive
£119.99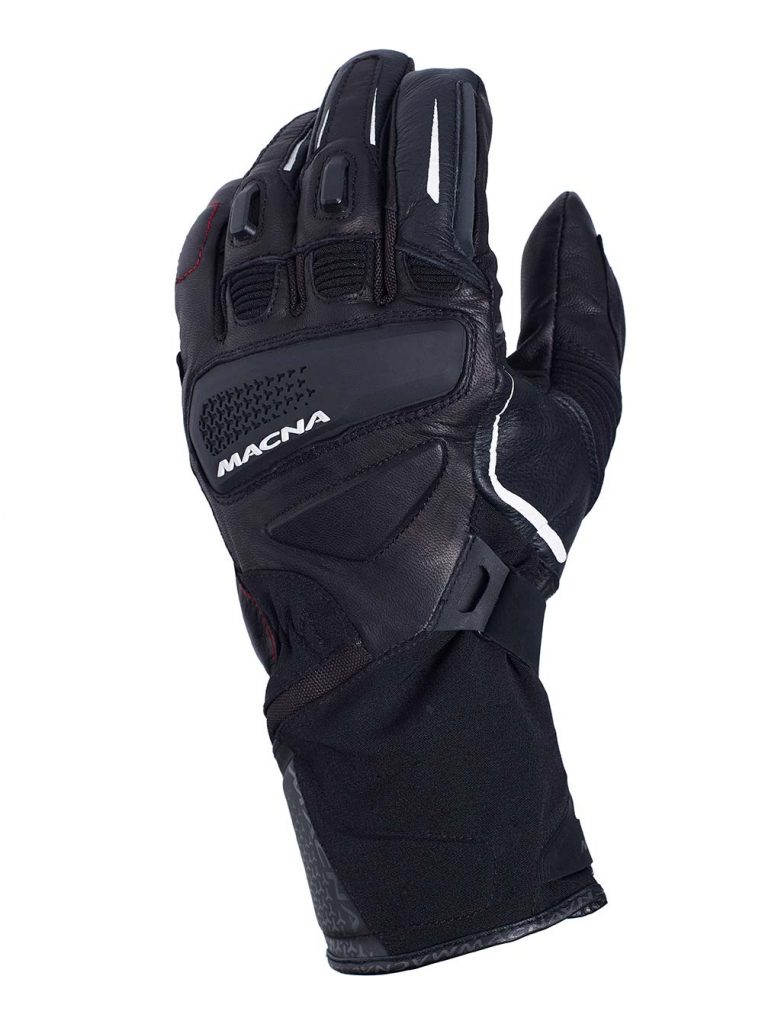 The Fugitive gloves from Macna feel great when worn, and have plenty of thermal properties to make them a suitable choice for cold-weather riding.
They are made from quality goat leather and offer great flexibility and dexterity which is essential for good control response.
They offer plenty of protection with a sliding pad on the palm to protect the pisiform bone and the area around it, plus you get TPR knuckle and finger protection (middle two fingers), while they're also CE approved.
On the left hand, there's a visor wipe, which is a nice addition.
Safety consideration is taken care of with bright yellow stripes on the gloves, which is great as it makes your hands stand out.
For weather protection, the glove has a Raintex membrane inside the leather and has, what Macna calls, a 'water exhaust'.
This water exhaust lets the water that's trapped between the membrane and the leather escape and does not allow the glove to become waterlogged, and this works well in use.
The gloves are touch screen compliant and this is due to the conductive fibre in the ends of the fingers which allows you to use smartphones or GPS units.
ABR Rating – 8/10
IN A LINE: Good thick pair of gloves at a reasonable price.
---
BMW ProWinter Gloves
£120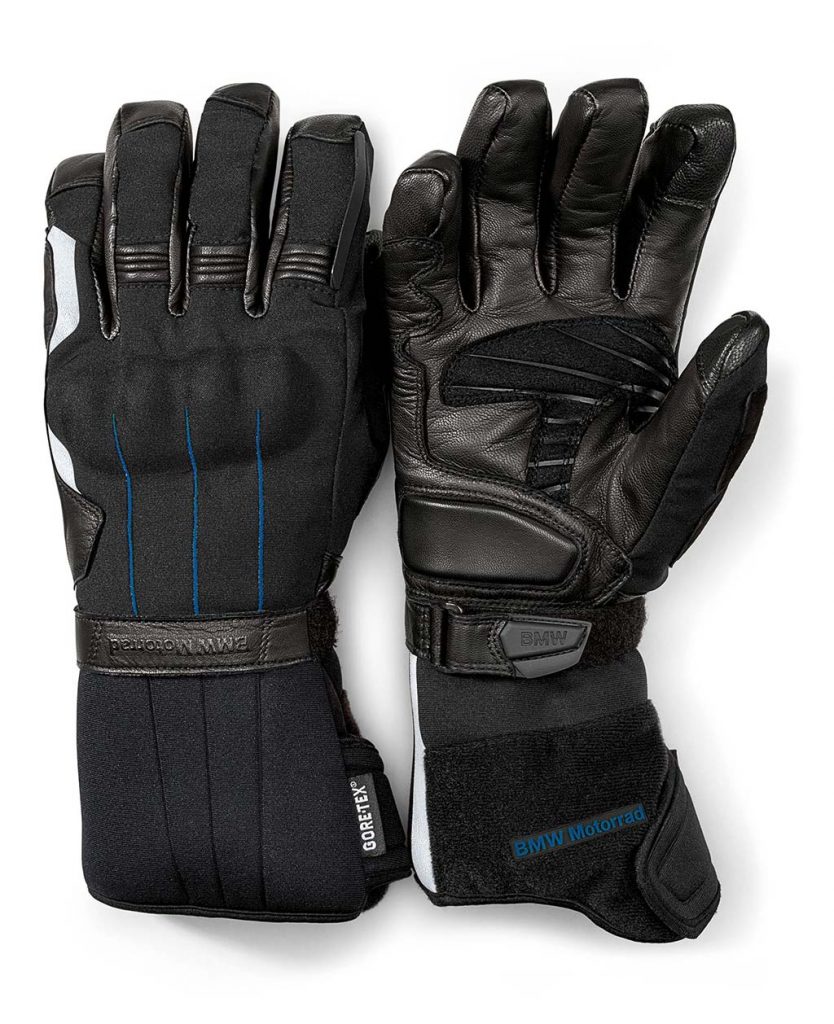 Considering that these are BMW branded gloves, and anything with the BMW badge on it typically commands a high price tag, I was surprised to see the relatively modest price tag of £120 on the ProWinter gloves.
The first thing you'll notice about these gloves is just how chunky and thick they are thanks to the plentiful Thinsulate lining.
If your primary concern is keeping your hands warm in the saddle, then they'll do that job with ease.
But while the thickness is good in one aspect, it means that they're a bit cumbersome to wear, and operating your bike's controls might take a bit of getting used to.
To offer further protection from the elements, the ProWinter gloves come with a high cuff, and they're constructed using a mix of textile with leather inserts in places likely to see abrasion.
The fingertips are also touchscreen compatible.
The knuckles feature a thick armour insert to absorb impacts and extra padding on the palms adds further impact protection in the event of an off.
The gloves are also CE approved.
A visor wipe on the left index finger complements a fantastic and well-constructed winter glove that offers top drawer warmth.
ABR Rating – 9/10
IN A LINE: Fantastic winter gloves at a surprising price.
---
Spidi H2Out Globetracker Glove
£138.99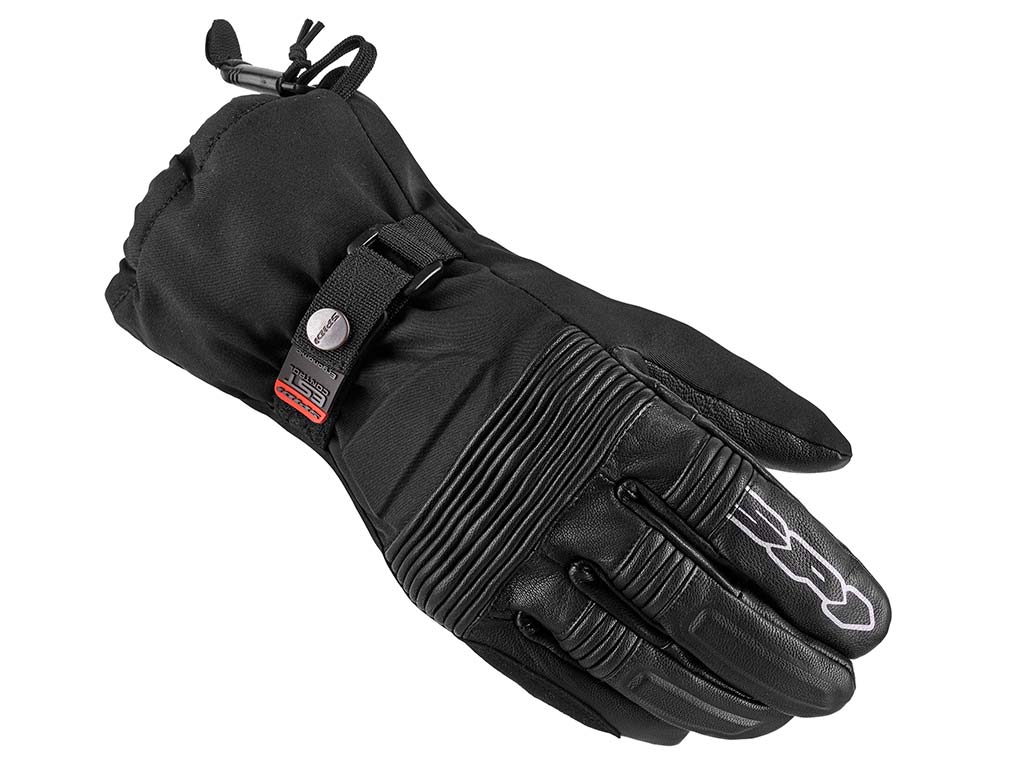 At £138.99, the Spidi GlobeTracker gloves are at the higher end of the middle price range, and here they come up against a lot of competition from other similarly priced products.
They're made mainly from textile, with leather reinforcements provided where required on areas that are likely to see abrasion.
Waterproofing is provided by an H2Out membrane, which dealt without submergence test easily, and a top-quality Primaloft insulating fill coupled with a Powerwool inner lining help to provide warmth.
In terms of protection on offer, Spidi has opted for soft, padded knuckles rather than hard armour, and this is an area where other similarly priced products don't skimp.
That said, with padding rather than armour, comfort is increased for the wearer.
Despite the Primaloft insulation, the GlobeTrackers perform more like warm summer gloves than a winter-specific product, so keep this in mind if warmth is your top priority.
The cuff, which rises a nice amount up the wrist, features a Velcro closure, though I found that it didn't adjust tight enough for my relatively small arms.
A drawstring closure is also used to help keep warm air in, though it's fiddly to operate.
The gloves aren't touchscreen compatible, either.
ABR Rating – 6/10
IN A LINE: A good pair of gloves, but not warm enough for cold winter use.
---
Knox Zero2 Mk2
£139.99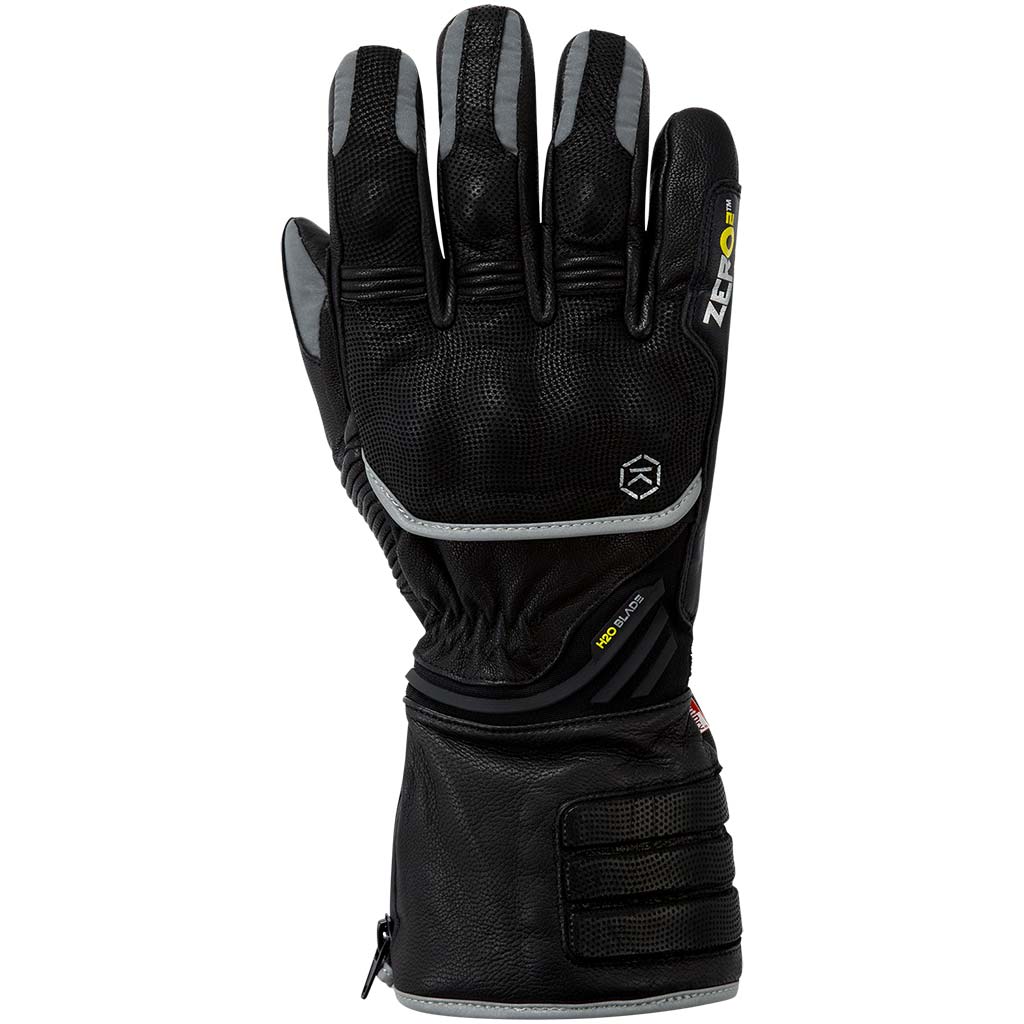 We tested the original Knox Zero2 gloves in 2015, and back then we found them to be an excellent pair of winter gloves.
Since then, Knox has updated the product, giving us the Zero2 MK2, a pair of winter riding gloves that feature a thick Primaloft insulating fill to provide an excellent amount of warmth, a laminated OutDry membrane to keep the rain out, and a series of well-placed and thought-out armour inserts to give you as much impact protection as possible.
In our testing, the gloves were very warm and let in no moisture at all, making them ideal for cold, British winters.
As touched on, the protection provided is excellent, the hard floating knuckle armour is complemented by a medical-grade gel, which sits under the armour, for added impact absorption, and Knox's well-placed Scaphoid Protection System provides a level of protection over and above most other products on test.
Further padding on the wrists and fingers enhance protection on offer, and both index fingers are touchscreen compatible.
All in all, the Knox Zero2 Mk2 gloves are excellent winter riding gloves.
They're warm, waterproof and protective, and they don't sacrifice too much dexterity for it.
ABR Rating- 9/10
IN A LINE: Fantastic, leather winter gloves.
---
Alpinestars Patron Gore-Tex Gloves
£169.99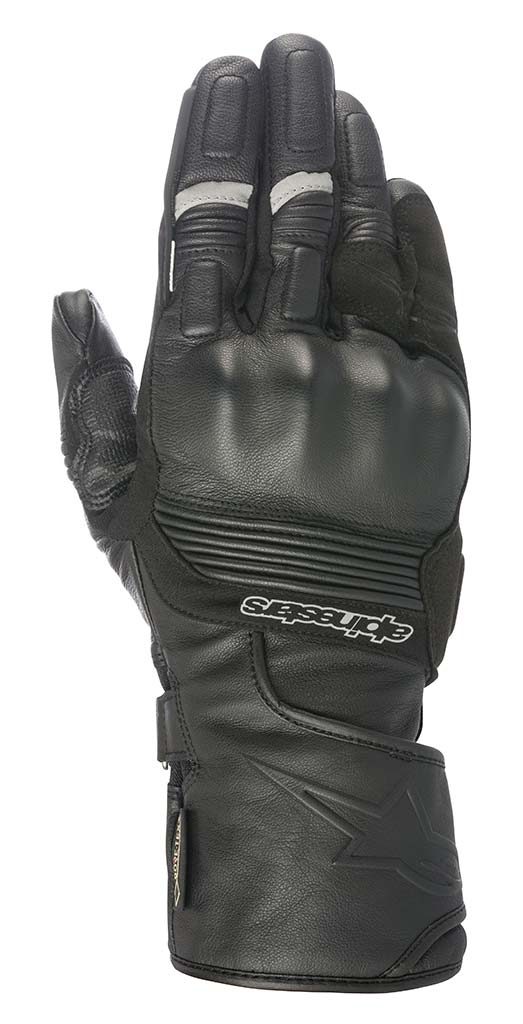 The first thing you'll notice when you look at the Patron Gore-Tex gloves is just how thin they are, and this is mostly down to a lack of an insulated liner.
Alpinestars states that the Patron is waterproof (thanks to the Gore-Tex membrane) but unlined, making it perfect for wet weather riding in warmer climates.
This pretty much rules them out for use in UK winters though, and I guess this reflects the fact that Alpinestars is an Italian brand.
Waterproofing is provided by a Gore-Tex lining, and it does its job of keeping water out very well.
The close-fitting nature of the Patron gloves means that you'll have maximum dexterity when riding, to the point where I could have probably typed this review while wearing them.
Protection comes in the form of solid palm sliders and knuckle armour, and there's extra padding on the fingers to provide more protection.
The gloves are touchscreen-friendly, which is a nice touch.
If you're not going to be riding in cold weather but still want an element of weather protection then the Patron gloves are spot on.
They allow for superb dexterity, and you get a good feel of the bike's controls.
They also don't skimp out on protection, and the Gore-Tex lining will do a good job of keeping you dry.
ABR RATING – 7/10
IN A LINE: Brilliant in mild weather, lacking in warmth for winter conditions.
---
Held Twin Gloves
£173.99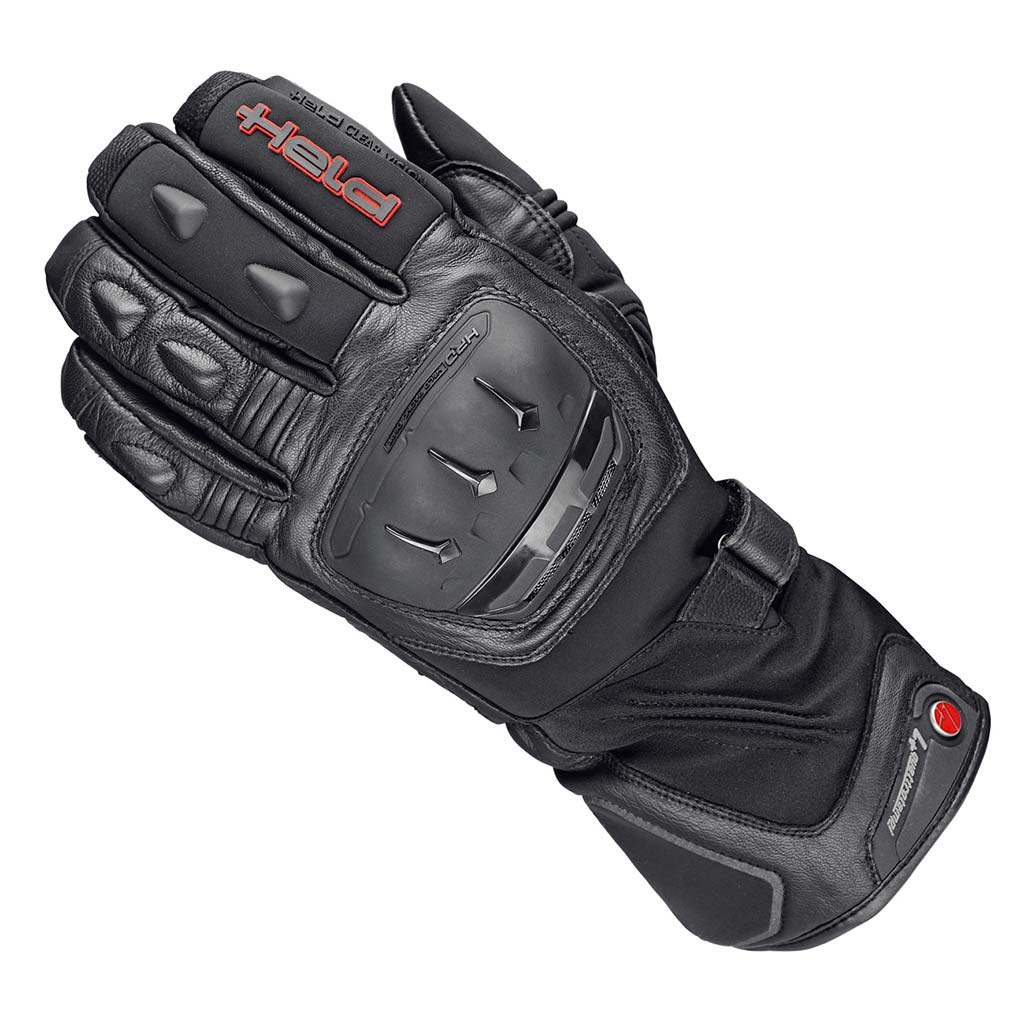 The Held Twin Gloves are expensive, but there's no denying that they're a quality pair of gloves. Waterproofing is provided by a Gore-Tex membrane, while Gore 2in1 technology makes an appearance, which splits the inner glove into two chambers, one dry and one warm (though both are fully waterproof).
For keeping your hands intact, the Twin Gloves come well equipped, with hard knuckle and finger armour, plus reinforcements in high-abrasion areas.
In terms of warmth, the Twin Gloves excel, providing your hand is in the 'warm' chamber.
On a recent ride I spent a full day riding in torrential rain (where I was pleased to discover a useful visor wipe), and a few more days in temperatures barely above freezing.
My hands remained warm and bone dry for the duration. Comfort provided is superb, with the Pique Push-Pull lining feeling luxurious against the skin.
It's worth noting that there is a downside to such incredible amounts of warmth, and that's how chunky the gloves are.
For the first 600-or-so miles of wearing them, operating switches on my handlebars was a tricky task, and my hands felt clumsy.
Beyond those miles, they loosened, and there's more feeling in them.
To give you an idea of how highly I rate these gloves, I'm going to be wearing them to the Elephant Rally in February.
ABR Rating – 9/10
IN A LINE: Serious warmth. If you get cold hands, you'll want to check these out.
---
Rev'It Taurus GTX
£189.99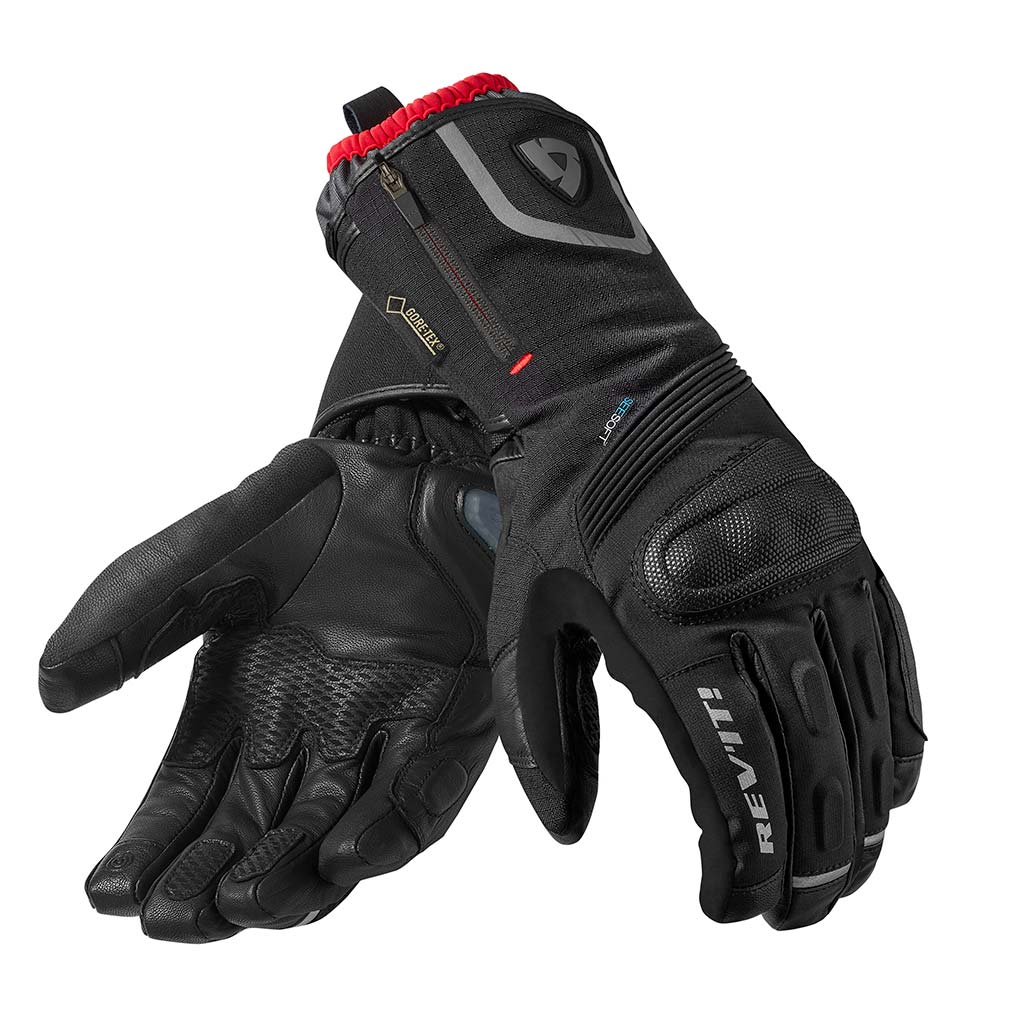 The Taurus GTX are a very interesting pair of gloves from Rev'it.
They make use of a unique dual cuff system that allows you to wear a waterproof cuff under your jacket sleeve, while the outer glove shell sits outside the sleeve, creating a water and windproof seal.
Insulation is provided by a very warm PrimaLoft Gold fill, waterproofing is taken care of by a Gore-Tex lining, and protection is looked after by hard knuckle armour, as well as finger Temperfoam padding, a TPU palm slider, and reinforcements in high-abrasion areas.
The build quality is outstanding, and as soon as you pick them up you understand the need for such a high price tag.
They passed our submergence test with ease, and for such a warm glove they're surprisingly tactile. Comfort is also top quality.
But there's one problem; actually getting them on your hands.
Rev'it has tried to reinvent the glove cuff by including a single motion closure system.
In theory, it's great, it means you can easily get a snug fit around the cuffs (and the cuffs rise nice and high), but in practice, it's an unnecessary fiddle, and even with my relatively slim wrists I was getting frustrated as the cuffs struggle to open up far enough.
ABR RATING – 8/10
IN A LINE: Superb gloves, but oh so frustrating to get on and off.
---
Rukka R-Star 2 in 1 GTX Glove
£249.99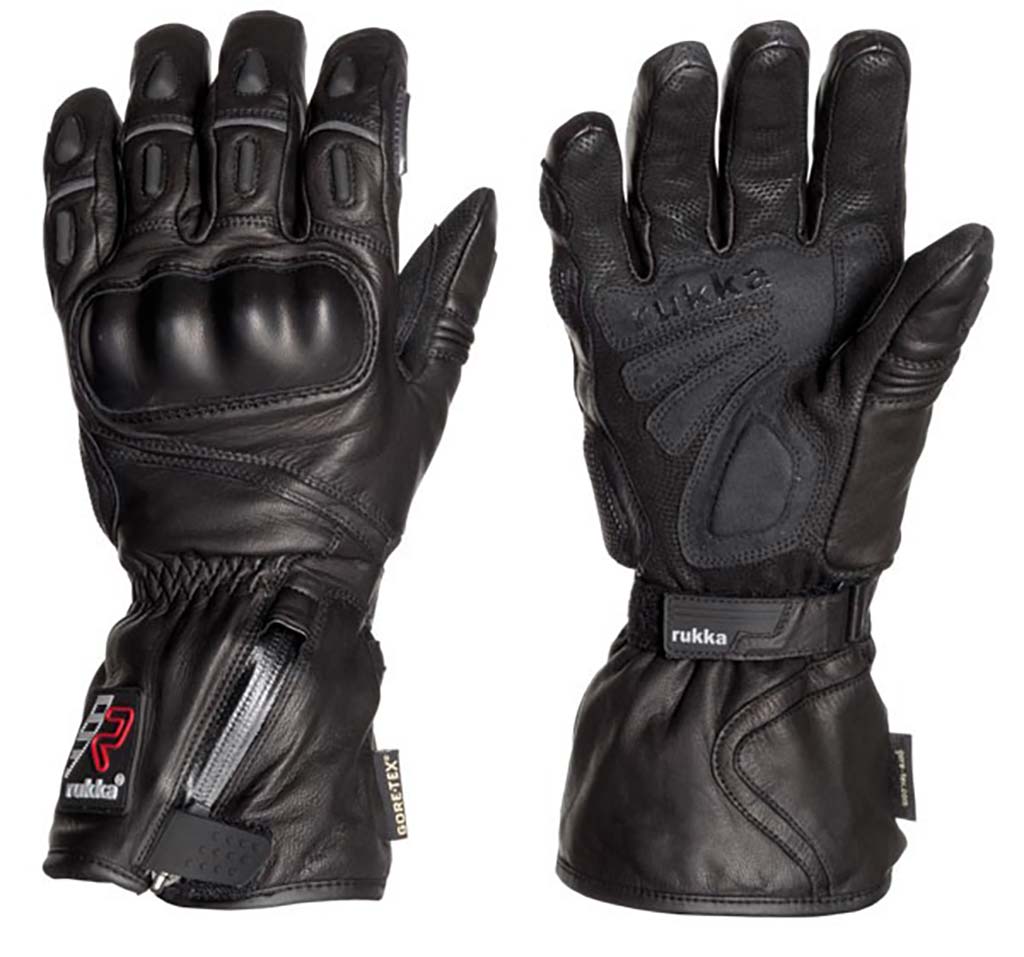 The Rukka R-Star 2 in 1 leather gloves are a fantastic pair of winter riding gloves, but they command an eye-watering price tag.
They've got it all; warmth, genuine waterproofing, adequate protection, and a nifty 'dual chamber' inner.
As soon as you pick up the gloves you can tell that they're well made and feel a cut above the rest (and you'd bloody hope that to be the case at £249.99!), they use a Gore-Tex lining, which completely keeps water out, an Outlast lining for excellent temperature regulation, and a very effective synthetic insulation that works really well to keep your hands warm.
There's adequate armour throughout, including a carbon knuckle shield and padded scaphoid protection, and a double layering of suede leather across the palms.
Like the Held Twin Gloves, they feature a 'dual chamber' which divides the inner into two.
Put your hand in the 'warm' side if you want extra insulation, or dive into the 'grip' side if you want a bit more dexterity.
It's a very good feature and it's more than a gimmick, with each function genuinely offering something different.
The thing that I would change would be the cuff closures. They use a water-resistant zip, and while there's no problem with that, it allows for little adjustability, so they were a little oversized on me around the wrists.
ABR Rating – 9/10
IN A LINE: Quality winter gloves that are great in all areas.