With summer just around the corner, it's time to start thinking about getting rid of the insulated linings and heated jackets and bringing out the warm weather riding gear. Mike Beddows puts 13 pairs of summer gloves to the test.
We're all too familiar with the traditional British summer where we are promised heatwaves and sunny days only to get caught out in an unexpected rainstorm. This isn't just true on our home turf either, it can rain at any point when you're touring mainland Europe, and I've been caught out in more summer rainstorms than I care to remember.
I'll usually have packed a waterproof lining for my jacket and trousers, my boots will be waterproof as standard, but when the rain starts falling and my gloves let water through like a sieve, I know I'm in for an uncomfortable ride. For this reason, we have decided to review waterproof summer riding gloves in this issue of Adventure Bike Rider.
Regardless of whether you're in the market for a summer glove or a fully insulated winter glove, the importance of this piece of kit can often be overlooked. A lot of consideration is put into buying the best jackets, trousers and boots, but it seems to be that gloves are a mere afterthought where the best purchase is the one that makes the least impact on the wallet. I know this because I've been guilty of buying sub-standard gloves in the past.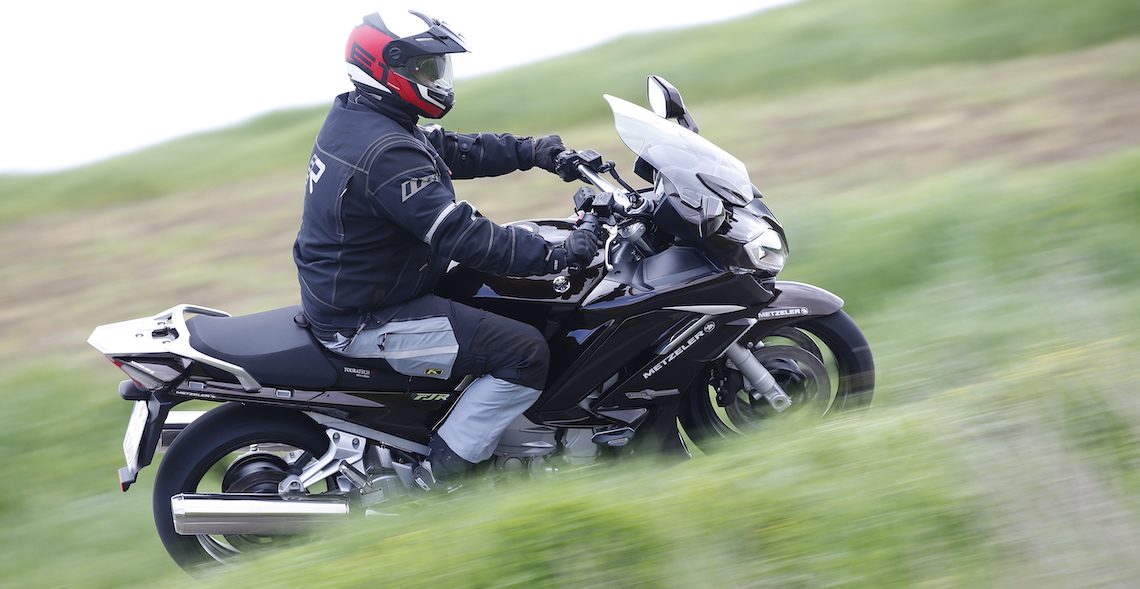 Indeed, this is no time to skimp, and it's worth remembering that your hands are in control of the bike and, more often than not, they're the first thing to hit the floor if you have an off. You're going to need gloves that offer a compromise of all-day comfort if you're in the saddle for multiple hours, while also providing adequate protection from impacts and scrapes.
When looking at the general anatomy of a glove, you'll see that most have the protection side covered with various armoured points, which usually include the knuckles, fingers and palms. With this in mind, you'll notice that many gloves are often quite bulky with the amount of armour on offer. This is great in the case of an accident, but comfort and dexterity is often sacrificed. It's worth noting that if you're distracted by the discomfort in your hands, then your attention isn't going to be fully on riding. When buying you'll have to decide what's more important to you.
When it comes to the waterproof side of things, a glove is only waterproof until you take it off, and that big hole at the top where you put your hands in, that also lets water in. If you need to take your gloves off in the rain (to read a map, access your wallet, take a pee behind a bush etc.) then remember that putting a wet hand in a dry glove will make the inside wet! Similarly, if you allow rainwater to drain into the opening, your hands are going to get wet, and even the most waterproof gloves in the world won't be able to stop that.
Like with all motorcycle gear, sizing between gloves can vary massively. The standard way to measure the size of your hands is to measure around a clenched fist, but to some manufacturers, you may be an L, to others an XL. For this reason, we highly recommend trying for size before you buy.
---
Under or Over
Do you wear your gloves over or under your jacket cuff? It's a question that has been hotly debated in the adventure motorcycling community since the dawn of time, and one that's unlikely to ever reach a definite conclusion.
In our opinion, there are different instances where each style is acceptable, though for a majority of riding you're going to be best wearing your jacket over your gloves. The reason behind this is that if you get caught out in the rain and your jacket is tucked into your glove cuffs, water will drain down the outer of your jacket and get funnelled to the inside of your gloves, getting your hands wet.
---
Fitting
You've chosen a glove and it's time to try them on and check the fit. Put the glove on and open your hand. Your fingertips should not come into contact with the end of the glove. If they do, you'll need a size up. They should feel tight, but not restrictive, and if you're buying leather choose a slightly tighter fit as the material will stretch with use.
The next check is to clench your fists as if you were gripping your handlebars. Again, there should be no, or very little contact with the tips of the fingers. Fasten the cuff and check that you can't pull the glove off without undoing it. If you can, you need a smaller size.
---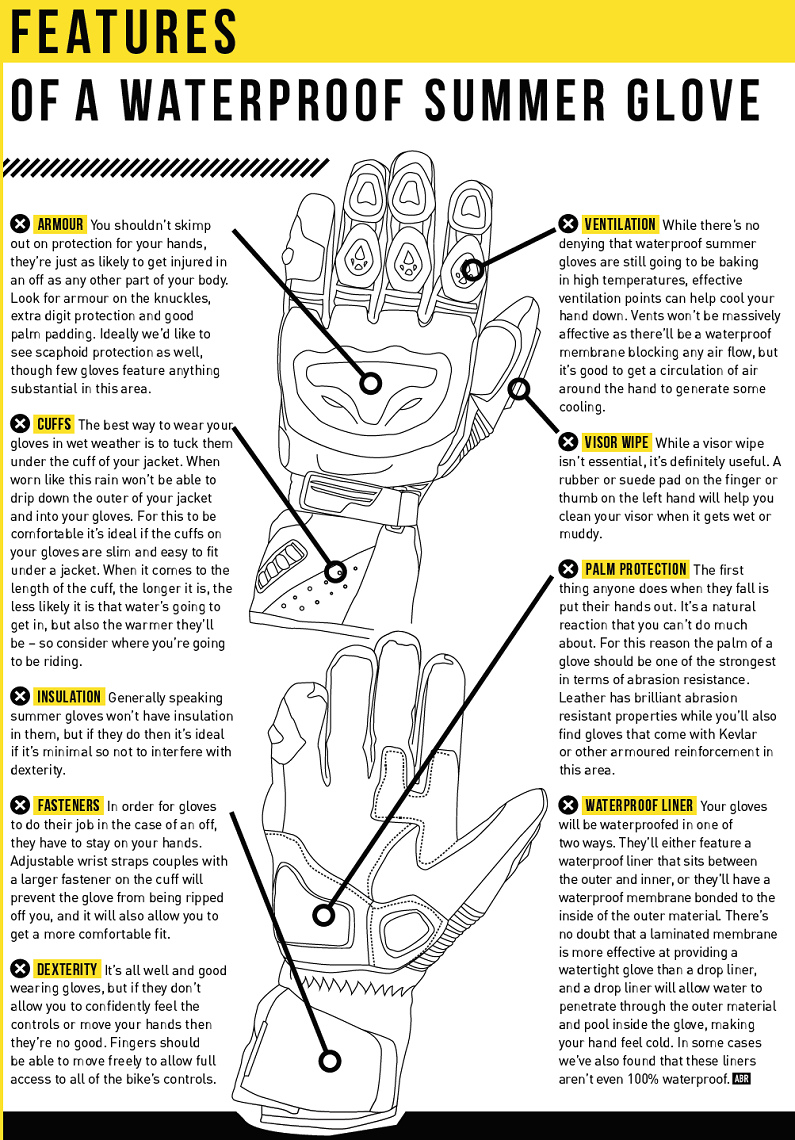 ---
Oxford Convoy
£29.99 www.oxprod.com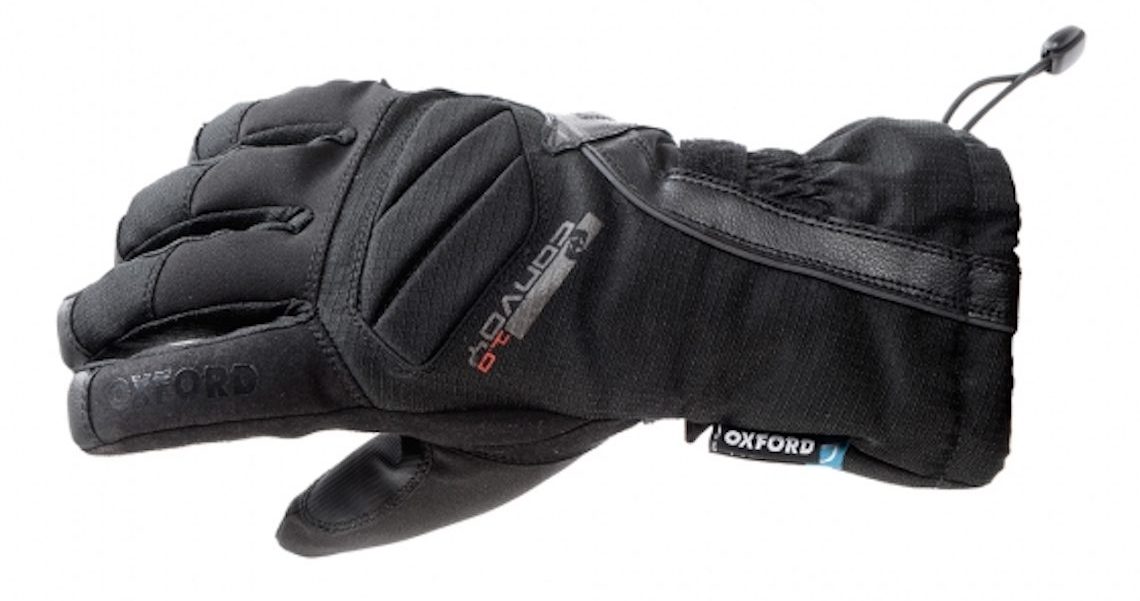 Oxford Products produces an extensive range of goodies for the motorbike enthusiast and I've long been a fan of the kit that the company produces. The Convoy gloves, which retail at £29.99, are the cheapest gloves on test, coming in £25 cheaper than the next lowest price offering, the Weise Wave.
They are a lightweight pair of gloves and they're made from a mish-mash of synthetic suede with aniline leather and aramid reinforced patches on areas likely to see abrasion. To keep the water out you get an unbranded waterproof lining, and this performed better than expected, allowing no water through at all during our submersion and riding tests. With this in mind, the Convoys are starting to look like an excellent buy if you're on a budget.
In terms of protection, the only armour on offer is in the form of soft padding on the knuckles. The Convoy gloves have a standard length cuff with a single Velcro wrist fastener, and these feature a drawstring closure if required. The index finger is manufactured from suede which makes it excellent to use as a visor wipe due to the material's water-absorbing properties.
They are fairly comfortable to wear and if I only had £30 to spend on a pair of gloves these would be at the top of my list. If however, your budget isn't so tight there are certainly better offerings out there.
LARGE FIT: A large was slightly tight.
In a Line: Cheapest glove on test, you get what you pay for.

Weise Wave
£54.99 www.thekeycollection.co.uk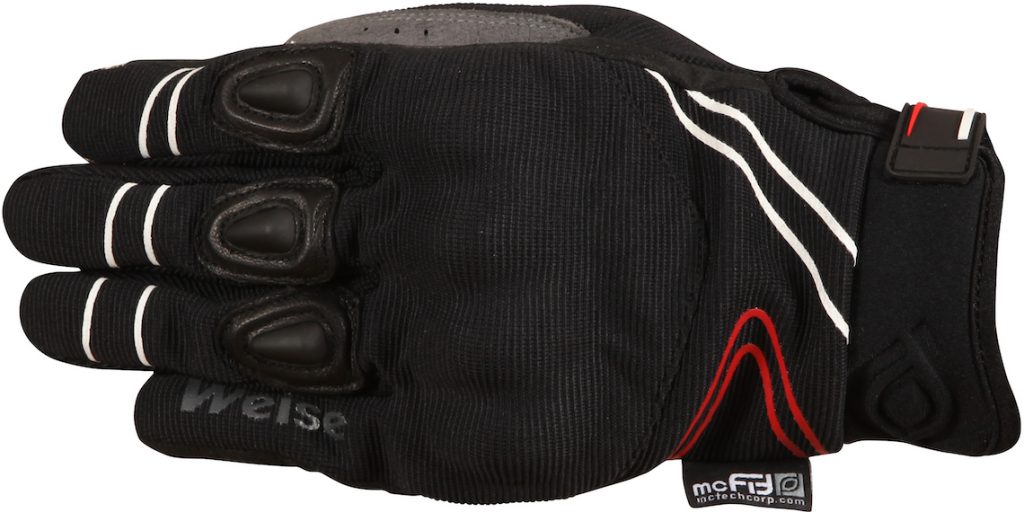 Weise has a good selection of gloves on offer and all appear to be sub £100 with the Wave, which we have on review here, coming in at a very wallet-friendly £54.99.
These are a fantastic summer glove, they're really lightweight and compact and I'd even go as far as saying that they are the most suitable summer gloves on test. They sell at a fantastic price and have several great features, and as such gain the ABR Best Budget Buy accolade.
The Wave gloves feature a full-grain leather on the palm and stretch textile on the back of the hand. This combination of soft, supple materials comes together to create a glove that's extremely comfortable to wear and very easy to get on and off. They have a short, neoprene cuff, as I would expect of a summer glove, and this is secured by a single Velcro strap. They are well padded and performed perfectly in temperatures in the mid-teens.
The armour isn't as substantial as you might find in a more expensive pair of gloves, but the Wave still features fixed TPU knuckle armour, finger armour and extra padding on the palms where required. They look fantastic and the index finger and thumb on the left hand have touchscreen-friendly patches enabling you to use your mobile devices. With the addition of reflective stripes on some fingers and across the rear of the glove, these are a fantastic buy.
LARGE FIT: A large fitted me perfectly.
In a Line: ABR Best budget buy.

Lindstrands Comet
£64 www.jofama.se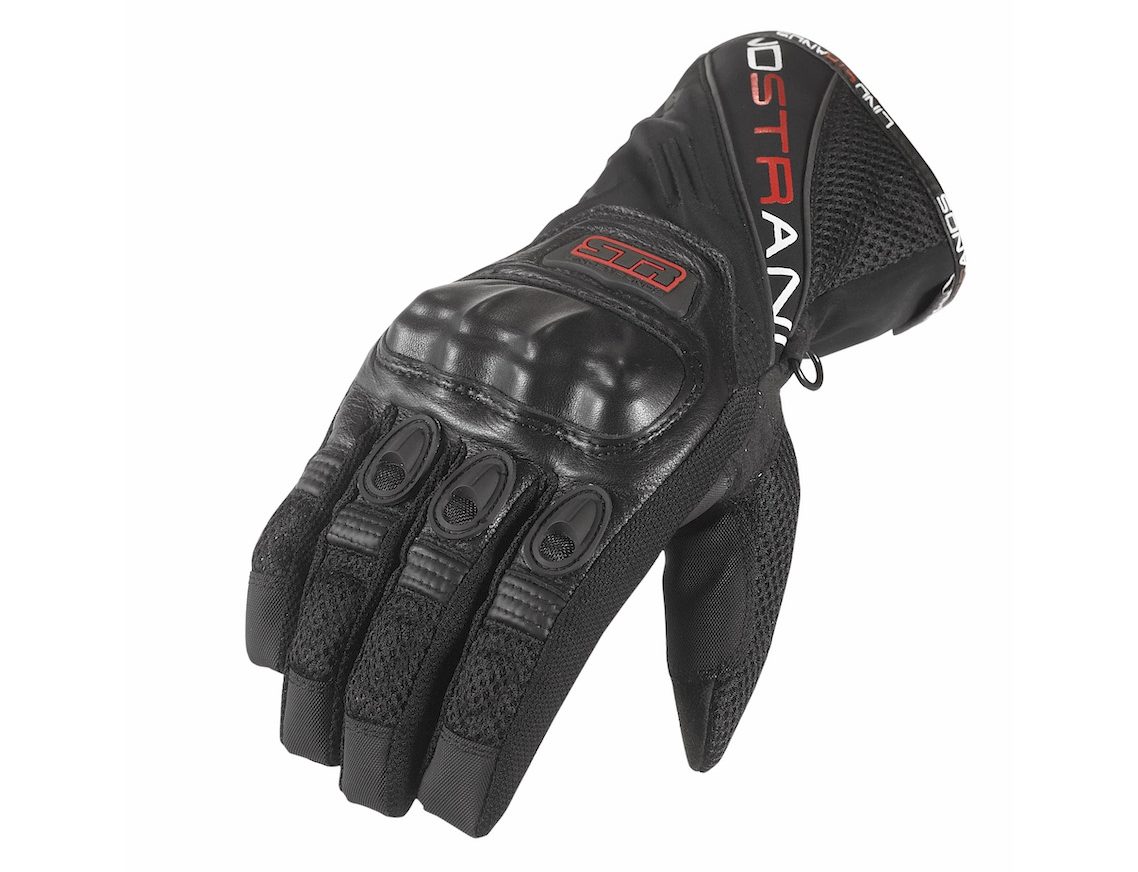 The Lindstrands Comet reviewed here are a fantastic pair of gloves that were previously reviewed by ABR back in 2013. Roll forward three years and the glove is still as impressive now as it was back then. Lindstrands parent company is Jofama and the technology in all Jofama products is shared between the company's three brands: Jofama, Lindstrands and Halvarssons.
As such, all three of these benefit from unique, high-quality technologies such as HI-ART (abrasion-resistant textile), Dryway (waterproof membrane) and Outlast (temperature regulating thermal liner).
The HI-ART material used throughout provides the gloves with high levels of abrasion resistance while the Dryway membrane keeps water out.
It might sound a bit odd for summer gloves to feature a thermal lining, but the Outlast used here is a very neat addition as it allows the Comet to store and distribute heat to cooler areas when needed. On the flip side, it also keeps the hands cool when the temperatures start to rise.
These are a great lightweight summer glove and are very easy to put on and take off. There's some great knuckle protection included and they have a nice, short cuff that I prefer when wearing a summer glove. A useful touch is the inclusion of a visor wipe on the left index finger which is nicely placed and easy to use if the rain starts falling. For the price these are a fantastic buy.
Pros
Amazing price
Visor wipe
Premium technologies used
Cons
Not touchscreen compatible
LARGE FIT: The large fitted perfectly
In a Line: Heaps of fantastic technologies incorporated into these gloves.

| | | |
| --- | --- | --- |
| Good Knuckle Armour | Handy Visor Wipe | Reinforced Palm |
Halvarssons beast
£89 www.jofama.se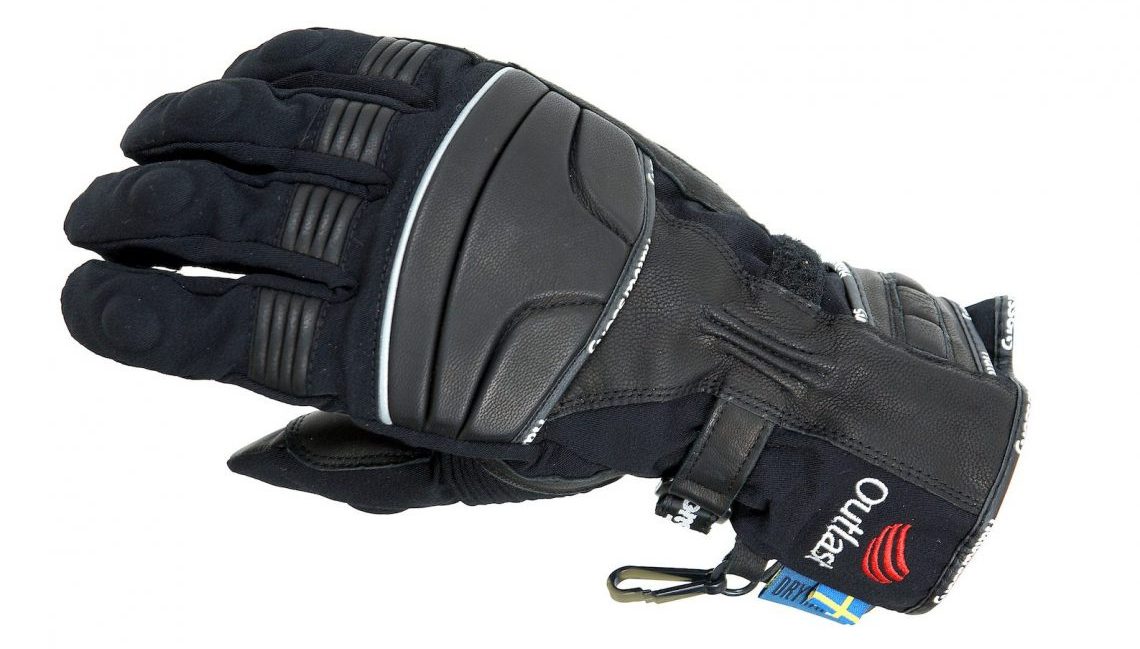 The Halvarssons Beast gloves are primarily constructed using goat skin and are fantastic for summer use. They look great, feel great and are lightweight which all point to a good summer glove. As they are from Halvarssons they incorporate the same technologies as the Lindstrands Comet: Dryway, HI-ART and Outlast (see the Lindstrand Comet glove in this review for more details on each).
The Beast gloves have a standard cuff length which is secured by dual Velcro straps. They have soft padded floating knuckle protectors and padded palms and fingers. The protection does not feel as bulky as some of the others on test due to its flexible nature, which I personally prefer over the hard plastic protection that you can physically feel when you clench a fist, though it won't offer as much impact protection as TPU armour would.
There are reflectors around the wrist and fingers that will help improve your chances of being seen in poor lighting conditions.
The gloves make use of Maximum Comfort Fit (McFit) technology to ensure that the inner liner, waterproof membrane and outer material stay tightly bonded – putting an end to the times when you'd pull your hands out of a glove only to turn it inside out.
These are a great glove to wear and for the price they are a fantastic buy that are definitely towards the top of my list for a sub £100 glove.
LARGE FIT: A large fitted perfectly.
In a Line: Great lightweight summer glove.

Rev'it Summit 2
£99 www.revit.eu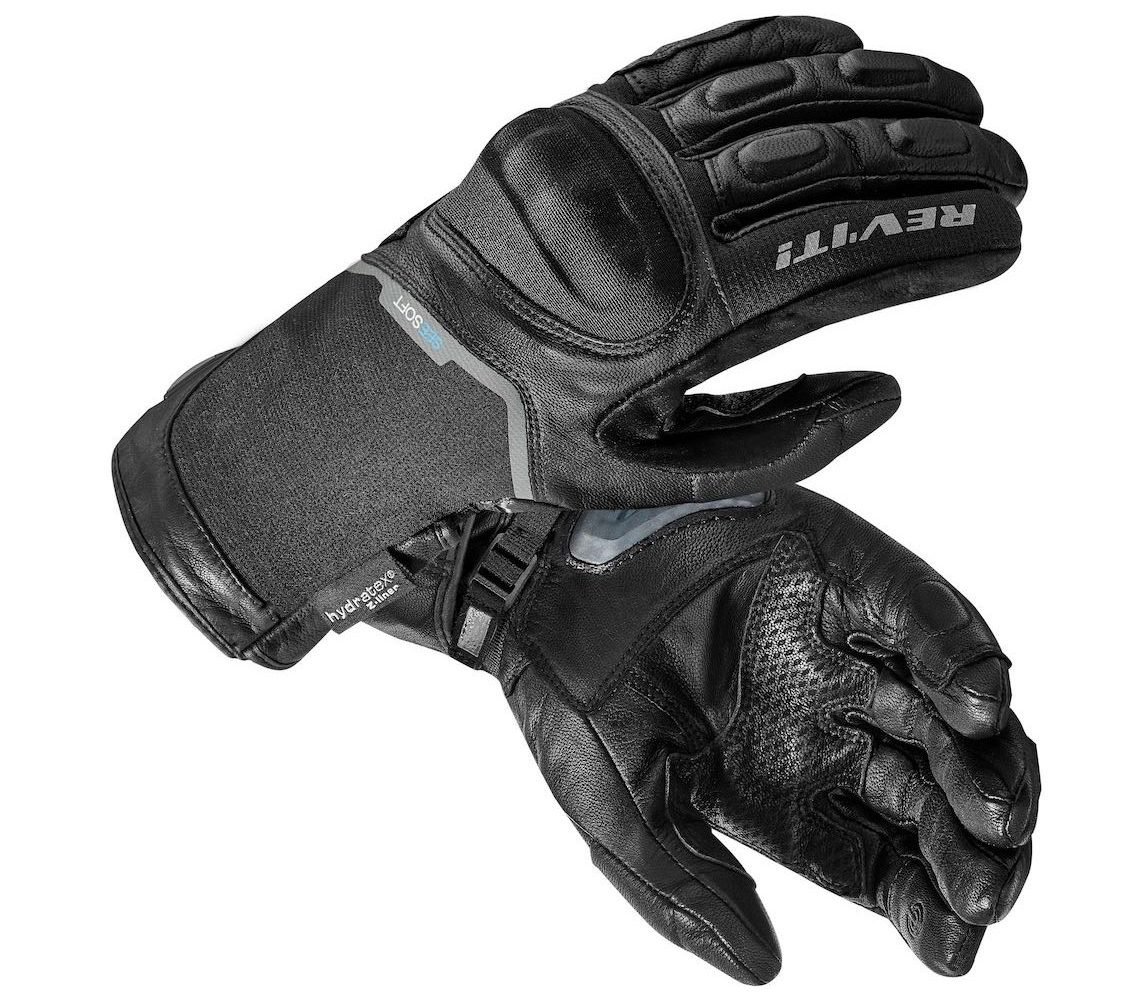 Rev'it has a large selection of gloves on offer and for this test we've been trying out the Summit 2. These are a brilliant pair of gloves and are reasonably priced when you consider what's on offer. They look great and come with the standard Rev'it information tag that is found on all of the company's products.
This shows easy to read facts and details about what the glove can be used for and how it was constructed. While the tag will be ignored by some, it offers an insight into what you're buying.
The gloves have SEESOFT knuckle protectors which are designed to absorb energy upon impact while also being more pliable than other plastic armours. There's a hard plastic slider on the palm designed to slide along the floor in the event of an off and there are armoured areas on the fingers and thumb.
The gloves have a Hydratex waterproof membrane that keeps the wind and rain out and in our testing, they remained watertight throughout. They are constructed from a mix of goats leather and textile with TriFleece insulation.
They are good, easy to wear gloves and I wore them for a few days of trail riding with no issues. They have a standard length cuff and this can be fastened with a single Velcro strap with an additional wrist strap to tighten if required.
A great feature is that the index finger can be used to control touch screen devices and the outside of the same finger is constructed from suede which is great for soaking up the moisture from your visor.
LARGE FIT: I'd say the glove is an acceptable fit but did feel tight when clenching a fist.
In a Line: Good summer adventure glove.

Knox Covert
£99.99 www.planet-knox.com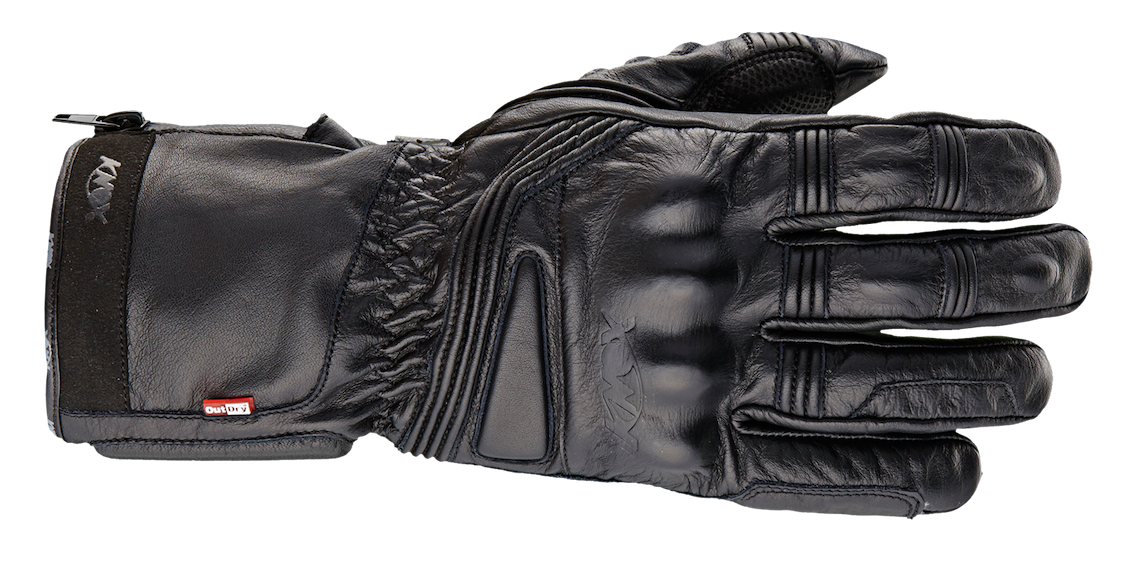 Cumbria-based motorcycle clothing manufacturer, Knox produces a wide range of gloves at varying price points, and the Covert, which we have in for review, sit themselves pretty much in the middle of the company's price range.
The Covert make use of an Outdry waterproof membrane which is laminated to the inside of the leather outer, and this worked extremely well, not letting a single drop of water through in our submersion test.
Due to the membrane being bonded to the leather, the gloves are able to be thin and lightweight, even when you take the substantial cuff into consideration. The Covert gloves have soft knuckle armour and finger padding that isn't as substantial as some of the others on test, though on the palm you get two sliders to help protect you in the event of an off.
As mentioned they have a long cuff with a zip fastener, though I question the need for this. It's hard to achieve a good fit with the zip and you end up having to rely on the wrist Velcro fastener. These are the only gloves in this review to feature such zips and while they're designed to make it easier to get the glove on and off, I found the contraption to be a bit redundant, not really altering the fit of the gloves at all.
The Covert are comfortable to wear and I especially liked how thin and lightweight they felt, providing superior dexterity to bulkier gloves and allowing me to feel all of the controls on the bike, which is always a plus!
LARGE FIT: A large fitted me perfectly.
In a Line: Lightweight, stylish and nice and cool for summer use.

Alpinestars Celer X-Trafit GTX Gloves
£123.99 www.alpinestars.com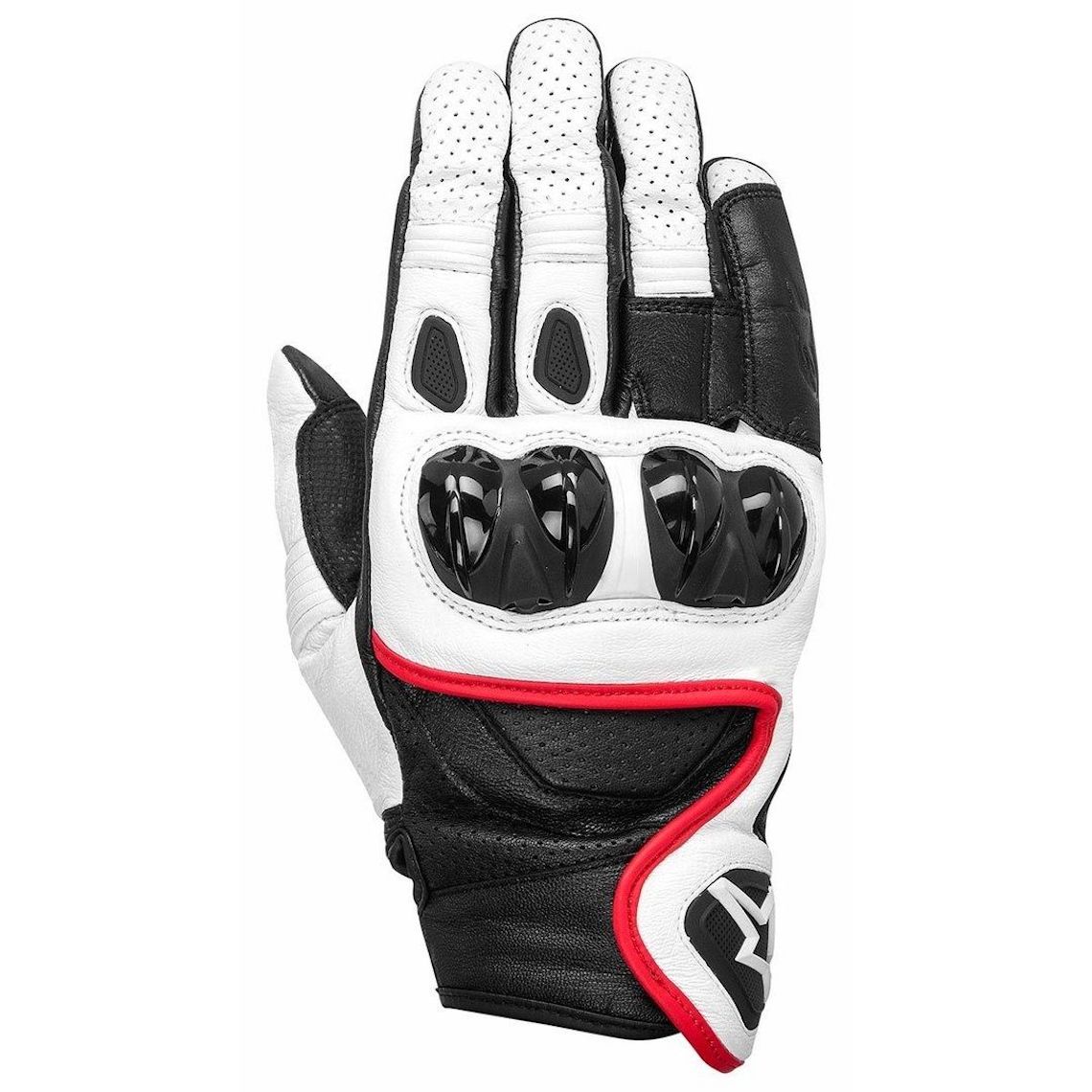 Alpinestars produces a vast array of gloves covering all riding styles from road to dirt, and accommodating all kinds of weather conditions. The summer offering in this review is the X-Trafit GTX gloves which come in towards the higher end of the Alpinestars glove price range at £123.99.
These really are a substantial pair of gloves in the knuckle protection department, and they suit a more road-oriented rider, to be honest, they wouldn't look out of place on a biker clad in a one piece leather race suit. They offer some of the best protection out of all of the gloves on test, with the race-proven knuckle armour providing superior impact and abrasion resistance with sliders on the first two fingers.
They have an interesting feature in the way of a finger bridge between the little and ring finger.
This is to stop twisting and separation in the event of an off. The index finger is touchscreen compatible meaning you can use your smartphone and GPS without having to remove them which is always a bonus.
The knuckle protector floats above the actual knuckle meaning there is no stretching when clenching a fist and this is great for comfort, though it does present the problem of providing an area for dirt and water to easily accumulate.
These were great to wear on the roads but I wouldn't fancy trail riding with them on.
LARGE FIT: The glove is a snug fit, but the leather is likely to stretch with use.
In a Line: Great gloves if you're planning on staying on Tarmac.

Richa Extreme
£129.99 www.nevis.uk.com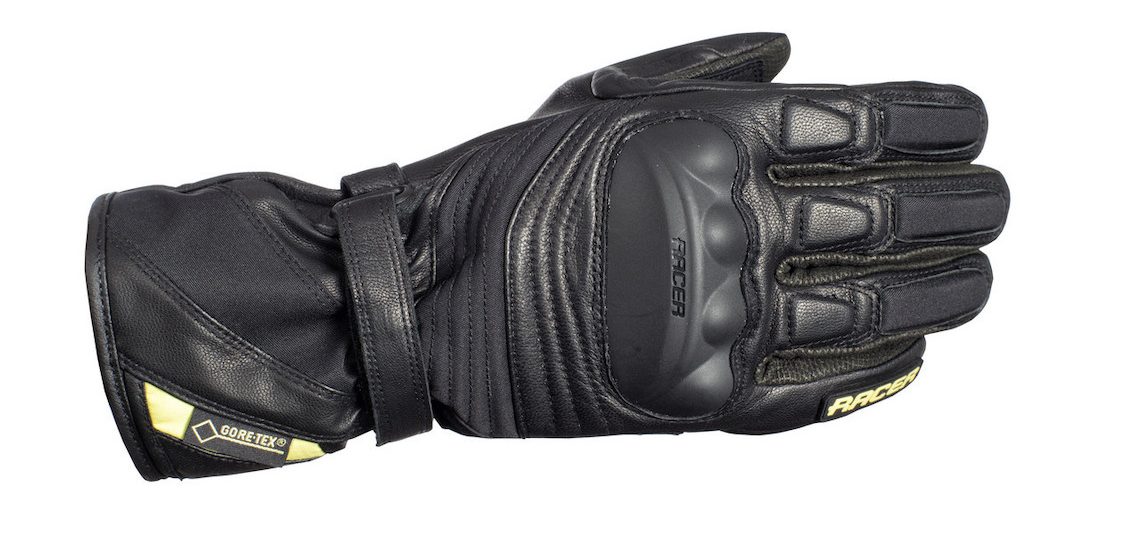 Richa produces a lot of good quality gear and the Extreme gloves on review here are no exception. They are a very substantial pair of gloves and they are more geared towards the tarmac going adventure sports bike rider rather than any off-road focussed riding. However, it is unfair to stereotype a particular product as there's no reason why clothing cannot span the boundaries between different types of biking.
The Extreme has very good knuckle protection which floats above the hand reducing the amount of friction on the knuckles when you grip the bars. There is also substantial padding on the palms and added protection on the middle fingers.
The gloves have a long cuff and this attaches using two Velcro straps. One on the wrist, and the main cuff attachment is unusual in the way it wraps from both sides of the glove with one side overlapping the other to produce a snug tight fit. I like this feature and something that isn't found on any of the other gloves on review.
The Richa Extreme gloves are towards the higher end of the price range for what's on offer in this issue which may count against them as there are some pretty good products at the lower end of the price scale. This aside, the gloves were good to ride in and very comfortable to wear and they're fully waterproof to boot.
With all the padding, long cuff and protection on offer these run a bit warmer than you might expect a summer glove to, so keep that in mind if you're looking to travel to the warmer parts of the world.
LARGE FIT: a large fitted me perfectly.
In a Line: Good gloves, but more suited to sports bikes

Racer Stratos 2
£139.99 www.tranam.co.uk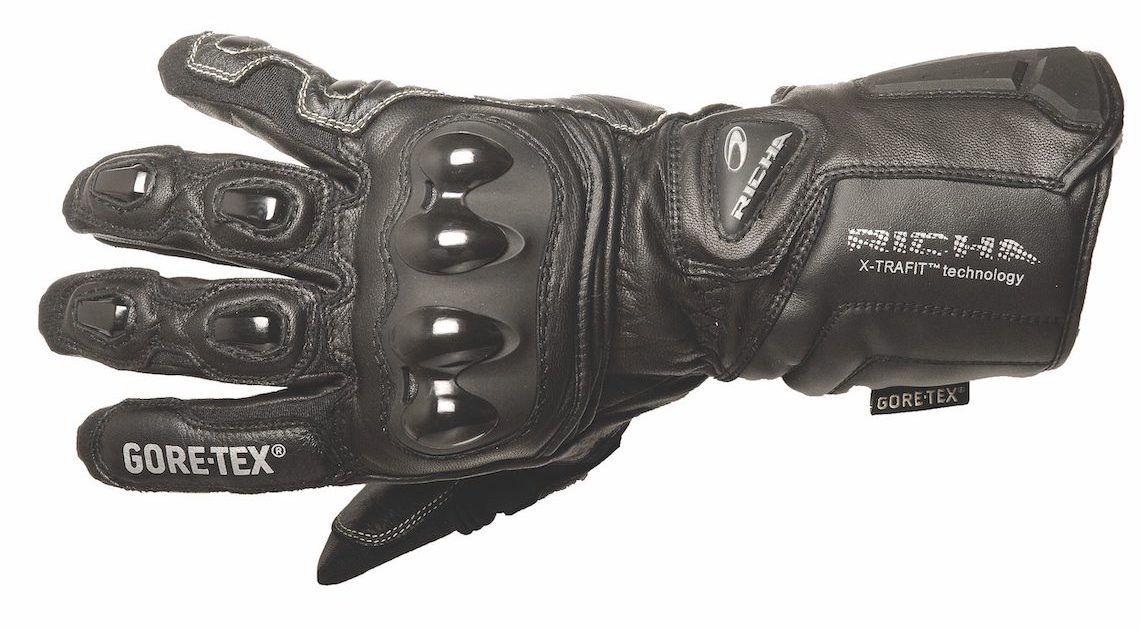 Until now I've not had much experience with Racer products, but a quick look around the Austrian manufacturer's website reveals that it produces a huge range of motorcycle clothing for both the European and American markets. In general the kit is road-focused, though there's no reason why you couldn't take the Stratos 2 gloves for a bit of light green laning.
They come fully waterproofed thanks to the Gore-Tex membrane and they also feature Gore's X-trafit technology which means the gloves offer a thin, responsive fit while maintaining waterproofing.
Indeed, it is this thin, non-bulky fit that makes the Stratos 2 gloves so suitable for summer touring. Despite the presence of a waterproof membrane, they keep the hands fairly cool in use (though there are no ventilation points) and there is almost unrestricted dexterity while the feedback when you're fiddling around with the handlebar controls is excellent, almost like you're not wearing a pair of gloves.
The cuff of the Stratos 2 rises high and is secured via two Velcro straps, though I found that the wrist strap didn't really allow me to get a snug enough fit in size L. While the gloves have the comfort side pretty much nailed, on the protection front there's a lot to be desired. The plastic knuckle armour is flimsier than I would have liked and the palm protection is almost non-existent.
LARGE FIT: Verging on being too big for my hands.
In a Line: Comfortable and light for summer use, though lacking protection.

Dainese Ergotour Gore Tex X-Trafit
£149.99 www.dainese.com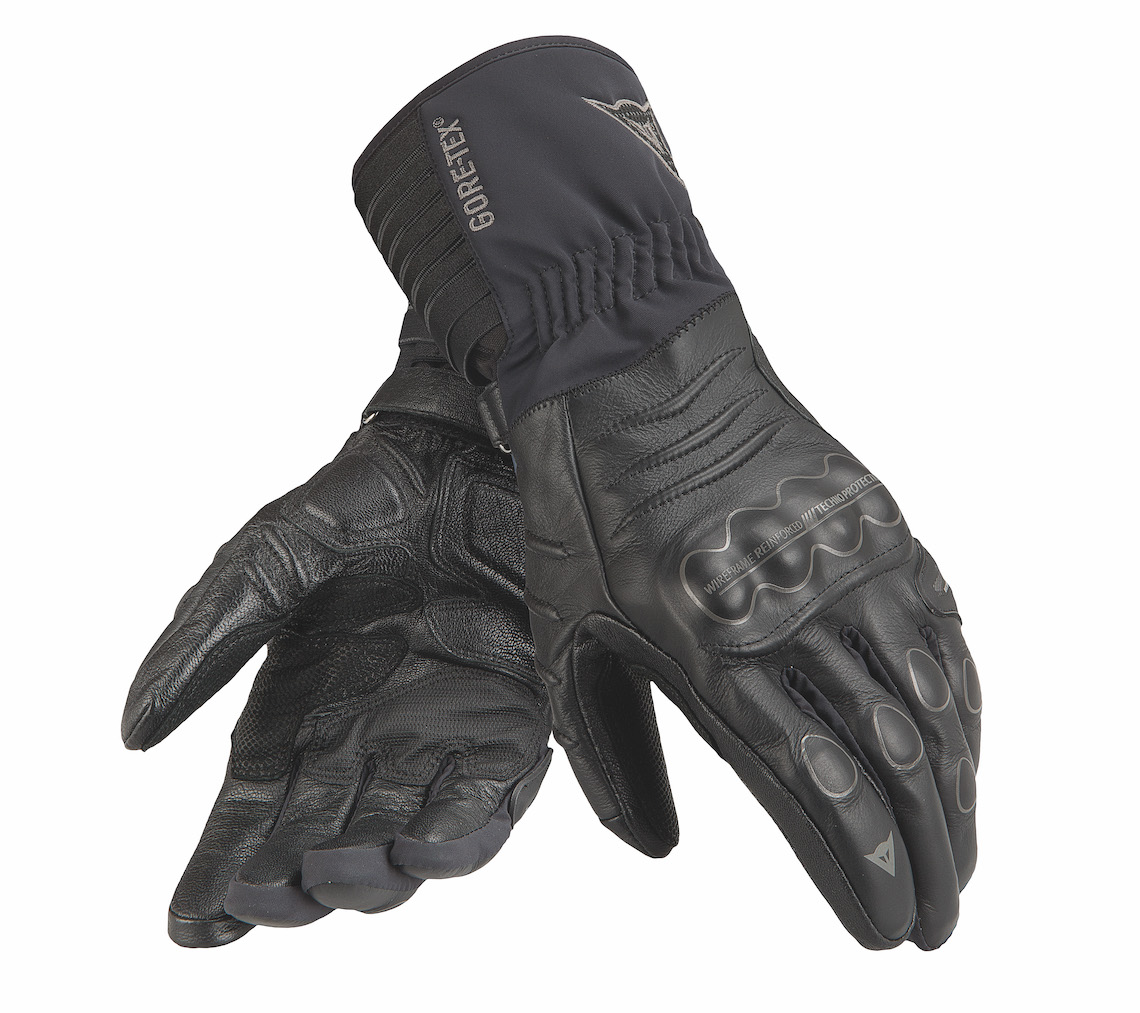 Dainese produce a number of gloves and the prices vary from a wallet-friendly £36 to an eye-watering £286. The Ergotour Gore-Tex X-Trafit on review here sit comfortably in the middle of the company's price range at £149.99, though they're still expensive when compared to some of the other gloves on test.
With that said, the Ergotour are very nice to wear. They are incredibly comfortable and they look fantastic as well. They are lightweight and have a long cuff, and whilst I normally prefer a shorter cuff on a summer glove for comfort reasons, once these are on the fit is so good that you can't tell the difference.
Everything on these gloves just works well and fits great on the hand thanks to the very well designed ergonomic cut and inclusion of Gore-Tex X-Trafit technology. You get two cuff fasteners to secure the glove, one on the wrist, the other on the cuff.
The armour isn't as substantial as with some of the other gloves on test, but it is still good and doesn't feel restrictive when gripping the handlebars. There's added padding on each finger and a solid piece of plastic called a distortion control that prevents the little finger from twisting during an off.
In all, if comfort is your main concern, then these are the gloves to consider. The ergonomic fit, genuine waterproofing and cosy nature make these a very comfortable pair of gloves to consider.
LARGE FIT: A large fitted perfectly.
In a Line: Fantastic performing glove with a high price tag.

Held Air N Dry
£159.99 www.held-uk.co.uk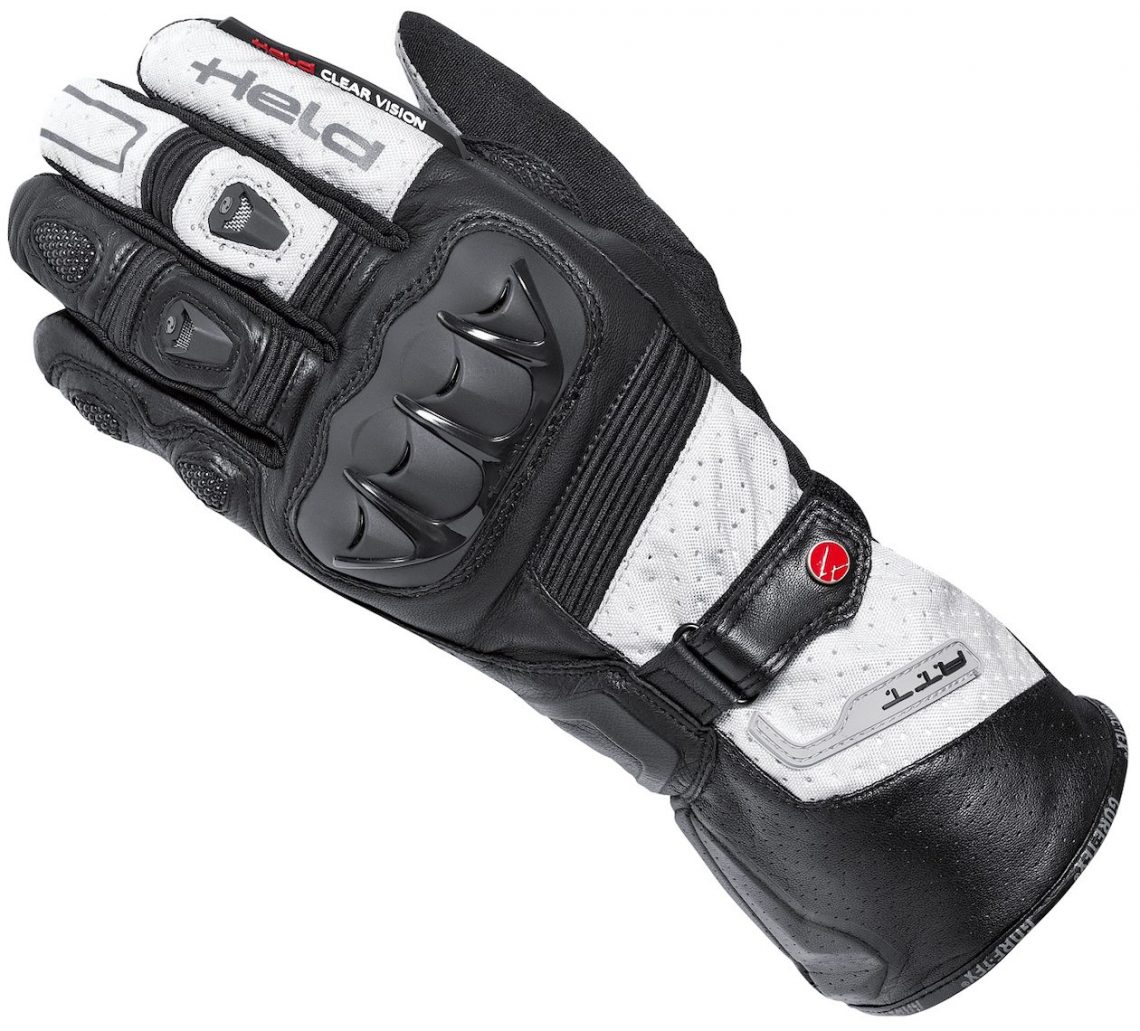 The Held Air n Dry gloves are the second most expensive gloves in this test, and when you look at the quality of construction, and the unique two-in-one feature, you can see why. The gloves get their name from the fantastic double compartment style that effectively gives you two different types of gloves for the price of one.
On the palm side you have the 'dry warm' compartment, which is to be used on those glorious, sunny days where there's not a drop of rain in sight. The kangaroo leather palm allows a great amount of airflow to reach the hands, keeping you as cool as possible on those scorching days.
The other, the dry side, features a waterproof Gore-Tex membrane to keep you dry if you are caught out, and as the membrane effectively shuts off the airflow, your hands will be kept warm as well.
This functionality, which gives the gloves their name, is fantastic and it's a design that we've previously tested with great success in the Rukka R-Star gloves (as reviewed in issue 26 of ABR).
At £159.99 the Air n Dry gloves may well be out of most riders' price range, but you really do get what you pay for. They are very well made and feature a long cuff with two fasteners, one on the wrist and the other on the cuff, so you can achieve a comfortable and secure fit.
The knuckle armour feels sturdy and there's also some decent finger armour. The index finger has a visor cleaner attached and there are adequate 3M Scotchlite reflective strips to aid visibility in bad weather.
LARGE FIT: A large fitted perfectly.
In a Line: They're pricey, but they're fantastic.

RUKKA ARGOSAURUS
£229.99 www.tranam.co.uk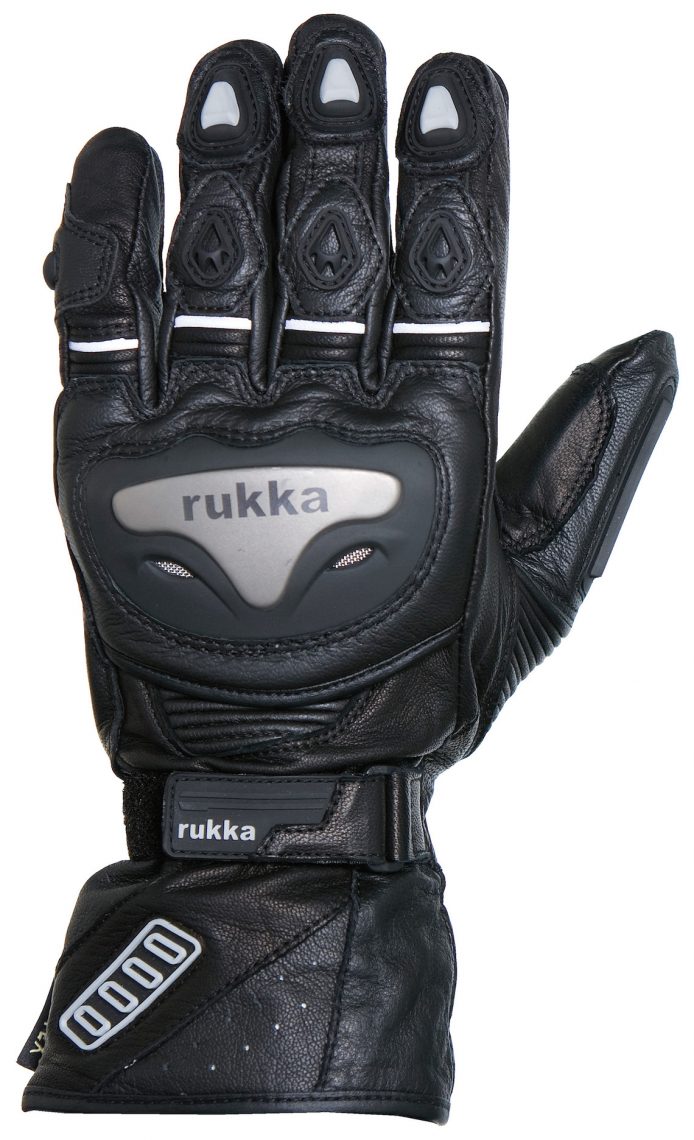 It's not really surprising to see that the most expensive pair of gloves in this review come from Finnish company Rukka. At £229.99 the Argosaurus gloves are nearly £100 more expensive than the next highest-priced, so are they impressive enough to warrant this extra outlay?
A quick look at the specs card will reveal that they have just about everything that you'd expect a waterproof summer glove to have, so things are off to a good start.
The Argosaurus gloves make use of Gore-Tex X-Trafit to give a fantastic, close fit that provides a great amount of dexterity and sensitivity, allowing the wearer to accurately, confidently and comfortably have full reign of the controls. The Gore-Tex membrane also does a very good job of keeping the wet stuff out, with the inside of the Argosaurus gloves staying dry even when fully submerged.
In terms of protection, you get a substantial, and oddly stylish knuckle protector, armour on the fingers and a palm slider with extra padding for maximum protection. The left-hand glove also features a handy visor wipe that's easy and effective to use and there's a nice amount of ventilation throughout to help keep the hands cool during the summer months.
All in all, these gloves are everything you'd want a pair of waterproof summer gloves to be. The build quality is fantastic, they come with a two-year warranty and they're comfortable to boot. But £229.99 is eye-watering.
LARGE FIT: A large fit like, well, like a glove.
In a Line: Superb gloves, but ouch at the price.

---
In Conclusion – Summing up our findings
I've got to admit, I spent a lot of time deliberating about which gloves should be awarded the ABR Best Budget Buy and ABR Recommended stamps. After using and abusing the 11 gloves we had on test, there were several pairs that really stood out.
These were: Dainese, Weise, Held, Lindstrands and Rukka. All of these gloves are quality, and which one you choose will depend largely on your budget, but in my opinion, the price let the Dainese, Held and Rukka products down.
Don't get me wrong, these are fantastic gloves and you won't be doing yourself any harm if you buy them, but it's difficult to award them with an ABR recommended stamp when there are quality gloves available for less than half their price.
Weise secured the Best Budget Buy accolade by ticking the boxes for all of my waterproof summer glove requirements at such a brilliant price.
The Lindstrands Comet gloves really surprised me in their quality, comfort and performance, and as they're only a few quid more expensive than the Weise they rightfully secured their place as the ABR Recommended for this group test of waterproof summer gloves.