After finishing fifth in the 2016 Gibraltar race, Mark Kinnard decided that he need to modify his KTM 690 Enduro R if he was to be in with a chance of bagging first place in 2017. So he stuck his head in the shed and got to work
I finished fifth overall and third in class in the 2016 Athens to Gibraltar Race on my almost stock KTM 1190 Adventure R. For the 2017 event, I decided that, in order to compete with Heli, who won the event overall on a YZF 450 WR Desert, I would need something different.
I already had a 2013 KTM 690 Enduro R in full rally trim in my garage, but I'd never raced it before as I didn't like having to peer over the rally raid fairing to see where I was going. With the previous year's course featuring a lot of tight, rocky mountain passes, vision was more important than ever.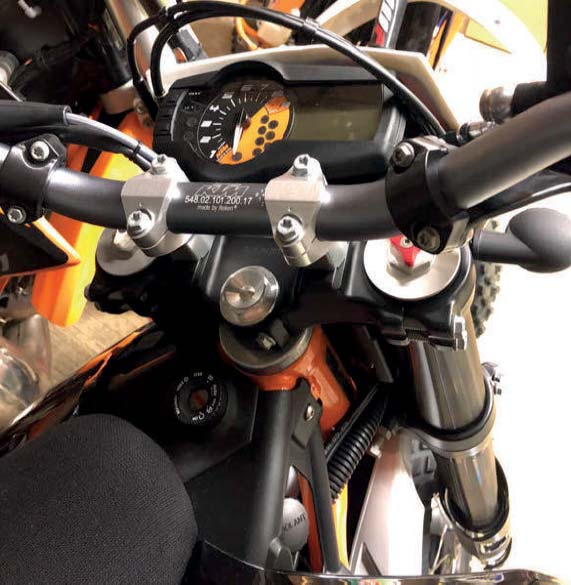 With this in mind, for the 2017 race, rather than completely gut my old 690 out, I decided to treat myself to a new, 2017 KTM 690 Enduro R, the one with the new twin spark engine. With the new 690 parked side by side with the old one, my lifelong friend, supporter and mechanic, Mark Bradford, and I set about building my custom rally bike for the 2017 Gibraltar Race.
Firstly, we stripped all the rally fairing, twin tanks, ICO, roadbook reader, and stuck them on eBay. With the money earned, I was able to buy some new parts to create a Rally-Lite look.
Most of the parts for my new 690 came from the good people at Rally-Raid, and the list is long and expensive, however, all the kit will have been fitted to three new bikes by the time the 2018 race comes along, and that's how I justify it (hopefully my wife won't read this article!)!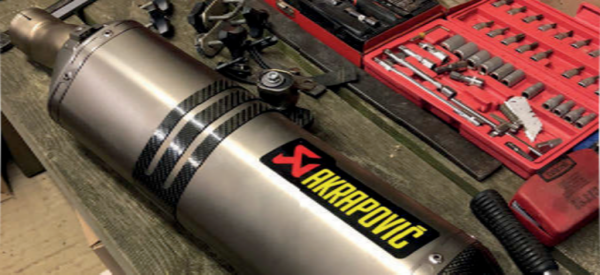 The Akrapovic slip-on silencer saved about a third of the weight, and we swapped the Evo 2 front tanks over from the rally 690 and added the tank shrouds, where the rally fairing used to join the tanks. These tanks hold up to 4.5 litres, but stick out a little, and it's especially noticeable when stood up. I added a set of long footrests to make this more comfortable over prolonged periods.
When I had the rally set up, I was using a set of EXC forks from new, and eventually changed the standard rear shock for a £1,350 Tractive 300mm rally shock. This transformed the 690 from a pretty bike, to an outstanding rally bike. I completely fell in love with it as you could hit the big bumps, whoops and ruts like you were riding a two-stroke EXC.
When I transferred this shock onto my new 690, I added a set of WP Cone Valve forks. My friend was selling his EXC, along with its forks, a WP Trax rear shock and a set of Gold Brembo billet brakes. I couldn't resist, so I bought the bike and put the forks on my 690, along with the rubber-mounted bar mounts.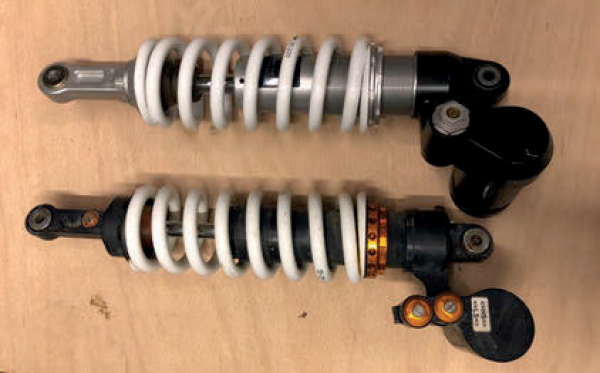 I dropped the forks through the yokes 25mm and added a 25mm lowering link to the rear suspension. With the forks and shock at full height, I was on tiptoes, and I'm just over six-foot! Lowering the bike has allowed me to be able to get my foot down on the technical sections, or when riding off-camber.
During the 2016 Gibraltar Race, I got caught out after dark with only a tinted visor and dark glasses, which wasn't particularly fun. So, after raising funds from selling old parts, I put the money towards a Baja Designs double LED Light.
It fits perfectly into the standard headlight mask. This came at a cost of £540, which might sound like a lot for a set of lights, but the difference it makes when riding and racing in the dark is priceless.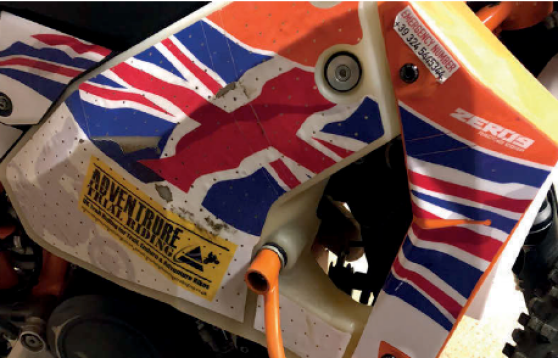 With the suspension and lighting sorted, I then looked at the headstock. I had added some bar risers so that I could comfortably ride for extended periods stood up.
After making these changes, it was time for a test ride, so I did a long loop from Newport to Essex and Norfolk and back, riding through Thetford forest along the way. I noticed that the bike was getting into huge tank slappers every now and then, and it was suggested that I should add a steering damper to counter this. I had always thought they were gimmicks.
I was lucky enough to find a second hand Underground Machine LLC steering damper and combined bar risers on eBay. I added the damper and retraced the 270-mile route again, and I couldn't believe the difference that it made. It was a huge leap forward, even on the road, with all of the head shakes stopped and the front wheel balanced.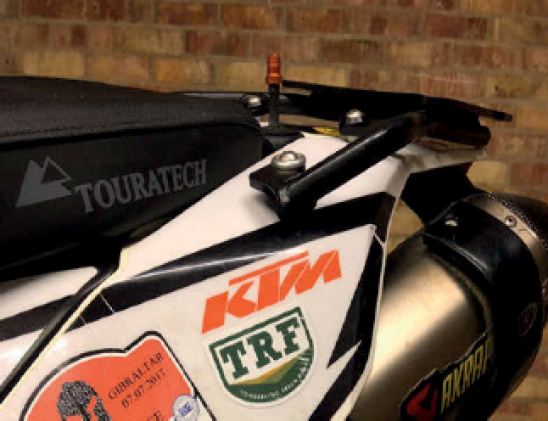 Now that the bike was riding right, it was time to look at protection for it, so we added supermoto handguards, a billet sprocket guard, Evo 2 tank protectors, lower tank and subframe tank mount bolts, a side stand dummy plug, and an off-road dongle which cancelled the ABS. All of this was bought from Rally-Raid.
The enduro engine sump guard came from Adventure Spec, after some shopping around, and it provided good coverage, including to the rear master cylinder.
The rear rack on the bike is from SW Motech, it's small and robust, and I fitted a Peli Case to this to carry my spares and essentials. For the dust, I used a Uni-filter foam air filter, while keeping the airbox original. If you're riding on UK roads, the standard air filter is OK, but if you're going to be riding in the dust, I wouldn't chance it, hence the switch to the foam. Finally, the best purchase I've ever made; a Touratech comfort seat. Truth be told, I'm not much of a fan of Touratech, but the seat is great.
The modifications that have made the most difference, and that I would recommend anyone changing on their 690 Enduro R, are the seat, the front and rear suspension, and the LED headlights. If your budget will not allow, then just the seat is good enough. The bill for all of the parts (including those off my old bike) came to around £10,000, and many of these were second hand!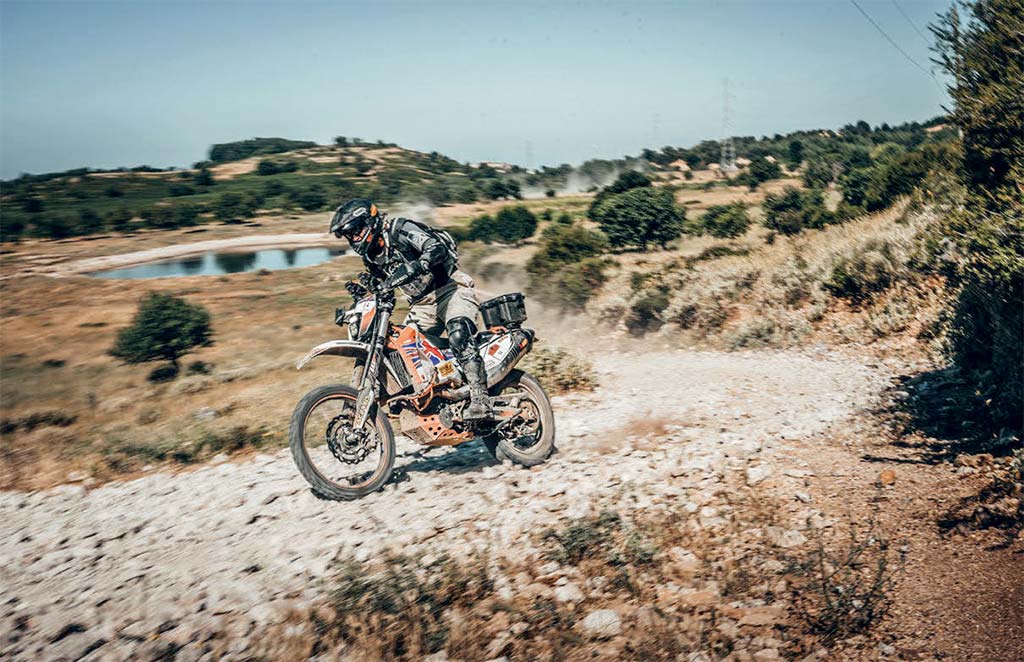 2018's Gibraltar Race has a minimum weight limit of 145kg in order to stop enduro bikes from entering. The whole point of the race is that it's a big bike race, so I think this change is a great idea, and I'm even tempted to ride my KTM 1190 Adventure R again while a friend is intending to ride it on a 20-year old Honda XR600R.
For the 2016 Gibraltar Race, we took my Sprinter race camper with Mark Bradford and Dave Sayer driving it down to the start a week before the event.
They cooked us breakfast each morning, repaired and prepared the bikes each evening, and handed us a cold beer as soon as we got in from riding all day.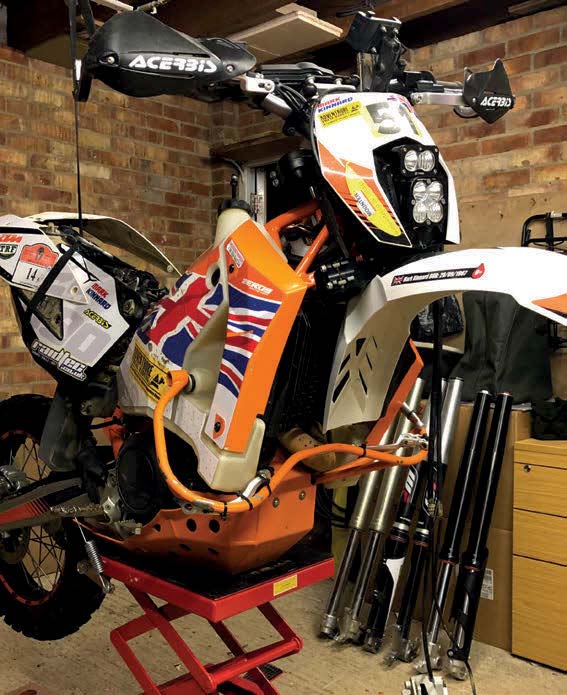 We felt like pro riders, and we certainly are not! The rest of the competitors were mostly Italians with one French man, one Spanish rider, and Heli from Austria, who won the event. They were a little insular to start with, but we soon wore them down and would consider many as good friends now.
The 2017 Gibraltar Race 'Black Sea to Gibraltar' saw us taking five bikes in my camper and Donna Gray's 'Raid Tech' van. 53 riders started the 2017 race, 43 riders finished. 14 of them were from the UK, 20 Italian, six Dutch, five Swiss, two French, two Austrians and the balance from four other European countries.
Having done this event twice, I would describe the Gibraltar Race as a European Dakar (14 days & 5,000 miles) for 'mortals' at an affordable cost, and it is as competitive as you want to make it.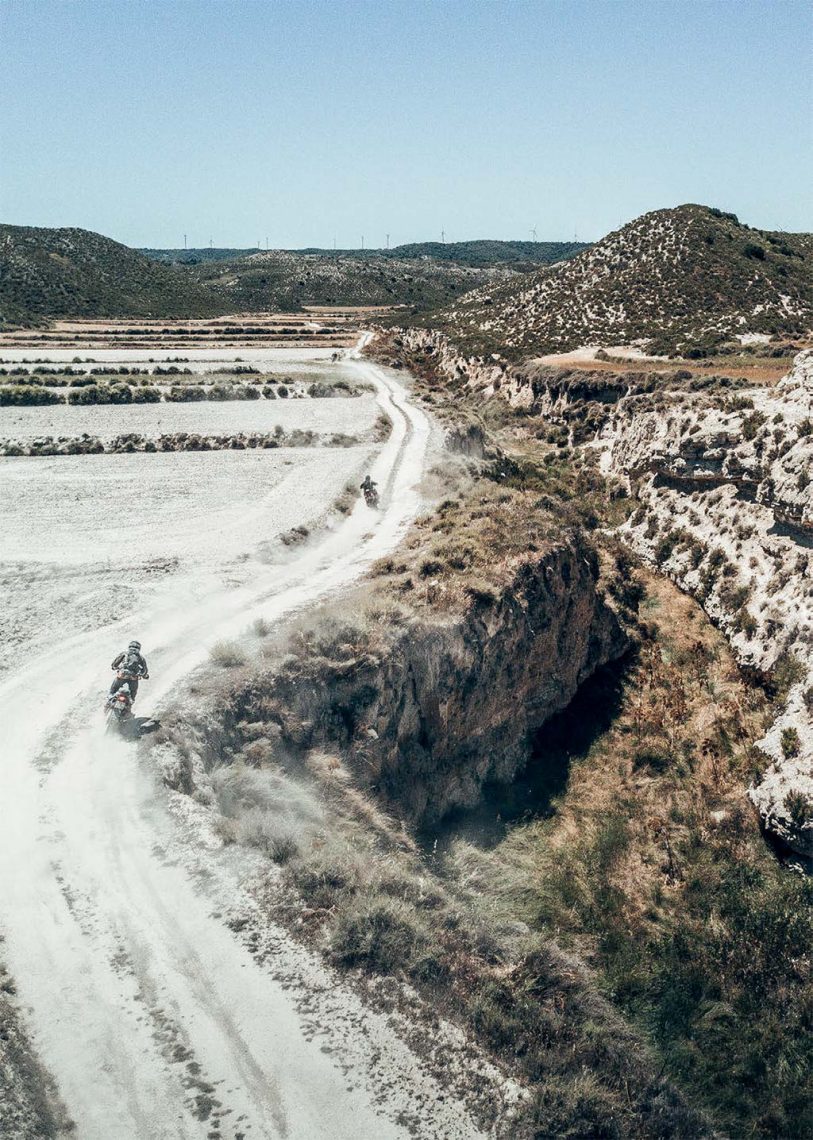 If you trail ride, tour on an adventure bike, race motocross or enduro, or you are an ex-racer looking to get back on a bike and want an adventure or challenge, then this is for you. Don't be put off by the 7/14 days riding or the 5,000 miles, it flies by, and the mix of on and off-road really works, making it an event that's really suited to big bikes.
The start of 2017's event had the prologue held on a beach on the Black Sea, I managed equal fourth, a good start I thought and equal to Heli's 2016 winner.
After 14 days of racing, nearly as many countries and two ferry crossings, we arrived in Gibraltar to a huge welcome from Gibraltar Motor Cycle Club, and were escorted by the club members on their bikes to Gibraltar Point and to a great after-race party that went on to the small hours, also hosted by Gibraltar Motor Cycle Club.
I managed first in Class 2 and first overall, my teammate Alistair Allan was first in Class 1 and sixth overall. A huge thank you must go to our support team of four, without whom we would not have been able to get the results we did!
---
Want to compete in the 2018 Gibraltar race 'Transylvania to Gibraltar'? Here's how you can…
Registration for 2018's Gibraltar Race is now open, and if you fancy having some two-wheeled fun this summer while getting to make some great friends, it's one to check out. You don't have to be a pro rider, or even a serious competitor, it's all about taking part and experiencing your own adventure.
This year, it will be held between 22 June – 7 July, and Adventure Trail Riding Ltd (www.adventuretrailriding.co.uk) is offering the following packages for those who want to join Mark and his team:
Shipping to Brasov and back from Gibraltar and race assistance: €2,250
Food and welfare package: €450
Hotel package: €1,000
Full service (plus shipping and assistance): €560
Gibraltar Race Express (half of the 'normal' route):
Shipping to Brasov and back from Gibraltar and assistance: €1,780
Food and welfare package: €270
Hotel package: €600
Full service (plus shipping and assistance): €340