David Zimmermann heads into Mongolia with the intention of seeing as many Ex-Soviet Military Bases as he can, but things don't quite go to plan…
Last year, after completing the Road of Bones and losing my passport on Russia's most infamous road, the mighty 'Old Summer Road', I was running out of time and couldn't make it to Mongolia as I had initially planned. I called Ivan, one of my Russian friends in Ulan-Ude and he managed to find a place to store my bike until the following summer, the night before I flew home.
Nine months later, my one-year temporary vehicle import was running out. I had to get my bike out of Russia, which was a good excuse to go back to Mongolia, as the border was just a one-day ride from Ulan Ude. Mongolia was the goal of a six-month solo trip in 2011 and ever since then, I had to go back.
Against all odds, my good old KTM Adventure fired up right away and was ready to hit the road in no time. What was not part of my plan, was to be arrested by the police in the city of Kyakhta just before crossing the border!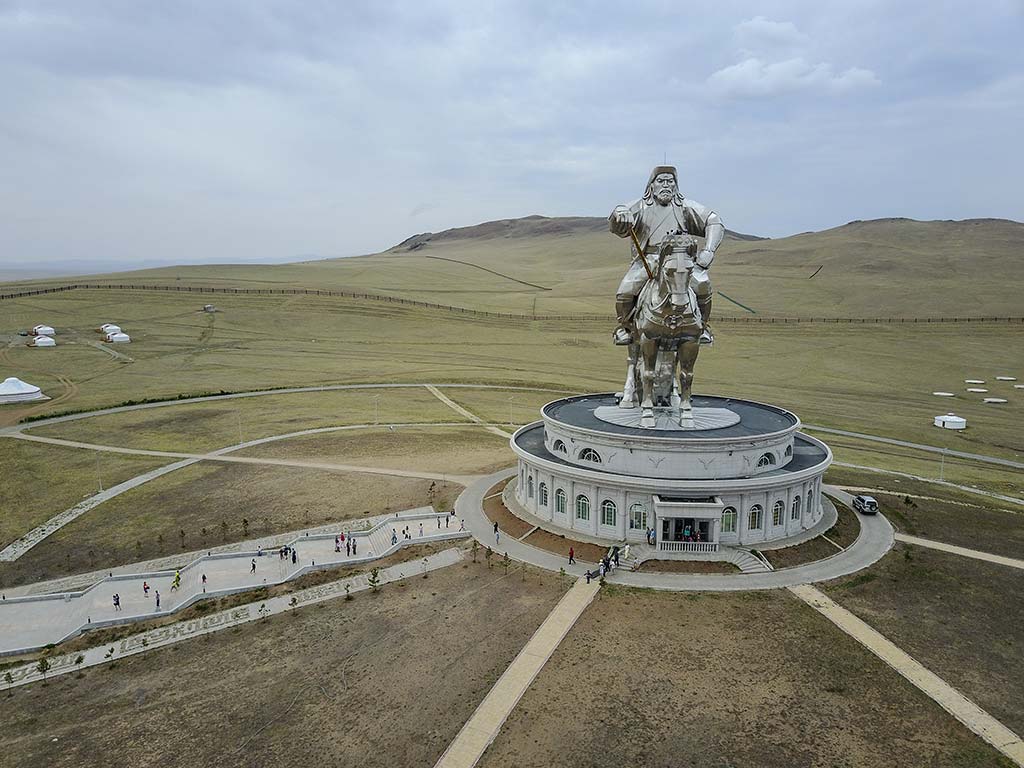 Troubles With The Russians…
Who on earth would be stupid enough to fly a drone near a police station in Russia? Well, I wish it hadn't been me… I saw a church in front of my hotel and thought that it would be worth taking a few pictures with the sunset behind it. The police station was situated about 50 metres away, but I only noticed it after being arrested!
I was suspected of filming the police station, which I wasn't because I hadn't even noticed it. It was easy to prove it, and so I showed them my pictures of the church. Nevertheless, I spent half of the night being interrogated in Russian by three different agents from the FSB (Russian Secret Services) in a row.
The first guy, tall, strong, with cold blue eyes in military clothes, looked as if he had just come out of a movie. He wrote down everything carefully in a book. The second was a young guy trying to be nice and taking just a few notes on a piece of paper, and the third one was a show-off who was asking me very stupid questions. He pretended to write, but in fact he was just scribbling some letters on a piece of paper.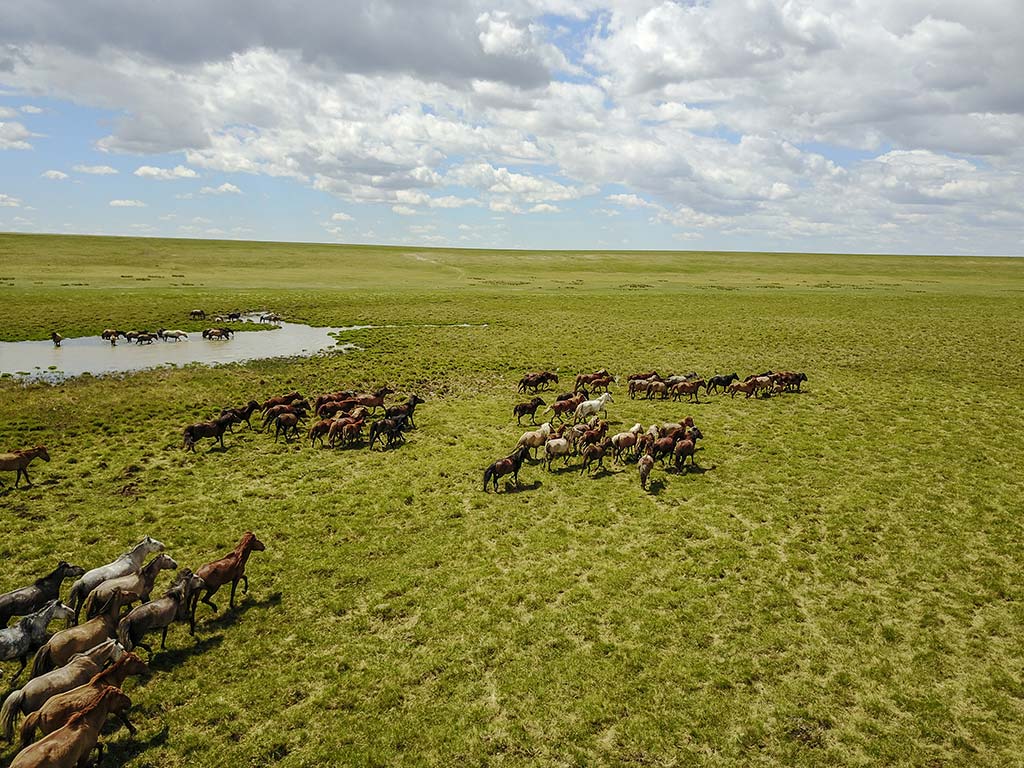 The drone was not the problem. My crime was being in this city without the special permit required for border areas. Apparently, in Russia, a permit is required for all areas situated within five kilometres of the border. Even though I had stayed there six years ago, I had no idea about it, nor did the receptionist at the hotel. There was a sign at the entrance of the city, but I didn't understand it.
After an endless wait in a small room, the first guy came back with a four-page protocol that I had to sign. Eventually, I ended up with a 500 rubles (£6) fine, and was brought back to my hotel around 1 am after promising that the next morning I would be at the police station by 9 am.
This time, the problem was my business visa. It took, all in all, four hours, from the time the officer filled in the wrong version of the protocol, started all over again and typed (deliberately?) with the painfully slow one-finger technique, and the printer being out of ink, to the time when somebody looked for a USB stick and made me wait for the sake of waiting.
After all that, we still had to go to a bank to withdraw my 2,000 rubles (£25) fine for travelling as a tourist with a business visa. Corruption was not even an option anymore, as the money had to be transferred directly to a bank account. They wouldn't let me pay in cash.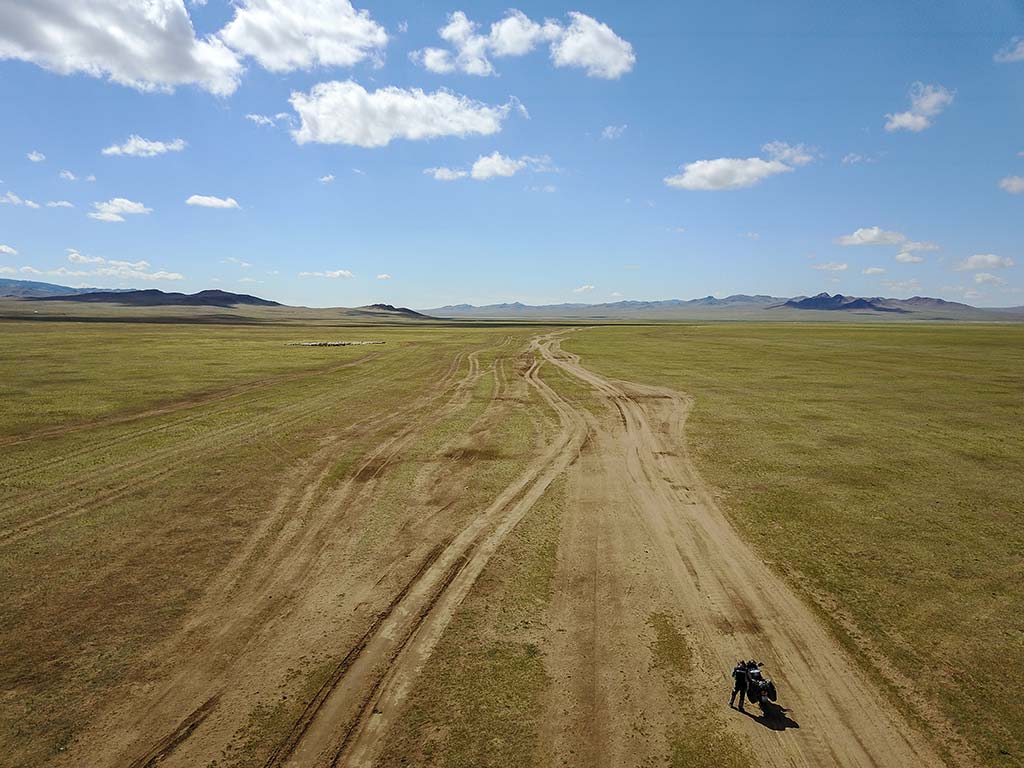 Around 1 pm, I was eventually free to leave, and it felt good. It's the first time in five years that I've had problems with my visa. Until then, I had always travelled in Russia with business visas, because you can have a two-year multi-entry visa, which is much more convenient than a one-month, single-entry tourist visa.
Entering Mongolia by land was an epic experience with a logic probably impossible to understand for a Western brain. The memory of the chaotic border crossing in 2011 is still fresh in my mind. It took several hours. A stamp there, a signature here, a sanitizing tax there, and so on…
You would have to exit and enter the same building several times, from the front, from the back or from the side. But the biggest problem of all was the total lack of respect and discipline of the Mongols. It was like a constant fight just trying to stay in the non-existent queue.
This time though, things went much smoother. There were still half a dozen stamps involved, but the place was not very busy, and in two hours I was through.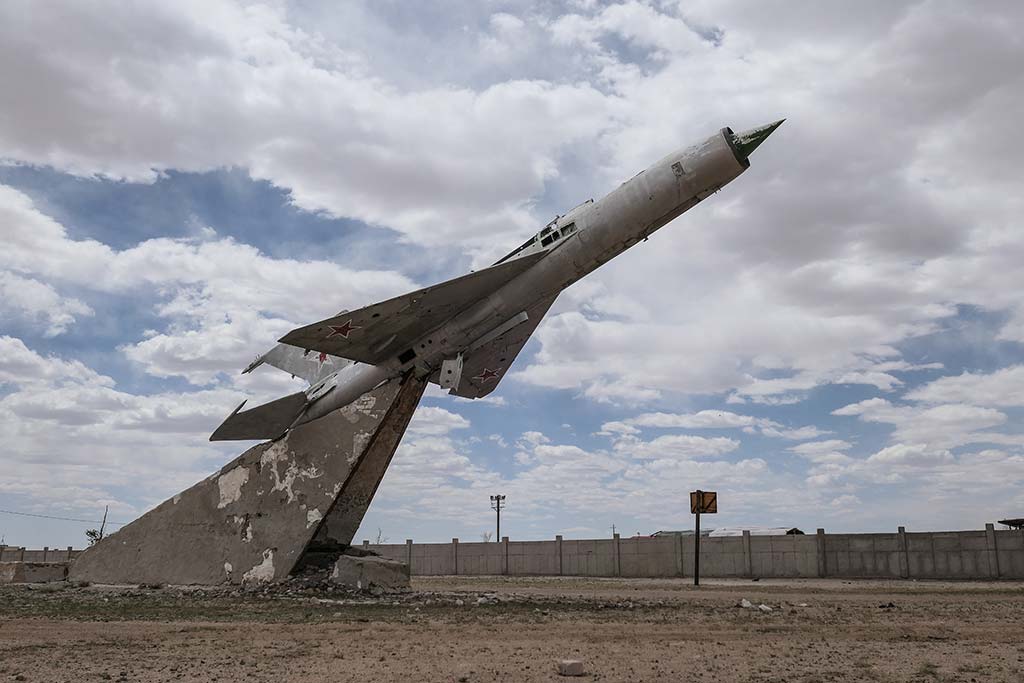 Getting The Bike Ready For Mongolia
My idea was to focus mainly on all of the abandoned military bases, monuments and buildings left behind by the Russian Armed Forces in the beginning of the 90s after they left the country when the Soviet Union collapsed.
At the end of the 70s, Russia had over 85,000 soldiers and 10,000 advisors stationed in several bases all over Mongolia, and all of these bases served as a front-line in case of a conflict with China.
Once in Ulaanbaatar, Mongolia's capital city, I headed directly to the Oasis Guesthouse. This place is a well-known meeting point for bikers travelling in Mongolia, especially German speakers, as the former owners were an Austrian couple. The place is now owned by locals, and they keep the place running as well as it was before.
My priority was to take care of my bike, which desperately needed a big service. With the help of Paolo, a retired Italian guy I met by chance in the city centre, I bought a set of new tyres from a KTM dealer.
It took me almost two days to get all the work done, and I even managed to have my side-stand improved by Koji, the Japanese mechanic working next door to the Oasis Guesthouse.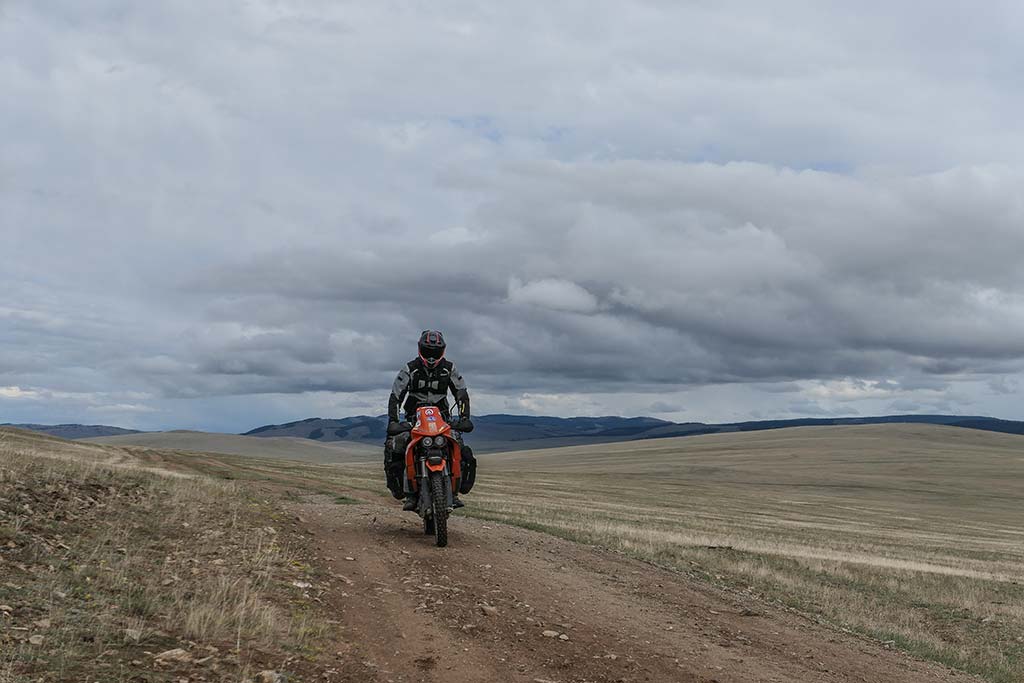 Looking For Abandoned Soviet Bases And Relics
Some 150 miles south of Ulaanbaatar, you can see the remains of two military airfields. The first one, the 126th Fighter Aviation Regiment in Bayantal, home to MIG-21 and MIG-23 fighter jets until the beginning of the 90s, and the second one some 55 miles further south in Dalanjargalan. Between them stands the city of Choir, another former military base.
All of that seemed pretty exciting, and I was hoping to get great footage of those places with my drone. Unfortunately, it didn't go as expected. In Bayantal, a few nomadic families had installed their ger (or yurt) in the base, and when I came in to take a few pictures of the concrete airplane hangars, they made me clearly understand that I wasn't welcome, and I had to leave the place.
I rode 50 miles south in a sandstorm to reach Dalanjaragalan. That time, I stayed outside of the barbed wire fence and started taking pictures with my drone. Less than five minutes later, an army jeep was driving full speed towards me from inside the base.
It might have been abandoned by the Russians since the 90s, but somehow the Mongolian army was still using the place, even if it looked totally abandoned (to me). I managed to play the fool until they let me go, but I was scared, and I instantly lost my motivation to check out the other spots I had saved on my GPS.
I ended that catastrophic day in a s**thole, the only place I could find in Choir. It was so bad that even the owners preferred to sleep in a ger behind the hotel rather than in a room.
The next morning, I decided to skip all the other points of interest around Choir and rode straight back to Ulaanbaatar, where I enjoyed a couple of beers with other travellers at the Oasis Guesthouse.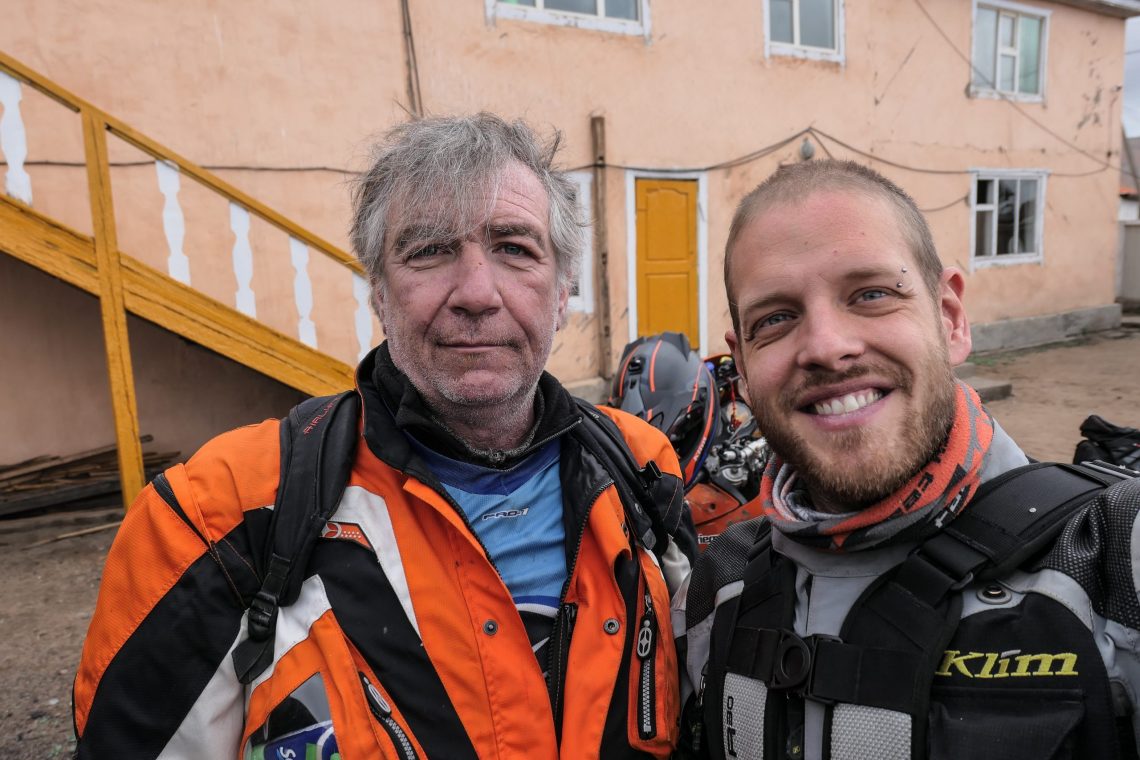 My next destination, Choibalsan, was situated 420 miles east of Ulaanbaatar. The first 180-or-so miles were on a boring straight line paved road until Chinggis (formerly known as Öndörkhaan) where I spent the night. The city has recently been renamed in honor of Genghis Khan, born and possibly buried in this province.
The remaining 220 miles to Choibalsan were an off-road heaven. Although a little bit rainy, I had the best off-road ride of my whole trip. The combination of the heavy clouded sky with the tremendous green plains was breathtaking. Except for two trucks and a van, I didn't come across any humans. Only birds, horses and sheep.
It took me the whole day to get there. At the entrance of the city, in a neglected park, stands a decrepit statue of Lenin, one of the last standing relics of a time where Choibalsan was a major Russian army base in Mongolia, home to 300,000 men. The city has now barely 40,000 inhabitants, and half of it looks abandoned.
Much to my disappointment, all of my GPS coordinates were leading to ruins. Almost all former military buildings were destroyed to the ground, the construction material probably being reused to build new homes. There was barely anything left to see. I was two decades late.
There was a wedding party going on at the hotel, and all the kids gathered around me while I was fixing some electrical issue on my bike. We had fun until one drunken man came out and started to insult me (well I don't speak Mongolian, but it was pretty obvious).
Luckily, some men came out and tried to calm him down. He started fighting with them and was shouting like a maniac. It took four guys to put him on the ground and, even after that, he wouldn't let go. They eventually managed to lock him in a car while he was still kicking against the door. As for me, I left as soon as I could.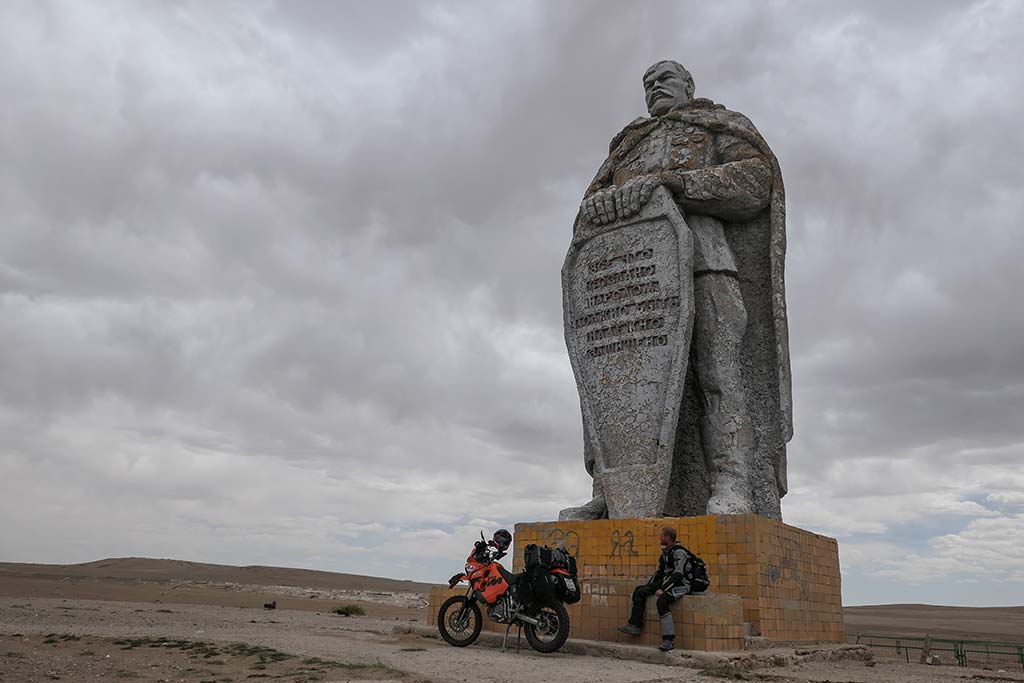 Going West
Back in Ulaanbaatar two days later, I decided to team up for a few days with the Italian guy I had met the previous week. Paolo settled in Mongolia after completing a motorcycle world tour. He fell in love with the women and landscapes of Mongolia and has lived there for five years now.
He spends most of his time riding enduro all around the country and has even started an off-road guided tour company. He had plans of exploring some new off road tracks near Kusgul lake. As my plan was to cross the country through the northern route, I was going in the same direction as him anyway.
Mongolia has developed very quickly in recent years. Now, every major city has 3G mobile signal, and Paolo told me that all the way south to the Gobi (up to Dalanzadgad) is now paved. In 2011, it was still a 400-mile dirt road.
It wasn't always easy to find fuel in Mongolia, and a big tank was a necessity. There are now petrol stations everywhere, and to my surprise, in bigger cities, not only one but several, and they're all brand new. Nowadays, a fuel range of 130 miles is enough for most trips in the country.
Even the 285 miles between Ulaanbaatar and Tsetserleg is a boring straight line of tarmac now. I had the impression of riding in Arizona, not in Mongolia.
The next day, after another 100 miles of paved road, Paolo left his bus in Tariat, and we started a nice 160-mile-long off-road ride towards Moron.
Paolo on his Yamaha WR450 with just a backpack, and me with my fully loaded bike. The old man sure knows how to ride, and I had to give the best of myself to keep up with his rhythm.
It was challenging, but it felt great. The landscape in the north of Mongolia is much different than what you would expect from the country of Genghis Khan.
There are mountains and huge forests. We climbed a pass up to 2,500m and reached the city of Moron in the evening, where we checked in a nice hotel with warm water and Western food.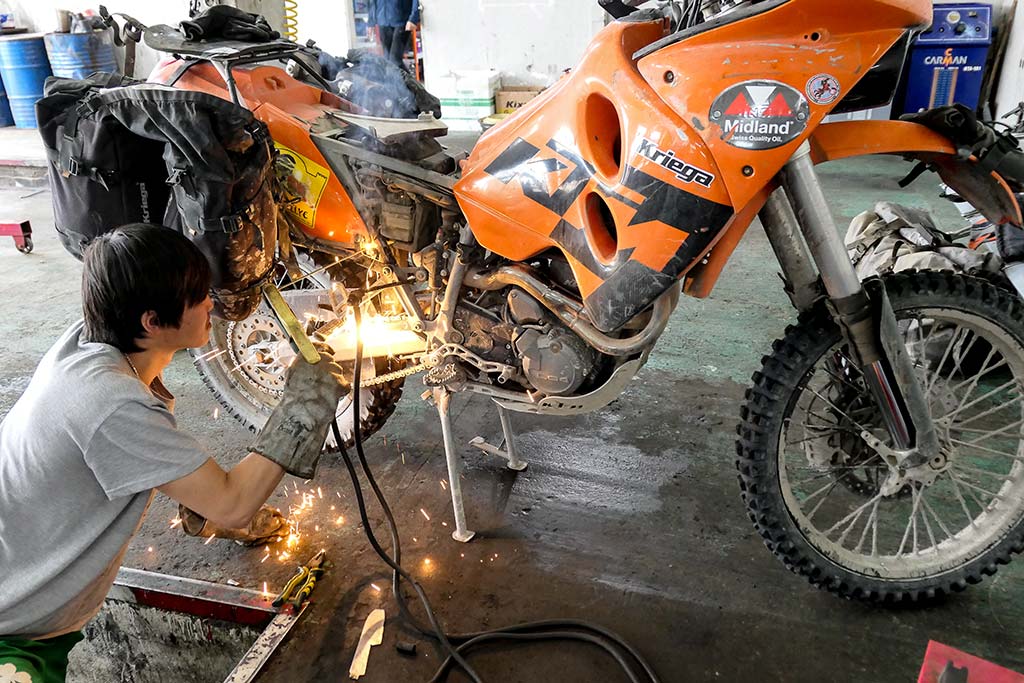 Even a bad pizza is still a blessing after several days of eating Mongolian food, really! You may think that you'd get a choice between several dishes in the restaurants, but most of the time in rural areas, there is only one dish available, and it's called Buuz. It's a sort of giant dumpling that looks like a piece of brain.
It's greasy and filled with fatty and strong tasting sheep meat. I have never met a foreigner who claimed to enjoy Mongolian food, and the funny thing is, that in my hometown, there's a Mongolian restaurant that serves delicious Mongolian fondue, a dish that I've never seen in the actual country…
We had dinner with two young Swedish guys who were travelling through Mongolia on little Chinese motorbikes they had bought new for €600. There was a Polish guy as well, travelling on a good old Yamaha XT600.
He was part of a group of 17 Polish riders and stopped in the city to buy a blanket as he was freezing during the night! I can believe it, as even in the gers I had to sleep with all my clothes on.
In the beginning of June, the temperature during the night can drop to -5C. Even during the day, it was sometimes barely over 10°C.
The following morning, I left most of my luggage in the room so that my bike would be lighter. Paolo had a plan to check out a new off-road track that would lead us all the way to the Khovsgol Lake, Mongolia's biggest lake.
The day started pretty well, with easy and fast tracks that made me feel almost like a Dakar rider until I looked at my speedometer and realized I was barely going 55mph…
Paolo was plotting his tracks the old school way, with a paper map and, at one point, we were lost. There was no more track to follow, either on the map or on my GPS, but according to my device, we were about 40 miles away from the paved road leading to the lake.
So, we tried to ride a straight line towards it, through forests and fields. We literally rode through every possible type of terrain in one day, and there was even some mud where my front wheel sank up to the axle.
It was 7 pm by the time we made it to Khatgal, the first village near the lake. It took us about eight hours to ride these 110 miles. I was totally exhausted.
Khovsgol lake is a very touristy place, but in early June, the days are still cold, and all tourist camps are closed. Nevertheless, we found a restaurant and, after eating, left for another 10 miles of bumpy dirt roads to reach the lake. It was almost dark when we made it, so we didn't stay long.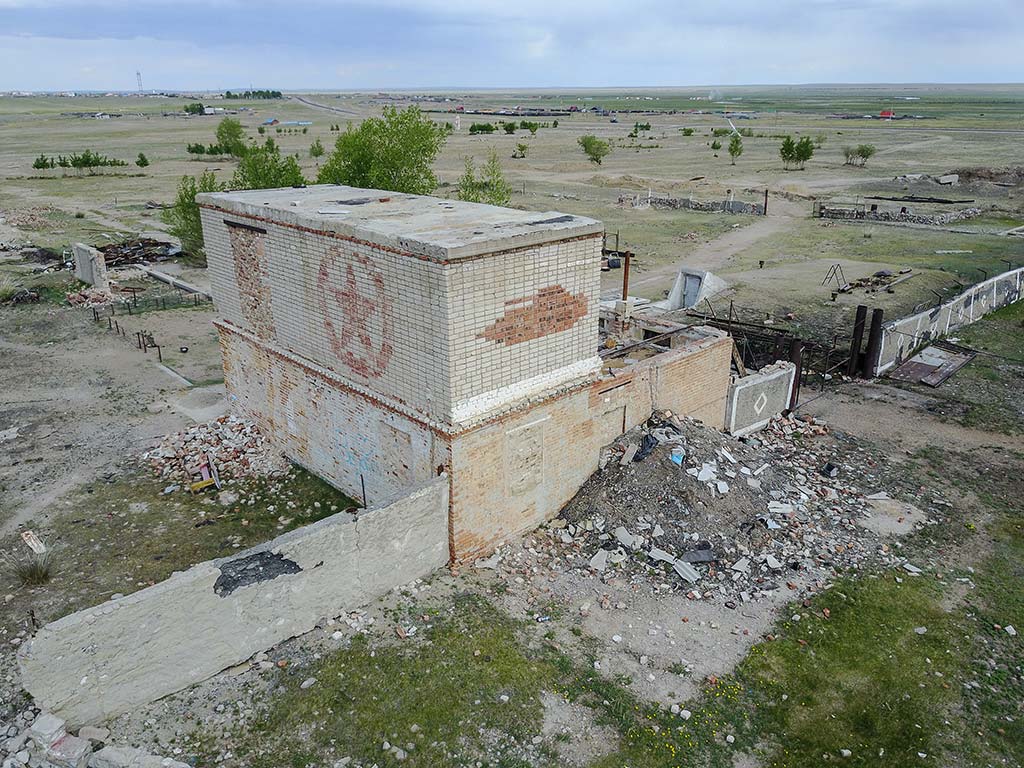 Getting To The Altai
While I was changing my air filter on the morning of my last day riding with Paolo, I noticed a crack in my rear subframe. We got it welded in a small workshop, by a guy in shorts and flip-flops with no eye protection whatsoever. He managed to melt the bottom edge of my CDI unit as well, which could have marked the end of the trip for me, but this time I was lucky.
We hit the road pretty late, and the sky looked like it was ready to give us a shower. At this moment, my starter decided to play the drama queen… Nothing. Not a fart… Thank God, my bike has a kick starter as well!
It wasn't long until we ran into a storm of biblical proportions. We had to stop twice in small villages and wait for the showers to pass. I even managed to drink my first cup of coffee ever. It was the only other alternative to the usual Mongol Suutei Tsai; an unpalatable mixture of milk, water, tea and salt.
I had already drunk one earlier and thought that my stomach would not survive more than one. A real English tea in Mongolia is called a 'Lipton', if you use the word 'Tchai', like you would in Russia, you will get a Mongol Tea…
We made it to Tosontsengel in the evening after 175 miles of pure off-road. Except for the rain, it was another fantastic day of riding. There wasn't much choice when it came to accommodation, but we found a cheap place without water, let alone a shower, and the usual wooden hut toilet in the garden…
It was basic, but better than camping in the rain with my minimal camping gear. Of course, the only meal on the menu was Buuz, but there was a little shop still open where we could buy some biscuits and fruits.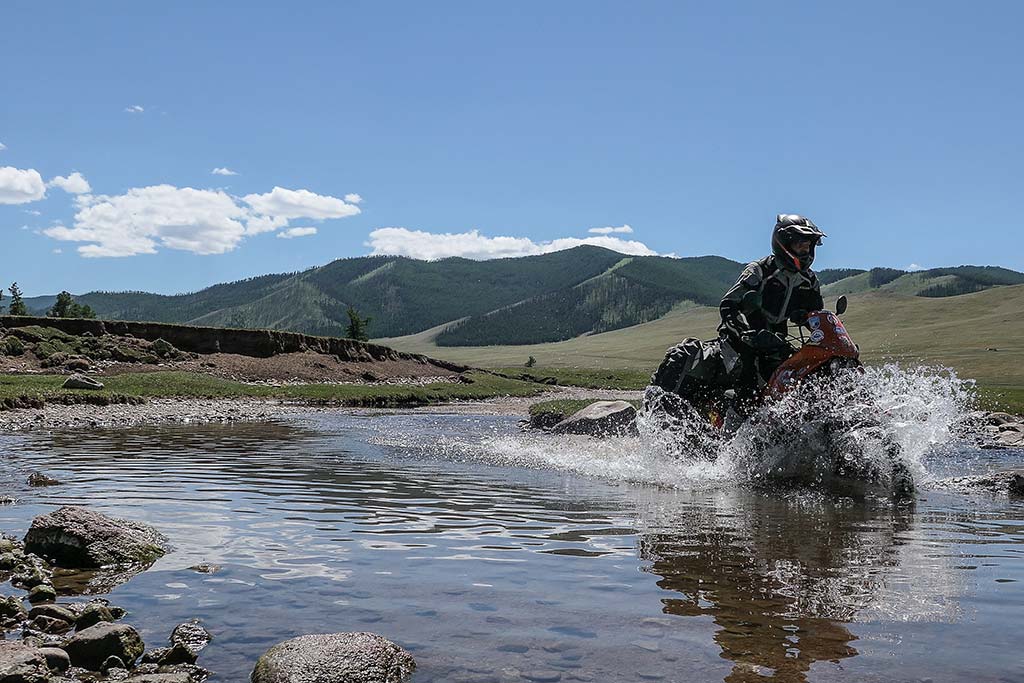 The following morning, Paolo and I went our separate ways. He went back east, and I left towards the west with a much slower pace than that of the last few days. I was feeling chilly, even with all my clothes on, and in the mornings the temperature was barely over 10C. It took me some 30 miles to get out of the clouds and find the sun again.
For almost 200 miles, I was again alone in the world, in one of the most scenic landscapes I have ever seen. I stopped for the night in a village called Songino as it was the last city before Ulaangom, some 220 miles away.
A young boy on a bicycle brought me to a hotel that looked like an abandoned building. On the door, I spotted a sticker from Gary O'Keefe, the legendary Irish guy that found my document wallet last summer on the Old Summer Road in Russia. What a coincidence!
After a while, a young girl came to open the abandoned building, as I was the only guest. Of course, there was no water, no heating and the toilets were outside… My room didn't even have a lock. The girl took the 10 bucks and left. I used my spare time to change my headlight bulb and fix a few things, like cable insulation, which had worn out due to the vibrations.
I was so cold during the night that I had to take my sleeping bag under the blankets. After a day of easy dirt tracks and pristine paved roads, where I saw many camels for the first time, I arrived early in Ulaangom and was ready for the ride to Olgii. Several of my friends told me that it is one the nicest routes in the country.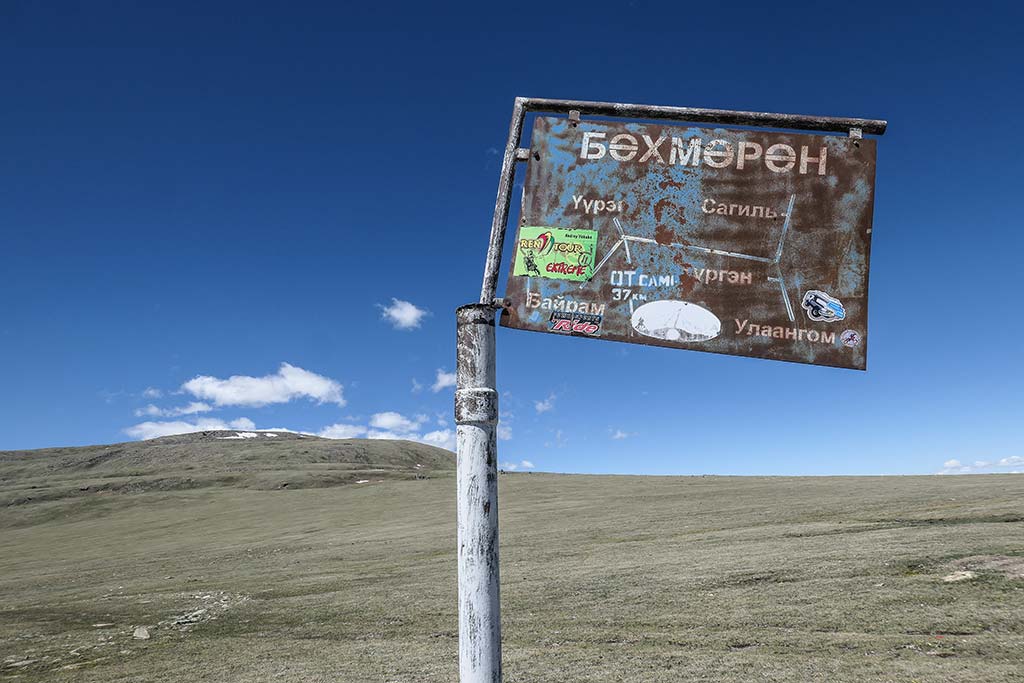 Plan Changes… Rushing Toward Russia
As expected, the 155-mile long Kotgor trakt from Ulaangom to Olgii was one of the most beautiful rides of my journey. First climbing in the mountains up to 2,500m, the view was incredible. The landscape had completely changed from a green and lush vegetation, to a more deserted place, especially in the high altitude.
I took pictures, but they really didn't do justice to the beauty and the immensity of this place. Sorry, you'll have to go there yourself to experience it.
Once in Olgii, I stopped at the Blue Wolf Ger Camp, a place that's been run for over 20 years by a Kazakh family. It's well known amongst travelers, as they also have their own travel agency offering all kinds of tours in the region.
It was one of the hottest days so far, and I was more than happy to get out of my riding gear. Unfortunately, there was no running water that day at the Blue Wolf, so instead of jumping in the shower I looked for a bite to eat.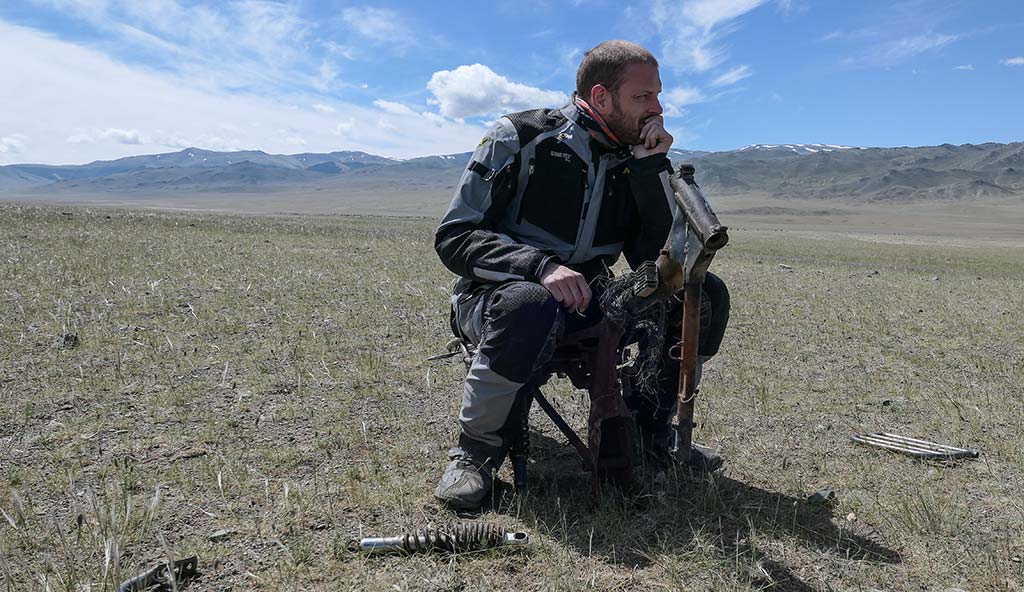 Khanat Chiryazdan, the owner, invited me to join in with the birthday celebrations of his five-year-old granddaughter, a little cutie. The Kazakh food was delicious; it was a real pleasure.
I instantly liked Khanat. He is a very smart and interesting person. The kind that I could have listened to for hours. During soviet time, he studied in Moscow and met his wife in Siberia before moving back to Mongolia with her. He has worked as a guide on several occasions for famous National Geographic photographers.
It was around 5 pm when they opened the first bottle of Kazakh Cognac… After many toasts, they opened a bottle of vodka and, when it was empty, I quickly went to a little shop and bought the best vodka they had. By that point I was already pretty drunk…
One of the guests was already asleep on the table, but the others were all ready to continue the celebration. That is until we finished the bottle, and they all left me alone at the table.
Not wanting the night to end so soon, I joined another table with a couple of smiling young Americans (with perfect teeth like in the movies) and Israelis (who complained about prices in Mongolia), but before long it was time for me to go to sleep.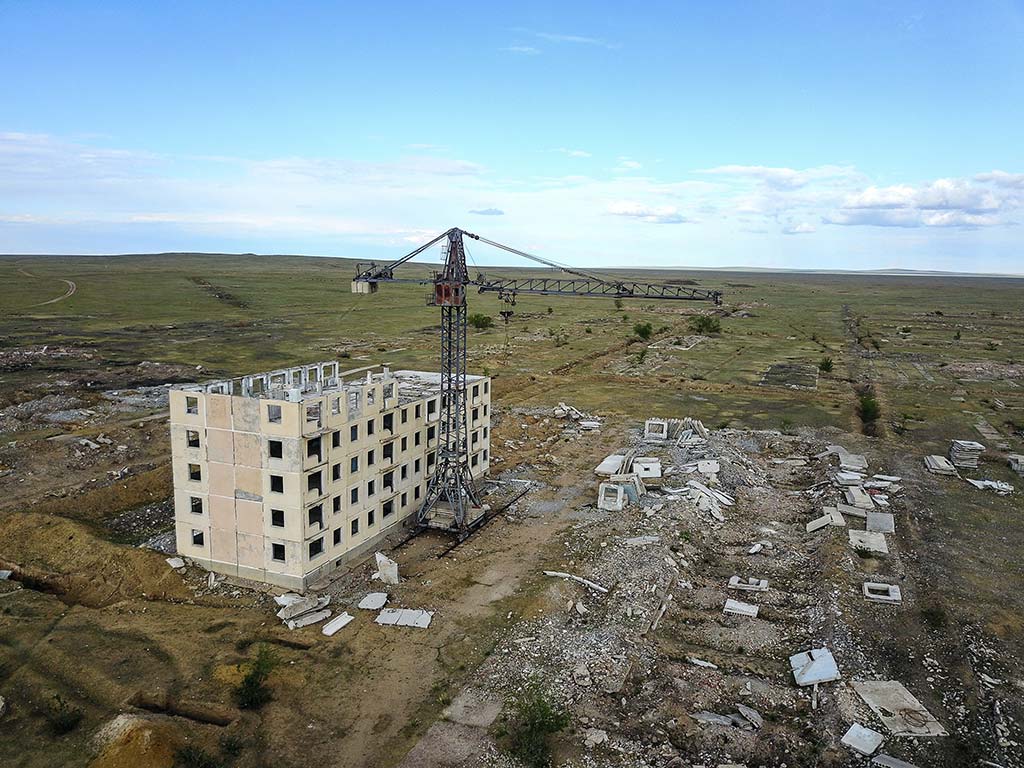 I was hoping to enjoy a few more days of riding in the beautiful Altai region of Mongolia, but the following morning I got a message from Max, a friend of a friend who offered to keep my bike in his garage in Russia until my next trip.
He told me he would be leaving in two days, and that it would be better if I arrived while he was still there. That was a sudden complete change of plan, so I had to leave the same day to ride the 450 miles to Biysk.
Border crossings here are always time-consuming, and it's especially true at the Tsagaannuur-Taschanta border, where many travellers have reported extremely long waiting time.
As expected, it was painfully slow on the Mongolian side, but even worse on the Russian side. They were giving a young Kazakh man a hard time because he was unemployed and didn't speak Russian, from what I understood.
It took me about four hours to cross the border, and I spent the night in a s**tty motel in Kosh-Agach.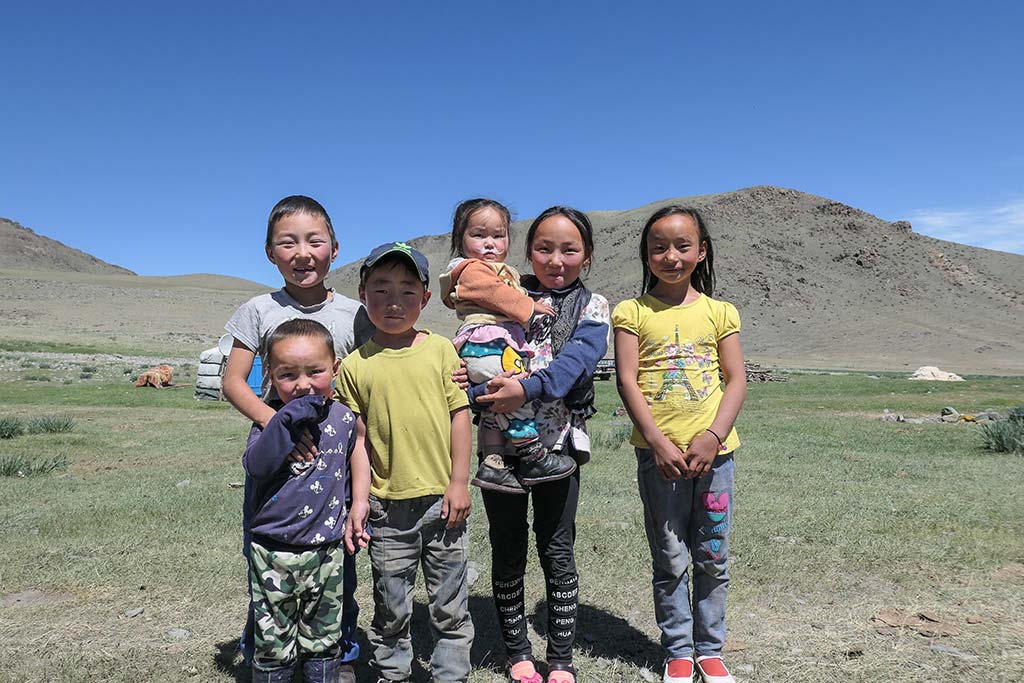 The following morning, I had a marathon stage of 330 miles to Biysk. It was by far the nicest and best-paved road I had ridden in Russia. A lot of Russians claim that the Altai is their favourite place in the country, and I can definitely understand why.
The landscape is wild and beautiful, there are high mountains covered with snow and a lot of small villages with typical Russian wooden homes (Datcha). It somehow reminded me of Switzerland!
When I finally met Max in the hotel he had paid and arranged for me, he hugged me, lifted me from the ground and said, "hello little man!" He took me to a nice restaurant with his friends and after eating delicious food, we ended up drinking a bottle of expensive single malt mixed with coke at the back of the hotel…
He arranged a place in his garage for my bike and asked one of his employees to drive me to the airport in Barnaul, a two-hour ride at 4 am… Legendary Russian hospitality at its best! I still can't believe it! Who would do that for a stranger in my country?
Epilogue
I was supposed to get back to Biysk six weeks later and meet with Max for a couple of days before continuing my trip towards Kazakhstan and Kyrgyzstan for another four weeks, but something unexpected happened…
I was arrested at the passport control in Domodedovo airport in Moscow and sent back to Switzerland the next day, after spending the night in custody without any other explanation than that my visa had been cancelled by the authorities and that I was banned from Russia for three years!
---
The Bike
I ride a KTM 640 Adventure, year 2004 with 51,000km [31,000 miles] on the clock. I chose this bike because it's the lightest adventure bike on the market (160kg) that comes with proper off-road suspension, a 25-litre tank, a reliable engine and good carrying capacity.
I use Kriega Overlander 60 soft bags and an SW-Motech Drybag 700 (or a 70-litre drybag). The bike is almost stock, but I removed one of the brake discs on the front, and replaced the clutch slave cylinder (the original is a weak point).
During the trip, I had to get the side stand repaired (for the third time), get the rear frame welded and my starter is now occasionally problematic.
The carburettor needle wears out with the vibrations and should be replaced every 6,000-9,000 miles. I pre-emptively replaced the rocker arms bearings, a known weak point on the LC4.
---
Getting your bike to Mongolia
LOXX Pan Europa specialises in transporting motorcycles from Tamm, in Germany, to Ulaanbaatar, in Mongolia, and back. It costs around €1,000 to ship the bike from Europe, and a bit more from Mongolia. You can either build your own crate or rent one from them.
Mister König ([email protected]) speaks English and is very helpful. I used the company's services in 2014 for my first ride from Mongolia to Magadan.
At the Oasis Guesthouse (www.guesthouse-oasis.mn) in Ulaanbaatar, they're used to building crates to ship the bikes, and the staff are very helpful too.