As We Race Into 2018, We've Got A Lot To Be Looking Forward To In The Adventure Motorcycling World…
While the outlook for riding during the late autumn and winter period is typically grim in the UK, it's an exciting time of the year as most motorcycle manufacturers choose to unveil their newest models.
In November of 2017, it was Eicma in Milan which was the hosting ground for the biggest reveals, and amongst the sports bikes, scooters and cruisers that were announced there was an exciting handful of adventure bikes that caught our attention.
Here are 10 of our favourites…
BMW F850GS and F750GS

For 2018, BMW has said 'auf wiedersehen' to the F800 and F700 GS, and 'hallo' to the new F850GS and F750GS.
The machines have undergone extensive aesthetic and mechanical reimagining, with both bikes also seeing a host of electronic upgrades that bring the two machines in-line with the more modern bikes on the market.
Dynamic ESA will now be available as an option, while both bikes see a 6.5" TFT dash with its associated connectivity, emergency call system, keyless start, cruise control, tyre pressure monitor and gear shift pro.
Both bikes will make use of an 853cc parallel-twin engine (which will be detuned in the 750), which has been redesigned to effectively sound better and add a bit more oomph.
An all-new steel ridge frame forms the backbone of the machine. The F750GS will come in two models: Standard and Exclusive.
The F850GS will be available in three versions: Standard, Exclusive, and Rallye.
---
Ducati Multistrada 1260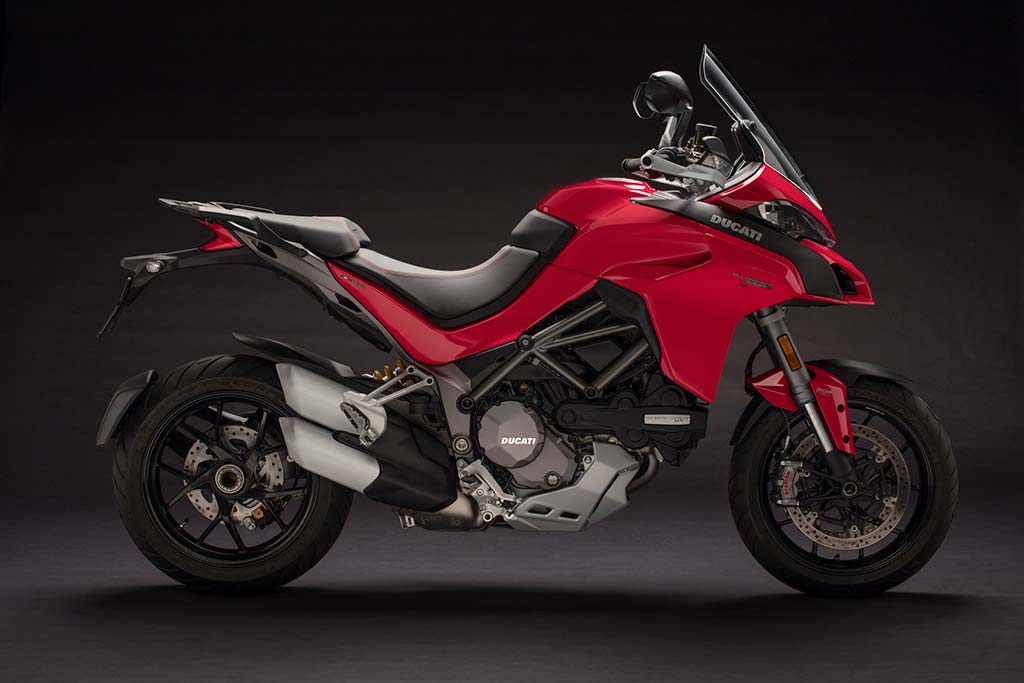 Last year the Multistrada 950 signalled Ducati's desire to open up its adventure range to a wider audience by offering its luxury dual-sport machine in a slightly smaller capacity, and 2018 has seen that bike's big brother get a capacity increase from 1198cc to 1262cc.
The capacity increase is thanks to the inclusion of the company's new Testastretta engine, and if the old model's performance is anything to go by, expect the new 1260 to be a blistering rocket on the twisties.
Ducati even claims that the new engine, which delivers 85% of its torque at under 3,500rpm, has the highest torque output of any bike in its class at 4,000rpm, a welcome change as we found the 1200 to be a bit sluggish from a rolling start when compared to, say, the BMW S1000XR.
As well as the engine, the big Multistrada will have a new chassis, more advanced electronics and subtle changes to the looks of the bike.
There'll also be a 'Pikes Peak' version of the bike released, which looks gorgeous and offers an Öhlins 48mm inverted fork, a TTX36 shock, forged aluminium wheels and a Termignoni exhaust system.
---
KTM 790 Adventure R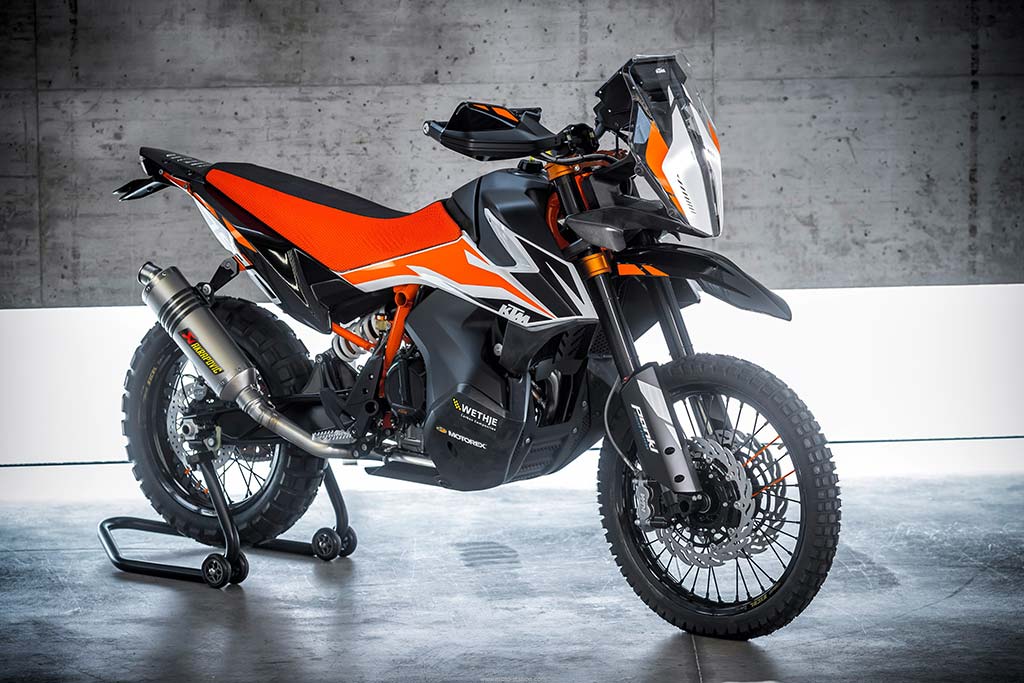 There had been many rumours circulating about a KTM 790 Adventure before Eicma, with some riders wishfully hoping that it might be launched for 2018.
Unfortunately, we're going to have to wait a while for what looks like a lightweight, off-road focused, mid-range adventure bike, with KTM unveiling the 790 as a prototype, but it looks like the wait might be worth it.
Not much has been revealed in terms of technical details, but it's said that the 790 Adventure R will use the same all-new 799cc LC8c parallel-twin engine that is debuting in the 790 Duke in 2018. When speaking about the 790 Adventure R prototype, KTM said: "The adventure community has been eagerly awaiting a lightweight, compact mid-range travel enduro with outstanding cross country ability.
The wait is almost over, for at Eicma 2017, KTM proudly presents the prototype of such a super lightweight adventure bike designed all around the brand new 2-cylinder LC8c engine.
"The KTM 790 Adventure R Prototype is exactly what the hardcore adventure crowd wants it to be: a true KTM to close the gap between the enduros and the larger bikes of the Adventure series."
---
Honda Africa Twin Adventure Sports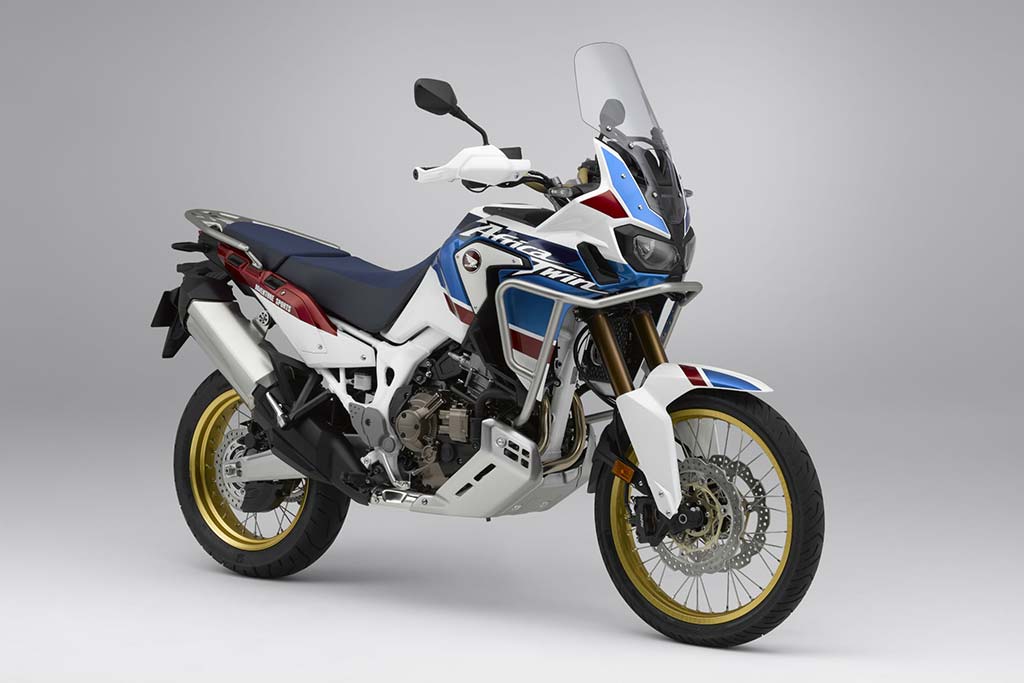 The Honda CRF1000L Africa Twin never fails to stir up excitement amongst adventure riders, and when the manufacturer chose to revive the iconic Dakar inspired bike in 2016 it's safe to say that the adventure community was eager with anticipation to see how Honda could modernise the legendary Africa Twin.
Two years later and the firm has lifted the lid on a new Adventure Sports variant of the machine, and it looks like Honda has the 1200GS's market dominance in its sights.
The Africa Twin Adventure Sports sees a host of modifications, but perhaps the most welcome one is the increase in fuel capacity from 18.8 litres to 24.2 litres, providing much more range from a single fuel stop (a claimed 310 miles).
Ground clearance has also been raised, with the Adventure Sports offering 20mm more than the base model, and longer travel suspension has also been fitted.
The bike will come with heated grips as standard and an extended fairing should provide more wind and weather protection, while also adding to the machine's road presence.
The exhaust has been revised to offer a more seductive growl, and Honda reckons the machine will have better mid-range response.
To celebrate the Africa Twin's 30th anniversary, a new paint scheme has also been introduced, and boy does it look sexy.
Like the base model, the Adventure Sports will be available in both manual and DCT.
---
Triumph Tiger 800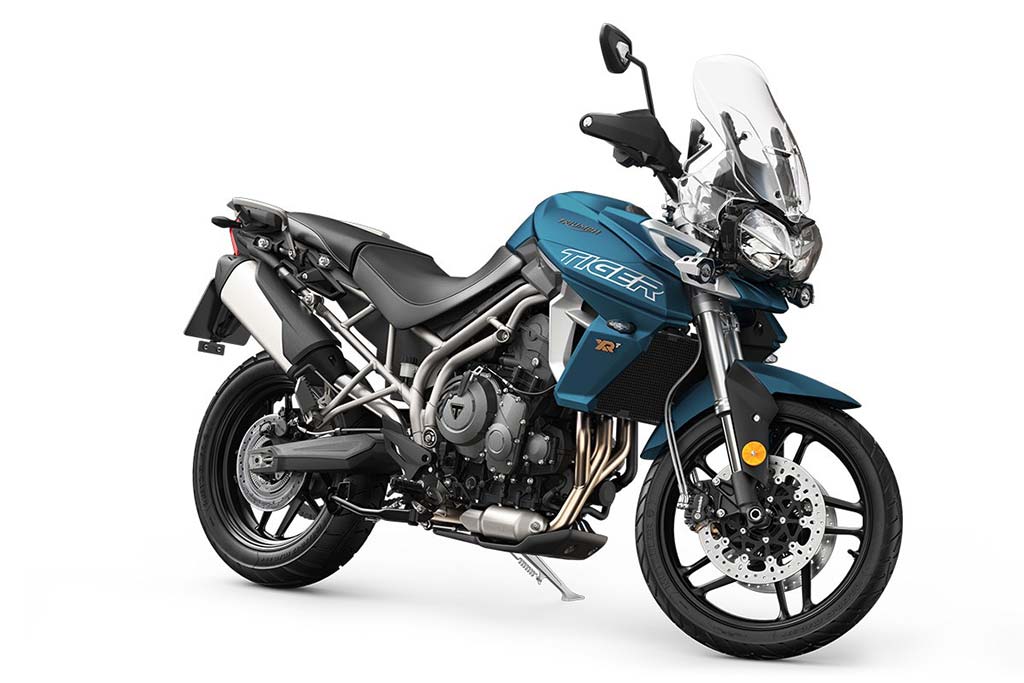 On the face of it, you'd think that the Tiger 1200 is the most changed of Triumph's adventure lineup, but the Tiger 800 has received no less than 200 modifications for 2018.
While most of those changes are minuscule, they all come together to make this year's version of Triumph's mid-capacity adventure bike a more modern, more refined machine.
That's not to say the previous iteration wasn't a good bike, far from it, but with the inclusion of a TFT dashboard, six riding modes, a redesigned switchgear with backlit buttons and LED lighting, this new model is looking more in line with what's being expected from bikes in this modern age.
The handlebars have also been moved back to accommodate a higher adjustable windscreen and aero diffusers, which Triumph reckons provides class-leading wind protection.
Higher spec Brembo brakes will also be included, along with Showa adjustable suspension and a shorter ratio first gear.
A total of six variants of the Tiger 800 will be available, with each one suiting differing riding styles and end-uses.
---
Triumph Tiger 1200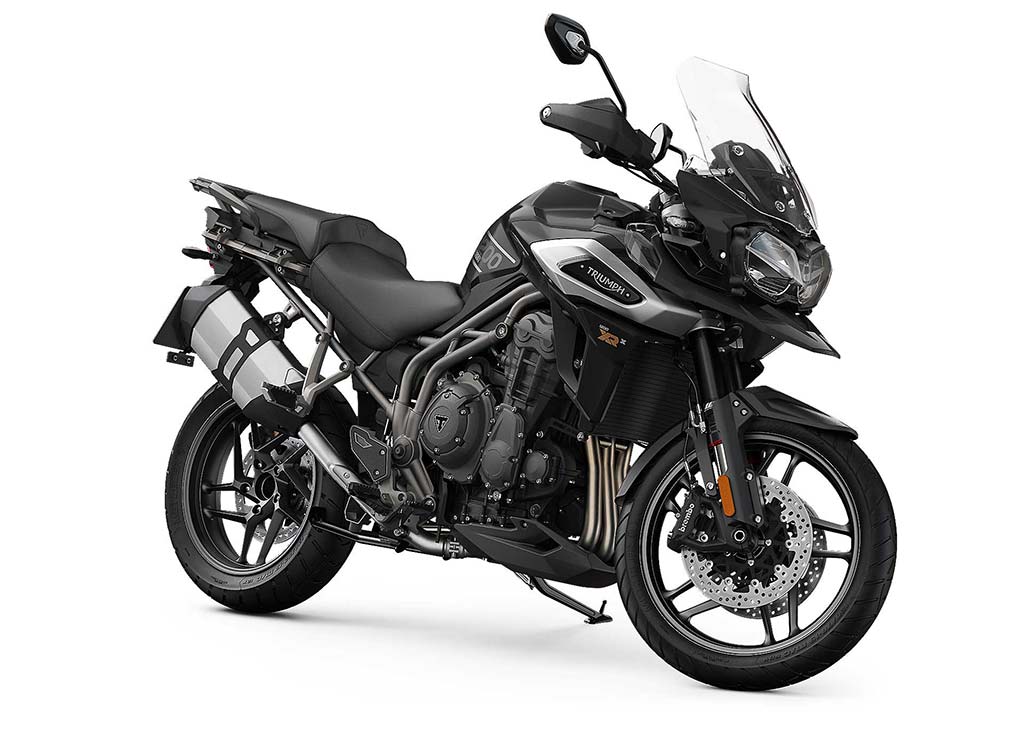 Triumph has put the big 'ol Tiger on a diet, and along with the Explorer nametag, it's lost 11kg for 2018.
The result is a bike that looks noticeable slimmer, sexier and more athletic than its forefather.
A new, modern TFT dash has been implemented, switchgear is backlit (we love this), and an Off-Road Pro rider mode will help make the behemoth a little more sure-footed on the dirt.
The machine's cruise control has also seen changes to make it simpler to use, though I can't recall any issues with this on the 'old' model.
The 1200 also sees up and down quick shifters, keyless ignition and smart LED lighting with cornering LED lights built-in, bringing it up to date with similarly priced and specced competition.
Like the 800, the Tiger 1200 range will consist of six variants, with each one offering differing setups and add-ons depending on how you see yourself riding.
We were out on the launch of the Tiger 1200 at the end of November, and you can read our full review of the machine on page 96.
---
Yamaha Tenere 700 World Raid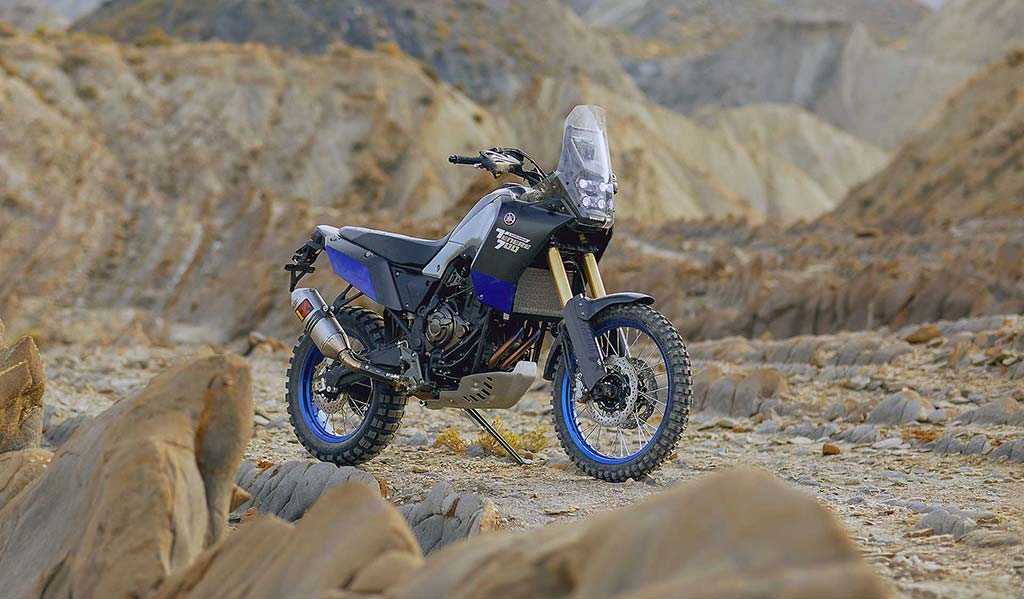 There is no hiding the excitement that Yamaha has built up around its Tenere XT660Z replacement, dubbed the T7 in 2017 and the Tenere 700 World Raid for 2018, but many riders are more than frustrated that they're going to have to wait another year for Yamaha's off-road-focused adventure bike.
That said, the Tenere 700 World Raid, which was unveiled at this year's Eicma, has brought the mid-weight adventure bike a step closer to a production-ready model.
Speaking about the prototype, Yamaha said: "Featuring the rugged rally-inspired character of the original T7 concept bike and developed using the information gained from intensive testing of the T7 during 2017, this lightweight adventure bike is unlike anything else on offer in the marketplace."
---
Yamaha Tracer 900 and Tracer 900 GT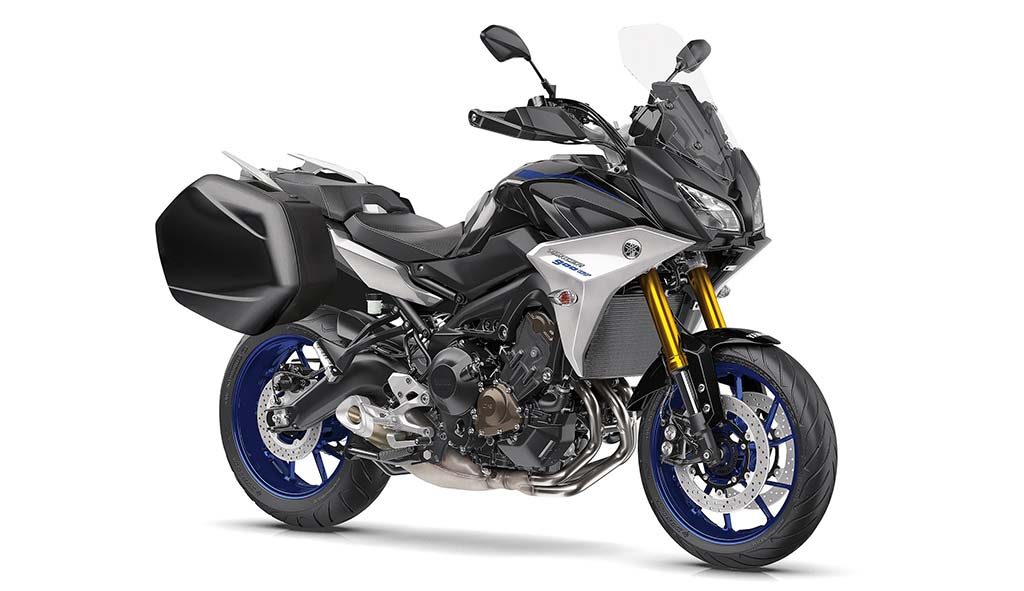 This year marks the first significant upgrades to Yamaha's exceptionally well-received Tracer 900, along with the inclusion of a more touring focused Tracer 900GT to the lineup.
As standard (also included on the 900GT), the Tracer has received a bit of a facelift with some reshaped bodywork and an improved chassis.
This comes in the form of a larger, manually adjustable screen, a reshaped seat for more comfort, new pillion grab bars and footrests, narrower handlebars, a longer swingarm and an updated rear shock.
The 900GT builds on this, adding 22-litre panniers as standard, a new TFT colour dash, up-shift quick shifter and improved suspension throughout.
To make it a more accomplished tourer, it also comes with cruise control and heated grips as standard. The Tracer models will make use of a new 847cc triple engine, which will pump out 113bhp at 10,000rpm
---
Yamaha Super Tenere 1200 ZE Raid Edition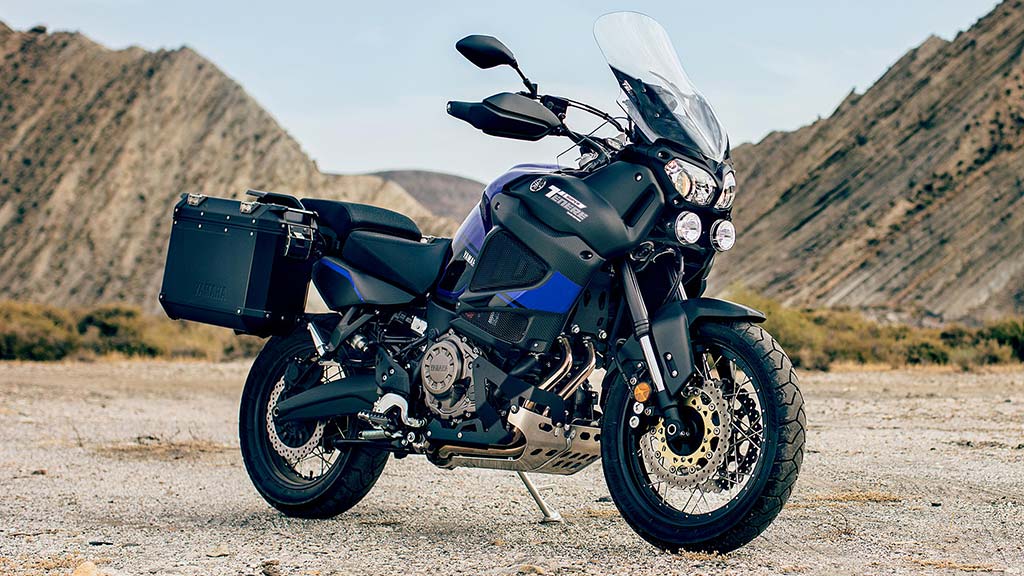 In an effort to keep the underrated but excellent XT1200Z Super Tenere in riders' minds, Yamaha will launch the XT1200ZE Super Tenere Raid edition for 2018.
It's not exactly the most inspiring of updates for the machine, with the changes being limited to two 37-litre aluminium panniers, a wide skid plate, a high screen, hand guards and fog lamps as standard, all of which can be purchased as add-ons for the standard 1200Z.
Perhaps the neatest thing about the Raid Edition is that, as it's been inspired by the development of the Tenere 700 World Raid, it's available in a seductive Yamaha Blue or Tech Black, both of which will be complete with carbon side panels and Raid Edition graphics.