We pay a visit to long time Moto Guzzi enthusiast Martin Vermeire and his family, to see what's lurking in their garage…
In past issues we've looked in detail at some of the bikes, not to mention the ownership experience of some of our readers. Last issue we had an update on Paul Holroyd's Varadero. The issue before we heard about the Metisse ridden by Henry Nottage over to Nepal and down to Malaysia. This issue we extend the scope, to take into account an entire garage of bikes, with the Vermeire family writing in to tell us about their collection of Moto Guzzis, and even something a little smaller for the next generation of biker to learn on. We travel to South Wales, to find out more…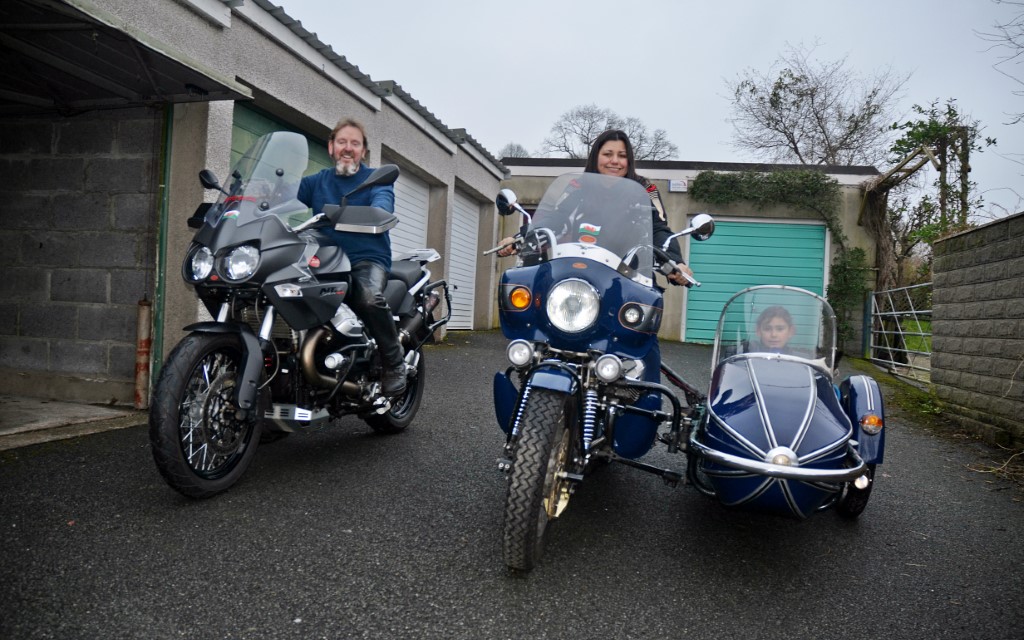 Martin's Royal Enfield 
The Royal Enfield was manufactured in 2000 and registered in 2004. It's a 500 Enfield Bullet that has been highly modified, with braced handlebars, aluminium mudguard, single seat, a high rise exhaust, a one off side panel behind the exhaust, wider swingarm, 21-inch front rim fitted, and the indicator stalks have been reduced. The engine is standard, apart from a Amal MK1 concentric carburettor, and the clutch is a British made clutch, that works properly, unlike the original. I've owned it four months now. Previously, someone spent a lot of money changing lots of bits, but never bothered to finish it. Basically, the forks are original, the headlight is original, the tank is original, apart from a one off paint job, and one of the side panels is original. Since owning the bike I have fitted new rear shocks, from a DR400 for £47. They are very solid however. What I've done since buying it then is basically get it working right. The shocks, the indicators, making lots of little brackets, putting shorter bolts in so the bolts don't hit the wheels.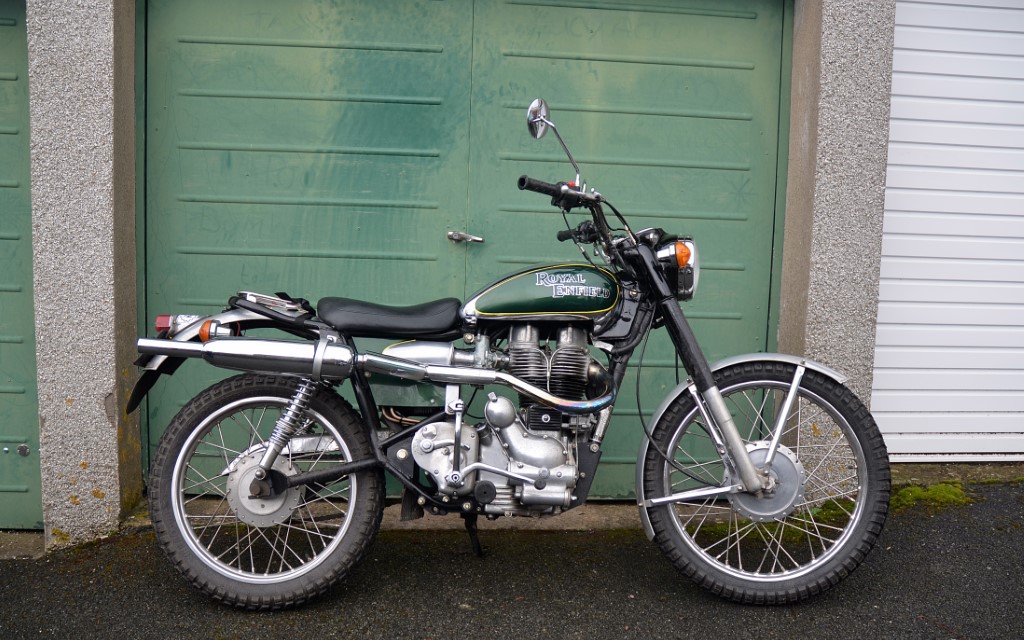 The tyres are Mifo having been recommended them by Gabe over at Zen Overland. They're German tyres, perfect for the Enfield because as the wheels are quite narrow, you don't want the lightweight tyres you would normally put on a 125 trail bike. The side walls just won't take it. These seem to offer the perfect compromise. The high rise exhaust was already on the bike when I got it. I'm the third owner. It's done 8,200 miles. I've put 1200-1400 miles on it in the time I've owned it. I plan on using it for Sunday afternoon bimbles out and little runs, making lots of noise. The only problem I've had is that it popped a fuse (whilst we were riding to Touratech), but that was the only real incident I've had with it. It'll cruise at 55mph. In terms of economy I'm getting 75-85 to a gallon. Is it vibey? Well it is a big single, but it's not particularly vibey for a big single, if you know what I mean. Sure, if you've got a Japanese single with lots of balance shafts and anti vibration everywhere then it is worse than that, but it isn't a problem to ride all day. And it's a lot of fun. 
The bike owes me about £2,500. I've done alright though. The cost of the parts that have gone on it are about £2500. Just to lace a 21-inch wheel on the front you're looking at £300-400 quid, alloy mudguard £70-80 a piece, the handlebars – specially made for the bike – was around ninety quid, whilst the custom seat would have been another £100, and the carburetor £200 on top of that. Why put the different carb on? Mainly because the Indian built Enfield comes fitted with a copy of the Mukuni carb, and it just doesn't work very well. It's a very standard performance upgrade to put an Amal concentric carb on. It's a very early British carburettor, which still has the little tickler button on it to tickle up the floats to flood the carb to start it. It works very well. The bike also still has the decompressor lever to start it. Some people fit two spark plugs – twin plug the head – by removing the decompressor and fitting another plug, it makes them a bit more efficient. But then people put diesel engines in them as well! 
Martin's Moto Guzi Stelvio 
The Stelvio is the latest model with the 33-litre petrol tank. It's the NTX model, with all the bells and whistles; the paniers, the crash bars, the fog lights, the brush guard, heated grips, and as standard, all the Stelvios have ABS and traction control. This one's done about 7,500 miles now. It was ex-demo. I've had a few vibration issues, which turned out to be plug caps and HT leads, which thankfully was cheap to fix, something I diagnosed myself. The Trax panniers are standard, but very soft. Certainly don't use them as a seat! I've still got some bum indent marks in one of them from learning that the hard way. 
I have dropped the bike. I stuck my foot in a pothole and fell over. The pannier took a good knock on the corner and saved the bike. They did rattle the rivets in the corner, but I guess that means they're fairly strong, just not to sit on! The reason I bought the Stelvio and not a GS is that I've always had aMoto Guzzi and I like to be different. That's why I've got an Enfield, and a sidecar. I don't want the same as everyone else. But the Stelvio is an excellent bike. And an underrated bike. It just seems that people have a paranoia about Moto Guzzis in general. I have three friends though with Stelvios. Two are on their second, and both of them covered over 50,000 miles on their original bikes, before they chopped them in for the later model with the bigger tank. I find you can do the best part of 300 miles on a tankful. Their bikes have now done over 46,000, and Dave on will be doing the Elephant Rally, the Dragon Rally, and the BMW rally, all on his Stelvio. The best feature of the bike is the V-twin sound. They also do everything comfortably, with plenty of power, plus they're incredibly good value for money. Weak points are the dealer network and Moto Guzzis inabibility to follow up their warranty claims.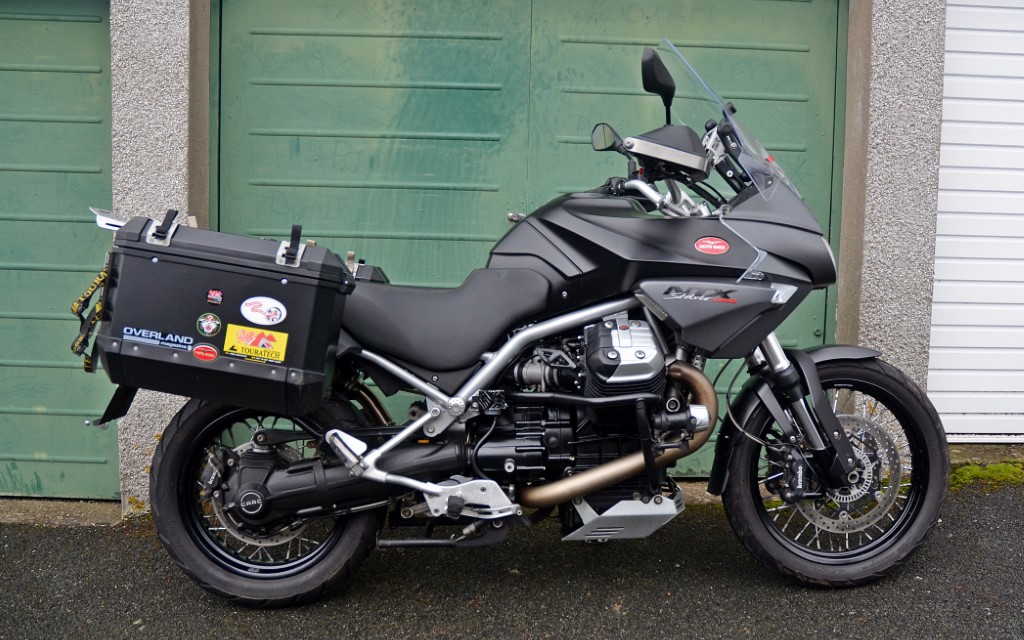 There are probably half a dozen really decent Moto Guzzi dealers in the country who really need more support with warranty claims and stuff like that. When people are waiting months and months for a part, no one is going to be happy. It's spoiling a very good bike. People who have had them and had to sell them because of warranty claims have been really upset. They love the bike, they want to keep the bike, but they can't afford to have them sat in dealers for months on end waiting for parts. The people buying them are mostly those who have always bought Moto Guzzis. We're also getting BMW riders switching having had a test ride. The difficulty is getting younger people on to the bikes. 
The 750 models they're doing now are really good bikes, they're different, and there's a lot of guys going down from their bikes to the 750s and loving them, touring on them, doing big distance. And some of the youngsters coming through do want something a bit different. They don't want to do 150 everywhere. They like the Italian character and are enjoying them. One of the most valuable assets is the Moto Guzzi is the Moto Guzzi club, which is certainly worth joining..
Lorraine's Moto Guzzi Breva 
I bought the Brava because the ride is lovely. My confidence was quite low when I first got on it, but then last year, riding it in the rain and feeling comfortable with it, the confidence built me back up. I just love her. She's ace. I love everything about her. I love the colour. I love the height. I wouldn't have bought one if I hadn't have met Martin. I enjoyed motorbikes when I was teenager, and then life took hold and I lost my interest in them. Them me and Martin got together and he had bikes and stuff, and then the biking bug came back. I didn't take my test until Lucy was two, so I haven't been riding that long. I started with a Honda NSR125, which was a pokey little thing, a two-stroke. And then from the NSR to a Guzzi that I didn't ride – a V50, then a 305, then a Kawsaki GPZ550, which I hated, and then we had a Moto Guzzi Nevada, that we bought for a ridiculously low price.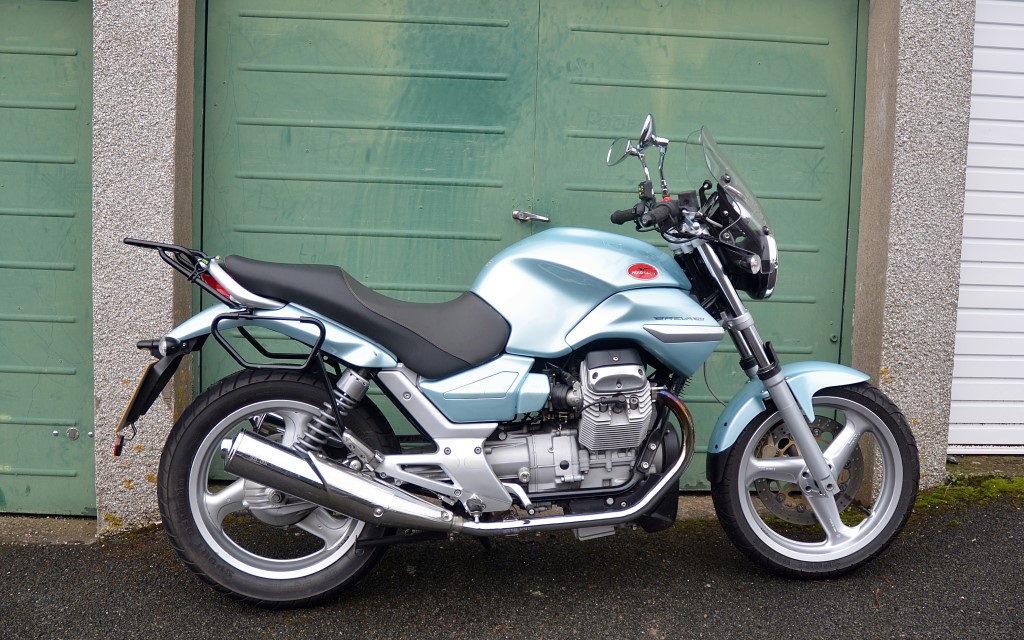 We went all round Ireland on that, two-up. Then I got the 750 Breva, which sadly they don't make anymore. This one's got two fuel injectors on it, whereas the later model had just one big fuel injector, and twin manifold. It really smooths the bike out and improves the fuel efficiency, but mine's still fine. For me, the Breva is an ideal bike for older riders finding the big bikes too much to manage, also female, who want something they can push around and move around. The seat height is low as standard, and with this being the Touring model comes with screen and panniers, and other little bits. the only thing we've fitted is heated grips. The furthest I've been on her is to all the Guzzi rallies around the country, but I would do Europe on it, as we do like France. 
The roads are quiet and flowing, but I wouldn't mind Switzerland either. We've even talked about going to the Guzzi factory in Italy as well. Obviously with Lucy's schooling age we can't take her out of school, especially now they're fining people for doing so, but through the summer we'll be away every other weekend, mostly at the Guzzi rallies. Often Martin goes on the Stelvio, I go on the Breva, and Lucy goes on the back of the Stelvio with Martin, or in the sidecar…
The Family Sidecar 
It's a 2004 Guzzi California Touring. The actual paintwork and fairing on the bike is standard, and it's fitted with a Watsonian Squire Monza GP sidecar. I bought it with the sidecar already fitted. The bike had only done about 1,000 miles and had been bought by a bank manager who had it put together for him and his dog. But this dog hated it, so the bank manager just needed to get rid of it. I bought it in March 2005, so I've had it almost nine years. In that time we've done about 23,000 miles in it; UK and Europe, but we haven't taken it to Ireland yet, but we're planning to. Two years ago we had a good ten or eleven days going around Europe, Belgium, Holland and France, all three of us, camping, in constant torrential rain, and that was in June!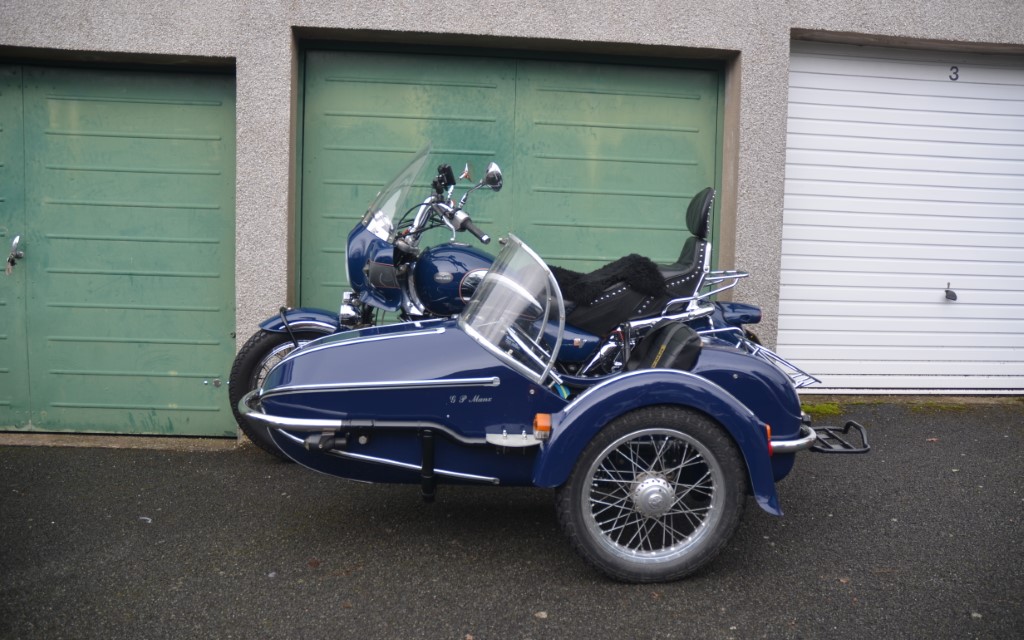 The benefit of doing a trip like that with a sidecar is that you've got the whole family together, and it does slow you down a bit. You're also seeing more, and you attract a lot more attention. Everyone seems to smile when you're riding a sidecar. And we don't hear George and Mildred anymore, we hear Wallace and Grommet! You can carry a bit more kit, and we do have a trailer to go with it as well, which is handy for taking a great big tent camping with us. We also have an intercom so we can all talk as we ride, which makes for a pleasant journey. We'd move every day to another spot, ride, move on… camp… and the sidecar just more comfortable as a family outfit. That's why we got it. Lorraine explains; 'Martin didn't want to stop riding as soon as Lucy came along. You know, 'my life's going to end now I've got a little child,' that kind of thing. 
That's why he settled on the sidecar. At first I hated riding in it when Lucy was a baby. She would have been resting on my lap, and about four inches away from the grab bar. I said to Martin, 'if you want this to work, you're going to have to adapt it, and put a car seat in there. And he did. He adapted the seat to take a car seat unit, with all of the harness, and then a double harness around the seat itself, and then I went on the back of the bike. We've put quite a few people in the sidecar over the years. I even had a 96 year old lady in here. She does a lot of yoga and so leaped in without any problems. Martin adds, 'For anyone thinking of getting one I'd say just get one, but definitely have a training day first, either at Watsonian, or Hedingham sidecars in Essex. 
There are sidecar forums. There are sidecar clubs. I've had more fun on that sidecar than I've ever had on a solo bike. You're steering on the throttle, and on the brakes. But once you get the hang of it it's brilliant!'
Q&A WITH TEN YEAR OLD LUCY 
What's your name? 
Lucy-Marie Vermeire. 
How old are you? 
Ten years old 
How long have you been riding motorcycles? 
From five months old in the sidecar. Five years old on a LT50 quad. Nine years old on zy80. 
What motorcycle do you ride?
 A zy80 (a Chinese copy of a pw80) 
Why do you like riding motorcycles? 
On the back of my dad's Stelvio it's awesome going fast especially around bends. On my zy80 I like sliding in the mud. 
If you could ride your motorcycle anywhere in the world, where would it be, and why?
I would like to ride across America to New Mexico to see my grandmother. 
What do your friends think of you riding motorcycles? 
They are all jealous because we go all over the country and Europe camping. 
Do any of your friends own motorcycles? 
Nope. 
Why not? 
Because the girls don't want to mess up their hair, and the boys are all scared. 
If you could have any bike, what would it be and why? 
A Husqvarna cr80, because it's awesome. 
What's it like going on holiday in a sidecar? 
Great fun because everyone looks and waves, also I can eat, drink and even sleep which I can't do riding pillion. 
How do you think we get more young people riding motorcycles?
More places to ride an off road bike, before they are old enough to go on the road.