We catch up with the company behind CCM's rear shock, including a semi-active option…
Who is Tractive?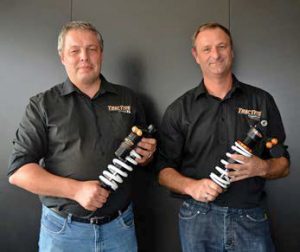 Tom Glazemakers: We're a company that formed three years ago when WP moved their original offices from Holland to Austria to be part of KTM cross-holdings. The core development and engineering team took this chance to start Tractive Suspension. The white springs are a proud reference to our background, so are the orange colour accents, orange being the national Dutch colour. Starting from scratch, but a mountain of experience gave us a headstart.
How many people work for Tractive?
Tom Glazemakers: At Tractive we started with four, then seven, now 10, some of which had been at WP for more than twenty years. At WP we developed products used for Moto GP, World MX, Super Motard, Trail, ATV, Formula 1, Snowmobile competition. We contributed to the success of riders like Valentino Rossi, Jorge Lorenzo, Max Biaggi, Loris Capirossi, Troy Bayliss, Jean Michel Bayle, Joël Smets, Michael Schumacher and many more. You can change profession but if aiming for the best suspension has been your life and love it's hard to give that up. We are not a company that boasts marketing language. We aim for the customer's recognition of our technology. In this adventure motorbike segment, we partner with well-known companies like Touratech and Rally Raid.
How did you come to be designing the shocks for CCM?
Jochum Rijpma: CCM wanted high-end suspension and were interested in our off-road speciality. They told us they were working on a new bike and asked if we could design a rear shock for it. From their design specifications, we designed the suspension specifically for the bike, taking into account weight and intended usage.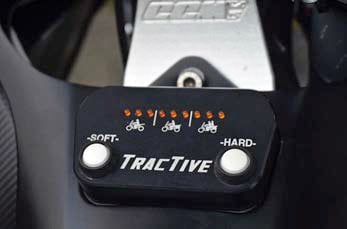 What's the process for designing bespoke suspension for a bike?
Jochum Rijpma: The process can be different, in this case, they had already designed a basic suspension setup – with the stroke, the length, the spring rate, etc. Based on this information I put the shock on paper. They already had a test model designed so it was a case of taking that and making it better. We then send them a prototype and then work with them to refine and improve it until it's ready. It helps that we have done this process a few times before (smile).
How long does that process take?
Jochum Rijpma: How long it takes depends on how much experience you have with similar vehicles and if you have to design and manufacture new parts. In this case, the lower fork needed to be built bespoke, the rest we had in stock. Then you do the test drive, then optimisation together. At this stage, we're finishing the fitting in the bike.
So is it the same suspension as I rode on the prototype in ABR18?
Jochum Rijpma: No, it's been refi ned since then. The changes to the design from that bike to the new one will be changing the position of the dials and a few other tweaks to make an optimum fit. And it has gone up from 90 to 95 on the standard spring – so stiffer. Note: Softer and harder springs are available to suit the shock to the driver needs and weight, there's 90, 95, up to 110.
Apart from that, we designed a shock for a low version of the bike: new suspension setup and a harder spring. The shorter stroke requires a stiff er spring as you have less travel, you need a harder spring to stop it bottoming out. We've also changed the position of the adjuster dial to make it more accessible.
Do you have some specs to the shock?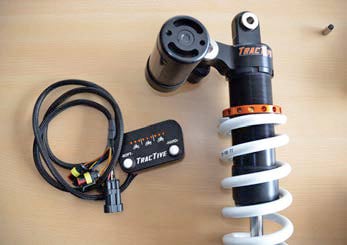 Jochum Rijpma: Oh yes, the shock is developed for off road, adventure use in general and more specifically for the CCM GP450 meaning that we combine off -road robustness, lightweight, plush damping and full adjustability. The robustness you will find in the stainless steel bushings, the 16 mm dia induction hardened Chrome-Molybdenum piston rods, 46 mm damping system, uniball bearings of best quality, etc.
In order to keep the shock light, the body is made from forged aluminium T6 heat-treated, all other components are from aluminium. We developed our sealing system specifically for this market: high endurance and low friction for a plush feeling. The shock is of course fully adjustable for any track.
What damping adjustment is there on the CCM shock?
Jochum Rijpma: The standard shock has 18 clicks of rebound adjustment and 18 clicks of low-speed compression adjustment and again 18 clicks of high-speed compression adjustment.
Is there also a preload adjustment?
Jochum Rijpma: Yes, the shock body is threaded so that the spring preload can be increased or decreased by rotating manually the spring retainer. If this is often needed, we recommend a manual hydraulic or electro-hydraulic preload adjuster. When using the manual hydraulic preload adjuster, there are 64 clicks, or 32 full turns, adding 0.25 of preload at a time to give a total adjustment of 15mm.
How does the (optional) electronic Suspension work?
Tom Glazemakers: It's the same unit, just that the buttons on the tank do the clicks, with eight stages, or nine buttons. It's simply automating the process of turning the adjuster, making it possible to do whilst driving, to take into account luggage load, carrying a passenger, changing your balance, or the terrain you're riding on.