Passionate ABR crew launch new 125 tour, where at the end you get to keep the bike…
For those who have thoughts of riding Morocco, but don't have the bike or indeed anyone to go with, then long-time friend of ABR and forum contributor Alex Richards – along with riding chum Richard Walby – might just have come up with one of the most cunning solutions we've heard of.
Titled the Iris Rally (after legendary 1950s BSA rider Peggy Iris Thomas), the intention is to spend two weeks of motorcycle touring in Morocco, from the port of Tangier, down the Atlantic coast and across to the dunes of Erg Chebbi then through the heart of the country, crossing the Atlas mountains and back to the Mediterranean. It's going to be held in the first two weeks of September and is expected to cost £2,750 to enter.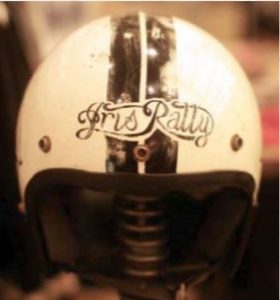 That sounds a lot of money, but what you get for that – and what sets this plan apart from any other we've heard of – is that you get a brand new bike to do the trip on, and best of all, you get to keep it at the end. That's right; rather than taking your own bike, or renting one, or borrowing one, you get – for your entry money – a brand new HMC Classic 125 (Chinese bike with an engine based on a Suzuki), complete with all the luggage for the trip.
Accommodation throughout the trip is also included in the price, as is the ferry crossing to and from Morocco, not to mention the route planning and guidance by Alex and Richard.
All you'll need to provide is the riding gear, something to wear off the bike, and a towel (optional). You'll also need some spending money and petrol money, as well as return tickets to Malaga (around £100), as that's where the adventure will begin, with your new bike ready and waiting for you at the start of the adventure into Morocco.
Alex explained; "The Iris Rally is everything that motorcycle touring should be, and nothing more. No electronics, no aluminium panniers, no traction controlled multi-litre adventure bikes. Just a simple motorcycle, a rollbag strapped on the back and a desire to see the world.
We've organised the bikes, the shipping, the route and the accommodation, all participants need to do is book a cheap flight to Malaga, pack a rollbag with some clothes and bring their spending money. And unlike any other fly-in, fly-out trip, the bikes are theirs to keep and will be shipped back to the UK at the end."
For more information contact Alex at [email protected] or check out their Facebook page: www.facebook.com/the.iris.rally