John Norris heads to Britain's largest island, The Isle Of Wight, and rediscovers the beauty of touring by motorcycle
Apparently, there are 267 permanently inhabited islands in the British Isles. Only 19 of these belong to England but I'd still be hard-pressed to name those.
For my next short bike trip however, I was only interested in the one nearest to my new home in Dorset, and it happened to be our country's largest. The Isle of Wight.
The catalyst for this trip was the 2016 Norton Festival which was due to be held just a few miles away in the New Forest so I decided to attend that weekend event on my way to the island.
I left Dorchester in the early hours of a clear July morning on my Norton 600 loaded with some basic camping gear, a bag of tools and, as always, a camera. The Norton was on song, thumping along the Dorset back lanes which wind their way in twists and turns through the patchwork of summer wheat fields, ancient woodland and coastal hills. The Dorset landscape lends itself to slow travel the scenic way.
Quaint cottages
I passed through the military land near Tyneham village that is sometimes closed off as a firing range. The original inhabitants of Tyneham were evicted from their homes and land during the Second World War so that it could be used for training troops on the promise they could return after the fighting.
In 1945 the government broke it's promise however, and no one was allowed back, which left their abandoned homes to slowly decay in what then became a permanent live firing range. When I rode by, all was quiet, but every time I rolled off the throttle and the Norton backfired I wondered if the army might think they were under attack and respond in kind.
The Norton Festival was just to the north of Poole in Merley Park, on the fringe of the New Forest. It was a great weekend with a chance to meet like-minded bikers who combined a love of travel and old motorcycles, and it was amazing to me to hear the miles that a lot of the guys clocked up on some very old machines.
Cambell for example, who I met making a fine supper outside his tent, bought his Norton Fastback 750 in the late 1960's soon after his first bike trip abroad to France. He and his friend didn't have much money back then so when they saw an article in Motorcycle Mechanics illustrating 'how to make your own aluminium panniers' they set to in the shed and created their own.
They must have done a pretty good job because here 50 years and many camping trips later, they were still going strong on the same Norton, covered with stickers from places visited across Europe.
Sun, sea and the open road
After the festival, I made it to Lymington where I stocked up with a full English breakfast. Lymington is by far the most scenic departure point for the Isle of Wight and it's a relaxed set up at the quayside. The crossing to Yarmouth takes you out of the harbour between sailing boats moored in lines and into The Solent.
The Gossips Cafe on the waterfront was a good place to enjoy a fresh coffee and plan the day ahead. In total the island, which is England's second-smallest county, has only about 500 miles of road, but it is such an intricate network that exploring all of it can keep you busy for a long while. As I had no idea if the blue skies would last beyond the day I decided to head for the Needles which is the most iconic natural landmark of the island.
It seemed auspicious as I passed through the village named 'Norton' and was soon at a car park with no charge for bikes. In Alum Bay the cliffs are of multi-coloured sands, which in themselves are beautiful, but the area around them is a shameless and cynical machine for relieving tourists of their spending money. I locked my stuff up and headed in the opposite direction along the dusty chalk footpath towards the most westerly point of the island.
It was baking hot but there was a fair sea breeze which made it bearable. The Needles area is owned by the National Trust but (since Christmas!) I had a membership card which I used a few times on this trip and could gain free entry into the old fort and other places on the island.
John and his Norton
During the war they used to scan the water between here and the mainland with a floodlight looking for the enemy. The viewpoint afforded a spectacular view of the Needles, their brilliant white shark fin rocks jutted out into a deep blue sea dotted with white sails. The old battery and fort were pretty interesting and there was a cool little cafe above a sheer drop to the sea.
As the weather seemed like it might hold I walked out along Tennyson Down, the poet's favourite hang out, which gave fabulous views right across from the south to the north coast, from up there you could really see you were on an island.
When I got back to the Norton I was glad to see my gear still safely where I left it. Next stop was Freshwater Bay which, in the late 1800s, was a social hub for writers, poets and artists and at the centre of this circle was Julia Margaret Cameron, a photographer who's pioneering work I really like.
I stopped by her old house Dimbola Lodge which is now a museum and it was good to cool off in the gallery and breezy tea room there. On my way through Freshwater, I bought some supplies for the evening and parked up at the beach. Time for a swim, and the water, for Great Britain, was pretty warm so I swam out into the bay and then dried off sitting on the sea wall in the last of the day's sunshine.
In a fairly random way I had picked a campsite at Compton Bay. It had no website and only basic facilities, but was near a wild beach and on an un-spoilt part of the island. The road from Freshwater Bay to the campsite climbed a coastal hill with views of farmland on the left and beaches and breaking surf to the right.
Yarmouth's best caff
That this stretch has escaped development is something of a miracle, but now that it has been designated an Area of Outstanding National Beauty hopefully it will stay that way. The campsite was on a National Trust farm, run by a family for several generations, and it had a few surprises in store.
In the morning I got chatting to the farmer, Anna Smith. As she got down from her tractor she observed, "I see you like old bikes. Well there are a few things that might interest you in the barn". This sounded intriguing. She swung open two huge wooden doors to reveal a massive Burrell traction engine in all it's glory.
Behind it was a workshop trapped in a time capsule full of old gear and tools, and at the back lurking in the shadows was a Model T Ford pickup truck. Anna loved all the old stuff that had belonged to her father (he was incidentally also a Matchless rider) and she enthused about plans to get the Ford roadworthy again. She had left the church in it after her wedding!
While I was brewing up by the tent, a fellow camper on the site stopped by to admire the Norton and introduced herself as Celia Walton. It started a long conversation about bikes and revealed that this lady and her late husband had been involved with motorcycles most of their lives.
When pressed about her own machines it seemed her collection read like a classic riders wish list, "Oh I have an old Aerial, a Guzzi V 50, a nice Norton 500T…." she paused for thought…"Ah! And the Wasp trials sidecar outfit with a Honda Dominator engine, there is a BSA and of course this lovely old thing I'm on now, the BM. I probably forgot some…" she added absentmindedly.
I went up to look at her Beemer and it was a very well used and characterful looking outfit with no frills and nothing polished. She had been travelling all over Europe for many years on bikes, mainly British iron like her much loved Aerial 350, but had recently gone to participate in her first navigation rally in France with the sidecar, on her own. I was impressed!
Camping at Compton bay
The next morning the sun was shining again and the sky was still brochure blue. I was looking forward to exploring more of the island. I set off down leafy backroads with great surfaces and few cars. The Norton was in its element, although sports tourers beware, you may die of frustration at the almost universal 40mph speed limit on the island.
In reality, I saw no cameras or police cars the whole time so went at the reasonable speed that the bike and the twisty back road allowed without needing to worry about my license. The Isle of Wight is said by some to be stuck in the 1950s, which is a bit of an exaggeration, but you definitely feel you are not quite in the modern world with all its fast pace and rapid development.
Much of it does certainly have an older world charm of village shops, and red postboxes and enticing, ancient pubs.
I stopped at a nice group of typically quaint Isle of Wight cottages to take some photos and shortly an old lady in her 80s called Bonnie came out to see me. I thought she was going to berate either my 'noisy oily motorbike' or perhaps just me and my 'tourist camera', but as soon as she realised I was not going to film her house for "one of those awful TV programmes" she got into talking bikes.
"I was on the back of my husband's bike when we first saw this cottage for sale," she said. "We were touring the island like you are. Oh! I love bikes…" she continued. "I've been for miles on the back of them, ours was a Norton too, you be careful now."
Celia and her BMW
I made my way up into the middle of the island via the most picturesque village of Godshill. I had approached it from its ancient church on the hill. Just next to it were cottages so perfect and idyllically charming they didn't quite look real, but then in the lower village was the other side of things where a small industry had evolved to cater to coach-loads of tourists eager to spend on food, trinkets and general tat.
There is that side to the island for sure, but it is possible to avoid it to such an extent that when you come across it, it almost takes you by surprise.
I made my escape up onto Arreton Down, a high ridge from where I could see for miles right across to Newport, where Jimmy Hendrix chewed on his guitar strings and rocked the peaceful town during the 1969 festival. Beyond that I could see Cowes, but I had no desire this trip to go through the island's most built up areas, it was baking hot and seemed a waste of dry roads and blue skies to go into a large town. 'Cowes will keep for another time,' I thought and headed off to check out the old windmill near Bembridge.
Anna with the Burrell
The afternoon heat was positively Mediterranean, so what better plan than to head for the popular Beach Hut Cafe right down by the water on the Foreland. Windsurfers and kite boarders were out on the sparkling water and looming large behind them a Brittany Ferry cruised slowly towards Portsmouth. With the smell of kelp and salt in the air and the hot afternoon made tolerable by a steady cooling sea breeze, it was an idyllic spot to sit, drink and daydream.
Around the coast heading westbound, I stopped by St Catherines Point where an impressive lighthouse stood out against the deep blue choppy ocean. It was a wild spot, another place preserved from development and another of the kind of places here that I knew would draw me back to the island for another visit.
The sun was getting low as I rode what has to be, for motorcyclists, one of the finest stretches of the island's coast. Here you are clearly somewhere other than mainland England. I admit the weather helped on this occasion but even so, it is a wild, open expansive stretch and I enjoyed the sound of the Norton opening up and stretching it's legs a bit.
Coming towards me, sun glinting off chrome, and completing this very filmic and un-British scene of sun, sea and open road were two choppers out for a late evening blast. As we swept past each other I thought they must be enjoying the moment too. Living the dream.
If only 'till the next cold weather front, when sea mist and rain would sweep along this same stretch of highway.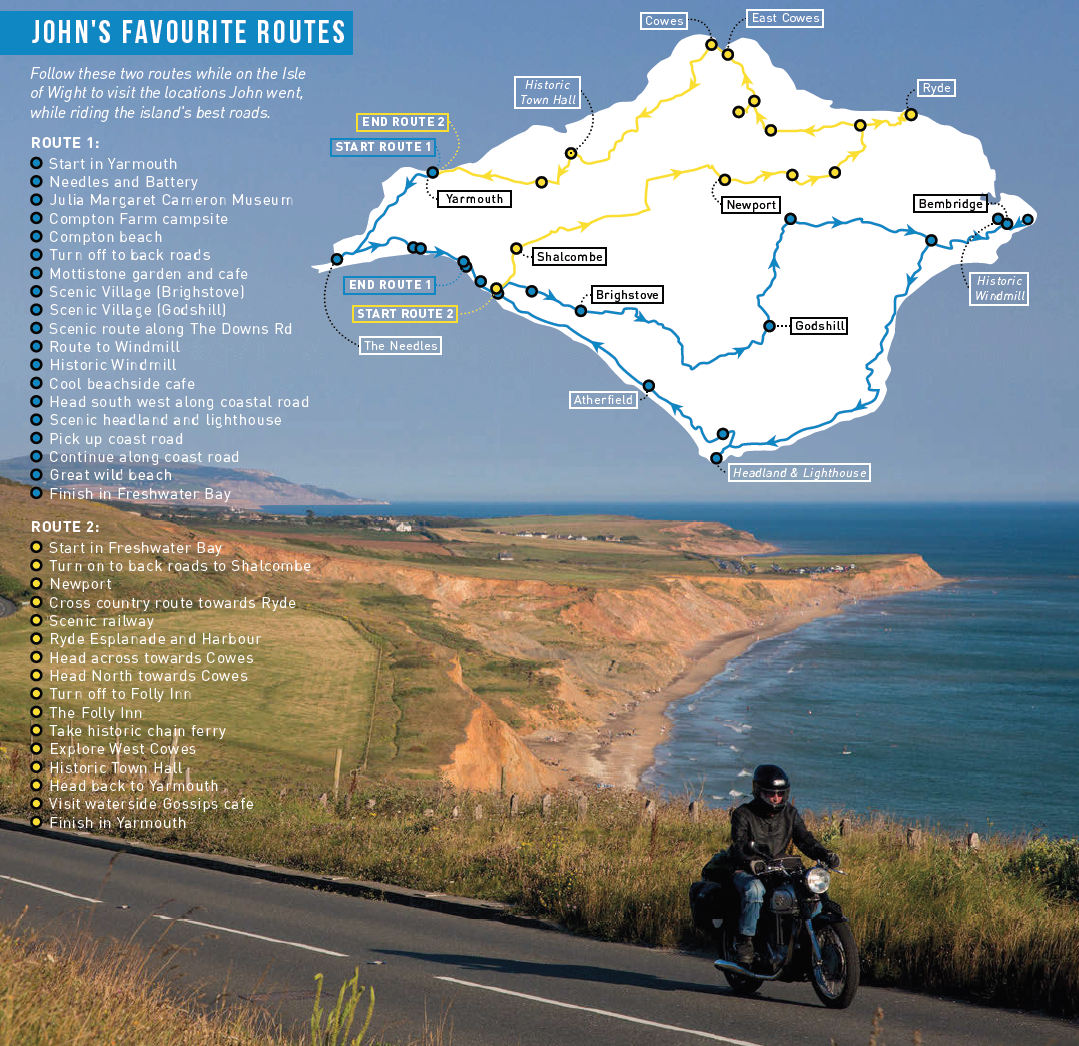 Back at the tent that evening while I was having fish 'n chips and a can of beer from a travelling chippy, Celia stopped by with a glass of red in hand to talk bikes. It turned out she was the editor of the magazine Triple which is published by The Motorcycling Club, now only 115 years young and is Britain's oldest running bike club.
On my last morning I could have easily made the Yarmouth ferry for departure in 20 minutes, but unable to tear myself away from the joys of the island's winding lanes I took a long and convoluted route back to Yarmouth savouring another warm, dry day on the bike.
In a further effort to delay going home, once back on the mainland, I decided to meander back through the New Forest, passing through Brockenhurst and along the Rhinefield Ornamental Drive which runs into Bolderwood Arboretum Ornamental Drive.
Both of these roads are lined with stands of magnificent trees with open glades where New Forest ponies graze or stand in the shade of low branches. I stopped for a picnic to enjoy the atmosphere of the place before leaving for home.
As I neared Dorchester and home I reflected how one of the great things about travelling on motorcycles, and this trip was a good example, is that wherever you go a mutual interest in each other's machines breaks the ice for conversations with fellow bikers and some fascinating people.
From Cambell on his Fastback to Anna with her traction engine and Bonnie reminiscing outside her cottage, to last but not least, the characterful Celia, this trip had delivered it's fair mix of them. The Isle of Wight, in revealing a unique and very likeable charm under English summer sunshine, had done the rest.