UP THE AMERICAS… PART THREE
We rejoin ABR Pat McCarthy on the road in South America as he explores Inca country and rides one of the top-10 biking roads in the world
My continuing journey to seek out new experiences as an adventure bike rider had already delivered more than I could possibly imagine during my time in South America. In the last two issues of ABR, I wrote about my journey up through Argentina and Chile, which left me neatly in Arica, waiting to cross the border into Peru. Sunny Days Hostel in Arica was like a home from home, and also provided me the opportunity to meet up and chat with like-minded ABRs as they headed up, down and across this great continent.
Organised chaos
An early arrival at the border saw me and my XT 660 Z Tenere, Idris, breeze into Peru in just under an hour – a relatively relaxed crossing despite my papers not being in order and the crossing being on the main Pan American Highway. I was heading into the highlands, but before that, I needed to cross more desert and traverse the Peruvian border town of Talca. The PanAm seemed to simply dissolve as the city traffic enveloped us and the satnav was more a source of confusion than help.
The roads proved to be in middling-to-excellent condition, adjectives that unfortunately can't be applied to the standard of driving! Life in Spain has armed me with some technical experience for tackling chaotic roads and this came in handy while riding through Peru's towns. An aggressive-defensive riding style was quickly adopted. Going with my gut, I picked up signs for the road north and I was soon climbing up and out of Talca into more Peruvian sands.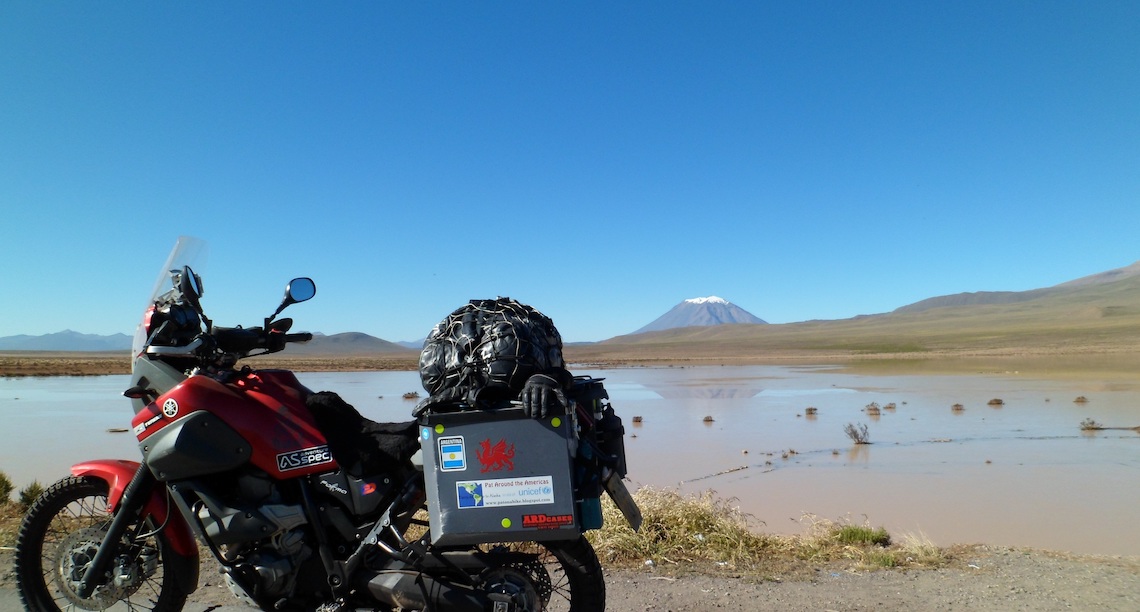 Like the Atacama in Chile, the desert here seems to change in shape and colour as you make further progress north. From flat open plains – an apt word, as they are very plain – to rolling countryside with some very interesting desert valleys. It was while descending into one of these valleys that I got my first glimpses of greenery. Initially it looked like a small oasis, then, as the whole valley floor opened up, I could see it was carpeted in irrigated agricultural land. The best of these pockets of green was the lush valley that wound its way to Moquegua on the Ruta del Pisco. Pisco is a grape-based alcoholic drink, the origins of which are disputed (along with many other things) between Chile and Peru. Most usually taken as a Pisco Sour cocktail, which uses limes, sugar syrup and egg white, it's very refreshing and highly recommended after a long day in the saddle.
Mountain country
Heading back into the desert on the Pan Am, I was quickly on my way up into the hills towards Arequipa. The road was good with some open terrain, but the hillsides, which were getting increasingly uneven, meant I had to start working Idris for the first time in a while. This also had the advantageous effect of working my struggling back and hands, which seemed to seize up on the long straight runs. These pleasant undulations allowed me to move with the bike, change gears and brake into bends. It seemed a little alien for a while, but as I started to get back into the rhythm of thinking about speed and line, the grin on my face started to widen. The scenery that came with this change of pace was equally pleasing as we headed from desert into mountain country.
The number of bikes in use is notable as soon as you enter Peru. Not only did I spot some good off-road machines and an increase in the number of overlanders, but these people still use two wheels as working machines and a cheap form of transport. A refreshing sight! Bike riders don't pay any road tolls in Peru, though the penance for such a privilege is that you usually have to squeeze through a narrow side lane, or in some cases, ride directly into the oncoming traffic to pass through the toll booths – something I never quite got used to.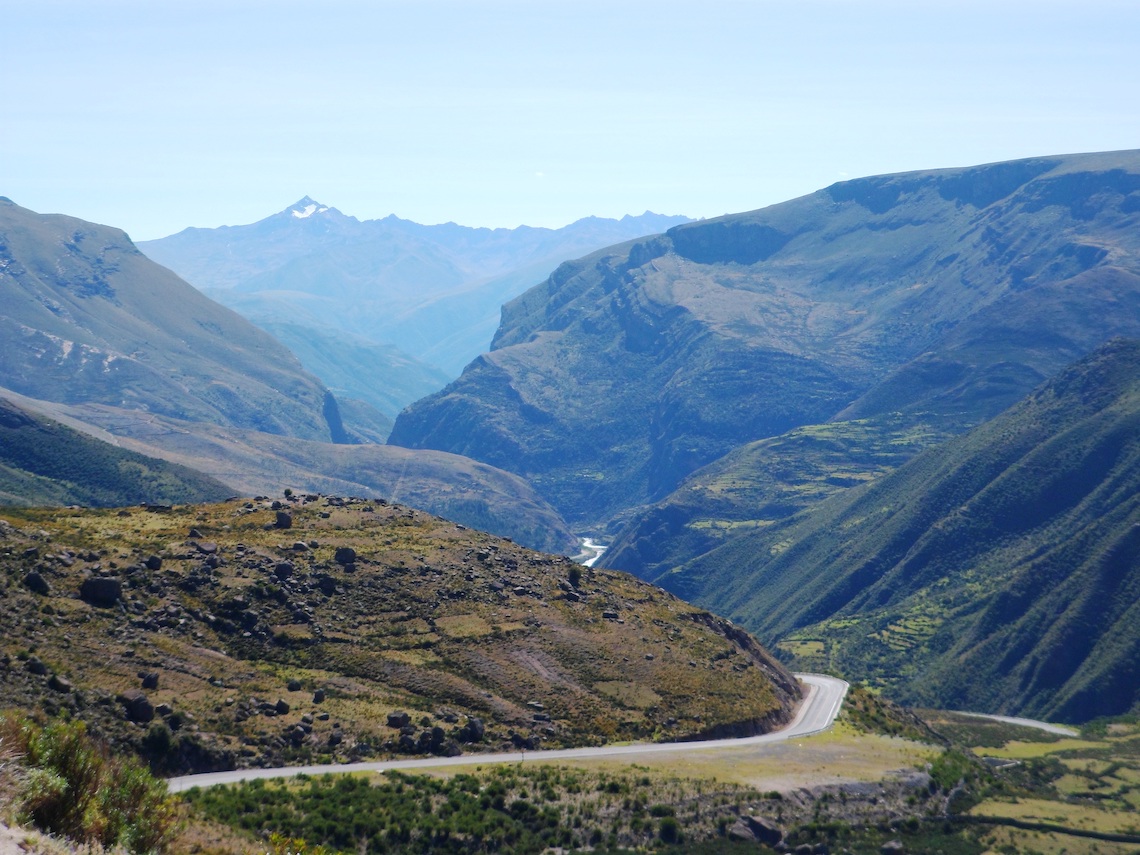 Arriving in Peru's second city, Arequipa, wasn't fun in any sense. The driving was as bonkers as ever, but coupled with road works and the addition of the tiny yellow Daewoo taxis which seem to swarm the city's narrow cobbled streets like angry bees, I was exhausted by the time I finally parked up the bike in my chosen hostel. I then spent a couple of days doing the tourist thing while allowing myself time to acclimatise to the altitude before heading further up the mountain.
Onwards and upwards
The city is shrouded on one side by volcanos, which provide a spectacular backdrop for photos. These magnificent rock formations have withstood earthquakes in the past and they certainly make for formidable neighbours. I spent a wonderfully tranquil few hours in the gardens of the Santa Carolina Convent in the heart of this UNESCO-accredited city. Those old Catholics really knew how to pick a spot when they threw up their colonial buildings. A wonderful and wondrous place, but I could only allow myself a short stay, as having topped up with coca tea, I now felt ready to move further upwards.
My plan to leave the city at first light did not result in me beating the traffic. Peruvians are very early risers and the first six miles of my journey were as crazy as the initial ride into Arequipa. Nevertheless it did start to ease as the road took me and the bike up and around the back of the volcanoes onto a high open plain. We seemed to be lifted from the 2,400m of Arequipa to over 3,500m in no time at all. Sucking on coca sweets, I still felt the need to gulp in air from time to time, as if normal breathing was insufficient to fuel my body. It was a strange experience and one that became more acute as we rose through mountain passes over 4,500m and across plains at around 4,000m in the direction of Puno.
Needless to say it was nippy up there, and the heated gear came back into play. I had heard that temperatures on the plains can get as low as -25°C, but thankfully I didn't experience anything like that. What I did find up there, however, was a good road and a fascinating ride, which was to be repeated the next day on the road north through the highlands to Cusco. In fact, I'd go so far as to say that next stretch was even more spectacular, filled with wide-open plains and high passes over deep green valleys. From up here, it's clear to see how this land could have sustained millions in the days of the Inca.
The closer I got to Cusco the greener the valleys became. The roads also started to get more interesting too as they wound their way to the heart of that ancient empire. At one stage Idris and I were joined by the Highland Railway, which is very much in use, even though I didn't see any trains. Its numerous level crossings were enough to make its presence felt though and became just another challenge on the road, which also included all sorts of animals, stones, and the four-door 4×4 pickups that seem to dominate the continent.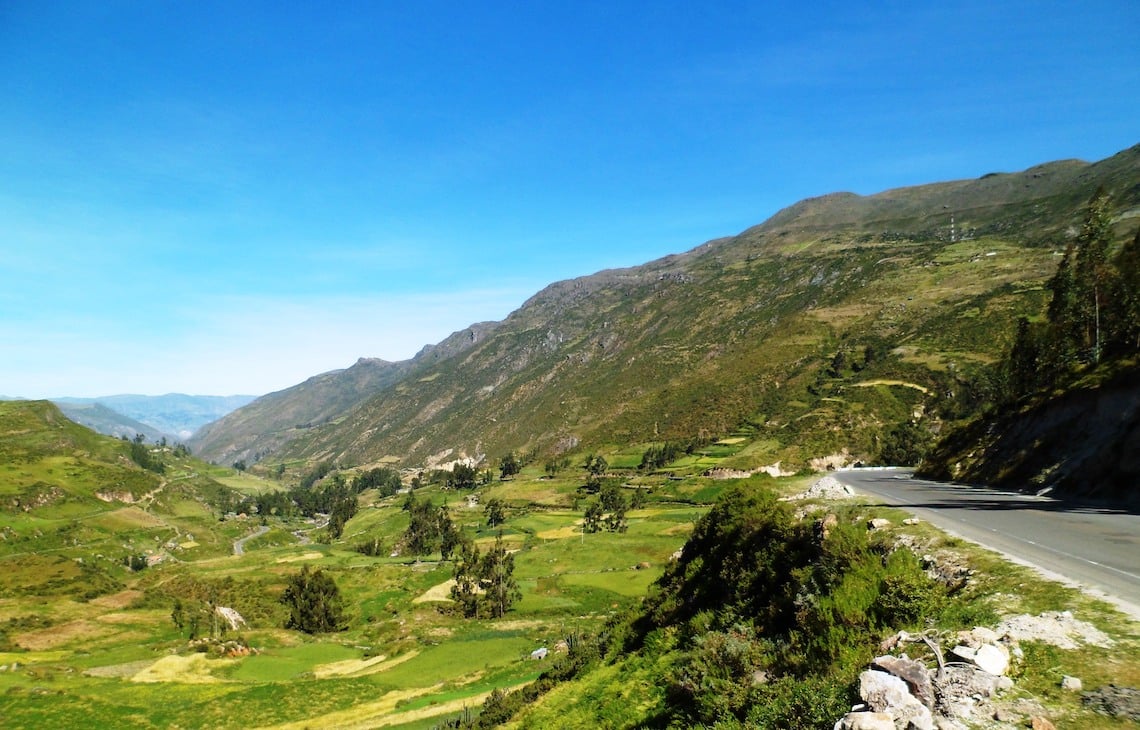 Small world
Arriving into Cusco necessitated the usual gauntlet run through six miles of bonkers city-limit driving, but once through that the city centre is relatively relaxed, and to top it off, the sight of it alone is enough to blow your socks off! Cradled in the embrace of green hillsides which are closed in around the old town (though littered with housing that lights up at night like a series of Christmas trees), the city centre showcases some of the best old architecture from Spanish colonial times, mixed in with examples of something far more ancient from this Inca capital.
Cusco's Plaza de las Armas is one of the loveliest city squares I've encountered, and it was precisely here that I bumped into David Groves of Adventure Peru Motorcycling. Pulling up outside the much-famed Norton Rats Bar to check on the address for my hostel, David wandered over to say hello and point me in the right direction. In fact he and his team were staying in the same place, along with their group of British ABRs on a bike tour of southern Peru.
Pulling into the hostel courtyard just around the corner, I was greeted by an array of Transalps and DRs – nice! Taking me under their wing, the folks at Adventure Peru Motorcycling were great company, and it was clear that their group was having the time of their lives on a mix of sealed and unsealed roads, coupled with time off to do the tourist thing. We were joined later by three chaps from Brazil on a couple of XT 660s and a KTM 990. They were full of life and knowledge about the riding in the area, which we discussed with great enthusiasm over a meal of alpaca.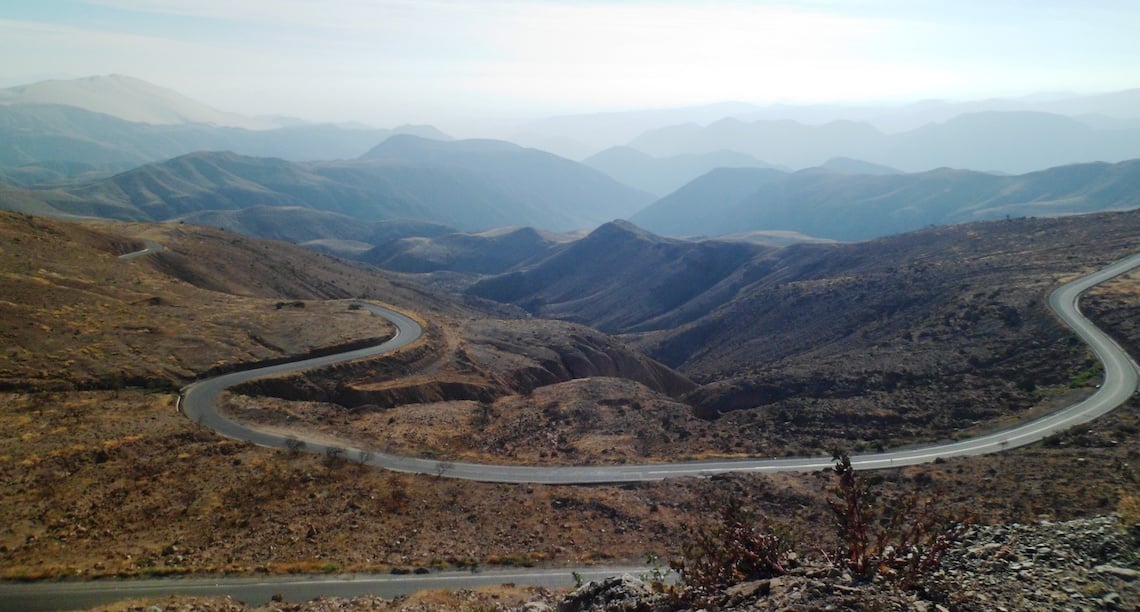 It was in Cusco that I decided to forego doing more of the tourist thing while in Peru and instead focus on the riding. I didn't go to Machu Picchu, the Sacred Valley, the Colca Canyon, or see the Nasca Lines later on for that matter. I decided that I would like to explore these places one day, but to do so properly, I'd need to return to Peru and share such moments with the wife. I might even get a hire bike and take in more of the excellent riding that's on offer around the Canyon del Pato to the north, I thought. The sad truth was though that, this trip, I had a fairly tight schedule to keep.
The road to Nasca
The good news, however, was that missing out some of the tourist attractions meant that I now had time to undertake one of my 'must-dos' of the trip: the road from Cusco to Nasca. This road can be ridden in a day, but at over 400 miles it's not recommended – unless your name's Nick Sanders! Billed by many ABRs as one of the top 10 biking roads in the world, I planned to take two days to cover this stretch and savour every moment. I wasn't disappointed. This road proved to have a little of everything, and a lot of some things – most notably bends!
Climbing out of Cusco in the early morning sunshine soon saw us racing through 30 miles of green valleys and lush farmland overshadowed by snow-capped peaks. Already Idris was rarely upright, and this was to continue for the next two days. We climbed up through a mountain pass to over 4,000m and then down a little to race along hugging the side of a deep, green valley before rising through another high pass. Despite suffering a little vertigo, I was giggling like a kid. A steep winding 20-mile drop took us down into a small town where I had a rest break and something to eat, to set me up for the real fun some 120 miles from Cusco.
Idris and I found ourselves winding and climbing slowly up through a river valley that at times looked very similar to the Cheddar Gorge. Those of you who have ridden through Cheddar will understand the beauty of which I write, but imagine a Cheddar Gorge on steroids some 80-odd miles long with little or no traffic. If I was giggling earlier, I was laughing out loud now! There were some obstacles, of course; no one can have so much fun without there being a challenge.
Gravel patches, the odd pothole, a series of easy fords, landslides, and animals, including a raging bull, which brought me to a halt as its keeper tried and failed to bring it under control, all added to the experience. As I rumbled into my overnight stop, I still hadn't had enough, so I turned around and rode the last 30 miles again.
Before leaving on my trek, I'd promised my lovely wife that I would ride the road I see, and not seek to anticipate what was around each corner. I must confess that afternoon as I repeated that stretch of road, I let Idris loose. I couldn't ask for more – except that another day of this was waiting for me at sunrise.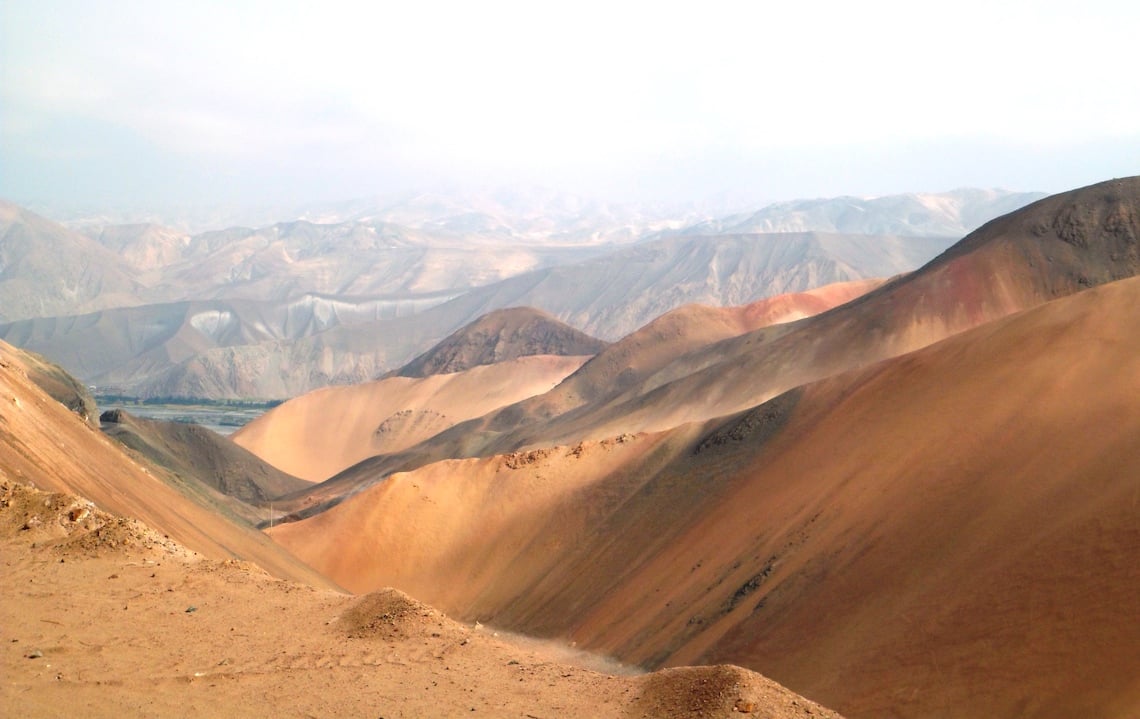 Needless to say I was up early, packed and warming up the bike before the sun hit the lower reaches of the valley. We had another 30 miles of what I was now calling the 'Gorgeous Gorge' before the river finally climbed towards its source, and the road pulled steeply over the high Huashuaccasa Pass at 4,300m. This road was proving to offer some diverse riding indeed! Crossing the high mountain pampa, we began a long, slow descent in to Puquio, before taking on the long haul back up to the Condorcerros Pass at 4,330m. This set us up for one of the most spectacular mountain descents I've ever ridden. Starting with the coarse scrub of the high mountain pass, we descended into green valleys before rolling contently on to hillsides carpeted with flowers and enveloped in the distinct aroma of lavender.
It was at this point that I first caught sight of the big dunes. Nestled between the hillsides on the approaching horizon I didn't understand what I was seeing at first, but it was huge. As we continued to wind our way down to the coast, we hit the desert hillsides and the road's curves just got curvier. We were now into second gear hairpins and beautiful rolling stretches which allowed Idris to ease past the odd truck and its burning brakes.
While the road quality in the high passes was suffering from the climate a bit, this last 60-mile stretch into Nasca was of the most perfect tarmac I've seen. It's a pity Nasca town itself is a bit of a dump. But hey, who cares when you can ride roads like this?
The bike
Idris – the 2009 XT 660 Z Tenere – has appeared in earlier editions of the magazine at various ABR rallies, and in various stages of farkling. A full list of Idris' bolt-on and home-made mods can be viewed here, www.patonabike.blogspot.com, and Pat will be providing independent reviews on each of them on the ABR website in the coming months. Keep an eye on www.adventurebikerider.com for more.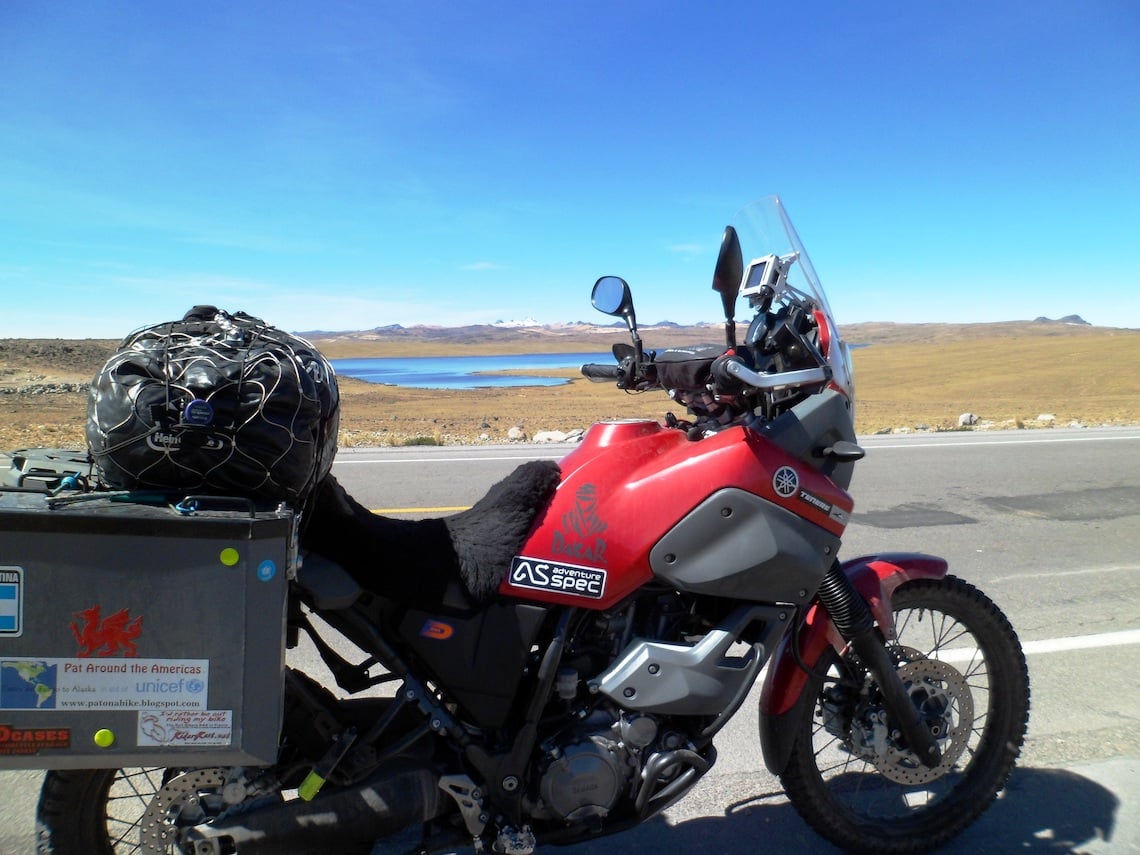 Want to do this?
How long does it take? Pat's trip up the Americas was 20,097 miles over 131 days.
When to go? Northern Argentina, northern Chile and a lot of Peru can be tackled at pretty much any time of the year, though many of the roads and high passes in the Andes are closed due to snow in the mid-winter months (UK summertime) and wetter in our early spring.
Get there: If you plan to take your own motorcycle for an extended trip, the majority of ABRs choose to airfreight into Bogota Colombia and ride into Peru, due to the prohibitive customs formalities. James Cargo Services Ltd, can transport a BMW R 1200 GS motorcycle to arrival into Bogota for £1,795 by airfreight. www.jamescargo.com
Fly or hire? Pat used his own bike to ride the length of the Americas, but there are a number of good-quality hire companies operating in these countries, such as Adventure Peru Motorcycling (www.perumotorcycling.com), which are a better option for short-stay rides.
Accommodation: Sleeping out in the winter is for extreme survival enthusiast only! But camping is a viable option spring-autumn and there's an abundance of campsites and safe places to wild camp. Built accommodation in South America can be pricier than you'd imagine, but there are still some places where ABRs tend to congregate like the Sunny Days Hostel in Arica, Chile (www.sunny-days-arica.cl) and Casa Grande in Cuzco, Peru (www.casagrandelodging.com.pe.) just around the corner from the famous Norton Rats Bar!
Paperwork for you: A valid driving licence is a must, and an international one is also recommended. Visas are available at the point of entry for all the countries Pat travelled in South, Central and North America on presentation of a UK passport (with more than six months left to run). You'll also need to check out your immunisation requirements, as you may need a Yellow Fever certificate depending on which countries you plan to travel through. Good travel insurance with heaps of medical cover, including air ambulance repatriation, is also advisable. Check the policy covers riding bikes over 50cc, a lot don't. Pat used Navigator Travel's Gold policy at a premium of £270 for 20 weeks (www.navigatortravel.co.uk)
Paperwork for your bike if taking your own: Your UK bike insurance won't cover Peru, so you'll need to source this locally. Buenos Aires-based insurance companies, such as ATM, offer a single policy which covers all Mercasur countries (Argentina, Chile, Peru, Paraguay, Bolivia, Uruguay, and Brazil), expect to pay around £10 per month. You don't need a carnet in any country in South, Central or North America, but presentation of your V5C at borders for temporary import of the vehicle is a must. Carry good photocopies of all your paperwork, and keep scanned versions on a pen drive and online in a hotmail account, for example.
Is it for you? Pat's an experienced, competent road rider, and an off-road novice. "If I can ride these lands, most riders will be able to take them on," he says. There will be a degree of challenge for all skill levels depending on the chosen route. Argentina, Chile and Peru are an ABR's veritable sweet shop, offering a vast selection of all types of riding. It's possible to tour all three countries without leaving asphalt roads – some of which are among the top riding roads in the world, while others barely rank as 'sealed'. Equally, you can spend almost 100 percent of your time on gravel, dirt and sand. The choice is yours, just pick your route and go!"
Pack your panniers!
ABR Mike Stevens, retail director of Cotswold Outdoor, has a BMW R 1150 GS; here are his essentials for travelling in South America
Mountain passes, windblown plateaus, barren deserts and coastal roads. You're likely to encounter all these riding in South America, and your kits needs to be up to performing in all conditions from extreme cold and altitude to gale-force winds…
Tent: Hilleberg Nallo 2GT, £645
A two-person, four-season tunnel tent that will stand up to the harshest conditions. With a large porch, a roomy sleeping area and weighing only 2.7kg, this is our first choice for a trip like this.
Sleeping mat: Therm-a-rest Neo Air Xlite, £120
Extra light and extra warm, this is the no-compromise solution to a sleeping mat. At only 350g and a tiny 20x10cm pack size, this mat will still leave plenty of pannier space for a superb sleeping bag.
Sleeping bag: Robens Downlite 700, £160
Down bags have a great warmth-to-weight ratio and a small pack size. This bag also has added features like an easy-close hood and storage pockets. With a lower comfort rating of -9°C the Downlite 700 will perform perfectly on the high passes. Worried about it getting wet? Don't be, just invest £10 in a good dry bag!
Cook set: MSR Alpine Cook Set, £45
This pan set packs inside itself and is one of the toughest on the market. When you've had enough of eating guinea pigs from roadside stalls, use a Primus Omnilite TI multifuel stove (£175) to boil up some corn, beans and chillies for a real Peruvian treat. This stove will run on most available fuels and thanks to its titanium pot supports and wind shield it weighs just 314g including the fuel pump.
Clothing: Montane Terra Pants, £70
ABRs across the country are rapidly realising how great these trousers are (you heard it here first!). Quick-drying, lightweight and reinforced in all the right places they can be worn comfortably under armoured trousers and are suitable for a visit to Machu Picchu or Cuzco's upmarket Plaza de Armas. Pull on a Crag-hoppers Nosilife Shirt (£50) and you'll not only be the best dressed ABR around but still know your clothes can hold their own when roughing it on the road.
Luxury item: GSI Java Coffee Press, £32.50
A super little coffee set that packs inside itself. Robust and lightweight, you'll be enjoying good coffee, freshly brewed on the road. Ahh, luxury!
Who's Riding?
Pat McCarthy (aka Barcelona Pat) is a lifelong bike rider who has travelled the European continent extensively. A former engineer and Welsh resident, he now works in the field of international education policy development, and lives, you guessed it, in Barcelona.