A scooter, in an adventure bike magazine. You must be joking, right?
Believe it or not, but beneath the scooter styling lies exactly the same engine, frame and components as on the NC750X on the previous page. That means the same 745cc, 54.8bhp engine, same DCT gearbox, same wheels, same brakes, same instruments, just packed in a slightly – or very different – way.
The reason we're riding it is that it happened to be on the same press launch as the NC, journalists spending half a day with each, so we were almost forced to ride it. But the reality, and it was something we heard talked about a few times at the NEC show back in November, is that many riders, not just adventure bike riders – but all riders – are getting older, and stiffer, and less able to wheel around and manoeuvre the big bikes they've become accustomed to. They don't want to give up biking though – they love biking – and so some told us how they were turning to the latest wave of maxiscooters, as they're often being called (though at 237kg, this scooter weighs almost as much as a GS).
Most of the manufacturers are starting to offer them, the appeal being their relative poke and performance, mated to a more manageable structure that is easier to get on and off than a regular bike.
They're not cheap. This Integra with the DCT costs £7,799, which is a fair lump of cash, especially in relation to the ongoing debate over whether the CCM GP450 is too expensive at eight thousand pounds. But then this Integra is a highly sophisticated urban commuter, one that can also do the motorways no problem, and, as we learned during our time with the bike, prove quite good fun as well.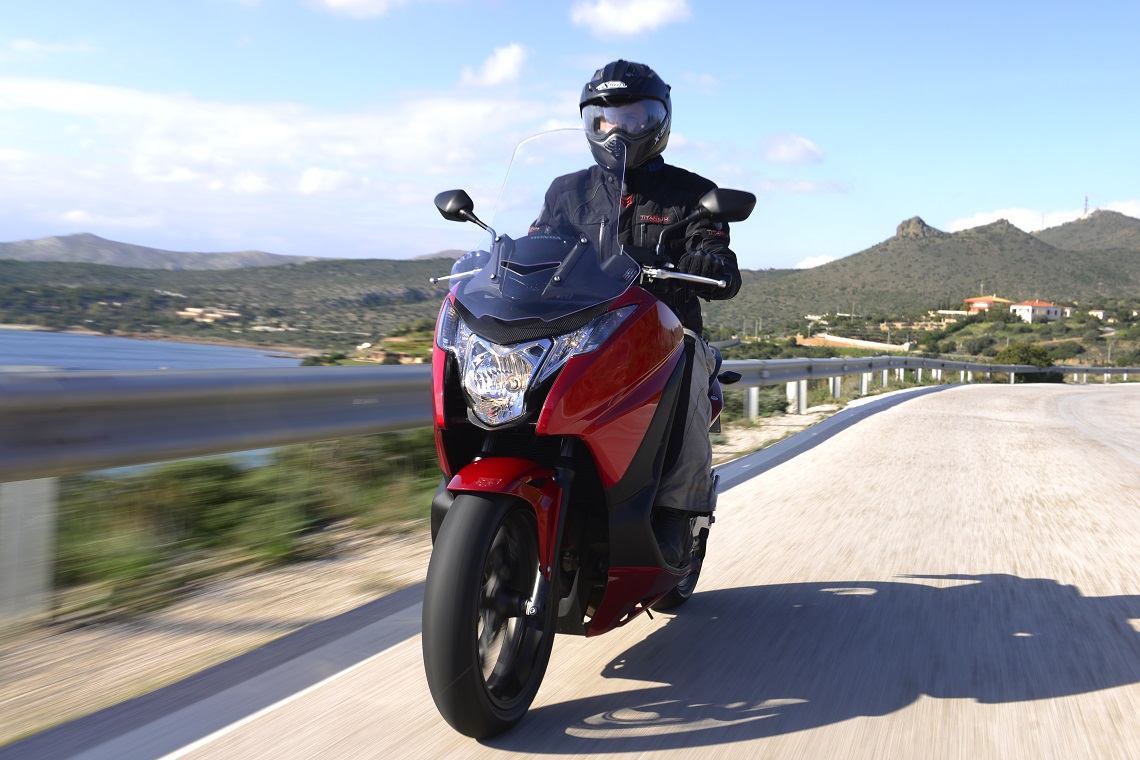 Imagine a pack of eight journalists, all on scooters, chasing each other across a Greek horizon; that's pretty much what it was like, the bikes certainly nippy, composed and more talented in the corners than you would at first glance give them credit for.
The Integra does suffer from a harsh ride – so too did the NC750X at times – crashing over some of the imperfections in the road and really jolting the bike around. These were relatively smooth roads. I'm not sure how they would cope with the broken roads of London, but that's to find out another time.
Again, the DCT worked well and perhaps made more sense on the scooter than it did on the NC. My only issue was that with the rear brake lever on your left hand, plus the up and down buttons for the DCT on your left hand, it made entering a corner in manual mode a test of dexterity, trying to operate the brake and gear change with the same fingers.
I do remember the new Suzuki Burgman – unveiled at the same time as the V-Strom 1000 when we visited Le Mans back in issue 19 – as being slightly more innovative than the Integra. That bike had a cavernous storage basket in the fairing, complete with connections for iPod and cigarette charger applications. It also had a massive double helmet storage bin beneath the seat, which made me think at the time how handy those features would be to have on any bike, not just a scooter. Imagine doing a big trip and having so much storage space beneath the seat. It'd be ideal, though sadly, unlikely to make it on the regular style of adventure bike we usually see in this magazine. Shame.
As it was though, the Integra – as well as its peers – do offer a genuine alternative, not to mention a means – for riders to keep on riding long after the bigger, heavier bikes we've become accustomed to having long since outgrown us. And at the end of the day, it's how you ride it that counts.
---
Quick Spec:
| | |
| --- | --- |
| Model: | Honda Integra |
| Price: | £7,799 |
| MPG: | 81.6 (claimed) |
| Weight: | 237kg |
| Power: |  54bhp |
| Torque: | 50lbft |
| Transmission: | 6-sp DCT |
| Seat Height: | 790mm |
---
ABR Verdict
Honda Integra
■ How versatile is the Integra?
You are limited in a way to where you can go, what you can do, but the bike's appeal is its accessibility and convenience. Just get on and ride.
■ As a commuter?
It's a shame it doesn't have a massive amount of storage, but the bike is narrow and easy to thread, so good for crowded cities.
■ As a weekend tourer?
Back in issue 18, we met a Dutch couple doing Scotland on a Vespa, so hell, why not.
■ As an off-roader?
Possibly not the best idea.
■ As a continental road cruiser?
Come to think of it, the seat was becoming uncomfortable after a few hours in the saddle, so perhaps not.
■ As an RTW overlander?
If you could sort that seat out…