Honda's adventure-commuter gets a bigger engine and minor revisions for 2014. We travel to Greece for the official launch…
The NC700 – launched back in 2012 – has probably been more successful that most people were expecting it to be. It wasn't, after all, a particularly exciting bike; serving up just 47bhp (making it A2 compliant), boasting almost eighty miles per gallon fuel economy, and with a redline of just 6,500rpm. The reason for this – and sometimes it's over-egged – is that the engine in the NC started out life in a 1300cc Honda Jazz and was simply chopped in half to create an engine for this NC. The reality is that pretty much all of the components were altered or updated in some way, but the fact that NC is powered by half a car engine is the story that seems to have stuck. 
Two short years on from the 700's launch, we have the new and updated NC750X, using the same liquid-cooled parallel-twin, but now up from 670cc to 745cc, and with power climbing from 47 to 54.8bhp, meaning the bike is no longer A2 compliant, though the 700 will continue to be sold alongside it for the time being for those who need the lower power output. 
As well as the increased capacity, a second balance shaft has been added to reduce vibrations at higher revs, there's a new exhaust to give the bike a bit more aural bite (something people complained about on the 700), plus the gearing is six percent taller, increasing top speed and promising more useable mid-range power. In terms of dimensions, the 750 is actually a little wider, longer, and taller than the 700, and the styling has been tweaked, but you would be hard pushed to tell just by looking at it.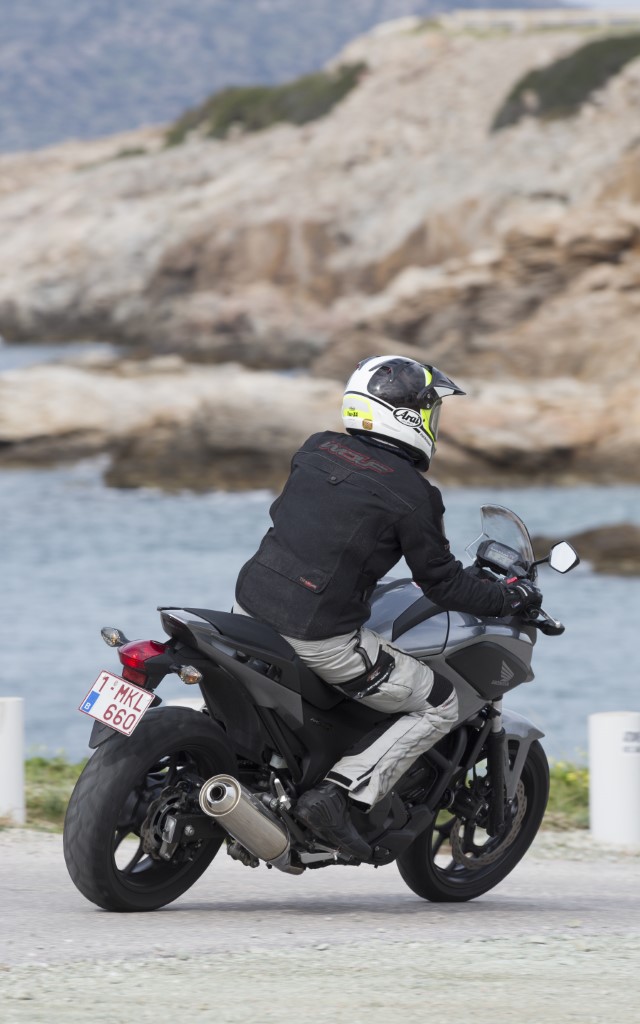 Worth mentioning before going any further is that the bike is part of a family of bikes, including the less-faired S model, and the Integra maxi-scooter (see page 84). The only difference between those bikes and this X model – apart from the styling – is the suspension travel, which has been increased from 4.2 inches on the front and the back as it is on the other models, to six inches on the front, and 5.9 inches at the rear on this 'X' model. All bikes carry the same 320mm single disc at the front, and 240mm single disc at the rear. 
Don't be fooled though, this bike has no off -road pretenses; it is more an urban commuter with slightly tougher styling and a definite on-road bias. That said, the mainstay of most adventures are long distances, covered at a leisurely pace, often done on a tight budget. And so in that sense, this 750X, with its claimed 81.6mpg fuel economy, sits well with budget 'adventure' travellers, perhaps why the 700X was number 19 in the top selling bikes of 2013… 
The launch of the new bike was in Greece, the location just to the north of Athens. The sky was grey, which, together with the colour of this press bike – and the riding outfit – didn't make for the most colourful of occasions, though in a way, the NC750X isn't the most vibrant of bikes. 
It's the low red-line at 6,500 rpm that catches you out, riding it as you would any other bike, then too suddenly, seemingly so soon, hitting the rev limiter and lurching forward in the seat as the acceleration is cut. After a while you get used to it, riding it more like you would drive a modern day turbo diesel car; shortshifting through the gears, relying on the fat slab of torque in the mid-range, which actually pushes the bike along at a fair old pace.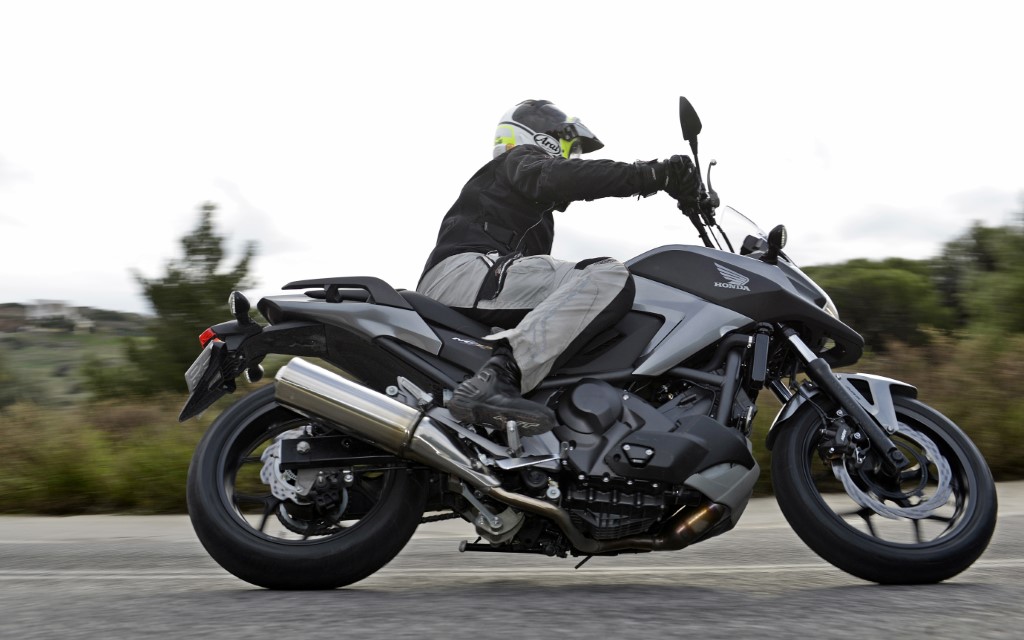 In truth, it's this kind of instant, over taking grunt we rely on the most in the real world of biking, so in that sense, the NC750X makes a great deal of sense. Just not an exciting amount of sense. 
The bike handles and steers decently enough, better than you'd think, feeling light and agile, much like the CB500X we rode a few issues ago. That smaller bike was certainly more traditional and easier to grasp from the get-go. This NC is a bit different, taking some time to get used to the odd way in which the engine initially performs. 
Also being tested on this bike was the second generation DCT gearbox. Again, like the double-clutch (DSG) systems we've become accustomed to in Audis, VWs and other premium cars, the gearbox performs like a regular automatic gearbox, except for the gear changes are incredibly quick, and slick. In essence, one of the two clutches is for the odd gears, and the other clutch is for the even gears, so at any one time the next gear is already pre-selected, meaning that when the transmission decides to change, or you use the thumb operated gear shifters to manually shift the gears, the next gear is already there and waiting and the change is immediate.
It's hard to describe just how well it actually works. On the right handlebar control unit is a button you press to select between Drive, Sport, or Manual. In Drive, the gearbox changes the gears for you, with it set-up to achieve maximum efficiency. So always in a higher gear than you might usually be in, and slow to 'kick-down' when you open the throttle. In Sport, the gearbox is more aggressive, holding gears for longer and being more aggressive on the downshifts. Selecting manual mode gives you control of the gearbox through the use of a thumb (for down) and forefinger (for up) with your left hand. The system will override you if, for example, you come up to a junction and haven't changed down into first; then it will change down automatically. Thankfully, unlike on some cars, the gearbox doesn't automatically up-shift when you hit the rev limiter.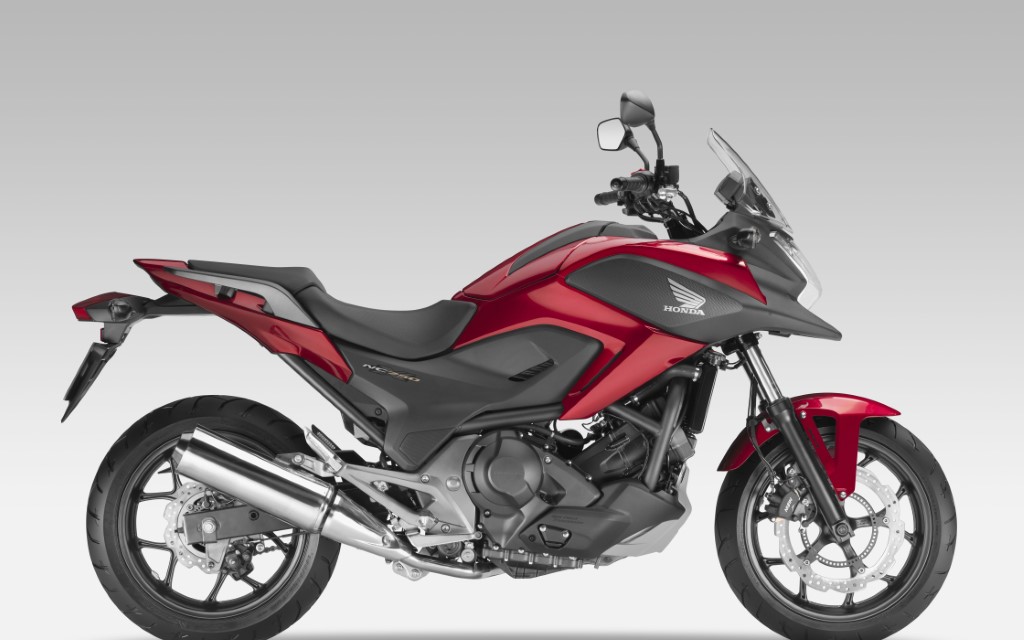 It is then a good system, almost perfect in fact. Whether I'd choose it over a regular gearbox I'm not sure. I prefer a clutch and gear lever personally, but for anyone wanting a lazy city ride, or someone of a senior age, or physically impaired, who needs the convenience of an automatic bike, then here, quite possibly, is the solution. 
As it is, the NC750X is a competent bike. It's not a particularly exciting bike, not on first impressions at least, but I imagine it's one you'd learn to love, especially with the excellent fuel economy. Is it worth upgrading if you already have a 700X? Possibly. You gain a bit more oomph, more aural delight, and a touch of extra smoothness. And at £6,299 it's certainly still keenly priced, which in this day and age, with fuel prices so high, and wages squeezed as they are, it's easy to see why a bike like this has such a strong standing in modern motorcycling Britain. The future? Perhaps.  
FAB TRIPS: GREECE 
Global Motorcycle Tours 
If you fancy riding in Greece then why not consider taking a tour with Global Motorcycle Tours. Their tour of Southern Greece takes in the Peloponnese and Delphi, taking fifteen days and costing from as little as £1060 per person. That includes Euro Tunnel outbound and return, Ancona to Patras Ferry outbound, Igoumenitsa to Ancona return, two nights ferry accommodation (cabin only, food not included), twelve nights en-suite accommodation in three and four star hotels, all breakfasts included with accommodation, seven evening meals, detailed route plans and maps, comprehensive tour manual, GPS coordinates, fully supported and guided, and with a fully edited DVD of your tour. No better way of taking a stress free tour of Greece. For more information see www.globalmotorcycletours.co.uk, or call 01257 410686. The next trip leaves on Saturday 10th May.
ABR Verdict 
How versatile is the NC750X? 
Comfy seat and riding position. 
As a commuter? 
Perfect for this, with space for a helmet under the mock petrol tank. 
As a weekend tourer? 
Honda has a full range of accessories, including panniers. So yep. 
As an off-roader?
It'll do it, but not by choice. 
As a continental road cruiser? 
As a bike to take around Europe it would be a solid, frugal option. 
As a RTW overlander? 
It'd do it if it had to.