We take the new F800 GS Adventure on a 1,000-mile lap of Scotland to find out how the two of them get on…
A confession; until this ride around Scotland I'd never ridden a GS of any description before. My bikes had always been small and light. That was my mantra on my journey across the world (see page 63). Here though, back in the real world, the reality for most people is that a big bike, with a big engine, simply makes the most sense. It allows you to cruise on the motorway, sit in comfort and carry plenty of gear with minimal fuss. As much as I might want to dislike a bike such as this, I can't help but feel they've been so successful because they are precisely what the market is asking for. And truth be told, if it wasn't for the success of bikes such as these we wouldn't have an industry to write about, or a magazine to write for.
As for this particular feature, it came about when a proactive BMW dealership just outside of Edinburgh rang in to suggest that we should come and see Scotland, and if needed, they would lend us a suitable bike to ride. Having never seen Scotland, only Edinburgh as a child, I jumped at the chance, figuring the new 800 GSA to be the best choice of bike given how new it is and how popular it's likely to be amongst our readership and 'adventure' bike riders in general.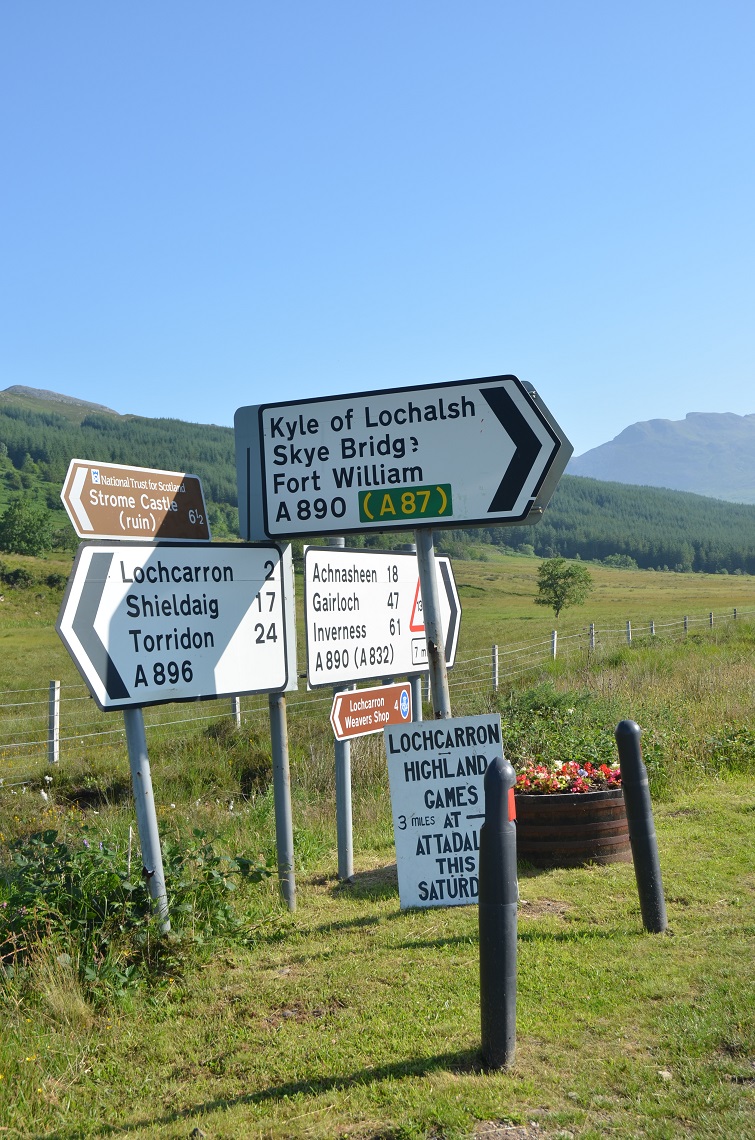 To get to Scotland (from our base in Stratford-upon-Avon) I borrowed a CB500X from Honda in Slough, collecting the bike Thursday morning (detouring via Cirencester to pick up some camping gear from Cotswold Outdoor's headquarters) and making the long run up the M40, on to the M6, camping that night in Cumbria on the campsite of Paul Holroyd, a friend of the magazine and featured in this month's My Bike (page 110), before pushing on to Edinburgh the following morning.
I would have a long weekend in which to see Scotland, hoping to cover a complete loop – calculated to be around 1,000 miles – in three days, before having to ride back down to Slough to drop off the Honda. It would be a total distance of around 2,000 miles, in five days, which isn't ideal, but manageable.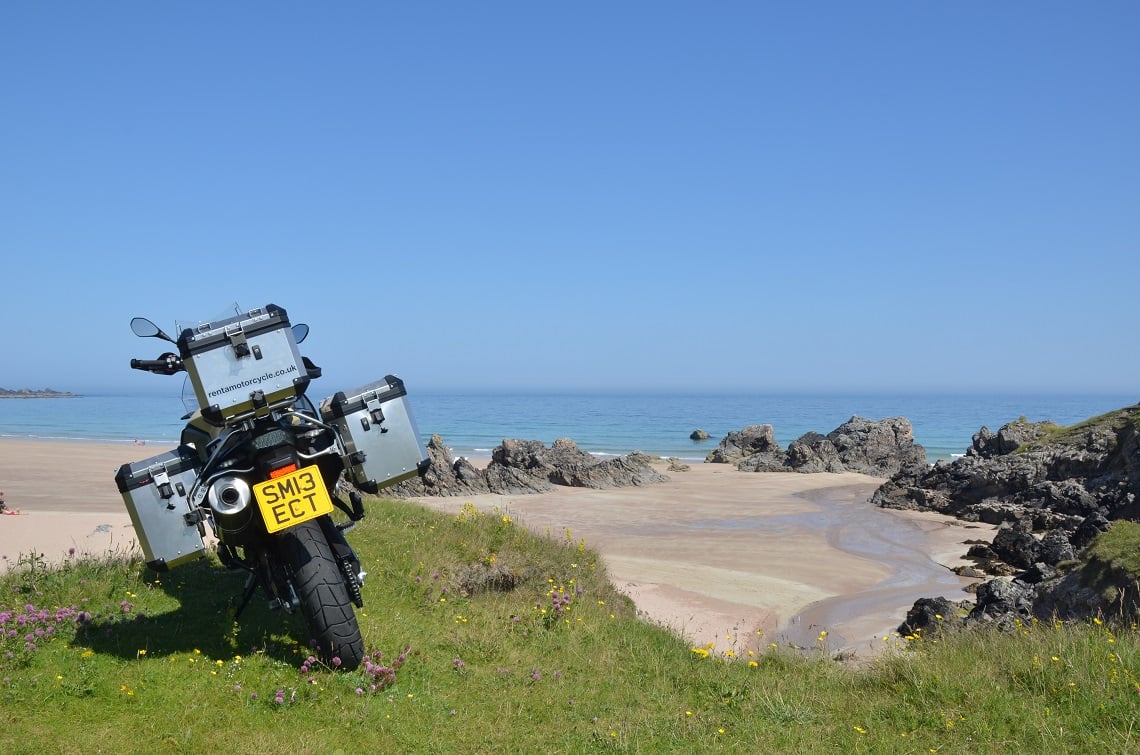 One of the things I was keen to learn from this experience would be the level of adventure you can have in Scotland. For example, do you have to leave 'home' to have a true adventure, or can you simply point the bike north, head for the Highlands and experience that same buzz of going off-grid for a while? I mean, do you really have to ride up to Alaska for your kicks, or can you get them in Inveraray?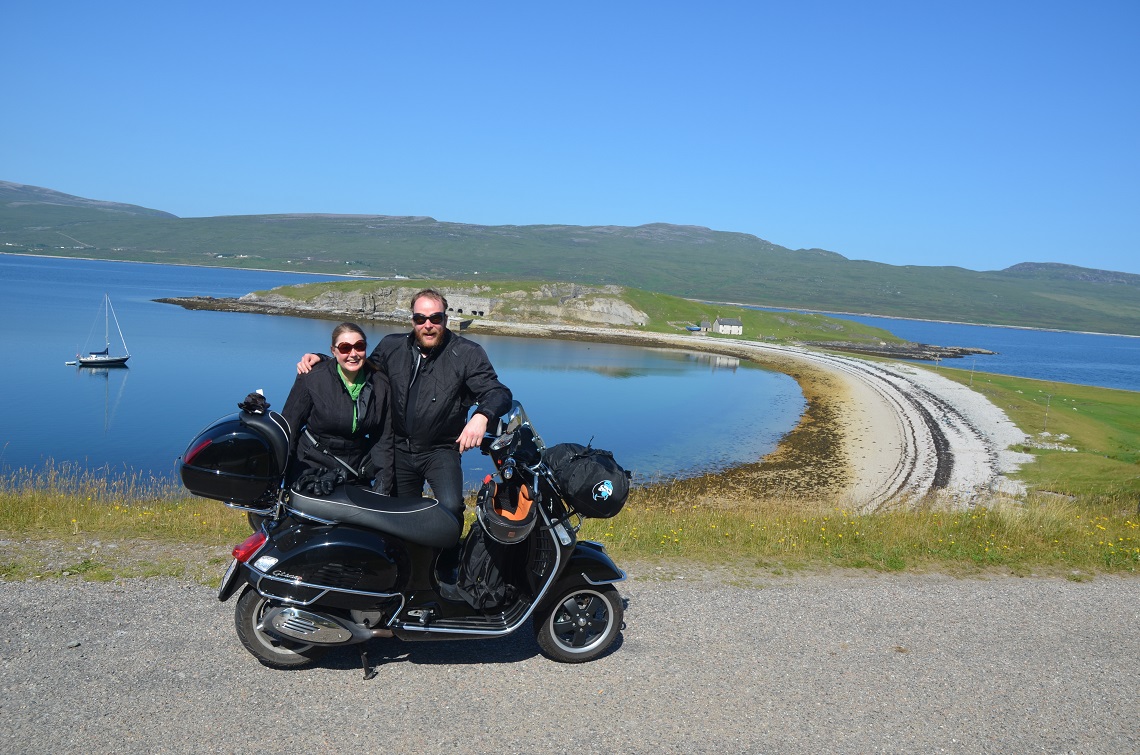 To help with that I would be wild camping, carrying everything I needed to survive three nights in a tent. Other than camping equipment I didn't take very much; just a pair of jeans, a change of tops, a mobile phone, credit card and a Barbour jacket in case it rained. But this being one of the hottest weekends on record I wasn't likely to need it. And didn't.
As for the bike, when I met up with it in Edinburgh it turned out to be the F 800 GS Adventure T, retailing for £10,535, this one with ESA suspension adjustment (£280), LED white indicators (£100) and anti-theft alarm system (£205). In addition, the bike also came with hard panniers, a top box and the new Motorrad Navigator Adventure GPS system (basically a rebranded Garmin Montana), which if bought together at launch cost an additional £1,310, rather than the regular price of £1,637. That gives a total on the road cost for this bike of £12,430. The colour is Sandrover Matt, one of two colours available at launch (the other one being Racing Red), with it worth mentioning that the bike was running road-biased Pirelli Scorpion Trail, with it possible to order the bike with more off-road-biased tyres from new.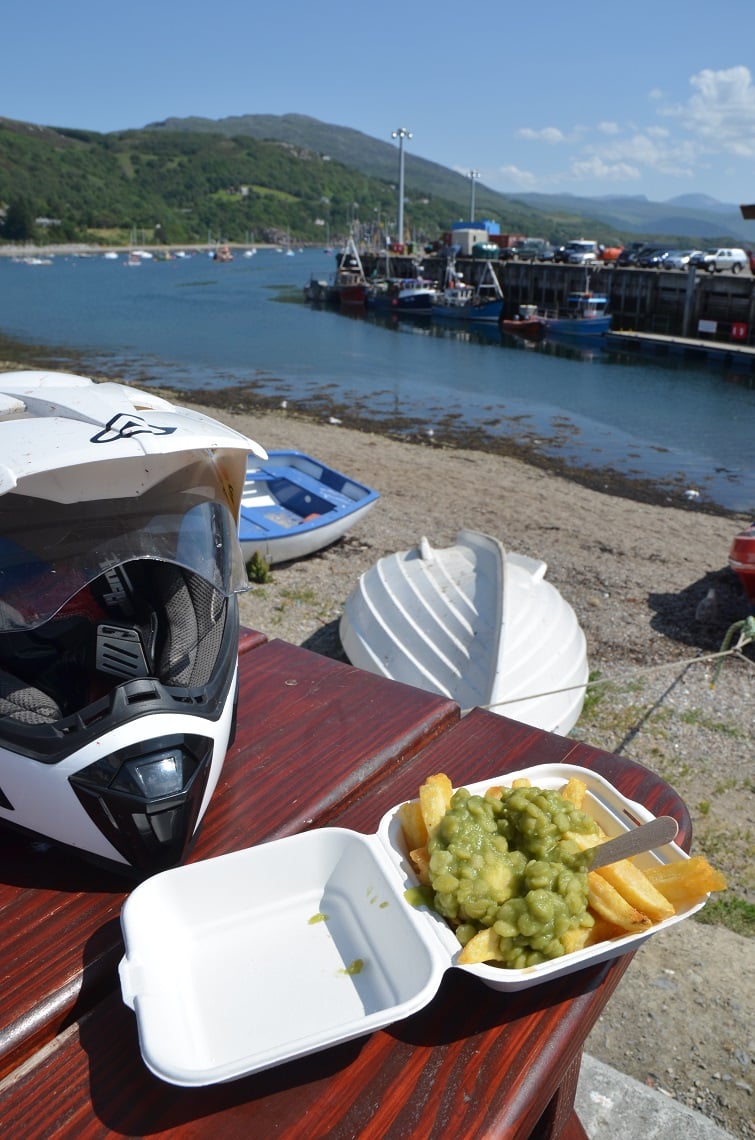 Initial impressions were just how tall the bike is. The Adventure sits 10mm taller than a standard 800 (to accommodate the extra fuel tank), and even next to the 1200s in the showroom, there is a certain scale and menace to it. It's a big thing, especially with the three alloy boxes on. Intimidating for anyone new to this sector of the industry. You feel the weight up high when you tip it off the stand, and the moment you're expected to ride out of the showroom with everyone watching you have that uneasy dread of not balancing clutch and throttle quite right because to catch this thing on a leg would take some strength. From what I gather off current owners of the regular GS it's customary to drop them a few times before finally getting the hang of it…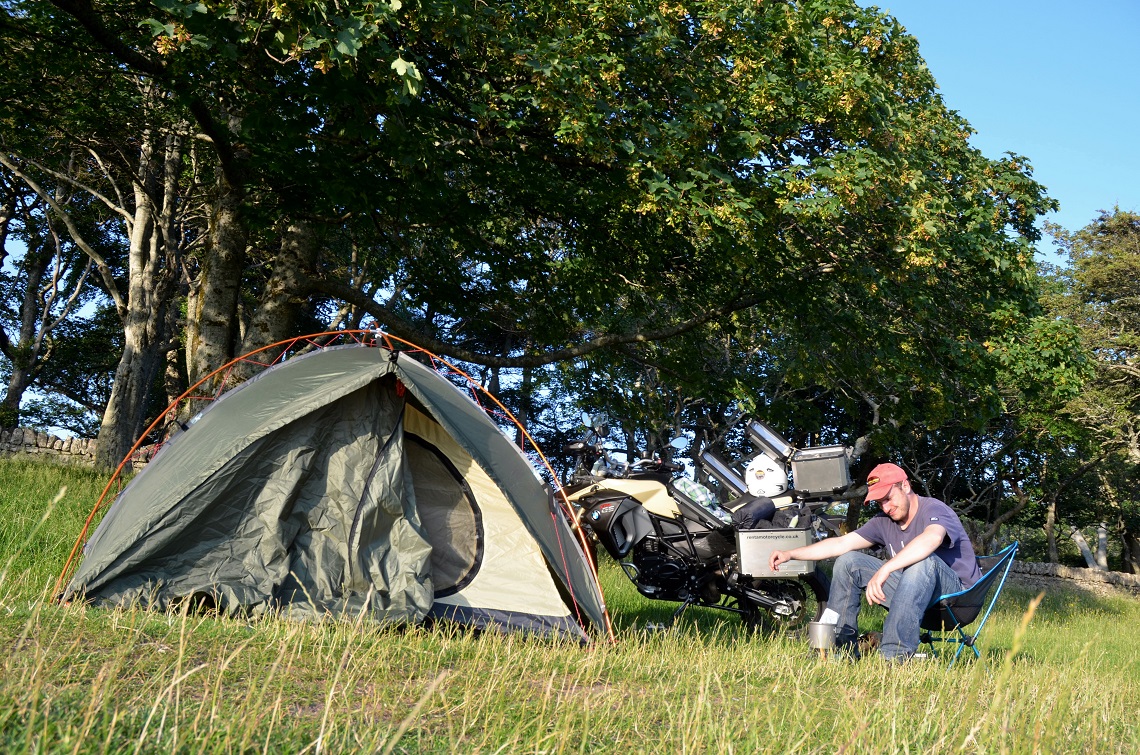 From Edinburgh, the route I would take was designed to maximise my time in Scotland and see as much of the place as possible. I would first head up to Inverness along the A9, push on to Thurso that evening, camp there in a friend's back garden, ride with him along the coastal road to Durness, then from there go it alone, hugging the west coast as much as I could until I arrived in Applecross, a place I was told is essential to any visit to Scotland.
I would camp here on my second night and continue the next morning to the Isle of Skye, circle that, then transit down to Inveraray to take part in an off-road riding school, before completing the loop with a final ride through Glasgow and on to Edinburgh.
First impressions of the engine – same 798cc in-line twin (85hp) as standard 800 – are that it's not a particularly refined unit. It's fine when cruising at a steady speed, but open up to overtake and there's a gruffness, a vibration, which I never really learnt to ignore. Power isn't an issue – cruising at circa 80mph on the motorway you have plenty in reserve to get you past things – it's just the delivery. I hear the triple in the Triumph 800 is a touch smoother. Perhaps…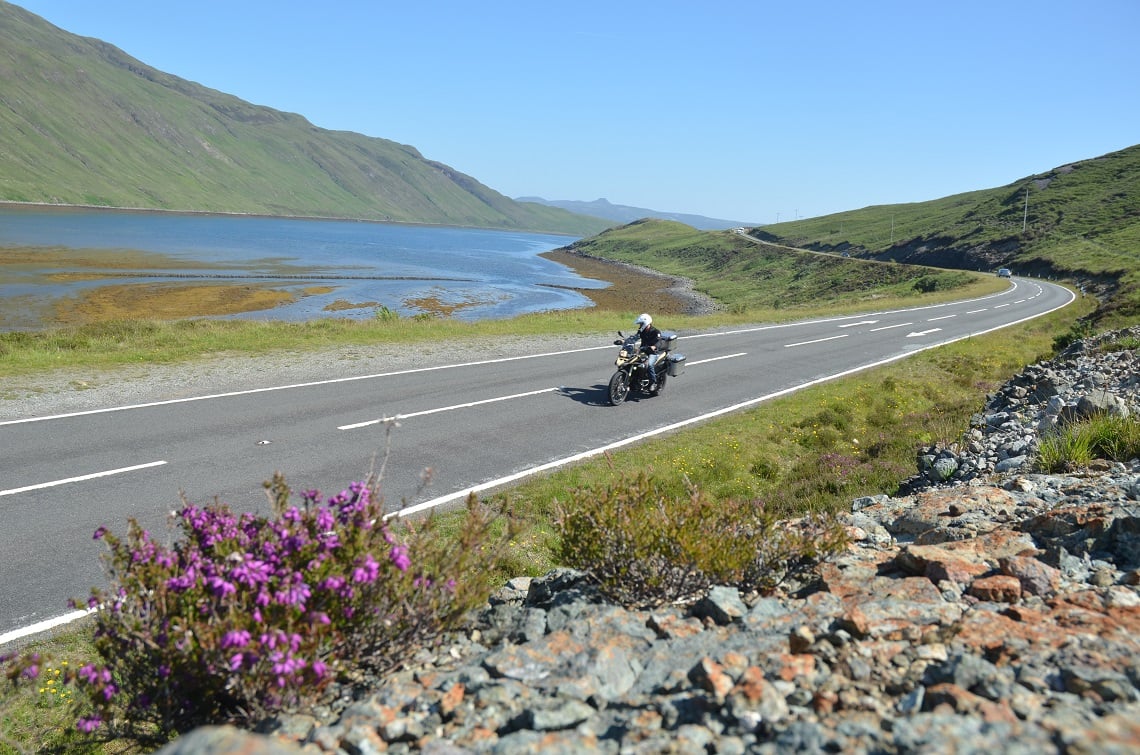 As for the way it handled, I was impressed at just how well the GS sheds its weight at speed and becomes really agile and adjustable in the corners. I soon learnt that the best way to get it to corner was to use a palm of counter steer (push with the right hand when wishing to drop in to or tighten a right, push with the left hand when wishing to drop in to or tighten a left).
Once into the rhythm of doing this, I was impressed at just how fast you could hustle the bike along. I did find it slightly disconcerting that the panniers at the back were wider than the bars – not good for filtering, and what also puzzled me was why the rev counter was the clearer, bigger dial, with the numbers easily readable, whereas the speedo was at the rear of the stack, with the numbers tightly grouped together, making it difficult to glance down and gather your speed. I would have preferred that reversed. I wasn't keen on the sat-nav either. Too fiddly for the road (a Garmin 660 is preferable), though this one does come with pre-loaded OS maps, making it great for green laning.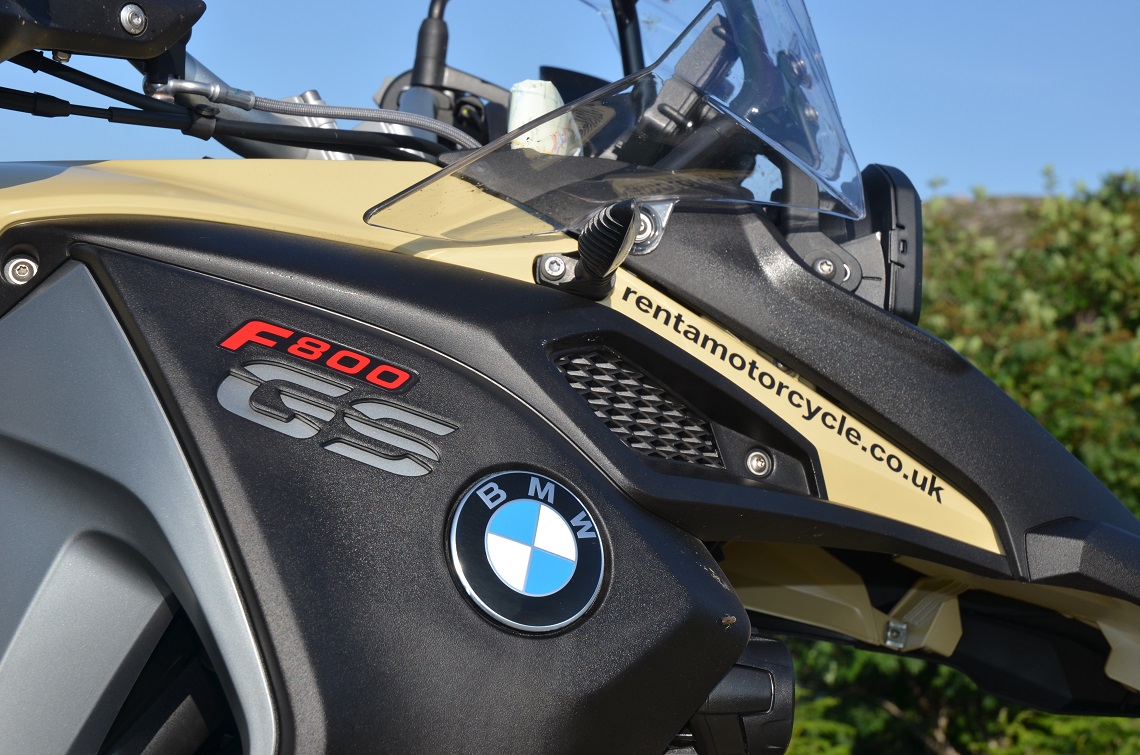 In terms of fuel consumption, or more importantly range, I think the bike would have done the 300 miles from Edinburgh to Thurso without the need for a fill-up. On the faster motorway sections, the trip computer was showing 52mpg. On the slower A-roads, it rose to around 60mpg. With the new 24-litre tank that should give it a real-world range of a comfortable 250 miles, with the slower roads in the north seeing it rise to almost 65mpg, and that's on a new tight engine. Once broken in I don't think you'd be far short of a possible 70mpg if you were happy sat at 50mph. It made me wonder if what we're really looking at then is the GS 'Touring', not an 'Adventure' because with the road tyres, the plastic sump guard and the other token efforts at 'adventure' it's really nothing more than a standard 800 GS with a bigger tank.
The thing of course is that the tag of adventure sounds sexier and sells more bikes than the tag of touring, and so in a way I can't help but feel that this is a marketeer's bike, cleverly branded, rather than an engineer's bike crafted for genuine adventure usage, whatever 'adventure' usage actually entails.
Perhaps if we accept that adventure for most riders is the same as touring but in a more upright riding position then BMW has perhaps done wise to not go too extreme. It certainly sits well as a tarmac cruiser, regardless of what message it's 21-inch front wheel and 'adventure' branding invoke (that's not to say a talented rider couldn't make use of it off-road, but it would take a talented rider).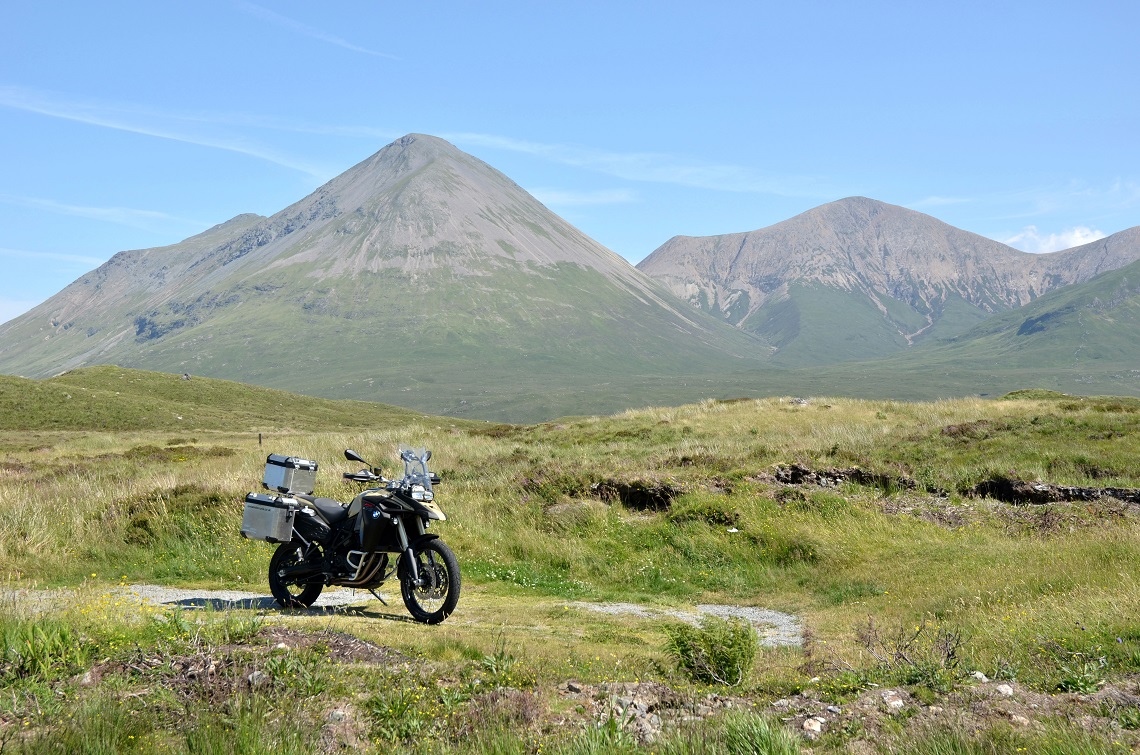 I tried the bike off-road on some trails near John o' Groats. The combination of 229kg (plus pannier load) and the horror of a £1,500 insurance excess meant that it was terrifying rather than enjoyable. This wasn't its natural terrain. Or mine, not on this bike at least. What did impress me was its ability to travel two up. From Thurso to Dunnet Head (15 miles or so) I gave a lift to Thomas, the brother of Mikey, a guy off the forum who'd kindly offered to let me camp in his garden. Thomas is your average sized bloke, probably a good fifteen stone, but even with him and all my gear on the back the bike still rode well, pulled well and once you got rolling felt no heavier than it did without the load.
I later met a couple from Canada touring two-up on a standard 800 GS with stacks of luggage. It looked a great bike for their adventure, and whilst part of me thinks that for pure two-up touring on tarmac a 1200 GS would have been more suitable, you have to respect that some people like to do things differently, and in their own way. The 800 certainly suited this pair. They had been hoping for the 800 Adventure, but it wasn't out in time for their tour, them telling me how the extra fuel capacity would have been handy for their ride up to Norway.
From Thurso (riding with Mikey on his SR125) I rode west, along the coast towards Durness. This is a magnificent road across coastal moorland (reminding me of the road from Scarborough to Whitby as much as anything), with a great surface, well-sighted corners, minimal traffic, just a great place to really learn how to hustle a big bike such as this. The real appeal of Scotland I soon found is just how easy it is to camp up here. Within reason you can literally camp anywhere, with it not unusual to round a corner only to spot a lone tent out in the moors, the occupants no doubt off walking somewhere. It's not as easy as this in most other parts of the world. It's part of what makes Scotland unique, and accessible.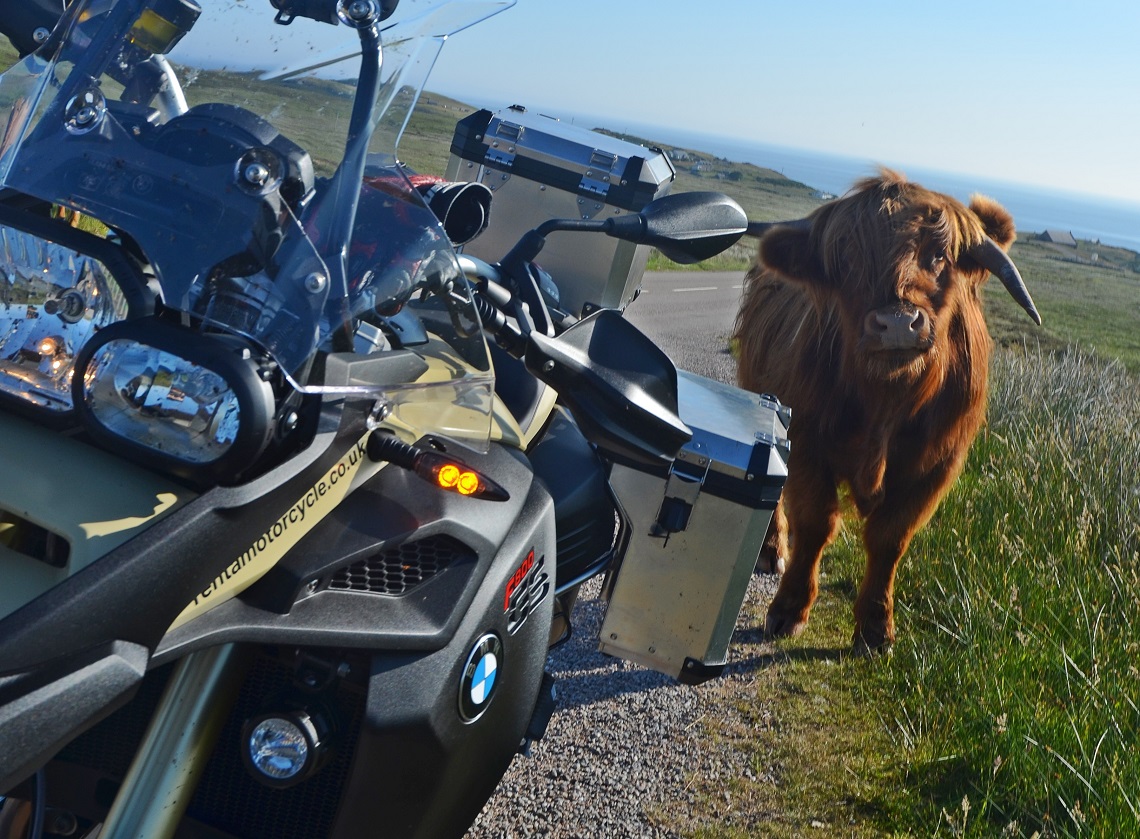 There are plenty of guesthouses and B&Bs for those seeking greater luxury. Prices appeared to start from around £50, with it not looking as though you needed to book in advance. Youth hostels were available as well. All in all, I reckon you could do this loop of Scotland for not much more than £200, including fuel, food and board.
To properly test the camping gear Cotswold's had set me up with I camped the whole time (three nights in total). I had a three-man (really two and a half) Terraquattro tent (£270), a 3.8 Mountain Equipment roll matt (£45), a Deuter Travel Lite 300 sleeping bag (£70), Primus Express Spider Stove (£47), then all the sundries; cup, Spork, mosquito net, Smidge (though with a slight breeze the horror story of midges didn't materialise), and the piece de resistance, an £80 collapsible chair made by Helinox (see page 18), an indulgence perhaps, but one that seems to be proving popular with people taking them to weekend rallies and on shorter tours. All the equipment did its job. I found the tent a bit fiddly and over-designed; the sleeping matt however was a revelation, a real winner in terms of good night's sleep.
That stretch from Durness, around the coastline to Applecross was the highlight for me; some great riding, beautiful views and almost completely to myself. I concluded that you could find that same wilderness up in Scotland as you could in other, more distant parts of the world, and I'm glad to say you can. More than that I thought it a great training ground for anyone building up to longer distance touring. You could trial your camping gear, get used to it being strapped on the back, get used to being out of your comfort zone and away from a phone signal before you take off to Europe or further beyond. And for those who have been around or across the world, there's enough clear road and open space to bring back memories of what it was like back out on the big trip.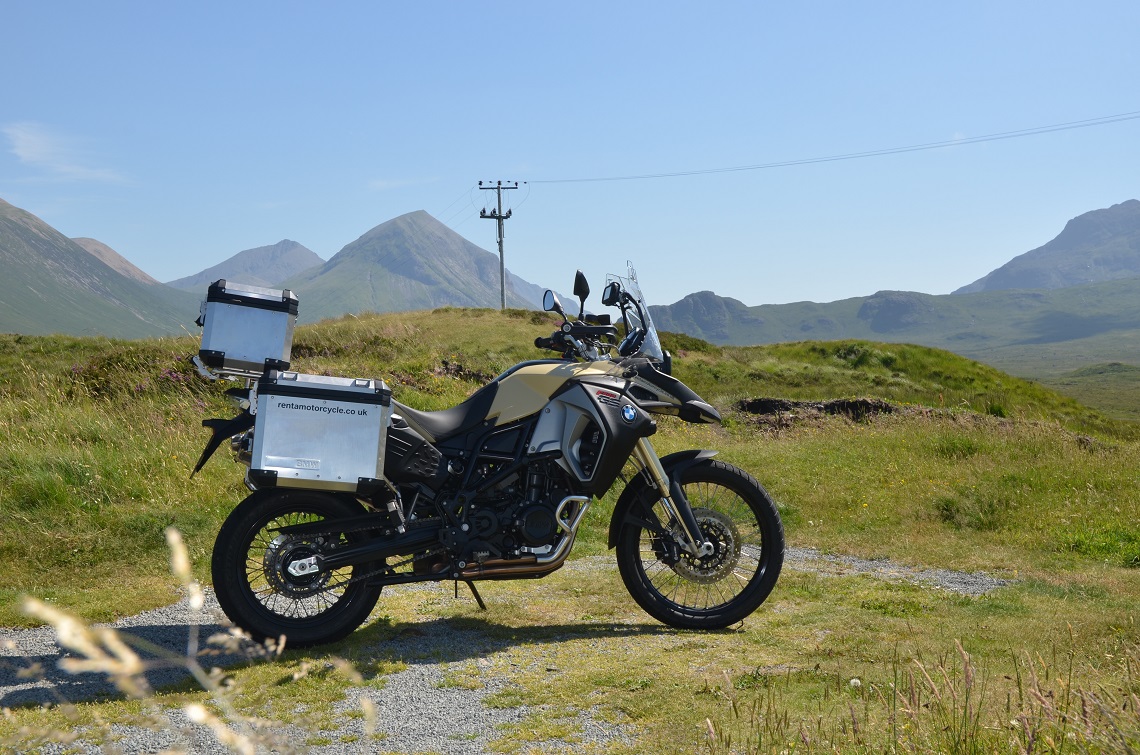 As I rode I reflected on the bike.
Coming at it with a relatively fresh pair of eyes I couldn't help but wonder just how as a biking community we'd reached a point where the acceptance of what is an 'adventure' bike is one weighing 229kgs, with massive metal canisters on the back, the whole lot so heavy and cumbersome to push and pull when putting it on the stand. On a trip like this, hopping on and off to take photos it was a weight on my mind. 'Is the stand down properly, is the road off-camber, does it run downhill…' and because the bike sits 10mm higher than usual I get the feeling BMW had to lengthen the stand to stop it tipping over. The problem with this is that the stand's now so long that you sometimes find yourself having to lean the bike over to the right to get it to clear the ground on the swing-through. If you're leaning the bike downhill to do this that's quite unnerving.
A great touring bike perhaps, but certainly not one I'd like to get lost in the wild on. But try telling Dylan Samarawickrama that. But in all honesty, the Adventure did put a smile on my face when racing it along the narrow coastal roads, and to have so much storage space just made life that much easier and more functional when living off the bike as you do when travelling away from home on one. And the seat was comfortable and the range was excellent. It might not be my perfect bike, but I can see why it might be for many others…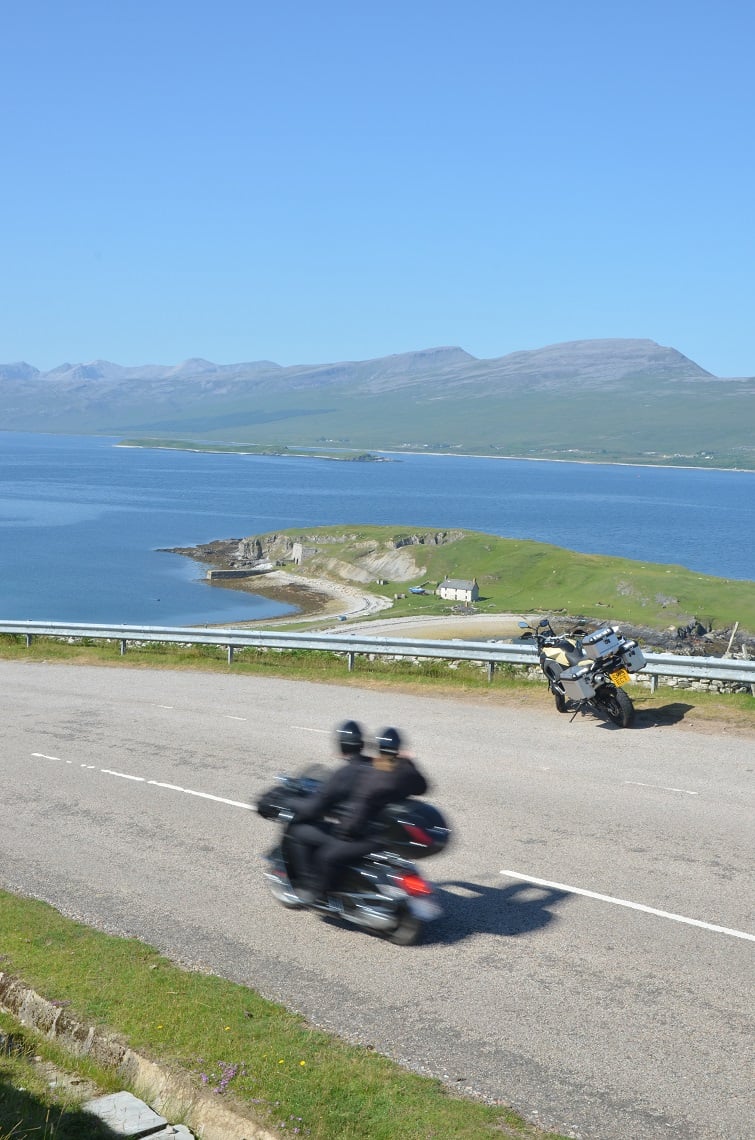 From Applecross, I rode down to Skye, which was pleasant but just a little too busy by comparison to the rest of the places I'd been. I preferred the isolation. It was still enjoyable nonetheless, finding little coffee shops and bacon butty caravans nestled amongst the villages.
Just off Skye I met up with Joe from the Edinburgh dealership who'd come across to meet me for no other reason than that he fancied a ride out on his 1200 GS. We rode together along the spectacular route to Inveraray. I've seen some amazing things on my travels; the Australian Outback, the Karakorum Highway, Death Valley, the Alaskan Highway… places where you can do nothing but stare at the scale and beauty of it all, and Glenn Coe was exactly the same; an epic, vast valley, with a road running right through the heart of it. It made me want to come back at midnight when no one else was around and enjoy it all to myself. And to think it's only a few hours north of Edinburgh. No excuses…
The following day was spent In Inveraray on the MotoScotland off-road training course (see MotoScotland page), kindly hosted by Clive and his partner Donna, before the next day completing the loop with the run back through the stop-start traffic of Glasgow and across to Edinburgh on the M8; a thousand miles in three days.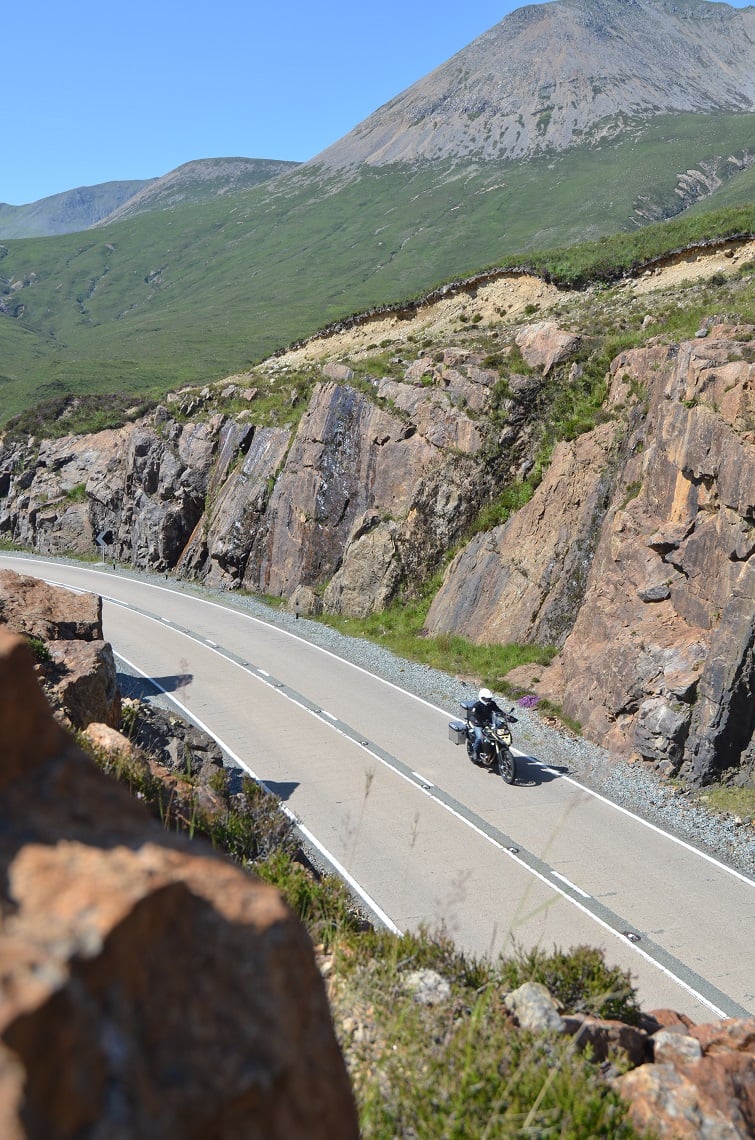 I can't say as I experienced Scotland properly in that short amount of time – you'd need at least a week for that (probably months) – though I did see enough to know that I'd like to return and spend some more time here. But sometimes a weekend is all you can get, and as a place to blow off some cobwebs and enjoy a bit of helmet time, I thought it was a perfect place to bring a motorbike, preferably with a pillion passenger next time.
So a big thank you to Joe and the rest of the team at Motorrad Central for the loan of the bike, also to John and Mike at Cotswold Outdoors for the camping gear they kindly loaned me. I can't say as I loved the 800 GS Adventure. Less is more in my books, but on this occasion, I was almost converted. Enjoy Scotland, whatever bike you ride.
Photos: Nathan Millward