Bryn Davies Has Been Wandering The Halls Of Motorcycle Live To Find Out What's New In The World Of Motorcycling
Every year, over nine days in November, thousands of bikers descend on Birmingham's National Exhibition Centre to visit Motorcycle Live, the UK's largest motorcycle show.
Held across three huge exhibition halls, the show sees all of the major motorcycle manufacturers in attendance, showing off 2018's metal before it's even in the showrooms, along with hundreds of retailers, tour operators and gear manufacturers.
We had a stand in hall two, and it was an absolute pleasure to get to meet so many of you guys, from the familiar faces of subscribers who have been with us for years, to the new guys and girls who decided to join the party.
Motorcycle sales for 2017 haven't made particularly encouraging reading for the industry, save for those of adventure bikes, which was the only sector to show growth, and visitor numbers to Motorcycle Live echoed the downward trend, with a 5% decrease against the previous year.
Be that as it may, there were still 107,072 visitors to the show for 2017, and it proved to be a fantastic occasion, complemented nicely by the show's interactive features, such as the Experience Adventure course, which we had front row seats to from our stand.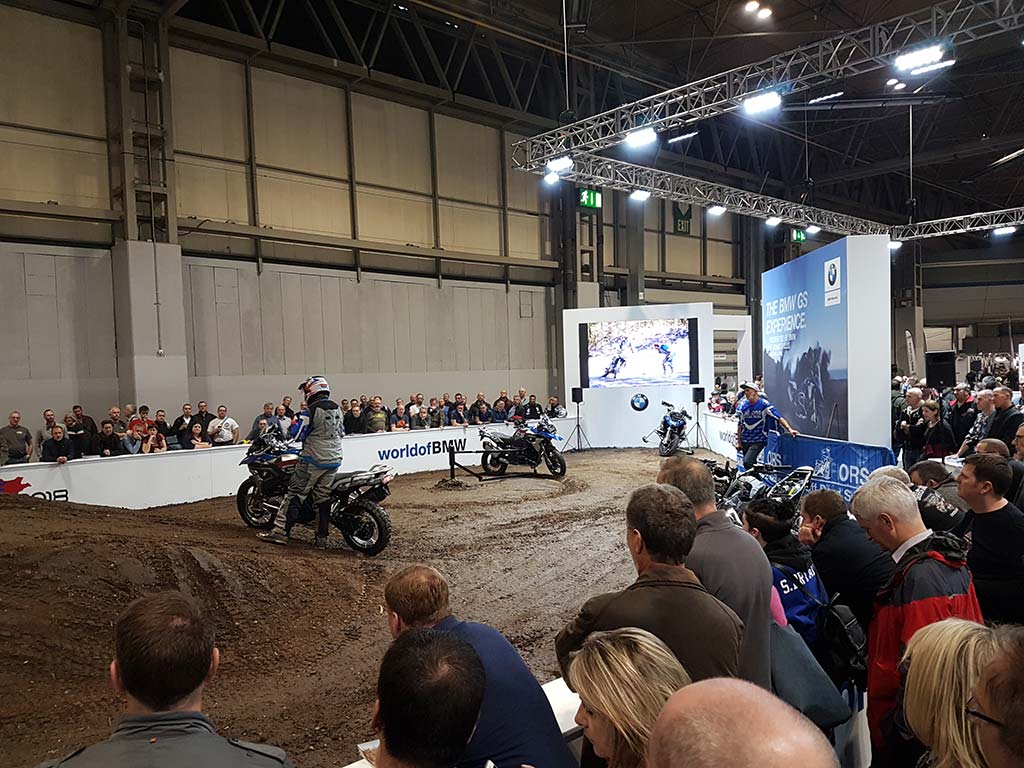 Special mentions must go to all of those who plucked up the courage to get their first taste of off-roading on big adventure bikes in front of crowds of vocal onlookers!
New for this year, we were showing off our Born to Explore t-shirt range, and we were overwhelmed by the interest shown in them, so much so that we sold out within two days!
Fortunately, we've got more in stock, so head to our Tee Spring page at www.bit.ly/ABRt-shirt to get yours.
Of course, we were taking subscriptions to the magazine, and showcasing our 2018 calendar that features fresh adventure motorcycling inspiration for each month (get yours here: www.adventurebikerider.com/shop).
To everyone who took out a subscription, or existing subscribers who simply popped by to say hi, thank you.
Anyway, while most of the time was spent manning the ABR stand, we did manage to sneak off to have a mooch around the halls and see what the rest of the exhibitors were up to, and it's safe to say there's a hell of a lot of exciting kit around at the moment!
You can read about all of the new bikes that were on display at Motorcycle Live on page 110.
---
Our first stop was at the Scottoiler stand, where we were shown the new-for-2018 X System chain oiler.
The guys say that it'll fill the gap nicely between their basic V System, and their more plush and premium E System, by retailing at £199 and offering a great solution to chain maintenance.
Scottoiler products aren't the sexiest pieces of kit on the market, but boy are they a worthwhile addition to any chain driven motorcycle.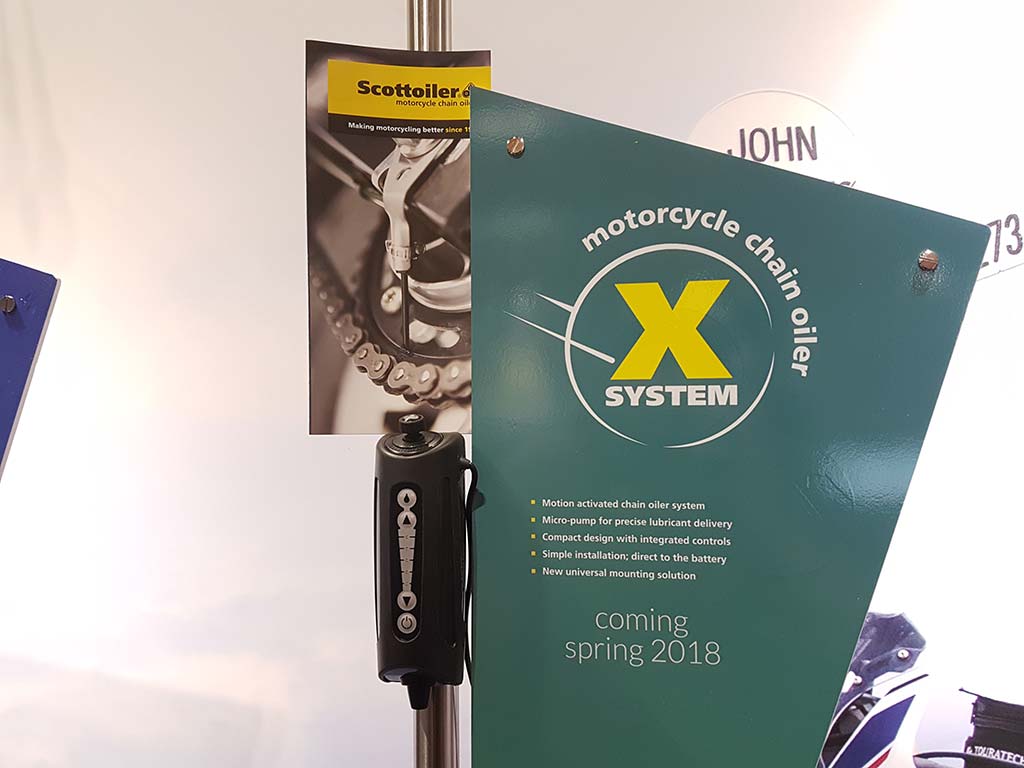 Our stand was just around the corner from Adventure Bike Shop, and Cliff and the gang were in fine form as always.
I was interested to see that they're now stocking an entire range of protective accessories for the Honda CRF1000L Africa Twin from Alt Rider, with luggage racks, crash bars and radiator guards beefing up the appearance and adventure credentials of the Africa Twin.
Bell has two new helmets on the market that look like they'll be a great option for adventure and touring riders; the MX-9 Adventure MIPS (which you may remember from the last issue of ABR), which has been updated for 2018 to make use of a multi-directional impact system to provide more protection, and the SRT Modular, a neat looking flip front helmet that looks like it'll be great for touring.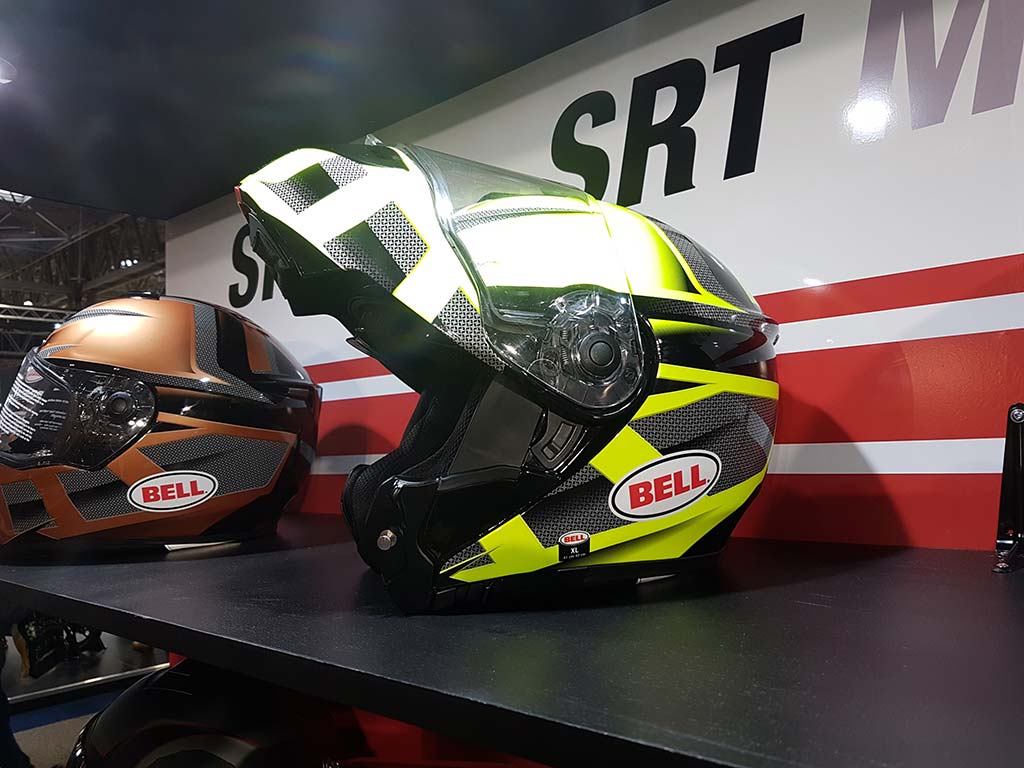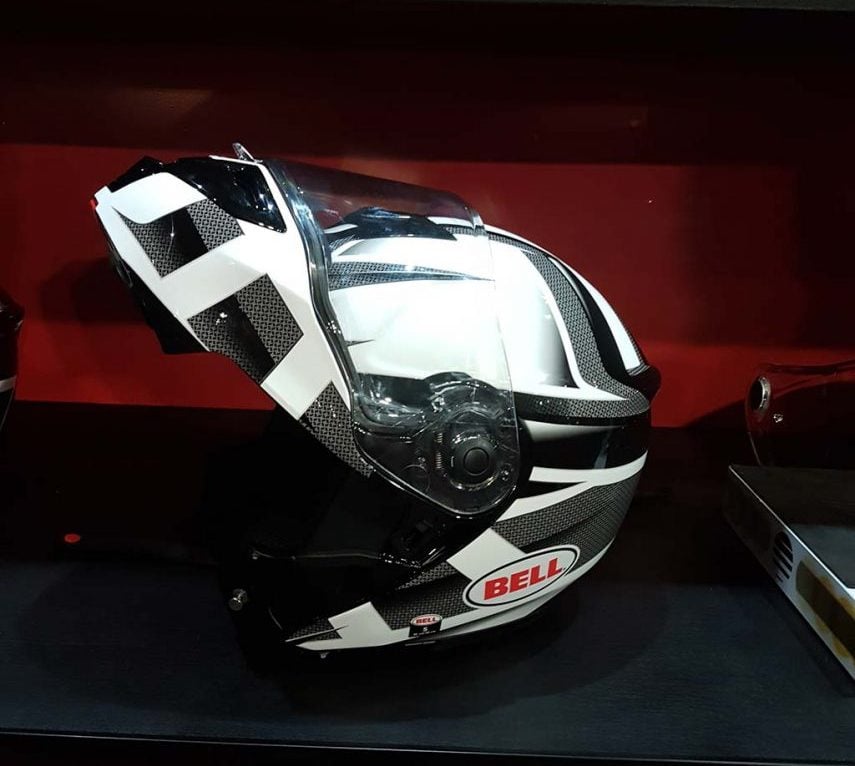 It's always a pleasure to have a walk around the Halvarssons, Lindstrands and Jofama stand, and we were very excited to see that the brand is introducing two new laminated textile jackets for 2018. The new 'Wolf' jacket looks particularly interesting, as it has been engineered to be softer than other laminates on the market, which should mean it'll be a dream to wear.
Hideout Leathers is launching a new textile adventure range under the name of the Voyager, which has been designed to appeal more to those riders who like to venture off-road, with a more robust material and reinforced knees on offer.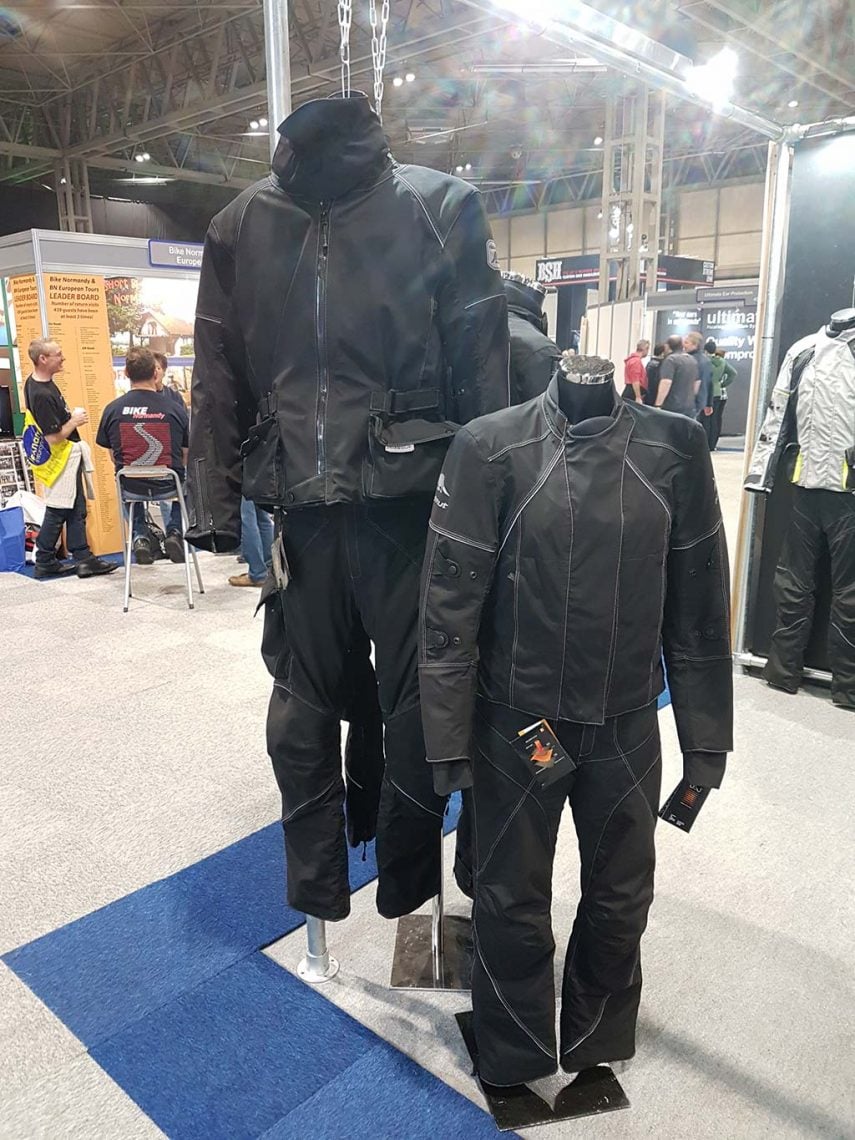 Klim has updated the ever-popular Badlands laminated textile suit for 2018, adding improvements to an already fantastic jacket, while the company is also launching a new women's suit.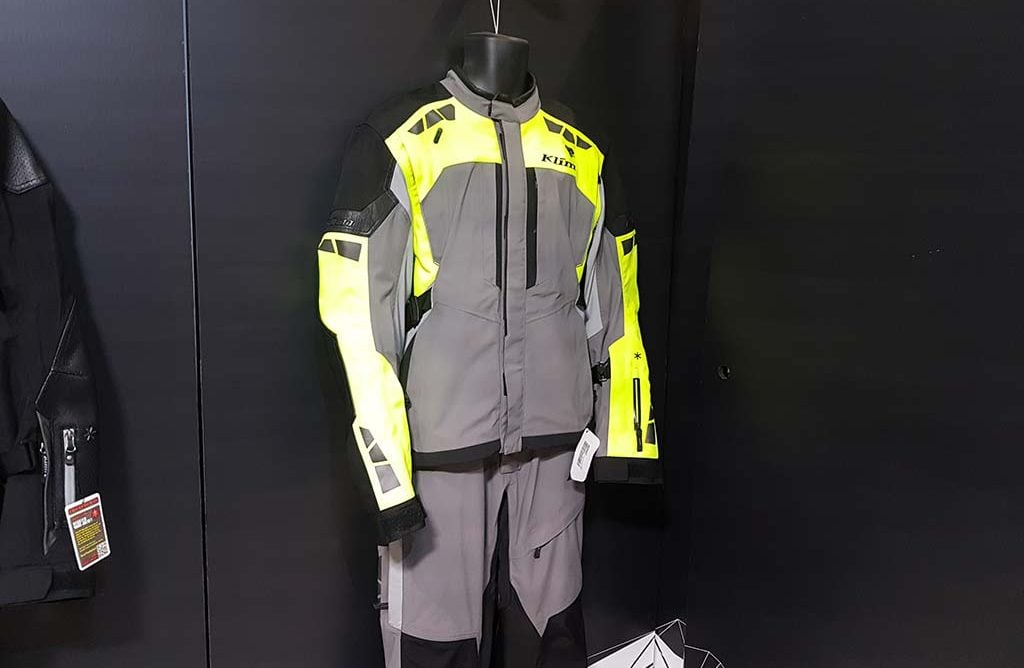 On the same stand we found Adventure Spec, who were joined by their sponsored rider Lyndon Poskitt and his bike (which is now up for sale) at one point in the show.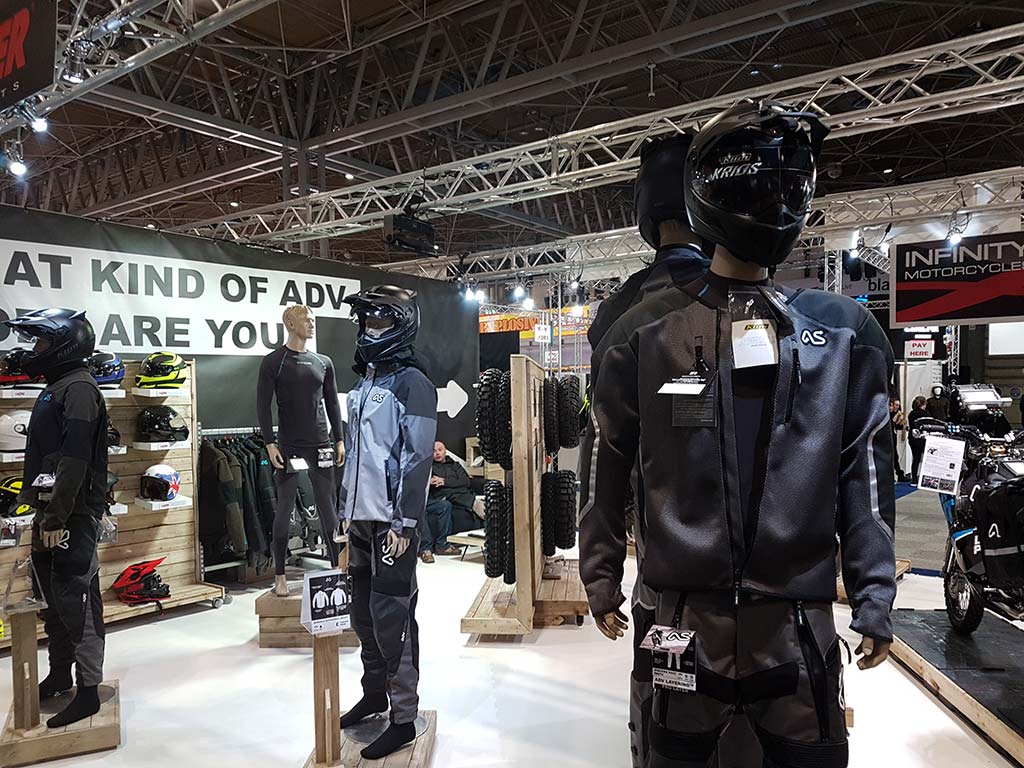 We were eager to see the company's new range of textiles, which look ideal for adventure riding. The Linesman, Atacama and Mongolia jackets all look fantastic and have on-trail performance at the forefront of their designs.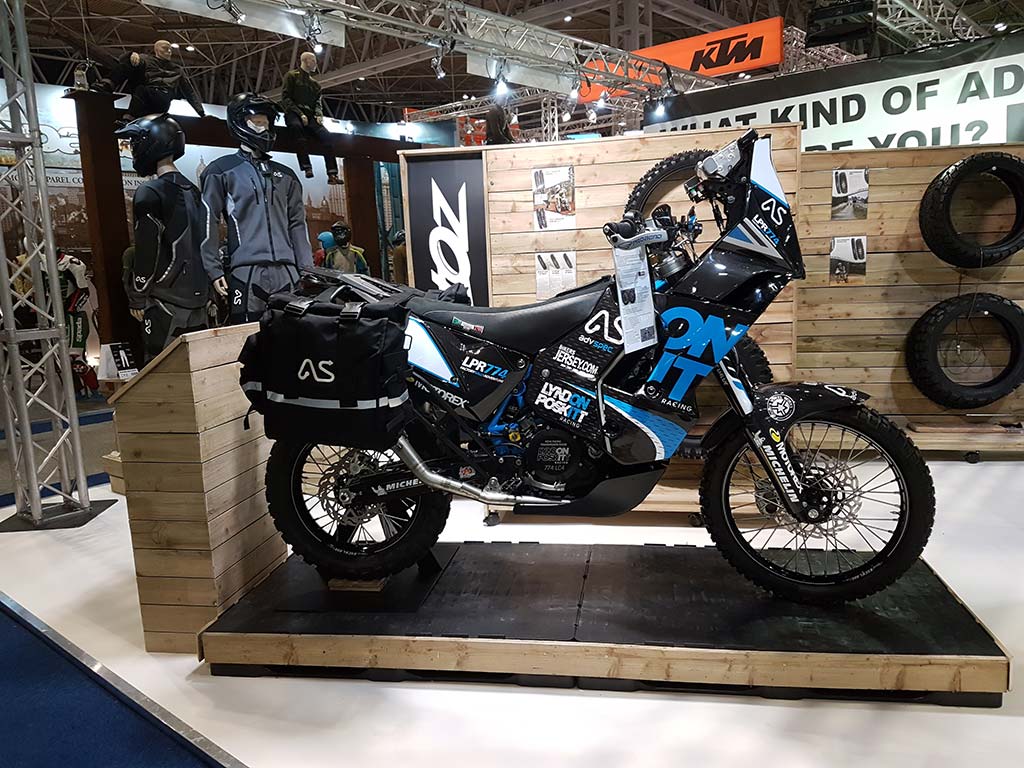 One stand that was buzzing every time we walked past it was Knox, a UK company that makes stylish and functional modular motorcycle clothing. The Urbane Shirt looks particularly interesting as it looks like an ideal armour solution.
Givi had a whole host of new motorcycle accessories on show, and we loved the look of the top box fixing plate which transforms your luggage into a suitcase on wheels (genius!), as well as the new range of accessories for the Honda X-ADV.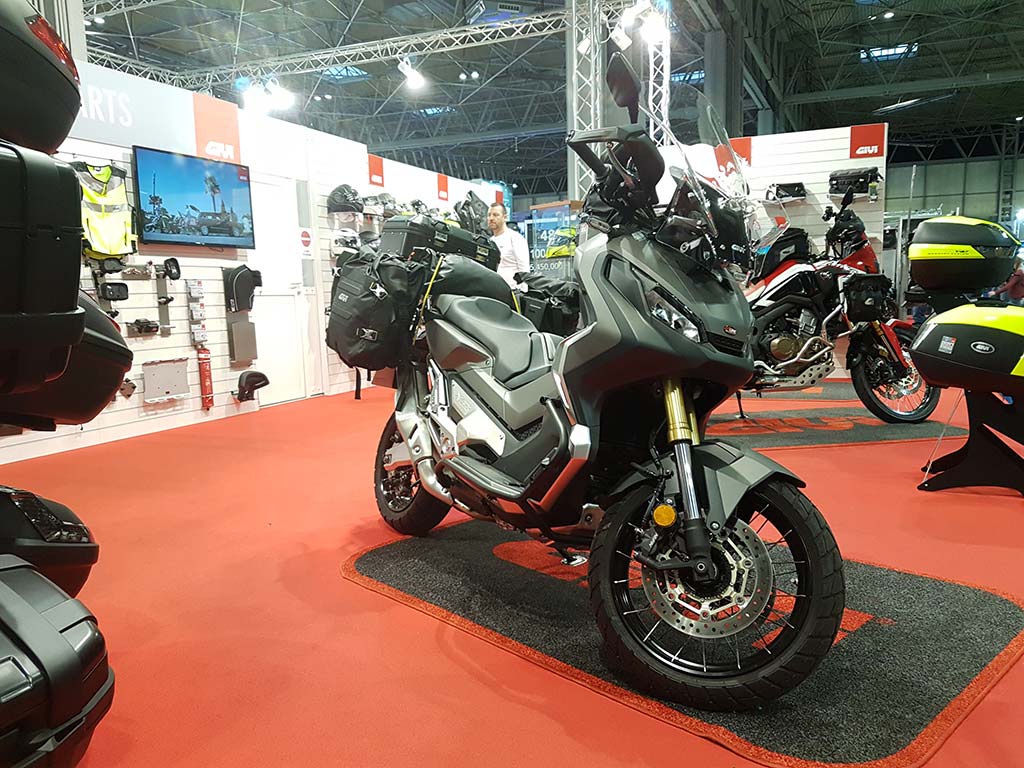 Also on the Givi stand was its clothing brand, Hevik, and for 2018 it's releasing a new, nicely priced textile jacket, the Titanium. It looks to be a viable option for those looking for a more affordable jacket, and we'll have a review of it as soon as it becomes available.
As the temperatures started to dip, we thought it'd be best to take a look around the Gerbing stand, and discovered that the company is launching a new Gore-Tex lined heated glove for this year, the Fyre.
If you suffer from cold hands, then it should be perfect for you. Dane was also showing off their excellent range of jackets and trousers, including the new Nimbus jacket, a top-spec laminated textile jacket that looks perfect for all-weather riding.
Armour specialists, Forcefield, had the company's new range of armour inserts on show, including the Isolator Two, which is CE-level 2 approved. It's also heat activated, breathable, soft and, above all else, comfortable!
New rubber was on show from Dunlop in the form of the TrailSmart Max tyres, which are new for 2018 and said to combine sport-touring levels of road performance, with the spirit of adventure.
Essentially, they're looking perfect for those who stay mostly to the tarmac but like to dabble in a bit of easy off-roading when the conditions are favourable.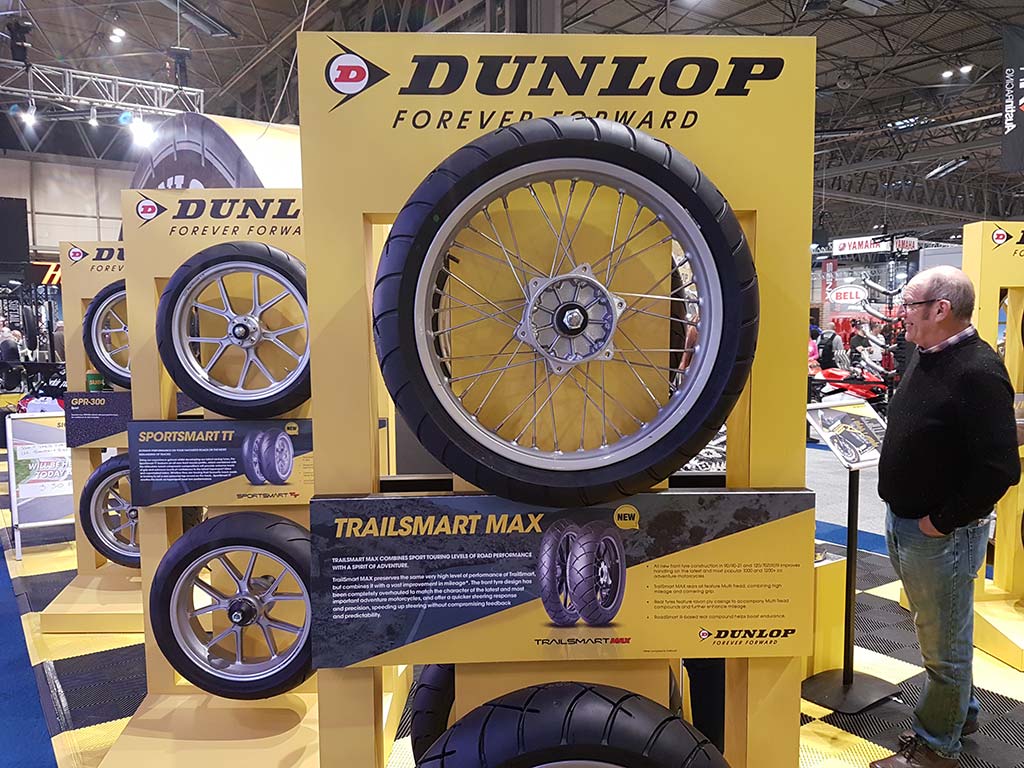 If you're all sorted for rubber, but you get a puncture, then the Bike-Seal stand would have been of interest to you.
The company makes puncture prevention sealant for motorcycle tyres, as well as a range of puncture plugs that will help you get more miles out of your holey tyres.
There seemed to be a lot of interest in the dguard automatic crash detection system, which also doubles up as an anti-theft device.
This is one cool piece of technology that will detect if you've been in an accident by using various sensors and automatically connects the rider with the emergency services.
If the rider is unable to speak, then the device will inform the operator of the rider's GPS coordinates. Elsewhere in bike security, BikeTrac has a brand-new range of hard security kit out that's engineered to protect your two-wheeled pal from theft.
These new locks, chains and ground anchoring points will complement the company's range of tracking devices perfectly.
The police-led BikeSafe guys were giving informative seminars on motorcycle safety throughout the week, while Biker Down!, run by Kent Fire and Rescue, were there informing riders of their fantastic and useful courses which teach bikers what to do if they're the first on the scene of a motorcycle accident.
Naomi, who writes for the Adventure Bike Rider website, was excited to come across the Motogirl stand, where the stylish Kevlar motorcycle leggings and skinny jeans caught her eye.
They seem to retain the fashion of high street denims, without compromising on safety in the saddle.
Performance Parts were very excited to be showing off the Hyper Pro BMW Shock Spring Kit, and we can completely understand why.
With a lot of GSs now approaching the age where the shocks will need to be replaced, it's hard to find suitable aftermarket products that allow you to retain the functionality of the ESA system, and OEM parts are bloody expensive.
What Hyper Pro can offer, is a new shock that can be easily fitted along with the original ESA system, saving the owner a ton of money.
We'll have more on this as we get it, but it's worth bearing in mind if you've got a GS that's showing its age.
It's always fun to head over to the Roadskin stand and see the video of the owner going at his legs with sanders and knives to prove how protective his jeans are, and this year the company has branched out into upper body wear, with the snazzy Classic Jacket on display.
As it's fully lined with Kevlar, and features Road Skin's own memory foam armour, it looks to be a fantastic casual riding jacket.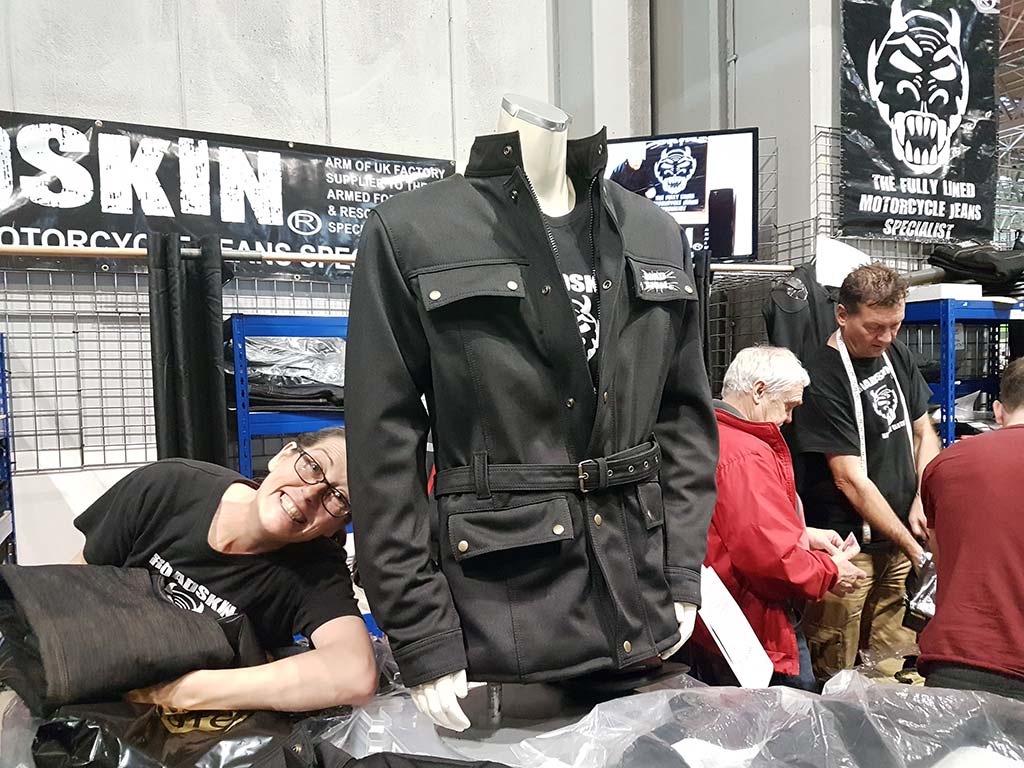 Shoei has updated the popular and well-regarded Neotec flip front helmet for 2018, with the Neotec Two offering increased safety and a quieter, more refined user experience thanks to an integrated 'vortex generator' that reduces wind noise.
Sena, a company that's usually known for its intercom systems, has also moved into the helmet trade, and will be offering an awesome new range of lids that'll have active noise cancellation in them, along with seamlessly integrated headsets.
The Momentum Helmet will retail at £409, and should be available in early 2018.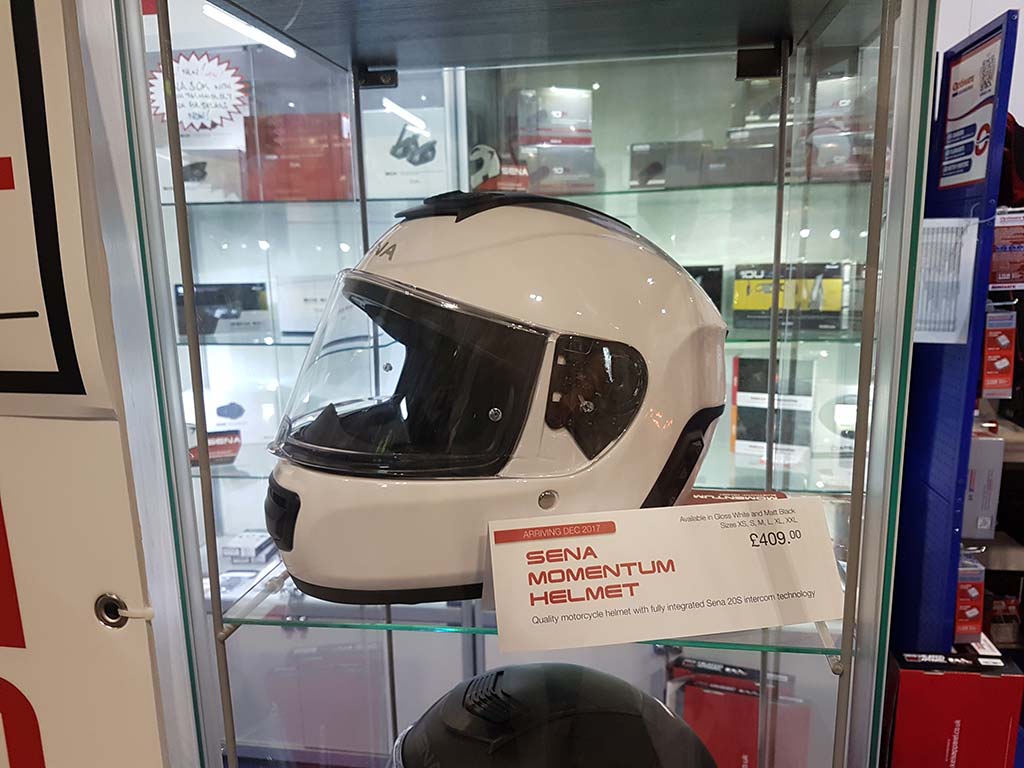 Spada has released a new textile riding suit, the Marrakesh, which looks seriously stylish, and has a lovely, soft feel to it that'll no doubt make it a delight to wear.
Meanwhile, Triumph is launching a brand new range of Gore-Tex laminated textiles, which look very nice indeed.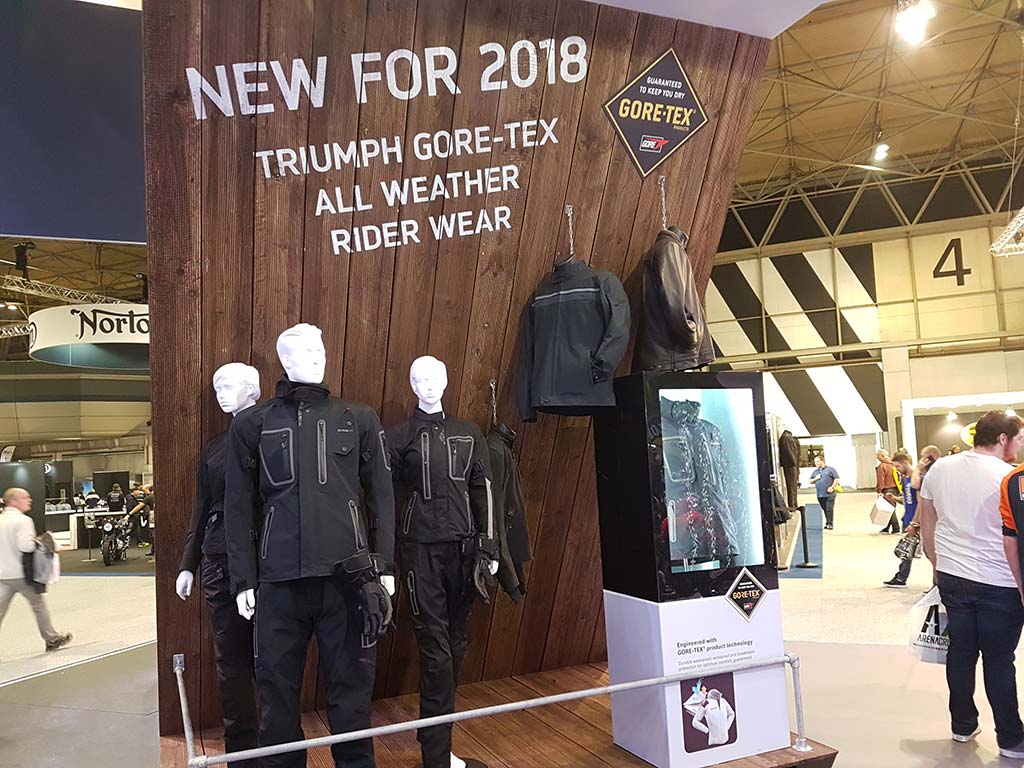 Last year, Kriega arguably had the most attractive bike in the show on their stand, a beautiful matte black Africa Twin, and while they ditched it for 2017, the brand was still there offering its brilliant range of soft luggage solutions.
We were also very interested to speak to the guys at Mosko Moto, an American soft luggage brand, as they had some incredibly cool products on display.
We spoke to them for a while, and it looks as though they're going to have an importer into the UK soon, and we're super excited to get our hands on some of their highly-rated pannier kits.
Keeping things neat and free of mess was, of course, Biker Tidy, who had me feeling bad about the state of my garage.
The company was there with its superb range of motorcycle clothing storage solutions that are designed to keep everything in order so there'll be no hunting around the house for that lost glove.
Overall, Motorcycle Live 2017 proved to be a brilliant nine days. Numbers may have been down from the previous year, but all of the exhibitors came together to showcase everything that's new and great in the motorcycling industry, while those who visited were the ones who made it all worthwhile.
We'll be getting our hands on the latest adventure bikes that were on show at Motorcycle Live throughout 2018, so keep your eyes peeled for our reviews on them, and come and see us at the Carole Nash MCN London Motorcycle Show this February.