All good things must come to end, and Bryn Davies says goodbye to our KTM 1290 Super Adventure R
We've come to the end of the year which means two things: it's almost acceptable to eat your body weight in cheese and crackers and our long-term KTM 1290 Super Adventure R has to go back to its real home at KTM HQ.
The bike's been in my possession since February 2018, and while personal circumstances prevented me from riding it as much as I would have liked to, I still managed to get a fair few miles under my belt and get a good feel for the bike.
Over the past few issues, I've had a lot of praise for the machine, and it's well deserved. In the making of this issue I flew over to the US to explore Utah with 106 West Adventures (you can read about that incredible ride on page 92).
Being a new-found miser, I sought out the cheapest flights possible to Colorado, which happened to be flying from Gatwick. It's about a two and a half hour journey from my house to the airport, and the thought of dealing with the M25 before a long flight and paying an extortionate amount of money for parking led me to the decision to take the KTM for one last hoorah.
A quick search on Google revealed that parking in Gatwick is free for motorcycles, you simply ride around the barrier of the short stay carpark and park up next to the other bikes.
As I was going to be away for a few weeks, I had a heck of a lot of kit that I had to take, so I loaded up the panniers and bungee-corded my 80-litre holdall to the pillion seat. Safe to say, were the bike a pack mule, it would have probably filed for an early retirement and joined a union to protest the grotesque working conditions I subjected it to.
I was carrying a lot of weight but, unlike that fictitious moaning donkey, the KTM didn't notice one bit. Riding down the motorway at 3 am I realised that, having used the bike almost exclusively throughout the summer of this year, I'd not really got the chance to experience the true magnificence of the KTM 1290 Super Adventure R's LED headlights.
Those things are glorious, and the cornering lights are a feature that you wouldn't know you needed 'till you had them. Good lights offer two advantages: being able to see as much of the road ahead as possible, and also making you un-ignorable to other road users.
Given the amount of headlights that were flashed at me from oncoming traffic, it'd take a seriously incompetent driver to not see you if you're riding this bike at night. Halfway down to Gatwick it started raining and I got to experience the weather protection that the bike offers.
The screen on the 1290 Super Adventure R isn't the best for long motorway miles, though that's to be expected, this is the off-road version of the bike after all (the S model has a more road-suitable screen), but I was surprised by just how much protection the tank, fairing and handguards gave me.
I wasn't bone dry by the time I reached Gatwick, but I was as close to it as I could have been without waiting in a McDonald's for the rain to blow over. Anyway, in the last issue of Adventure Bike Rider magazine, I spoke about how my partner, Naomi, found the big KTM from a pillion's perspective. In brief, the standard seat on the R was not conducive to a happy two-up touring relationship.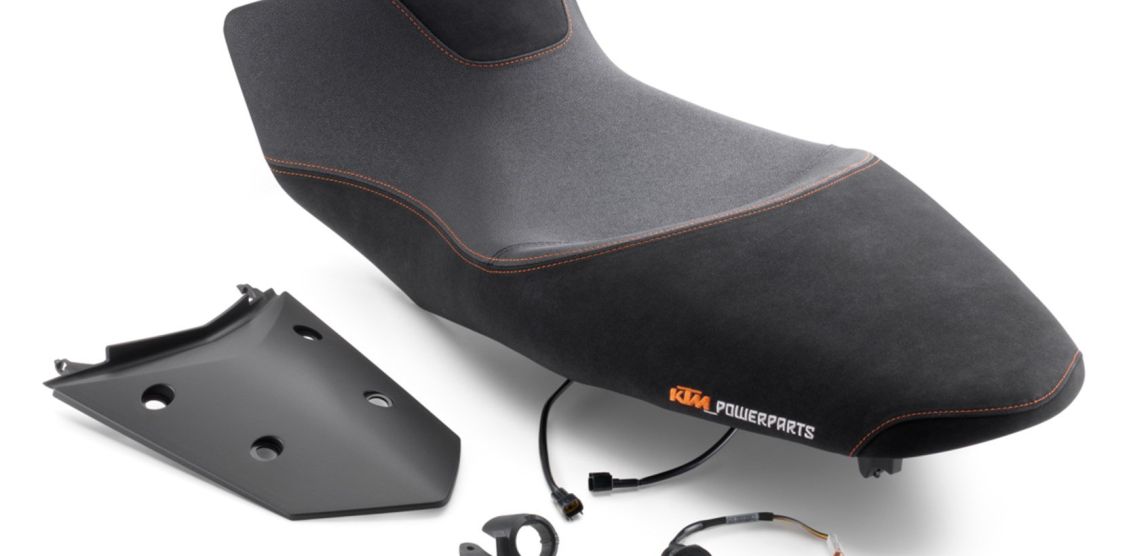 So, after that revelation, I had the official KTM Ergo Pillion Seat fitted. It has a shape that's optimised for comfort, is padded out with a 3D mesh foam, and it even improves the heated seat function that the R has as standard. Did it work for Naomi though?
Put it this way, there was no more whinging from the back seat after the switch was made! From a rider's perspective, the new seat makes a huge difference to the long-distance potential of the bike.
Blasting back home from Gatwick after an eight-hour flight from Colorado, I found it to be far more comfortable than the seat on my Norwegian flight and could have continued riding far longer than the three hours the journey took. A worthwhile addition.
---
Work we've done this issue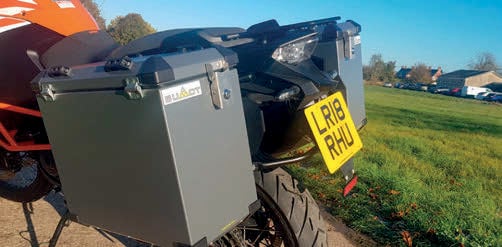 After riding down to Gatwick and having to leave the bike at the airport, I realised that I wasn't entirely satisfied with the Touratech panniers that I had mounted to the bike.
Considering their price, they're not the most user-friendly and the fact that you need four separate padlocks to make them secure irks me.
So, I decided to fit a pair of Bumot Defender Evo panniers to the bike. Coming in at £899, the Bumot luggage took roughly 20 minutes to fit, it has keyed entry to keep everything to secure, it has a quick-release system so there's no faffing to get the panniers off after a long day, and they feel well made throughout.
Available in three sizes (35l, 40l, and 45l (take 4l off on exhaust side)), they're a worthwhile consideration if you plan on touring or commuting. Check out www.adventurebikeshop.co.uk for more information.