Nineteen-year-old L-plate rider and keen photographer Dan Hill talks us through his time with the twin-cylinder baby Varadero
If you're looking for a 125 that has the look and feel of a big bike then the Honda XL125 Varadero is going to seem very attractive to you. The XL125V was debuted by Honda in 2001, initially designed to offer 125 riders a commanding road view and the ability to comfortably carry a pillion. It also offered a larger fuel capacity than many other 125cc motorcycles around, 17 litres including a two-litre reserve tank.
In 2007, emission standards changed, requiring Honda to either withdraw the XL125V from production or tweak it to comply to new, stricter standards. Honda decided to tweak the XL125V and from 2007 onwards the bike featured an electronic fuel injection system and a more modern looking fairing. The 2007 model also saw a change in the size of the fuel tank down to 16.5 litres, from those original seventeen litres.
Although the XL125 Varadero has since been discontinued in the UK, there are still plenty knocking about on auction sites and on Auto Trader. Due to the build quality of these bikes and their appealing design, you'll still be looking at spending anywhere from £1,500 for an older model, and £2,700 for the newer 2007 model. Whichever one you decide to go for, veterans of the XL125V will tell you, you won't be disappointed…
Dan Hill has been the proud owner of a Honda XL125V for two years now.
He's 19 and currently holds an A1 motorcycle licence, meaning that he can ride a 125cc motorcycle without L plates and he can also carry a pillion.
He's told us why he thinks the Varadero is one of the best 125cc bikes for ABRs.
"I bought my 2007 Varadero back in January 2012 and it sat in my shed for two months until I got it insured. I did it this way because my one year's no claims kicked in in March and I'd rather the cheaper insurance! I started riding on L plates, it must have been quite funny for other bikers because the Vara is a big bike, people often ask me if it's a 400 or 500cc.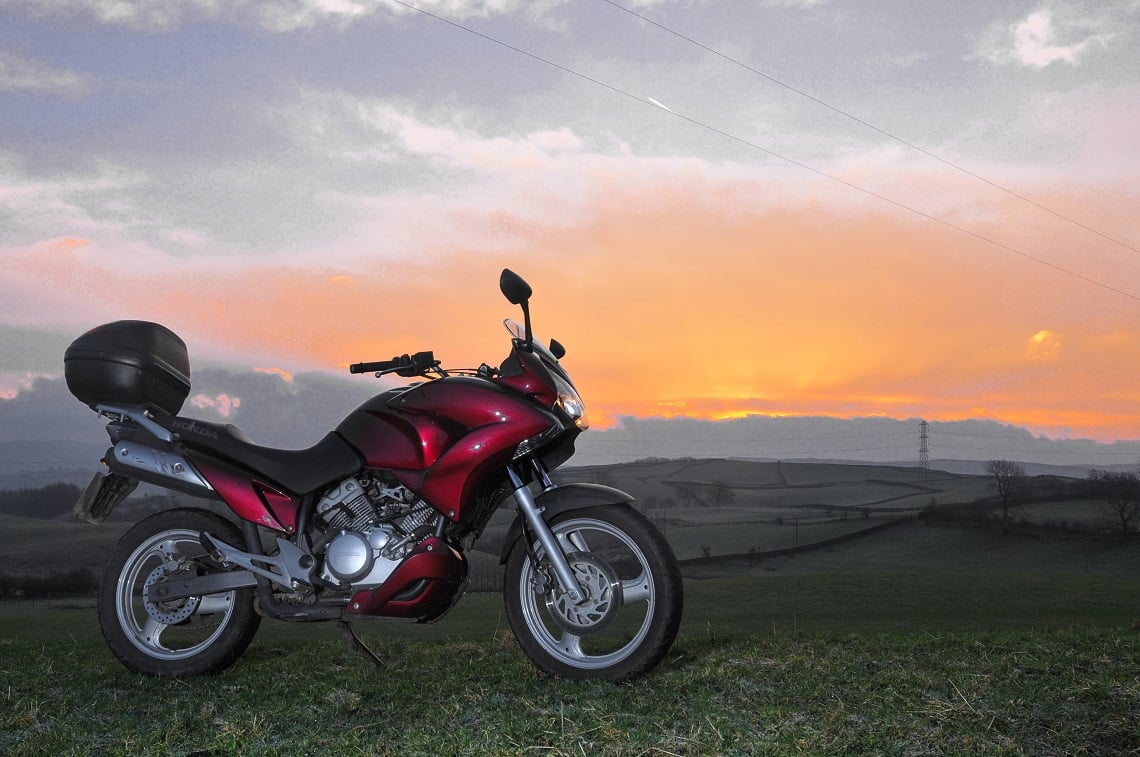 I ended up paying roughly £2,200 for the Vara (I part exchanged my Scorpa Tys125f trials bike). I think I paid the going rate for a bike of its age. I miss my Scorpa, but the Vara attracted me because of the sheer size of it.
It really does look and feel like you're riding a bigger bike, though this has its pros and cons – when you're trying to keep up with another biker they often burn you out.
The only thing I was told to look out for when I was buying the bike was the stand. I've heard that the stands on Varadero's are often the first component to go if they're not well maintained. Build-ups of rust can see them snapping off, not something that's particularly helpful… Since buying my Vara I've only really had one problem and that was when it started cutting out intermittently.
Initially, the garage I took it into couldn't really figure out what was wrong with it, so they suggested I bought a new battery. I did, but it didn't solve the problem. It turns out the Vara needed a new regulator rectifier, a resistor that only lets a certain amount of voltage to the battery at one time.
Apart from that, the only other thing that I would consider a concern about the Varadero are the poor headlights. They're ridiculously dim and you can struggle to see at night if it's raining. This doesn't seem to be something that's only happening on my bike either; it seems to be quite common.
As well as the open road, I've also ridden the Vara around the fields by my house and also on a few gentle lanes. After changing the stock tyres to Pirelli Scorpions I had no problems and it never felt like it was going to lose traction. My first foray into off-road riding on the Vara with its stock tyres resulted in a small crash, so if you're thinking off doing any level of green laning it's worth changing the tyres!
If I could change anything about the bike it would be the front mudguard, there are no 'ifs' or 'buts' about it, it's useless. Where your feet are placed on the pegs is directly in the line of where the water gets sprayed if you ride through even the tiniest of puddles. Overall though, having ridden the bike for two years, I love it. It's reliable, fast (ish) and the 0-30mph is phenomenal and really useful in town.
The minor issues of dim lights and rubbish front mudguards are forgotten when you get into a nice winding road in the middle of the Lakes and nail the apex of every corner you hit. The centre of balance is perfect for me and you feel you can crank it right over, it's brilliant. I can't recommend it enough."
Varadero's in the Classifieds
Prices currently start at around £1,800 for a Varadero in the classifieds. That'll get you a 2004 model with 20,000 miles on the clock from a trader. Paying £2,300 will get you a 2008 showing 9,000 miles, whilst at the top end of the scale, paying over £3,200 for a Varadero will get you a last of the line 2010 model that's covered less than 6,000 miles. These prices are taken from Auto Trader, with cheaper options out there if you scour the free newspapers and eBay.