Struggling to decide what you want for Christmas? We've got you covered… Words: Matthew Forde
TRU-TENSION MEGA TOOL BUNDLE AND CHAIN CLEAN & LUBE BUNDLE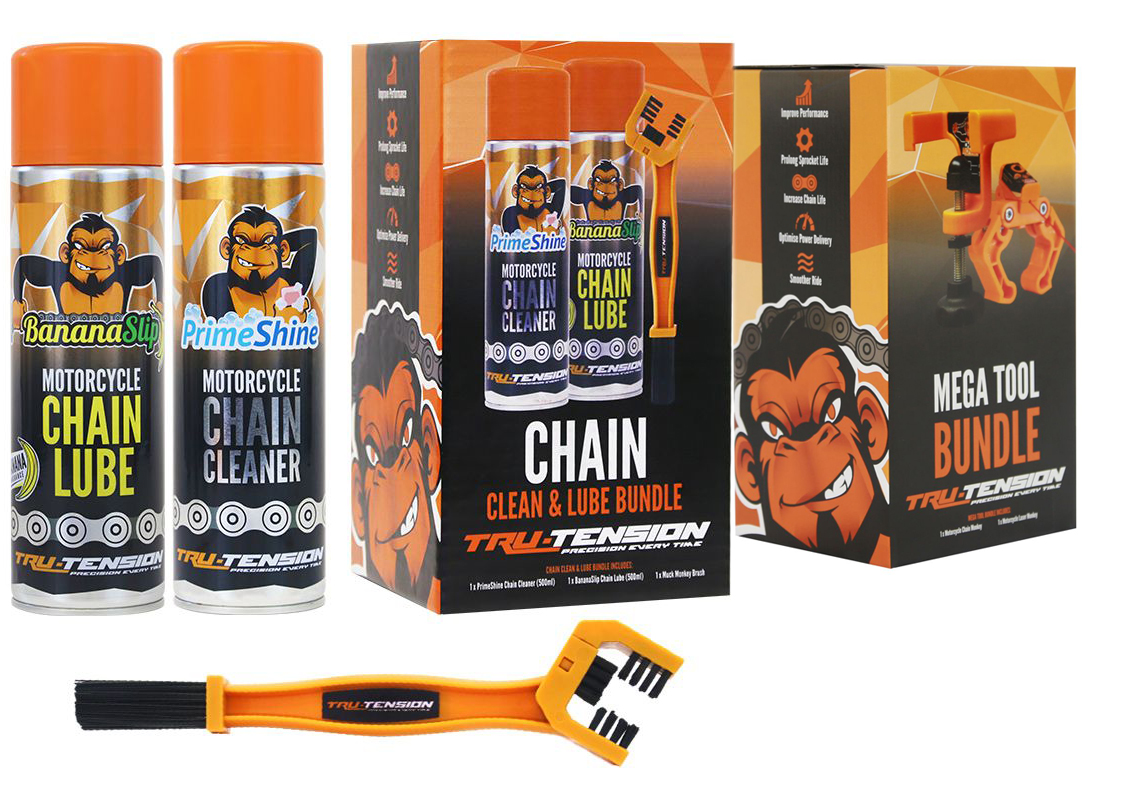 £25.99/£49.99 www.tru-tension.co.uk
From Tru-Tension comes the ultimate duo of chain care bundles. The Mega Tool Bundle arrives packaged with a motorcycle Chain Monkey and motorcycle Laser Monkey, which work with one another to align your motorcycle chain to the manufacturer's specification.
Both products have been designed to simplify the whole ordeal of maintaining your chain and wheel alignment while aiming to save you time so that you get can out on the roads quicker.
Suitable for all road and off-road motorbikes (regardless of the model), the device's belt drive reaches up to 1.5 inches in width. For removing all existing dirt, grease, grime, and whatever remnants your bike picks up on its travels, the Chain & Clean Lube bundle is specifically for you.
In this box of goodies, you will find one PrimeShine Chain Cleaner (500ml), one BananaSlip Chain Lube (500ml), and one Muck Monkey Brush.
Each has been created to break down and remove built-up dirt from your chain, before applying a fresh application of lubricant to keep your bike in tip-top shape.
Tru-Tension has promised that the tool will increase the chain life, optimise power delivery, and prolong the sprocket life, among other features. Best of all, the chain lube gives off a fresh banana fragrance. Nice.
NITE WATCHES ALPHA-201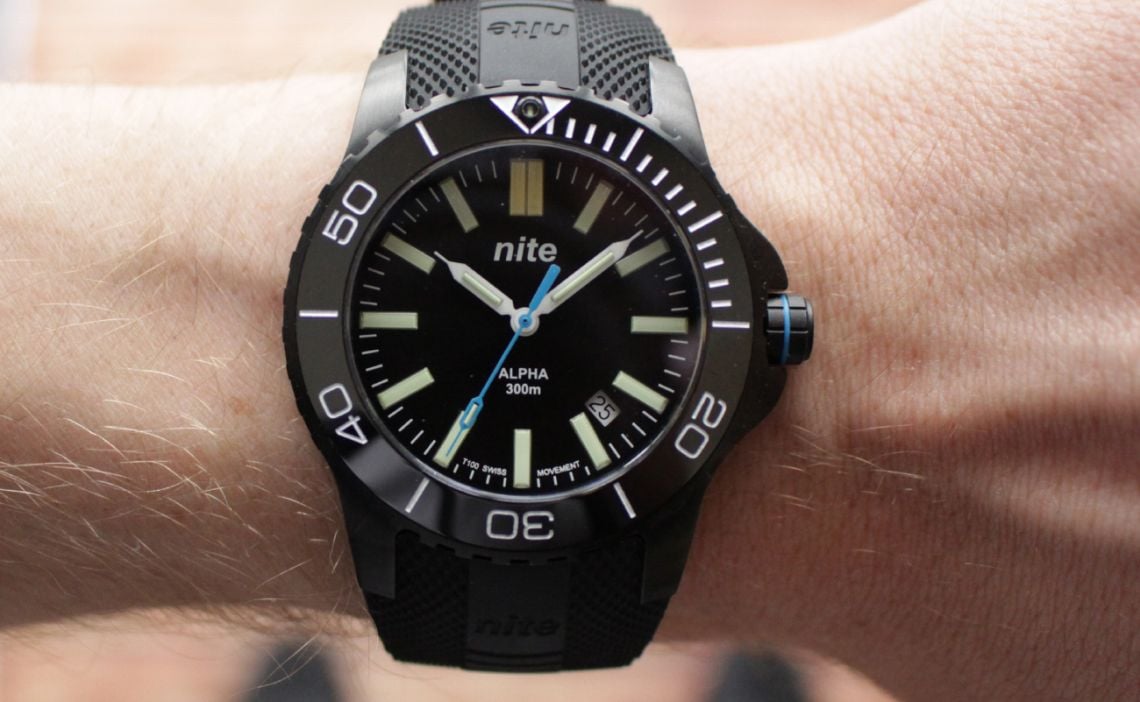 £400 www.nitewatches.com
Back in the 15th century, when Peter Henlein created the first watch in existence, do you think he had any idea of the vast technology that would be poured into these little devices centuries later? It's unlikely, but for the foreseeable future, Nite Watches' Alpha-201 is aspiring to be the only watch you need on your worldwide adventures.
With 10-year battery life and a polymer strap, the watch has been created to endure any challenge you're planning on tackling with your motorcycle.
On top of that, the watch features Swiss-made illumination that's completely self-powered. Cased in a 42mm 316 steel case, the Alpha-201 itself is capable of being submerged up to a remarkable 300m, whether that be fresh or saltwater.
GTLS illumination technology used in the product gives the watch a cool, constant glow, making the time readable in any light. Other nifty features include a unidirectional bezel with ceramic insert, scratch-resistant sapphire crystal glass with triple anti-reflective coating, and a screw-down crown.
The watch, which would be the perfect companion on an adventure, weighs 116g and is the latest in a long line-up of new watches from the company.
FUEL EXHAUSTS CERAMIC BLACK COATING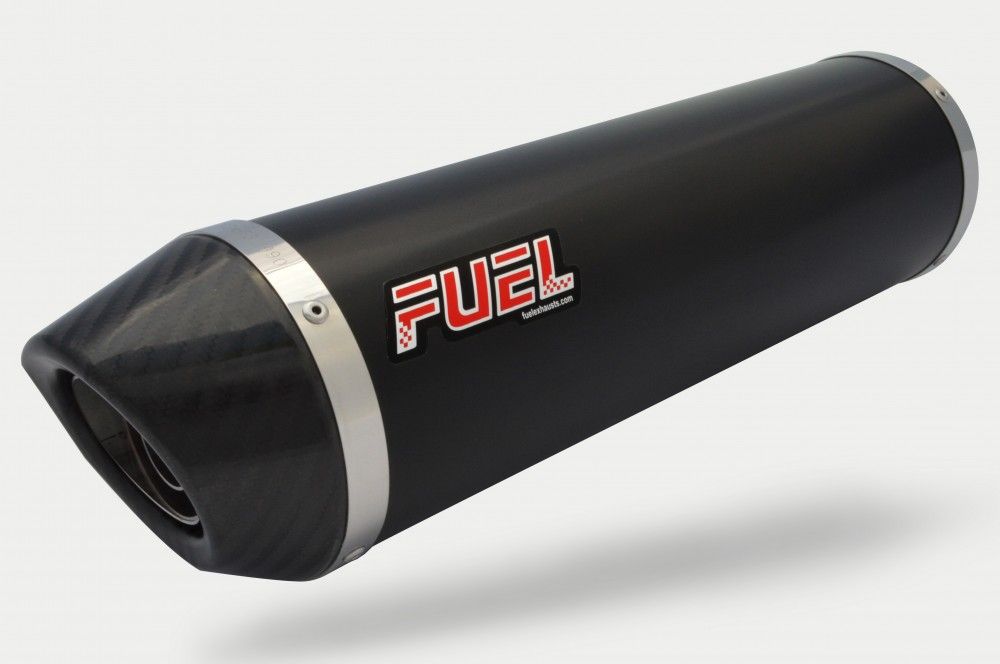 From £204.99 www.fuelexhausts.com
Struggling to find a new exhaust that takes your fancy? Then Fuel Exhausts may have just what you're looking for. The company has a number of exhausts, accessories, and merch that'll make for a perfect Christmas gift, however, it's the new Ceramic Black coating that has grabbed our attention.
With a new, matte appearance, the coating possesses a smooth, even finish, designed to withstand temperatures of up to 1000C. On top of this, the ceramic coating has been developed to prevent heat loss, while also reducing temperatures by up to 15% – helping to keep intake air much cooler.
Compared to previous powder coated exhausts, the company believes the new black ceramic product increases engine power, contributes to rust protection, has better weather resistance, and allows gases to flow better through the system.
Made using quality 304-grade stainless steel sheet, the new exhaust finish will be rolled out in November 2018 and would make for a great, if not slightly heavy, stocking stuffer.
ALCOSENSE EXCEL FUEL CELL BREATHALYSER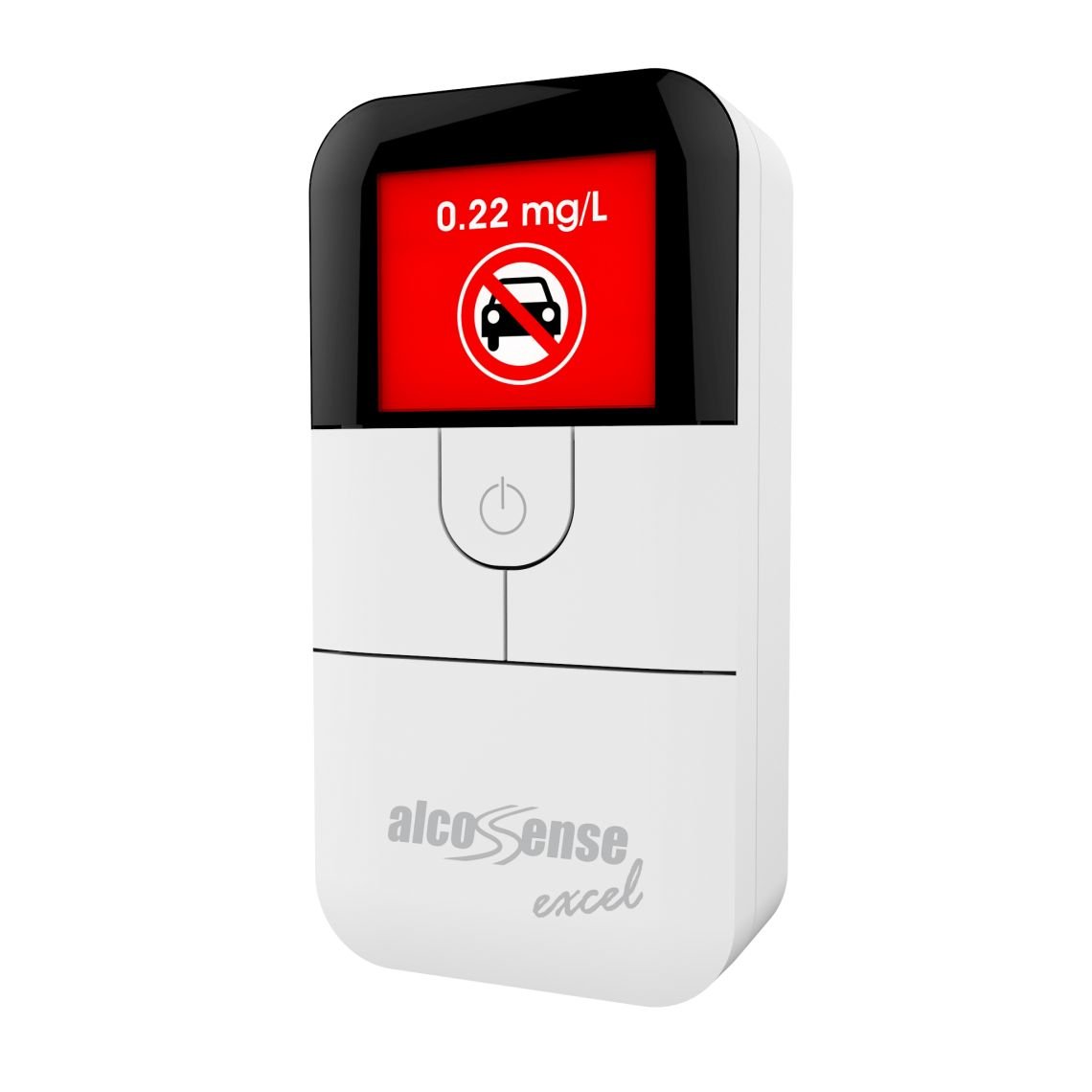 £99.99 www.alcosense.co.uk
We've all been there. Meeting up with a few friends for a quiet drink that quickly turns into a few more. Next thing you know, you're on top of the pool table singing Duran Duran like there's no tomorrow. Or perhaps you've finished riding for the day and the beer goes down a bit too easily, leaving you still feeling a bit wobbly the morning after.
Winner of the 2018 German Design Awards, the AlcoSense Excel is here to make sure you never get caught out a little worse for wear, or put yourself in a situation where it would be dangerous for you to get back in the saddle. Perfect for the morning after, the AlcoSense Excel gives you an accurate reading of how intoxicated you still are.
With an easy-to-use menu and a straightforward results chart to follow, there's no debating if you're over or under the drink-drive limit. Along with the product, in the box, you'll find three AAA batteries (to power the appliance), five mouthpieces (that you slot into the reading sensor), an instruction manual, and a USB cable for installing updates.
The pocket-sized device uses a smaller version of exactly the same sensor used in several UK, US and European Police breathalysers. Let's have fun this Christmas but let's not be daft and ruin someone else's.
HAGON MONO SHOCKS
£424.50 www.hagon-shocks.co.uk
There's nothing worse than feeling the brunt of the rigid road pound into your body, all because your shock absorber isn't doing its job properly; enter Hagon. The company is well-known in the biking industry for building high-quality products, with its offering in shock absorbers being the latest to catch our eye.
These Mono Shocks come with a hydraulic preload adjuster, 38mm stainless steel damper unit, 18mm piston rod, and a wide-ranging single circuit progressive damping adjustment with automatic compression.
In addition to the latter, the shocks come complete with end mounting bushes/bearings, tools and instructions for making spring and damping adjustments. On delivery, you should expect the shock absorbers to arrive with a spring preload of 75-100kg, which is around the average rider weight.
Hagon has the utmost confidence in its products, providing a two-year guarantee on the shocks, while also offering custom-built units depending on your wants and needs (including shorter springs for a lower seat, something that a lot of adventure motorcycles could do with). With over 1000 products available, you can bet that Hagon has a quality shock to fit your bike.
AIRRIDER SELF-INFLATING COMFORT PAD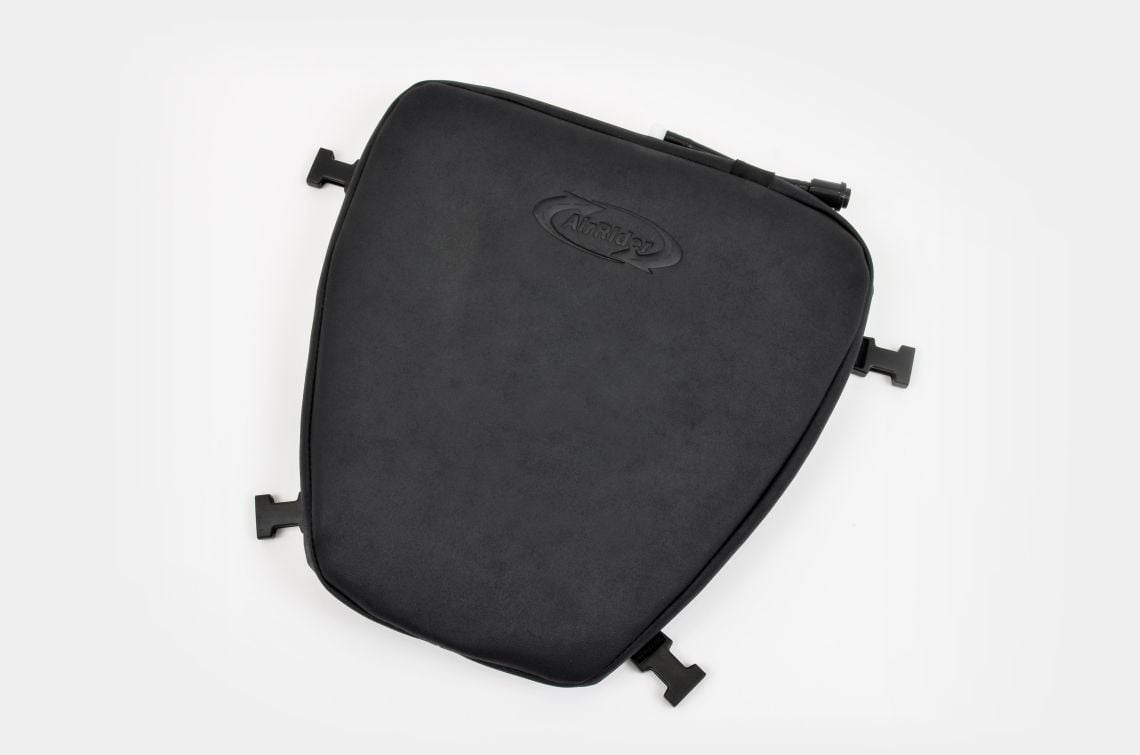 From £124.99 www.roadraceandcustomes.co.uk
How comfortable your saddle is should not be something you take lightly. Travelling thousands of miles can be seriously demanding on your body, and the last thing you want is to arrive at your destination with a numb bum. Road Race and Customs feels very strongly about this and is now offering a self-inflating motorbike comfort pad that is designed to go the distance.
The 100% British made product has been created from a number of quality materials and is available in three different sizes (small, medium and large). There is even the option of a pillion seat. When fully inflated, the pad is 40mm thick, however, this can be adjusted to maximise comfort to the rider.
Using a patented air valve, blowing up the product can be done in two to three easy steps; inflate, adjust and finally re-inflate if necessary. Notable features are the heavy-duty, anti-slip surface that provides a safe and responsive perch and the integrated air cell construction that will help to enhance rider performance.
Tested to an extreme degree, the AirRider has exceeded 40,000-plus miles and the firm's findings proved the product still gave a great feel. For too long us bikers have put up with an intolerable backside. No more.
KEIS G501 HEATED PREMIUM ARMOURED GLOVE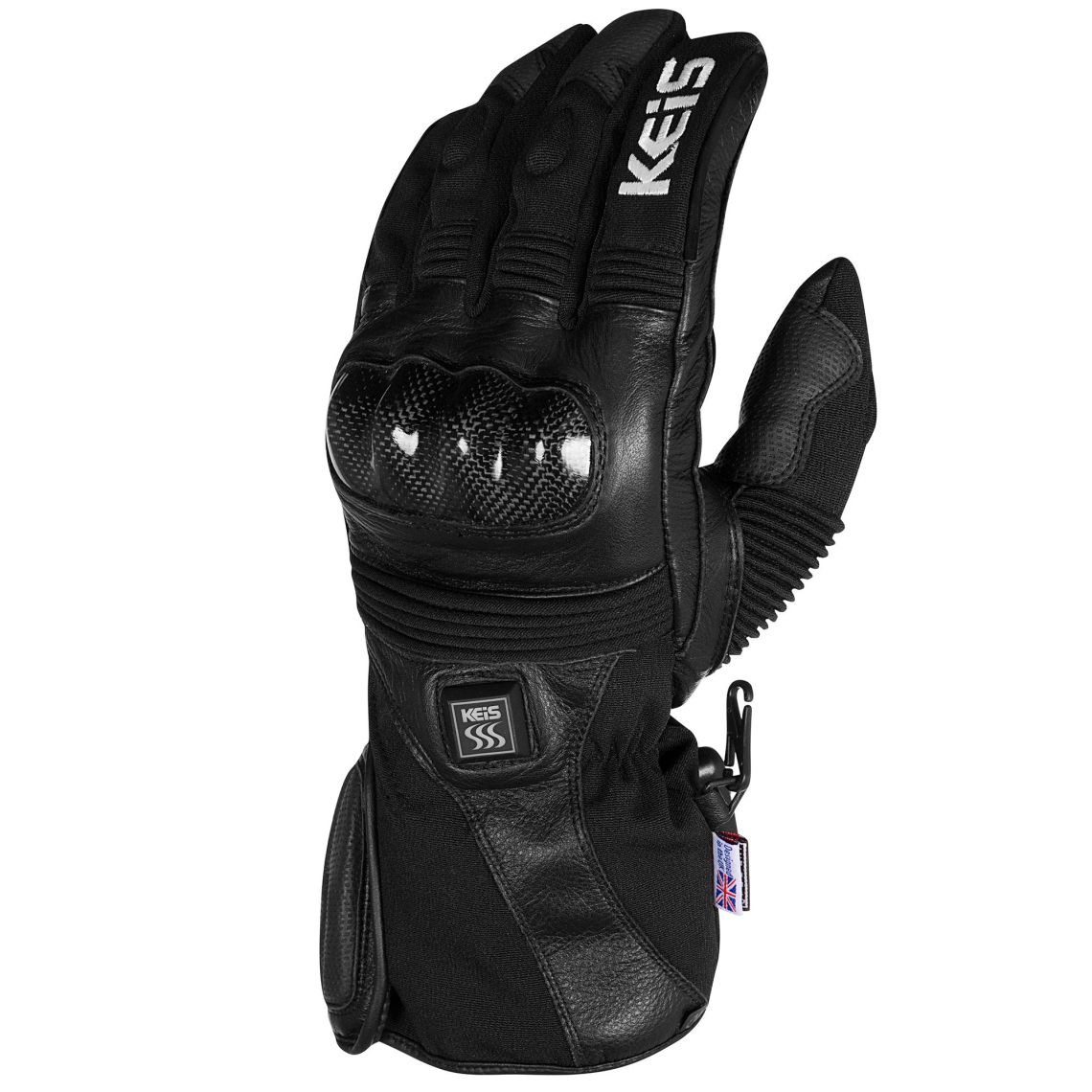 Remember the days when you charged into winter head-on? Wrapped up all snug with a thermal top and some long johns only to slip into a pair of summer riding gloves. Before long you're regretting your decision not to invest in a pair of winter gloves and your fingers slowly get more and more numb.
Well, those days are thankfully over as technology has brought us a variety of ways to keep nice and toasty while riding our motorcycle. The latest from Keis Apparel is a new set of heated, armoured gloves. Released in November 2018, the G501 combats lots of dangerous threats to bikers as a result of the cold. Loss of concentration and delayed reactions are just a few of the common issues that can occur if your body temperature drops below normal.
It's a frightening thought – especially when you're on a long journey and have another couple of hundred miles to go. Specifically designed to improve dexterity and control, the G501 heated gloves will aim to give you the best grip in the worst conditions. More importantly, Keis claims that this set of heated gloves is currently the only pair certified to the new CE protective clothing regulation.
The gloves themselves can be powered from a 12V vehicle battery or one of the company's optional battery packs (available in two sizes), and they provide a steady flow of sweet, sweet warmth that'll make your winter riding that bit more enjoyable.