ABR waves goodbye to Lisa Morris and Jason Spafford, ahead of their mammoth trip from South America to Alaska (using unconventional means of getting there… a boat)
1. Who are you? 
I'm Lisa Morris and my partner is Jason Spafford from Nottingham. We are already seasoned travellers, but have never undertaken a trip like this on motorcycles before. 
2. Where are you going? 
We will start in Uruguay, into Argentina and make our way down to Ushuaia, the southernmost tip of South America. We intend to hug the west coast of South America and experience the natural delights of Chile, Bolivia and Peru, dip into the Amazon and see as much of Central America as we can before crossing into North America. We've almost a blank canvas for the States, although diving in California as well as riding in Yellowstone and Yosemite National Parks will be 'must sees'. Once we're satisfied with scaling the Americas, we'll embrace the wilderness of Canada and make our way up to Prudhoe Bay, Alaska. 
3. What are you riding? 
I ride a factory lowered 2001 BMW F650GS, aka Pearl, with 28,000 miles on the clock. Pearl was a bike from eBay, at the right price so I took a chance. She's great fun to ride, has heated grips, a radiator guard and an additional sump guard over the original belly pan. Although Jason adores his BMW F800GS (12K on the clock), the two complaints he had were the iron-hard seat and the beyond useless screen. Jason opted for an Airhawk seat, which is an air cushion; giving him about twice the distance before his backside goes to sleep. Both bikes are fitted with a set of Metal Mule 38-litre aluminium panniers. A new Touratech fairing wasn't cheap, but does a great job of protecting him from most of the wind, and it looks good. The bike has a custom belly pan and a set of heavy-duty engine bars. 
4. How are you getting there? 
We ride onto a container ship in February 2014 and sail with our bikes from Antwerp, Belgium across the boundless voids of the Atlantic, to Montevideo, Uruguay. The crossing will take up to four weeks, but possibly longer with unscheduled stops. We've been asked if we need to work our passage or sleep with the chickens – er, no to both. Although passengers are secondary to the cargo, we are allocated a comfortable cabin with en suite, get three meals a day and enjoy the company of ten other passengers. A good time to whale-watch, hit the gym on board and learn Spanish; not to mention decompress after a busy two year planning and saving period. 
5. What were you doing before this adventure? 
In between working our regular jobs, we became scuba diving instructors in 2006 and decided to leave the rat race to work in Egypt as dive guides on liveaboard trips. During that time, Jason also worked as an underwater videographer/photographer. After fourteen years together, it's definitely time to take those passions and incorporate them within something new and fresh. Currently, I'm a civil servant for The Department for Education and Jason is an electrician.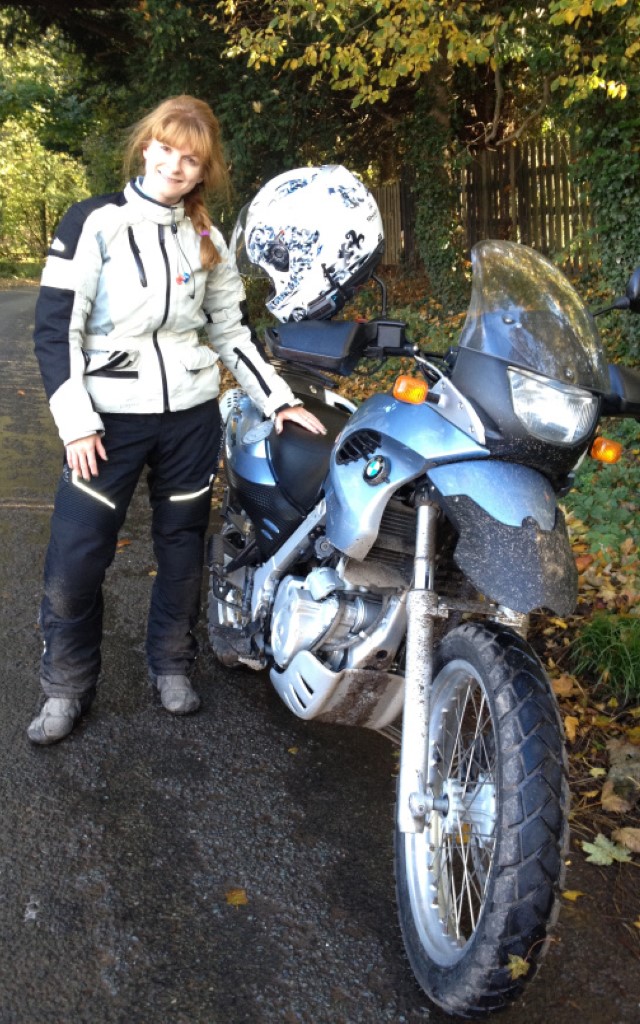 6. What are you most looking forward to? 
I'm most looking forward to meeting people en route – spending time with the locals, sinking into their way of living for a while and equally becoming well acquainted with fellow travellers. I always think it's the people you meet that contribute most towards your experience when travelling overseas and touch your life in a way you never dreamed possible. Jason is very excited about the desolate, Atacama Desert and the Salar de Uyuni in Bolivia, in fact anywhere there is big open spaces in which to get lost. 
7. What are you most afraid of? 
My fears differ somewhat to Jason's apprehensions. Having only passed my test July 2012, I'm concerned that my riding ability may hold us back on the trip and end up dictating where we go, to a point. I'm hoping that completing the BMW Level 1 off road skills course in South Wales will pay dividends for me when off tarmac. Jason is a pretty confident guy and doesn't really have any major concerns about the trip. The only thing that does worry him is not completing the journey we set out to do because of an accident or mechanical catastrophe. 
8. Why did you pick this route? 
Neither of us have seen the Americas apart from a scuba diving trip to the Galapagos Islands via Ecuador. You don't require a Carnet de Passage to travel the Americas and most of the countries we will be going through are pretty stable politically, so it just seemed like a perfect continent to 'cut our teeth' in experiencing our first motorcycle overland adventure. 
9. Are you taking any camping gear, if so what? 
We have a Hilleberg Nallo 2 GT two-man tent, three season down sleeping bags and thermarests. A Primus stove, big water bladder and cooking gear. We're pretty much self-sufficient so when we have to wild camp, we can just take the bikes somewhere discreet, park up for the night and crack open the beans and a beer! 
10. What tools have you packed? 
We will be taking only the tools with which to carry out basic repair and maintenance to keep the weight down. If we have a breakdown and need other tools we don't have, chances are it would be too big of a job to fix by the side of the road anyway. Plus we will be taking a few special tools like a chain breaker/riveter and bead breakers for tyre changing. 
11. What spares have you packed? 
Brake pads, oil filters, clutch and brake levers, headlight bulbs, clutch and throttle cable repair kit. An assortment of zip ties, spare nuts and bolts, fuses, spare electric cable, gaffa tape and metal putty.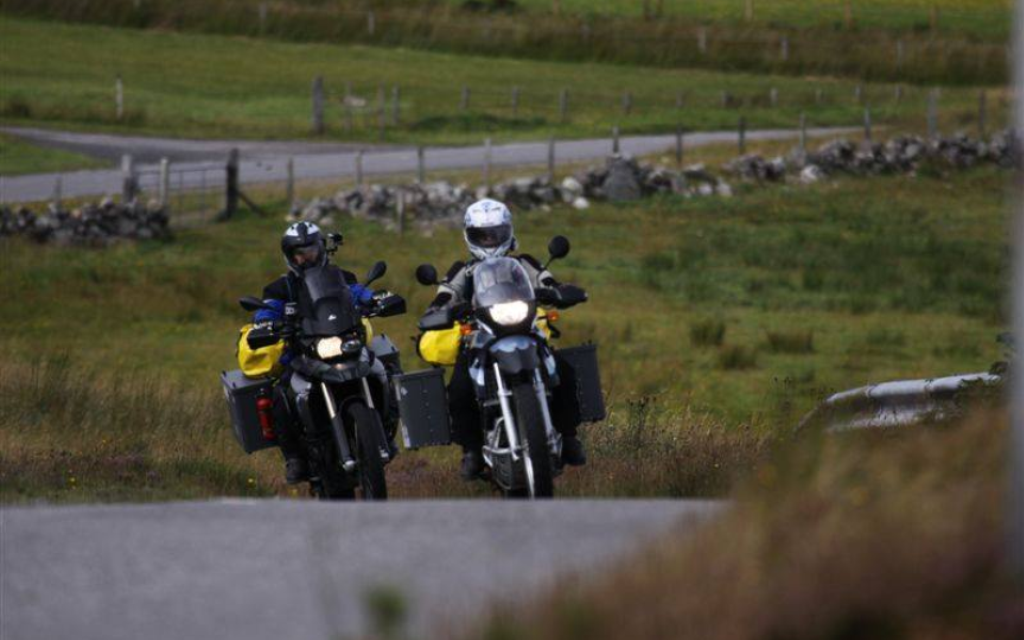 12. What photography/filming equipment are you taking? 
We'll be carrying a Nikon D800 with tripod as well as three GoPro Cameras. We've chosen three so that we can position them from our helmets, on the front and rear of the bikes, which will enable filming from more interesting angles. We will also be capturing aerial footage using our quadcopter, a remote controlled aircraft that enables the camera to film as it flies. 
13. What do you think the budget will be for a trip like this? 
We've shelled out £4,800 for the pair of us to sail across to Uruguay with our bikes. On top of that, we think we'll need up to around £12,000 to £15,000, each, in order to scale the Americas over the next year. We'll camp where conditions allow and keep food costs to a minimum. We're looking forward to getting off the bikes as much as we are riding them; excursions, diving and other experiences will always cost a pretty penny. We've sold our house and the majority of our possessions in order to fund this trip. Although, we haven't been totally reckless; we've retained our rental properties, which should provide a small income for food and fuel en route. 
14. What are you going to do when you reach Alaska? 
Who knows, if body or budget doesn't run out after the Americas, we could turn left at Alaska and return home via Russia, Mongolia, Kazakhstan and Europe making it a round the world epic journey! 
15. Anything else to declare? 
As we're now homeless and free from the trappings of the everyday grind, what better time to embrace some life-changing adventure. We're an ordinary couple holding down regular jobs that have seen from other peoples' experiences it is manageable to embark upon a trip of this magnitude without any support vehicles or entourage. Ewan McGregor and Charlie Boorman helped pave the way, although frankly, they can eat our dust! And as a woman, you don't have to be a burly bloke to keep pace on a bike. As thrilling modes of transport go, motorbiking has to be one of the ultimate ways to travel, connecting you to the outside world in a way that a car or campervan never quite does. Please follow us and say hello at www.twowheelednomad.com