It was during the long, hot summer of '76 that my lifelong passion for motorcycles was sealed. As the world bopped along to Candi Staton (Young Hearts Run Free), The Real Thing (You To Me Are Everything) and the Bee Gees (You Should Be Dancing), love, or more to the point, lust, took command of the thing between my ears.
There were two events which caused palpitations to erupt in the young Davies nerve centre. The first was meeting a beautiful young lady named Kim from Wolverhampton whilst on holiday in Brixham, Devon. The second had a far more devastating, long-lasting impact on my coming of age.
The long tail of arousal was caused by my first setting eyes on the Yamaha XT500, and it's still in play to this day. That big, four-stroke single, credited with being the original springboard of the Ténéré, kicked off a love affair with motorcycles that has lasted over 40 years and no doubt was the primer for the very magazine you hold in your mitts right now.

Meanwhile, back in '76, where both Kim and the XT became objects of extreme desire, the reality of being a working-class lad living in the Rhondda Valley had to be faced. The XT was definitely out of my financial league, so I settled on a CZ 175 Trail and spent the rest of the year breaking down in scenic locations in Mid Wales en route to Wolverhampton.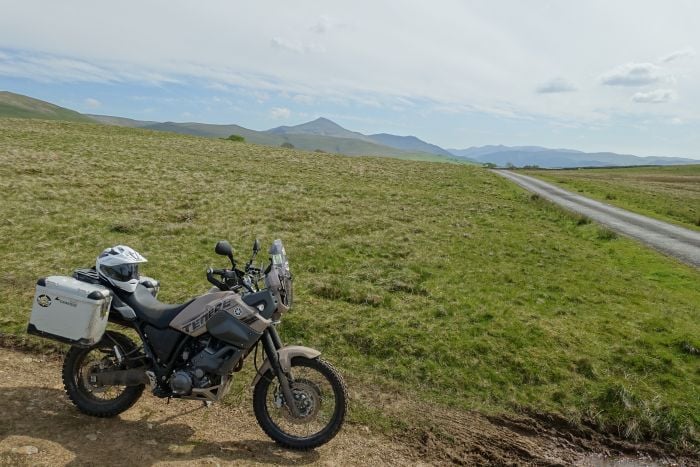 Alas, the romance didn't survive the winter – no heated grips back in those days – and the 175 Trail continued to fall apart on a regular basis. Having learnt nothing from the CZ experience I bought an even more temperamental Norton Commando 850 which meant just about every penny I earned was spent on replacement lay-shaft bearings, and most weekends were taken up with rebuilding the gearbox rather than doing the things an 18-year-old lad should have been pursuing.
I could, without uttering a single word of deception, strip and re-build that gearbox wearing a blindfold. How my passion for bikes survived that Norton, Lord only knows.
Anyway, over in the deserts of North Africa, the XT500 had been busy winning the Paris-Dakar before morphing into the XT550 and then blossoming into the first-ever 'Ténéré' with the launch of the all-new XT600Z in 1983. I, on the other hand, had moved out of the Rhondda, got married and developed a passion for four-cylinder sports bikes.
>>> Related: Looking back at 33 years of the Yamaha Ténéré
Fast forward to 1988 and I'd just won the biggest ever sales order for my employer and, as a result, picked up a commission cheque for what could only be described as a colossal amount. A week later, after the cheque had cleared, I found myself experiencing an equally massive dose of hubris sitting aboard a brand spanking new blue and yellow XT600Z Ténéré outside a dealer in the Black Country. I'd well and truly arrived.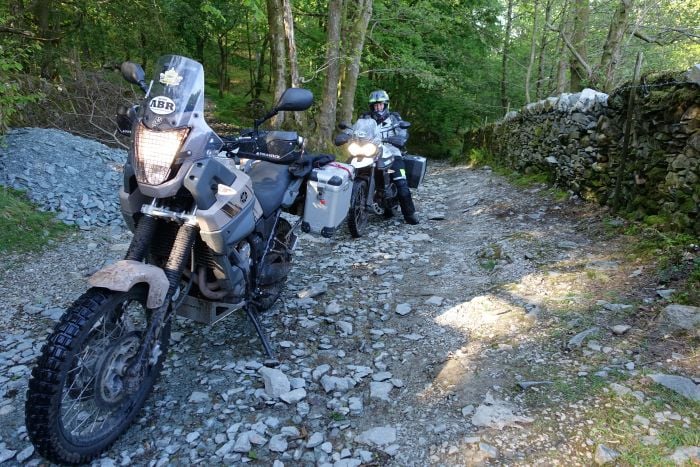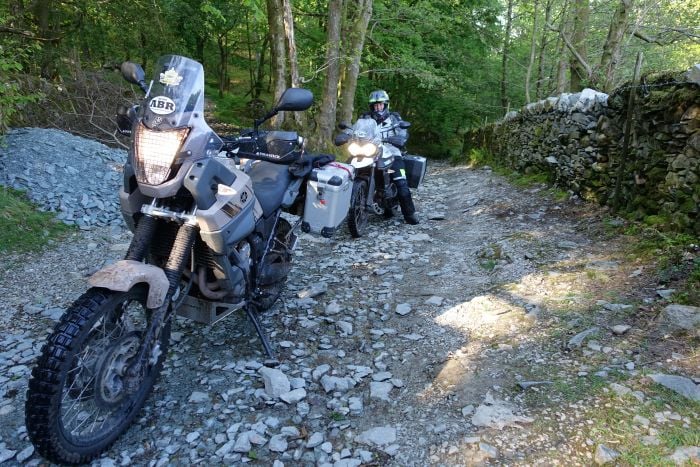 Hubris, of course, is swiftly followed by nemesis. On the ride back home I just knew I'd bought the wrong bike, or more to the point, the right bike at the wrong time. In the late '80s I was totally seduced by speed, slick handling and smooth multi-cylinder machines, and yet here I was chugging down the motorway on a stodgy single-cylinder pogo stick. The only upside was the kudos of looking like I'd just ridden back from the Sahara.
Within a matter of months, the Ténéré was part exchanged for a Kawasaki ZX10 and my race with life was back on. A move to Ireland and a spell in the Harley camp saw out the millennium.
During the '90s the XT moniker progressed via a new 600E and 750 Super Ténéré, before arriving at the 660R in 2004. The 660R came with a new fuel-injected engine and provided the base for the 2008 launch of the XT660Z Ténéré.
By 2010 my craving for speed had been satisfied and overtaken by my lifelong passion for two-wheeled travel and adventure. I wanted a bike that would allow me to travel long distances in comfort and be capable of taking on the road, or trail, less travelled. And so the re-kindling of a long lost love was sealed by a winning bid on eBay for a 2008 XT660Z Ténéré with under 1,000 miles on the clock. That Ténéré is now a decade old and has been in my possession for eight of those years.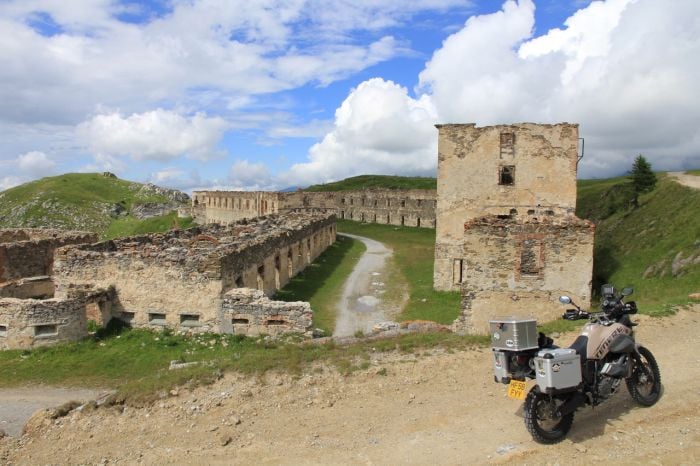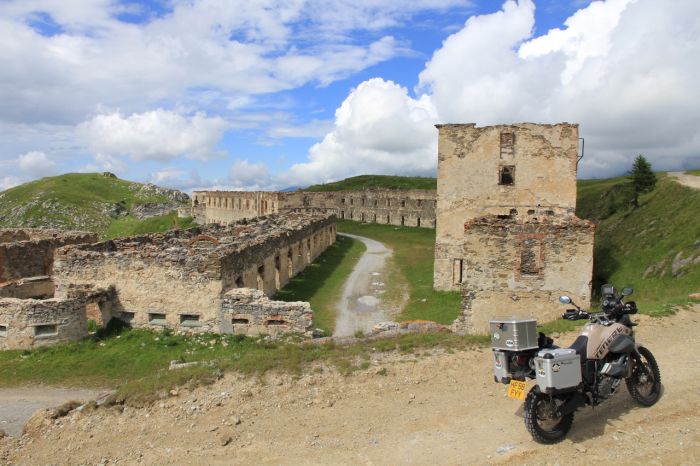 In 2016, the 660Z was discontinued from Yamaha's lineup. In fairness, it was probably due for a shake-up, but what sealed the fate of the Ténéré has been the new Euro 4 laws which come into force in 2017 and place a limit on the pollutants discharged by new vehicles.
However, is it worth looking at a used XT660Z? In my opinion, if the bike suits your needs the answer is yes. It's a tried, tested and, in my experience, a very durable and capable machine. In all my time of ownership, the only problem I've experienced has been a snapped chain. Here's my updated take on the bike.
Price
In 2008 the Ténéré had a launch price of £4,999 and when last checked in early 2016, the new retail price was £6,999. As stated previously the bike is now discontinued, though a quick search online has thrown up a couple of showroom condition models with under 500 miles on the clock and asking prices of £6,495. That's pretty good value for a nearly new, versatile middleweight adventure bike with genuine dual-purpose ability.
Around £4,500 will get you a two to three-year-old bike with circa 10k on the clock, and for £3,000 you should be able to pick up an older model in good condition with a mileage of around 20,000.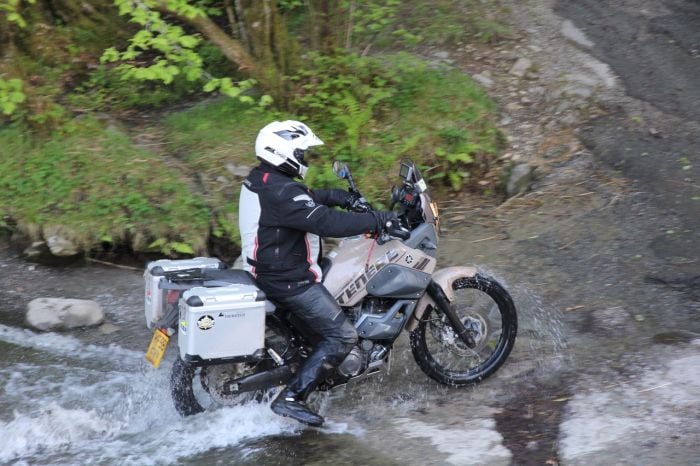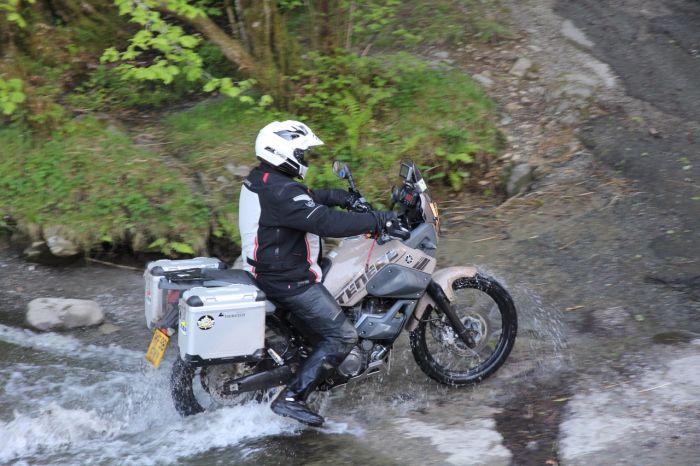 Ergonomics
There's no getting away from the fact that the 'Ten' is a tall bike, it also carries its weight up high, making it a precarious perch which can be intimidating for the shorter or inexperienced rider. Even at 6ft 2in tall it's still an effort to throw a leg over, especially when loaded up with panniers.
Since fitting a set of Touratech 20mm bar risers, I've found the hand, arse, feet triangle to be spot on for both sitting and standing up when off-road. Whilst I've always found the seat comfy, even on 500 mile days, I'm also aware that one of the main complaints of owners has been the high step-up to the pillion creating long term discomfort where it digs in. The fix is a re-shaped seat to flatten out the hump or maybe an after-market sheepskin or Airhawk.
The stock Ténéré screen looks, and is, short, however, I've always found it to be efficient at deflecting wind and never suffered from any eye-popping turbulence. In that respect changing to the higher touring screen, which does appear to be popular, has never crossed my mind though the amount I see on the road does suggest that riders of a shorter or taller stature would not share that opinion.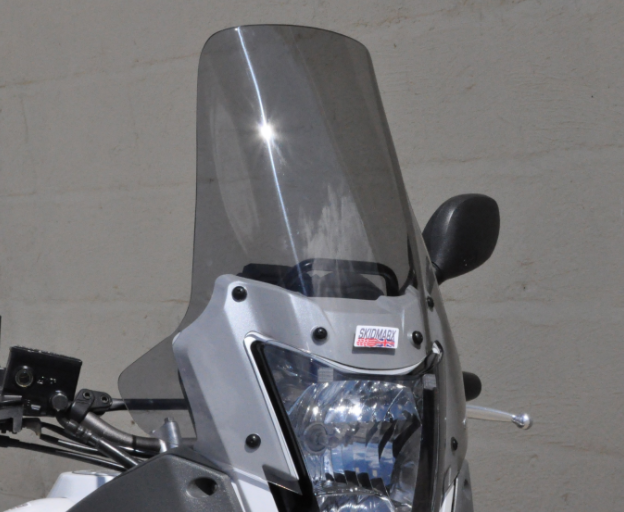 After Market Bling
My Ténéré was bought with the view of using it as a dual-purpose machine. Day trips and long weekends on the green lanes of Wales. I also thought it the perfect balance for long-distance comfort when riding down to Morocco or the Alps, and then possessing enough off-road ability to take me to the top of the dunes or blast around the old dirt track Military Roads up high on the French/Italian border.
So, with that in mind I had a bit of a farkling fest down at Touratec and picked up: Handguards, crash bars, pannier racks, panniers, engine guard, headlight grill, brake extender, camel toe and a protective cover for the rectifier. Next up came fitting a set of dual-purpose Continental TKC 80 tyres.
If there's one thing that really bugged me with the Ténéré it was the factory set fuelling. Basically, the XT660 struggles to perform at a level above a stuttering judder when asked to move below 3,000rpm. I'd sort of put up with the pain for a few years convincing myself it wasn't as bad as it really was until one day when I decided to bite the bullet and have the Ténéré tuned on a dyno and fitted with a Dynojet Power Commander.The result was a truly transformed machine. Where there is power and smoothness there was once a juddering bike at the point of stalling. It picks up speed far quicker (off the throttle wheelies in first and second are available) mid-range is stronger, and I'm achieving an extra 10% more miles per gallon. Sorted.
To have a Power Commander fitted costs around £300 but I'm going to highly recommend you do so. There is a cheaper alternative to improve fuelling that most Ténéré owners would have heard of, and it goes under the name of the 'Kev Mod'. Just Google Ténéré and Kev Mod and all will be revealed, but don't expect the performance increase of a properly tuned and fitted Power Commander.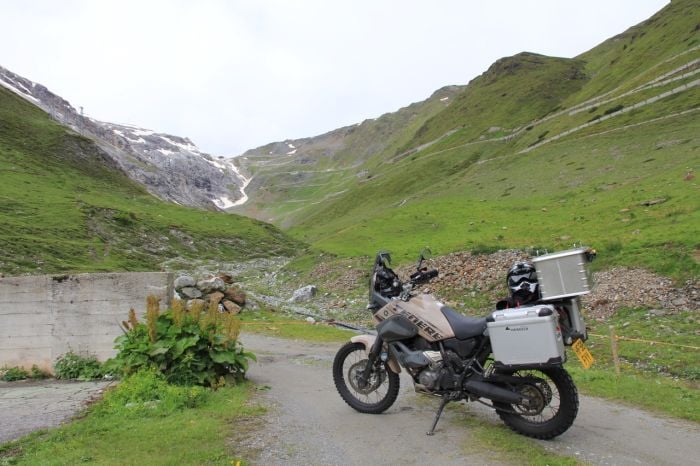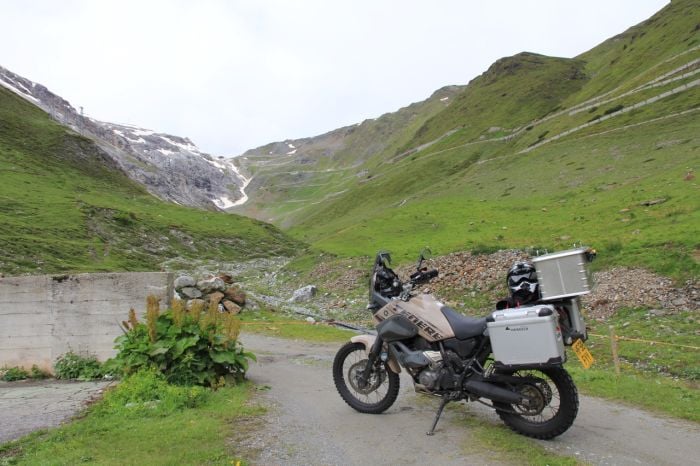 It has taken me eight years of denial to get to this point but I'm now going admit the stock Ténéré suspension is not the best. The front forks dive furiously under braking, take a mid-bend undulation at pace and it can feel like the wheels have disconnected from the wallowing frame, and you never can spend enough to get off-road perfection. And with that in mind I'm going to treat myself and the XT to a 10th birthday present with an upgrade.
On-Road
The Ten cruises comfortably at 80mph and runs out of steam at around 100mph so where the claimed 120mph top speed comes from goodness knows. But then you don't buy a 660cc single for high-speed blasting, it's more of a stroller than a sprinter.
The handling is on a par with how the bike looks. The tall suspension squats and dives but once you settle down into touring mode and ride within its limitations all is well and comfy.
With a 23-litre tank, the range is anything up to 350 miles between fill-ups.
Off-Road
The Ténéré is tall, chunky (206kg fully-fuelled) and top-heavy which all makes for a daunting off-road experience for many riders on anything other than a gravel track. However, give the big old boy a bit of gas and it never ceases to amaze me what this bike is capable of doing with a confident rider onboard.
The secret to riding the Ten off-road is to take things a little faster than you'd probably feel comfortable with. By keeping the momentum up you'll reduce the need to take a foot dab, which, in my experience, is the number one cause of off-road falls – the bike being so tall that to attempt a slow speed foot dab on uneven or slippery ground will probably see you toppling over.
Pillion Friendly?
I've read reports of couples travelling around the world snuggled up on a 660 Ténéré and whilst that proves something, I'd not be inclined to follow in their tyre tracks. The word from the back perch is that, whilst my other half would be happy to travel the world with me sat on a Ténéré, she'd be doing so in a support vehicle. There are far better and more suitable bikes for two up touring.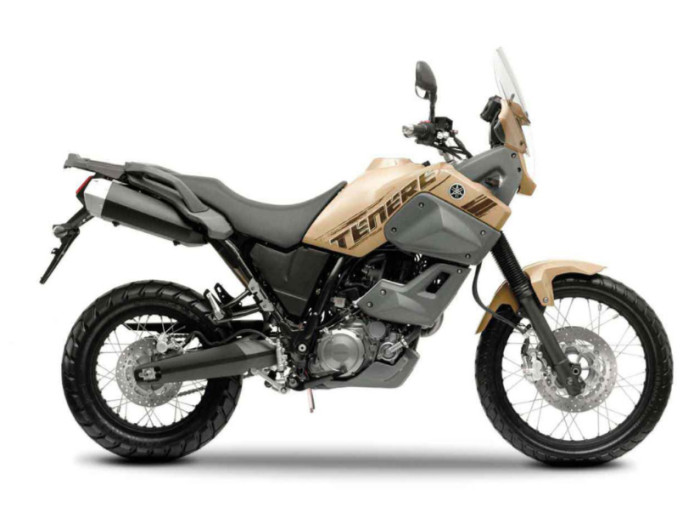 Reliability
My Ten has always started with the first press of the button and it's still on the original battery. Over the years it has taken more than its fair share of abuse, been dropped many a time and still scrubs up like something resembling a nearly new bike
It's only ever let me down on one occasion and that was when the chain snapped on a remote trail in the Alps which led to a bit of drama but I've written it off as just one of those things that happens if you don't adjust the chain when it gets loose.
>>> Related: Spencer Conway to circumnavigate South America on Yamaha XT660Z Ténéré
In summary; I can't praise the Ténéré enough. It's sure to become a classic, and I'm not selling.
Pleasures
Big fuel tank and range
Genuine dual-purpose performance
Reliability
Looks great
Pains
Cush Drives when changing back tyre
Height
Heavy for an off-roader (206kg fully fuelled)