Dave Reynolds takes the explorer for a spin and asks the question, "Do you really need a heated seat?"
I've been looking forward to trying out the Triumph's heated seats and grips. Winter riding can be very enjoyable, the roads are much quieter and it's a great way to blow out the cobwebs instead of sitting in front of the log burner watching Top Gear repeats on Dave! 
So, the morning arrived recently, it was -4C overnight and I woke to a very crisp and frosty start, but a beautiful sunrise and cloudless blue sky. First thing was get the thermals back into the Triumph Navigator suit. It's a bit of a fiddle to get them zipped and clipped in, and almost as bad getting them out again. I'm not a lover of these inserts, and I prefer a good set of merino thermals and fleece layers under a riding suit. But I thought it's only fair to try them out. 
So, walking and feeling like Bibendum, the Michelin Man, I wrestled the big Triumph out of the shed. Fired it up, switched on the seat heater and grips and then popped back in the house to give everything time to warm up. A fag and coffee kept me company while I waited for the warm up and the Sun to rise from the horizon.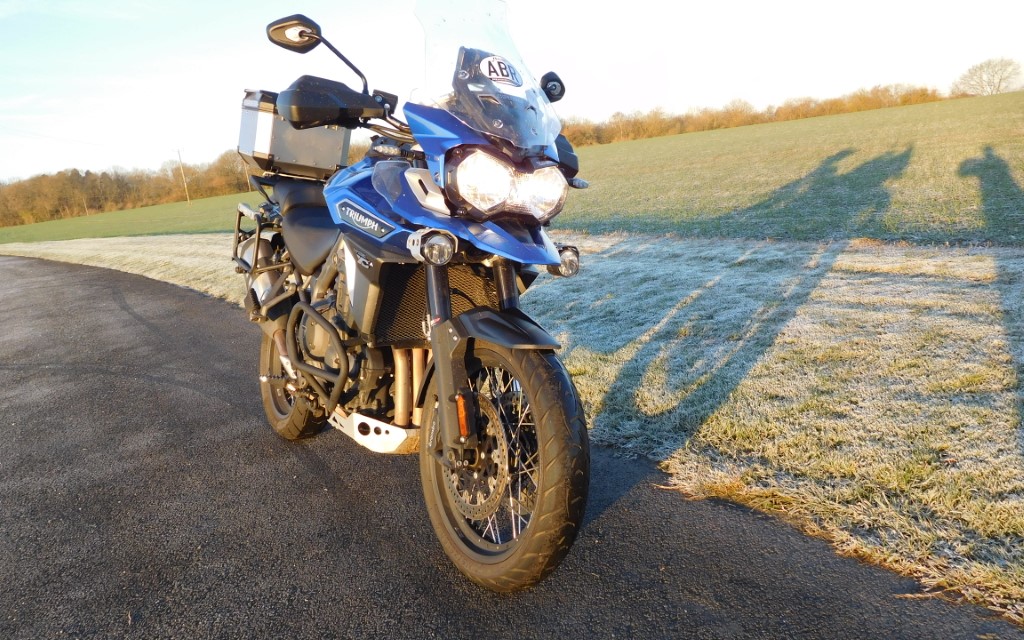 Off we set. It was a bit slippy in places so Rain mode was selected. In theory, you can set the suspension, ABS and traction control, then nail this bike in complete safety. I'm not that brave, but the technology is there so why not use it?
In a short while, I could feel the warmth from the grips and seat coming through the many layers of bike clothing. Heated grips have been around for a long time and are a great invention and fitment, and I wouldn't want a bike without them for winter riding. As for a heated seat, I was initially sceptical as I'd never had a cold bum when riding, even on a cold winters day. But apparently, the idea is it keeps your core temperature up and stops starving your extremities (your hands and feet) of blood. 
For the first hour, I kept to main roads before venturing onto the more interesting and quieter Warwickshire lanes. I stopped for a smoke and stretch eventually and got the camera out for the obligatory pics. 
I've gotta say, I was feeling quite toasty although the dash readout was only showing 1C. The ride back home was easier as the temps rose and I arrived back after a very enjoyable, but short, winter's ride. 
So, do we need heated seats? I'd have to say yes if it's available on your choice of bike it makes a winter ride easier and more accessible, and I don't think my missus would be without now after a recent tour of North Wales. 
I have to give the Triumph Navigator Suit a footnote. I've used it in very warm weather in Spain with all the vents open and now the other extreme of a freezing winter's day, with all thermals zipped in. In both conditions, it performed very well. It's definitely an all-season suit.