An 847cc adventure styled sports tourer from Yamaha at just over £8k sounds like a bargain, Alun Davies test rides the new MT-09 Tracer
In the 17th July 2007, the pound in your pocket would buy you 250 Japanese Yen. On the 26th Jan 2009, some 18 months later, that same quid would gain you only 120 Yen. As Alexander Burke conquered X-Factor and Tom Chambers ruled Strictly Come Dancing, most folks in the UK were oblivious to what was happening to the value of our currency on the FX markets; that sure was one hell of a crash in the value of Sterling.
When we check out the scale of devaluation with our tinted motorcycle visors raised it meant this: if you could buy a brand new Japanese motorcycle in Japan for £5,000 (1,250,000 Yen) in 2007 that same bike would have cost you £10,416 (1,250,000 Yen) at the start of 2009. The Yen price stayed the same, it was the pound in your pocket which took a hammering and led to the big jump in the price of Japanese motorcycles at the end of the last decade. However, there was some exceptionally good news in 2008 to dampen the blow, Joe Swash came up trumps in 'I'm A Celebrity'.
Anyway, let's move on to December 2014 where we find that the pound has recovered somewhat, or the Yen has been devalued depending on which financial school of thought you follow and is standing at 189 Yen to the pound. That's still 25% below it's value in 2007 but it has opened up wriggle room for the Japanese motorcycle industry to lower UK prices from where they have been.
So, with that in mind, take a bow Yamaha Motorcycles in cutting prices, firstly with the excellent value MT-09 and MT-07 (£6799 and £5,199 respectively) and now with the MT-09 Tracer which clocks in at £8,149 on the road. And, whilst I'm at it, well done Carl Fogarty.
The Launch
The Tracer launch took place in Antequera in sunny Southern Spain, with base camp being the hotel Parador de Antequera. As with most launches, the event kicked off with an evening presentation of the new motorcycle during which Shun Miyazawa, Yamaha's product manager, set out the basis for launching a sports tourer such as the Tracer.
It was refreshing to hear the company leading with down to earth comments about the current state of the motorcycle market in the West –  the predominance of grey hair in the saddle – rather than focusing on the mythical side of things where you'd come away thinking that the average rider is at least 40 years younger and a stubble chinned babe magnet. By my count ten references were made to the increasing age profile of the motorcycle buyer and the influence of the wife or partner when it comes to making a purchase.
That said, tradition was restored with Yamaha portraying the bike as 'The Dark Side of Japan' in new marketing material where, apparently, the Tracer is the overlord and we all get the girl. As of today, I've yet to establish how the 'Dark Side of Japan' helps with arthritis on a European tour or gains brownie points with the wife, I'll consider it ongoing work.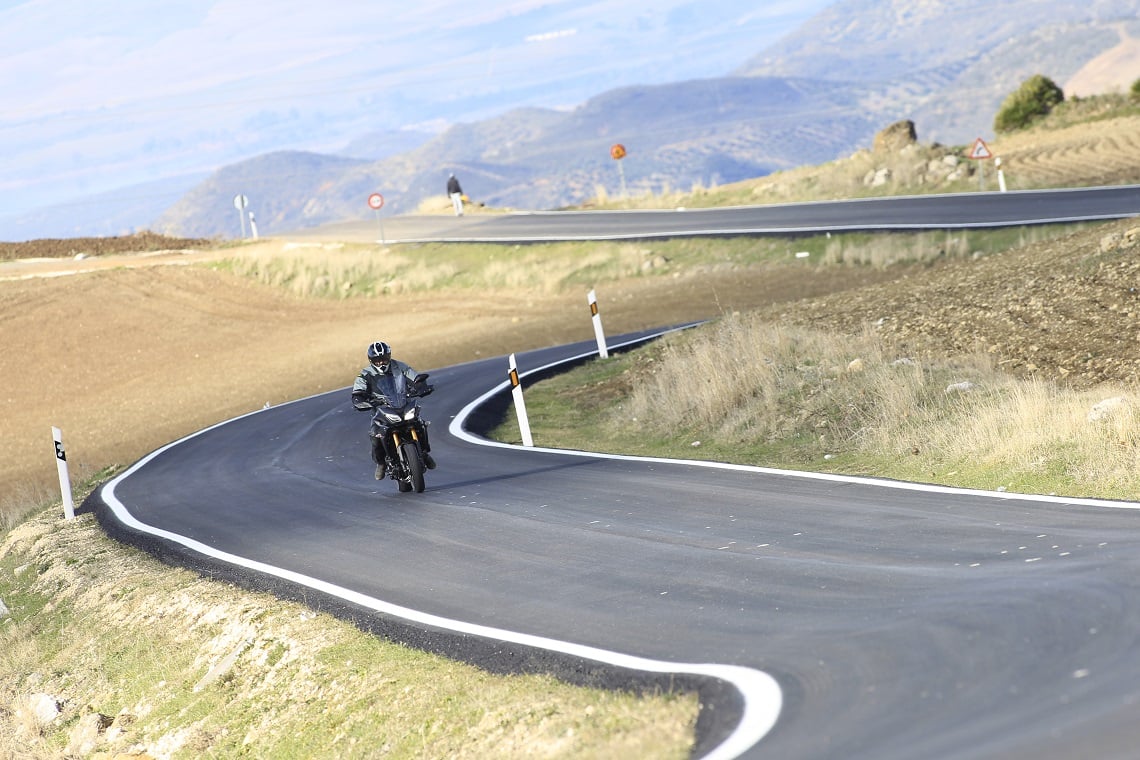 Moving on, the morning of the test was blue skies and surprisingly cold. At an elevation of 575m and 45 kilometres inland from Malaga, Antequera is a mountain town rather than a balmy beach resort so the first thing that sprang to mind was the lack of heated grips. Warm hands are an optional extra, however, if purchased the Yamaha grips fully integrate with the existing controls and dashboard display, which is nice, but heated grips are a feature I'd like to see as standard on all new bikes marketed as a tourer.
Yamaha defines the Tracer as a 'Sports Tourer' rather than an adventure bike with not even the slightest hint, or mention, of any off-road ability. Having bottomed out the Tracer exhaust on the most gentle of Spanish curbs and with 17-inch wheels fore and aft you'll not find me disagreeing with that. What I would say is that the Tracer is more heavily weighted to the sports side of the tourer equation.
Sharing the same base platform as the naked MT-09 the Tracer has been tourified with a windscreen, higher, wider and thicker seat, larger fuel tank, hand guards, wider and higher handlebars, built-in pannier mounts (panniers optional) and longer suspension travel. It also comes with the new fuel mapping which rectified the sharpness reported on the original MT-09.
On first sight, it's difficult to disagree with my five-year-old son that the front end of the Tracer, with it's angular twin headlights and narrow windshield,  looks like one of his favourite Transformers. Overall though, the bike is pleasing on the eye and the components and construction reflect the high level of quality I've come to expect from Yamaha.
Throwing a leg over the Tracer with the seat at it's highest setting (860mm) the ergonomics felt spot-on for my 6ft 2in frame and I could plant both feet firmly on the ground. The seat is two-stage adjustable with the lower setting at 845mm plus there's an optional lowering kit which takes the rider perch down to 815mm. The seat is very firm and on first contact not that far off the sort of oak pew, you'd find in a church. That said, I like a firm seat and it proved to be exceptionally comfy on the full day ride out.
The dash and controls are well laid out and easy to navigate which is something that can't be said for all new bikes coming to market. The information display is split into two, clear dot matrix screens; the left containing all the essential ride info and the right all the nice to know but not really critical stuff. I particularly liked the oversized gear indicator.
The screen is three-stage adjustable via a couple of knobs below the dash.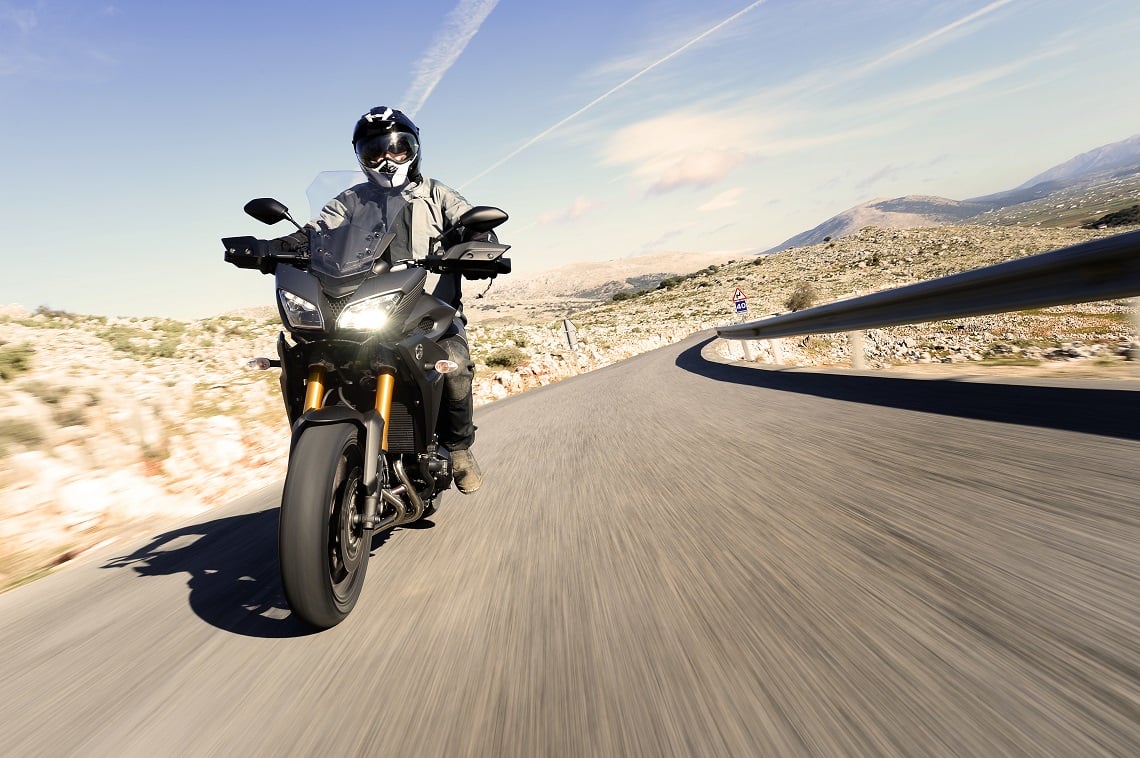 It's also very narrow and throughout the day I was constantly buffeted from high windblast on the upper arms and shoulders. Yamaha offers an optional, wider screen and this is something I would definitely check out if I were looking to buy. On the plus side, there was no buffeting at head height.
The larger tank on the Tracer offers an 18-litre capacity (the MT-09 is 14-litres) and with a claimed 53.6mpg that means you'll need to fill up every 180 miles or thereabouts. That's a little below the 200-mile range we'd like to see on a touring bike but no deal-breaker.
The stock Tracer also comes with a main stand – as should every adventure and touring bike – and pannier mounting points. However, the optional textile Yamaha panniers which fit on the mounts are small and they're not waterproof which, in my opinion, means they're okay for nipping down to the shops on a sunny afternoon but not something I'd consider for a two-week European tour or a long weekend in unpredictable UK weather. I'd be looking for aftermarket suppliers to plug this need.
The benefit of an electronically controlled Ride by Wire system means the Tracer comes with three riding modes pre-programmed but no cruise control.
Mode A delivers a fuel-injected sporty performance, Standard Mode is less aggressive and more touring friendly, Mode B is gentler and recommended for wet or slippery conditions. Changing between modes on the move is nice and easy, you slide a button to the left and close the throttle to engage a selected mode. The system reverts back to standard mode when the ignition is switched off.
Traction control and ABS are included in the basic price and the rider is able to switch off the traction control should he or she wish.
The Ride Out
If you're used to the softer nature of adventure bike suspension then you'll find the Tracer a little on the stiff side – riding down a cobbled lane felt more like taking on a set of stairs. If, however, you're used to firm sports bikes then you could find the suspension just a little soft. That said, this is no complaint as there has to be a compromise in the mix.
Both front and back suspension are adjustable and overall the handling on the Tracer was very good, confidence-inspiring and not once did I feel the bike was getting out of shape – and I'm talking about winging around tight mountain switchbacks and long fast sweepers at speeds I'm never going to ride at in the real world, nor in the Dark Side of Japan.
Both the ABS and Traction Control systems were called into action on the ride out which in parts had us motoring on roads that were so polished and slippery they could well have been made out of the local Karst limestone – if you've ever climbed on or walked along polished limestone you'll know what little grip it offers.
Both systems were effective but felt less responsive than the  ABS and Traction found on more expensive machines where the lean angle is accounted for in the complex algorithms that activate the systems. The result was a couple of big back end slides when powering on the gas while exiting bends before the traction kicked in and a split second back wheel lock when under very heavy braking.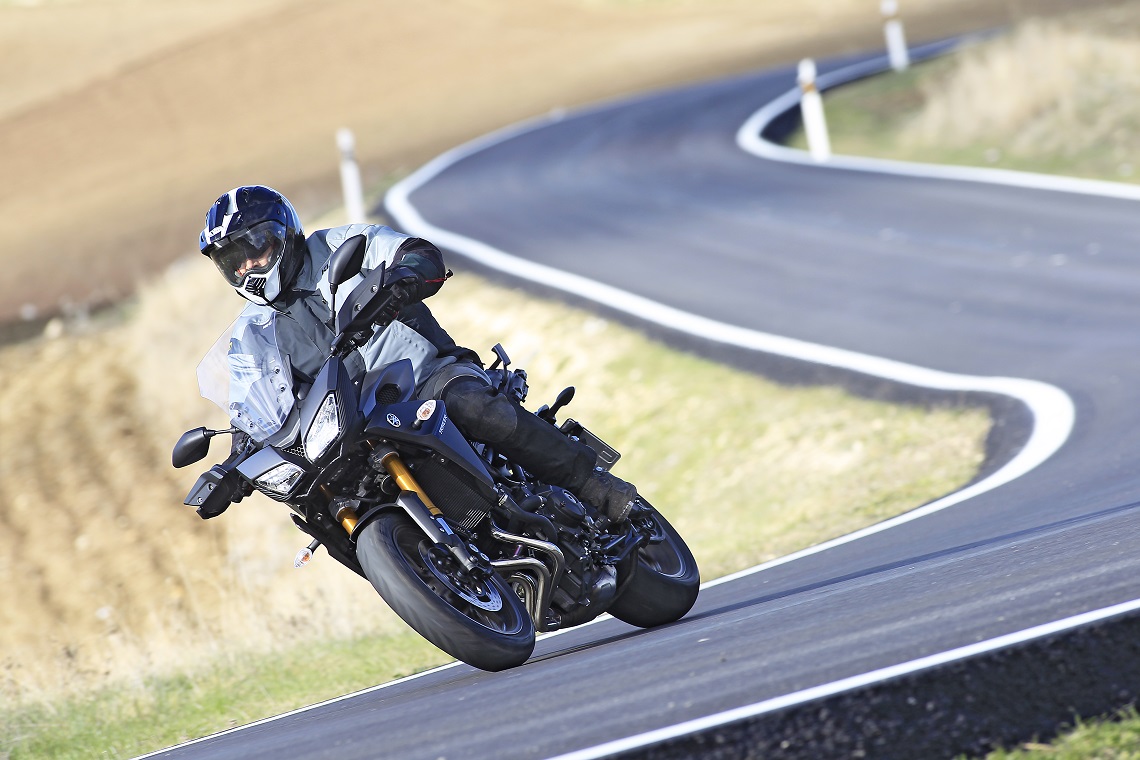 Exceptionally good fun though and lord knows what would have happened without their assistance. The 847cc triple-cylinder engine punches out 115bhp, and with the Tracer weighing in at 190kg (dry), that's claimed to offer a better power to weight ratio than most of the competition including the Suzuki V-Strom 1000, Kawasaki Versys 1000, Ducati Hyperstrada, Honda Crossrunner and the Triumph Tiger 800 XR.
In use, that power translates into very brisk forward momentum in Mode A. In fact, it's a fast, torquey, powerful bike in all modes, it's just that you get there a touch quicker and grind your teeth a little extra in A. As with all triples, you get the thrilling balance of low down grunt (as you'd expect from a twin) and the high end rush (as with four pots) which means smooth, brisk power right through the rev range. The torque peaks at 8,500rpm with the rev limiter at 11,500rpm.
To complement the sporty nature of the Tracer it comes with very effective brakes. The twin front discs especially were found to be powerful, responsive and offered great feel. The back brake also played it's part and was never found wanting. Overall, I was very impressed with the stopping power on offer.
Conclusion
It's interesting to see how Yamaha are using the MT-09 platform to squeeze many bikes out of one basic design and common components. The result of such a policy is never going to be perfect, but there are cost savings in this method which can be, and are, passed onto the paying customer.
Whereas the new Triumph 800 (also reviewed in this issue of ABR) is such an easy, unthreatening bike to ride with everything (I'm including the rider here) working in a smooth, slick and controlled manner the Yamaha has more of the devil in it – perhaps therein lies the Dark Side of Japan.
That's not to say the Tracer is any less of a bike, especially so if you've no interest in off-road riding, it's just that the Tracer naturally encourages the rider to push on that bit faster and harder, but maybe that's just the result of an over-enthusiastic press launch which had us all thrilled and grinning widely at the end of the day. There again, it is very much a sports tourer with the emphasis on sports and not a machine that could be described as an adventure bike – though you can have an adventure on any bike.
The fuelling is aggressive, especially so in 'A' mode where if you grab a big chunk of throttle on twisty roads you'd better know what your doing, it blasts forward at such a rate of knots that keeping the front wheel down is almost just as much of a skill as getting it up. But then it has the brakes and handling to match, which means this bike is a fantastic combination of adrenaline and fun with ample and more sedate touring ability built in for good measure
So, who's going to buy the Tracer? If the success of the MT-09 is anything to go by then quite a lot of us – the MT-09 is currently the third best selling bike in Europe. The ageing sports bike owner for starters, the adventure bike rider who's come to the conclusion that he is never going to ride off-road and wants a comfy road tourer with a bit of sporty bite. Then there's the rider with a 1000cc behemoth who wants something smaller, lighter and more manageable without compromising on performance.
But I'll finish where I started by mentioning the price. Make no mistake, the Tracer is a  top-quality Yamaha motorcycle and at £8,149 it's also great value – what's not to like?
'Stanley, are we going to the Dark Side of Japan or shall I make us a nice cup of tea?' 'Bye Mavis'
Specs at a glance:
| | |
| --- | --- |
| Model: | MT-09 Tracer |
| Price: | £8,149 |
| Colours: | Grey; Red; Blue |
| Weight: | 210kg fully fuelled |
| Tank Capacity: | 18-litres |
| Seat Height: | 845-860mm |
| Engine: | 847cc, liquid-cooled, four valves, DOHC, triple cylinder |
| Torque: | 87.5Nm/8.9kg-m at 8500rpm |
| Horsepower: | 115bhp/84.6kw at 10,000rpm |
| Wheels: | 17in front; 17in rear spoked |
| Front Suspension: | Telescopic forks; 137mm travel |
| Rear Suspension: | Swingarm; 130mm travel |
| Brakes: | Front twin 298mm disks; rear single 245mm disk; ABS |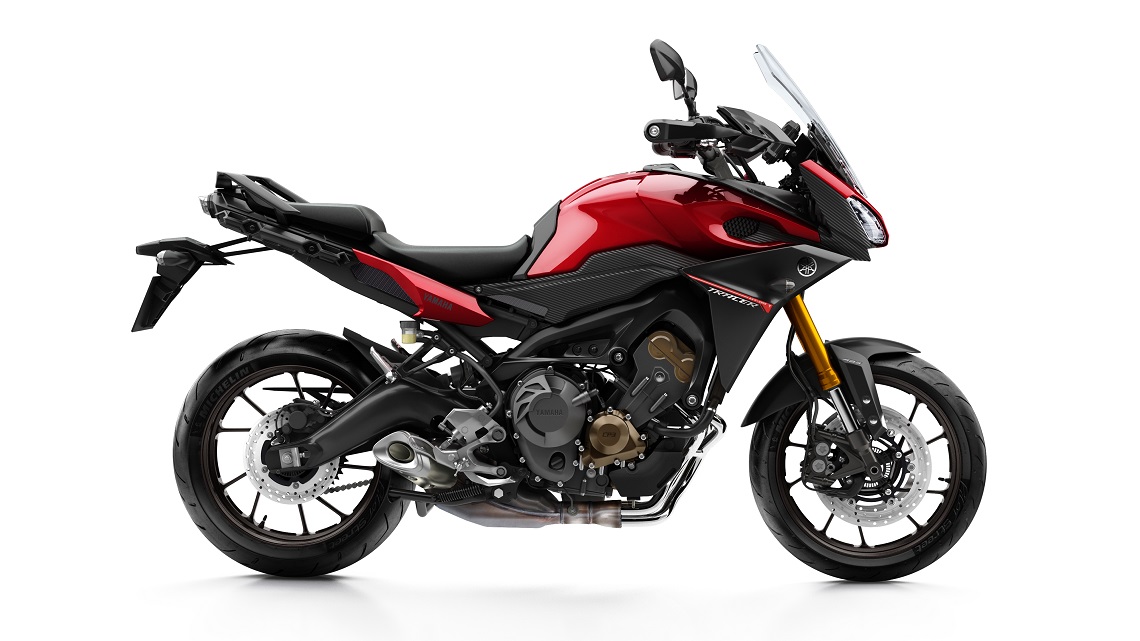 ABR Verdict
As a commuter
Nice high riding position for around town, low weight, good manoeuvrability and a seat that adjusts to let most all riders plant two feet on the ground all make for an enjoyable ride to work.
As a weekend tourer
Bags of power for relaxed high-speed motorway cruising to get there and superb performance for fun on the A roads when you do. Yamaha luggage leaves a lot to be desired if you're packing more than a waterproof toothbrush.
As an off-roader
You don't buy oranges to make lemonade and you don't buy a Tracer to go dirt bagging. Even if tooled up with protective accessories this bike is going to be slow-paced hard-packed gravel road only and only then if you can't avoid them.
As a continental road tourer
I'd need to change to the wider screen but otherwise, the Tracer would be so much fun on Alpine roads and comfortable enough for all-day in the saddle motorway jaunts. Cruise control would have been a nice addition.
As an RTW Overlander
Pick a route that stays on tarmac and there's no reason why you couldn't head off into the big wide yonder on the Tracer with a smile on your face – after you've bought some aftermarket luggage.
As a pillion carrier
Other than a short 'fit test' at the launch we've no experience of taking a pillion for a ride. The seat does appear to be a good size and it's comfortable plus the engine's powerful enough not to have any concerns.