Bryn Davies is on a mission to find a pair of gloves that will keep his hands warm and dry in this issue's winter riding gloves review
It seems that we spend hours upon hours contemplating and researching our next jacket, pair of pants or boots in an effort to make our riding experience that bit more comfortable or to be ever so slightly more sheltered from the elements. We spend hundreds and hundreds of pounds on insulated linings and Gore-Tex jackets and then we throw our legs over the saddle, in our minds thinking 'this is it, I've finally cracked the key to staying comfortable in the winter!' Everything starts off well, the new high collared heated vest protects your neck from the chilling blasts of wind, and then it starts. At first, it's a slight discomfort in your little finger, but after an hour or so your hands are numb and it's painful to pull the clutch lever in. You didn't spend time buying decent gloves, did you?
It's amazing how much of a difference a good, fully waterproofed and well-insulated pair of gloves can make to your winter riding experience. Coupled with heated grips or liner gloves and handguards they'll help make sure your hands stay comfortable and frost-free on long, cold tours. It's also worth adding that hand protection should not be ignored either, the natural reaction when you take a fall is to put your hands out and if you're not wearing armoured gloves then even the tamest of offs could result in broken bones.
In this issue of ABR, we're looking at winter riding gloves, and in our minds, a good winter glove should do all of the following: It should keep your hands warm, dry, comfortable and protected. How it will do this varies from manufacturer to manufacturer, but we like to see a waterproof membrane or liner, an insulating fill, a nice, soft inner lining and armour in places that need protection if you take a fall. In this test we've tried out nine winter gloves from across the price range and put them to the test to help you decide when buying your next set of gloves. If there's one thing that we learned it was that you get what you pay for, if you want a great pair of gloves then you're probably going to have to dig a little deeper into your pockets.
Features we like
Insulation
Your hands will be one of the first parts of your body to get cold on a bike, so the better the insulation you can get in this area, the warmer you'll be. There are various brands of insulation available but they all work in the same way, by trapping air so it can be warmed up. With that said, we don't like our gloves to have so much insulating fill that it negatively affects dexterity.
Armour
You shouldn't scrimp out on protection for your hands, they're just as likely to get injured in an off as any other part of your body. Look for armour on the knuckles, extra digit protection and good palm padding, ideally, we'd like to see scaphoid protection as well, but very few gloves feature anything substantial here. Handguards will help deflect flying objects while you're riding, but they won't be of much use if you take a fall.
Waterproof liner
Your gloves will be waterproofed in one of two ways. They'll either feature a waterproof liner that sits between the outer and inner or they'll have a waterproof membrane bonded to the inside of the outer material. There's no doubt that a laminated membrane is more effective at providing a water-tight glove than a drop liner. A drop liner will also allow water to penetrate through the outer material and pool inside the glove, making your hand feel cold. In some cases, we've also found that these liners aren't actually 100% waterproof.
Fasteners
In order for gloves to do their jobs in the case of an off, they need to stay on your hands. Adjustable wrist straps coupled with a larger fastener on the cuff will also help you get a more comfortable fit.
Cuffs
The best way to wear your gloves in wet weather is to have them tucked under the cuff of your jacket. When worn like this rain won't be able to drip down the outer of your jacket and into the inside of your gloves. For this to be a comfortable way of wearing your gloves it's best if the cuffs are thin and slim-lined.
Palm protection
The first thing anyone does when they fall is put their hands out, it's a natural reaction. For this reason, the palm of a glove should be one of the strongest parts in terms of abrasion resistance. Leather has brilliant abrasion-resistant properties while you'll also find that some gloves will come with Kevlar or other armoured reinforcement in this area.
Visor wipe
While not essential a visor wipe can be very useful! A rubber or suede pad on the finger or thumb on the left hand will help you clear your visor when it gets wet or mucky.
Dexterity
It's all well and good wearing gloves, but if they don't allow you to move your hands then that's not ideal. Fingers should be able to move freely to allow complete access to your bike's controls.
Ask the experts
As well as being the founder of Knox, Geoff Travell also heads up the company's research and development team. Here he answers your questions about winter riding gloves.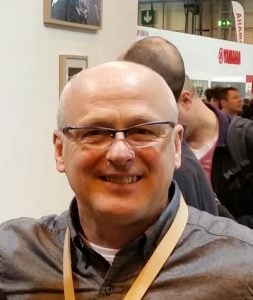 ABR: What are the main things I should look for when buying a pair of winter riding gloves?
GT: There are only two major factors specific to winter gloves, they should be waterproof and warm. We would also advise gloves that include some form of protection, i.e. scaphoid protection.
ABR: Is it necessary for my gloves to be motorcycle specific? Or can I wear gloves that are designed for use in the outdoors i.e. skiing gloves?
GT: We would always advise the use of motorcycle-specific gloves. Outdoor or winter sports gloves are not made to the same level of protection as motorcycle gloves. We believe you should choose the best quality motorcycle gloves you can afford.
ABR: My gloves say that they're waterproof buy my hands are still getting wet, what's up with that?
GT: Check that the gloves are actually leaking rather than water running down the arm and seeping into the glove. This is often a reason for complaint but it does not mean the gloves aren't waterproof. If you wear the gloves under your jacket and your hands are wet then it could be that the membrane has been holed or torn and that could have happened during use or even in the production of the gloves.
ABR: Is it true that heated grips can compromise the usefulness of a waterproof membrane?
GT: This very much depends on the membrane. Hydrophilic membranes work on heat and density pressure so if the grips are warmer than your hands it may pull moisture through the membrane to the inside of the glove. However this is moisture, not water, so at best your hands will only feel clammy, not wet. Gloves that use certain membranes, such as OutDry, will not suffer from this because the inserts are laminated at far higher temperatures than heated grips operate at.
ABR: My hands always get cold when riding, what's the best way to combat this?
GT: Make sure your gloves have a high-quality thermal lining, Primaloft for example. We all feel the cold differently so while one person's hand may feel toasty, another person's may feel cold in the same gloves, but that will be more about a circulation rather than the thermal lining not working. Also have a little space in your glove so you can trap a layer of warm air inside the glove, don't wear winter gloves too tight. A wind-proof inner glove is also a great way to combat cold fingers but you will need a little more room in your glove to accommodate this extra layer.
ABR: Where should the armour on my gloves be placed?
GT: This very much depends on what you want but we believe the most important protection is over the scaphoid bone on the palm. It's instinctive for everyone to put their hands out in a fall and scaphoid injuries are the most common.
ABR: What are the main differences between leather and textile gloves?
GT: Obviously leather offers more protection but it may be affected by water more than a textile glove. Leather gloves that use a waterproof membrane with the insert bonded to the inside of the glove will perform better in the wet as this stops saturation of the material by keeping water outside.
ABR: My gloves have started to rip at the seams, is there any way I can fix this or will I need to buy a new pair?
GT: If these are winter waterproof gloves then they will not be repairable as the membrane will be affected so you will have to replace them. If you think it is a case of warranty then it's best to enquire at the place of purchase.
Spada Enforcer WP
£64.95 – www.spadaclothing.co.uk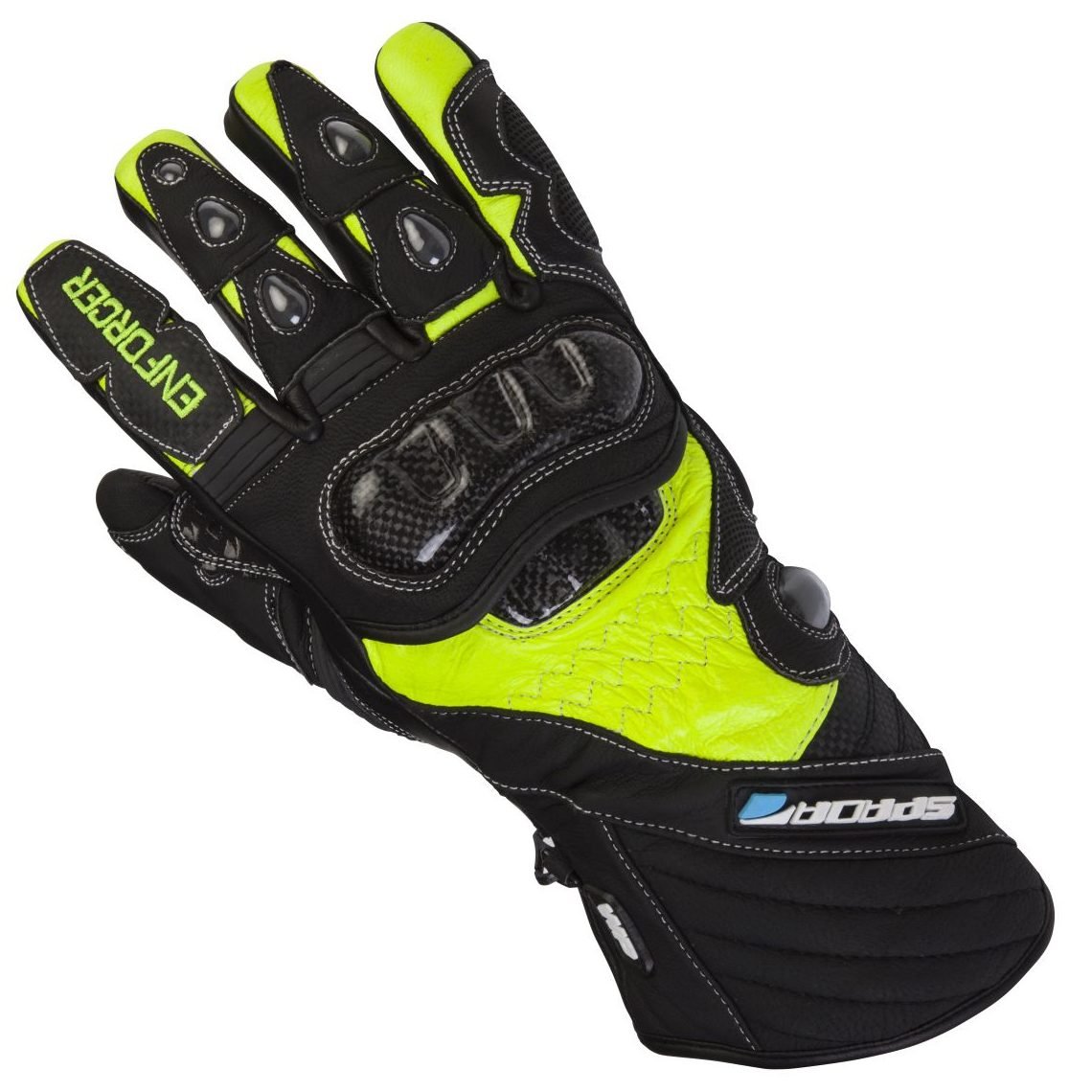 At £64.95 these Spada Enforcer gloves sit at the bottom of the price range in this review, the next pair of gloves coming in over £20 more expensive. In the past, Spada has provided good value for money kit that'd be ideal if you're starting to get into biking, and that's exactly what these gloves are.
They feature a nice amount of armour and reinforced areas on them, the floating knuckle being made of a moulded carbon material, and the palm featuring a myriad of reinforced patches that are double stitched for durability.
In terms of warmth, they use a 3M Thinsulate fill to help provide some warmth and this doesn't impact the dexterity of the gloves at all and they retain a supple handle to them.
The waterproof liner used in the Enforcer helps provide wind and water resistance. I say resistance because they are not 100% waterproof. The Hipora lining has been attached to the outer of the gloves at the fingertips, this is done to prevent it from coming out when you pull your hand out, but it has also compromised the integrity of the waterproofing, and water will eventually start entering through those points.
That being said, if you're just getting into biking and you're looking for a budget pair of gloves to get you through the winter that'll give you a little bit more protection than your thin, non-insulated ones then check these out.
In a line: Budget winter gloves
ABR Rating – 6/10
Richa Ice Polar GTX
£89.99 – www.nevis.uk.com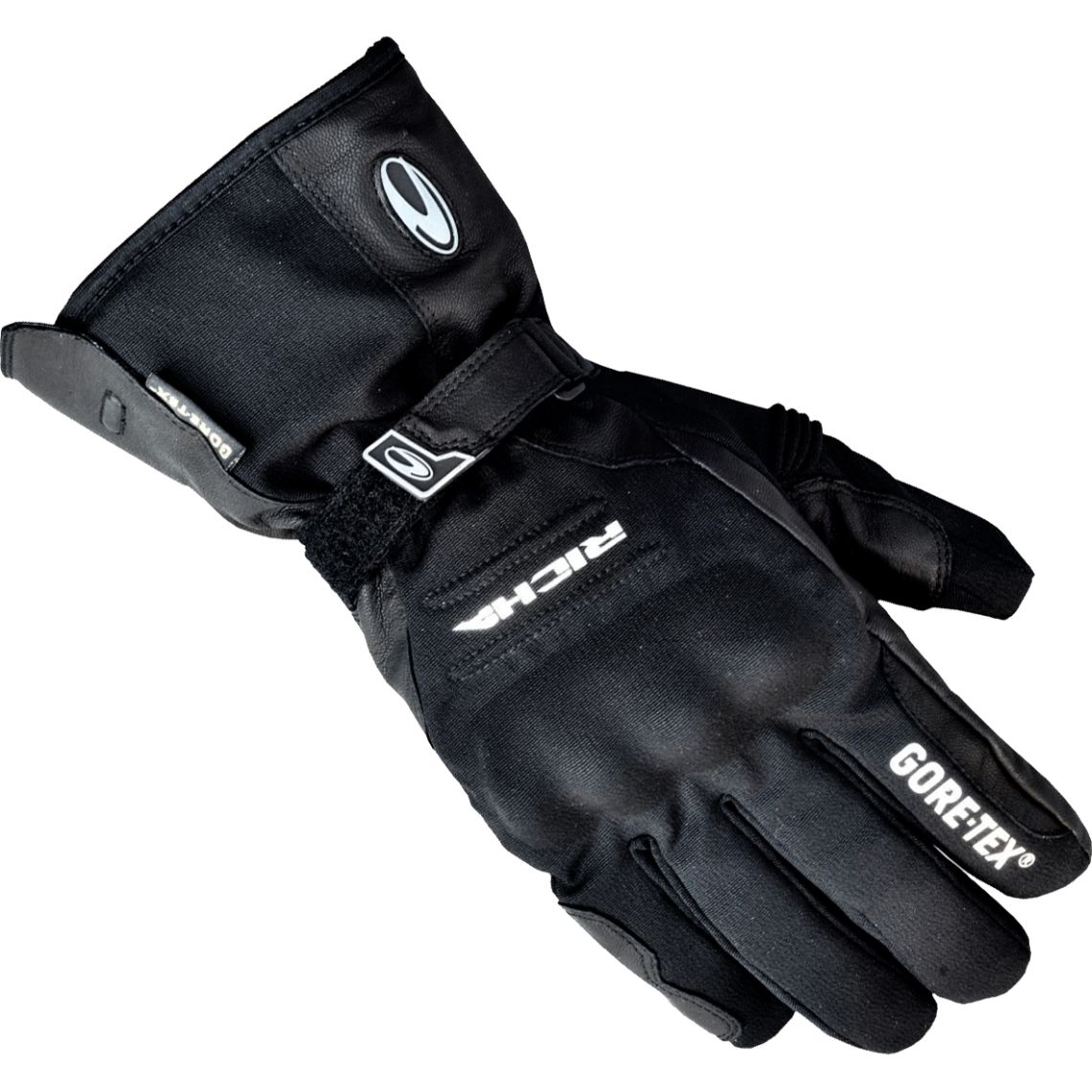 Richa is a brand that has been around since 1956, manufacturing pretty much every kind of motorcycle clothing you can think of. Their entry to this review is the Ice Polar GTX, an insulated glove that uses a Gore-Tex lining to keep you dry and a Thermolite insulating fill to keep you warm.
With a name like Ice Polar, it's a given that these gloves have been designed for use in cold weather, and when you put your hands in them you can immediately feel the insulation doing its job while the soft tri-fleece lining adds comfort and further warming properties. The gloves feature a minimal amount of protection with a hard plastic knuckle cover being the only real form of armour.
The Ice Polar GTXs are adjusted easily using the Velcro fasteners and stretch panels on the thumbs allow for a good range of movement from your indicator digits. They offer a nice slim fit and dexterity is never really an issue. The palm of the hand features leather reinforced areas and these are double stitched for durability.
In all the Richa Ice Polar GTX gloves are a good pair of winter gloves, they're waterproof and they're pretty warm making them great for those cold days. There's no doubting that most of the price of these gloves comes from the Gore-Tex lining and that's OK as it does its job well.
In a line: They do the job but we would have liked more protection
ABR Rating – 6/10
Rev'it Oceanus GTX
£99.99 – www.revit.eu/en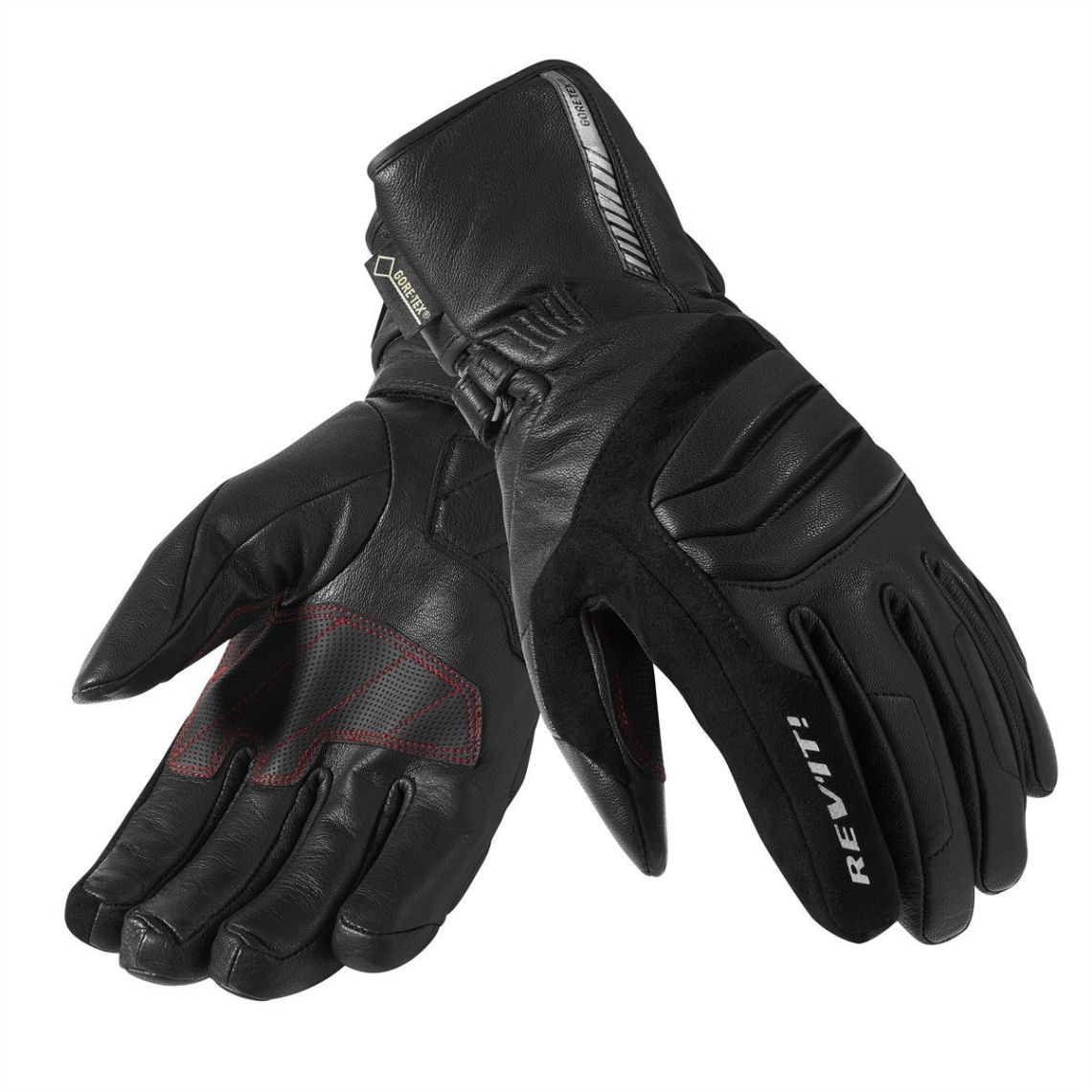 Dutch company Rev'it has a large collection of gloves and their entry to this review is the Oceanus GTX, a pair of three-season riding gloves which feature Fiberfill and Dexfill insulation to keep you warm and a Gore-Tex lining to keep you dry. You get a goatskin leather palm and upper, a suede visor wiper on both hands and the overall look of the gloves is nicely styled.
Immediately it's clear to see that the Oceanus is more about riding comfort than protection. Sliding your hand into the glove is a great experience, the tri-fleece lining feeling incredibly soft against the skin and you can feel the insulation doing its job almost immediately. I would advise trying a size larger than usual, our size L feeling almost too tight on the hands.
So, where the Oceanus scores in comfort, it lacks in serious protection. The armour on offer is in the form of a soft Temperfoam palm slider and knuckle pad. These foam areas are pretty dense and will provide an element of shock absorption in an off, but won't be on the same level as hard armour. That being said, the Temperfoam palm slider does aid in vibration damping from the handlebars, making for an overall more comfortable ride.
If you're after a pair of waterproof, warm and comfortable gloves then it's worth checking out these gloves from Rev'it, but if protection is your main priority then you'll find them lacking.
In a line: Warm, comfortable and waterproof with minimal protection.
ABR Rating – 7/10
Bering Crezus
£99.99 www.tranam.co.uk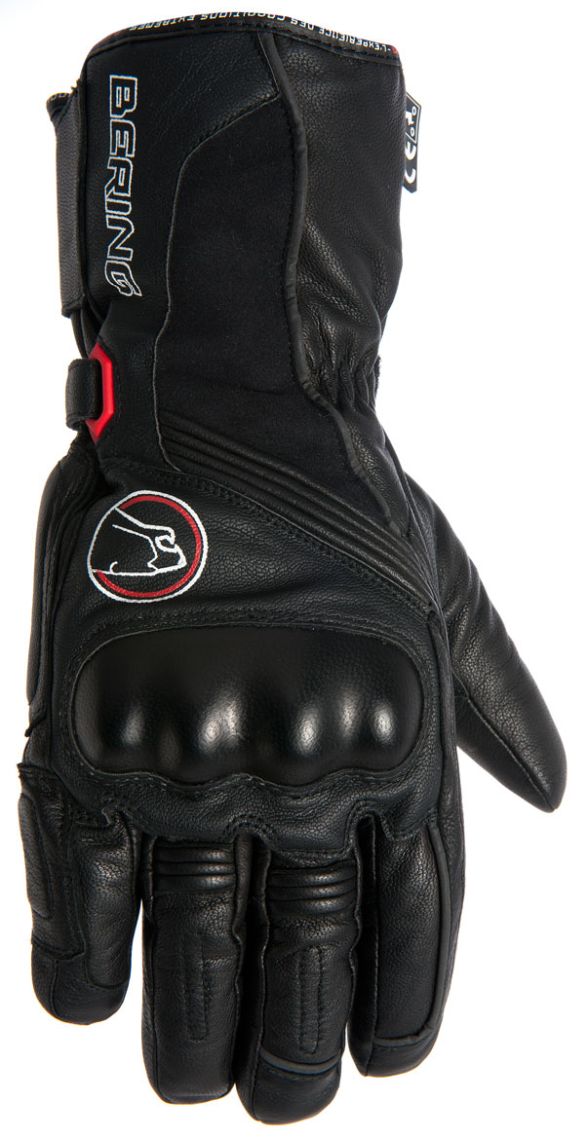 Out of all the gloves in this review, the Crezus are probably the most comfortable. Bering makes clothing for both motorcyclists and sailors, so they should know a thing or two about protecting the wearer from the elements.
The Crezus gloves use a Primaloft fill to provide warmth, a form of insulation that we've been using for years and we know that it works very well. The inner lining of the glove is made from an exceptionally soft fleece-like material that further insulates the hand while offering superb next-to-skin comfort. In terms of protection, you get a hard knuckle insert and a reinforced leather palm slider with a rubber attachment to give it that bit more durability.
Where the glove excels in warmth and comfort, and where it provides a nice amount of protection, it, unfortunately, lacks in waterproofing. Like the Spada Enforcer, the Crezus makes use of a waterproof drop liner to stop water from reaching your skin. Again, at the tips of the fingers, the liner has been compromised and water is eventually allowed to enter through this point. It'll cope with a light shower, but if you're riding in torrential rain for extended periods of time your hands will get wet.
It's disappointing to see that the gloves aren't fully waterproof as they're insanely comfortable, very warm and they offer adequate protection. If your riding is going to be done in very cold and dry regions, then they're worth a look.
In a line: Excellent comfort and warmth, but not 100% waterproof.
ABR Rating – 7/10
Racer Evolution
£99.99 – www.tranam.co.uk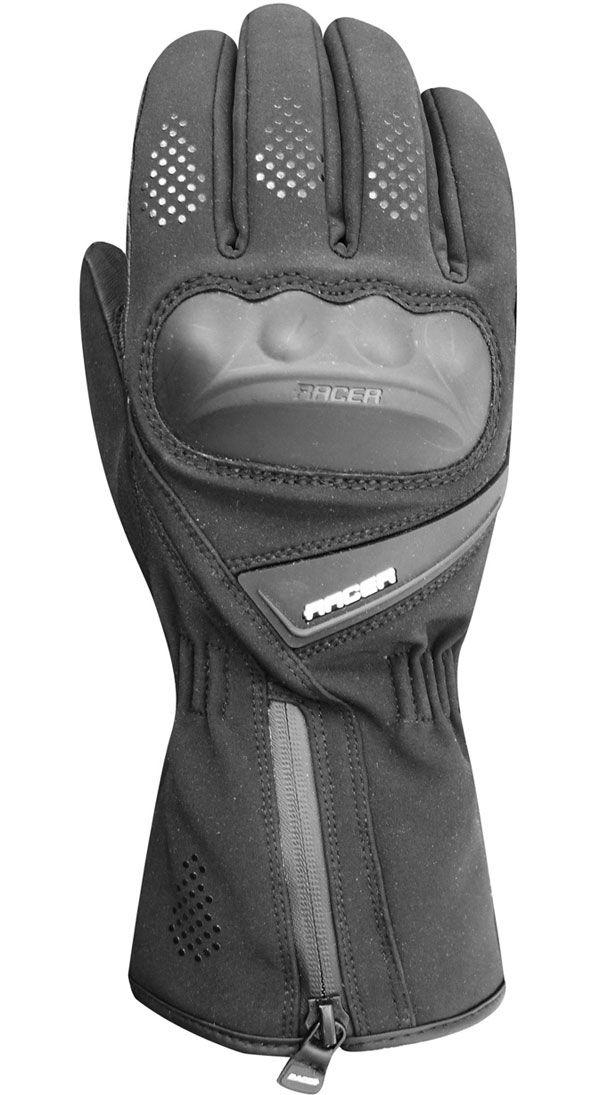 The Evolution are a very nice pair of gloves from the Austrian brand Racer. They feature a great combination of protection from both the elements and the road and to top it all off they're comfortable to boot. Warmth is provided by the presence of a tried and trusted Primaloft fill, water resistance by the Polymax membrane and protection by some nicely placed hard armour and the inclusion of D30 impact protection on the palm.
In terms of comfort, the Racer Evolution excel. There's plenty of insulating Primaloft fill and this creates a nice cushion around the hand while the super-soft fleece liner provides exceptional next-to-skin comfort. The D30 armour in the palm works by remaining soft until impact, meaning that it offers little interference to the comfort of the glove in 'normal' use.
Further protection is in the form of a hard knuckle insert and you get a water-resistant zip on the cuff to allow you to get a comfortable fit. This offers no room for adjustment, though there is a Velcro wrist fastener that will help you get a tighter fit if need be.
You'll notice that I said water-resistance when talking about the membrane in the Evolution rather than waterproofing. That's because in extended testing our hands began to get noticeably damp, this wasn't from our own sweat, but rather from water entering from the tips of the fingers. Like the Bering gloves, in cold and dry condition these gloves are excellent, when the rain starts to pour you'll start to get wet digits on a long ride.
In a line: Great for cold and dry days
ABR Rating – 7/10
Halvarssons Advance
£104 – www.jofama.se
If there's a brand that should know a thing or two about manufacturing winter motorcycle gloves it's Halvarssons. Based in Sweden the company sees its fair share of snow and cold weather and their entry to this review is the Advance glove, a very nice, close-fitting glove that is fully waterproof and insulated and offers a great amount of dexterity.
Warmth is provided by a Thinsulate liner coupled with Outlast technology, an awesome material that is also used by NASA to protect astronauts from temperature fluctuations. The material works by absorbing heat from your body and releasing it when temperatures drop, and perhaps the best bit about it is that it's not bulky at all so you still retain a good feel of the bike's controls.
The gloves are fully waterproof thanks to a Dryway Plus membrane and this actually does its job of keeping water out of the inside. Protection from the glove is provided by a hard knuckle protector and Hi-Art textile which has great abrasion resistance. The palm of the glove features a leather reinforced slider and extra protection where your hand will be in contact with the bars.
For such a thin and supple glove the Halvarssons Advance offer a great amount of warmth and protection from both the elements and the tarmac. The Dryway membrane does its job and the insulation is great, paired up with some Merino wool liners I'd be happy wearing these throughout the winter.
In a line: They've got everything going for them
ABR Rating – 8/10
Alpinestars GT-S X-Trafit
£129.99 – www.alpinestars.com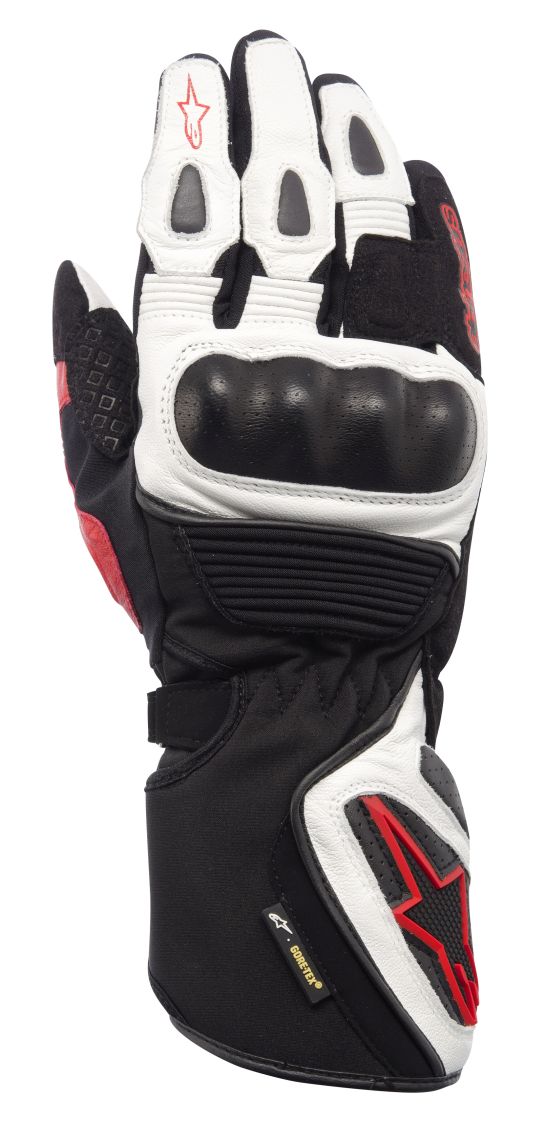 At £129.99 we're moving into the more expensive gloves, and with a higher price comes higher expectation. Alpinestars describe the GT-S X-Trafit as gloves that have durability, lightweight and protection amongst their key features and after giving these gloves a go I'd have to say that their description is pretty accurate.
These gloves don't have an insulated lining but they still manage to retain a certain amount of warmth as the Gore-Tex membrane helps add an element of insulation. For seriously cold riding, your hands will feel the chill, in more mild winter temperatures these will be great, especially when coupled with a thin liner glove.
Waterproofing is provided by a Gore-Tex membrane and it does its job of keeping water out very well, our hands being bonedry at the end of our waterproofing tests. The close-fitting nature of the GT-S X-Trafit means that you have maximum dexterity, to the point where I could probably have typed this review out while wearing them. Protection comes in the form of a moulded PU knuckle protector and the palms feature a shock-absorbing EVA foam padding insert. A bridge between the third and fourth finger also helps prevent separation of the fingers in the event of a slide down the tarmac.
If you're not going to be riding in particularly cold weather then these gloves are spot on. They allow for superb dexterity and you get a real feel of the bike's controls because they're so supple. But at the same time they don't skimp out on protection and the Gore-Tex lining will keep you dry.
In a line: Excellent gloves for milder winters
ABR Rating – 8/10
Knox Zero 2
£129.99 – www.planet-knox.com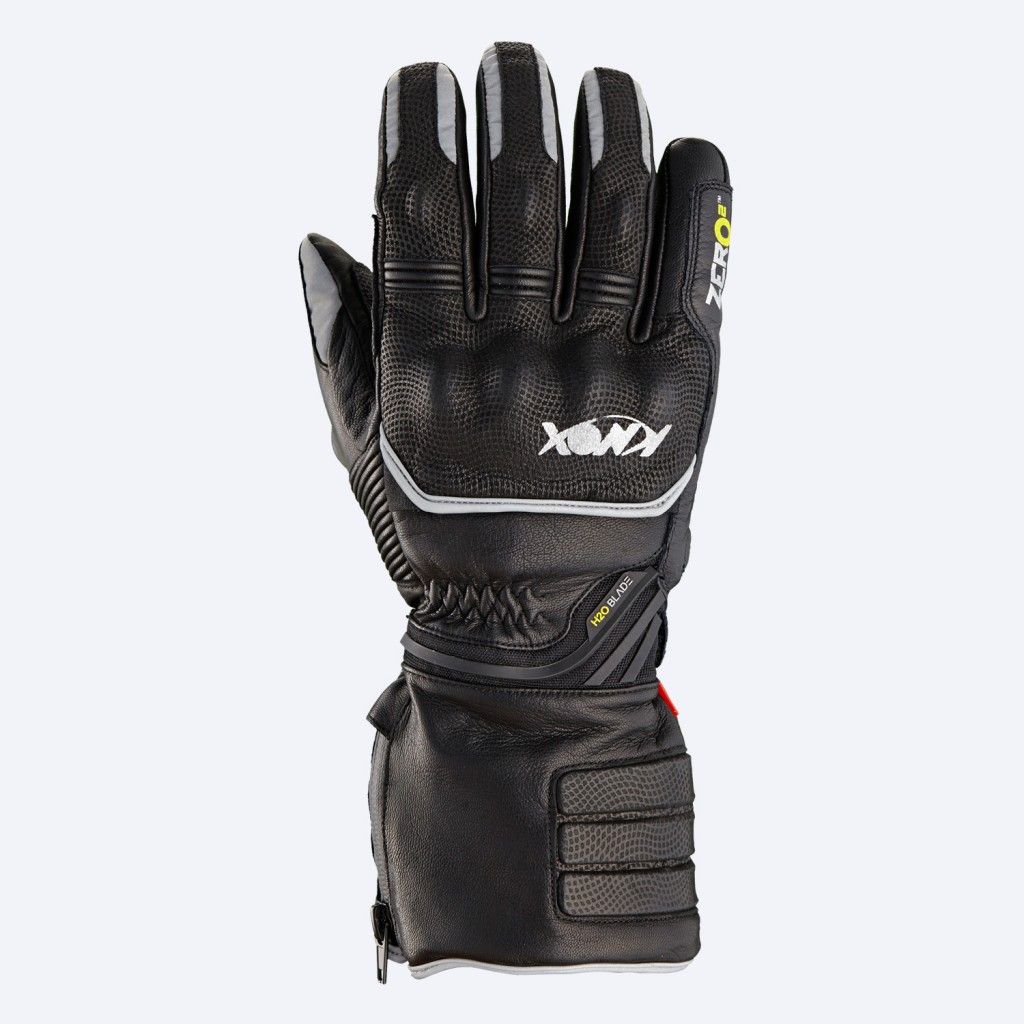 Knox has been around since 1981 and the company was the first to feature built-in armour in a motorcycle jacket's elbows, back and shoulders. With their own impact test equipment and R&D facility at their factories in the Lake District, the brand has the facilities to test their products in-house to get things right. The Zero 2 is their entry to this review and it's a brilliant glove indeed.
The Zero 2 makes use of a Primaloft insulating fill to provide a great amount of warmth, a laminated OutDry membrane to keep you dry and a series of well-positioned and thought out armour inserts to give you as much protection as possible. For winter riding these gloves are spot on, the Primaloft insulating extremely well while the OutDry membrane is genuinely waterproof, letting no moisture through at all in our test.
You get a solid, floating knuckle protector and a brilliant palm slider, which Knox calls its patented Scaphoid Protection System. This offers far more protection to the palm than seen on any of the other gloves in this review. Further padding on the wrists and fingers enhance the protection on offer and grip pads on the end of the first and second fingers are great additions.
If you're after a pair of winter gloves that will keep you protected from the cold, the rain, the snow and, in the unfortunate occasion that you take a fall, the tarmac, then these will not disappoint at all. The Zero 2 gloves go to show that you get what you pay for, and these are probably the gloves that I'll be wearing this winter.
In a line: They're brilliant in every aspect.
ABR Rating – 9/10
Rukka R-Star 2IN1
£189.99 – www.tranam.co.uk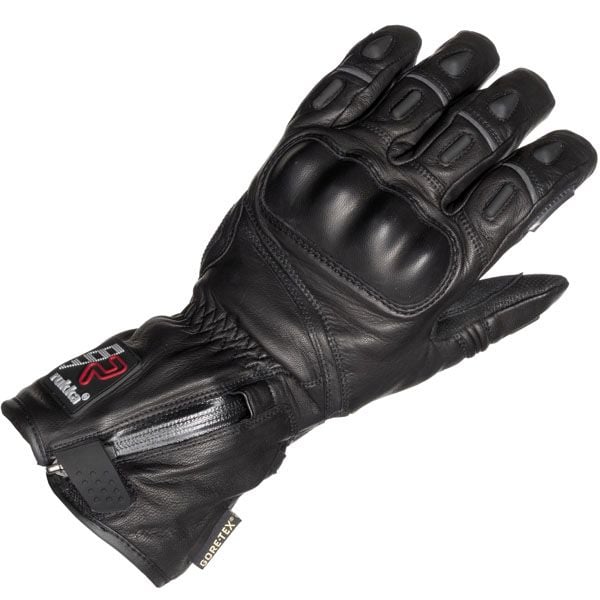 When it comes to motorcycle clothing Rukka often comes out trumps, the only thing getting in the way being the usually high price tag. There's no denying that the R-Star 2IN1 are an excellent pair of gloves, they've got it all, warmth, genuine waterproofing, adequate protection and a genius dual-chamber inner.
When you pick up these gloves it's immediately apparent that they're well made, they just feel a cut above the rest (and you'd expect that at £189.99!), they use a Gore-Tex lining which genuinely keeps the water out, an Outlast lining for excellent temperature regulation and a very effective synthetic insulation that works really well to keep your hands warm. There's adequate armour throughout, including a carbon knuckle shield and padded scaphoid protection and a double-layering of suede leather across the palms provides extra abrasion resistance.
Perhaps the most interesting feature of these gloves is the dual chamber which basically divides the inner into two sections. Put your hand in the 'warm' side if you want extra insulation on the back of your hand when riding in colder temperatures, or dive into the 'grip' side if you want more dexterity and to be able to feel the controls a bit better. It's a very, very good feature and it's more than just a gimmick with each function genuinely offering something different.
Perhaps the only thing I'd like to see changed on the R-Stars is the cuff closure method. It features a water-resistant zip and while there's no problem with that, it allows for very little adjustability so the gloves were oversized on me in that area. In all, though, a superb pair of gloves.
In a line: Superb quality, warmth, protection and a neat dual-chamber bit pricey though.
ABR Rating – 9/10
Liner gloves
If you find that your hands are getting cold often then one of the best ways to add warmth and comfort is by using a pair of liner gloves. You can get these made from various materials, but we like to use Merino wool in the winter as it helps provide more warmth and if it gets wet then it'll still retain some insulating properties. You can pick up a pair of Merino wool liner gloves for as little as £10 and they make a world of difference when riding in low temperatures.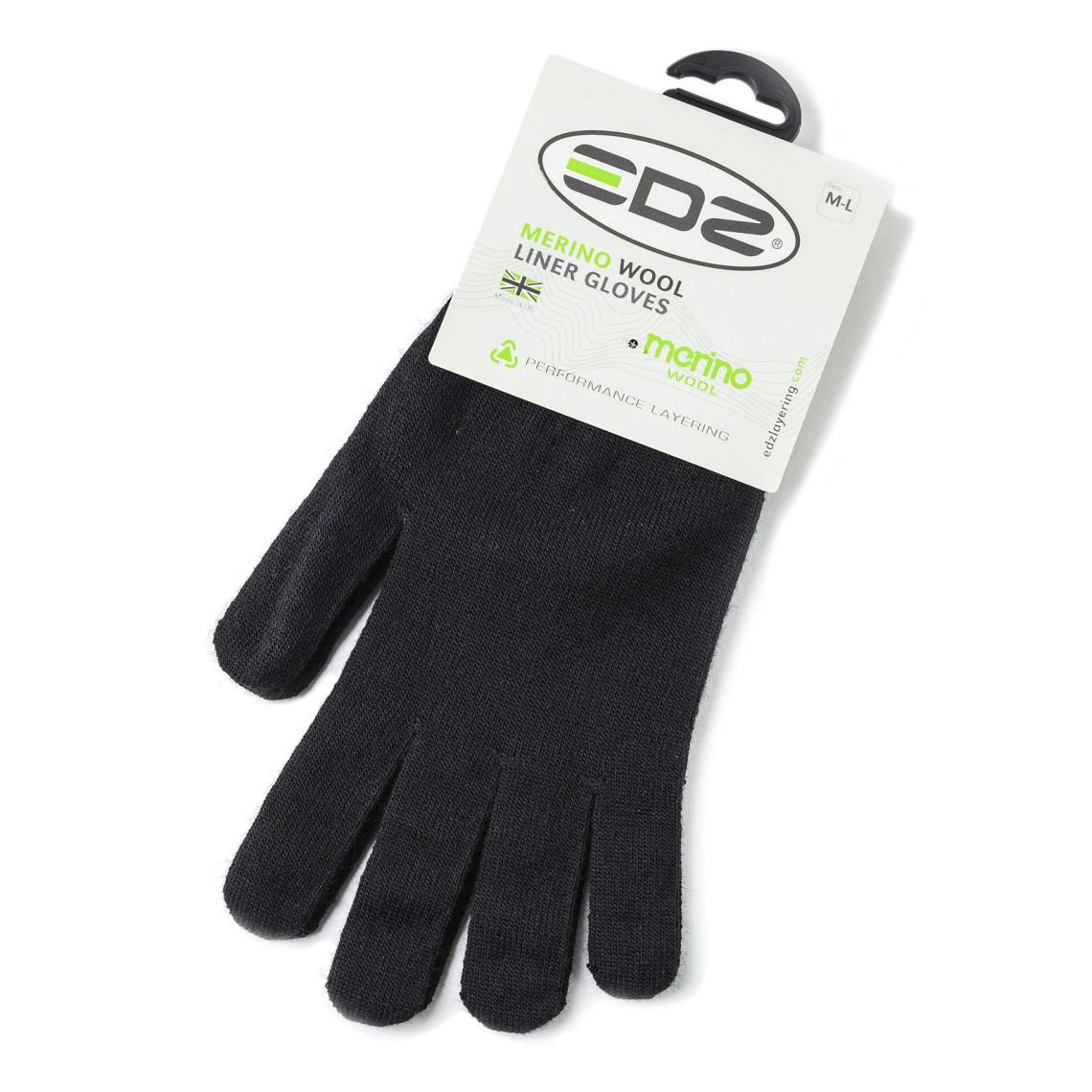 ABR verdict
Summing up our impressions of the gloves on test
A­fter trying out the nine pairs of gloves in this review it was interesting to note that you do indeed get what you pay for and generally speaking the more you pay for a glove the better it's going to be. Our testing also revealed that some gloves aren't as waterproof as they might claim to be.
In general, it seemed to be the gloves with a waterproof lining rather than a laminated membrane, so the only explanation I can think of for why they let water in is that the lining is getting compromised when it's being bonded to the inside of the glove, be that by stitching or another method.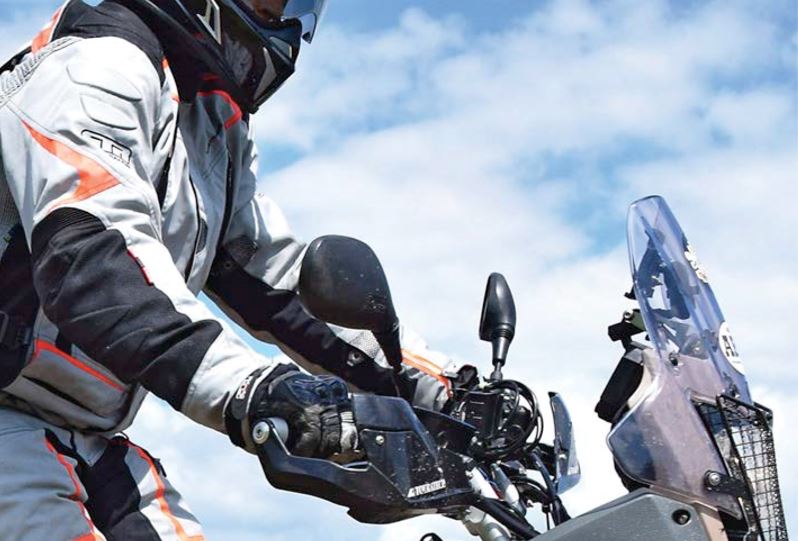 Onto the gloves themselves.
The Spada Enforcer was a nice product, as it turned out it let water in but for a budget winter glove, it provided a lot of protection in other areas. The Richa Ice Polar GTX might have lacked in protection but it was fully waterproof, the same could be said for the Rev'it Oceanus which offered a brilliant collection of warmth, waterproofing and comfort. The Bering Crezus was luxuriously comfortable and great for cold and dry days, as was the Racer Evolution but both gloves let water in. Halvarssons proved that they know how to make a cold-weather kit with their Advance offering a great amount of warmth, waterproofing and armour while retaining dexterity. The Alpinestars GT-S X-Trafit was excellent in most areas, but it lacks insulation to make it a suitable choice for colder days. Both Knox and Rukka submitted excellent gloves for this review, being neck and neck on comfort and waterproofing, with Knox taking the plaudits for protection while Rukka just about pipped it on warmth with both sets of gloves coming out with the same points. Therefore we've decided to award Best in Test to both of them.